Product added to cart
X
Recommendations
Show all Recommendations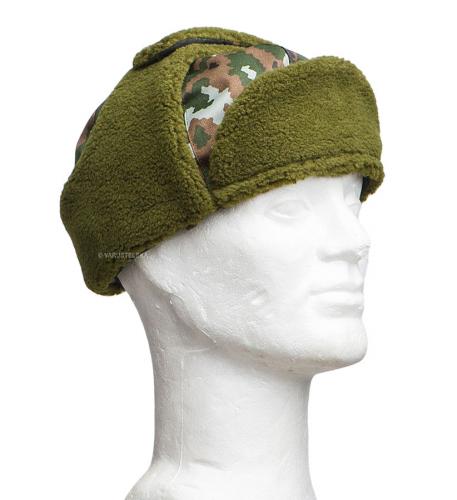 Särmä TST M05 Fur Hat
Price 24.99 USD excluding VAT
Flat Rate Shipping to USA $9.99
Sold 48 pcs in the last two weeks
Loading products...
Trouble with the metric system? Try our converter: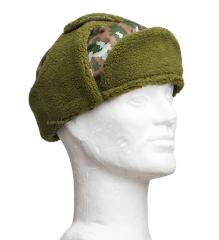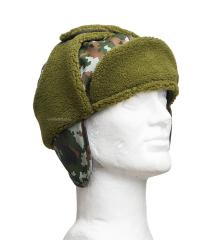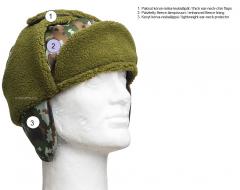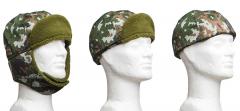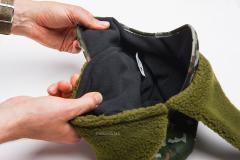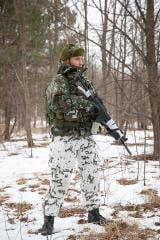 The official cold-weather hat of the Finnish defence forces, with our own little improvements. Fur hats have very long traditions in the Finnish military it was actually after experiences in the Winter War of 1939 against us Finns that the Soviets adopted their now-legendary Ushanka fur hats. A very versatile model, this can be worn in many ways depending on the situation at hand.
Not only functional but looks good too, suitable not only for field wear.
Fold down ear protector with microfleece lining.
Fold down fur lined ear and neck flaps for extreme cold protection.
Fleece lined interior.
Materials
The outer fabric (Viking by Carrington) is 70/30 polycotton, the exact same material used in the latest production runs of the official issue uniforms. Naturally, the camo print is totally NIR compliant, so you don´t need to fear to look all lit-up when viewed through NVDs.
The interior fleece lining and faux fur exterior are 100% polyester.
To make sure the fabric does not lose it´s NIR compliant properties we recommend careful wash using only detergents that are free of optical brighteners, basically the more natural you get the better.
Sizing
One-centimetre increments between 55—63 cm, talking head circumference here. The fit is loose enough to allow a few fingers between the cap and head; definitely no need to size up for relaxed wear. For a taut fit one size smaller than usual might come into question.
Varusteleka Särmä TST
Särmä TST is our own family of specialized military gear. All Särmä TST stuff is made in co-operation with Finnish military manufacturers, the most important thing for us is high quality MILSPEC grade materials and construction. This is kit that you can trust to really take a beating!
Särmä TST products are covered by a 12-month warranty against defects in materials and workmanship. For further information please read our detailed warranty guide.
Sewn in Estonia
These are sewn in Estonia, at a factory that has a long history of producing quality clothing for military, law enforcement agencies.
Recommendations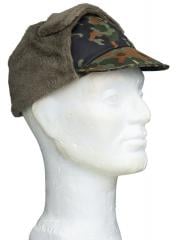 BW field cap, cold weather, Flecktarn, surplus
9.99 USD
Similar product.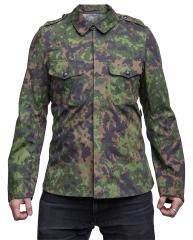 Särmä TST M36 Summer tunic, M05 woodland camo
137.99 USD
Viewed together.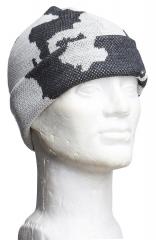 Särmä Commando Cap, Merino Wool, Camo
18.99 USD
Viewed together.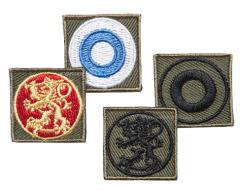 Särmä TST M05 Finnish cap badge
0.99 - 2.99 USD 1.99 - 2.99 USD
Sometimes purchased with.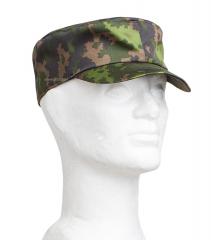 Särmä TST M05 field cap
18.99 USD
Sometimes purchased with.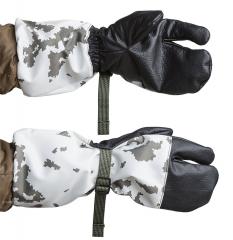 Särmä TST mittens w/ trigger finger
55.99 USD
Sometimes purchased with.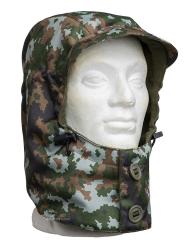 Särmä TST M05 hood
15.99 - 18.99 USD 22.99 - 27.99 USD
Sometimes purchased with.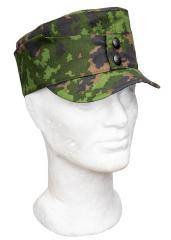 Särmä TST Verikauha field cap
27.99 USD
Sometimes purchased with.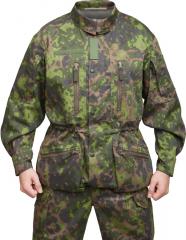 Särmä TST M05 RES camo jacket
91.99 USD
Sometimes purchased with.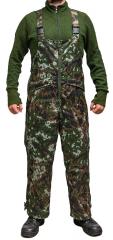 Särmä TST M05 cold weather trousers
82.99 USD 128.99 USD
Might be of interest. Temporarily out of stock.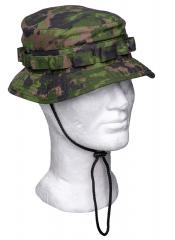 Särmä TST Boonie Hat
18.99 - 27.99 USD 27.99 USD
Might be of interest.
Reviews
You have already submitted a review. You can edit your text by clicking on it.
Log in and write a review.
Remove filter
Suomi
(9)
English
(6)
I would recommend for a friend
Harri K.

14.11.2016 (Edited 18.11.2016)
- vaikka en omista (vielä) vaikuttaisi oivalta valinnalta, johan tuo brändi jotain velvoittaa...
- omaa kokemusta harmaasta versiosta armeija-ajoista tähän päivään; hattu pitää käyttäjän lämpimänä, sekä vastaan tulevat pasifistit
5
12
I would recommend for a friend
Janne L.

16.11.2016 (Edited 18.11.2016)
Sain tänään karvalakin postista. Yllätyin, miten hyvä ja käytännöllinen lakki on kyseessä. Hattua on helppo muokata sopimaan erilaisiin sääolosuhteisiin. Tämä lakki tulee olemaan kovassa käytössä talven riennoissa. Jälleen kerran laatutavaraa Varustelekasta!
12
0
I would recommend for a friend
Marko N.

06.01.2017
Ihan mukavanoloinen lakki, ei mitään muuta huomautettavaa kuin, että vuoraus voisi olla mielestäni paksumpi. Ja sanon mitä moni muukin sanoo, että näitä saisi olla eri värisinä, mustana varsinkin!
33
2
I would recommend for a friend
Hannu P.

14.02.2017
Ent. panssarimiehenä (nyk. res korpr)kaipaan mustaa versiota. Samaa kaivannevat merivoimissa tai -vartiostossa palvelleet.
61
0
I would not recommend to a friend
Christopher B.

03.03.2017 (Edited 23.10.2017)
The material is very thin and not very warm. For the price, I was expecting a much better hat, especially if it is considered "MILSPEC quality". I cannot see any military using this hat for anything other than to stock a gift shop.
10
81
I would recommend for a friend
Jacob A.

13.02.2018 (Edited 17.02.2018)
A standard Korea-style winther hat. Mind that this is not a water-proof shell hat neither a heavy weight Korea-style hat. It will withstand rain and especially snow for a while though.



PROS:

Descently made with descent materials, but do not expect a bomp-proof Korea-style hat like the danish (not sold here). Low weight and low volume.



CONS:

No ones really - unless you expect a heavy weight og bomp-proof Korea-style hat. It is a little to the "flimsy" side. Do not expect 1960's-1980's bomp-proof military grade equipment.



SIZING:

My head is approximately size 60. I have this hat in size 60 which is a bit too tight for my liking. If you like a snug fit choose normal head size - otherwise go one size up. For comparison i also have the german BW korea-style hat in size 62 which is comparable to this hat in size 60.
2
2
I would recommend for a friend
Roope S.

22.02.2018
Suomen olot vaativat tietynlaista pukeutumista. Ja mikä olisi parempi kuin karvalakki. Monipuoliset asetukset ja käyttömahdollisuudet. Mukavan lämmin jopa -25°C
1
1
I would recommend for a friend
Sean G.

10.04.2018 (Edited 10.04.2018)
About a 100+ weight fleece on the inside, 300+ weight fleece on the underside of the ear flaps and brim. Outer fabric heavy enough for a hat and feels like its coated with a DWR of some sort. It's not Gore tex or anything, but should work fine for snow. Flaps secure with velcro. I have a 24" head and the 63 is a little loose on me. Would be perfect fit with a balaclava under it.
1
0
I would recommend for a friend
Mika L.

03.08.2018
Kyseinen karvalakki on kovilla pakkasilla erittäin hyvä, se tuli todistettua viime talvena. Pohjoisesta kun olen kotoisin niin osaan arvostaa lämpöä...pisteet varustelekalle!
3
1
I would not recommend to a friend
N.N.

30.08.2018 (Edited 30.08.2018)
Pikku pakkasilla menee, kovemmilla varsinkin tuulessa liian ohut. Tietysti jos on liikkeessä niin toimii paremmin, mutta paikoillaan ollessa on vain liian ohut. Huomaa, että on ajateltu vain etelä-Suomen talvea.
2
4
I would not recommend to a friend
Svante Ö.

15.12.2018
Tällä lakilla ei ole mitään tekemistä sanan karvalakki kanssa. Todella surkea esitys. Testattu -6 astetta pakkasta, ei kelpaa mihinkään. Päähän jäätyy nopeammin kun konsanaan pipolla. Älä osta tätä ellet aio käyttää plus keleillä!!
2
11
I would recommend for a friend
Robert K.

07.08.2019
Perfect for hunting in cold nights.
Ordered mine one size taller than my actual head circumference. I think this way it fits better when the earflaps are folded in.
0
0
I would recommend for a friend
Peter D.

19.09.2019
I have a size 60.5 head, sometimes I size up sometimes I size down, depends on the product and build. Here I sized down, and that was appropriate - it fits well without being too tight. So far as the construction goes, this is the Viking fabric those whom have gotten the winter camo pants or jackets will be familiar with. I find it pretty sturdy and moderately rain/snow resistant. There is a feeling of it being a little "flimsy" which has been noted in the reviews, which I can see where it comes from - the outer shell and the inner shell are not particularly joined at the seams, for instance, so the outer shell will float a lot. This is still a not-cordura-honest style poly fabric though, so it stands up to wear fairly well. If you're concerned about unplanned baths while ice fishing, or might get caught in freezing rain, I might wax this hat, but otherwise it's fine. I find it pretty warm here in Canadian cold, but for what it's worth, I wear mine with a balaclava when it is particularly cold. I think it should be just fine for the winter too, but if that supposition doesn't hold up, I'll update this review. For now, I would happily recommend it for others, at least for our fall.
0
0
I would recommend for a friend
Johannes L.

09.11.2019
Tämähän on ihan hyvä ja lämmin kotsa on lämmittäny viime talven ja nyt alkutalven Oulun keleissä.
0
0
I would recommend for a friend
Curtis 7.

18.11.2019
I normally wear an American 7 1/4 - 7 3/8 and a 58 fit perfectly. It isn't the thickest hat, it isn't wind proof, it isn't waterproof. However, it is very cozy and good for temperatures down to 20 F or so. It gets hot if you're active but luckily there are several ways to wear it to fit your needs. Customer service on returns was excellent.
0
0