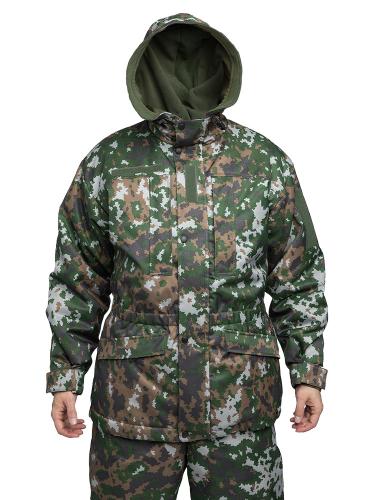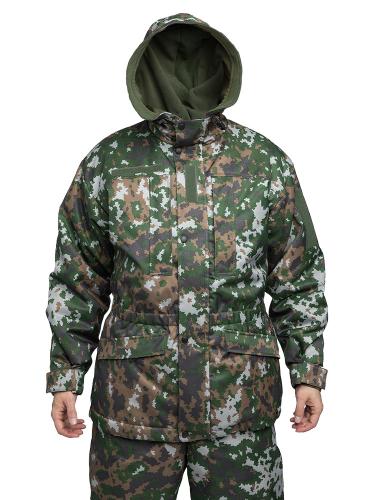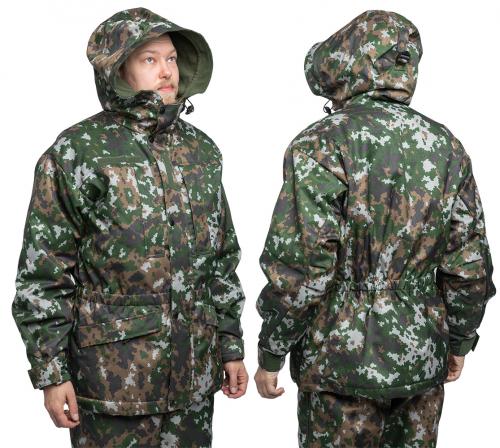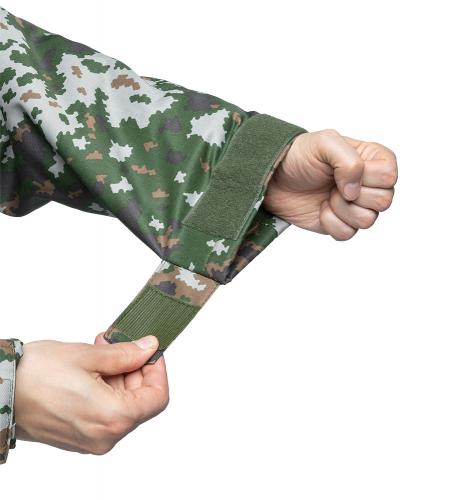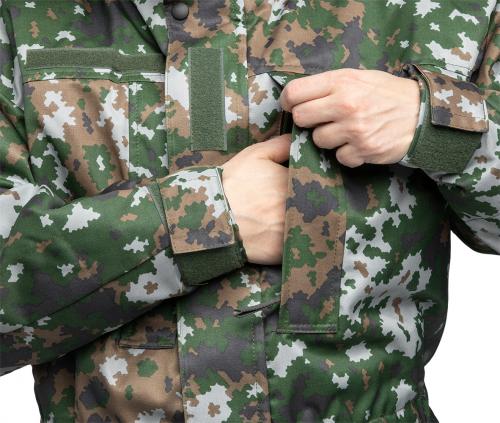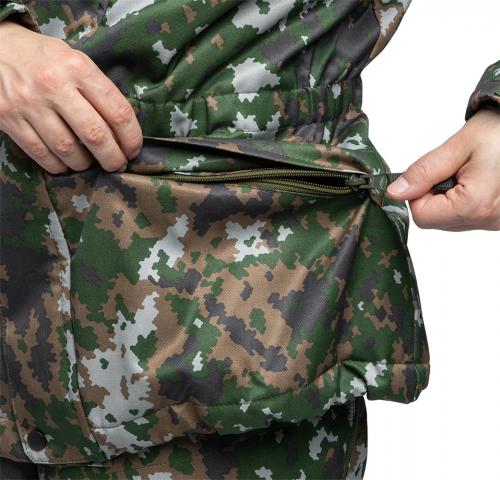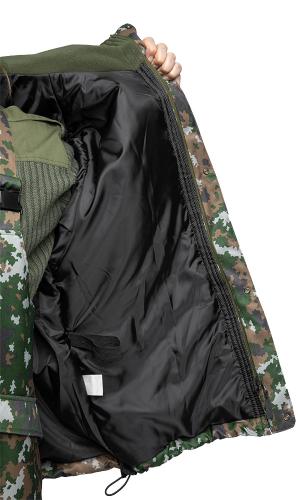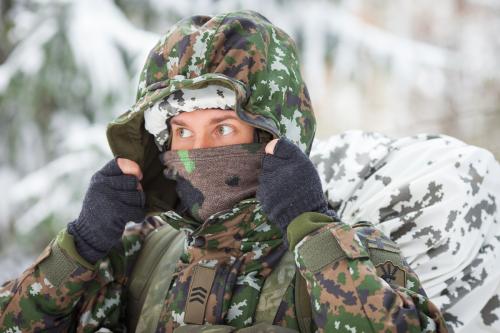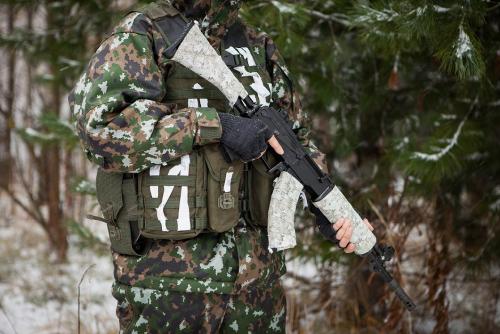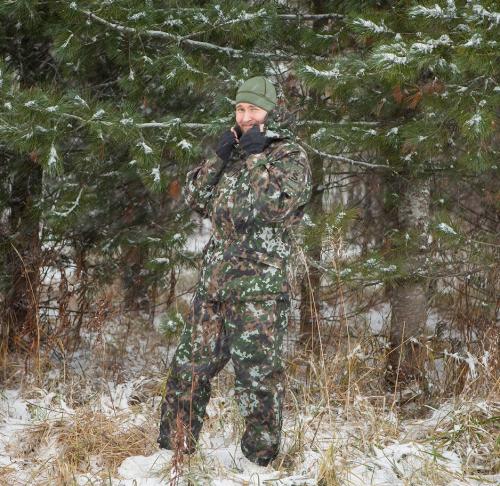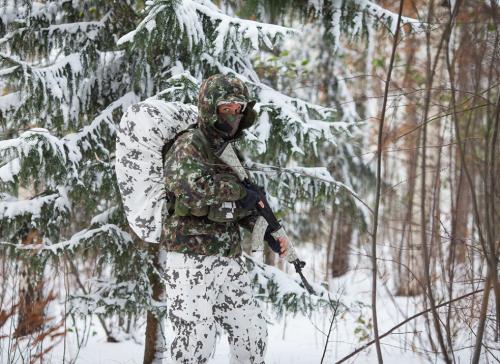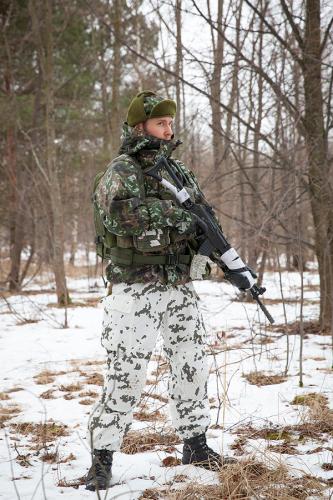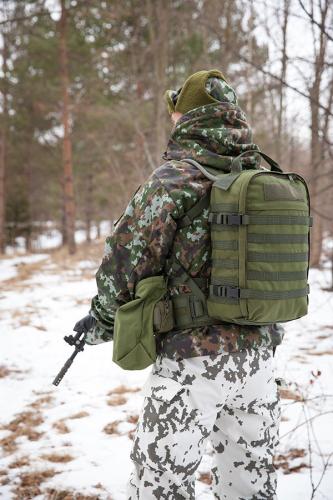 Särmä TST M05 cold weather parka
Price 91.99 USD 147.99 USD excluding VAT
Very much like the Finnish Defence Forces issued M05 cold weather parka, but with a few little improvements and notably better insulation: Climashield Apex!
Loading products...
Trouble with the metric system? Try our converter: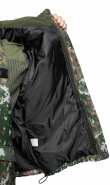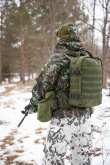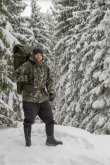 Very much like the Finnish Defence Forces issued M05 cold weather parka, but with a few little improvements and notably better insulation: Climashield Apex!
Generous, roomy fit for layering over field uniform - pick a size smaller than recommended if you want a "street fit"
Font zipper w/ press stud storm flap
Large, adjustable hood w/ fleece lining
Hook-and-loop adjustable cuffs*
*instead of the silly interior knit cuffs found on the issued jackets
Elastic cord adjustable waist and hem
Loop for name, rank and sleeve patches (easy to remove if you want to)
Four pockets:

Two zippered chest pockets
Two zippered hem pockets

Materials:

Outer fabric: 70/30 PES/CO
Lining: 100% PES
Insulation: Climashield Apex 100 g/m2
All visible materials are NIR compliant
Materials
The outer fabric is 70/30 polyester/cotton, the exact same material used in the latest production runs of the official issue uniforms. Naturally the camo print is totally NIR compliant, so you don´t need to fear looking all lit-up when viewed through NVDs. The lining is 100% polyester.
Climashield Apex
This modern hollowfiber is also used by the US military and Crye in their cold weather gear. Our M05 cold weather garments are filled with 100 g/m2 Climashield Apex, this gives great insulation and warmth whilst still keeping weight to a minimum. The "real" issue CW clothing is made with outdated 70¨s polyester stuffing, Climashield is approx. a hundred times better than that old junk.
Sizing
Straightforward Small, Medium, Large and Short, Regular, Long etc. sizes with corresponding official FDF size number and recommended user measurements (chest circumference and length in centimeters) in brackets.
These are generously sized to accommodate warm base and mid layer clothing. The M05 cold weather parka was designed for wear over warm mid layers and even the standard camo uniform. Using waist and hem drawstring the jacket can easily be adjusted for a custom fit.
Sewn in Estonia
These are sewn in Estonia, by an experienced factory that has a long history of producing clothing for military, law enforcement and emergency services.
Särmä TST
Särmä TST is Varusteleka's in-house brand of clothing and gear designed for military and law enforcement end-users. Our clothing and equipment are made in co-operation with a number of experienced manufacturers with a strong background in producing clothing and gear for military and law enforcement officials, most notably for the Finnish Defence Forces. For further reading check out the Särmä TST corner of our website.
Särmä TST products are covered by a 12-month warranty against defects in materials and workmanship. For further information please read our detailed warranty guide.
Recommendations
Loading products...
Reviews
You have already submitted a review. You can edit your text by clicking on it.
Log in and write a review.
Remove filter
Suomi
(13)
English
(6)
I would recommend for a friend
Timo V.

03.11.2016 (Edited 23.09.2017)
Tilasin koko puvun kokoa 868 siksi, ettei ole 960 kokoa olemassa, ja kuten toinenkin kommentoija, mietin nyt kovasti onko liian väljä.
Hihojen ja punttien pituus on nappihyvä kuitenkin. Onneksi pakkaspuku on kohtuullisen ohut ja on siten pakattavissa reppuun, pelkäsin jotain massiivista autolla kuljetettavaa tulleen tilattua. Lämmin on kyllä ja lopullinen totuus paljastuu sitten helmikuussa -30 pakkasissa. Uskon, että tosikelissä puku on sopivan väljä, kun puvun allekin pitää saada mahtumaan helposti leiriin tultaessa normaalit liikkuessa käytettävät talvikamppeet mukanlukien 48 huopavuorikumisaappaat. Koon testinä käytin koiran kävelytystä, joka onnistui muumin näköisenä, mutta ihan alkkarit päällä ja Reinot jalassa ilman isompaa kompastelua.

Puku on kyllä niin hyvän oloinen, että saatan tilata toisen puvun pienempää kokoa käytettäväksi suoraan ainoana päälivaatteena, mutta tämä jää nähtäväksi.

Hihavetoketjut hieman takkuilevat. Henkselit eivät tietenkään pidä säädettyä kireyttään ja olkainhihna menee rimpulana heti rullalle solkeen, en ymmärrä miksi näissä on aina kaikilla valmistajilla ongelmia - rusetillako ne on tarkoitus kiinni laittaa? Meillä ei aikanaan intissä ollut pakkashousuja, joten en tiedä kaikkia kikkoja.

Leka saisi kyllä tehdä myös pitkien ja isojen miesten kokoja. Smock II olisi kiva nähdä long XXXL koossa muunmuassa! Toisaalta Lekan koot eivät ole kovin loogisia. Esim merinoboxerit XXL ovat hieman liian löysät ja paita XXL taas sopiva, vaikka yleensä olen normaalia reitevämpi eikä ylävartalo ole mitään Bull-Mentula mallia. Tilaan varmaan puolipitkät merinoalkkarit XL kokona, jotta ovat napakammat. Tiedän kyllä, että villa-alusvaatteet eivät saa olla mitään trikoopukuja.

Jatkoa...
Erinomainen pyöräilyasu talven pakkasissa. Huppukin toimii ihan pipon kanssa riittävän hyvin, eli päätä kääntämällä näkee sivulle. Useinhan tähän tarvitsee lippalakin.

Nyt -10 pakkasta, tuulen kanssa -18. Ei mitään ongelmia, hieman ehkä hiki tuli liikaa. Alla yöpuku. Materiaalia on kevyttä ja notkea, joten ei haittaa muumipuku yhtään liikkumista. Hiki ei jää hautumaan. Kylläpä on huomenna helppo lähteä töihin polkemaan: T-paita ja alkkarit, niiden lisäksi vain pipo ja Lekan pakkaspuku. Kengät tietty jalkaan. Töissä odottavat työvaatteet.

Hyvät taskut helpottavat avainten ja kännyköiden kanssa pelaamista. Reisitaskussa kännykkä oli pysynyt vielä plussan puolella. Sopivan pitkät hihat oli helppo kiristää hanskojen päälle, eipä tullut tuuli sisään.

Sori Leka, ei tartte ostaa pienempää kokoa - tämä puku käy kaikkeen käyttöön!

J.K. AlaTaskut ovat pienet, minkäänlaiset rukkaset eivät mahdu, ja takin vetoketju aukeaa vain ylhäältä päin.
4
2
I would recommend for a friend
Kari H.

11.11.2016 (Edited 18.11.2016)
Ostin pelkän takin lintukuvaus ja retkeily käyttöön,muutaman reissun kokemuksella muutamia huomiota.
On riittävän lämmin ja toimiva,huppu on tolkuttoman kokoinen pipon tai karvalakin kanssa,helma on liian lyhyt josta johtuen alataskut on ihan surkean kokoiset(ovat mielestäni tärkeimmät taskut),muut taskut ovat kyllä onnistuneet. Olettaisin että suurin osa menee siviilikäytöön,myös pidän turhina noita arvomerkkipohjia ja kypärän mentävää huppua.
7
14
I would recommend for a friend
pasi m.

12.12.2016 (Edited 20.12.2016)
Lämmin ja laadukas takki. Tuli testattua -13° pakkasessa ja tuulessa patikoidessa, erä-reissulla. Alla kevyt pukeutuminen ilman paksuja paitakerroksia ja pysyi miellyttävän lämpöisenä. Suosittelen!! T. Res. Alikessu
12
2
I would recommend for a friend
Jukka R.

17.12.2016 (Edited 20.12.2016)
Koittanu tässä naputella positiivisuuksia 05 pakkaspuvusta mutta virranjakaja aivan tönkkönä. Mutta kun ihan veretseisauttavan loistava tuote!! Että kiitos äijät!!
4
2
I would recommend for a friend
Riku J.

21.12.2016 (Edited 22.12.2016)
Ihan huippu takki! Tosiaan jos ihan tavallisen kuolevaisen normaaliin talvitakkikäyttöön tätä haaveilee, niin kannattaa ottaa ainakin kokoa pienempi, kun oikeasti tarviis.
Tällaisen herkän runoilijapoikasen pumpuli-iho hankaa pikkusen ikävästi siihen vetoketjun takana olevaan läpykkään, kun takki on kokonaan kiinni. Jos jotain muuttaisin, niin ainakin se läpykän yläosa voisi olla sitä samaa ainetta, kun hupun sisäpuoli. Tai sitten pitäs kasvattaa parta niinkun oikeilla miehillä on.
3
3
I would recommend for a friend
Tero K.

04.01.2017 (Edited 04.01.2017)
Erittäin hyvä talvitakki. Kiitos myös oikeasti isojen kokojen tarjoamisesta! Vuori on mukavan liukas, eikä kinnaa välikerroksen kanssa. Hihakiristykset toimivat. Rintataskut ovat hyvät, sivutaskut vähän pienehköt, mutta niissä tavarat pysyvät hyvin ja tasku toimii myös helma käännettynä. Tämä on hyvä asia, kun takki päällä istuu autoon. Huppu on minustakin tolkuttoman iso, mutta suojaa todella hyvin.

Tänään -18 asteessa, kovassa tuulessa takki toimi erinomaisesti M91 -poolon ja puuvillapusakan kanssa.
2
2
I would recommend for a friend
Jussi V.

06.01.2017 (Edited 06.01.2017)
Erittäin hyvä takki. Sopivan lämmin keleille 0....-20. Alle sitten vain kelin mukaan välikerroksia. Kylmemmässä en ole vielä testannut. Vaatii kaulurin tai korkeakauluksisen paidan alleen, koska takin korkeaa kaulusta ei voi kiristää
Viimeistelytaso on hyvälaatuinen tämän hintaiselle takille.

Olen itse 187cm / 88 kg, ja minulle sopiva koko on 752/754.
Appiukko 187 cm / 110 kg koko on 856.
3
2
I would recommend for a friend
Vikke S.

11.01.2017 (Edited 11.01.2017)
Mielestäni takki on erittäin hyvä kaikenlaiseen passissa istumiseen ja kevyeen toimintaan talvella.
En ymmärrä sitä valitusta takin hupun koosta ja arvomerkkipaikasta. Tuotteen nimessä ei turhaan lue Särmä TST. Taistelukamaksi nämä ovat tehty ja hyvä niin. Isoon huppuun mahtu hyvin vaikka moottorikelkkakypärä, iso karvahattu tai peltorit ilman ongelmaa.

PV:n vastaavaan verrattuna merkittävin ero on selvästi vuori. Lekan versiossa takin ulkokangas ei tunnu missään vaiheessa painautuvan kylmästi ihoa vasten vaan se oikeasti eristää. Tämä puku päällä on tullut istuttua passissa kokonaisia päiviä lähemmäs parinkymmenen asteen pakkasessa, eikä muulla kuin jaloilla ole ollut kylmä.

Kokonaisuudessa olen erittäin tyytyväinen tuotteeseen. Ainoana miinuksena on valmistusmaa.
12
3
I would recommend for a friend
Eero V.

12.01.2017 (Edited 12.01.2017)
Pitkän testaamisen jälkeen voin todeta takin olevan pv:n mallia paljon parempi. Eriste on lämpimämpi, mutta takki silti hengittää paremmin. Muovikalvon pois jättäminen teki ihmeitä takin käyttöarvolle, ei ole niin herkästi jätesäkki fiilistä. Hihakiristykset ja fleecet 10+.
Takilla tarkenee (oikein kiristettynä+kauluri) kevyttä patikointia -15 pakkasessa vielä pelkällä teknisellä aluspaidalla, olo pysyy sopivan viileänä. Suosituskoko jättää vielä hyvin tilaa lisäeristykselle, esim. wool power 200g/m2 poolo ja untuvatakki meni vielä mukavasti alle.
Oiva valinta myös työmatkoille heittää vain t-paidan päälle. Kestää kylmää, tuiskua ja vähän sadettakin.
Kylmälle kelille kuoreksi juuri passeli, kuten suuniteltukin, taukotakiksikin jos viitsii kantaa.
Miinusta vain taskujen pienuudesta, noihin brittien smockeihin kun olen tykästynyt.
4
2