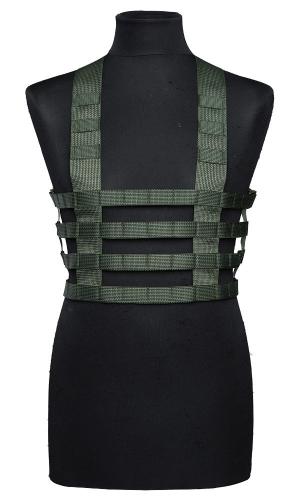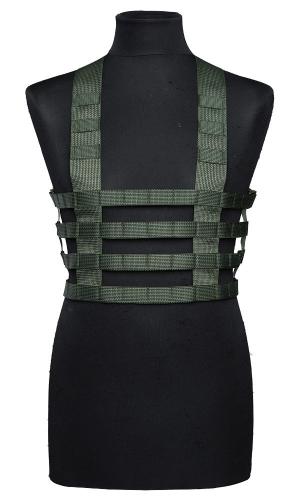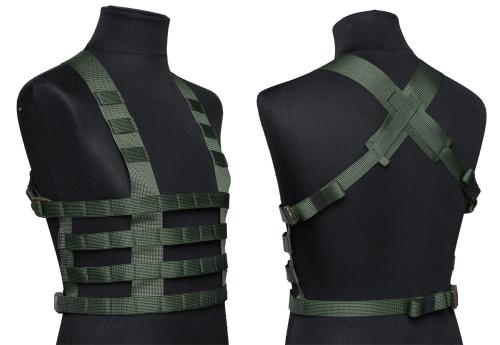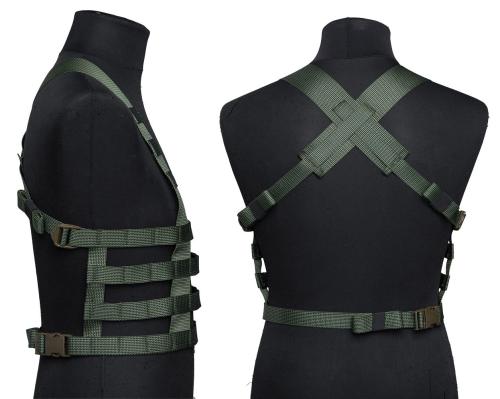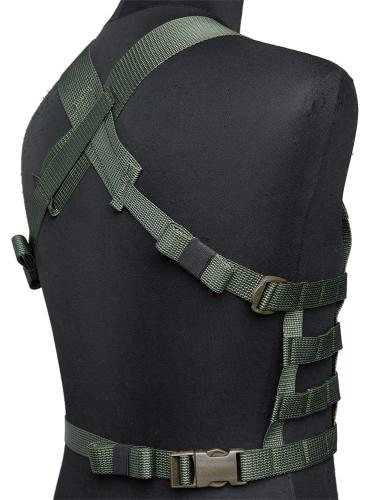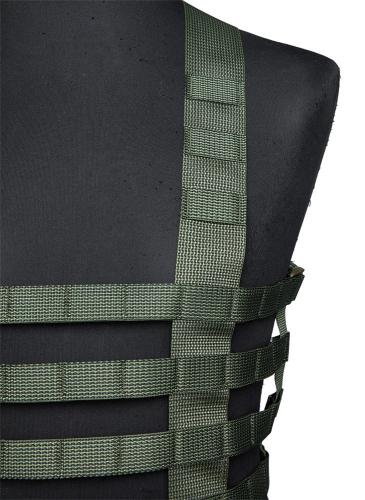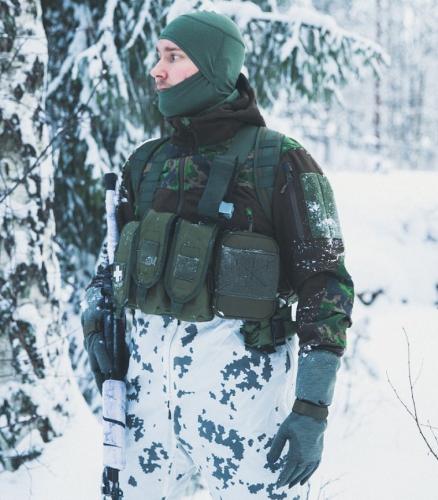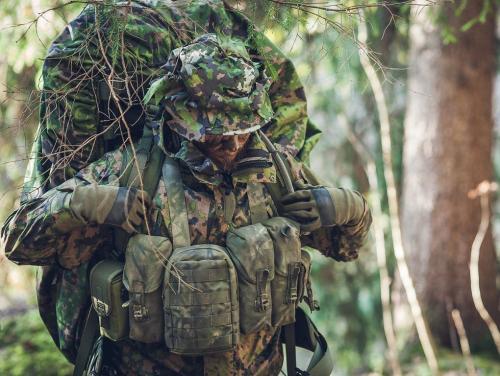 Särmä TST
Särmä TST LW18 Chestrig
Price 59.99 USD
excluding sales tax
A lightweight and simple chestrig to carry your most important fighting kit. Made entirely out of webbing, making the rig extremely rugged and breathable.
Loading products...
Trouble with the metric system? Try our converter: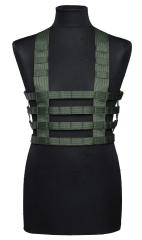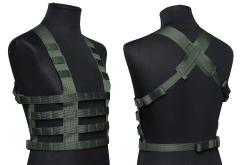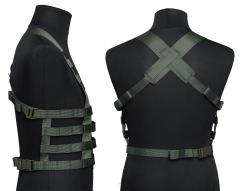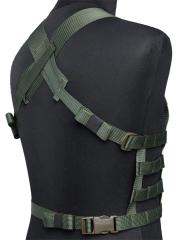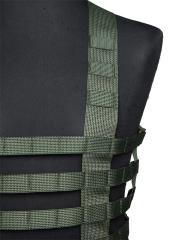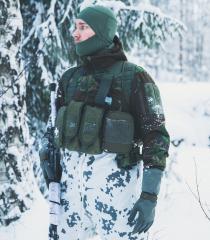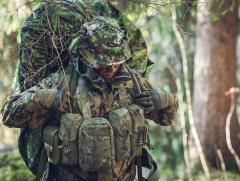 A lightweight and simple chestrig to carry your most important fighting kit. Made entirely out of webbing, making the rig extremely rugged and breathable.
The vest base is made from 25 mm webbing in two layers, sewn onto each other to form a 12 channels wide PALS matrix. Pouches attach to the webbing just as securely as onto a traditional fabric-backed vest, but the empty spots are only webbing and empty holes, making this design more breathable than a traditional chestrig.
As this rig is made for the Finnish market, we've taken into account the fact that our RK magazines need more than the usual three rows high PALS matrix that most western chest rigs are based on. This rig is four rows high to work properly with the standard-issue RK mag pouches, a good thing for anybody using Soviet-based weapons tech.
The shoulder straps are comfortably wide, 50 mm, and end in 25 mm straps that attach to the vest base and comes with LadderLock buckles. A waist strap keeps the rig from flopping about. All straps are generously adjustable to fit pretty much anybody who could effectively use a rig like this in the field.
Finnish MILSPEC materials
Made entirely of the same materials and hardware that are used in the production of Finnish army M05 combat equipment, strong webbing, and ITW Nexus buckles, all NIR compliant naturally.
Kierto Circular Economy
Return this product used but clean and unbroken, and you'll receive half of the product's original price as Varusteleka credits. Service is available only in Finland. Only Registered users can make Kierto returns. See more information about Kierto.
Carbon Footprint
The estimated amount of greenhouse gas emissions from the production of one single item is 7.3 kg CO2e. The estimation includes the entire production of the item, from the raw materials up until the finalized product exiting the factory. Read more about the calculation method.
Varusteleka Särmä TST
Särmä TST is Varusteleka's in-house brand of clothing and gear designed for military and law enforcement end-users. Our clothing and equipment are made in co-operation with a number of experienced manufacturers with a strong background in producing clothing and gear for military and law enforcement officials, most notably for the Finnish Defence Forces. For further reading check out the Varusteleka's Särmä TST page.
Särmä TST products are covered by a 12-month warranty against defects in materials and workmanship. For further information please read our detailed warranty guide.
All products: Särmä TST
Recommendations
Loading products...
Reviews
You have already submitted a review. You can edit your text by clicking on it.
Log in and write a review.
Remove filter
Suomi
(6)
English
(5)
I would recommend for a friend
Mikko Y.

18.09.2022
I would recommend for a friend
Sami A.

30.09.2022
Erinomainen tuote. kevyt ja vahvarakenteinen. Joskus tuntuu että kujia saisi olla sivusuunnassa enemän. Eihän ole tarkoituskaan saada jokaista taskua kiinni liiviin mutta muutamaa pals kujaa jäin kaipaamaan
0
0
I would recommend for a friend
Otto B.

20.07.2016 (Edited 05.01.2017)
I have used this ULW Chest Rig for a year or so now.
It's very light and handy. It often bring it along on exercises as an extra (and smaller) rig, so I can have a decent fighting load on me without being fully kitted out in a full-blown combat vest. I have also used it as my only rig, and it works just fine for that too.

The 12 rows of PALS is just enough for a light fighting load.

I carry 4-6 NATO magazines, a decent size IFAK, a general purpose pouch, and the rig sits just fine without any sagging at all.

The straps can be a bit fiddly to get on without twisting on your back, at least until you get used to it. It's no big deal. I find it better to fiddle for a moment with a simple webbing strap, than having great, big silly padded straps.

I own the bigger 2-piece Särma Chest Rig also, and I prefer this ULW version because there is no wasted space on the front (where the 2-piece rig has the buckles.)

This is a great piece of kit for the money.
25
0
I would recommend for a friend
Patrik M.

21.02.2019 (Edited 02.06.2021)
Overall this is an excellent chest rig. There are absolutely no unnecessary features and at this price point the quality of the build and materials is excellent.

I have a couple of thoughts on what could improve this for me however:
1) The rig could do with two more columns of PALs (one more on each side). This way, you could mount 5 mag pouches (2wx3h) and a utility pouch (3wx3h) without a need for double stacking. Without the utility pouch you could then also fit 6 mag pouches, right now you can't.
2) The shoulder strap PALs rows in the new version are very useful, but could be improved if a few of them could be 2 wide to fit small things 2x2 things like radio pouches.

A fantastic product in general though!
10
0
I would recommend for a friend
Karl S.

10.05.2019 (Edited 05.06.2021)
I would recommend for a friend
Eamon B.

09.11.2019 (Edited 05.06.2021)
I would recommend for a friend
Ville S.

02.01.2020 (Edited 06.06.2021)
Erinomainen liivipohja, joskin kiinteät olkahihnat vähän kinkkisiä ja hitaita, jos liivi pitää pukea päälle nopeasti(heräät teltasta yllätystaisteluun yms.) tai ottaa nopeasti pois päältä. Omilla pikaklipsi-viritelmillä tästä selvittiin, mutta seuraavaan malliin 25mm hihnan päihin pikaklipsit? :)
16
0
I would recommend for a friend
Petri A.

01.10.2020 (Edited 06.06.2021)
No tämä!
13 vuotta käytössä ollut (ja edelleen "raskaan aseistuksen lippaille" käytössä) Miltecin liivi sai rinnalleen kevyen res-mallin.
Tähän kiinnitin 4 tupla pistoolikaliiperin taskua.
Ainut lisä minkä tuohon olen laittanut on lenkki housun vyöhön; esstacin lipastaskuissa lipas pysyy kiinni...:-)
0
0
I would recommend for a friend
Henrik L.

19.10.2020 (Edited 06.06.2021)
Tää on aika makee!

Sain noihin vaikka mitä lipasta kiinni (4kpl Tasmanian tiikerin M4 taskua ja 3 pistoolilipastaskua niiden päälle) ja mun lempparitkin mahtui, leatherman ja kenttäpullo. Lisäksi jäi vielä tilaa ylemmäs pikkutaskuille, jos nyt tarvitsisi johonkin.

Lipastaskut kiinnitin niin, että alin rivi ei mennyt enää liivin molleista läpi. Silloin sain ne sopivan alas, että on nopea ladata ja makuuasento oli myös mukava, itseasiassa yllättävän mukava lippaidenkin päällä maatessa.

Tuunasin vaakasuorassa selän takaa menevän hihnan niiteillä niin, että siihen jäi luuppi, mistä helposti vetää se kireäksi. On nimittäin paljon helpompi ja nopeampi kiinnittää liivit hihna löysänä ja sitten vasta kiristää.

Huomasin myös, että saan ne vielä helposti taiteltua pallomaiseen muotoon, joka sitten kiristyy kasaan tuolla selkähihnalla. Tosi iisi kuljettaa noin.

Uskomattoman kätevä tuote!
1
0