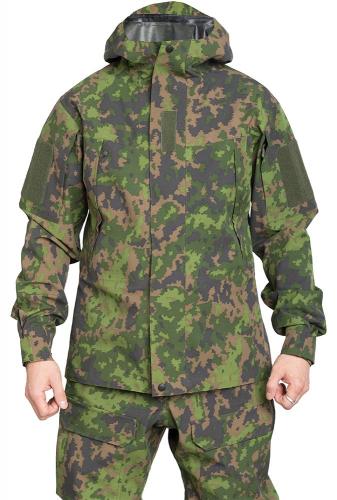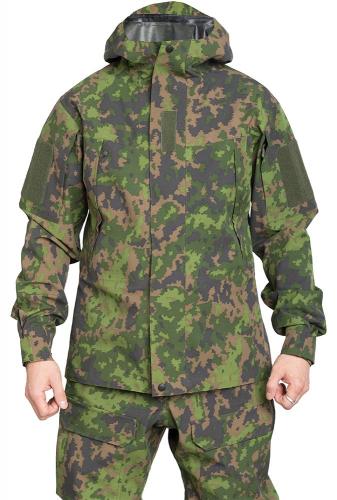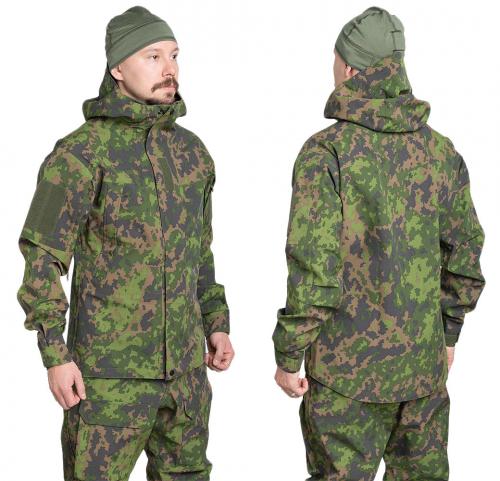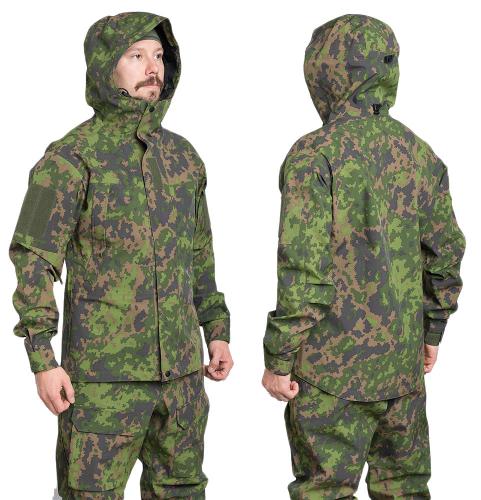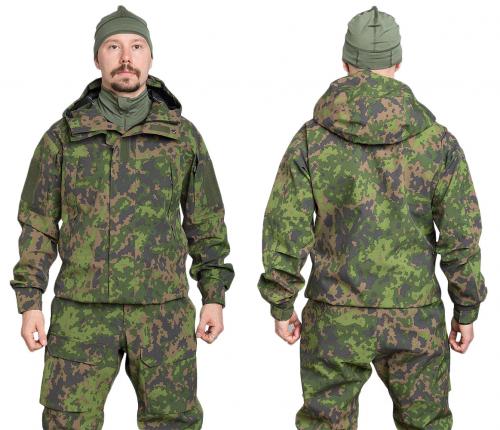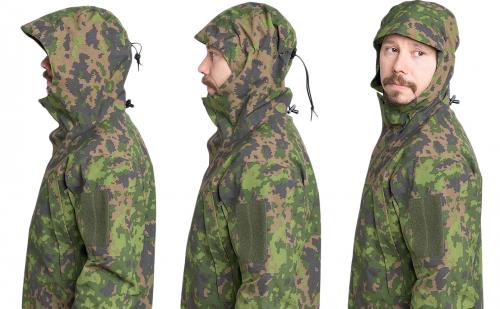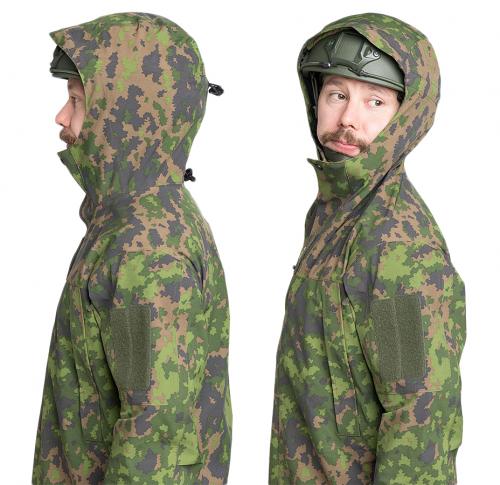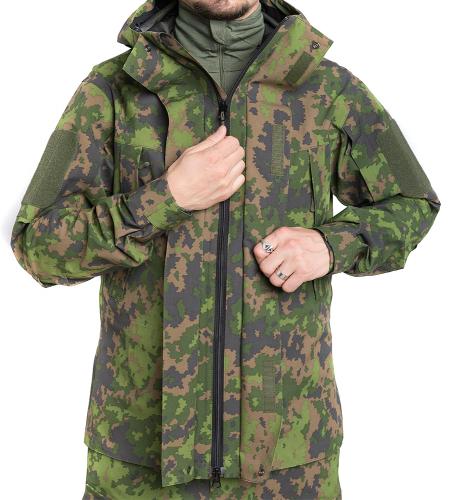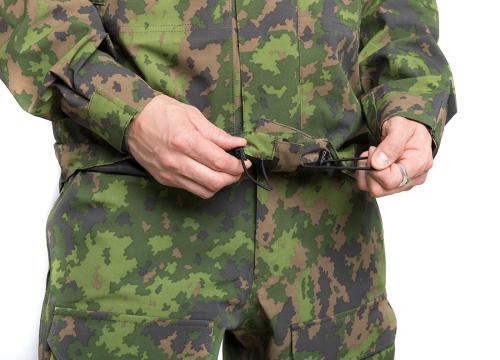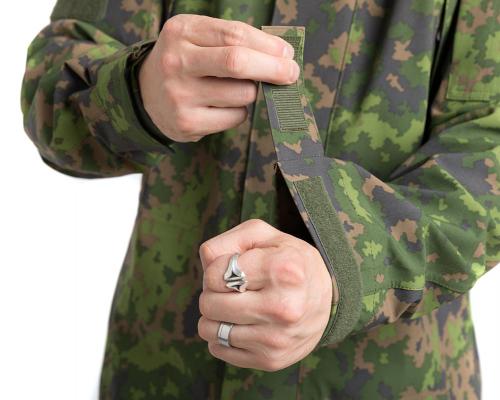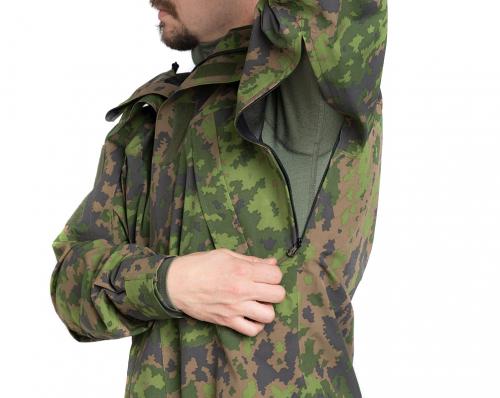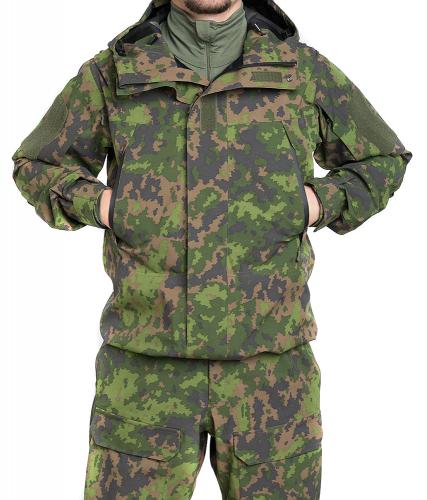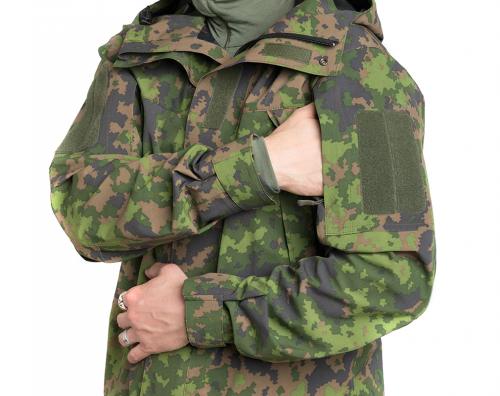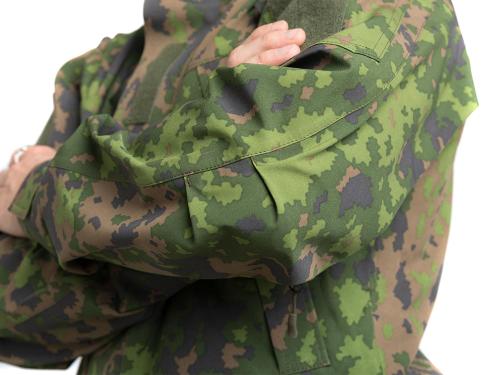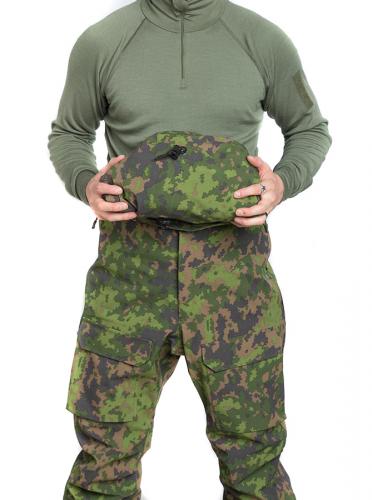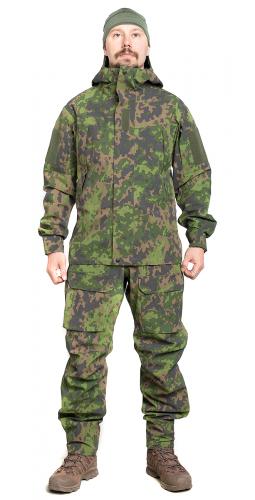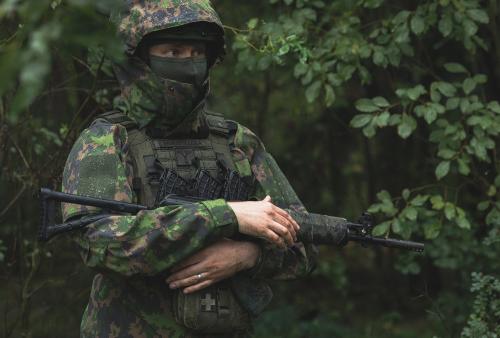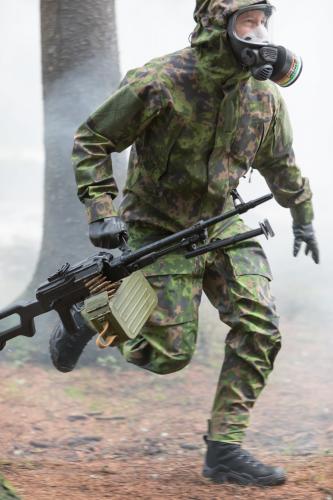 Show all: Särmä TST
Särmä TST L6 Hardshell Jacket
Price 262.99 USD
excluding sales tax
The Särmä TST L6 Hardshell jacket and pants were designed as an alternative to the Finnish standard-issue rudimentary non-breathable rainwear. Ventilation zippers offer added comfort, and four basic pockets keep your necessary belongings organized and easily accessed.
Loading products...
Trouble with the metric system? Try our converter: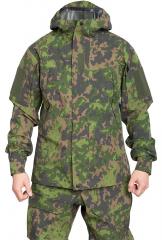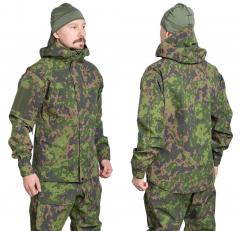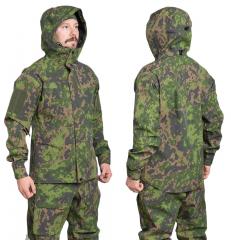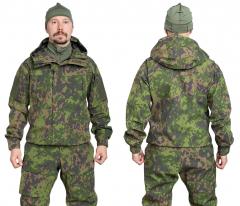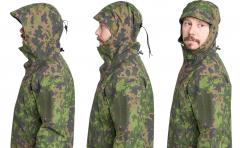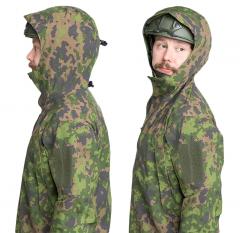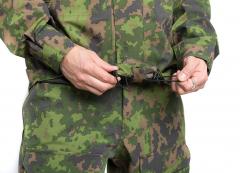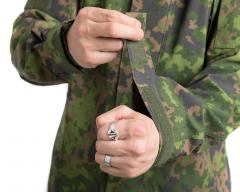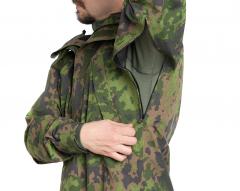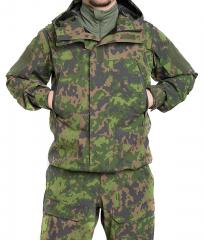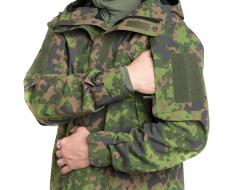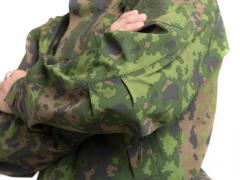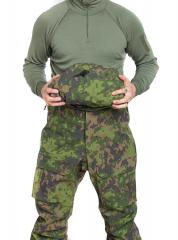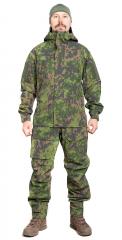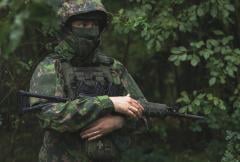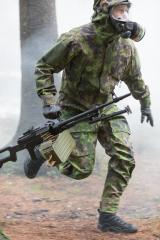 The Särmä TST L6 Hardshell jacket and pants were designed as an alternative to the Finnish standard-issue rudimentary non-breathable rainwear. Ventilation zippers offer added comfort, and four basic pockets keep your necessary belongings organized and easily accessed.
Relaxed fit to accommodate warm mid-layers
Helmet-sized adjustable hood
Front zipper w. an interior and exterior storm flap
Underarm ventilation zippers
Elastic draw cord-adjustable hem
Hook-and-loop cuffs
Hook-and-loop rank and sleeve patches
Four pockets:

Two zippered chest pockets
Two zippered upper arm pockets

Materials:

Foxshell, waterproof and breathable 3-layer laminate w. PU membrane. Waterproof rating >10,000 mm
Splashproof zippers
All materials are NIR-compliant
Ventilation - the key to comfort

Anybody who has worn hardshell knows that no matter what retailers say, it is never as breathable as "normal" clothing, that is the truth. But, the important thing is ventilation! Do it and do it right for maximum comfort.

Start off by opening the armpit zips, these will really help cool you down a bit. If that is not enough, loosen the waist draw cord and sleeve cuffs to let air run through the jacket. Need more ventilation? Well just open up the front zipper from the top or bottom or both and you are as ventilated as you can be! And when your activity level drops, just zip up and tighten everything down again.
L6 - Waterproof Shell
The sixth level of the Särmä TST Clothing System is designed for layering over your fieldwear for temporary rain protection. Or you can wear it as a waterproof uniform on its own. Generous ventilation zippers minimize the thermal load of the layer, allowing added comfort. Camouflage prints and visible accessories are 100% NIR-compliant.
Take a look at our Särmä TST Clothing System!
Sizing
The measurements in brackets are the recommended user height and chest circumference. The cut is slightly oversized to accommodate warm mid-layer clothing.
Materials
Foxshell (79% polyester, 3% elastane, 18% polyurethane) is a 3-layer laminate hardshell fabric originally designed for the Finnish Border Guard. Most recently, Foxshell was chosen for the production of the latest generation of Finnish Army motorcyclist hardshell jackets and pants.
Care and maintenance
It is absolutely super-important to take good care of your hardshell clothing. The whole point in a three-layer membrane fabric is that the top layer has to stay dry in order for the membrane to transport moisture. When the top layer gets dirty or wet, the membrane will no longer breathe and if you then add pressure, water will eventually come through the fabric.
So, after use always wipe off any dirt with a simple wet towel. When you notice that the fabric is starting to lose its water repellency, use DWR spray to breathe some new life into it. Washing with special detergents designed for hardshell clothing is also an option. Remember: nothing lasts forever, but everything lasts longer if you take good care of it!
Sewn in Estonia
These are sewn in Estonia, by an experienced factory that has a long history of producing clothing for military, law enforcement and emergency services.
Varusteleka Särmä TST
Särmä TST is Varusteleka's in-house brand of clothing and gear designed for military and law enforcement end-users. Our clothing and equipment are made in co-operation with a number of experienced manufacturers with a strong background in producing clothing and gear for military and law enforcement officials, most notably for the Finnish Defence Forces. For further reading check out the Varusteleka's Särmä TST page.
Särmä TST products are covered by a 12-month warranty against defects in materials and workmanship. For further information please read our detailed warranty guide.
Recommendations
Loading products...
Reviews
You have already submitted a review. You can edit your text by clicking on it.
Log in and write a review.
Remove filter
Suomi
(4)
English
(2)
I would recommend for a friend
Simo N.

12.09.2017 (Edited 31.05.2021)
Hemmetin hyvä takki. Ostin etupäässä metsästyskäyttöön, enkä ole pettynyt. Toki, lämpimämmillä kuivilla keleillä kannattaa käyttää jotain hengittävämpää, mutta kurjalla säällä takki on todella hyvä. Haasteellisin ilmasto on kuuma kostea. Mutta siihen ei kai ole mitään hyvää vaatetta.
Leikkaukset ovat erinomaiset. Ei ahdista, ei kiristä. Hupun leukasuoja nousee aika korkealle, mutta ei sitä tartte tappiin vetääkään aina. Muotoiltava huppulippa on tosi jees. Pusakkamaisuus ei ehkä ole tyylikästä, mutta perkeleen käytännöllistä. Uskoisin, että pesee hunters elementit ynnä muut kuus nolla, vaikkei _täysin_ äänetön olekaan. Jos mulla kesti Haltin drymax takki 2002-2017, niin tää varmaan palvelee vielä 2040-luvulla. Ei siinä vuotta kohden kauheita kustannuksia tule.
29
1
I would recommend for a friend
Viktor H.

03.09.2018 (Edited 01.06.2021)
Hinta oli aikamoinen, mutta etsiessäni hyvää ja kestävää sadetakkia metsärämpimistä varten tämä takki oli täydellinen. Hyvännäköinenkin takki on!
Itse käytän takkia sateisina päivinä joko metsä- tai reservihommissa. Hihojen tuuletusaukot ovat hyvin tehokkaita ja estävät liiallisen hikoilun (en suosittele takkia pitkimmille marssille ellei ole sateista, kalvotakit eivät kuitenkaan niin paljon hengitä).
Sadekestävyys esim. intin takkeihin (ja kaikkiin muihinkiin myös) verrattuna on mahtava. Vesi suorastaan valuu pois takista, eikä jätä sellaista kosteaa tuntoa sadesään jälkeen. Tässä uudessakin leikkauksessa leukasuoja tulee aika korkealle, mutta huppu on tilavempi kuin edellisessä versiossa. Jos Varustelekalta tulisi identtinen siviiliversio (esim. musta/vihreä/keltainen) ostaisin sellaisen heti. Paras omistamani sadetakki!
11
2
I would recommend for a friend
Viktor H.

03.09.2018 (Edited 01.06.2021)
I would recommend for a friend
Jukka R.

22.01.2019 (Edited 02.06.2021)
Veretseisauttava vaateparsi. Ollut 3 vuotta sellaisessa kyydissä, missä muut vastaavat ovat pudonneet rinnalta. Kun tavara osuu tuulettimeen niin tämä takki pelastaa. Erityisesti mieltä lämmittää kuorihousujen tulo myyntiin. Vaikka tuotteen hinta olisi korkeahko, sillä ei ole mitään merkitystä siinä paikassa kun olosuhteet eivät ole miellyttäviä. On kova, kiitos.
3
2
I would recommend for a friend
Matti H.

21.08.2019 (Edited 05.06.2021)
Leikkaus on erinomainen. Takki on erittäin mukava päällä. Saumat päästää vettä kunnon vesisateessa, ainakin omassani. Tästä johtuen yksi tähti pois. Pienemmällä sateella ei ongelmia.
0
0
I would recommend for a friend
Chris K.

26.08.2019 (Edited 05.06.2021)
This is the best rain-protection I've ever had. This material keeps you dry in the worst scenarios and protects you against everything out there. I was concerned about the price of this jacket (and the pants) at first, since I expected it to be similar to the German Bundeswehr Nasseschutz. This stuff plays a completely different league and is worth the money. It doesn't matter what happens out there, you'll stay dry and warm. Not lightweight, but highest quality and durability.
9
0
I would recommend for a friend
Daniel T.

24.11.2021
Very good Hardshell jacket!
I was very impressed how small it can be packed.
Its very durable, I use it on long hikes in 3 seasons, you can use it without beeing boiled inside in the summer too since its very breathable and the ventilation is great.

I just use a Arc'ter*x Beta SL in summer because its packed even smaller and lighter. However its fairly thin and the material can be easily damaged by something like spiky branches, shoulderstraps of heavy hikingpacks etc. (summer=lighter backpack, which don't damage the material on the shoulders).
But the Särmä TST L6 Hardshell jacket takes rough handling and conditions very well.

Used it on many hikes (around 200-250km-trails with a 15-27kg backpack, depending on route and season) but it never failed me!
On rainy days I wear it while playing Airsoft (use M05 kit, excellent camo for woodland areas) and the jacket don't show signs of wear or tear.

After hiking trough heavy rain and/or snow for hours, you will be still bone dry like my wife (of course with the right layers underneath, which will increase the comfort a lot - you have to love the TST layer set since stuff on this level of performance will cost you double if you buy "3-layer-****tex-civil-hiking-hardshell-stuff").

You want a very reliable 3-layer Hardshell? This is the right choice, even if its a little expensive and not super light-weight its worth it.
Tested arround a dozen jackets and ponchos from different "good"/expensive companys, till I bought this beauty :)
1
0
Kierto Circular Economy
Return this product used but clean and unbroken, and you'll receive half of the product's original price as Varusteleka credits. Service is available only in Finland. Only Registered users can make Kierto returns. See more information about Kierto.