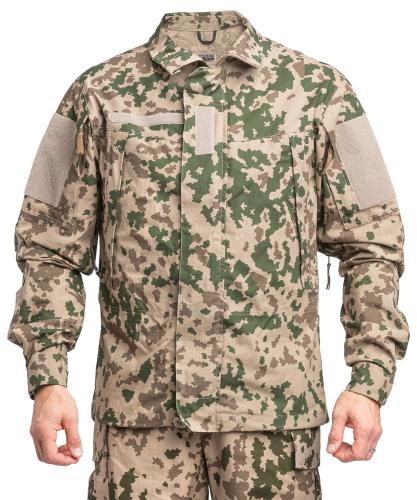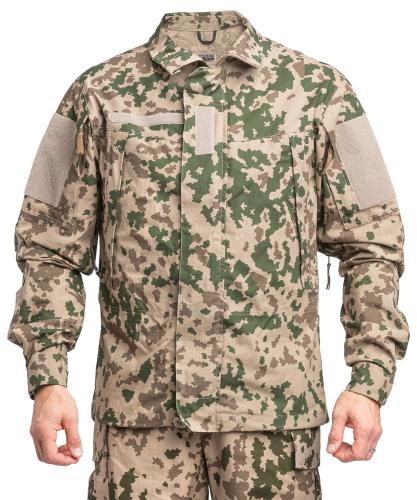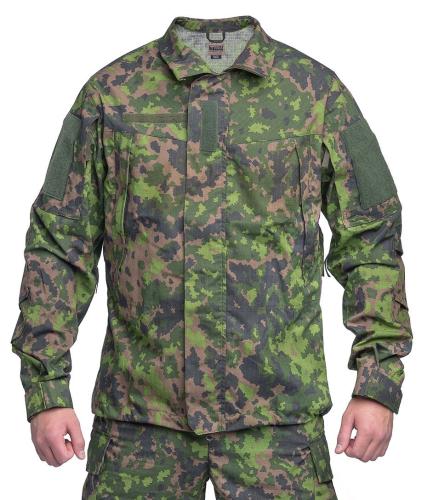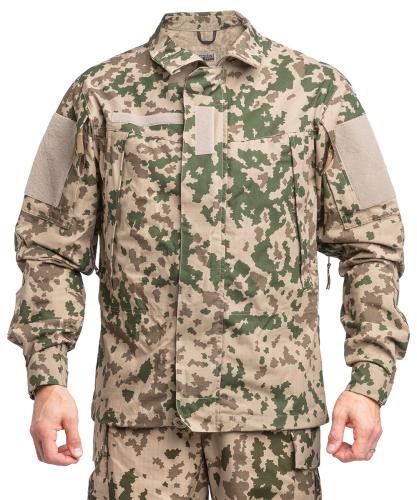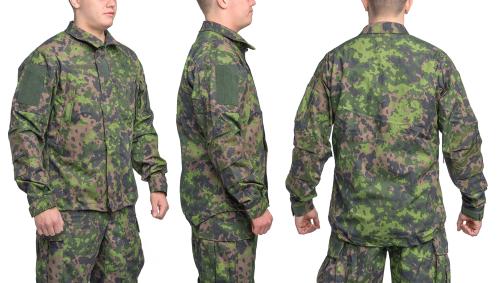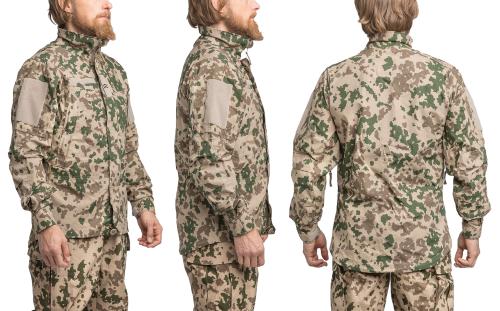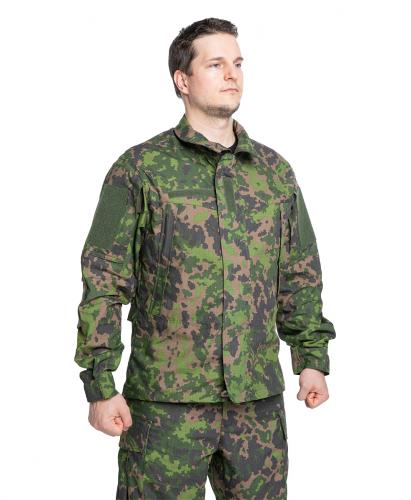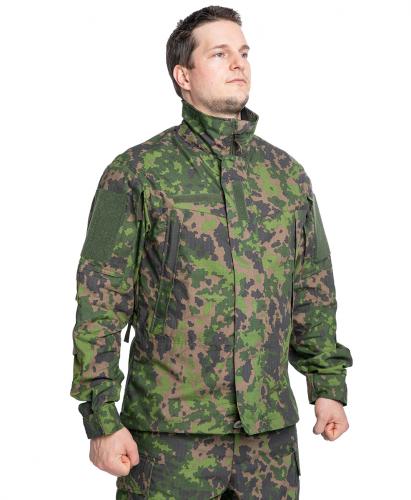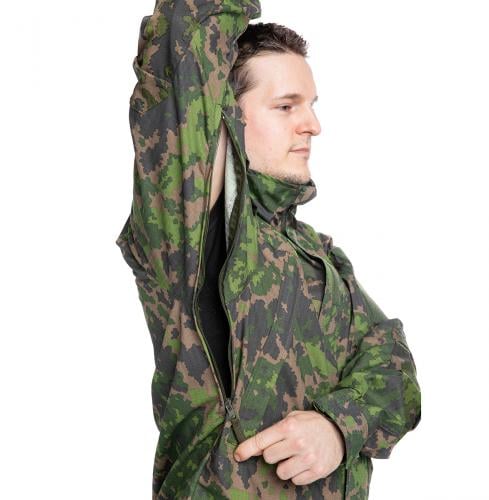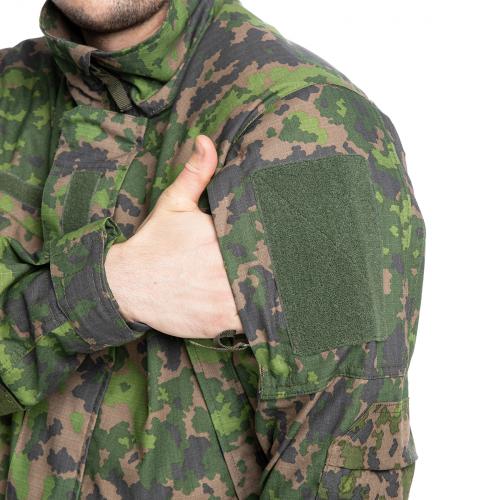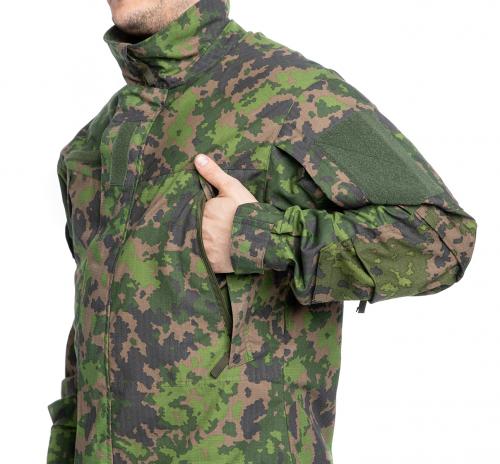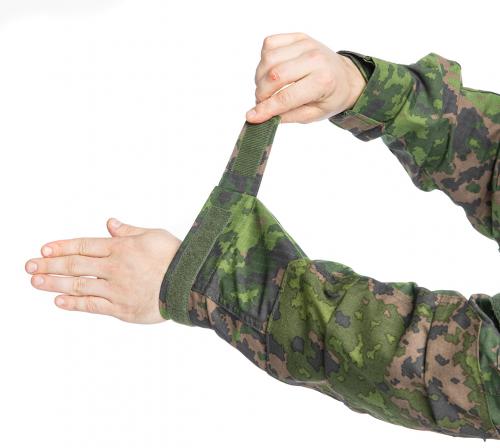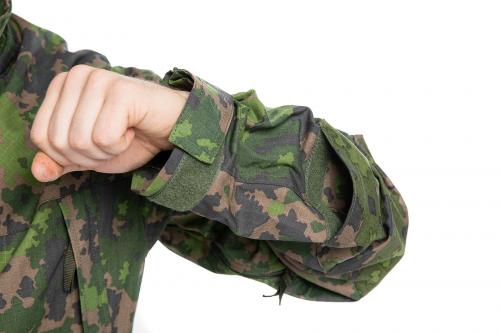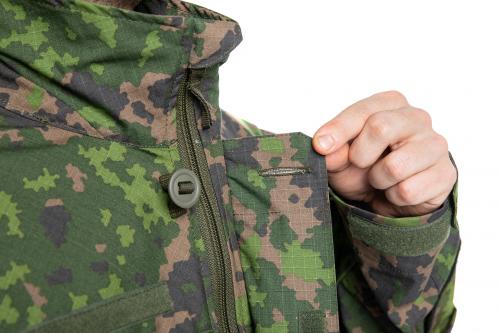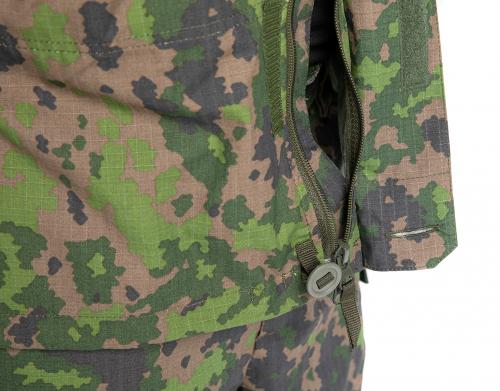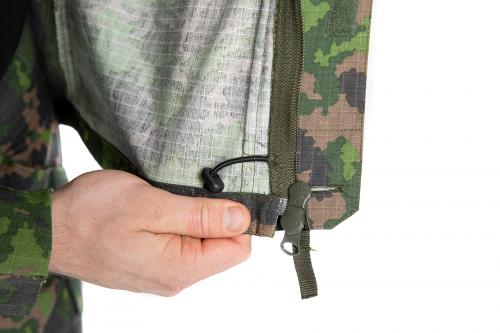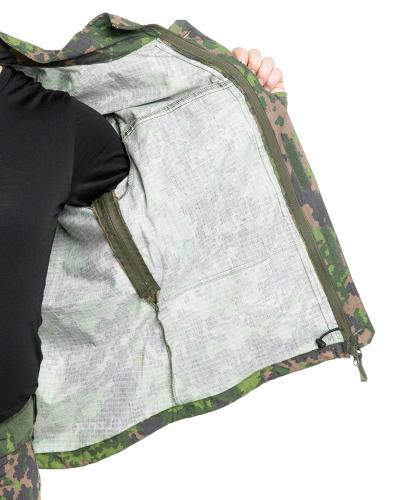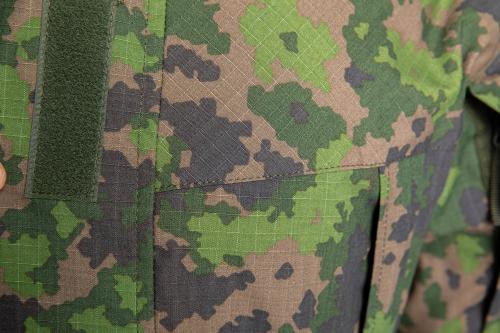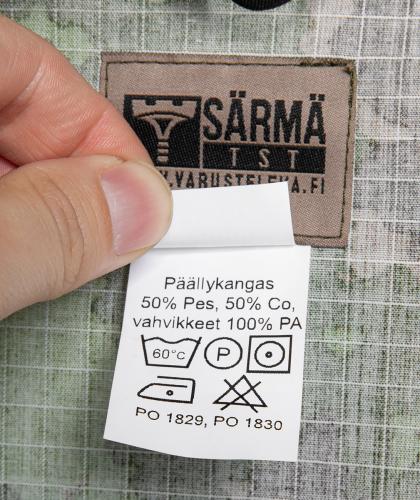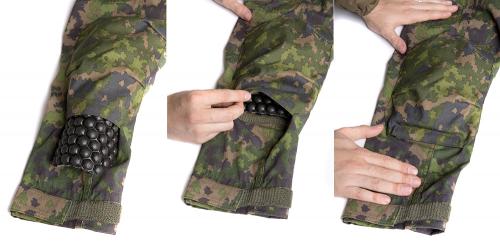 500D Foxdura elbow reinforcements with pad pockets. The pad inserts are sold separately.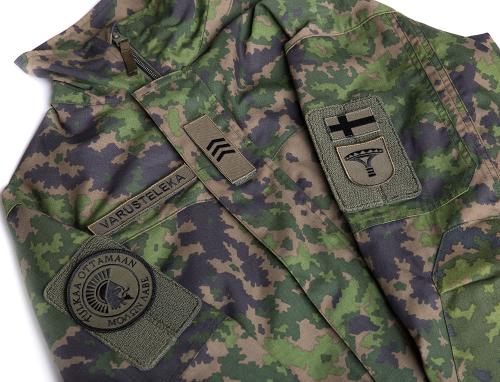 13 x 8 cm velcro on both sleeves, standard Finnish M05 name and rank patches on the chest.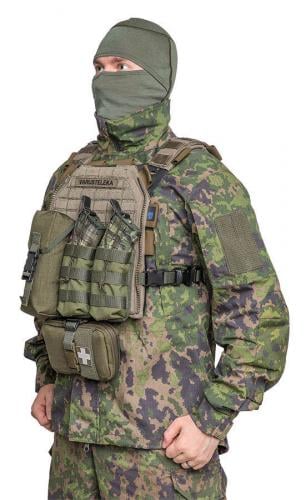 Minimalistic torso and chest pockets that open to the outsides - no uncomfortable crap and zippers to press against your chest under hard armour plates.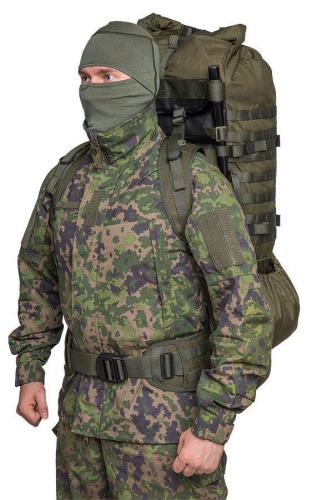 No hem pockets - no uncomfortably chafing and useless pockets squeezed under a rucksack hip belt.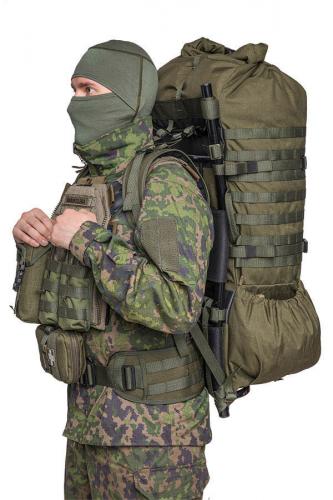 And if you need to, the L4 Field Jacket is comfortable even under both a plate carrier and rucksack.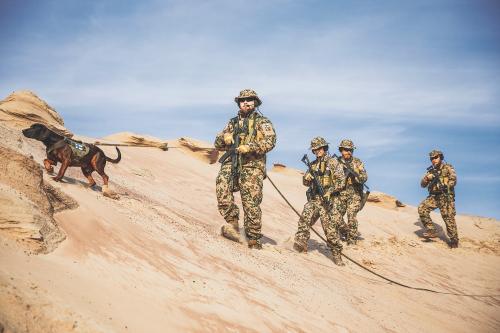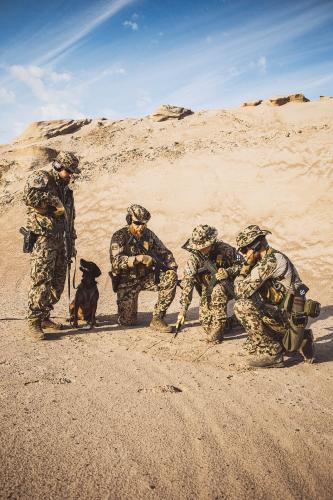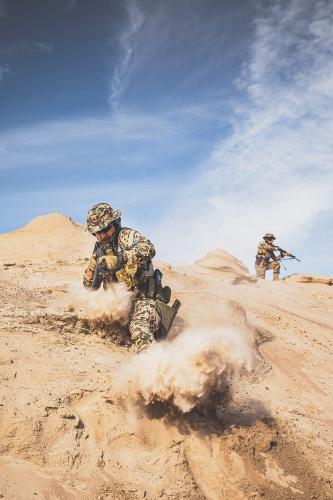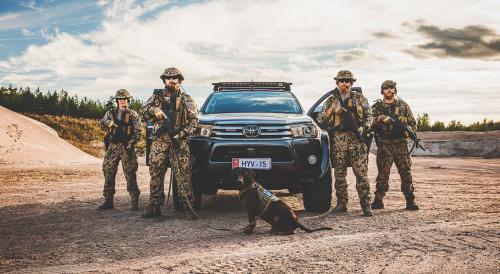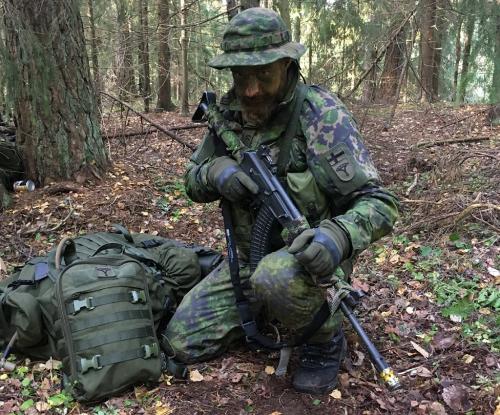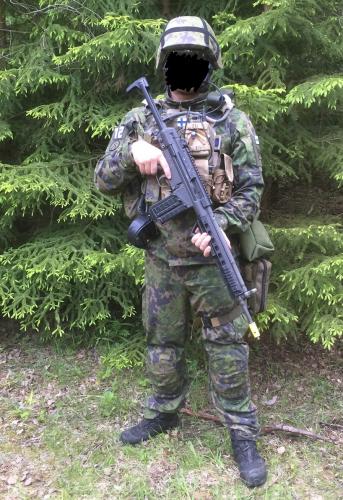 The Särmä TST L4 Field Uniform prototype being trialed in the field during a military exercise in Estonia.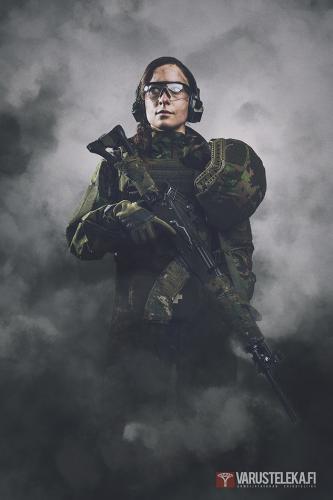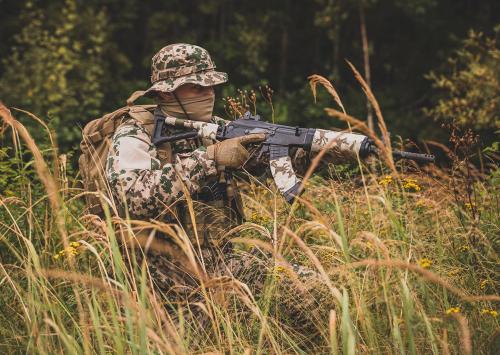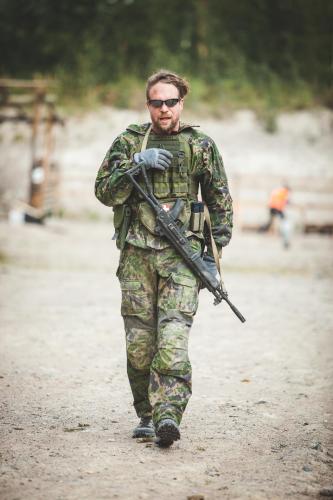 Karl Kasarda in Finnish Brutality 2018.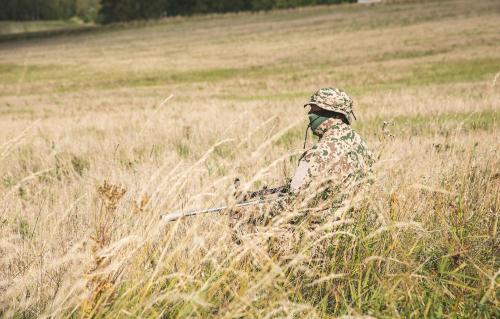 M04 camo-pattern is very useful in hunting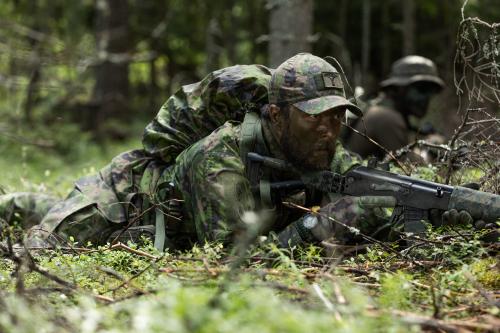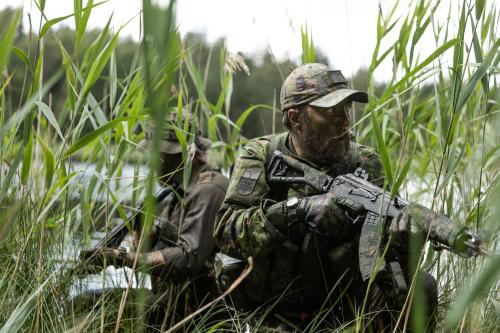 Särmä TST
Särmä TST L4 Field Jacket
Price 169.99 USD
excluding sales tax
The L4 Field Jacket was designed for pure functionality. Smart materials and a purpose-built design guarantee the best possible comfort regardless of what type of fighting and/or sustainment load you´re carrying. This is a great alternative for the Finnish military-issue jacket, which suffers from a load of compromises due to the fact that it was designed to double up as parade wear.
Loading products...
Trouble with the metric system? Try our converter: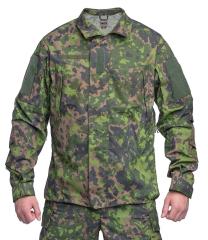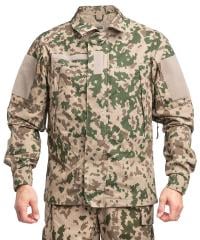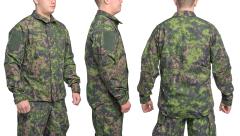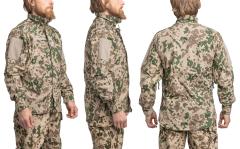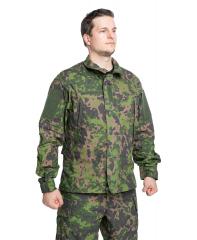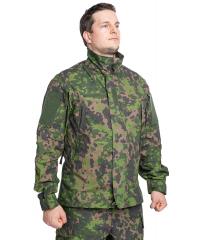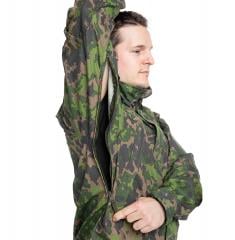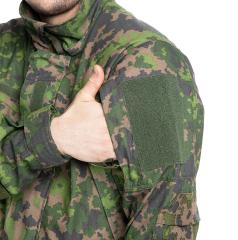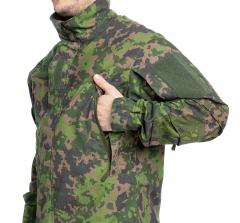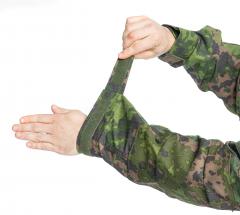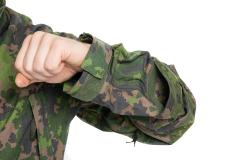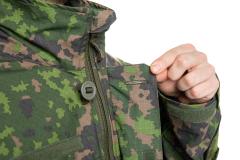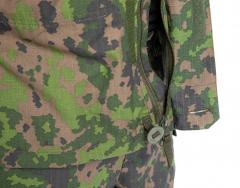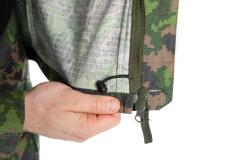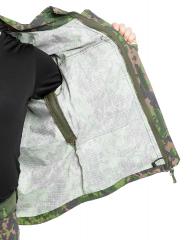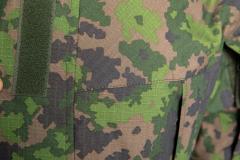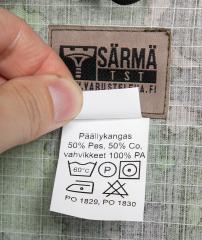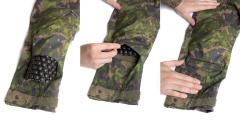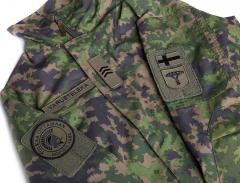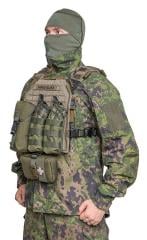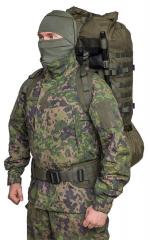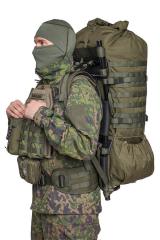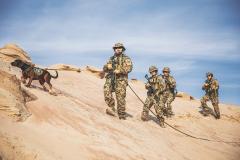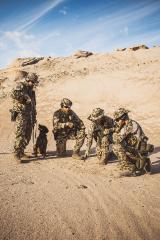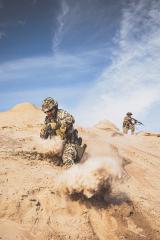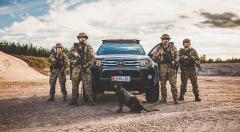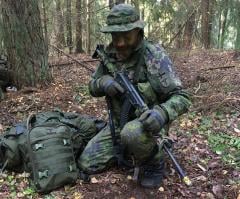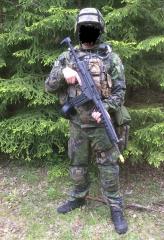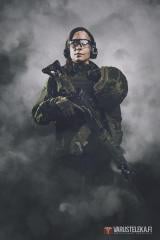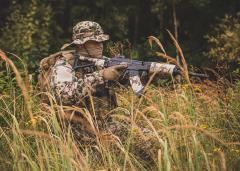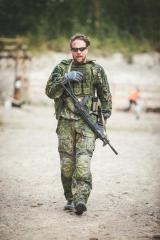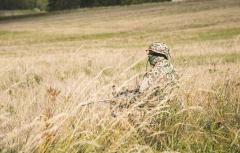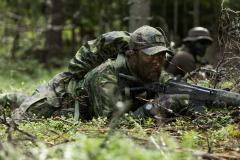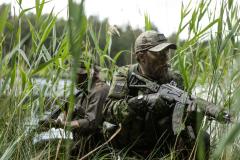 The L4 Field Jacket was designed for pure functionality. Smart materials and a purpose-built design guarantee the best possible comfort regardless of what type of fighting and/or sustainment load you´re carrying. This is a great alternative for the Finnish military-issue jacket, which suffers from a load of compromises due to the fact that it was designed to double up as parade wear.
Relaxed fit to accommodate warm mid layers.
Full length two-way front zipper w/ interior storm flap.
Button and hook-and-loop exterior storm flap.
Underarm ventilation zippers.
Elastic draw cord adjustable hem.
Hook-and-loop cuffs.
Reinforced elbows with elbow pad pockets (we recommend CPE insert pads).
Hook-and-loop for name, rank and sleeve patches.
Four pockets:

Two zippered chest pockets.
Two zippered upper arm pockets.
Does the zipper feel difficult to close at first? This is due to the sliders not being fully in their bottom position. Make sure you´re not pressing the lower slider upwards, the easiest trick is to put a little downwards pressure on the top lock and it will push the bottom one into correct place too.
Functionality and easy maintenance
We haven't sacrificed simple reliability for functionality, the L4 Field Jacket is wear-resistant, easily cared for, and - when need be - also easily repaired. The materials are simple but functional. All buttons are Canadian-style slotted buttons and wear-prone details, such as hook-and-loop fasteners are designed to be easily replaced if needed. The L4 Field Uniform stands for simple functionality, the stuff that you learn to value when you're out there for extended periods.
Designed for all-year-round use
When it comes to comfort, the most important detail apart from the quick-drying fabric is the minimalistic torso: no buttons, no zippers, no press studs, and no cord locks that could cause discomfort when pressed against by armor and load-bearing gear. The armpit vents ease thermal load resulting in less sweating and less sweating means less freezing in cold weather. The protective collar and longer back hem offer added protection from the elements. These details extend the L4 Field Jacket´s use far beyond the warm summer months.
Four simply sensible pockets
The L4 Field Jacket has no pockets that could under any circumstances be more useless than useful. There are no hem pockets: in a hem of this length, they would just be squeezed beneath body armor or rucksack hip belts. The chest pockets are flat and open up from the outer sides, this means they are somewhat accessible when wearing body armor and the zippers won't cause discomfort under hard armor plates. Both sleeves feature zippered upper arm pockets, these are always accessible no matter what kind of fighting/sustainment load you´re using.
Materials and details
When we introduced the M04 jacket, we promised that the M05 material and design would also be updated. And now it has happened. The fabric of both jackets is now a 50/50 cotton/polyester blend but it weighs 200g/m2, so it is 10g/m2 lighter than the original one. Even though it is lighter, this BOND fabric has a tensile strength of 1000N across the warp, which is 18% better than in the old fabric (850N). Across the fill, it is 700N, which is a whopping 100% better than the old one (350N). The fabric also has a very good color fastness. (On the scale of 1-5, color fastness to washing is 4 and color fastness to perspiration 4.) The new material is even lighter, more breathable, and more durable than the old one. Also dries faster.
The zippers were replaced with 8 mm Opti zippers and the functionality of the pockets was improved even further.
Other neat details include the reinforced elbows with pad pockets. The hook-and-loop cuffs offer enough adjustment range to sit tight around any wrist. There are no seams or stitches on top of the shoulders, a small but nice details that further adds to the overall wearer comfort.
NIR-compliant materials
Camouflage prints and visible accessories are 100% NIR-compliant. If you wish to ensure that the NIR-compliant properties of the camouflage print are not diminished, we recommend being very careful when using common detergents. All-natural stuff without any optic brighteners should be safe.
L4 - Field Wear
The fourth layer of our clothing system could be regarded as "standard camouflage dress". L4 clothing offers protection against the outside world through camouflage and abrasion resistance. These garments are designed for minimal thermal load for effective layering.
Take a look at our Särmä TST Clothing System!
New Finnish M04 desert camo
This pattern is fantastic in the desert environment, from Arizona to the Middle East and beyond. Also quite awesome on shooting ranges, too.
History
The Finnish Defence Forces started developing new camouflage patterns in the early 2000s. Finland's participation in the UN peacekeeping mission at the border of Ethiopia and Eritrea in 2000 made their own desert fatigues the priority. The first prototype camouflage pattern to see use was the K2004, which was deployed in 2003. The first models had a rather thick twill cloth but later models switched to lighter ripstop fabrics and eventually evolved into the official M04 Hot Weather Uniform.
Unlike the FDF, we at Varusteleka started developing our take on the M05 Clothing System in a different order: we started with woodland and winter models more appropriate for the Finnish climate. Now that we have those aspects covered we've finally developed our own versions for the arid and desert climates.
For hot climate
In the desert version, we replaced the Foxdura in the elbow reinforcements with the jacket fabric. It isn't of course quite as strong, but it breathes way better, which is damn nice in a hot climate.
Sizing
The measurements in brackets are the recommended user chest circumference and height. These are very slightly loose-cut to accommodate warm mid-layer clothing.
Sewn in Estonia
These are sewn in Estonia, by an experienced factory that has a long history of producing clothing for military, law enforcement, and emergency services.
Kierto Circular Economy
Return this product used but clean and unbroken, and you'll receive half of the product's original price as Varusteleka credits. Service is available only in Finland. Only Registered users can make Kierto returns. See more information about Kierto.
Varusteleka Särmä TST
Särmä TST is Varusteleka's in-house brand of clothing and gear designed for military and law enforcement end-users. Our clothing and equipment are made in co-operation with a number of experienced manufacturers with a strong background in producing clothing and gear for military and law enforcement officials, most notably for the Finnish Defence Forces. For further reading check out the Varusteleka's Särmä TST page and Särmä TST Clothing System article.
Särmä TST products are covered by a 12-month warranty against defects in materials and workmanship. For further information please read our detailed warranty guide.
All products: Särmä TST
Recommendations
Loading products...
Reviews
You have already submitted a review. You can edit your text by clicking on it. You can filter the reviews by clicking on the elements of the summary.
Log in and write a review. You can filter the reviews by clicking on the elements of the summary.
Remove filter
Suomi
(11)
English
(4)
I would recommend for a friend
Erno H.

09.11.2017

Verified purchase
Alustava arvio: näin uudesta tuotteesta ei voi sanoa miten se kestää pidempää käyttöä.

Aivan. Pirun. Hyvä. Takki. Vaikea edes keksiä mitään valittamista.

Mukavuus painavan repun kanssa on jotain vähän maagista, kun missään ei ole saumaa tai taskua joka hankaisi paskamaisesti. Näkee että takki on suunniteltu oikeasti ajatuksella.

Vaikka kangas on ohutta ja hengittävää, tämä on oikeasti yllättävän lämmin takki, luultavasti koska vetoketjun tuulensuojalista on tehty sen verran fanaattisesti, että läpi ei kyllä tuule. Jos liikkuu sen verran rivakasti että meinaa lämpö nousta, molempiin suuntiin aukeava vetoketju ja kainalovetoketjut hoitavat homman kuntoon.

Kokosysteemi on pirun hyvä, ja sekä helma että ranteet saa kiristettyä niin tiukalle että luulisi sirommankin sällinkin olevan tyytyväinen.

Jos pitää väkisin keksiä jotain mussutettavaa... se että takki on sisäpuolelta "vaalea" voi mahdollisesti olla ongelma sotaisammille käyttäjille silloin kun takkia tulee tarve avata lämpökuorman pienentämiseksi, mutta enpä tiedä.
14
9
I would recommend for a friend
Aleksi S.

17.11.2017

Verified purchase
Tosi hyvä takki jonka alla on mukava pitää esim fleeceä. Ainoat miinukset mitä tulee mieleen niin:

-Vetoketju alussa menee huonosti paikoilleen
-kaulus on omasta mielestä epämukava ja on melkein aina pakko pitää ylhäällä
-Henkilökohtaisesti en tykkää noista vetoketjullisista hihataskuista. Tarrakiinnikeiset taskut olisi omasta mielestä paremmat ja toimivammat.
10
11
I would recommend for a friend
Matti P.

05.04.2018

Verified purchase
Kiitos Leka, jälleen huippu kampe!

+Kangas ohuempaa kuin perus m/05:ssa.
+Hyvä leikkaus, istuvuus ja liikkumisen vapaus.
+Fiksut taskut ja hyvät säädöt vyötäröllä ja lahkeissa, sekä takissa hihoissa.

Takissa voisi olla hartiossa laskokset ja housuissa reisitaskujen kiristysnauhat kuten jenkkien ACU-kamppeissa (joka muuten on ehkä maailman paras tappelupuku).
Muuten 5/5!!!

Omat mitat 183cm/95kg, 754 Large Regular just hyvä PV:n poolon ja pitkien kalsareiden kans.
Hartioihin toivoisi ihan hiukan lisää liikkumatilaa...

-Matti
3
7
I would recommend for a friend
Rasmus S.

07.11.2018

Verified purchase
Olin skeptinen, mutta ostin koska M05-jakotavaratakki on niin ankea kosteusimuri. L4-housut oli jo vuoden käytössä näyttäneet ylivoimaisuutensa, mutta tätä epäilin vielä, varsinkin taskujen toimivuutta.

Mutta mitä vielä. Kangas ihanan kevyttä, tiivistä ja hyvin kuivuvaa. Miellyttävä päällä. Reissussa havaittu että kainalossa tuuletus on toimiva ja ylipäänsä takin leikkaus hyvä. Särmäytyy vyötäröllekin.
Hihataskut sen sijaan ovat erittäin hyvät. Takissa on kaikinpuolin hyvä vetoisuus.

Ja niin ne isot taskut? Niihin mahtuu vaikka mitä ja nyt kun ei ole alataskuja enää on vähemmän vaihtoehtoja mihin hukata kamat kesken harjoituksen. Mutta näihinkin saa hukkumaan eli tilavuutta riittää oikein hyvin. Pisteet siitä.

Velcro näissä on sellasta heikosti kiinni pitävää versiota, tunnukset, arvomerkit sun muut lähtee rinkkaa, liiviä, rigiä ym. riisuessa aivan liian helposti irti.

Kaiken kaikkiaan hiton hyvä parannus vs PVM05, paremman näköinenkin, ja ennen kaikkea todella paljon toimivampi. Pientä fiksattavaa on vielä, mutta oikeasti tämä on perusteltu ostos jokaiselle joka viettää vähänkään enemmän aikaa kentällä.

Ja ne miinukset:
Vetskarit eivät aina oikein skulaa, erityisesti liivin alta kaivaessa on isojen taskujen sulkeminen niin ja näin.
Kauluksen käyttö vähän niin ja näin, vetoketju on yllättävänkin hankala vetää ylös ja kääntää kaulus PV-malliin alas.
Povitasku olisi ollut kiva, just because.
0
0
I would recommend for a friend
Timo V.

03.12.2018

Verified purchase
Erittäin hyvä paidan korvike. Ei siis täyttä retkitakkia korvaa, mutta kun tarvitsin pyörällä ajeluun pusakkaa, niin sopii kuin nappi otsaan. Kaulus on erinomainen, suojaa muttei hierrä. Ainoa pieni miinus, on se seikka, että napinlävet ovat 1 mm liian pienet, mutta kyllä ne siitä venyvät, kunhan ei vaan napit katkea. L3 välitakin ja Svala verkkoaluspaidan kanssa on kyllä parhautta, ei hiosta, mutta lämmintä on. Ensikesänä käytän tätä varmaankin metsässä teknisen kauluspaidan tilalla, eli paremmat taskut kuin useimmissa retkipaidoissa, pikkasen tukevampi kangas, mutta muuten melko sama tuote. Ja tuosta metsävärisestä on puhe. Taskut ovat sitten yllättävän pienet, mutta takin tarkoitus huomioiden se kuulunee asiaan.
1
0
I would recommend for a friend
Farasha E.

11.03.2019

Verified purchase
Super main jacket for long-distance hiking.
1
0
I would recommend for a friend
Peter D.

03.04.2019

Verified purchase
NOTE: I am not sure if Varusteleka intends to return the Frost/Winter camo version or not. I hope it does - I prefer this design to the other winter camo coats - but since the forest version's only difference is the material, I keep the review below of the Frost camo version as the basis and add the comparison of materials at the end. I do plan to get the desert one at some point, I'll add thoughts on that when I get it.I have owned a lot of military style jackets over the years, be it hand-me-downs from my father who served in the Canadian Armed Forces, or from Canex. I am fond of them because they are durable, they last a long time, and they usually are very practical garments, with good carrying capacity arranged in a sensible way. But among all those jackets, the Winter/Frost camo :4 Jacket here one stands head and shoulders above pretty much everything I've ever worn. It fits pretty much perfectly, the pockets are large, sewn quite sturdily, and are easily accessible. I can fit some Scho-ka-kola, a hip flask, and a couple folded up Bundeswehr triangle scarves. The shoulder pockets are great for field notebooks. The material is a great windbreaker in the winds we get here in the valley as well. It's also one of only a couple of jackets I've worn that feels natural when I've wearing it. Rather than feeling bulky or clumsy, it feels almost like a second skin. Even the CAF windbreakers, probably my (now-second) favourite military garment, suffer somewhat from being a bit clingy and thus clumsy, when wet. This jacket has survived hiking, the machine shop, and pretty much everything else I've thrown at it; blizzards, mud, freezing rain. You name it. Canada loves its varied, fun weather. My only complaint is quite petty: the shoulder receivers for patches being stepped right up against each other means the CAF issue Canadian Flag patch is too large to fit entirely, resulting in a patch with curled edges. But given this is a Finnish jacket, I cannot expect it to take into consideration Canadian gear. Nonetheless I mention it, as it is the one thing standing between this jacket and perfection, as far as I am concerned. In the end, this has quickly become my favourite jacket, and I'm going to need to get myself more of them. I am told they are now the size of NATO patches in newer versions, but my coats bought mid 2020 or earlier do not have that. I'll update this if it changes when I get the couple of new ones in desert this year.

The only difference between forest and frost/winter camo jackets is that of materials: the frost camo version is made of the "Viking" fabric (as available in the DIY section), while the forest camo version is made of the more traditional ripstop stuff. I find the frost camo version is the much more comfortable of the two of them to wear, for a variety of reasons. The viking fabric seems to bead light rain, it isn't as clingy in the rain, and it seems to shed water better. The polyamide ripstop of the forest camo also seems much more prone to the camo print rubbing off in spots - most noticable about the zipper. This makes the forest camo coats start to look worn down a lot quicker than the frost camo ones, but either function just as well. When I manage to snag the desert camo version, we'll have to see how that material compares to the other two, since it is another variety altogether.

PS: At the risk of repeating myself, I'd love to see the frost/winter jackets back Varusteleka! And I'd happily buy it in the snow camo too, if available.
9
0
I would recommend for a friend
Kimmo S.

03.03.2020

Verified purchase
Vertailukohtia tälle ovat puolustusvoimien kumikamppeet sekä M13-sadevaatteet. Kumikamojen päihittämiseen ei paljoa tarvita. Tämä on varsin pätevä vaate, joka ei myöskään huuda olevansa kelvoton siviilivalmiste. Melkein joka harjoituksessa hyvä olla mukana, koska kotimaan kelit ovat mitä ovat. Jonkin verran kahinaa pitävä. Isot hihavelcropaikat ovat sadevaatteessa outo idea. Pakkautuu kohtuullisen pieneksi paketiksi.

Ennen M13-sadevaatteiden häntäerää tämä oli parasta mitä oli saatavilla. M13-setin saa kuitenkin (kun niitä vielä riittää) halvemmalla kuin mitä pelkät housut tai takki näitä, niissä on 'pehmeämpi' tuntuma päällä ja pakkautuvat pienempään tilaan, joten vaikka tämäkin on hyvä takki niin ketkä ehtivät ostaa firman parempaa tuotosta asevelihinnalla, tekivät hyvät diilit. Itsellä on molemmat takit ja molemmista kyllä tykkään.
0
2
I would recommend for a friend
Joel J.

16.04.2020

Verified purchase
Takki tekee just sen mitä lupaa, eli vie m05-kenttäkledjut seuraavalle tasolle. Rakenteelliset ratkaisut sekä käytetty kangas toimivat erinomaisesti, ja vaikka hinta hiukan kirpaisi ostovaiheessa niin ei sitä enää sen jälkeen ole miettinyt. Vetskarijumeja en itse ole havainnut, pari ekaa vetoa tehdasuuteen takkiin olivat vähän kankeampia mutta kyllä se siitä lähti ihan hyvin vetämään. Semmoisen huomion tein, että 108cm rinnanympäryksellä osun juuri L ja XL väliin, ja paksun välikerroksen kanssa sitä ikään kuin herää olkapäiden olemassaoloon. Takki ei kiristä eikä mikään käden liikerata ole mahdoton, mutta jos kokee sen häiritseväksi niin suosittelen välikokoisia valitsemaan kahdesta koosta isomman. Istuvuus muuttuu silloin smock-malliseksi, mutta eihän se kenttävaatteessa mikään ongelma ole, varsinkaan tetsarin alla. Olen erittäin tyytyväinen hankintaan!

EDIT: kenttätesti suoritettu etäsotilasmarssissa ja takki todettu äärimmäisen hyväksi. Aiemmin mainittu huomio olkapäiden leikkauksesta osoittautui turhaksi, käytössä takissa ei ilmennyt minkäänlaisia kiristyksiä, mahdottomia liikeratoja tai muitakaan ongelmia. Taskut toimivat paljon paremmin kuin PV:n takissa, ja hihataskut näkivät eniten käyttöä helpon saavutettavuuden ja avattavuuden ansiosta. Rintataskut jäivät pitkälti rinkan viillekkeiden ja chestrigin taakse, mutta paremmin niihin silti pääsi kuin alkuperäisen nollavitosen taskuihin. Nostin arvion viiteen tähteen.
5
0