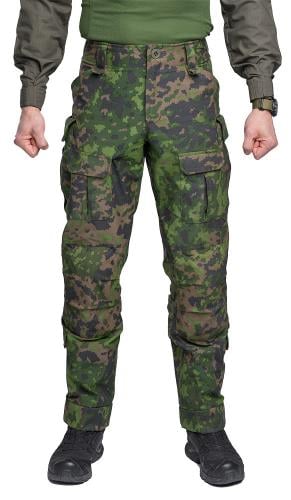 Särmä TST L4 Combat trousers
Price 211.99 USD excluding VAT
Flat Rate Shipping to USA $9.99
100 % recommends
Sold 6 pcs in the last two weeks
Loading products...
Trouble with the metric system? Try our converter: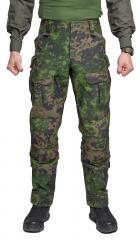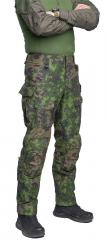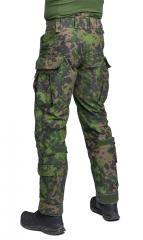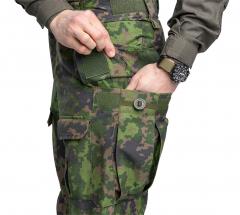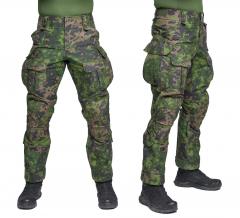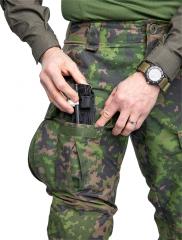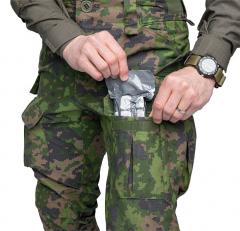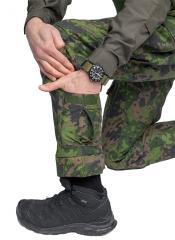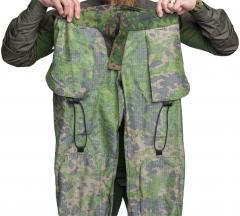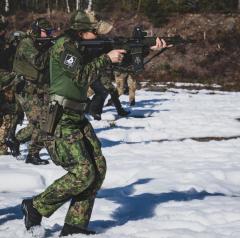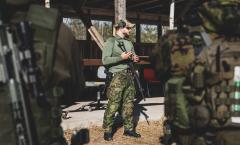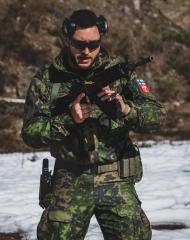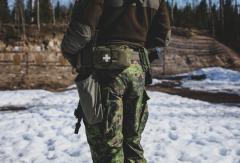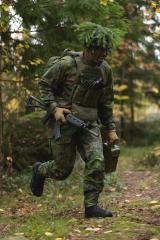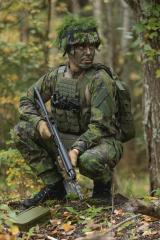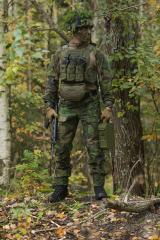 Combat pants, with a Finnish touch! Versatile adjustments, reinforced in all high-wear areas and outfitted with a wide array of pockets. Made from a mechanical stretch fabric for unrestricted movement.
Mid high waist
Zipper fly with button
50 mm (2") belt loops with loops on the bottom (suitable for GrimLocs)
Elastic waist adjustment band, easily removable
Diamond gusset crotch
Double fabric reinforced seat
Elastic cord adjustable knee height / leg length
Articulated knees
Knee reinforcements with pad pockets (we recommend CPE pad inserts)
Reinforced cuffs and instep
Hook-and-loop adjustable calves and cuffs
Eight pockets:

Two side slash pockets
Two cargo pockets with hook-and-loop and button closure
Two front thigh pockets with hook-and-loop closure
Two calf pockets with hook-and-loop closure

Materials:

60/40 cotton/polyester stretch fabric, 225 g/m2
500D Foxdura
All materials are NIR compliant
The most special thing about these trousers is also the least visible one - a mechanically stretchy fabric made with spiral fibre polyester! The spiral fibre does not stretch and wear out in use like many other stretch fabrics. Another benefit is the lack of elasthane which would eat away at the cotton fibres causing faster wearing out of the fabric.
The numerous adjustments options offer a very custom fit for different sized users. The waist is adjusted via a piece of hook-and-loop attached elastic webbing, the knee height and leg length is adjusted via elastic cord on the inside of the pants. The calves and cuffs can be tightened using hook-and-loop.
Pockets, lots of them, you won't run out! On top of the regular side pockets we have two large, pleated cargo pockets (which can be closed with hook-and-loop, a button or both depending on your preferences). Four smaller pockets with hook-and-loop closure are found on the front of the thighs and on the side of the calves, these fit dip/snus cans and most common first aid dressings and tourniquets.
Reinforcements in all the right places: double fabric reinforced seat, diamond gusset in the crotch, 500D Foxdura in the knees, cuffs and instep. The knee reinforcements double up as pad pockets for internal knee pads!
L4 - Field Wear
The fourth layer of our clothing system could be regarded as "standard camouflage dress". L4 clothing offers protection against the outside world through camouflage and abrasion resistance. These garments are designed for minimal thermal load for effective layering. Camouflage prints and visible accessories are 100% NIR compliant.
Take a look at our Särmä TST Clothing System!
Sizing
The measurements in brackets are the recommended user height and waist circumference in centimeters. The waist circumference, leg length and calf/cuff adjustments provide a lot of options for a custom fit.
Materials
Special stretchy stuff - 60% cotton and 40% spiral fibre polyester! Looks and feels like any ordinary ripstop fabric, but is inherently stretchy to offer freedom of movement.
The knee and cuff/instep reinforcements are 500D Foxdura.
Särmä TST
Särmä TST is Varusteleka's own in-house brand of clothing and gear designed for military and law enforcement end users. Our clothing and equipment are made in co-operation with a number of experienced manufacturers with a strong background in producing clothing and gear for military and law enforcement officials, most notably for the Finnish Defence Forces. For further reading check out the Särmä TST corner of our website.
Särmä TST products are covered by a 12-month warranty against defects in materials and workmanship. For further information please read our detailed warranty guide.
Sewn in Estonia
These are sewn in Estonia, by an experienced factory that has a long history of producing clothing for military, law enforcement and emergency services.
Recommendations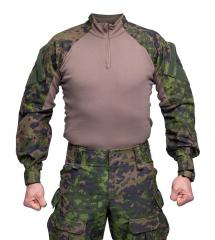 Särmä TST L4 FR Combat shirt
183.99 USD
Sometimes purchased with.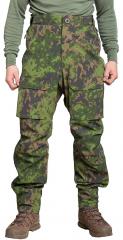 Särmä TST L6 Hardshell trousers
183.99 USD
Sometimes purchased with.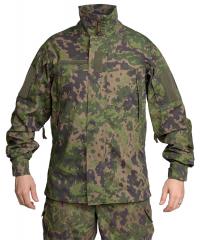 Särmä TST L4 Field Jacket
110.99 - 137.99 USD 137.99 USD
Sometimes purchased with.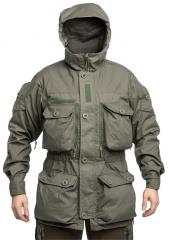 Särmä TST Recon Smock
211.99 USD
Sometimes purchased with.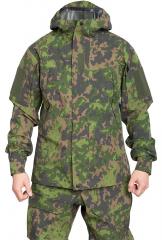 Särmä TST L6 Hardshell jacket
211.99 - 275.99 USD 229.99 - 275.99 USD
Sometimes purchased with.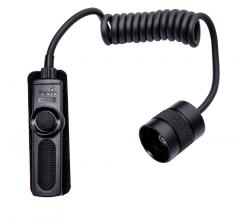 Fenix AER Remote Pressure Switch
26.99 USD
Sometimes purchased with.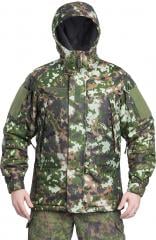 Särmä TST L5 Thermal Jacket
156.99 USD
Sometimes purchased with.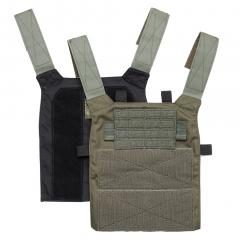 Särmä TST PC18 plate bags
165.99 USD
Sometimes purchased with.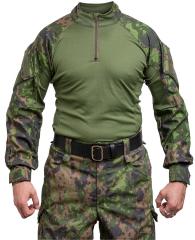 Särmä TST L4 Combat shirt
91.99 USD
Sometimes purchased with.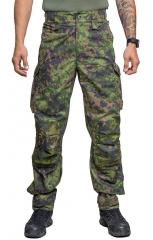 Särmä TST L4 Field Trousers
119.99 USD
Similar product.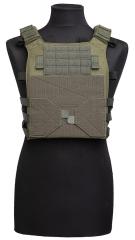 Särmä TST PC18 Plate Carrier
193.99 - 211.99 USD
Viewed together.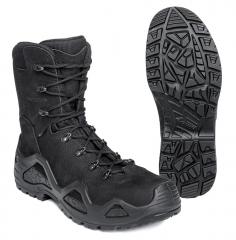 Lowa Z-8N GTX - Särmä TST M19 Combat Boots
183.99 USD
Might be of interest.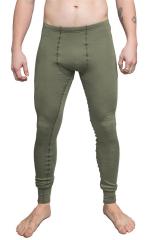 Särmä TST L2 Long Johns, Merino Wool
38.99 - 50.99 USD 50.99 USD
Might be of interest.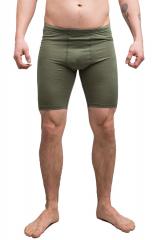 Särmä TST L1 Boxers, Merino Wool
21.99 - 27.99 USD 27.99 USD
Might be of interest.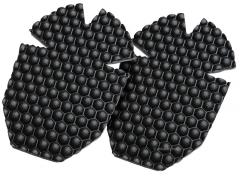 CPE elbow/knee pad insert, pair
8.99 USD
Buy also.
Reviews
You have already submitted a review. You can edit your text by clicking on it.
Log in and write a review.
Remove filter
I would recommend for a friend
Timo V.

27.06.2019 (Edited 28.06.2019)
Muokkaan tätä, jos keksin mitään valmittamista. Kangas on hieman jäykempää, kuin Kenttähousuissa. Joustaa punttien pituussuuntaan salakavalan tehokkaasti. Tärkein kaikista ominaisuuksista on, että NykySissin ykköstarvike iPhone MAX mahtuu pieniin reisitaskuihin, eikä ole siten tiellä isommissa taskuissa. Helppo ja nopea vetää puhelin esiin tarvittaessa. En ainakaan tällä hetkellä pysty keksimään parempia housuja ulkoilmaelämää viettävälle ihmiselle. Kokemusta retkihousuista yli 40 vuotta. Isot reisitaskut ovat muuten huomattavasti isommat kuin Kenttähousuissa. Kenttähousut ovat nyt lähinnä pihatyö- ja remonttihousuina, ja erinomaiset ovat kyllä nekin.
3
1
I would recommend for a friend
Anonymous customer

10.07.2019
Hankin pökät kisahousuiksi, ajoin niitä ensin sisään viikon verran päivittäisessä käytössä, jotta näkisin mistä pöksyt on tehty ja sitten mentiin SRA-kilpailuun...

Tässä muutama tähän mennessä kertynyt huomio:
-Kisassa housut eivät hiertäneet missään vaiheessa eikä minkäänlaista ahdistusta/kiristystä/liikkeen rajoitusta esiintynyt
-Polvien tarranauhat kiristivät polvisuojat mallikkaasti paikoilleen eikä betonilla konttaamista tai vauhdikasta pakkauslavan päälle polvistumista tarvinut varoa
-Housut olivat ehjät kisan jälkeen, pieni harjaus ja näyttivät kuin juuri pakasta vedetyiltä
-Kokotaulukko on lähinnä karkeasti suuntaa antava... Mielestäni olisi hyödyllisempää käyttää inseam-mittaa kuin henkilön pituutta, olen itse 185-senttinen/inseam 33" ja tilasin longit, joissa sitten oli lahkeessa 15 senttiä liikaa mittaa ja jouduin käymään kaupassa vaihtamassa regular-pituuteen
-Vyötärön säätökuminauha on mielestäni liian lyhyt ja liian jämäkkä ja näin ollen käyttökelvoton
-Särmän tuotemerkin sijoittelu on /c:stä, merkki hertää ja raapii reserviläisen herkkää alaselkää jollei aluspaita pysy housussa, tästä toki selvittiin helposti poistamalla merkki
-Sivutaskuihin voisi kehittää jotain, että tavarat pysyisivät paremmin mukana

Eli yhteenvetona, mielestäni hyvä tuote, seuraavaan versioon voisi ehkä miettiä parannuksia noiden parin pikku jutun osalle.
7
1
I would recommend for a friend
Juha-Pekka H.

15.07.2019
Ennakkotilaamieni tappeluhousujen ensimmäisten "taistelukosketusten" jälkeen voisin jopa väittää näiden olevan yksiä parhaimpia Särmä-tuotoksia joita Lekan liukuhihna on koskaan ulos puristanut. Osuin kerralla erittäin hyvin istuvaan kokoon valitsemalla Medium Regularin, kun omat taktiset mitat ovat 180cm/84kg. Vyötärö osuu juuri koon ylärajaan, ja silti jäi piskuisen kiristysvaraa. Ponttoonit sujahtavat mukavasti lahkeisiin, eikä hitsautumisen merkkejä esiintynyt missään. En uskonut kankaan joustavan läheskään niin paljon kuin mainospuheissa povattiin, mutta olin tässäkin väärässä. Slaavikyykkykään ei tuottanut ongelmia. Sama kangas sopisi erinomaisesti myös taistelupaidan hihoihin.
Jouston tueksi säätövaraa löytyy lahkeista ja punteista sen verran, etteivät turhia tuulessa lepata, mutta vyötäröremmi on työläs. Ei niinkään itse remmin tiukkuus sillä jämäkkä on aina hyvä, mutta remmi on liian lyhyt helppoon säätämiseen. Se karkaa säätäessä helposti oman vyötärökujansa suojaan. Polvisuojainserttien kanssa muodostuu pienet pussit/taskut polven alapuolelle, jotka hieman häiritsevät. Uskon tämän kuitenkin johtuvan enemmän omasta kokemattomuudestani kuperkeikkahousujen lukemattomien eri säätöjen kanssa.
Se, että nämä pöksyt melkein unohtuvat omiin jalkoihin, voi jokainen itse päättää onko se hyvä vai huono asia. Odottaminen on kannattanut!
1
1
I would recommend for a friend
Sampo V.

23.09.2019
Hyvät housut, mutta ei täydelliset. Muutamia kehitys ehdotuksia: 1. Se särmä merkki sisäpuolella hiertää hanuria. Todellä ärsyttävä piirre. 2. Vyölenkit on sinällään ok, mutta kaipaisin tuplalenkkejä joista ulompi olisi nepparilla. UF-Pro striker HT on hyvä referenssi tuplalenkeistä. Ymmärrän toki, että battle belt tyyppiset ratkaisut on Suomessa muotia, mutta itse pidän parempana housuihin kiinnittyvää varustevyötä.
0
0
I would recommend for a friend
Roni T.

18.11.2019 (Edited 18.11.2019)
L4 kenttähousut vaihtuivat näihin.

+Vihdoin (suht)fiksu ratkaisu polvisuojien asemointiin. Tarroilla polvarit pysyvät paikallaan kovemmassakin menossa eikä erillisiä polvareita tarvitse enää kiristellä niin ettei veri kierrä jaloissa.
-Kangas on jäykempää ja kahisee aika huolella mikä korostuu aktiivikuulosuojainten kanssa.

Sitten se isoin miinus:
Polvisuojien korkeussäätö tapahtuu kääntämällä housut nurinperin ja ja ruuvaamalla narut oikeaan pituuteen.
Miksi, oi miksi näissä ei ole narulukkoja!?! Ei tarvitsis solmia naruja ja arvailla onko pituus oikea ja pikasäätö olisi aina mahdollista.
Myöskin narujen solmut tulevat ihanasti juuri polven kohdalle kun pistät polven maahan ja rusahtavat mukavasti lumpioon.

Jos näissä olisi ollut stretchiä vielä oikeissa paikoissa ja naruongelma ratkottu, niin nämä hakkaisivat Cryet 6-0.
Tuntuu että näissä on hieman protoilun vaiheita meneillään, mutta silti laitettu tuotantoon.
Silti menin ja ostin, hymyssä suin käytin ja tiedän että näistä tulee 2.0 versiot jolloin nämä lähtevät taas kiertoon.

All in all: Parhaat lekan nahisteluhousut to this date.
0
0