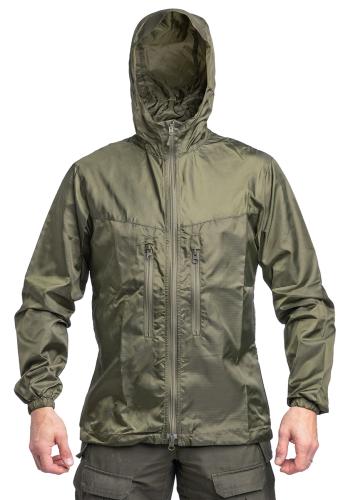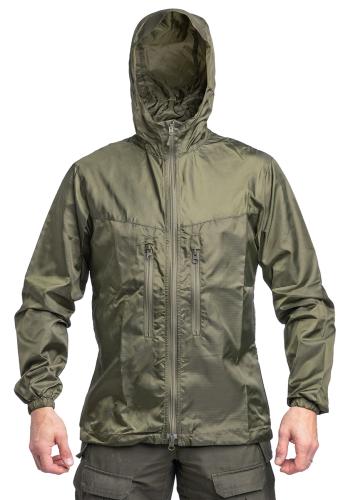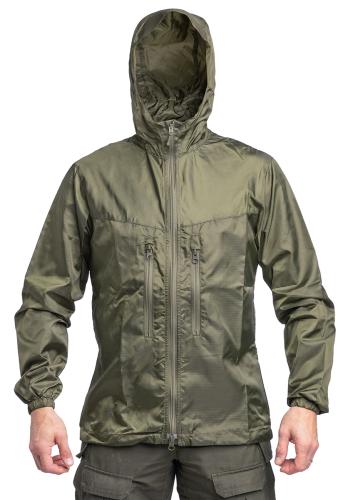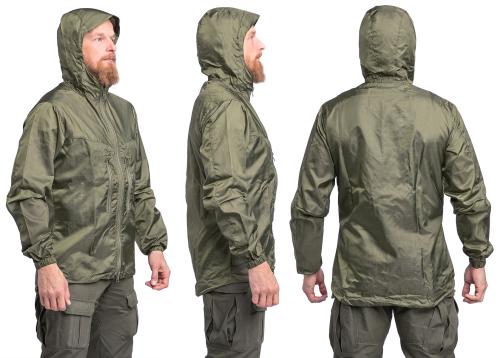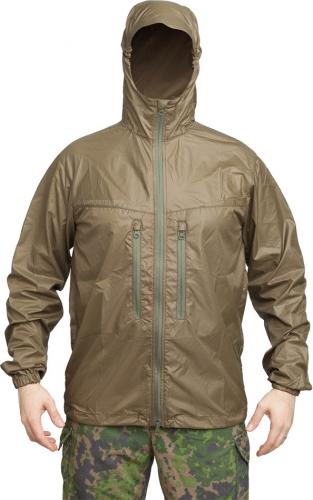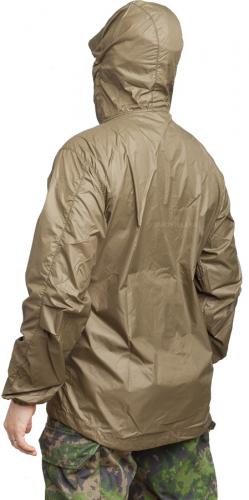 The hem is longer at the back.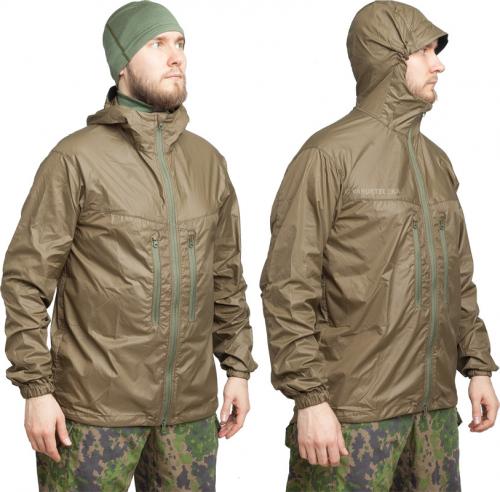 The hood is sized to fit over a wool beanie or field cap. Correctly adjusted it does not hinder movement or interfere with your field of vision.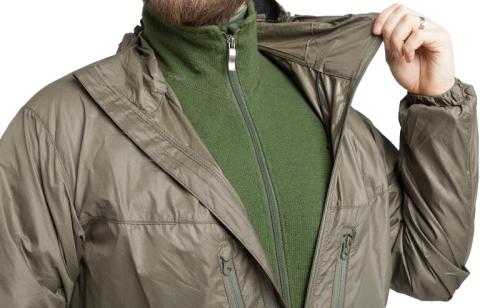 Sized to fit over bulky mid layers.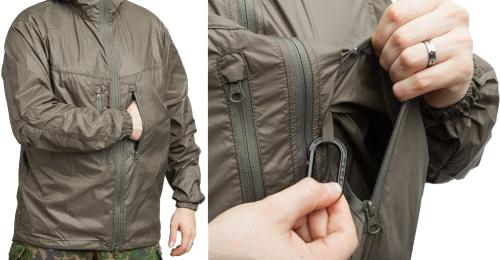 Zippered chest pockets with "idiot cord" tie down points inside. Carabine clip sold separately.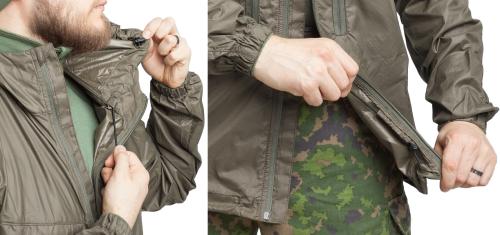 Adjustable elastic drawcord in the hood and hem.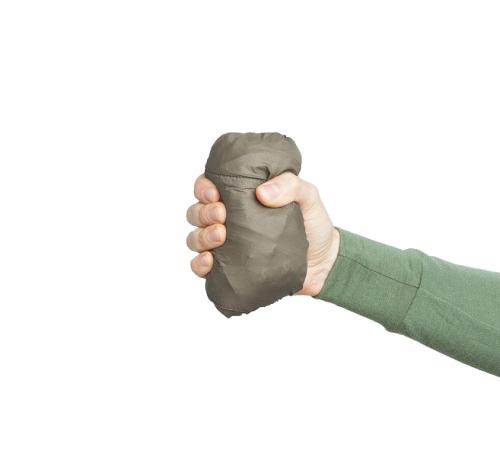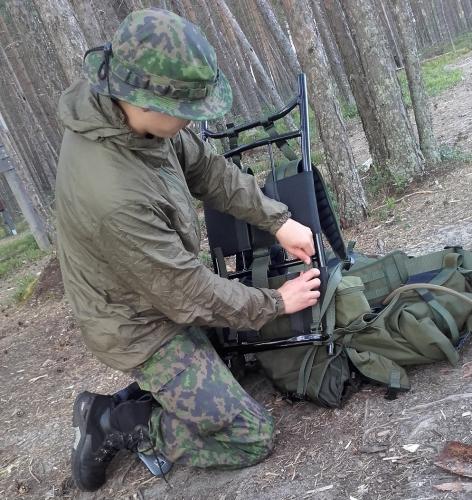 Customer submitted photo.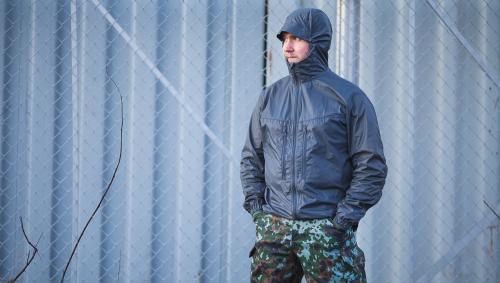 An early model from years ago.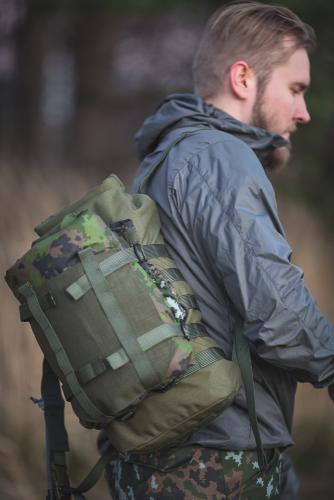 An early model from years ago.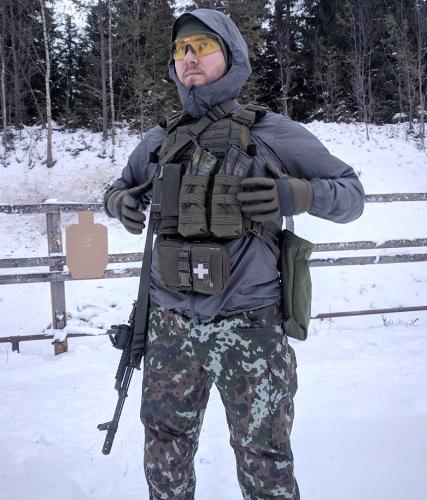 An early model being tested years ago.
Särmä TST
Särmä TST L3 Wind Jacket
Price 67.99 - 99.99 USD 99.99 USD
excluding sales tax
A very lightweight and packable windshell layer jacket. Keeps freezing winds and light rain at bay while allowing moisture to freely evaporate. Primarily designed for layering between base layers and camouflage wear, but can also be used as a stand-alone jacket in light use.
Loading products...
Trouble with the metric system? Try our converter: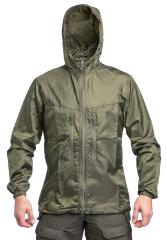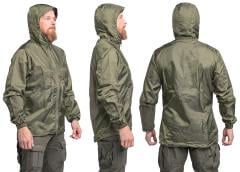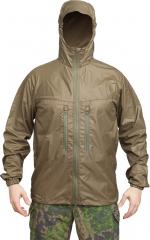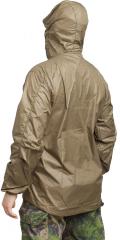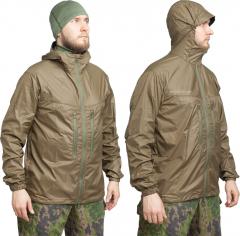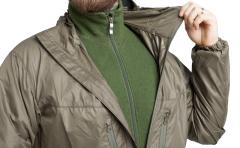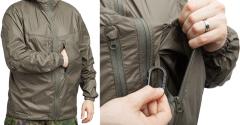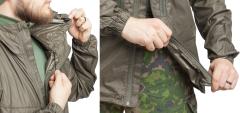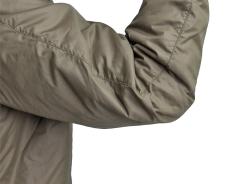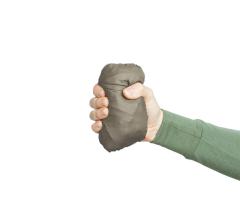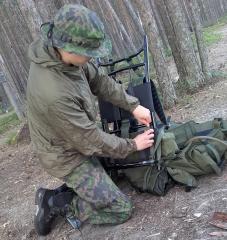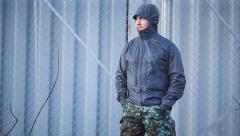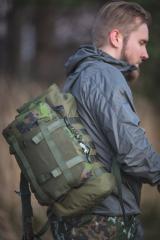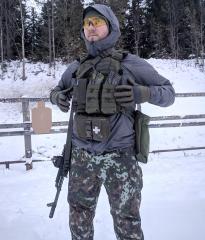 A very lightweight and packable windshell layer jacket. Keeps freezing winds and light rain at bay while allowing moisture to freely evaporate. Primarily designed for layering between base layers and camouflage wear, but can also be used as a stand-alone jacket in light use.
Sized for wear over base/mid layers
Weight: 215 g / 7.5 oz (Medium Regular)
Pack size: 10x7 cm / 4" x 3" (Medium Regular)
Breathable and quick drying
Elastic cuffs and adjustable hood and hem
Long hem at the back
Articulated elbows
Zippered breast pockets
Material: 98% Polyamide, 2% Carbon Fiber Ripstop, 75g/m2 (2.21 oz)
The L3 Wind Jacket is an easy choice to bring along anywhere, anytime. Packs small enough to fit in your trousers cargo pocket and is versatile enough to serve a purpose in just about any weather. As a mid-layer it offers added insulation without hindering moisture from lower layers to evaporate.
The L3 Wind Jacket can also be used as a stand-alone outer shell jacket but please note that the lightweight fabric is not designed to withstand direct, heavy abrasion. Open flames, crawling over rough terrain and rucksack hip belts are some common enemies of this type of clothing.
L3 - Insulation layer
The third layer of the Särmä TST clothing system, designed to be worn over a base layer of merino wool and under a field uniform or other outer shell. L3 garments come in two styles, unlined wind wear and lofty thermal wear with Climashield insulation. Lightweight, quick-drying, and highly breathable fabrics guarantee effective moisture management and great packability.
Take a look at our Särmä TST Clothing System!
Materials
Fabric: 98% Polyamide, 2% Carbon Fiber Ripstop, 75g/m2 (2.21 oz). Very lightweight, quick-drying, and really strong for such a lightweight material. All visible fabrics are unofficially NIR-compliant according to our tests.
Sizing
Sized to fit over warm mid layer clothing, even a fleece. If you never ever want to wear anything but thin, tight undershirts under your wind jacket you can downsize one step from the recommended measurements. Ranger Green only available in Regular.
Pictured model is 178 cm (5' 10") tall with a chest of 100 cm (39.5"), the jacket is size Medium Regular.
Sewn in Estonia
These are sewn in Estonia, by an experienced factory that has a long history of producing clothing for military, law enforcement and emergency services.
Kierto Circular Economy
Return this product used but clean and unbroken, and you'll receive half of the product's original price as Varusteleka credits. Service is available only in Finland. Only Registered users can make Kierto returns. See more information about Kierto.
Varusteleka Särmä TST
Särmä TST is Varusteleka's in-house brand of clothing and gear designed for military and law enforcement end-users. Our clothing and equipment are made in co-operation with a number of experienced manufacturers with a strong background in producing clothing and gear for military and law enforcement officials, most notably for the Finnish Defence Forces. For further reading check out the Varusteleka's Särmä TST page.
Särmä TST products are covered by a 12-month warranty against defects in materials and workmanship. For further information please read our detailed warranty guide.
All products: Särmä TST
Recommendations
Loading products...
Reviews
You have already submitted a review. You can edit your text by clicking on it.
Log in and write a review.
Remove filter
Suomi
(4)
English
(5)
I would recommend for a friend
Hannu L.

20.07.2017 (Edited 31.05.2021)
Hyvän tuntuinen takki. Ajaa takuuvarmasti asiansa eli suojaa tuulelta ja vähän sateeltakin. Omat mitat 173 cm pituutta ja rinnan ympärys 112 cm, otin koon X-large regular. Se on sopiva hartioista mutta hieman pitkähkö vyötäröltä ja hihoista. Onneksi se ei kiristysten ansiosta haittaa mitään. Puoli pistettä pois ankeasta väristä ja että helman kiristysnarun päälle ei löydy mitään järkevää sijoituspaikkaa.
16
2
I would not recommend to a friend
Tapani M.

10.08.2017 (Edited 31.05.2021)
Toimii luvatusti tuulitakkina, hengittää/haihduttaa hyvin ja sopii siten rivakampaan liikkumiseen. Tihkusade tuli kuitenkin patikassa nopeasti läpi eikä takki märkänä yksinään paljoa tauolla lämmittänyt (fleecen kumppanina kyllä ok). Kolmen päivän Haltin reissulla takki oli yhteensä ehkä 12 tuntia päällä liikkeellä oltaessa, ja siinä ajassa rinkan lantiovyö söi itsensä kankaan läpi molemmin puolin. Vaatii siis hellyyttä eikä siksi ole kovin kairayhteensopiva. Jää taukovaatteeksi/marjailuun.
13
46
I would recommend for a friend
Ignacio N.

27.01.2018 (Edited 31.05.2021)
I would had never thought I would buy this one. I thought it was pretty expensive for a wind jacket. Until it got -17 degrees and I went running. So I decided to go for this one. It´s great. Not only for training and being outdoors, but it is a companion in my every day. For example in 0 degrees can be enough with a wool underwear and a thick wool pullover. Packs really small so you can have it in a pocket or in your every day shoulder bag. It´s great for running, training and has the hoodi, which fits very nicely and it´s difficult to find in sport wind jackets. Also the pockets fit everything you need like wallet, keys, phone, couple of caloric chocolates.... just give it an only water wash in the shower after the training and its again clean and nice like new. Super happy with this jacket. It will be one of my all around year jackets, from training, fishing to going to work. Also great construction, not like the Loft L3 särmä for cold weather which, at least mine, looks like made in china with some loose threads here and there (great jacket though, very happy also with it). Ah, and for cross country skiing is great
16
2
I would recommend for a friend
Jari L.

Varusteleka employee

29.08.2018 (Edited 01.06.2021)
Särmä TST L3 Tuulitakki on todellinen EDC-ihme etenkin kevät-kesä-syksy -akselilla. Erittäin kevyt ja pakkautuu pieneen tilaan. Aika usein tuuli haihduttaa lämmöt kropasta, vaikka keli olisi lämmin. Tämä pikku pusakka pitää käyttäjän lämpimänä viiman vihmoessakin. Itse olen käyttänyt tuulitakkia Särmä merinovillahupparin kanssa ja kyseisellä yhdistelmällä pärjää oikein hyvin kylmässäkin ja pienessä tihkusateessa. Maastotakin alla tuulitakki blokkaa tuulen ja kurjuuden nostamatta kuitenkaan lämpökuormaa liiaksi. Itsellä Särmä TST L3 tuulitakki on ollut mukana niin kaupungissa, metsässä, vesillä ja festareilla ja suoriutunut eri ympäristöistä kunnialla.

Särmä TST L3 Wind Jacket is true EDC wonder during the milder seasons. It's extremely lightweight and packs into a small space. Quite often the wind is the reason for thermal loss even though the weather might be fairly warm. This little jacket will ensure that you feel comfortable and warm, even though it would be a very windy weather. I have used Särmä TST L3 Wind jacket with Särmä merino wool hoodie and this combination has worked well in fairly cold, windy and rainy conditions. Under the field jacket, Särmä TST L3 Wind jacket works well as mid-layer during the milder seasons via blocking the wind without increasing the thermal load too much. I have used Särmä TST L3 Wind jacket in an urban environment, in the woods, at sea, and in rock festivals and it has performed well in every occasion.
2
2
I would recommend for a friend
Monte G.

23.02.2019 (Edited 02.06.2021)
I have owned and used this product for the last 24 months. Excellent, just excellent is all I can say. I use this is combination a TST zipper wool turtleneck layer on colder days. It is extremely compact, you can literally compress this and put it in a pocket. I travel with it world-wide in basically every type of climate. I use this as my go to shell which stays with me in my day pack at all times, while traveling. From Central America, Asia, Europe and the Baltics. A simply amazing and useful piece of kit for travel and leisure. I don't leave home without it! All I can say is, BUY IT!
6
0
I would recommend for a friend
Elliott S.

21.08.2019 (Edited 05.06.2021)
This thing is great. Extremely light and compact, all the features I want and none I don't, cut is good, material performs well as long as you respect its limitations. The only potential problem with it is that it's competing against more durable wind shirts that can spend more time under hip belts, so it may not have a home in every system and season. Still, it's so convenient that even for people like me who wear a long base layer plus a hooded wind shirt while moving in winter, it can be thrown in a pocket or pack and worn as an extra layer when you stop moving or whenever. And like another reviewer said, I'm sure it's excellent for travel.
1
0
I would recommend for a friend
Sauli

19.10.2020 (Edited 06.06.2021)
Tekee erittäin hyvin sen mihin takki tehty, blokkaa tuulen.
Syysvaelluksella käytin Gorka kolmosen alla, toimi oikein hyvin. Ei kulumisen merkkejä lantiovyön tai olkapäiden kohdillakaan, mutta varmasti syytä vältellä suoraa hankausta. Ehdottomasti jatkossakin vakiovarusteena vaelluksilla ja retkillä.
0
0
I would recommend for a friend
Chris C.

28.01.2022 (Edited 29.01.2022)
I do understand that there is a cost issue about making clothing available more colours.
So just to say that if Varusteleka make the Sarma TST L3 Windjacket and Sarma Merino Wool Hoodie in blue or red I promise to buy them.
I think the Windjacket could be a big hit with civvy walkers, cyclists and runners in the UK if it was available in something other than military green. As you know, the weather is moderate but it changes a lot - a bit cold, a bit wet, a bit windy all in one day, so a Windjacket in the pocket of a wool hoodie would cover everything except midwinter.
:-)
0
0
I would recommend for a friend
Federico V.

04.03.2022
Brilliant. I use it in combo with a hardshell for ski-mountaneering and hinking in winter. Great value.
0
0