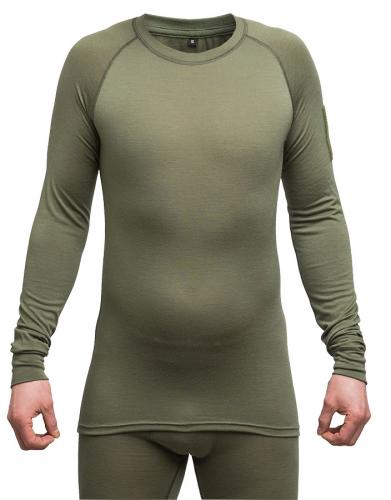 Särmä TST L1 Long Sleeve Shirt, Merino Wool
Price 27.99 - 36.99 USD 36.99 USD excluding VAT
Flat Rate Shipping to USA $9.99
94 % recommends
Sold 56 pcs in the last two weeks
Loading products...
Trouble with the metric system? Try our converter: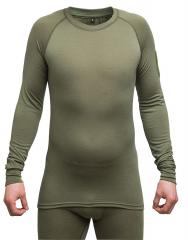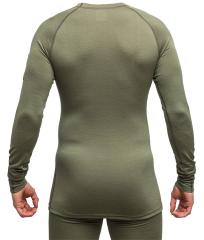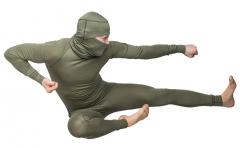 A purely functional long sleeve undershirt for active wear, made from merino wool, simply the best material you can wear next to the skin. This is a damn good base layer for active, demanding use.
Active fit: snug and comfortable.
Raglan sleeves: no chafing seams on the top of the shoulders adds comfort when carrying rucksacks.
Flatlock seams: no thick folds that could cause discomfort.
Long hem: the hem is longer at the back to keep it safely tucked in when moving about.
Velcro for Finnish M05 rank insignia on the left sleeve.
80/20 merino wool / polyester, 180 g/m2.
L1 - Base Layer
The first layer of the Särmä TST clothing system, tasked with moisture management. A good next-to-skin base layer keeps you feeling comfortable in any conditions to do this it needs to be lightweight and effectively moisture wicking. We use a lightweight merino wool blend for our base layers, a natural and very functional material for this purpose.
Take a look at our Särmä TST Clothing System!
High quality Merino wool
Made from 80% merino wool and 20% polyester, weight 180 g/m2. The polyester content adds abrasion resistance to the otherwise quite weak wool. Merino wool is a fantastic choice for next-to-skin wear, most notably it feels good against the skin and retains it´s insulating properties even when soaking wet.
Mulesing free! All our merino wool products are made using mulesing-free certified merino wool.
Made in Lithuania.
Wash and care
This merino wool blend is machine-washable in 40 degrees celcius, but washing is seldom necessary - wool cleans itself. When not in use, air them out and give them a good shake after that.
Sizing
Sized according to wearers chest circumference and height in centimeters. Lengthwise these are optimal for 180 cm tall wearers. These are quite form fitting, by picking your size you will get just that - these are designed to stretch a bit. Pick a size larger if a bit more loose fit is required
Our model's measurements are about 175 / 96 cm, he is wearing a size Medium shirt.
Särmä TST
Särmä TST is Varusteleka's in-house brand of clothing and gear designed for military and law enforcement end-users. Our clothing and equipment are made in co-operation with a number of experienced manufacturers with a strong background in producing clothing and gear for military and law enforcement officials, most notably for the Finnish Defence Forces. For further reading check out the Särmä TST corner of our website.
Särmä TST products are covered by a 12-month warranty against defects in materials and workmanship. For further information please read our detailed warranty guide.
Reviews
You have already submitted a review. You can edit your text by clicking on it.
Log in and write a review.
Remove filter
Suomi
(8)
English
(8)
I would recommend for a friend
Gary S.

29.04.2017
Awesome. Comfortable, breathable. For me fit is very, very good.
5
0
I would recommend for a friend
Teemu L.

03.08.2017
Hengittävä, mukava ja lämmin niin kuivana kuin kosteana. Merinovillaiseksi vaatteeksi alkaa haista todella nopeasti ja pahalta, polyesteri ei ilmeisesti oikein toimi näissä. Hajuhaittoja lukuunottamatta toimi hyvin vaellusretkellä pohjakerroksena.

Suositellaan yksin liikkuville.
15
0
I would recommend for a friend
Teemu A.

10.09.2017
Aivan loistava, pehmeän mukava mutta kuitenkin tarpeeksi kestävä ohueksi kankaaksi. Toimii todella hyvin kosteuden siirtäjänä iholta.
3
0
I would recommend for a friend
Peter M.

15.10.2017
Finally merino underwear with 20% polyester!!!
I've been wearing out tons of Icebreaker underwear, but finally this will now to an end!
The wool quality is slightly less fine than Icebreaker's and itches a tiny bit. Nothing serious. The velcro patch on the sleeve is easy removable.
I already recommended to several friends!
With that price you can't really go wrong!
3
0
I would recommend for a friend
Sami S.

13.01.2018
Loistavat liikuntaan. Pehmeä, ei kutita ja mikä tärkeintä ei haise ja näitä ei tarvitse joka välissä pestä.
0
0
I would recommend for a friend
Sami S.

13.01.2018
Loistavat liikuntaan. Pehmeä, ei kutita ja mikä tärkeintä ei haise ja näitä ei tarvitse joka välissä pestä.
0
0
I would recommend for a friend
Louis C.

13.02.2018
This is damn good. It barely itches, it's warm yet breathable, tough but comfortable. Design is excellent and price is reasonable.
Also, a perfect fit.
2
0
I would recommend for a friend
Tero T.

10.03.2018
Ei tämmöisiä pitäisi jumalauta myydä ollenkaan. Sillä hetkellä kun tämän laittaa päälle ja tajuaa ettei sitä voi ihan joka paikassa pitää, alkaa harmittaa.
Ihan liian mukava ja lämmin päällä, toimii liikkuessa ja paikalla. Aivan liian mukava vaate.
2
0
I would recommend for a friend
Harri K.

10.04.2018 (Edited 04.05.2018)
Todella hyvä aluspaita esim vähän paksumman poolon alle. Ainoana paitana takin alla käytettäessä kaulus on vähän liian avoin ja avara. Matalalla pystykauluksella oleva versio tämän ja vetoketjupoolon välimuodoksi olisi mainio syys- ja kevätpaita. Päivitys 4.5.2018: Turhan lämmin ainoanakin paitana ohuenkin maasto/ulkoilutakin alla, kun lämpötila alkaa nousta kymmenen plusasteen tuntumaan ja liikkuu maastossa repun kanssa. Pesin omani villapesuaineella ja -ohjelmalla ja laitoin kaappiin odottamaan syksyä.
1
0
I would recommend for a friend
Mika H.

15.12.2018
Mahtuu hyvin 196 cm miehelle. On lämmin pakkasella.
0
0
I would recommend for a friend
D.J.E. M.

18.12.2018
It fits well, breaths well and it's warm, though not uncomfortably warm. Perfect!
0
0
I would recommend for a friend
Jeffrey M.

20.02.2019
very nice light weight long johns. tight fitting, as I think it is meant to be, so if you want loose, go a size up. Fits my large frame. Very well made and doesn't itch at all. Breathable material yet warm, and yes, I did recreate the green ninja image for my family.
1
0
I would recommend for a friend
Farasha E.

11.03.2019
I would not recommend to a friend
Janne M.

13.07.2019
Tämä on käytännössä tekninen paita - kiitos polyesteripitoisuuden. Paitaa ei nimittäin tarvi kauaa pitää - edes kaupunkielämässä - kunnes kainaloissa alkaa muhimaan mehevä aromaattinen pommi. 20% polyesteripitoisuus sekä paidan kainaloita hivelöivä timmi istuvuus näyttäisivät olevan riittäviä tekemään merinovillan antibakteeriset ominaisuudet tyhjiksi. Suosittelen hankkimaan 100% merinopaidan tai kokonaan teknisen paidan; ei tällaisia polyesteri-merino kompromisseja. Tekninen paita on kaiken lisäksi halvempi ja kulutuskestävämpi valinta kuin tämä. Olisi mukava jos tätä tuotetta päivitettäisiin korvaamalla polyesteri vähemmän hajuja keräävillä materiaaleilla, kuten vaikkapa polyamidilla tai pellavalla.
2
0
I would recommend for a friend
Oscar H.

20.10.2019
Been using it for the past two weeks in my line of work which differs a lot. From standing still to being very active to standing still again. It's warm enough to keep you from becomming cold while being stationary and once you start moving you wont sweat like a pig. Even if you would, just throw on a regular t-shirt over this shirt and it will absorb all the moist.

Can´t say enough good things about this piece of clothing. So good in a matter of fact that i ordered a t-shirt of the same material and Särmäs L2-shirt.
2
0
I would recommend for a friend
Christian W.

30.12.2019
Fantastic shirt! I love the extra length so when I sit and the shirt rides up a bit my back is still covered. The merino wool material is great, I don't find it itchy at all personally and it works great retaining heat when wet, I sweat a ton when I'm active and if I stop for more than 5 minutes will usually start getting pretty cold, but even this thin shirt has made a big difference when I'm out in the Canadian winters here. I'm getting the L2 one to layer over it for when the temps get in the -30's and the long johns as well so my legs stay just as toasty as the rest of me! This really makes me want to try that wool shell stuff, I bet it's warm as hell, I'm going to have to start saving up!
0
0
I would recommend for a friend
Markus K.

09.01.2020
Itse olen tykännyt tosi paljon. Tilasin juuri toisen. Alunperin ajattelin tätä lenkkeilyyn ja vaellukseen, mutta tästä muodostui minulle lemppari kotipaita. Minulla tämä ei tosiaan ole alkanut haisemaan.
0
0