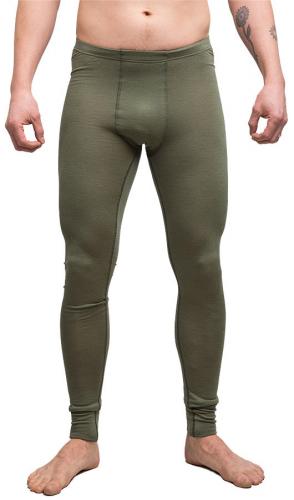 Särmä TST L1 Long Johns, Merino Wool
Price 27.99 - 36.99 USD 36.99 USD excluding VAT
Flat Rate Shipping to USA $9.99
83 % recommends
Sold 23 pcs in the last two weeks
Loading products...
Trouble with the metric system? Try our converter: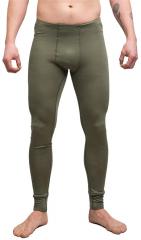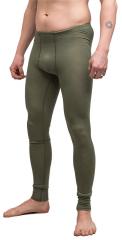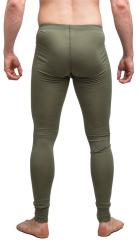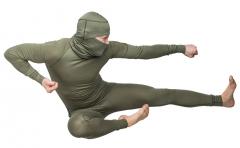 Highly functional lightweight long underpants for active wear. Snug fit, strong and stretchy material and the naturally moisture wicking and comfortable merino wool are what makes these what they are, a great and reliable choice for demanding use.
Snug fit, the stretchy fabric fits like a second skin.
Flatlock seams: no thick folds that could cause discomfort.
80/20 merino wool / polyester, 180 g/m2.
L1 - Base Layer
The first layer of the Särmä TST clothing system, tasked with moisture management. A good next-to-skin base layer keeps you feeling comfortable in any conditions to do this it needs to be lightweight and effectively moisture wicking. We use a lightweight merino wool blend for our base layers, a natural and very functional material for this purpose.
Take a look at our Särmä TST Clothing System!
High quality Merino wool
Made from 80% merino wool and 20% polyester, weight 180g/m2. The polyester content adds abrasion resistance to the otherwise quite weak wool. Merino wool is a fantastic choice for next-to-skin wear, most notably it feels good against the skin and retains it´s insuating properties even when soaking wet.
Mulesing free! All our merino wool products are made using mulesing-free certified merino wool.
Made in Lithuania.
Wash and care
This merino wool blend is machine-washable in 40 degrees celcius, but washing is seldom necessary - wool cleans itself. When not in use, air them out and give them a good shake after that.
Sizing
Sized according to the users waist circumference in centimeters. Lengthwise these are optimal for 180 cm tall wearers.
Särmä TST
Särmä TST is Varusteleka's in-house brand of clothing and gear designed for military and law enforcement end-users. Our clothing and equipment are made in co-operation with a number of experienced manufacturers with a strong background in producing clothing and gear for military and law enforcement officials, most notably for the Finnish Defence Forces. For further reading check out the Särmä TST corner of our website.
Särmä TST products are covered by a 12-month warranty against defects in materials and workmanship. For further information please read our detailed warranty guide.
Reviews
You have already submitted a review. You can edit your text by clicking on it.
Log in and write a review.
Remove filter
Suomi
(10)
English
(8)
I would recommend for a friend
Göran G.

05.09.2017
I've got several of these and they seem to be high quality stuff but they are really really tight (a lot on the bottom and a little on the top) so buy one size up! Hopefully things will loosen up after some use.
4
1
I would recommend for a friend
Justin L.

15.12.2017
Perfect for hunting, I STRONGLY SUGGEST YOU SIZE UP
4
1
I would recommend for a friend
Adam G.

28.12.2017
Ripped at the seam on the inner thigh after a few weeks of casual use.

Warm though. Buy a size up, I guess.
2
1
I would recommend for a friend
Sami S.

13.01.2018
Materiaali ja laatu todella hyvää. Mutta taidan kuulua siihen ryhmään joille nämä ei vain istu. "Oikea" koko on reisistä tiukka. Isompi koko taas vyötäröltä liian löysä ja ei pysy ylhäällä. Vaikka vilauttelu sopivissa olosuhteissa on hauskaa niin en kuitenkaan halua koko ajan nostella alushousuja ylös.
Omistan Särmä merinovilla L1 t-paidan ja pitkä hihaisen ja ne ovat loistavia. Harmi vain että en pysty käyttämään saman tuoteperheen kalsareita.
3
0
I would recommend for a friend
Petri I.

05.02.2018
Aluksi ovat hieman tiukat pohkeista ja reisistä, mutta n. 10 käyttökerran jälkeen venynyt sopivaan muotoon. Olematta kummiskaan löysät. Vyötärö vaatisi ehdottomasti kiristettävän kuminauhan. Kun kalsarit on muuten sopivat, niin vöytärö tuntuu löysälle ja saa välillä nostella sitä ylöspäin. Ovat lämpöset, olematta kummiskaan kuumat. Myös hikiliikunnassa toimivat hyvin, eivät tunnu kylmille hikisinä.
0
1
I would recommend for a friend
Louis C.

13.02.2018
This is damn good. It barely itches, it's warm yet breathable, tough but comfortable. Design is excellent and price is reasonable.
Also, a perfect fit for me.
2
0
I would recommend for a friend
Lassi V.

20.02.2018
Napakka istuvuus. Alkuun voi tuntua kireältä, mutta muutaman käyttökerran jälkeen muotoutuu mukavaksi. Sen verran muodossaan istuva leikkaus, että lahkeen suut eivät nouse kovin ylös sääreen. Jos haluaa löysempää istuvuutta, niin sitten syytä hankkia kokoa isompaa.

Toimii kivasti ihan arkikalsarina farkun alla vielä 15C pakkasella, muttei silti ole kuumat sisällä päivällä istuessa.
1
0
I would recommend for a friend
Rolf J.

17.10.2018
A reasonable product at a reasonable price. Sizing is a bit off. A have a 82cm (32in) waist at 1.80m hight. I choose size medium. Waist and length are fine but thighs and calves are quite tight. This is even more astonishing as my legs are rather skinny, more the european endurance runner type rather than the weightlifting type. So if you have strong legs, you might want to size up.
0
0
I would recommend for a friend
Anonymous customer

03.11.2018
Tämmöset ostin. Lähinnä kiinnostus kulutuskestävyydessä. Aiemmat ihan pääasiassa näitä; https://www.varusteleka.fi/fi/product/sarma-merinovillakalsarit-pitkat-mustat/26152 (jotka ihan parhaat koskien että liikutaan - ollaan paikallaan - liikutaan -> intti tai hc-metsästys.). Hyvät on, ihan on kestävyyttä. Mutta, prkl, hiostaa kun pitäis hötkyä eestaas. Jos vähän polyesteriä karsis veks? Jotain 10-15% ni sais best of both worlds. Nyt pykii niin että parsin ennemmin näitä 100-merinoita kasaan ja näitä pidän vaan kun tiän että ei tartte niin paljon liikkua.
2
0
I would recommend for a friend
Samuli C.

18.11.2018 (Edited 18.11.2018)
Hyvä tuote sinänsä, mutta mitoituksessa jotain pielessä. Pohkeista ja reisistä oli niin tiukat housut, ettei M-koko mennyt jalkaa 68 kilon elopainosta huolimatta. Isompi koko sitten jää löysäksi lantiosta ja vaatisi paremman kiristyksen.
3
1
I would not recommend to a friend
Mika H.

15.12.2018
Muuten hyvät mutta eivät ole istuvat 196 cm miehelle liian lyhyet.
1
0
I would not recommend to a friend
Petri E.

07.01.2019
Tällainen 190 cm ja 95 kg rungon omaavalle tallaajalle nämä housut eivät tunnut sopivan jalkaan. Pituus jää lyhyeksi, joka ei sinänsä haittaisi jos tosiaan nilkat olisi vain paljaana. Nämä saadaa sukilla kuntoon, mutta kun kyykätessä puolet persvaosta on housujen ulkopuolella niin se ei tunnu hyvältä. Minulla on koko XL joka on yllättävän tiukka pohkeista ja reisistä. Vyötärön kohdalla on taas löysää. Jos tuo persvako saataisiin pysyyn piilossa, niin nämä housut olisi jokapäiväinen varustus talveen. Nyt jää kaappiin. Olisikohan se haarakiila tie onneen?
1
0
I would recommend for a friend
Klaus H.

28.01.2019
Toimivat ja mukavat, jonkun verran saa nostella paikoilleen päivän aikana. Lämpöhyöty työhousujen alla riittää tuonne -10 ihan hyvin. Ovatko hintansa arvoiset? jää nähtäväksi, odotan niiden kestävän hyvin jotta ovat rahansa väärtti...
0
0
I would recommend for a friend
Jeffrey M.

20.02.2019
very nice light weight long johns. tight fitting, as I think it is meant to be, so if you want loose, go a size up. Fits my large frame. Very well made and doesn't itch at all. Breathable material yet warm, and yes, I did recreate the green ninja image for my family.
2
0
I would not recommend to a friend
Tuomas K.

02.03.2019 (Edited 02.03.2019)
Löysä vyötärö mutta kireät ja ylipitkät lahkeet, hikiset paikallaan ja liikkeessä. Näissä ei oikein mikään tunnu hyvältä: hitaat vetää jalkaan, vyötärö valahtaa liikkeessä, lahkeet pitää taittaa suista tai puristavat nilkkaa ja jalkapöytää saappaassa, hiki on aina ja tunnelma on kuin makkaralla nakin kuoressa. Pysyvät sentään hiessä lämpiminä, mutta siinäpä se - ja sitä lämpöä varten on jo liike sekä L2- ja päällikerros. Koko L, taistelija 182 cm / 80 kg. Asiakaspalautteena: helposti avattava pahvipakkaus on näppärä käyttää ja helppo kierrättää, lisää näitä.
0
0
I would recommend for a friend
Marko K.

07.03.2019
Hyvän tuntuinen tuote. Housuissa kivasti pituutta, ainut pikku miinus, että turhan napakat pohkeista ja reisistä. Pikkuisen väljyyttä niihin niin täydelliset
0
0
I would recommend for a friend
Varun

06.05.2019
Just received these, am wearing them during the day.
The texture is so good, I barely felt that I'm wearing them.
Albeit these are rather tight around your thighs, but don't usually impede movement.
I've worn these in 8 C so far, so I'll update this review once winter comes round
0
0
I would recommend for a friend
Alan S.

18.12.2019
Great quality base layer long johns. Comfortable, good cut, great material; just a hint of an itch at first but that vanished quickly. Fit is nice and tight, especially on the legs. I have slim legs and normally take a size S in base layers, but I take an M in these - so consider sizing up when purchasing these. Only thing I would pick on is that the ankle cuffs are very tight and not too stretchy, which sometimes makes them awkward to pull on - perhaps they could use some elastane in the weave for ease of donning.
0
0