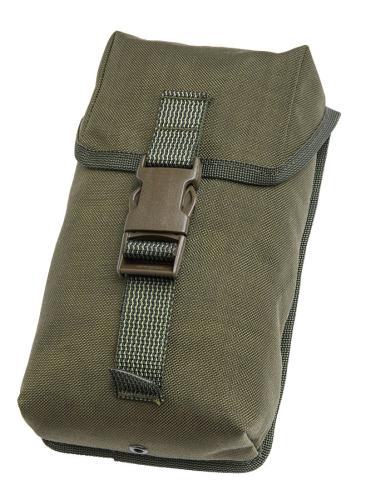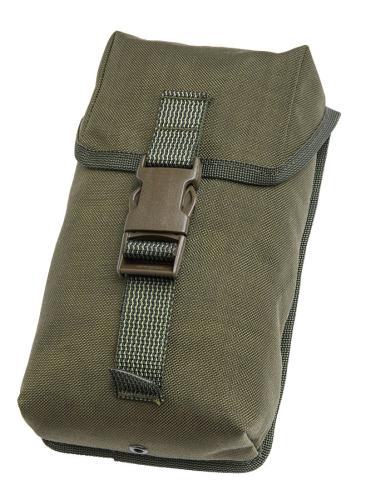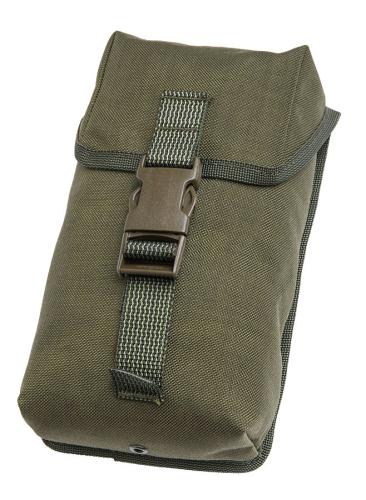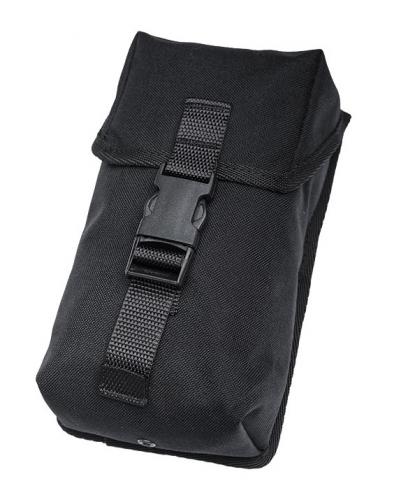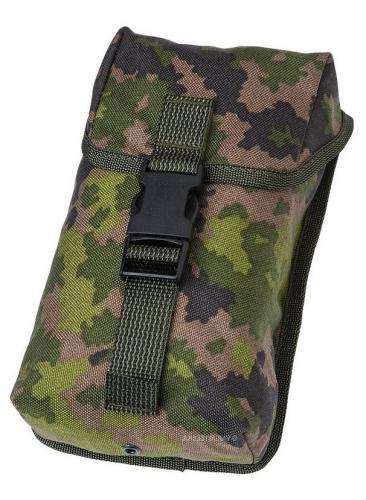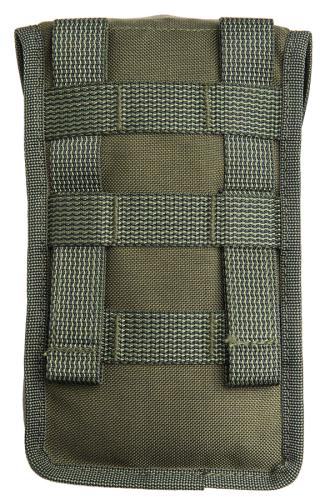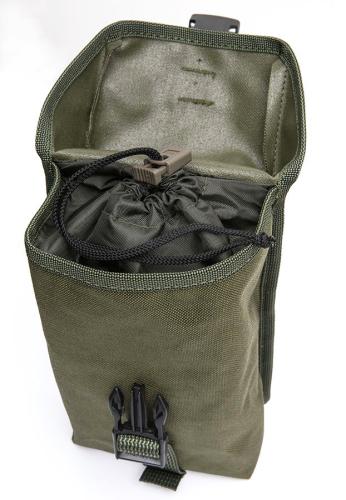 A drawcord collar makes sure not even the smallest trinkets get lost.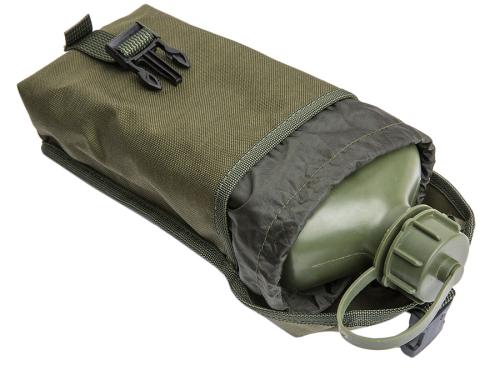 Perfect fit for usual 1 litre water bottles.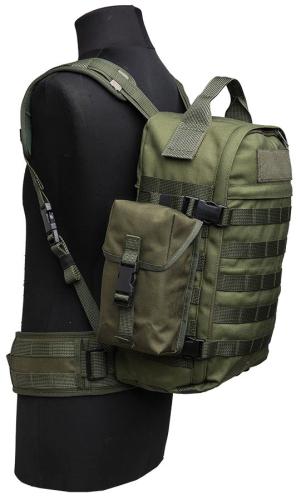 Sopii mainiosti pienempien reppujen sivutaskuksi, kuvassa CP15 Taistelureppu. Vihreän taskun solki on kuvasta poiketen nykyään vihreä.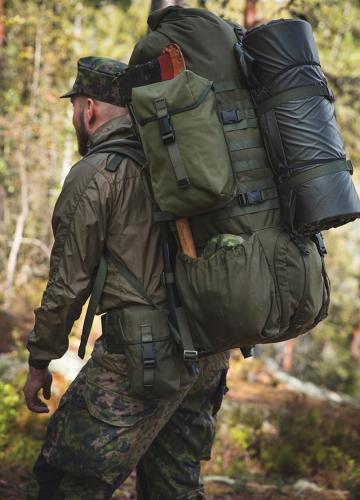 A GP pouch M attached to the hip belt of the RP80 recon pack. A GP pouch XL has been attached to the side of the pack.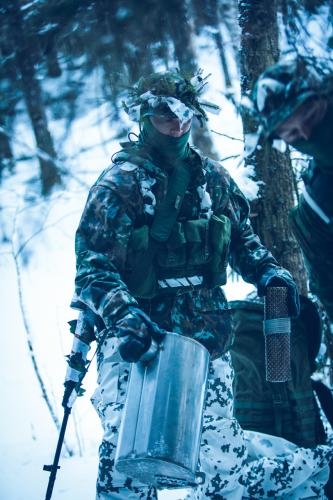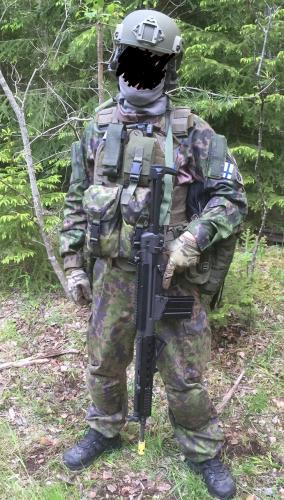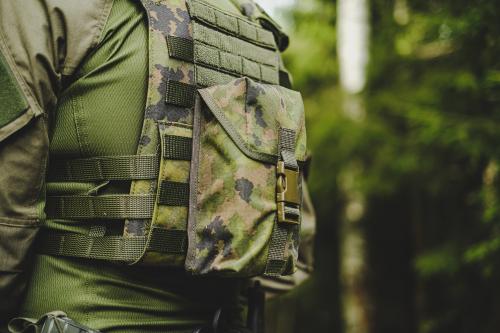 Särmä TST
Särmä TST General Purpose Pouch M
Price 39.99 USD
excluding sales tax
A straightforward general purpose pouch with extra secure double closure (SR buckle and a drawcord collar). Perfect for carrying on a vest, backpack, or belt. This medium-sized model is ideal for most miscellaneous trinkets you need to carry, also doubles up as a water bottle pouch.
Loading products...
Trouble with the metric system? Try our converter: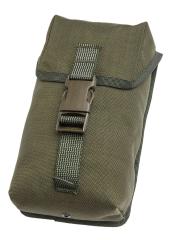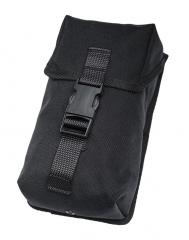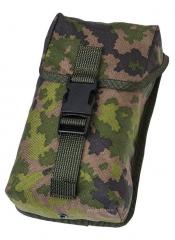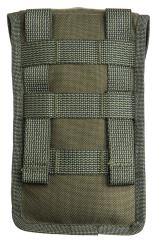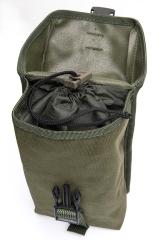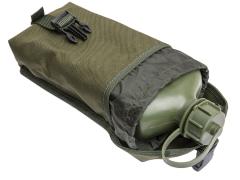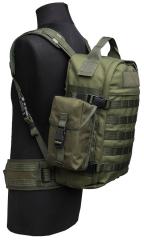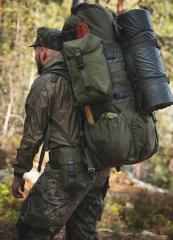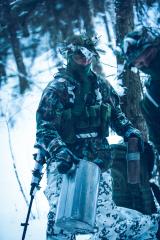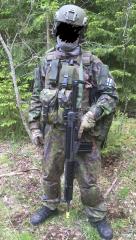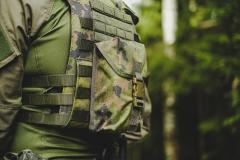 A straightforward general purpose pouch with extra secure double closure (SR buckle and a drawcord collar). Perfect for carrying on a vest, backpack, or belt. This medium-sized model is ideal for most miscellaneous trinkets you need to carry, also doubles up as a water bottle pouch.
Dimensions 20 x 12 x 5 cm (8" x 4.5" x 2")
Volume 1.20 l (73 inch3)
Weight approx. 100 g / 3.5 oz.
PALS attachment
Closure by SR buckle and drawcord collar
Drainage grommet on the bottom
1000D Cordura/Foxdura*, NIR compliant
*M05 woodland camo
The shaped flap protects the pouch in all weather conditions. The Side Release buckle is quick and easy to use, even with gloves on. The drawcord adjustable protective collar keeps small trinkets inside and snow and dirt outside. Note: the green pouches have a green buckle, unlike some of the pictures show. All others have a black buckle.
Finnish MILSPEC materials
These are made from the very same materials as Finnish army M05 combat equipment. 1000D Cordura, ITW Nexus military buckles and high strength webbing. NIR-compliant, naturally.
Sewn in Estonia
These are sewn for us by Savotta in Estonia. Savotta is the main contractor for all Finnish army tents and load-bearing equipment, this gear is made exactly to Finnish military spec.
Kierto Circular Economy
Return this product used but clean and unbroken, and you'll receive half of the product's original price as Varusteleka credits. Service is available only in Finland. Only Registered users can make Kierto returns. See more information about Kierto.
Varusteleka Särmä TST
Särmä TST is Varusteleka's in-house brand of clothing and gear designed for military and law enforcement end-users. Our clothing and equipment are made in co-operation with a number of experienced manufacturers with a strong background in producing clothing and gear for military and law enforcement officials, most notably for the Finnish Defence Forces. For further reading check out the Varusteleka's Särmä TST page.
Särmä TST products are covered by a 12-month warranty against defects in materials and workmanship. For further information please read our detailed warranty guide.
All products: Särmä TST
Recommendations
Loading products...
Reviews
You have already submitted a review. You can edit your text by clicking on it.
Log in and write a review.
Remove filter
Suomi
(6)
English
(8)
I would recommend for a friend
Isaac L.

09.01.2018 (Edited 31.05.2021)
Den här använder jag till "finish water bottle" på min Savotta Rajajääkäri
4
0
I would recommend for a friend
Ari-Pekka V.

14.05.2018 (Edited 01.06.2021)
Rynnäkkörepussa S-koon taskun kanssa oikein mainio lisätasku. Oman kappaleen värisävy ei kuitenkaan mätsää S-taskun tai rynnäkkörepun kanssa, vaan on noita kahta ruskeamman sävyinen. Liekö eri tuotantoerissä vaihtelua, vai mikä. Metsään tai mökille lähtiessä moinen ulkonäköseikka ei kuitenkaan harmita.
3
0
I would recommend for a friend
Farasha E.

12.03.2019 (Edited 02.06.2021)
Perfect size for the Finnish canteen.
1
0
I would recommend for a friend
Peter D.

01.11.2019 (Edited 05.06.2021)
Sturdy pouch, well sewn and with well-protected seams. I concur with comments elsewhere that the Foxdura variant does not have the same feeling of thickness as the uncamoflauged Cordura ones, but having worn one of these on a belt for a while now and having it bashed into things in a machine shop on a regular basis, I'm fairly confident in it's durability. My chief complaint is the attachment system - having a simple friction fit works for smaller pouches, but for a larger one like this, it gets very "floppy" if heavily loaded and can come loose. I don't mind the "floppy" so much, but I do mind the coming loose. It doesn't happen very often, hence still the high rating, but it does happen. Old-fashioned ALICE clips seemed much more secure a fastening. The draw collar is a great addition and the contents seem to stay fairly dry even in driving rain, which was a surprise and a plus. I would have preferred a green or brownish buckle to the black, but that's a petty complaint, any buckle is going to stick out against the camo. By the by, a durable and well-made pouch which has a fiddly attachment system, which I would still recommend to people.
1
1
I would recommend for a friend
Soi U.

27.02.2020 (Edited 06.06.2021)
A 1L Nalgene bottle fits perfectly in this pouch if anyone is wondering!
12
0
I would recommend for a friend
Oskari S.

20.07.2020 (Edited 06.06.2021)
Tuotteen laatu hyvä ja toimii kaikessa muussa paitsi kenttäpullotaskuna, toisin kuin tuote-esittelyssä luvataan. Ainakaan kantikkaampi versio kenttäpullosta ei mahdu tähän kunnolla, vaan jää todella kireäksi taskun suulla, jolloin pullon kaivaminen ja takaisin laittaminen on tuskaista. Ei sovi myöskään esimerkiksi Savotan rinkkojen lantiovyölle kovinkaan hyvin pitkän pituutensa vuoksi, sillä kenttäpullo osuu liikkuessa jatkuvasti jalkaan. Mollelenkkejäkin on yksi liikaa lantiovyölle. Muuhun taskukäyttöön, nimenomaan "yleistaskuksi" toimiva ja kestävän oloinen tasku. Kenttäpullokäyttöön joku muu, kiitos!
2
0
I would recommend for a friend
Tor V.

08.09.2020 (Edited 06.06.2021)
Näppärä ja hyvälaatuinen tasku. Itse käytän 2 kpl näitä Savotan Jääkäri S repun selkäpuolella pikkutavaran säilömiseen. Yksittäisen taskun sisälle mahtuu mm. lekan organisaatiotasku, monet pokkarityyliset kirjat, 0.5 litran pullot ja tölkit, pienet EA paketit sekä kaikennäköistä muuta tilbehööriä. Kovakantinen A5 vihko ei mahdu tähän ja pehmeäkantisen version saa pistää rullalle jos sen meinaa tähän taskuun tunkea, mutta modestonen B23 lehtiö mahtuu lähes täydellisesti edellämainitun organisaatiotaskun kanssa samaan taskuun. Taskun sisäpuolella oleva suojakaulus on mukava lisä, mutta se saattaa tulla tielle tavaroiden kanssa jotka istuvat taskussa vähän tiukemmin.
1
0
I would recommend for a friend
Göran G.

01.06.2021 (Edited 30.06.2021)
This pouch is both great and not great. Very high quality but the small 5cm depth makes it a lot less useful than if it was 6 or 7cm instead. For example it works fine with most water bottles but it is too tight to be used for pretty much any kind of bottle nesting cup/canteen cup/mess kit combo (I've tried all kinds of military and civilian alternatives). So it is with tears in my eyes that I say this is the most perfect not that great small pouch.
3
0
I would not recommend to a friend
Christopher A.

09.10.2021
You cannot fit a one liter canteen AND its accompanied cup inside this pouch ( In this case and Austrian metal 1 Liter with it canteen cup) . This was very surprising and disappointing to me considering the price. A smidge larger and it would be ideal... However it seems to be well thought our as to refrain from bulk and not adding to the crowd on a MOLLE panel. It sits with a low profile on the MOLLE panel. The material and construction seems sound but I usually give items one year before i comment on durability.. Alaska will sort it out in time. I also have to wonder about the MOLLE tabs and how they are anchored. Seems cost cutting was in mind with this. The nylon is very smooth and slick, unlike Helikon who uses a rough/course textured webbing that stays put. One other customer mentioned the slick webbing slides out or sags. I can totally see this happening but time will tell..
1
1