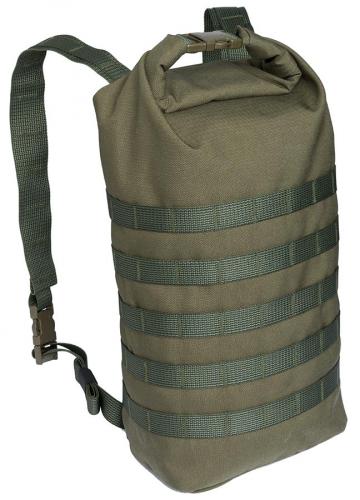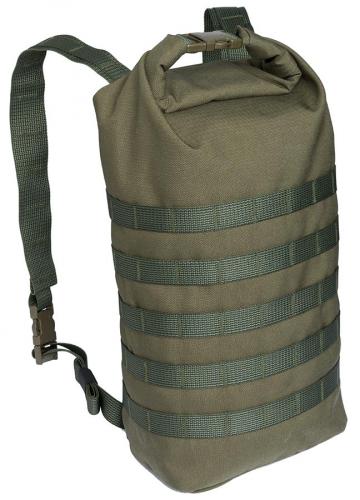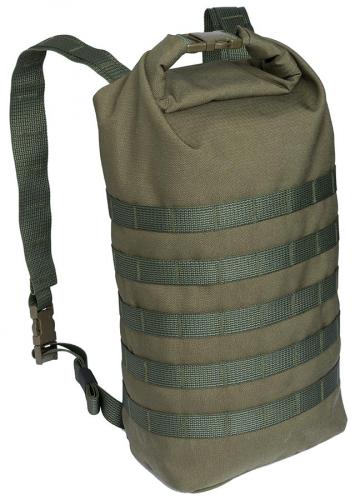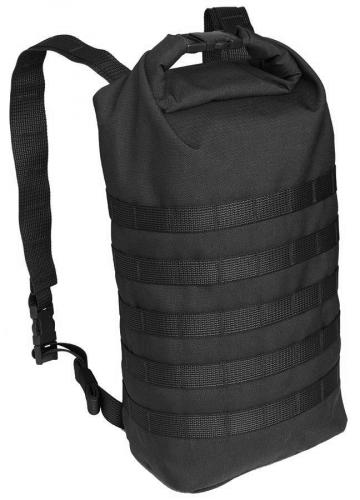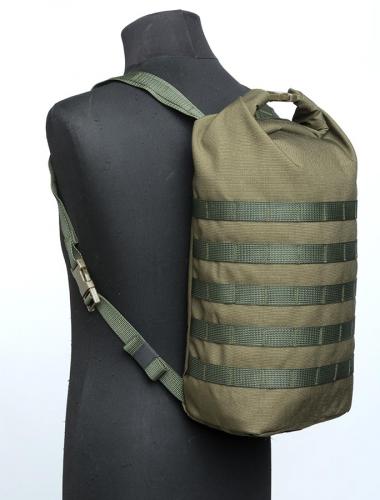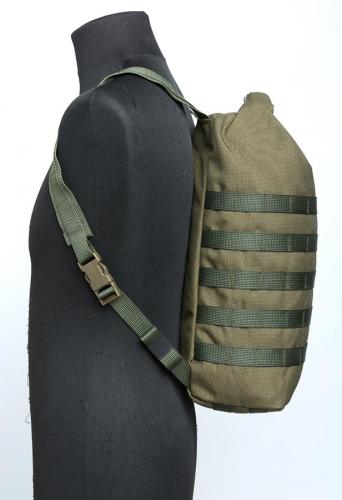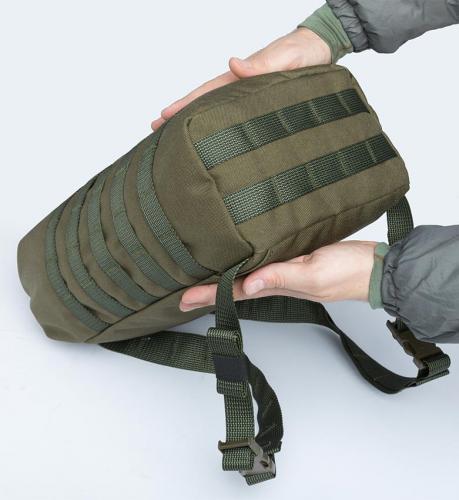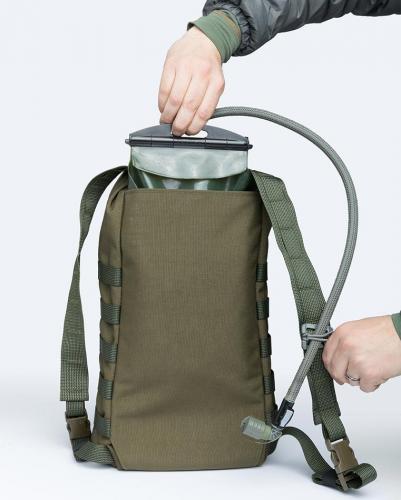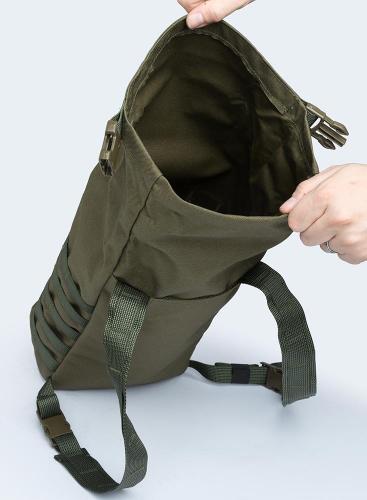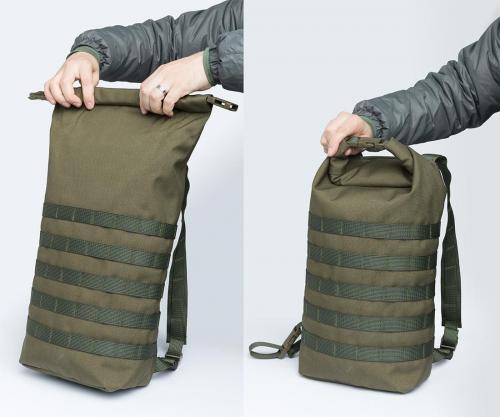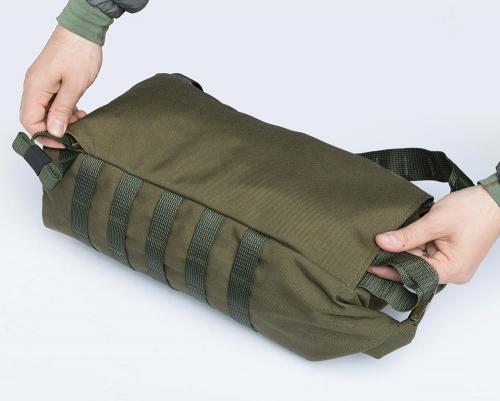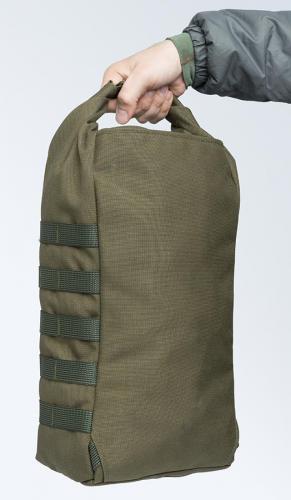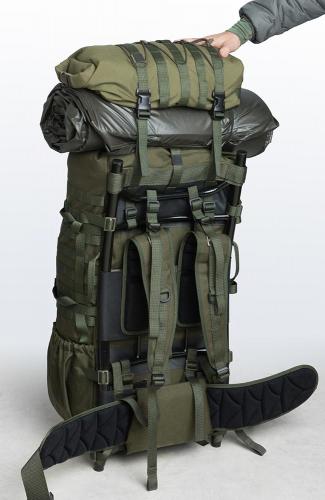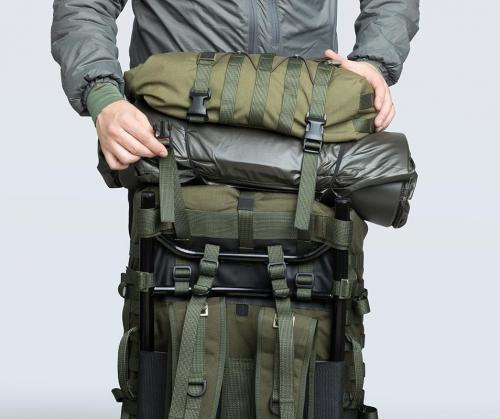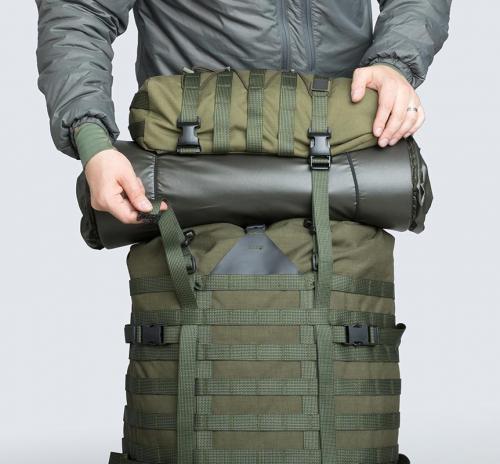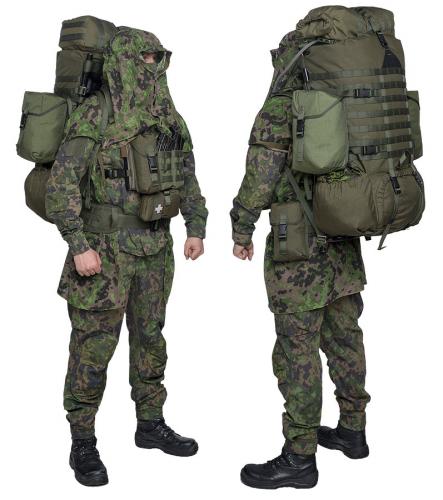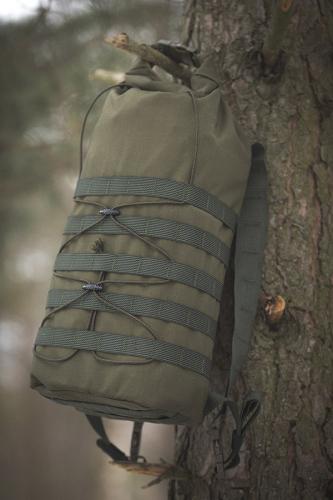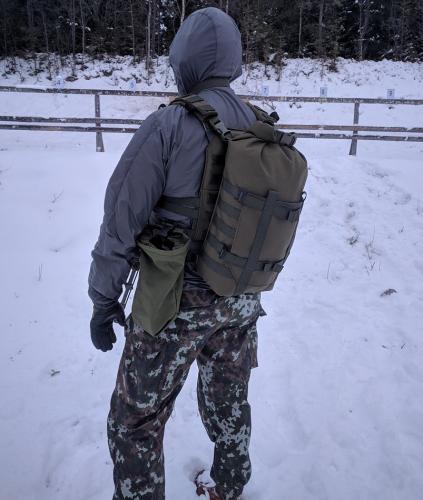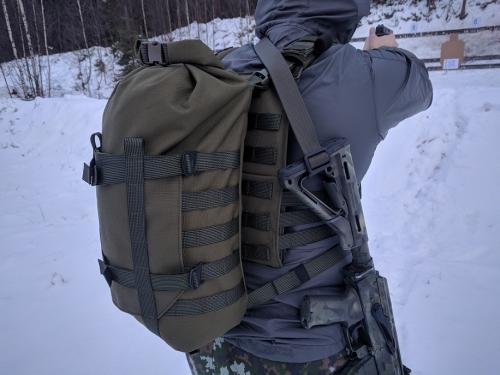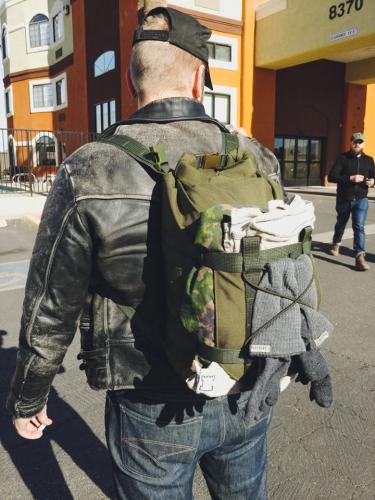 Särmä TST DP10 Roll-Top daypack
Price 73.99 USD
excluding VAT
DP10 as in Day Pack, 10 litres, is a small roll-top pack with generous PALS webbing for additional pouches and gear. Extremely simple, extremely reliable (and easy to repair if ever necessary). Can be integrated into a rucksack (as a daypack lid) or vest/body armour (as a combat pack) using separate adapters.
Loading products...
Trouble with the metric system? Try our converter: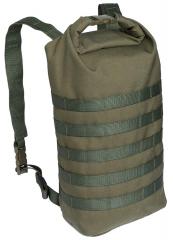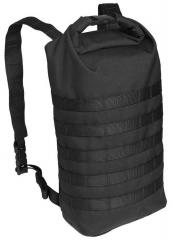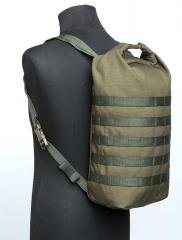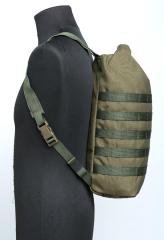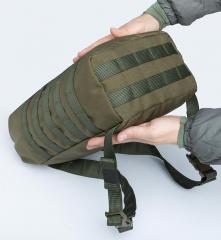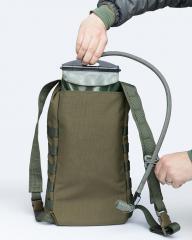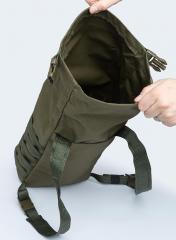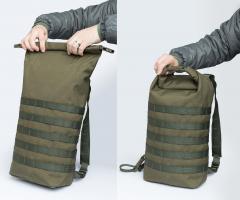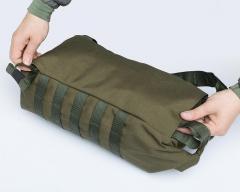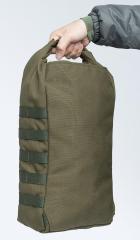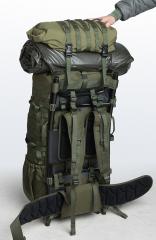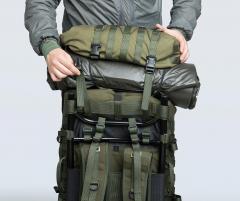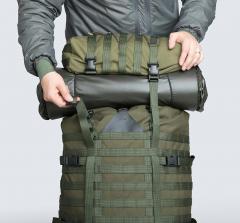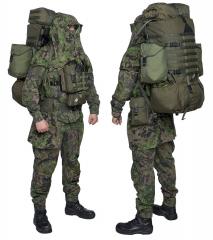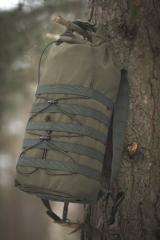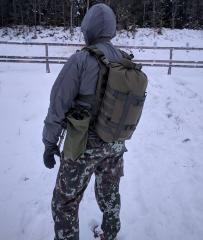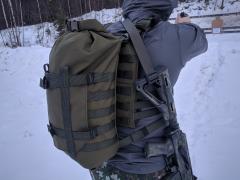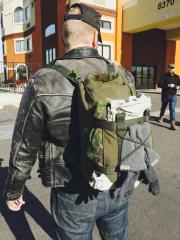 DP10 as in Day Pack, 10 litres, is a small roll-top pack with generous PALS webbing for additional pouches and gear. Extremely simple, extremely reliable (and easy to repair if ever necessary). Can be integrated into a rucksack (as a daypack lid) or vest/body armour (as a combat pack) using separate adapters.
Dimensions metric: 40 x 21 x 13 cm, volume 10 l
Dimensions imperial: 15.7" x 8.3" x 5.1", volume 610 in3
Roll-top closure
Large undivided main bag compartment
Outer compartment against the back, bellows into the main bag
PALS webbing on all three sides and bottom
Flat shoulder straps with vertical PALS webbing
1000D Cordura, NIR- compliant
Besides the main bag compartment the DP10 also features a simple yet clever compartment that sits against the wearer's back. This compartment is flat on the outside but its inside wall bellows into the main bag providing enough space for gear such as a rain poncho or roughly 2 litres / 70 ounces of water in a hydration bladder. The top and bottom corners of the compartment are open, this enables the shoulder straps to be tucked in and hidden away when not in use (for example when attaching the DP10 onto a larger rucksack, load bearing vest or body armour as a day pack).
The 40 mm / 1.6" wide shoulder straps do not interfere when shouldering rifles etc. but are wide enough to offer enough comfort for up to 10 kg / 22 lbs. loads. If you desire extra comfort when carrying heavy loads we recommend the Särmä TST Sling Pads for shoulder strap padding and a Särmä TST Modular Multi Purpose Strap for use as a sternum strap.
Although this looks like a dry sack, it isn't designed to be one! If you forget this and submerge the pack, you'll be quickly reminded about it when the water seeps in from the seams.
Daypack lid configuration
The DP10 is designed to enable it's use as a quick-release daypack lid attached onto larger rucksacks. The daypack lid configuration is designed around the Särmä TST RP80 recon pack but the same adapters and idea can be modified to work with tons of other similar large rucksacks.
We will offer the necessary adapters a re ready-to-use accessory kits in the future, but in the meantime we recommend checking out this illustrated DIY article which explains the manufacture, installation and use of the adapter straps: Särmä TST backpack use as daypack lids.
Finnish MILSPEC materials
Made of the same materials and hardware (1000D Cordura, PES webbing, ITW Nexus buckles etc.) that are used in the production of the Finnish military M05 combat equipment. High quality, NIR compliant etc.
Sewn in Estonia
These are sewn for us by Savotta in Estonia. Savotta is the contractor for all Finnish army tents and load bearing equipment, this gear is made exactly to Finnish military spec.
Särmä TST
Särmä TST is Varusteleka's in-house brand of clothing and gear designed for military and law enforcement end-users. Our clothing and equipment are made in co-operation with a number of experienced manufacturers with a strong background in producing clothing and gear for military and law enforcement officials, most notably for the Finnish Defence Forces. For further reading check out the Särmä TST corner of our website.
Särmä TST products are covered by a 12-month warranty against defects in materials and workmanship. For further information please read our detailed warranty guide.
Recommendations
Loading products...
Reviews
You have already submitted a review. You can edit your text by clicking on it.
Log in and write a review.
Remove filter
Suomi
(5)
English
(15)
I would recommend for a friend
Pinaplz

12.03.2018 (Edited 23.05.2019)
Very happy with this day pack. Is roomier than I was expecting but still small and handy enough to not get in the way. If you are like me and want unpadded straps and a simple design that you can MOLLE stuff onto, this might be the pack for you. Will probably be picking up the beaver-tail thingy as soon as it is back in stock. Thanks Varusteleka.

P.S. Thank you for the patch as well.
15
1
I would recommend for a friend
Stephane M.

12.03.2018 (Edited 29.08.2018)
Received today and went to the nearby shop to restock the pantry. Bag handled 4.5kg of potatoes and 1kg of onions. On my back, while hands full of two bags of other items.

The short walk home showed how well it rests and handles the weight. I like this, it will make a great add-on for my Canoe portages, likely becoming the front pack and/or lid.

Now count the MOLLE options, the space for a hydration bladder and you have very versatile bag!

Update: August 2018

Used this bag on a recent canoe portage in the back-country as front bag and found a great combo: the Ursa Major Bear bag ( https://www.ursack.com/) fits perfectly inside. I used quick clips to attach the bag to the shoulder straps of my main pack. Helped balance things really well, and being a thinner shape, left my arms clear and I could handle the canoe well. I carried way too much gear for the week, but this was one of my best choices.
8
0
I would recommend for a friend
Thorsten H.

24.03.2018
Very happy with this pack. It's perfect for a short day hike. Could be a nice little expansion pouch for your larger pack...xxxl pouch kinda.
5
0
I would recommend for a friend
Tomas A.

24.03.2018
Toppenkvalitet, perfekt för det den ska göra, och för runt sjuhundra spänn är den ett fynd!

Top quality, perfect for a daypack or shopping-backpack, and for around seven hundred Swedish kronor it is a bargain!
6
0
I would recommend for a friend
Randy T.

09.06.2018
I would recommend for a friend
Frank H.

24.07.2018
Excellent pack, bought it 5 months ago to replace a drawstring bag as my grab and go daypack: comfortable straps, larger capacity than my previous options, and easy to carry. Also makes a great supplement to my main pack when traveling (carried separate, 5.11 All Hazards Prime 29L)

I have also used this as a gym / running bag (~5k distance) without issue, with a change of clothes and a bottle of water inside and the straps cinched up, this thing just sits nicely in the middle of my back without shifting even when moving quick. There is a lot of slack from the straps when I do this but those are easily tucked into the loose MOLLE connections.

Note I have not put this pack under any particularly heavy loads yet, but the other reviewers appear to have without issue. Need to pick up a hydration bladder as well, but so far very pleased with the quality and simple utility of this bag.
1
0
I would recommend for a friend
Adam G.

11.08.2018 (Edited 08.08.2019)
It's a nice little daypack. Just roomy enough to fit enough water/stuff for a day away (more if you strap pouches onto the outside), and nice and small so it doesn't get in the way while going through heavy bush or squeezing through narrow canyons. The bare straps aren't so great to wear for more than a few hours if you're not wearing thick clothing or a plate carrier or something and you've got a decent amount of weight (water) in that bag, however.
The"sling pads" that Varusteleka sells for use with this and other bags/rifle slings/etc really don't add much. No padding to speak of. I tossed mine and bought a pair of Hazard 4 "Deluxe Shoulder Strap Pads" which have much more padding and cost exactly the same (for an American). They fit fine and can be put on/taken off much easier than their TST counterpart. Only downside is that the padding, being so fat and fluffy, will wear out faster than the cordura and cardboard thing sold here.
Bonus fact: While it's true that with normal-length water bladders only a 2L will fit in the back compartment (as a 3L would be too long), if I use the Source WLPS 3L (which is short and fat as opposed to long and skinny) and do a bit of squeezing, I can get the whole 3L of water in there very comfortably. The only bottleneck is at the mouth of the compartment; below that, it opens up just fine. Just be aware that anything put in the bladder compartment will remove a proportional amount of packing volume in the main compartment.
0
0
I would recommend for a friend
Juho J.

13.12.2018
I would recommend for a friend
Petri N.

18.01.2019 (Edited 18.01.2019)
En ole vielä käyttänyt tätä tuotetta ulkosalla. Näin päälisin puolin vaikuttaisi olevan hyvälaatuinen pussukka.



Ostin yhden kokeesi, sillä halusin testata mahtuuko HAWU 4- teltan yksittäinen komponentti tähän sisälle. Voin todeta, että mahtuu juuri ja juuri. MUTTA pala täytyy pakata tiukaksi rullaksi. Varsinkin ovipala vaatii muutaman kiristysremmin.
1
0
Kierto Circular Economy
Return this product used but clean and unbroken, and you'll receive half of the product's original price as Varusteleka credits. Service is available only in Finland. Only Registered users can make Kierto returns. See more information about Kierto.