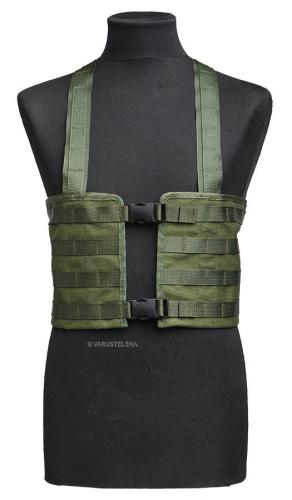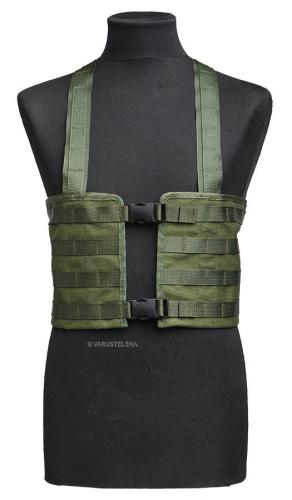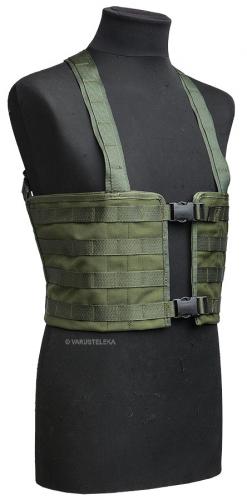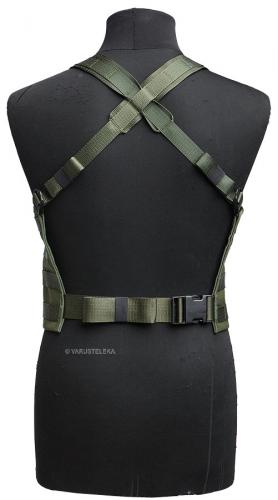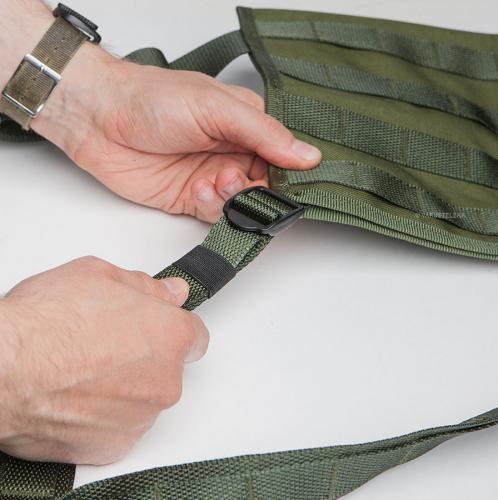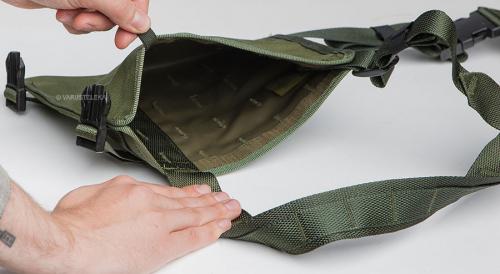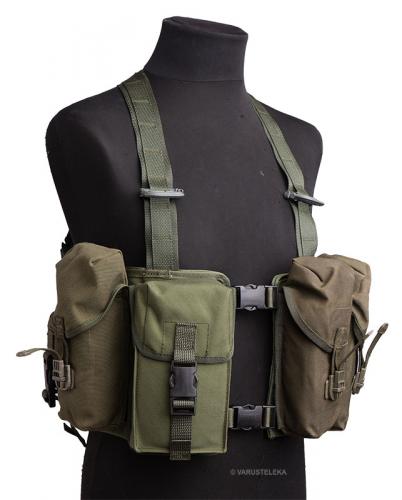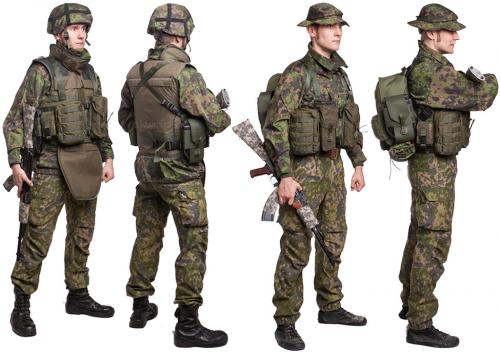 Särmä TST Chestrig SF
Price 73.99 USD
excluding VAT
A 2-piece split front chest rig, a simple and versatile rig that functions well in a multitude of uses. Map pouches inside the panels, attachment points for small gear or hydration tubes on the shoulder straps. Enough PALS space to carry most loads. >Finnish MILSPEC quality!
This product is unlikely to be restocked and will be hidden from our website once it's out of stock.
We don't know when this product will be restocked. Request restock notification and we will email you as soon as this product is available.
This product has used and returned variations. Used are washed and unbroken. Heavily used are also washed but might be missing buttons, have tears, main zipper can be broken etc. Read more about Kierto.
Trouble with the metric system? Try our converter: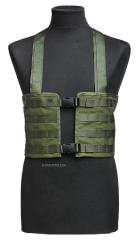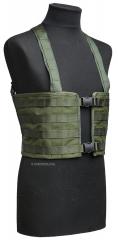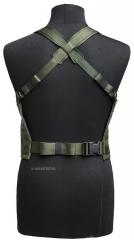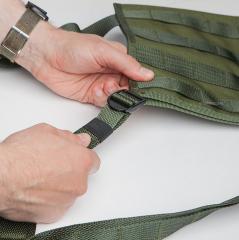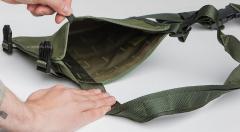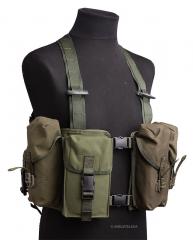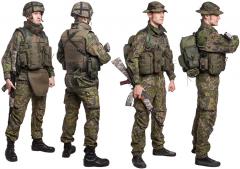 A 2-piece split front chest rig, a simple and versatile rig that functions well in a multitude of uses. Map pouches inside the panels, attachment points for small gear or hydration tubes on the shoulder straps. Enough PALS space to carry most loads. >Finnish MILSPEC quality!
The SF chestrig consists of two separate vest panels with 4 x 7 PALS webbing, these are snapped together at the front with two side release buckles. Each panel has a full-size internal map pouch, closed with velcro along the top.
As this rig is designed for the Finnish user we've taken into account the fact that our RK magazines need more than the usual three rows high PALS matrix that most western chest rigs are based on. This rig is four rows high to work properly with the standard-issue RK mag pouches, a good thing for anybody using Soviet AK-based weapons tech.
The shoulder straps are comfortably wide, 40 mm, with 25 mm straps with PALS webbing running along the top for attachment of small gear. A waist strap keeps the rig from flopping about. All straps are generously adjustable to fit pretty much anybody who could effectively use a rig like this in the field.
Finnish MILSPEC materials
The SF Chestrig is made of the same materials (1000D Cordura, polyamide webbing) and hardware that are used in the production of the Finnish military M05 combat equipment. The side release buckles are made by ITW Nexus, these are made from Delrin, an extremely tough special plastic that is very reliable even in extreme cold.
Made in Finland/Estonia
These are made by Finn-Savotta Oy, our subcontractor for all Särmä TST field gear and the single largest manufacturer of military gear in Finland. The design work is naturally done in Finland, materials are prepared and shipped to Finn-Savottas Estonian factory where the gear is sewn, then it´s shipped to Finland for quality control.
Särmä TST
Särmä TST is Varusteleka's in-house brand of clothing and gear designed for military and law enforcement end-users. Our clothing and equipment are made in co-operation with a number of experienced manufacturers with a strong background in producing clothing and gear for military and law enforcement officials, most notably for the Finnish Defence Forces. For further reading check out the Särmä TST corner of our website.
Särmä TST products are covered by a 12-month warranty against defects in materials and workmanship. For further information please read our detailed warranty guide.
Recommendations
Loading products...
Reviews
You have already submitted a review. You can edit your text by clicking on it.
Log in and write a review.
Remove filter
I would recommend for a friend
Tuomas K.

23.05.2017 (Edited 31.05.2021)
I would recommend for a friend
Antti V.

28.07.2017 (Edited 31.05.2021)
Vapaata sanaa alkuun:
Kokematon voi yllättyä, SF-rigi (joka on mallillisesti vähän niikuin erään jenkkifirman MAV2, mutta kapeampi ja korkeampi, tää on vähän hitti ja huti) ei ainakaan omalla anatomiallani parhaimillaan ole siellä klassisella rintakorkeudella, vaan enemmänkin bellyriginä. Ei sillä että se automaattisesti olis mitenkään päin huonompi juttu, mutta joka hankkiessa kannattaa tiedostaa jos tietää että korkealla tykkää painopisteensä pitää. Raskaan rigin pohjaksi tää anyway on selkeästi meinattu, perinteistä topattua sotavyötä en tämän kanssa (taas omalla antomialla) osaa pitää. Olkaimet on hyvät sirpan päällä sellaisinaankin, mutta noilla erikseen diilattavilla pehmusteilla tähän saa paremmin käytettävää MOLLE-pintaa olkaimiinkin lisää, (kakkos-)TQ:n-tasku itellä killuu tässä. Pystysuunnan punos on IMO vähän huonosti käytettävissä, tai ainakin itsellä. Toisaalta silti parempi kun pelkkä paljas olkain, näihin saa kuitenkin särmäyksiä askarreltua piuhoille yms.

Tää on itellä osa sitä pillisoi.jpg -setuppia, ihan sillä että..
a) M85(/M60/miehistövyö neukkutaskulla) ei nappaa gonapappaa
b) the omissa hommissa missä henk koht lisävaruste on se ~14kg erikoisrinkka kilkkeineen, sinne selkään ois ihan jees saada oikeasti mahdollisimman vähän muuta rojua - silti niin että koko paketin saa nakattua vittuun ilman hirveää ristivaljasrigeille tyypillistä päänylitempomista/epileptistä pyristelyä/kypärän riisumista, kun yrittää tunkea itseään suojamerkin hengessä EHPlle tai sirran penkkiin. Ja tähänhän SF on automaattisesti tuota sukupuolitautirigiä parempi valinta, koska etuaukaisu jne. Jos joku tykkää sellaisesta PLCE-henkisestä kokopaketin kasaamisesta missä juomarakko on osa valjashelvettiä, on tää sellaiseenkin askarteluun parempi ratkaisu kun STD - ite en, mutta jos. Näin sivuraiteena, en meinaa tässä kahden lauseen bashauksen jälkeen että STD ois jotenkin automaattisesti ultimaattisen huono verrattuna tähän, päinvastoin. SF vaan on erilailla hyvä, ja just omiin hommiin.

tl;dr ja selkeemmin esitettynä:

Hyvää, kivaa ja hauskaa:
+ Lyhyempi kun mainittu MAV2, samoin korkeampi kujasto on IMO ihan selkeästi parempi, jakotavarataskut tukevammin kiinni ja tilavampi sisätasku
+ Majuriturvallisuus; Kenttärojuissa ja aseen heiluessa pykälässä ei pistä silmään sieltä m05 liivimerestä
+ Valjaissa jotakin pykälöintiä tehtynä -> juomarakon/radiopiuhojen/yms askartelu ilman teippiä

Parannettavaa
- Yksi mollejono lisää leveyttä molemmille puolille. Se ~3cm lisää leveyttä per riginpuolisko on helpompi jättää käyttämättä kun taikoa jostain takaisin, jotenkin tuo parittomuus tulee lukuna ikävästi tielle luovempia taskukokonaisuuksia yrittäessä.
- Sisätaskuihin jotain järjestelyä, esim. ommeltu yksi MOLLE-vaakakujasto keskitasoon. Tähän saisi silloin tyhmästi esim. vielä sisäpuolelle 10-speed joustopikavedon (jos tulikantovoimaa haluaa tilapäisesti lisää), kynää, veistä, tms jollaintavalla järjestykseen. Itellä on nyt arktisin joku random taskutoimisto joka kivasti vaihtuu sitten reisitaskuun kun rigi lentää mäkeen, mutta esim. pelastuskoukulle/remmileikkurille/vaatesaksille jotka on keybakissa kiinni olisi ihan jees saada jotain kiinnitysmahdollisuutta sisäpuolelle, niin että ko lisälaitteen vaijeri ei keräisi kaikkea isänmaata mukaan tetsatessa. Veikkaan että omankin erikoisosaamishaaran ulkopuolelta löytyisi vastaavalle ominaisuudelle tarvetta tai hyödynnysmahdollisuutta.
- Etuavauksen pikalukot, olisi jees vähän likemmäs saada toisiaan, ja samoin sitä säätönauhaa voisi olla enemmän.
- Eteen pikalukot olkaimille, nämä saa sitten särmäyslenkeillä piiloon, mutta auttaisi jos joku DIY-askartelija haluaa vaihtaa valjasosan kokonaan.

Summaus: Ihan hyvä sa-int-compatible perusrigi lämärikäyttöön, ei tee mitään hirveän mullistavaa tai uutta innovaatiota, mutta ajaa asiansa. Jos vapaasanassani kuvaamat ehdot täyttyvät, voin suositella. Jos haluat korkeaprofiilisen HSLD-rigin tappeluvyösi kaveriksi, jatka etsimistä.

Kiitos ja anteeksi.
13
2
I would recommend for a friend
Mikko K.

01.07.2018 (Edited 01.06.2021)
Noniin nyt kun olen käyttänyt kyseistä "rigiä" (ultara tacticool termejä lainatakseni) noin puolivuotta, joten ehkä uskallan kommentoida. En voi kun sanoa olevani tyytyväinen. Yleisilmeeltään ajattelin, että mitähän paskaa sitä tulikaan ostettua, mutta taskujen sijoittelun ja mietinnän ja kokeilun jälkeen olen tyytyväinen. Välillä aktiivisempaan ja välilä hiljaiseloa vietellen, softaus ja ressu puuhissa. Olen käyttänyt ja kokeillut monenlaisia tetsareita, liivejä ja mitä taktisempia ja futuristiempia kokonaisuuksia. Voin vain sanoa olevani tyytyväinen.

Yleisesti ottaen; rigin materiaali tuntuu aluksi kauhean jäykältä ja mietin vain, kuinka paljon hikoilen paidan/takin läpi liiviin? Kuitenkin nyt pitempään käyttäneenä tulos ei ole niin paha kuin pelkäsin. Muistoissani on vain eräistä liiveistä ja tetsareista tulleet hankaumat hikoilun jäliseurauksena ja nyt niitä ei ole ollenkaan. Päälisin puolin rigi tuntuukin jäykältä ja kestävältä, eikä hajoamisia ole tapahtunut (ainakaan vielä). Olkahihnat ovat aika ohuet ja pitempään päällä+reppu+aseenhihna hinkkaa niin itselläni rupeaa hartioita särkemään ja pelkään vain milloin tulee ihorikkoja. Okei asiaa helpottaa erikseen myytävät pehmike osat, mutta miksi niiden pitää tulla eriksee? Taisitte keksiä kapitalismin perusaatteen ;) Eivät ne pahalta tunnu ja tämä nyt on jossittelua. Lisäksi olen pettynyt olkahihnojen "molle tyyliseen" lenksutteluun, ok tähän saa hyvin tavaraa roikkumaan ja ankkuroitua ettei kaikki ole aina tiellä, mutta noin kapeilla hihnoilla olen vain saanut niitä löystymään ja ei ne minusta nyt niin hyviä ole jos pitää miettiä millä kannattaa laittaa esim juomarakon suutinta kiinni olkaimiin. Lisäksi etupuolen klipsit, jotka muuten ovat oikeasti hyvä keksintö, ovat itselläni ainakin löystyvää mallia. Eli kokoajan saa olla kirraamassa solkien kiinnityksiä.

Summasummaarun tässä on mitä loistavin kovaankäyttöön tehty rigi, joka hintansa puolesta laittaa kampoihin ulta tacticaalisille isonmaailman vastaaville viritelmille. Plussana kestävyys on taattua ja laatu hyvää. Kehitysideana olisi olkaremmien leventäminen ja pysty nauhakujille jotain tekeminen. Itse näkisin hyvänä vaihtoehtona vaihtaa pystystä vaakaan.
0
0
Kierto Circular Economy
Return this product used but clean and unbroken, and you'll receive half of the product's original price as Varusteleka credits. Service is available only in Finland. Only Registered users can make Kierto returns. See more information about Kierto.