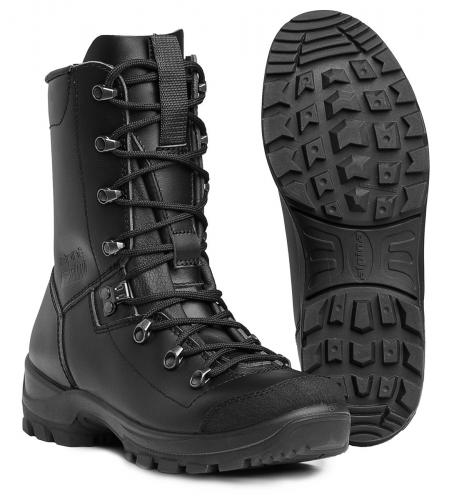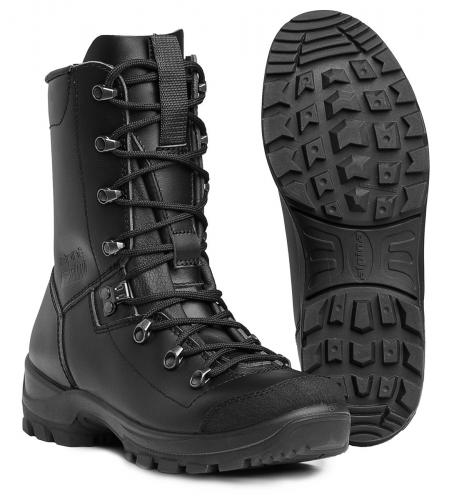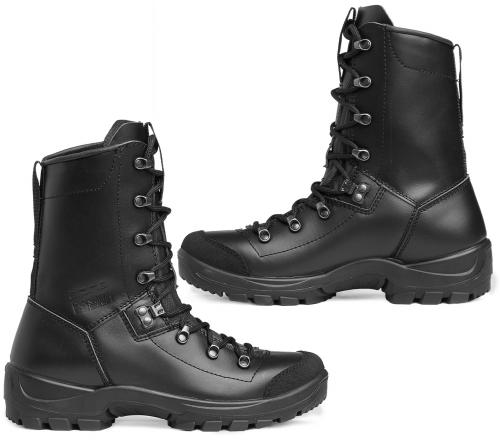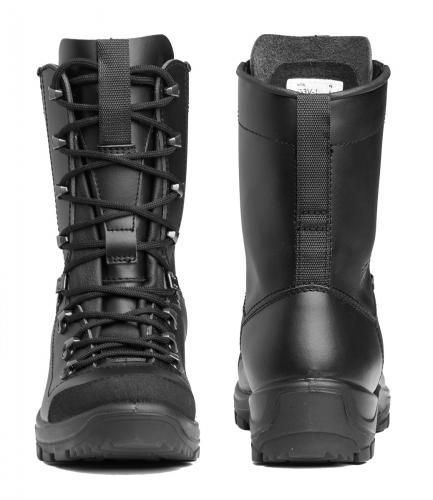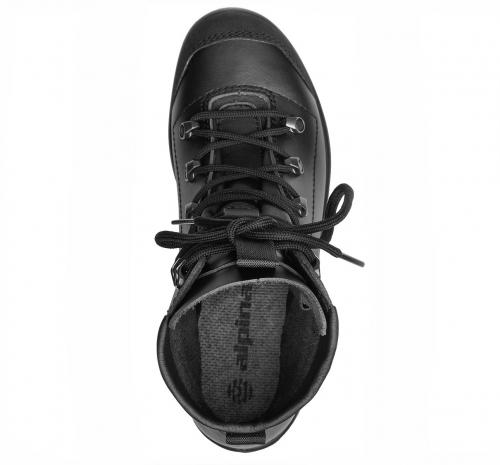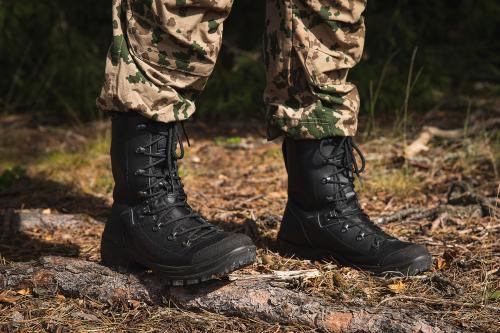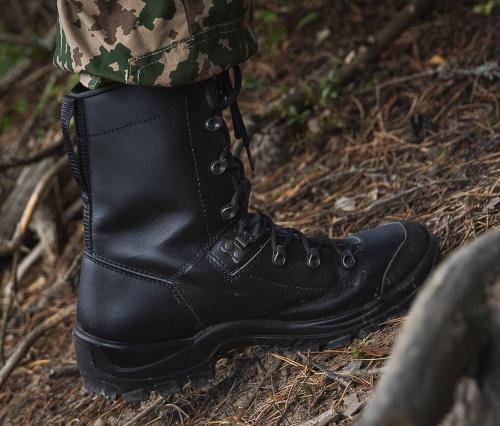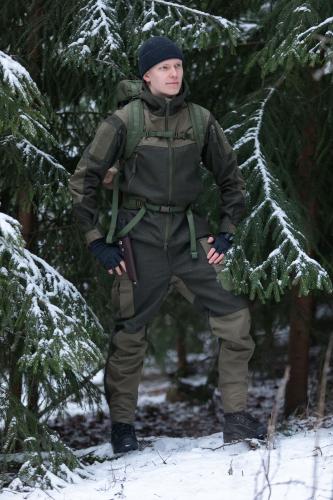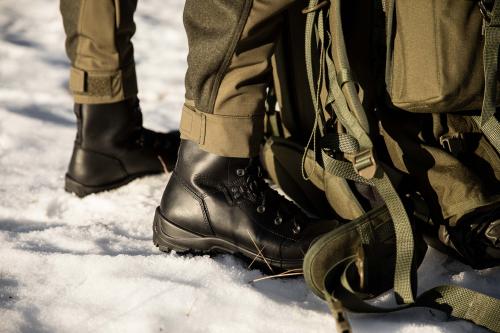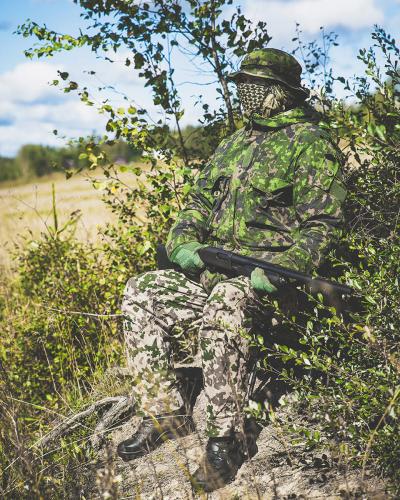 Särmä TST
Särmä TST Alpina Recon Boots
Price 85.99 USD 159.99 USD
excluding sales tax
We collaborated with Alpina to create these modern, agile leather boots for scouts and other bush ninjas that move a lot. These tall black boots are designed for rough and tough conditions. They are more agile, nicer to walk in, and have better traction than regular army boots, yet sturdy as hell. For military stuff, hiking, hunting, and even everyday use for those who appreciate the timeless military look.
Loading products...
Trouble with the metric system? Try our converter: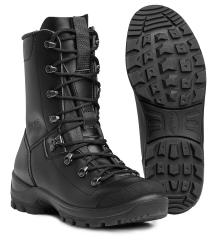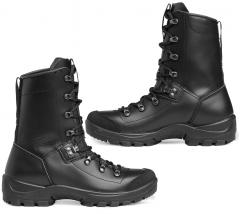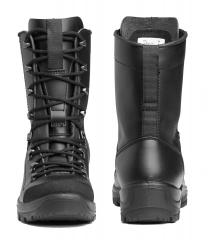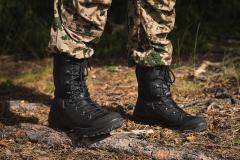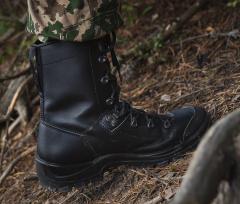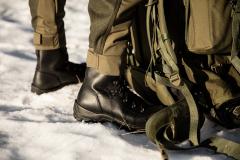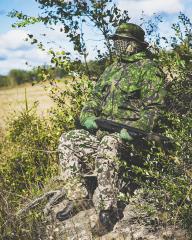 We collaborated with Alpina to create these modern, agile leather boots for scouts and other bush ninjas that move a lot. These tall black boots are designed for rough and tough conditions. They are more agile, nicer to walk in, and have better traction than regular army boots, yet sturdy as hell. For military stuff, hiking, hunting, and even everyday use for those who appreciate the timeless military look.
Upper: 2.18 mm black hydrophpbic Box leather
Lining: 1 mm hydrophobic Napa leather
Midsole: Injected PU
Outsole: Wear-resistant rubber
Sole attachment: molded, not glued
Insole: anatomic, w. antibacterial treatment
Weight: 830g/boot / 1.83 lbs (Size 42/UK8/US9)
Features and materials
We wanted our own full leather army boots to complement our Gore-Tex boots, so we designed these with Alpina. Weighing c. 830 g (1.83 lbs) per piece, they are quite lightweight and agile for military footwear of this support level. The soles aren't super stiff but offer very good traction and are quite pleasant for your feet on long distances. Thick and wear-resistant but supple leather, very breathable just like leather boots should be.
The upper is made from black hydrophobic Box leather with a reinforcement piece on the toes and the heel. The lining is hydrophobic Napa leather. The outsole is rubber and the midsole injected polyurethane. The exchangeable anatomic insole has antibacterial treatment. The round black shoelaces are made from polyester/polyamide.
Use
As the name indicates, these boots are made for walking. They are designed with the tough Northern conditions in mind but they also work quite well in a hot climate, too. Many folks think that a leather boot without a Gore-Tex membrane is only good for dry weather. However, with proper care, it is a very versatile boot for all sorts of weather conditions. The world was built and all major wars fought in leather boots, so they are good for you too, gawdammit! We recommend wearing two socks on top of each other with these. The comfort lover's choice is a Merino wool sock next to your skin and a waterproof sock on top of that but other combos work nicely, too.
Size information
Manufactured in true UK sizes. The last is fairly regular, not narrow nor wide. The boots have clearance for double socks.
The sizes UK 3.0 and EU 35.5 are actually the same size to the millimeter. Other sizes from UK to EU are converted about half a size up; for example, UK 8.5 is actually EU 42 but labeled 42.5 by Alpina. This makes about 3 mm of a difference (1/8") but the boots have proper toe clearance - long story short, you can safely choose the boots in either size system.
The US-size? Simple: UK-size +1, e.g. UK 8.5 is US 9.5. Note! The labels on the boots and box indicate only a half-size difference between UK and US sizes. That's not how shoe sizes work, pay no attention to that. The difference between UK and US shoe sizes is one full size.
Alpina size table
| UK Size | Foot length | EU Size |
| --- | --- | --- |
| UK 3.0 | 220 mm | EU 35.5 |
| UK 3.5 | 224 mm | EU 36 |
| UK 4.0 | 229 mm | EU 37 |
| UK 4.5 | 233 mm | EU 37.5 |
| UK 5.0 | 237 mm | EU 38 |
| UK 5.5 | 241 mm | EU 39 |
| UK 6.0 | 246 mm | EU 39.5 |
| UK 6.5 | 250 mm | EU 40 |
| UK 7.0 | 254 mm | EU 40.5 |
| UK 7.5 | 258 mm | EU 41 |
| UK 8.0 | 262 mm | EU 42 |
| UK 8.5 | 267 mm | EU 42.5 |
| UK 9.0 | 271 mm | EU 43 |
| UK 9.5 | 275 mm | EU 44 |
| UK 10.0 | 279 mm | EU 44.5 |
| UK 10.5 | 284 mm | EU 45 |
| UK 11.0 | 288 mm | EU 45.5 |
| UK 11.5 | 292 mm | EU 46 |
| UK 12.0 | 296 mm | EU 47 |
| UK 12.5 | 301 mm | EU 47.5 |
| UK 13.0 | 305 mm | EU 48 |
| UK 13.5 | 309 mm | EU 49 |
| UK 14.0 | 313 mm | EU 49.5 |
Care of leather boots
Traditional leather boots still have their advantages over Gore-Tex. Because of the simple construction, these will probably outlast most "hi-tech" boots and stand up to rough abuse. Grease these up once in a while to keep them waterproof and the leather supple. You can find more information on shoe and boot care and our selection of shoe care products here.
An important thing to keep in mind is that leather boots take some time to shape nicely around your foot, so it is important to break in your new boots before the epic march from here to the seventh circle of Hell. Use them often but first walk shorter distances and increase the distance gradually.
Kierto Circular Economy
Return this product used but clean and unbroken, and you'll receive half of the product's original price as Varusteleka credits. Service is available only in Finland. Only Registered users can make Kierto returns. See more information about Kierto.
Varusteleka Särmä TST
Särmä TST is Varusteleka's in-house brand of clothing and gear designed for military and law enforcement end-users. Our clothing and equipment are made in co-operation with a number of experienced manufacturers with a strong background in producing clothing and gear for military and law enforcement officials, most notably for the Finnish Defence Forces. For further reading check out the Varusteleka's Särmä TST page.
Särmä TST products are covered by a 12-month warranty against defects in materials and workmanship. For further information please read our detailed warranty guide.
All products: Särmä TST
Recommendations
Loading products...
Reviews
You have already submitted a review. You can edit your text by clicking on it.
Log in and write a review.
Remove filter
Suomi
(7)
English
(7)
I would recommend for a friend
Eino L.

01.12.2021 (Edited 01.12.2021)
Ensivaikutelma on hyvä. Työn laatu on vakuuttavaa ja näyttävät todella hyvältä. 42,5 kenkä sopi omaan 42 jalkaani niin hyvin kuin käyttämättömältä nahkajalkineelta voi odottaa.

Todella jäykät ainakin näin alkuun. Tämä on sanomattakin selvää, mutta näitä ei missään nimessä kannata vetää suoraan pakasta jalkaan pirkan taipaleen reissulle, ei edes "jo nos ne ny kuitenki" mielessä. Jos et ole ennen käyttänyt vuorettomia nahkamaihareita niin nämä ovat aivan eri peto vuorellisiin verrattuina.

Nauhat tuntuvat alkuun hieman hankalilta, mutta eiköhän noihin käytössä totu jahka pehmenevät.

Päivittelen arvostelua käyttökokemusten karttuessa.
8
0
I would recommend for a friend
Antti V.

09.12.2021 (Edited 06.02.2022)
(Päivitys parin kuukauden jälkeen.) Olen nyt onnistunut tilaamaan sekä liian pienet, liian isot että sopivat. Koosta sen verran, että koot pitävät ilmeisesti hyvin paikkansa kaupunkikenkiin verrattuna. Jalkani on normaalisti 43 ja leveä. 42.5 oli selvästi liian pieni ja jos tulee vain kylmien kelien käyttöön, 44 voisi olla paksuilla tuplasukilla ja pohjallisella aika lailla kohdillaan. Lekan merinovillasukkien kanssa normaalin koon mukainen numero on hyvä. Kokeilin Jalaksen superpohjallisia ja 43:ssa ei pohjallinen enää mahtunut mukaan.
On tosi jäykkä tuntuma paketista otettuna. Kuten toinenkin arvioija kirjoitti, sisäänajon pitää olla kunnollinen. Rampattuani kinoksissa 2 kk kengät ovat muovautuneet erittäin mukaviksi ja erityisesti tuplasukilla (ohut alussukka ja normaalipaksuinen päällä) tuntuu siltä, että voisi pidemmänkin reissun tehdä. Mukana tulevat nauhat ovat kovin kapoiset, mutta niihinkin alkaa tottua ja kiristys on loppujen lopuksi nopeaa. Jalkapöydän voi kiristää erikseen, vaikka sekin on hankalaa.. Voi kun olisi laakeroidut lenkit erään toisen kenkämallin kaltaisesti. Kokonaisuutena näyttävät tosi laatutyöltä, tässä vaiheessa ei mitään ongelmia.
0
0
I would recommend for a friend
Riccardo S.

20.12.2021
Been breaking them in for a week and they start feeling very good. Indeed a nice simple leather boot of great quality. They wear a bit big in my opinion, but with a sock and a liner sock the feel very good.
3
0
I would recommend for a friend
Wolfgang H.

04.01.2022
I got those Boots in December last year and they require quite some walking in.
Full disclosure: I don't put my trousers inside the boot, so getting the leather to a point where it is comfy and blister free just in socks will take some time.
The size is true, toes have enough room and they are very well made. I used leather grease to smooth and impregnate the boots and there was no problem with water yet.

After a muddy December walk (8km) the sole was quite muddy and not as self cleaning as I'd like, but the grip on wet and muddy surfaces was very good.
Also the soles are "silent" - when you walk on hard surfaces, there is no recognizable noise. Very good when you try to get a picture of a shy animal on your walk/hike.

I like the boots and look forward to walk longer hikes with them.

And before I forget:

The shopping, ordering & shipping process was flawless, Varusteleka is a good company with competent people working there!
9
1
I would recommend for a friend
Anonymous customer

29.01.2022 (Edited 29.01.2022)
Kengät on ominaisuuksiltaan juuri sitä mitä odotinkin, eli jämäkät kalvottomat maiharit. Kengillä on kuitenkin selkeä heikko kohta, mikä on pala hennompaa nahkaa nauhojen juuressa. Kyseinen kohta tekee kengistä heikot kosteudelle. Nopeakin kontakti veden kanssa, kuten märkään sammalikkoon astuminen tai sateessa kävely, saa aikaan tilanteen, jossa kenkä kastuu sisältä varpaiden kohdalta. Ongelmaan ei ole auttanut nahan kyllästyttäminen. Kengän nauhojen alla oleva ohuempi nahka on niin joustavaa, että kävellessä pienikin vesi ja kosteus pääsee kenkään ommelten kohdalta. Ommelten kohdalla omissa kengissäni on lähes millimetrin venymät ohuen nahan ommelkohdissa. Ongelma korostuu nauhojen alapäässä, jonne jää sentin pituinen "kuoppa", jonne jäänyt vesi/kosteus pääsee ommelten kohdista kastelemaan varpaat. Kyseisen kohdan heikkous pääsee korostumaan, koska vesi ja kosteus valuu kyseiseen kohtaan, muttei pääse valumaan pois.

Muissa omistamissani kalvottomissa nahkakengissä kyseistä ongelmaa ei ole. Ajattelen varpaitten kastumisen pienessäkin kosteudessa olevan suunnitteluun liittyvä vika. Maihareitten heikko kohta rajaa itselläni käyttökautta huomattavasti. En odota kenkien olevan vedenpitävät, mutta kyseinen kohta on mielestäni aivan erityisaltis vedelle.

Kengät ovat muuten täydellisyyttä hipovat ja mukavimmat omistamani maiharit, minkä vuoksi pieni heikko kohta suunnittelussa kalvaa sydäntä suuresti.
22
0
I would recommend for a friend
Lare K.

23.02.2022
Alpinat tundraan tyytyväisenä ja näiden kalvottomuudesta kiinnostuneena - Oli näiden reconien hankinta minulle vain ajankysymys. Tähän mennessä hyvin palvelleet. Kävelytuntuma ja istuvuus on tymäkkä, haastaviin maastoihin sopiva. Vesi ei ole päässyt läpi vielä. Ei ongelmia pakkasessakaan kunhan on villaisaa sukkaa alla. /päivitellään.
1
0
I would not recommend to a friend
Aleksandr #.

26.02.2022
I have recently received my order ( Särmä TST Alpina Recon Boots size 8 1/2) , My size is 8 UK/ 9 US and it it absolutely true . Follow recommendation here I did order boots with 1/2 size more.
But shoud order 1 size more . The boots so disigned - toe's and heel's shape .
I did short boots trial test ( before inner souls were removed to provide more freу space for fingers ) -and result not so good . Will try more.
in case if i can't wear in this boots will give them as a gift oto my nephew ( he has feet size one half less) .
i will not send back this item to shop because of enough complicated way of delivery . Varusteleca does not shipping items to Russia and I had to send above item to Berlin first and later on from Berlin to Russia....
0
11
I would recommend for a friend
Marko J.

29.07.2022 (Edited 10.09.2022)
Raahasin monta vuotta perässäni BW maihareita,
jotka oli ihan hvetin hyvät, mutta pikkasen ehkä painavat…

Hyvät maiharit nämä! Pitävät vettä, jalka ollu muutaman kerran suonsilmäkkeessä ja oon näillä joutunut kahlaamaan vedessä, mutta tassut on pysynyt kuivina. Jäykät- joo, mutta nyt kun niillä on pikkusen hiippailtu metsässä ja asvaltilla niin johan alkaa olla tassuille sopivat! Suosittelen!
0
0
I would recommend for a friend
Johannes C.

25.08.2022 (Edited 29.08.2022)