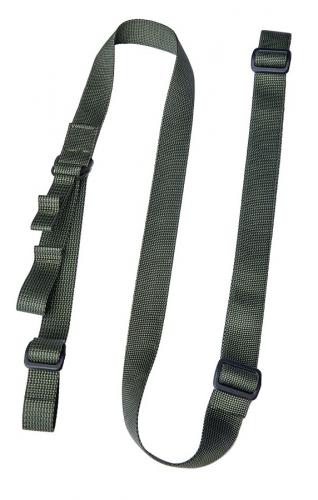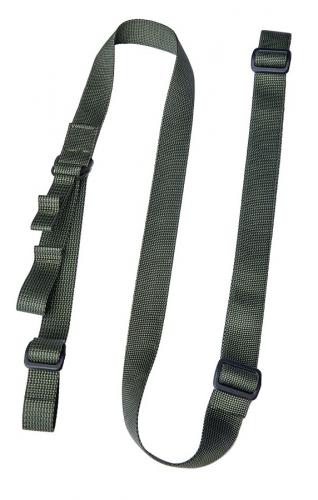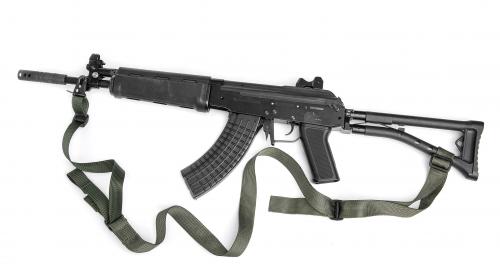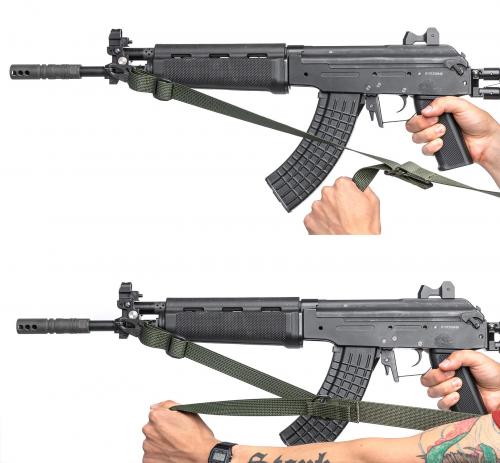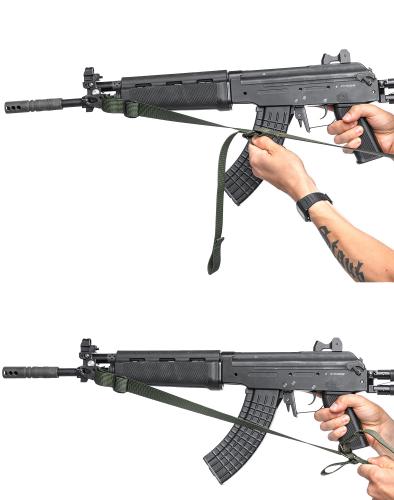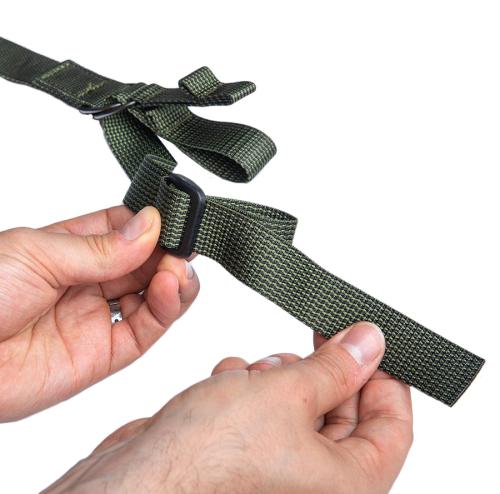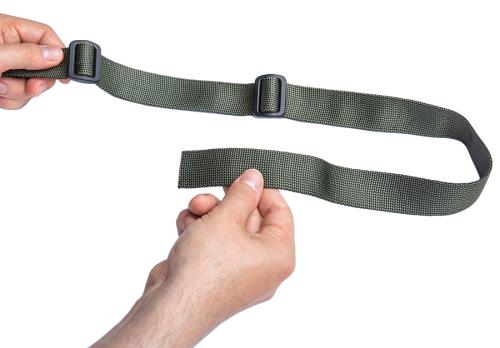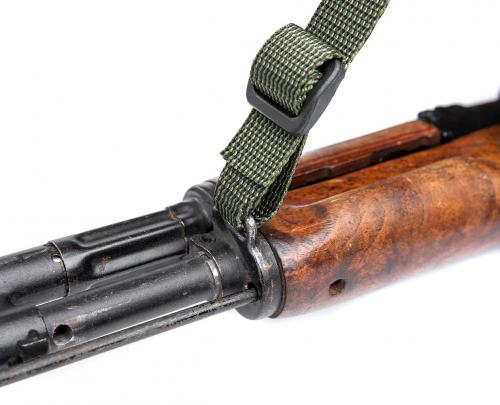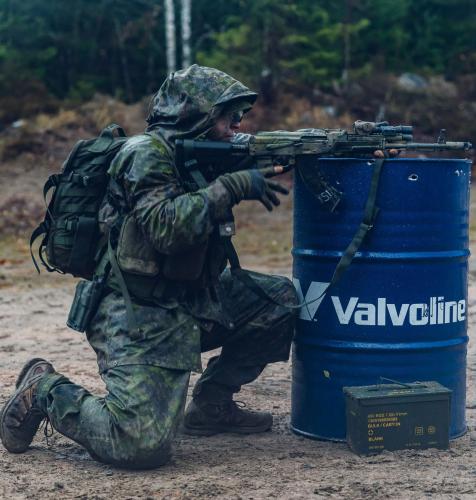 Show all: Särmä TST
Särmä TST 2P-RK Quick-Adjust Rifle Sling
Price 26.99 USD
excluding sales tax
A simple and rugged 2-point Quick-Adjust Sling - keep it simple stupid, but make it work! Webbing ends allow a direct fit to most AK-variants, can be used with virtually any rifle or carbine with separate clips and hooks.
Trouble with the metric system? Try our converter: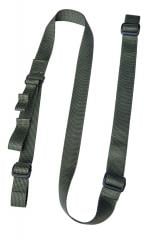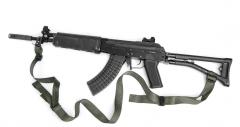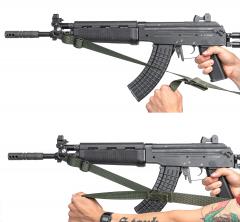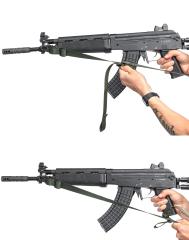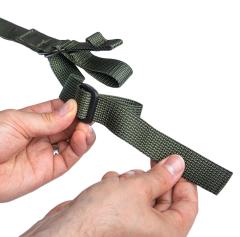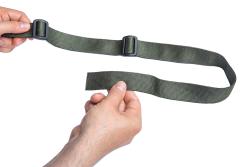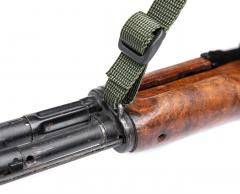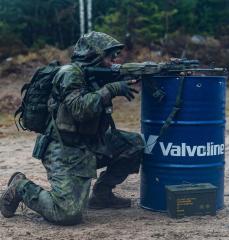 A simple and rugged 2-point Quick-Adjust Sling - keep it simple stupid, but make it work! Webbing ends allow a direct fit to most AK-variants, can be used with virtually any rifle or carbine with separate clips and hooks.
The 2-point quick-adjust sling has become commonly regarded as the better sling compared to 3-point contraptions. Single-point slings still have their small niche, good for them. The 2P-RK sling can be tightened with just one pull of the support hand to provide stability in your shooting position, whether you're standing, kneeling, or prone. It also helps you carry the rifle on your back without having it swing around, yet it can be retrieved to a ready position with haste.
Combat-worthy construction and functionality
The front attachment is made from 25 mm (1") webbing. It can be wiggled and weaved through 20 mm wide sling loops and AK front mounts with some effort and is directly compatible with the HK Hook, ITW Clash, and QD swivel.
The rear and the main part of the sling is made from thicker and softer 30 mm (1.25") tubular webbing and fits through 25 mm (1") and larger loops and swivels. The sling is very comfortable to wear compared to regular webbing straps.
The quick-adjustment is made from two welded steel D-rings with a black anti-corrosive coating. It is as functional and reliable as it is simple. Pulling the loop at the free end shortens the sling 1:1 as much as you pull (not half as in enclosed slings), tugging the grip on one of the D-rings releases the grip allowing the sling to extend.
Front attachment: 25 mm (1") webbing
Rear attachment: 30 mm (1.25") tubular webbing
Quick adjustment for rapid lengthening/shortening
Material: 100% PES webbing and steel and plastic buckles
All materials are NIR compliant
How to mount the sling
The mounting style and adjustment depend on your firearm, sling attachment points as well as your body type, clothing, and gear. If you are planning to use the sling with thick clothes and body armor, consider this when adjusting.
The front part is best left as long as it is, most users will find that setting correct. Just weave the free end through the sling loop and back into the Tri-Glide buckle.
The rear part should be just long enough that you can comfortably switch shoulders with the quick-adjustment extended. Install initially with one buckle and mind the second one after you're happy.
After confirming that your settings are good and the sling works as intended, you may want to cut and burn any excess length. The rear part of the sling has an extra Tri-Glide buckle, however, and we suggest leaving some room for adjustment.
InRangeTV instructional video
Karl and Ian demonstrate very thoroughly how to use this kind of slings in various ways and cover adjustment tips as well. It might be a good idea to have your rifle and sling handy for this and prepare to spend 20 minutes.
Sewn in Estonia
These are sewn for us by Savotta in Estonia. Savotta is the main contractor for all Finnish army tents and load-bearing equipment, this gear is made exactly to Finnish military spec.
Varusteleka Särmä TST
Särmä TST is Varusteleka's in-house brand of clothing and gear designed for military and law enforcement end-users. Our clothing and equipment are made in co-operation with a number of experienced manufacturers with a strong background in producing clothing and gear for military and law enforcement officials, most notably for the Finnish Defence Forces. For further reading check out the Varusteleka's Särmä TST page.
Särmä TST products are covered by a 12-month warranty against defects in materials and workmanship. For further information please read our detailed warranty guide.
Recommendations
Loading products...
Reviews
You have already submitted a review. You can edit your text by clicking on it.
Log in and write a review.
Remove filter
Suomi
(2)
English
(4)
I would recommend for a friend
Sean D.

12.01.2020 (Edited 06.06.2021)
Very high quality sling! Can be a little tricky to figure out at first but the quick-adjust function is pretty slick if you need to have a gun stuck to you for a long period of time. On range days now I never take it off, with a pull of a chord it's tight against me and out of the way. Also cheaper than any other you'll find in stores. Give yourself some time to mess with it with an (UNLOADED) rifle and you'll fall in love with it too.

No idea what Särmä means in Finnspeak but in my dictionary it spells AWESOME.
1
0
I would recommend for a friend
Kyle K.

12.02.2020 (Edited 06.06.2021)
Absolutely fantastic sling! I love these things so much I've got one on just about every AK I own. Pair with an HK clip and you're in business.

Some might fault it for not having bungees, more padding, etc. At its extremely affordable price point, I think it is an excellent deal, especially compared with offerings from VTac, Magpul, Blue Force Gear, et al. that costs 3x-4x more but offer little additional functionality. Well done!
1
0
I would recommend for a friend
Oskari N.

24.02.2020 (Edited 06.06.2021)
Jos ajattelit kantaa asetta muussakin tarkoituksessa kuin heilautella sitä eteen ja olalle sulkeisissa, niin hanki tämä hihna. 90 % PV:n harjoituksissa jaetuista RK-hihnoista on liian lyhyitä itselle. ITW CLASH Hookeilla kiinni kuuskekkoseen ja sen jälkeen metallinkappaleella voi jopa tehdä niitä asioita, joita sillä on tarkoituskin tehdä. Ja taakse jäävät myös intin hihnojen aiheuttamat niskasäryt. Osta.
3
0
I would recommend for a friend
Cedric P.

11.03.2021 (Edited 24.06.2021)
Seems very good quality so far, good design. I have very little experience with adjustable 2-point slings, but I can see the advantages over a traditional fixed 2 point sling already. Material and craftsmanship is great as always. Plenty of extra length in case you're fat.
0
0
I would recommend for a friend
Vili M.

13.03.2021 (Edited 24.06.2021)
Hintaansa nähden oikein toimiva kampe, toki soljet/kiinnikkeet voivat tuoda hinnan samalle tason muiden hihnojen kanssa.
Mutta hieman eriskummallisempiin hihnan kiinnikkeisiin tämä on hyvä että voit valita itse sopivat soljet. Joka tapauksessa melko edullinen ja materiaalit ja ompeleet ovat taattua hyvää laatua.
Jos tästä jotain kritiikkiä pitää antaa niin:
Hihnan lyhyt asennossa siitä jää kiristetty pää roikkumaan joka voi tarttua johonkin.
Hihnan säätömekanismi toimii niin kauan kuin hihna pysyy suorassa. Jos hihna esim lipsahtaa ympäri voi pikasäädön löytäminen tuottaa vaikeuksia koska se ei ole käytettävissä molemmin puolin,
vaan pikasäädön vetohihnat ovat vain toisella puolella. Hihna saattaa hyvinkin pyörähtää tai kietoutua tetsatessa joten tästä pieni miinus.
Tämän ongelman on esimerkiksi magpul ratkaissut tekemällä pikasäädöstään molemmin puolisen, eli kun siitä otetaan sivuilta kiinni eikä jommalta kummalta tasaiselta puolelta tällöin hihnan säätö on luontevaa olipa se kumminpäin tahansa.
0
0
I would recommend for a friend
Christian S.

10.05.2021
Best bang for your buck. It works at least as fine as all that fancy stuff from 5.11 and era-tac for way less money!
0
0