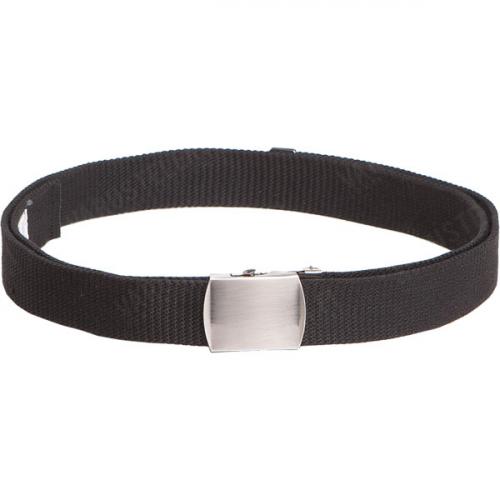 Särmä trouser belt, black
Price 3.99 USD excluding VAT
Flat Rate Shipping to USA $9.99
Sold 1088 pcs in the last two weeks
Trouble with the metric system? Try our converter: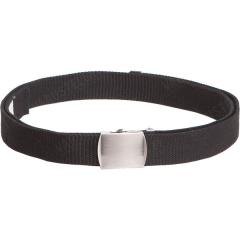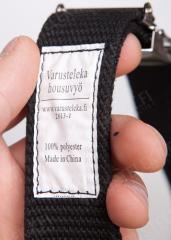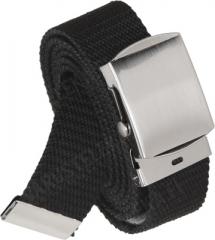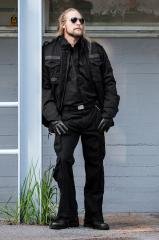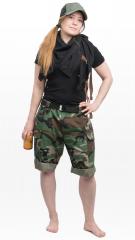 A simple military style trouser belt, 3 cm wide and 130 cm long, easily shortened to any desired length. Made from polyester webbing with a nickel-free steel buckle.
Varusteleka Särmä
Särmä is our own brand of clothing and equipment. When you buy Särmä you get purpose-built stuff at a decent price, something that will fill its intended role well and not cost you an arm and a leg!
Särmä products are covered by a 12-month warranty against defects in materials and workmanship. For further information please read our detailed warranty guide.
Made in China
Reviews
You have already submitted a review. You can edit your text by clicking on it.
Log in and write a review.
Remove filter
Suomi
(15)
English
(2)
I would recommend for a friend
Jaakko M.

27.07.2016 (Edited 06.04.2017)
Hyvä perusvarma vyö jonka saa myös buffetissa käymisen jälkeen sopivan mittaiseksi. Useamman vuoden kestänyt kovaa käyttöä ilman suurempia kulumisen merkkejä.



Pari asiaa kuitenkin vyössä välillä harmittaa: ensinnäkin oikein kireälle vetäessä holkin ulkonevat "kannakkeet" tulevat kohtalaisen terävinä vatsaa vasten. Toisekseen hionnut ja kireällä ollut vyö jumittaa, aiheuttaen välillä "oh shit, pitää päästä paskalle ja en saa vyötä auki" paniikkia. Nämä lienee enemmänkin tyyppivikoja tämän kaltaisissa vöissä, pikemminkin kuin tämän nimenomaisen vyön ongelmia.



Lämmin suositus silti, etenkin tällä hinnalla.



Mihin? Tavallisiin housuihin, nimenomaan housujen ylhäällä pitämiseen. Ei korvaa miehistövyötä tavarankannattimena, mutta se tuleekin erikseen sitä varten takin päälle.
2
2
I would recommend for a friend
Jali R.

08.11.2016 (Edited 29.11.2016)
Kätevä perusvyö, oli käytössä pitkään kunnes solki levisi. En kehannu heittää pois, niin ompelin pätkän ämkuusvitosen kaulukseen niskan puolelle. Tulee varmasti tilattua tulevaisuudessa toinenkin kappale.
1
2
I would recommend for a friend
Jani T.

20.01.2017
I would not recommend to a friend
Miska P.

18.02.2017
Halvalla ei hyvää saa. Pitää paikkaansa tämän tuotteen kohdalla. Solki ei pysy kiinni vaikka kuinka kiristää. Olisin palauttanut tuotteen, mutta ehdin lyhentämään.
35
0
I would recommend for a friend
Kimmo E.

01.08.2017
Todella hyvä ja halpa, iso +++ nikkeli vapaudesta, ei tuu enää rupia per.... mahaan
0
0
I would recommend for a friend
Marko L.

20.09.2017
Minulla on kaksi kappaletta näitä. Vanhempi on erittäin hyvä, uudempi malli taas ei oikein tahdo aina pysyä kiinni. Johtuneen siitä että vyön hihna muuttui uudessa mallissa ohuempaan matskuun. Suosittelen vanhaa mallia ehdottomasti, uutta varauksella.
10
1
I would not recommend to a friend
Luke M.

17.10.2017
The main purpose of a belt is to keep your trousers up but this belt does not do that, unfortunately. The belt buckle comes loose very quickly due to the nature of its design seemingly. The canvas material is fine though and there is enough length to adjust to most sizes probably. I would say this belt is not any better than one that you could get at h&m, and they probably buy their buckles from the same factory as Varusteleka.
23
0
I would recommend for a friend
Toni K.

23.10.2017
Todella toimiva vyö joka lähtöön, lukitus pysyy hyvin sekä on helppo avata ja sulkea.
0
7
I would recommend for a friend
Markus H.

15.03.2018
Hinta on kyllä sopiva. Solki tuntuu aukeavan itsestään silloin tällöin, muuten hyvä.
2
0
I would not recommend to a friend
Juuso V.

31.07.2018
Viime kesänä tilasin tällaisen ja olin helpottunein mielin, että nyt voi pitää paitaa ulkona housuista kuumalla kelillä, eikä tartte pelätä housujen putoavan yht'äkkiä. Noh, iloa kesti tähän kesään asti. Olin jo alusta lähtien vähän epäileväinen, kun vyön metalliosat näyttivät lakatuilta, että kun tuo tuosta kuluu pois, niin katsotaan uudestaan. No tässä nyt helteiden aikaan käytin jälleen tätä vyötä ja kolmen päivän jälkeen oli koko navan alusta ihan ruvella. (Töissä arkeologisilla kaivauksilla, niin tulee oltua kyykyssä lähes koko päivä.) Oma ihoni siis on sitä mieltä, että nikkeliä on kyllä. Piti vielä varmistaa, että onko kyse jostain housunnapista tai vetoketjusta, mutta ei, kyllä se on tämä vyö. Eli suosittelen varovaisuutta. Toisaalta tämä ei ole hinnalla pilattu, niin eiköhän se kuitenkin hintansa haukkunut, mutta valitettavasti käyttöä tämä ei enää näe.
5
0
I would not recommend to a friend
Pekka K.

07.09.2018
Hyvää: hinta ja vyö itsessään on kestävä.
Huonoa : Metalliosien pysyvyys vyössä kiinni ja itsestään löystyvä solki.
Kun särmään vyön sopivaksi ja istun seuraavan kerran , kiristyssysteemi aukeaa ja vyö löystyy. Samoin itse solkisysteemi irtoilee vyökiinnityksestään satunnaisesti. Viikon käytön jälkeen ja myös päädyn metalliklipsi irtosi itsestään puoliksi pois.
Siirryn takaisin henkselien käyttöön.
15
1
I would not recommend to a friend
Juha K.

04.10.2018
Solki hirtti välillä kiinni, lopulta piti leikata vyö poikki, kun ei pihdeilläkään saanut auki.
0
0
I would not recommend to a friend
Ossi M.

07.10.2018
Ihan kaksi ja puoli työpäivää jaksoi pitää housuja ylhäällä. Sen jälkeen solki hajosi. Paskaa.
7
0
I would not recommend to a friend
Mikko K.

12.12.2018 (Edited 01.10.2019)
Vyönä hyödytön, solki ei pidä. Osta ennemmin Särmä TST irtohihna. Muutaman euron lisäpanostuksella saa kaksi kappaletta parempia vöitä.
0
0
I would not recommend to a friend
Peter D.

13.01.2019 (Edited 23.02.2019)
You get what you pay for, and this is a very cheap belt. Nonetheless, given the quality I have found in all of my other Varusteleka house-brand purchases, I found this one pretty disappointing. This comes in only slightly cheaper than belts at Canada's own version of Varus. called Canex, where they have the unadorned (ie no division badge) ones for 6.99 CAD whereas this one is 4.99 CAD (plus shipping and duties), but the difference in quality is remarkable. I've had the belt for only a month and the end cap on the far side has already come off twice, despite cleaning that edge and burning it to stop fraying, and then securing it tight with pliers. The grip on either end is not particularly tight. Compare this to the Canadian-issue belts, I had one that was handed down to me from my father, who wore it in his many, many years of service, and I for a decade after that, and it lasted all that time till I was looking for this new replacement. This belt is does the job and it's cheap, but I wouldn't recommend it to anyone unless they're just looking for something dirt cheap. It is sad, because all of the other stuff I've had from Varusteleka has left me extremely happy, and thus makes me wish I had a better experience with this one. If someone asked me, I would suggest for them to buy the Canex belt, which is probably made in the same place, but the fasteners are much stronger. This is what I would like to see improved if they went over this belt.

[follow-up update 2019-02-22] - Definitely not pleased with this belt, both buckle and the end cap have fallen off several times when I have anything of appreciable weight hanging off the belt. I have since ordered one of the Finnish service belts to replace it.
2
0
I would not recommend to a friend
Sampo U.

07.02.2019
Onhan tämä muuten ihan särmä tuote, mutta heikoin lenkki on samalla se tärkein; vyön solki avautuu istuma-asennossa itsekseen. Sitten, kun nouset seisomaan ja lähdet sotilaallisesti kävelemään, saat huomata, että vyö on auki ja housut valuu nilkkoihin vähemmän sotilaallisesti.

Kolmisen kuukautta solki jaksoi toimia solkena(an).
3
0
I would not recommend to a friend
Antti H.

06.08.2019
Mekanismi on typerä ja hajosi päivän käytön jälkeen.
1
0