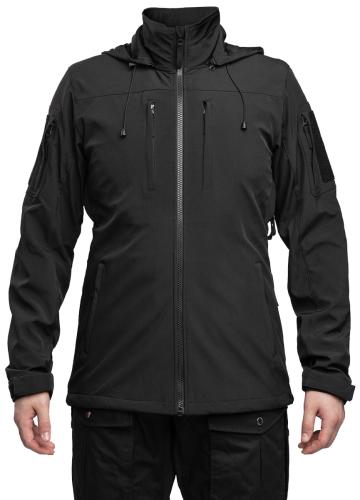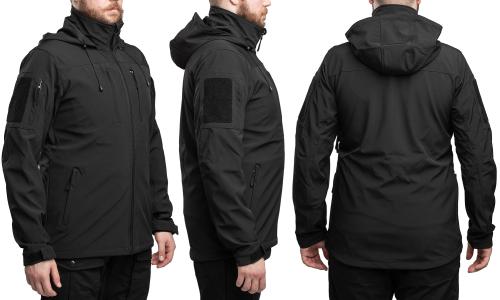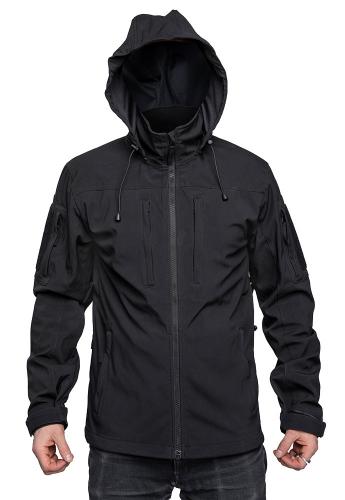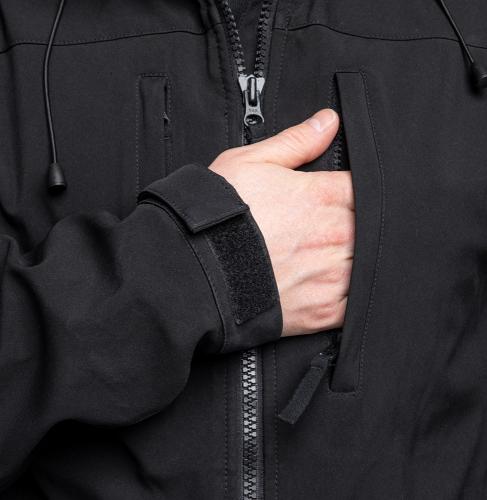 Breast pockets on both sides.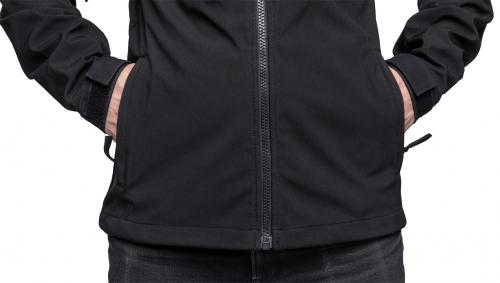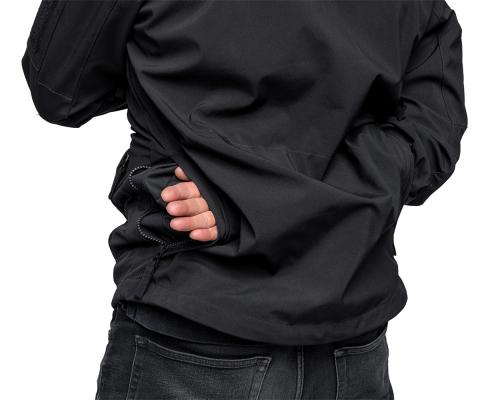 A zippered poacher's pocket on the back.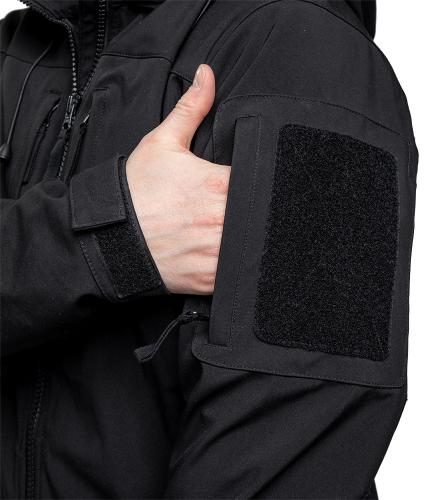 A small zippered pocket on the sleeve and a velcro patch base on top of it.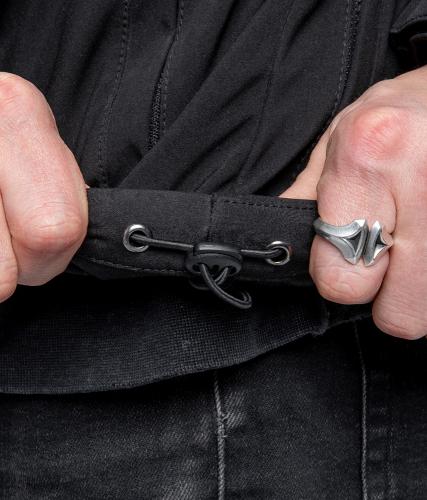 Elastic drawcords at the hem.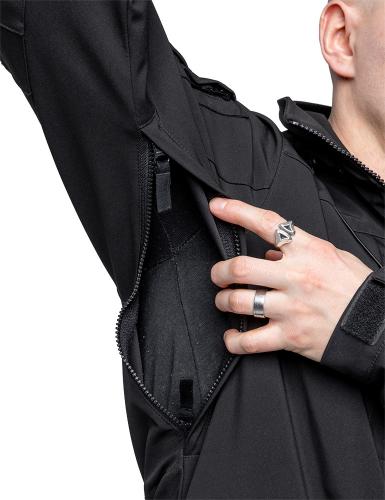 Armpit ventilation zippers.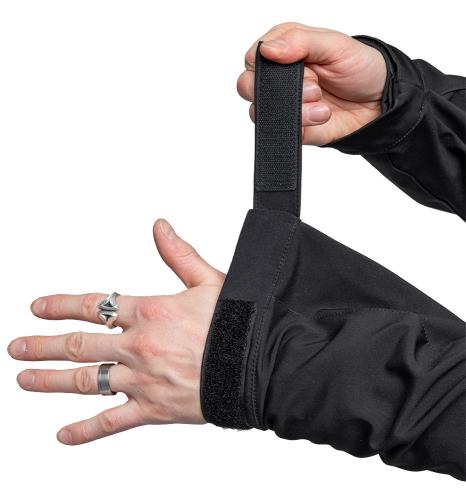 Hook-n-loop adjustments on the cuffs.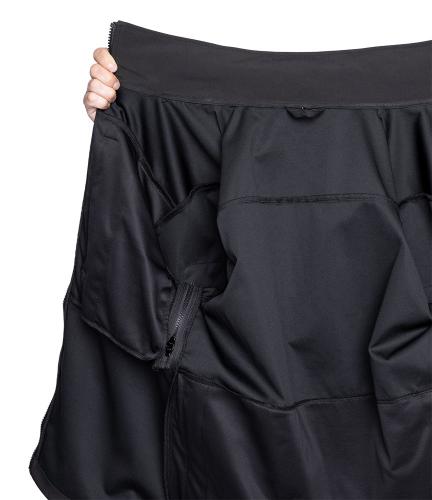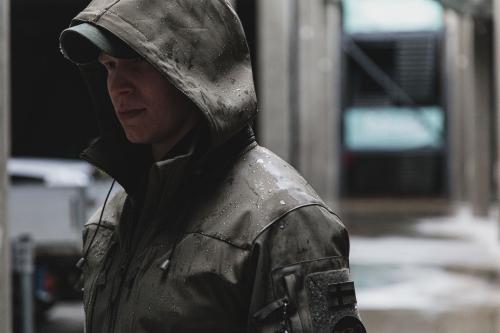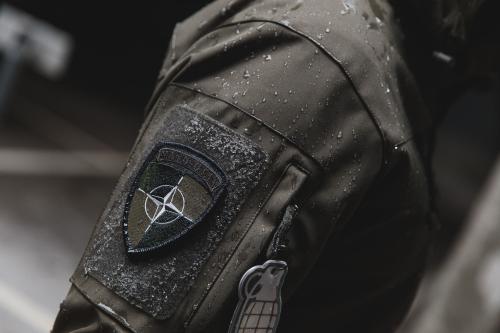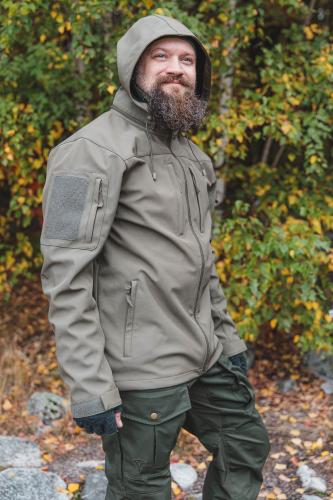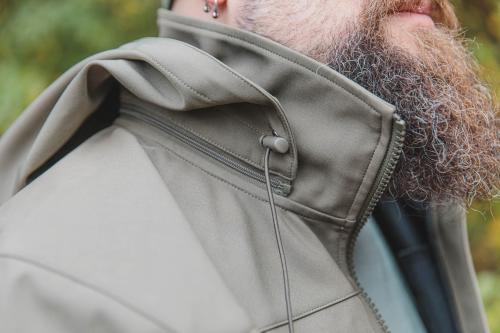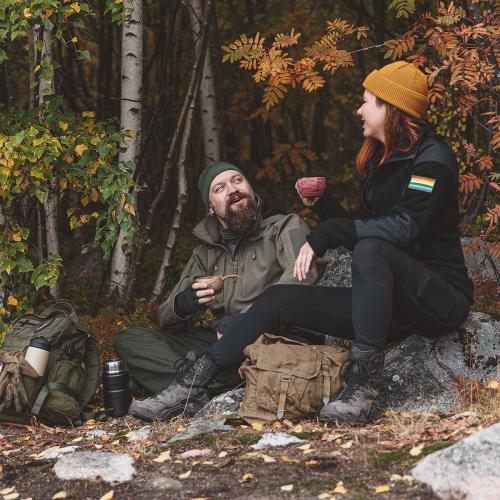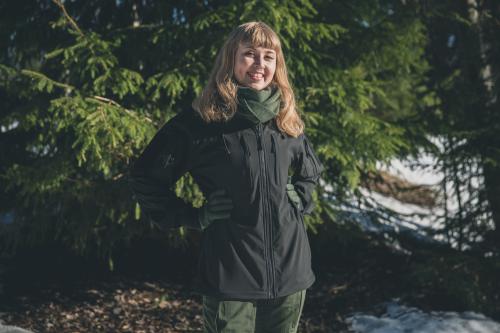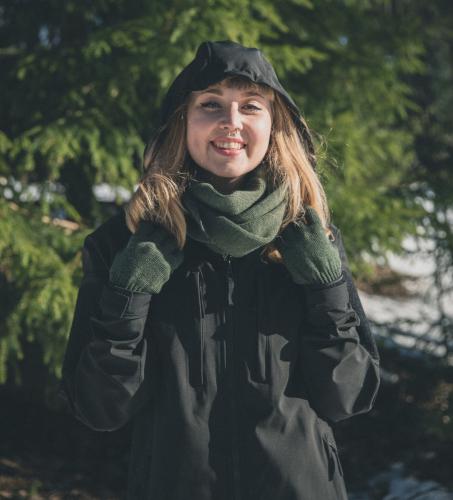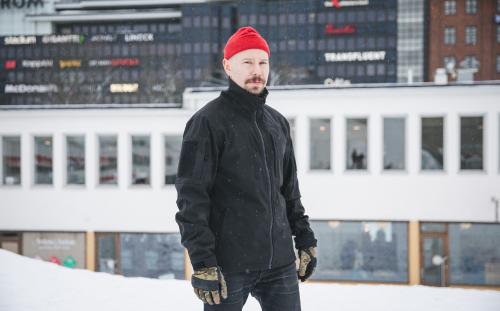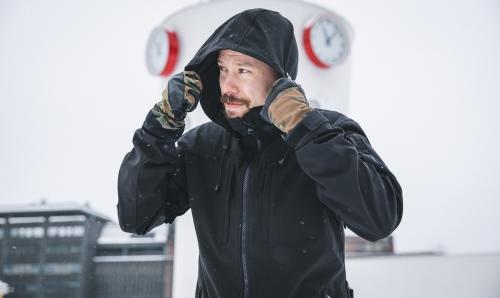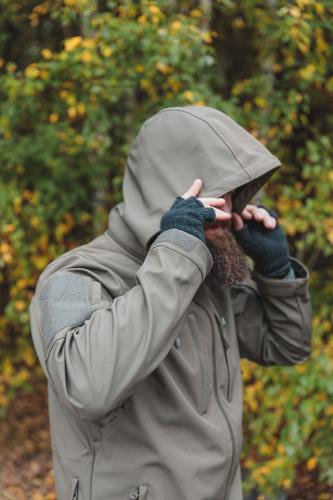 Särmä
Särmä Softshell Jacket
Price 99.99 USD
excluding sales tax
Today, softshell is pretty much what tight wool was back in the day; a great general purpose fabric for colder and unstable weather. No wonder they make most of the sportswear out of this. Our jacket is just a shell, so you can layer it any way you wish.
Loading products...
Trouble with the metric system? Try our converter: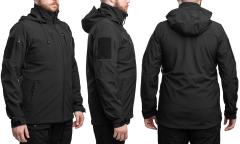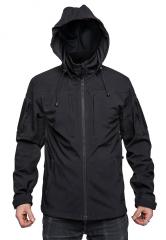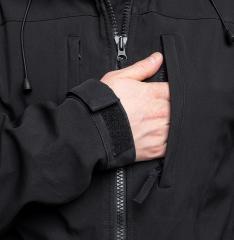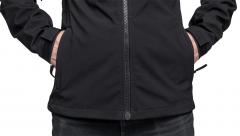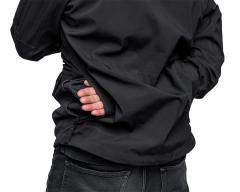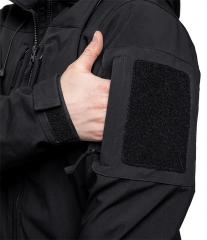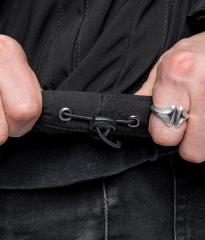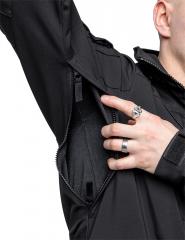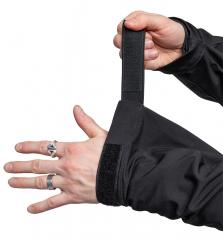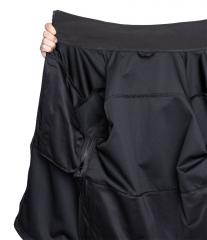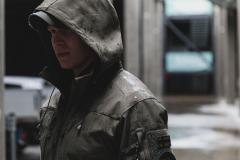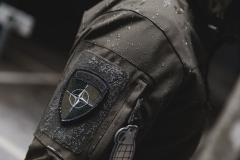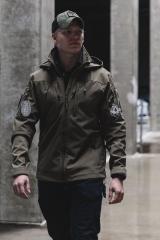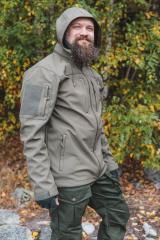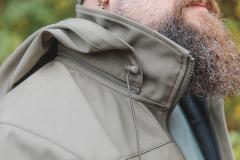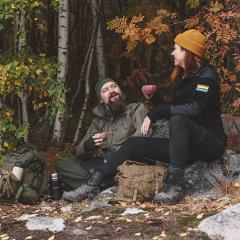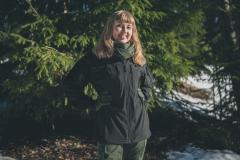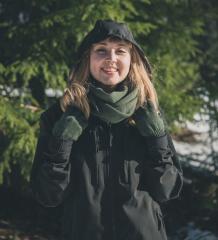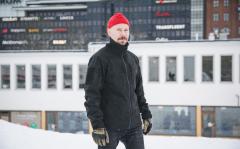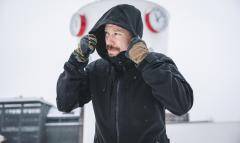 Today, softshell is pretty much what tight wool was back in the day; a great general purpose fabric for colder and unstable weather. No wonder they make most of the sportswear out of this. Our jacket is just a shell, so you can layer it any way you wish.
A shell jacket worn on top of everything else - the fit is geneours
Keeps out wind and light rain too
Good assortment of pockets, active cut
96%/4% polyester/elastane, 270 g/m2
Sometimes you know the weather is going to get a bit messy, but you're not quite sure when. For these occasions, a softshell jacket is an invaluable addition to the wardrobe, as it is water resistant, quite breathable, and dries pretty quickly. And this is indeed just a shell, you do not get a free but fixed fluffy layer with it, so the useful temperature range is very wide.
Features
General features
Fits generously enough to facilitate warm layers underneath, active cut
Zippered front with tall collar
Removable hood
Adjustments in the hem, hood and cuffs
Ventilation zippers in the armpits
Hook 'n' loop bases in the arms for all kinds of diddly-daddly patches or reflectors
Pockets
Hand warmer pockets
Chest pockets
A large poachers pocket on the back
Small pockets on the arms
All pockets are zipper operated with mesh pouches
Material
Made of oh-so-smooth 96% polyester / 4% elastane fabric, which keeps out the wind and is waterproof up to 5,000 mm (TPU membrane), essentially keeps out light rain forever. Light, smooth polyester weave on the inside face to add comfort and structure. Breathability 3,000 g/m2/24 h, in other words not a plastic bag, but definitely not a cool summer cloth either. The seams are not taped. Fabric weight 270 g/m2.
The fabric is pretty smooth and tight, which means it slips over the lower layer easily. Further, it will not pollute the environment with microplastics as much as fluffier alternatives. Some color may transfer from the product before the first wash.
Size info
The easy size designations are followed by recommended user height and chest circumference.
The recommended size allows for a beefy thermal mid-layer. If you wear fewer layers and want the jacket closer to your body, you can safely pick a smaller size. The following chart has measurements of the garment itself. The sleeve length is measured from the shoulder seam to the cuff.
| Size | Chest circumference | Sleeve length | Centre back length |
| --- | --- | --- | --- |
| Small | 104 cm | 69,5 cm | 72 cm |
| Medium | 112 cm | 70 cm | 75 cm |
| Large | 120 cm | 70,5 cm | 77 cm |
| X-Large | 128 cm | 71 cm | 79 cm |
| 2X-Large | 138 cm | 71,5 cm | 81 cm |
| Medium Long | 112 cm | 72,5 cm | 79 cm |
| Large Long | 120 cm | 73 cm | 81 cm |
| X-Large Long | 128 cm | 73,5 cm | 83 cm |
| 2X-Large Long | 138 cm | 74 cm | 85 cm |
Made in China
There's good quality to be found in the PRC, as long as you don't choose the lowest bidder. All of the fabrics used on Särmä brand products are tested and deemed safe for use by SGS, which is the world's leading inspection, verification, testing and certification company.
Kierto Circular Economy
Return this product used but clean and unbroken, and you'll receive half of the product's original price as Varusteleka credits. Service is available only in Finland. Only Registered users can make Kierto returns. See more information about Kierto.
Carbon Footprint
The estimated amount of greenhouse gas emissions from the production of one single item is 32.47 kg CO2e. The estimation includes the entire production of the item, from the raw materials up until the finalized product exiting the factory. Read more about the calculation method.
Varusteleka Särmä
Särmä is our own brand of clothing and equipment. When you buy Särmä you get purpose-built stuff at a decent price, something that will fill it's intended role well and not cost you an arm and a leg! For further reading check out the Varusteleka's Särmä page.
Särmä products are covered by a 12-month warranty against defects in materials and workmanship. For further information please read our detailed warranty guide.
All products: Särmä
Recommendations
Loading products...
Reviews
You have already submitted a review. You can edit your text by clicking on it.
Log in and write a review.
Remove filter
Suomi
(17)
English
(11)
I would recommend for a friend
Timo V.

05.03.2019 (Edited 02.06.2021)
Hyvän tuntuinen takki. Sopivat taskut, eivät jättikokoisia, mutta kamat saa varmasti järjestykseen. Taskujen takia ostin, mikään muu valmistaja ei ymmärrä taskujen tärkeyttä. Huppu on todellakin vetskarilla kiinni, hyvä homma. Pelkään, että hengittävyys ei riitä, mutta se jää nähtäväksi. Olisin ostanut mielummin saman takin ilman kalvoa. Takki on aika painava, jos se jollekin merkitsee. Mutta toisaalta on sitten tukevan tuntuinen päällä. Kirjoittelen lisää, kun tulee käyttöä oikeasti. Nyt pakkasilla on Lekan pakkastakki käytössä. Hupussa on takaraivolla tarratamppisäätö, oli yllätys. Kaikki vetoketjut toimivat liukkaasti. Hyvännäköinen ilman huppuakin. Haisee hieman pahalle, liuottimia, mutta se varmaan häviää. Kainalovetoketjut voisivat olla pidemmät, sen verran lämmin on. Toisaalta kilpailjoilta ei moisia yleensä edes löydy. Aamulla 6 pakkasta ja töihin 3 km fillarilla rauhallista tahtia, T-Paita takin alla. Hyvin toimi. Paluu 2 asteen pakkasessa - kyynärvarret hieman nihkeät. Hyvä takki, mutta ei ole mikään urheiluasuste.

18.2. Tästä on tullut suodikkitakkini. Taskut ovat hyvät, ja niitä riittää. On säilyttänyt tyylikkään kuosinsa, eli tätä käytetään vielä pitkään.
7
0
I would recommend for a friend
Matti W.

08.03.2019 (Edited 02.06.2021)
Työmatkapyöräilyä ja yleiskäyttöä ajatellen ostin tämän takin. Edellisesessä takissa oli vetoketju reistaillut jo pidemmän aikaa, mutta päätin odottaa tätä takkia. Käyttökokemuksia löytyy nyt parilta työmatkalta. Nollakelissä räntäsateessa, tuuletusaukot kiinni aavistuksen hiostava (alla TST L1 merinopaita), viiden asteen pakkasessa samalla aluspaidalla oli alkumatkasta käsillä hieman viileä, mutta kokonaisuutena hyvä. Mitoitus on vähintäänkin riittävä (XL regular, rinnanympärys ~116cm, keskivartaloa löytyy), ja huomasinkin että lyhyellä siirtymällä hupparin ollessa alla tuo hengittävyys (tai sen puute) tulee vastaan. Oletan että jatkossa noita kainaloreikiä täytyy avata ahkerasti, ainakin keväällä ja syksyllä.
5
1
I would recommend for a friend
Atte R.

17.03.2019 (Edited 02.06.2021)
Koot on etenkin vyötäröstä melko tiukkoja toisin kuin tuotekuvauksesta tai mitoista voisi päätellä, eikä meikäläisen tasan metrinen maha meinannut mahtua M-kokoisen takin sisään, jolloin hengittävyys oli täysin olematonta. Pykälää isompi koko sopii jo paljon paremmin, jolloin takin ominaisuudet pääsevät kunnolla esiin. Ajaa asiansa siistinä ja käytännöllisenä kurjahkon kelin kuorikerroksena, mutta tämä päällä hikeä kyllä pukkaa jos on syke koholla tai kevättä ilmassa.
0
0
I would recommend for a friend
Antti J.

27.03.2019 (Edited 02.06.2021)
Hihansuissa on reilusti avautumisvaraa. Normaalikäytössä kavennettuna se sitten on melkoinen möltti ranteessa kolminkerroin. Ehkä pienemmälläkin hihansuulla olisi pärjännyt. Hihan sulkumekanismi myös paksuhko ja tosiaan kokonaisuudesta tulee muiden valmistajien hihoihin verrattuna silmin havaittavasti paksumpi. Hengittävyys on vähän raskas ja tässä olisi toivomisen varaa.

Olkapäiden velcrotarrat turhat. Kainaloiden, selän ja olkapäiden vetoketjuista saksin vetolenkit pois, ettei näytä hoopolta hapsutakilta.

Itsellä L/long ja on tässä normaalia pidemmät hihat ja riittää juuri tavalliselle ihmiselle. Tällaisenään varmasti kuitenkin pisimmät hihat mitä valmistiskiltä saa lähimmästä kivijalkakyläkaupasta. Olisin toivonut itselle vielä 2 cm pidempiä hihoja. Vyötäröltä erittäin sopiva kun painoindeksini on normaali. Jos olisi enemmän gravitaatiota, niin saattaisi jäädä ahtaaksi. Kiitos Varusteleka tästä, että kerrankin on vaatteita joillekkin muille kuin vain lyhyille sekä lihaville!
4
3
I would recommend for a friend
Ben C.

10.04.2019 (Edited 05.06.2021)
Very impressed with the jacket. The material is nice and soft and the zippers are good quality. The fitment is great and the hood is nice and large. The pockets are big and in good, practical, locations. It's been great having it here in Canada with our pretty shitty spring weather.
3
0
I would recommend for a friend
Patrik M.

14.05.2019 (Edited 05.06.2021)
What a fantastic soft shell. The fit is nice and close and the pockets are well positioned and generous. I love the poacher's pocket for stashing things.



The material is a bit thicker than that used in competing products, such as from "patagucci", but this works well in the UK. In our cold rainy spring weather I am totally comfortable (and dry, if raining) wearing this with just a t-shirt underneath - which is fundamentally what I was after.



Also, it looks really nice.
2
0
I would recommend for a friend
Oskari N.

05.06.2019 (Edited 05.06.2021)
Erinomainen leikkaus, ottamalla koon pienemmän sai täydellisesti normaalia pöhöttynyttä suomalaista miesvartaloa nuolevan veistoksen. Kävelyä kummempaa liikuntaa ei kannata tämä päällä harrastaa, sillä vaikka kuinka aukoo vetoketjut, jää kosteus pyörimään takin sisään. Ajaa kuitenkin erinomaisesti asiansa kevyessä käytössä ja kestää hieman vettäkin. Työn jälki laadukasta.
0
0
I would recommend for a friend
Jason D.

22.08.2019 (Edited 05.06.2021)
Very good value for money. The long sizes are a huge win for lanky people who have a hard time finding sleeves long enough on outdoors clothing.
2
1
I would recommend for a friend
Kenny A.

22.09.2019 (Edited 05.06.2021)
Excellent jacket. Have worn it every day for three weeks in a variety of weathers including over open water and it's passed the test everytime. Sleeve length is excellent. Plenty of room in the pockets and works really well with the Saarma merino wool hoodie underneath when it's colder. Definitely the best jacket of its type I've ever used. Not tested yet in really cold weather (not that it ever gets really cold here) but that's not what I want it for. Really pleased with this jacket.
2
1