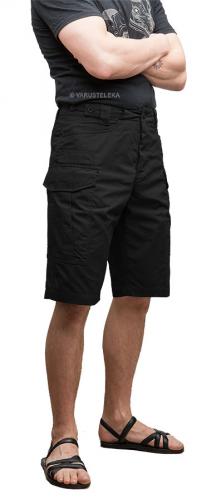 Särmä Shorts
Price 27.99 USD excluding VAT
Flat Rate Shipping to USA $9.99
96 % recommends
Sold 24 pcs in the last two weeks
Loading products...
Trouble with the metric system? Try our converter: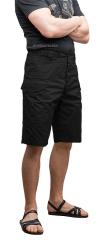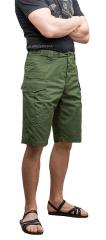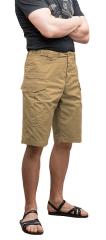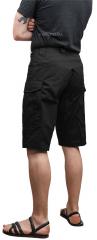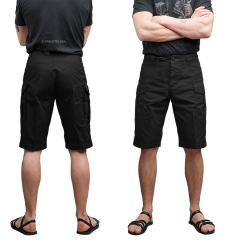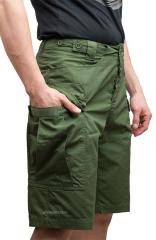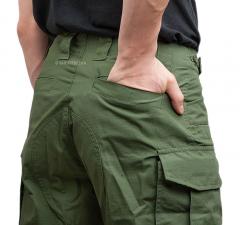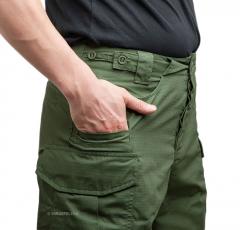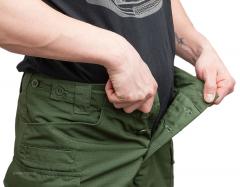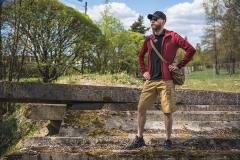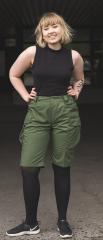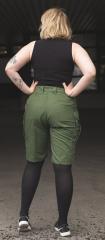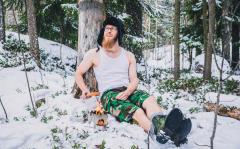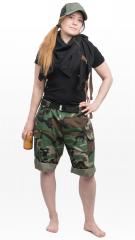 Lightweight, practical and comfy polycotton ripstop shorts with an excellent cut. We'd been looking to make good shorts and the solution was simply to take a nice military style trouser model and cut the leg in half! Because we had these made in huge volumes, the end price could be kept very reasonable.
Your standard handy cargo shorts
Button fly & high waist
65/35 % polycotton ripstop
If the waist feels a bit large, use the button adjustments on both sides
Features
These have a high waist, at least compared to modern standards. It's just slightly higher at the back. This is welcome news for any gentleman who likes to tuck his shirt in, but also suits the barbarian whose unsightly buttcrack would otherwise probably show when sitting.
Cut designed for ease of movement and "just enough" length. Reinforced seat.
Button fly. A tad slower to use compared to zippers but virtually indestructible. 5 cm wide belt loops, these are wide enough for real belts too. There's a button adjustment too.
Button fly. A tad slower to use compared to zippers but virtually indestructible. 2 inch wide belt loops, these are wide enough for real belts too. There's a button adjustment too.
Pockets
Large, bellowed cargo pockets with velcro closure. The front of the flap is sewn on the leg to prevent it from getting dog-eared. However as a nice bonus these do not stand out much when empty.
Standard slash pockets. These are pretty much like in many jeans, slightly more on the front side.
A "smart phone pocket" on the front.
Back pockets with velcro closure.
Material
Made of ripstop reinforced 65/35% polyester/cotton. Light enough to be very airy and comfy, but probably about as strong as bit thicker 100% cotton ripstop.
Wash in 30 degrees Celsius.
Sizing
The drop down menu shows recommended user waist circumference, but for those who want exact measurements please refer to this table:
| Size | Waist | Inseam |
| --- | --- | --- |
| Small Regular | 78 cm | 31,5 cm |
| Medium Regular | 88 cm | 32,5 cm |
| Large Regular | 98 cm | 33,5 cm |
| X-Large Regular | 108 cm | 34,5 cm |
| 2X-Large Regular | 120,5 cm | 35,5 cm |
| Size | Waist | Inseam |
| --- | --- | --- |
| Small Regular | 31" | 12" |
| Medium Regular | 35" | 13" |
| Large Regular | 39" | 13" |
| X-Large Regular | 43" | 14" |
| 2X-Large Regular | 47" | 14" |
Varusteleka Särmä
Särmä is our own brand of clothing and equipment. When you buy Särmä you get purpose-built stuff at a decent price, something that will fill its intended role well and not cost you an arm and a leg!
Särmä products are covered by a 12-month warranty against defects in materials and workmanship. For further information please read our detailed warranty guide.
Made in China.
Reviews
You have already submitted a review. You can edit your text by clicking on it.
Log in and write a review.
Remove filter
Suomi
(19)
English
(8)
I would recommend for a friend
Janne K.

01.04.2017 (Edited 01.04.2017)
Susirajalta asti ajettiin hakemaan särmät kesähousut. Shortseja sovittaessa koko oli ullatus; mitoilla 182cm/102kg varustettuna oon aina ollu xl. Nyt äksällät tipahti nilkkoihin. L oli kooltaan just eikä melekein. Kangas mukavan kevyt mutta silti jämäkkä. Älypuhelin taskut riittävän syvät S5:lle. Vyötärön korkeus vois olla hieman matalampi, Leviksen 501:een verrattuna näissä hieman korkeampi. Ostan toisetkin.
6
4
I would recommend for a friend
Harri K.

17.05.2017 (Edited 07.06.2018)
- ehkä paras leikkaus, mitä nähty shortseissa, taskuja riittävästi & tehty hyvästä kankaasta (ei repeä, kuten tavallinen cottoni)

- erittäin hyvä hinta/laatusuhde (ei paljon kannata alkaa itse alusta lähtien ompelemaan)

- jos sitten jotain sanomista, niin vetoketjujen ystävänä ottaisin mielelläni vetskarin napituksen sijaan

- toisaalta napit saa ommeltua vaikka retkellä (yritäpä samaa vetoketjun kanssa...)

- normaalisti L-kokoisena otin M:n, joka istuu hyvin

- suosittelen, mitä lämpimimmin!

- velcrot raapivat sormet taskuja avattaessa, joten muutin 15mm:n neppari-versioksi
10
5
I would recommend for a friend
chris d.

30.06.2017
Very high value product. These shorts are great. Very confortable and adjustable. The pockets are of generous size but they also keep tight to the body. The hook and loop on the cargo and rear pockets are very grippy and you don't have to worry about losing anything from those pockets. Just an all around great product.
5
3
I would recommend for a friend
Joonas Y.

25.07.2017
Muutamia huomioita. Shortsit olleet käytössä about kuukauden.
-Taskuja itselle liikaa. Kännipäissäni olen luullut hukanneeni tupakat, mutta ne ovatkin olleet "kännykkä" taskussa, eikä varsinaisessa taskussa.
- Autoa ajaessa perustaskuista on lähes mahdotonta kaivaa esim. Puhelinta (galaxy note 3).
- Kokoni on large regular ja näiden leikkaus puristaa munista. Isommat tuskin pysyisivät jalassa.
- Eivät kuitenkaan ole hinnalla pilatut ja näyttävät ihan hyvältä.
- Reisitaskujen velcrosulku on ollut toistaiseksi ihan jees.
- Vyölenkkejä liian vähän. Oma särmä 50mm kasviparkkivyön "häntä" jää pari senttiä lyhyeksi vyölenkistä ja se lerpattaa ärsyttävästi.

Hinnan puolesta voin suositella!
5
6
I would recommend for a friend
John A.

19.08.2017
Best shorts I've owned. Sturdy, comfy and very practical.
5
2
I would recommend for a friend
Janne H.

29.01.2018
Viime kesänä hain ennen lähtöä liikkeestä, oli erittäin mukavat, ei juuri hiostaneet vaikka Minnesotassa oli yli30 lämmintä koko viikon.
- passit/rahat pysyy hyvässä tallessa reisitaskussa.
4
0
I would recommend for a friend
Elliott K.

25.04.2018
Very practical shorts, plenty of pockets and good quality. However the fit is very baggy for me, if you're on the slim side get a size below what you usually do. I have the problem of the waist being too big, but when I wear a belt the pockets fold up and look daft.
3
0
I would recommend for a friend
Thorsten H.

04.05.2018
Another quality Särmä product. This material feels very tough. I'm about 170 cm and 74kg with an athletic build (bigger legs and ass - I stay away from slim fit stuff). The medium regular is a good fit for me - perfect around the waist and thighs but maybe just a tiny tiny bit tighter than I'd like around the ass. When I squat it puts a little strain on the seams but I have a lot of confidence in the quality and the material so I'm not too concerned.
3
0
I would recommend for a friend
Ryan S.

14.05.2018
I recently tested these out on a trip to the Caribbean. I love the fit and the pocket layout is great. These are my new favourite shorts. I will be buying more.
3
0
I would recommend for a friend
Pasi K.

28.05.2018
Kerrankin tuli ostettua shortsit, joita ei tarvi häpeillä
2
0
I would recommend for a friend
Mikko L.

02.06.2018
I would recommend for a friend
Roy K.

09.06.2018
Great shorts, shipping to the US was way faster than expected. Very pleased.
1
0
I would recommend for a friend
Reima K.

02.08.2018
Kaapista löytyy nyt koko väripaletti ja tässä hellekesän käänytyessä voiton(?) puolelle voi käsi sydämellä sanoa, että tämä on ollut kesän paras ja usein myös ainoa käytössä ollut vaatekappale. Jos shortsit voi olla täydelliset, ne on tässä. Malli on ajaton ja toimii, ei mitään liikaa, ei mitään puutteita. Bonuksena siirtymä talvipitkiin reisitaskuhousuihin käy vyön vilahduksella, sen verran 1:1 mallit on lahkeiden pituutta luonnollisesi lukuunottamatta. Suosittelen lämpimästi (sanavalinta harkittu).
2
0
I would recommend for a friend
Juho S.

08.10.2018 (Edited 09.10.2018)
Tilasin melkein 2 vuotta sitten Särmä reisitaskuhousut ja tykästyin niihin välittömästi. Leikkaus oli täydellinen ja taskujen koko/sijoittelu mahtavat. Toivoin ainoastaan että näistä olisi olemassa saman malliset shortsit. Kuinka ollakkaan, Varusteleka oli täyttänyt toiveeni aikoja sitten tietämättäni.

Tilasin tälle kesälle kahdet saman koon Särmä shortsit ja ihastuin niihin välittömästi. Lahkeen pituus on just eikä melkein 173cm pituiselle miehelle, ei liian alhaalla että istuminen olisi epämukavaa mutta ei myöskään niin ylhäällä ettei shortsit näytä irstaalta. Sisempään etutaskun sopii täydellisesti 5,5" kokoinen puhelin eikä se paina edes istuessa. Nappisepalus on hyvä eikä napit ole lähteneet irti. Haarat ovat myös kestäneet todella hyvin.
1
0
I would recommend for a friend
Kalle N.

08.10.2018
Ostin mustat. Käytin pari kuukautta. Totesin hyviksi. Ostin myös vihreät.

-0,5 tähteä tulee siitä, että kokojen välinen ero on aika suuri. L vaikutti aluksi vähän isolta ja M ei mahtunut päälle. Nappikiristys tosin toimii eikä lopulta haitannut käytössä, vaikka se vähän menetelmänä epäilyttikin.
1
0
I would recommend for a friend
Waltteri K.

05.11.2018
Nappi ei kauaa pysynyt paikallaan ja reisistä tiukat. Autossa puhelin välillä pakenee taskusta penkinväliin. Muuten hyvät housut ollut.
2
0
I would recommend for a friend
Jan S.

29.03.2019
Hyvät sortsit. Tosin 1XL ei mahtunu ja 2XL on kauheen iso. Joutui ompelemaan uusiksi, mutta senhän ny joka jätkä osaa tehä. Läskiä tarvitsi peittää väljästi 112cm verran ja 1XL ei siihen pytynyt mukavasti.

Miinuksena pienet takataskut, sellanen pieni pokkari tai vihko ei ihan mahdu. Olis nättiä jos menisi. Turistioppaat yms on sitä kokoa että ärsyttävästi ei sovi.

Näitten alle Särmä TST L1 bokserit, niin on jäätävän mukava combo

4,5/5!
1
0
I would recommend for a friend
Santtu S.

18.05.2019 (Edited 18.05.2019)
Shortsit ovat kokonaisuutena erittäin toimivat. Ne ovat materiaaliltaan kestävät ja niissä on mukavasti taskuja. Nappisepalus on myös vetoketjua kestävämpi ja helpommin korjattavissa oleva yksityiskohta (ei sillä, että mitään olisi hajonnut vielä parin kesän jälkeenkään).

Kangas vaan ei hirveästi anna periksi, joten jos sattuu omaamaan yhtään isommat reidet, tekee esim. kahden portaan kapuaminen kerralla hieman tiukkaa, kankaan ottaessa jäykkyyden lisäksi myös kiinni ihoon (tämä on vielä isompi ongelma täyspitkissä Särmä-reisitaskuhousuissa). Toinen iso miinus on jo toisessa arvostelussa mainittu vyölenkkien puute sepaluksen läheisyydessä. Housujen ylin nappi täytyy aina erikseen manuaalisesti pujottaa vyön alle ja toivoa, että se pysyy siellä. Yleensä se näin tekeekin, kunhan vyössä on edes jonkinmoinen solki ottamassa kiinni housuihin.
2
0
I would recommend for a friend
Jari S.

11.06.2019
Aivan loistavat jokapaikan shortsit.

Erityistä kiitosta saa etu-/puhelintaskut!
2
0
I would recommend for a friend
mobi

18.06.2019
No siis, nämä ovat shortsit, joihin taskuihin mahtuu 4 Gambina-pulloa. Näitä ei saa ilmeisesti hajalle muutakuin laihtumalla. Pitänee tilata uudet, ennen kuin talvi tulee.
1
0
I would recommend for a friend
Marko S.

18.06.2019
Parhaat shortsit mitä markkinoilta saa.
- Ainakin vihreä kestää väreiltäänkin.
- Maltillinen, särmä hinta.
- Lujaa tekoa, eikä mitään lirkulaa.
- Peittää hyvin "poikittaisen takahymyn".
- XL sopii normaalille 178/110 kg kantasianalulle.

Pari kehitysehdotusta, mitä muutkin maininneet:
- istuessa päätaskuista hankala kaivaa avaimet tai puhelin
- vyölenkkejä voisi olla pari enemmän tai sijoitus parempi.
0
0
I would recommend for a friend
Vesa K.

05.07.2019
Ostin nämä shortsit kun piti päivittää vaatekaappia. En sitten ole oikeastaan muita housuja käyttänyt vapaalla ollessani. Upea istuvuus ja taskuja riittävästi. Khakin värisenä menee hyvin kaupungilla. Kangas erittäin mukavaa ja vyölenkkejä riittävästi omaan käyttöön. Ehdoton suositus sinulle, joka haluat kestävät ja istuvat shortsit.
0
0
I would recommend for a friend
Jonathan B.

26.07.2019
Great shorts! and exactly what I was looking for. Something I could wear day to day - extreme conditions or not.
They are very comfortable to wear and do well in the heat. The fit is roomy but not too big.
The shorts definitely have a technical / tactical look to them but that's toned down in the black or khaki colour.
Overall a killer pair of shorts at a very reasonable price.
0
0
I would not recommend to a friend
tommi v.

10.08.2019
Jos on kaljamahaa, vyötäröltä sopivaan kokoon mahtuu vaikka kaksi takamusta. Velcro todela karheaa , raavin kädet vereslihalle, mm. 5.11 housujen velcro reisitaskuissa ei tee näin. Jäykät, taskut vähän hassut, kamat menevät vääriin taskuihin. Pidin 2 päivää ja vaihdoin takasin vanhoihin Teesarin shortseihin. Jos olet vähän parempia shortseja pitänyt, niin ovathan nämä aika huonot niihin verrattuna.
0
0
I would recommend for a friend
Peter F.

01.10.2019
Great shorts, great price. M81 was a great move. I bought every colour. My only complaint is the media pocket puts my phone right into whatever is in the pocket (car keys on one side, everything else on the other). Definitely not a major issue.
0
0
I would recommend for a friend
Lauri V.

24.10.2019
Ostin viime kesänä tälläisen spesifisti maastopyöräilyhommiin mutta tulin sitten käyttäneensä kaikkialla koko kesän.

Hartain toiveeni on että kaikissa housuissa olisi näiden shortsien kännykkätaskut. Aivan lyömätön feature kun toisessa etutaskussa kulkee aina luuri ja toisessa korttikotelo.
0
0
I would recommend for a friend
Jukka R.

24.10.2016 (Edited 13.06.2017)
Pari pientä parannusehdotusta (kokona 2X-Large, mikäli sillä on merkitystä):
-Takataskut voisivat olla pikkuisen leveämmät, jotta A5-kokoisen vihkon mahtuisi työntämään niihin (kesällä tuli käytyä muutamissa con-loppuisissa tapahtumissa, joissa ohjelmalehtinen oli aina kyseistä kokoa). A5 mahtuu kyllä reisitaskuun, mutta läpätön takatasku olisi nopeampi käyttää.
-Pari vyölenkkiä voisi olla lisää, ja yhdet lähempänä sepalusta.
21
1