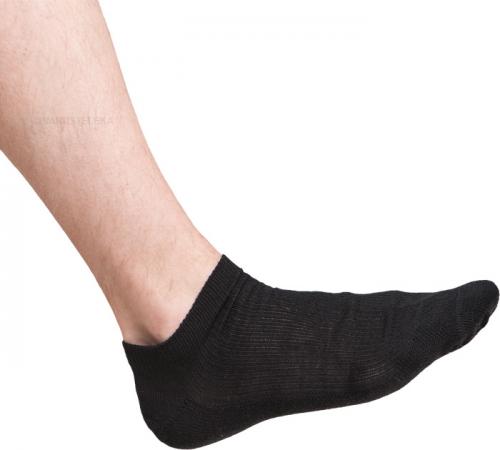 Särmä Short Merino Socks
Price 7.99 USD excluding VAT
Flat Rate Shipping to USA $9.99
Sold 83 pairs in the last two weeks
Loading products...
Trouble with the metric system? Try our converter: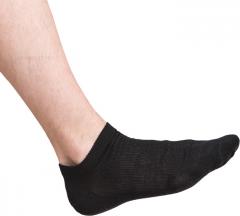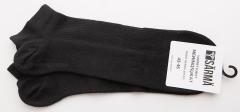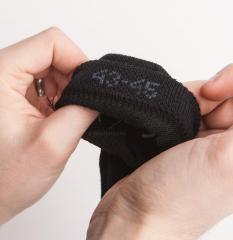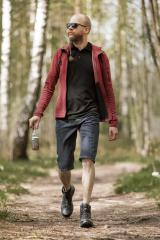 Ever since we started selling our own merino socks we have had people asking for a lightweight ankle high version. Well, you get what you ask for! These low lightweight socks are excellent for hot weather.
Light summerweight short socks
50 % merino wool, 45 % polyamide and 5 % elastane
The heel has a fitted Y-construction to keep the sock in place even without the high shaft.
Material and care
Material 50 % merino wool, 45 % polyamide and 5 % elastane. Wash in 40 degrees celcius. The polyamide is added to the mix for wear resistance and the elastane guarantees a snug fit.
The joys of merino wool
Wool is a great material. It will keep you warm even when wet and does not soak in nasty smells or dirt easily, which also makes it pretty hygienic. Now, Merino wool has two additional benefits compared to normal wool; it's finer, which means it's also warmer per gram, and feels very comfortable against the skin, not rough and itchy at all.
These are made from mulesing free merino wool!
Size info
Sized according to European shoe sizes, with corresponding common S, M, L etc. sizes in brackets. See the chart below for further reference:
| EU size | Simple size | US shoe size | UK shoe size |
| --- | --- | --- | --- |
| 34-36 | X-Small | US 2½-4½ | UK 2-4 |
| 37-39 | Small | US 5-7 | UK 4½-6½ |
| 40-42 | Medium | US 7½-8½ | UK 7-8 |
| 43-45 | Large | US 9-11 | UK 8½-10½ |
| 46-48 | X-Large | US 12-14 | UK 11½-13½ |
Varusteleka Särmä
Särmä is our own brand of clothing and equipment. When you buy Särmä you get purpose-built stuff at a decent price, something that will fill it's intended role well and not cost you an arm and a leg!
Särmä products are covered by a 12-month warranty against defects in materials and workmanship. For further information please read our detailed warranty guide.
Made in Finland
These are made in Finland by Sukkamestarit Oy (SOCK MASTERS! Can't go wrong with a name like that!), a very experienced manufacturer and one of the official sock suppliers of the Finnish army.
Reviews
You have already submitted a review. You can edit your text by clicking on it.
Log in and write a review.
Remove filter
Suomi
(9)
English
(3)
Ville L.

05.06.2016 (Edited 07.06.2016)
Vähän karheampi kuin pidempivartinen. Oikein hyviltä vaikuttavat.
0
0
I would recommend for a friend
Lauri H.

30.07.2016 (Edited 04.08.2016)
Erittäin hyvät sukat jalassa. Hieman paksummat kuin tavalliset puuvillaiset nilkkasukat, joten ne ovat myös melko lämpimät. Lämpimyydestä johtuen kesäsukkina nämä eivät minulle mene, mutta kelpaavat talvella sisäsukkina tai viileämpinä kesäpäivinä. Jos olet palelevampaa sortti, nämä saattavat olla sukat juuri sinulle.
1
0
I would recommend for a friend
Valtteri H.

12.04.2017 (Edited 29.05.2017)
Paljon paremmat kuin taviskauppojen vastaavat. Eivät myöskään nypyynny niin nopeasti ja paljon kuten tavalliset Särmä merinovillasukat.
1
0
I would recommend for a friend
Perttu T.

22.10.2017
Parina vuotena olen näitä pitänyt Tuskassa kolme päivää putkeen yöllä tuulettaen ja hyvin pysyneet hajut poissa vaikka pitissä riehuttu ja pompittu koko päivä
1
0
I would recommend for a friend
Mark K.

01.01.2018
They are ok socks, but I didn't feel the benefits of the merino over normal socks (probably because of the necessary other materials).
1
0
I would not recommend to a friend
David F.

29.03.2018
These have a funky fit to us. I bought them for the Lady and she did not like them. I tried them on and had the same complaint of a very odd fit. They are listed as the same size as the rest of the Marino wool socks we both like very much. The stitching on the inside leaves a field of loose fabric that I have never seen before in a garment. The wool content is not high enough to give that nice feel and I do not like the feel of the material blend much.
1
0
I would recommend for a friend
Samu S.

Varusteleka employee

14.06.2018
Eivät hiosta ja koska hajutkaan ei tunnu tarttuvan, voi käyttää viikkoja putkeen ilman mitään ongelmia.
0
0
I would not recommend to a friend
Tuomo N.

12.08.2018
Puristaa keskeltä ja varpaisiin sekä kantapäähän jää löysää. Onneksi ostin vain yhdet.
6
1
I would not recommend to a friend
Antti J.

08.01.2019
Jotenkin ihan oudon malliset. Kiristää keskeltä mutta varpaisiin jää outo mytty sukkaa. Tavalliset Varustelekan merinosukat istuu kuin sukka jalkaan, mutta näissä varrettomissa on jotain hämärää.
5
1
I would not recommend to a friend
Ville T.

23.01.2019
Materiaali on hyvä, mutta mitoituksessa on jotain pielessä. Oma koko on 43 ja 43-45-kokoisessa sukassa kantapäähän jää iso pussi vaikka muuten sukka olisi sopiva. Ei näitä oikein minkään kengän kanssa voi käyttää kun pussi jää hiertämään kantapäätä.
5
0
I would recommend for a friend
Mitchell T.

26.02.2019
I ordered these for summer socks but somehow accidentally ordered smaller size, they still stretch to fit but I gave them to my wife instead. Great socks.

I just switched from all poly gear to merino wool after years. I've been wearing these products everyday for a month now and am very impressed. There is slight pilling but to be expected, but the description is right these products do not take in smells very easily, just take care of your stuff. Varusteleka is PURE GOLD!
0
0
I would recommend for a friend
Tuomo K.

06.09.2019
Olin myymälässä vielä vähän skeptinen näiden suhteen. Omaa kokoa edustava sukkapari näytti valtavalta muodottomalta putkilolta. Ja yleensä tähän hintaan ei saa mitään kestävää, saatika jalkaan mukavaa sukkaa. Ostin kuitenkin kaksi paria kokoa pienempänä testikäyttöön ja yllätyin erittäin positiivisesti.

+Varren pituus tossuun ja tennariin passeli ja saumat ovat melkein huomaamattomat
+Materiaali vaikuttaa hyvältä. Merinolle tutut edut, mutta nämä eivät kuitenkaan veny ja vanu kengässä edes märkänä
+Neuletiheyden ansiosta hengittävät ihan hyvin. Ei iske sukkahiki toimistokäytössä.
+Voit heittää nämä illalla lenkin jälkeen kylppärin nurkkaan, ilman että tarvitset aamukuselle mentäessä päällesi suojavarustusta
+Samaan aikaan ostetut ~20€ urheilubrändisukat on kulutettu jo puhki, Särmissä käytön näkee vaan pienestä nukkaantumisesta
-Koot ovat vähän hassut! Osta yhtä kokoa pienemmät, jos haluat tyköistuvat

Yksi tähti pois kokohässäkän takia. Seuraavalla ekskursiolla lähtee kuitenkin mukaan muutama pari lisää!
0
0