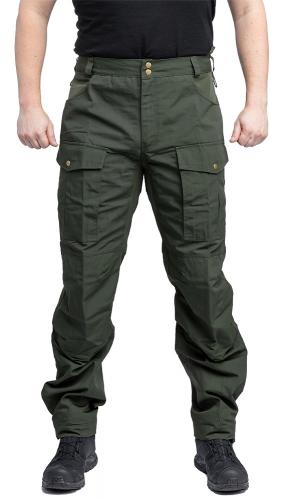 Särmä Outdoor Trousers
Price 55.99 USD excluding VAT
Flat Rate Shipping to USA $9.99
Sold 166 pcs in the last two weeks
Loading products...
Trouble with the metric system? Try our converter: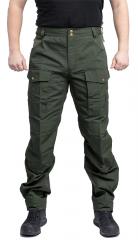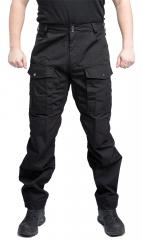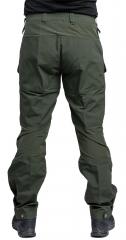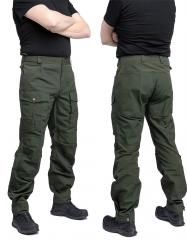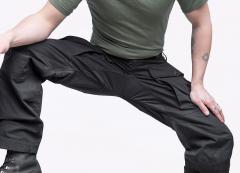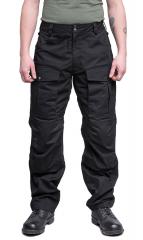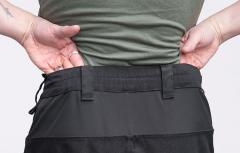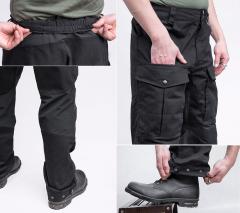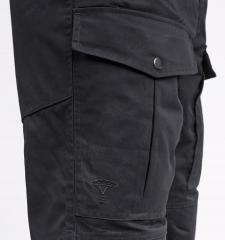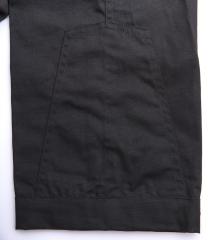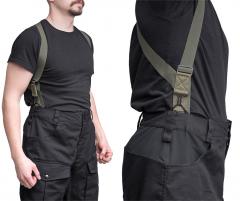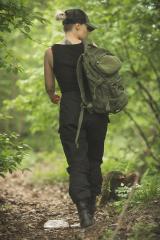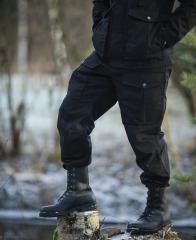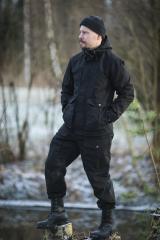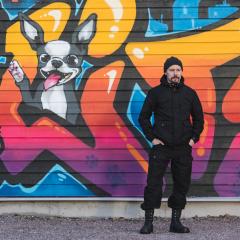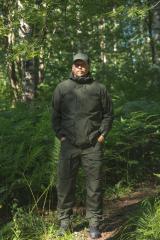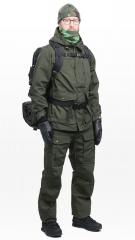 These Särmä Outdoor Trousers are made for use in somewhat rougher climates and terrain, but are comfortable and subdued enough for casual street use. These are not your regular lightweight trousers for sunny hikes on easy trails, but made from a strong canvas to take a beating without a flinch.
A good pair of utility & outdoor trousers
Thick 65/35 % polycotton fabric
Elastane in strategic spots
The maximum waist size will stretch about 2 cm (7/8") upwards!
The next question is, are these comfortable to wear on the move and can you slav-squat? The answer to both is a resounding "YES!". Thanks to articulated knees, a crotch gusset and a high-cut backside, these trousers won't hold you back.
Breathability and mobility are further improved by a 4-way stretch material we used at the crooks of knees, crotch gusset and below the waistband. You can think of the main material as an armour plate and the soft stretchy stuff is the chainmail.
The cut is unisex, we have hit the sweet spot of female and male anatomies. Try it on if you don't believe us!
Practical and comfy features
We designed these to look good, but only after getting the cut and details where we wanted to. The pockets are not numerous, but much smarter: stuff wont' fall out of the front pockets and the cargo pockets don't rob space from your thighs. Here's a list of the nice things:
Cut and details
Articulated knees
Stretchy crotch gusset
Reinforced knees and seat
Double reinforced inner cuff
Stretchy waist
Snap-fastener adjustment tabs at the cuffs
Large and strong belt loops (up to 50 mm belts)
Loops for hook suspenders
Pockets
Deep front pockets with high-cut opening
Large cargo pockets with bellows and folding mouth
Cell phone pocket behind right cargo pocket
Material and care
The primary material is a durable 65/35 % poly-cotton canvas, which is a type you might find on bags and such. It's treated to repel dirt and water with C6 DWR while retaining a good breathability. C6 is commonly used and works well, but we're looking for more environmentally friendly options. Double fabric layers on the knees and ass.
Secondary material: 4-way stretch 92/8 % polyester-elastane. Very breathable and comfortable.
Close all zippers and snap-fasteners before machine wash in 40 degrees Celsius.
Size info
The drop down menu shows recommended user height and waist circumference. Measure your waist from the height you like to wear your trousers. For a normal build, these fit comfortably just below the navel. For a more portly frame, these might not extend so high and might be more comfortable to wear under the beach ball, so to say. In this case, measure your waist there.
Here are the actual waist circumference and the leg inseam of the trousers themselves:
| Size | Waist | Inseam length |
| --- | --- | --- |
| X-Small Regular | 68 cm | 81 cm |
| Small Regular | 78 cm | 81 cm |
| Medium Regular | 88 cm | 81 cm |
| Large Regular | 98 cm | 81 cm |
| X-Large Regular | 108 cm | 81 cm |
| 2X-Large Regular | 120,5 cm | 81 cm |
| Medium Long | 88 cm | 85 cm |
| Large Long | 98 cm | 85 cm |
| X-Large Long | 108 cm | 85 cm |
| 2X-Large Long | 120,5 cm | 85 cm |
| Size | Waist | Inseam length |
| --- | --- | --- |
| X-Small Regular | 27" | 32" |
| Small Regular | 31" | 32" |
| Medium Regular | 35" | 32" |
| Large Regular | 39" | 32" |
| X-Large Regular | 43" | 32" |
| 2X-Large Regular | 47" | 32" |
| Medium Long | 35" | 33.5" |
| Large Long | 39" | 33.5" |
| X-Large Long | 43" | 33.5" |
| 2X-Large Long | 47" | 33.5" |
The indicated maximum waist size will stretch about 2 cm (almost an inch) upwards! We say this because some people want really form-fitting trousers. Remember, these are meant for outdoor use and sized as such.
Varusteleka Särmä
Särmä is our own brand of clothing and equipment. When you buy Särmä you get purpose-built stuff at a decent price, something that will fill it's intended role well and not cost you an arm and a leg!
Särmä products are covered by a 12-month warranty against defects in materials and workmanship. For further information please read our detailed warranty guide.
Made in China
There's good quality to be found in the PRC, as long as you don't choose the lowest bidder.
Reviews
You have already submitted a review. You can edit your text by clicking on it.
Log in and write a review.
Remove filter
Suomi
(23)
English
(10)
I would recommend for a friend
Ville L.

30.04.2018
Vaikuttavat oikein laadukkailta, käytännöllisiltä ja yllättävän siistin näköisiltä. Mutta itselle ei vaan löydy sopivaa kokoa. M on liian tiukka ja L:ssä jää löysää liian paljon. Tuo 10 cm hyppäys vyötärössä kokojen välillä on siis liian iso. Pitää katsoa uudestaan jos vyötärönympärys muuttuu tai tulee lisää kokoja.
22
0
I would recommend for a friend
Ville M.

30.04.2018
Laadukkaan tuntuiset. Lahkeen pituutta toivoisi 175cm pituinen, hieman lyhyemmäksi..
9
4
I would recommend for a friend
Markus W.

09.05.2018
Extremely comfortable, airy and practical outdoor pants that are on the same level as the big brand companies but for half the price.

The only bad thing I see with them is the choice of waist buttons would rather have seen regular buttons with buttonholes.

Will definitely order a pair of greens when they come!
2
2
I would recommend for a friend
Kimmo S.

10.05.2018
Aiemmin olen ostanut vastaavat vaatteet vain nopeasti jostakin Marketista ja koko on ollut vähintäänkin XL. Mutta nämä Varustelekan tuotteet on ilmeisesti teetetty kiinalaisten sijaan ihan oikeasti juuri suomalaisille äijille ja muijille joten L-koko oli nyt sopivin eikä sekään vielä yhtään liian nafti. Plussaa vielä siitä että oli erikseen valittavissa "Long-versio" kun on tuota vartta ja pitkät jalat ja kädet. Eli vaatteet istuu niinkuin olisi räätäliltä tilattu, eipä muistu heti mieleen vastaavaa. Pidän todella paljon materiaalista joka tuntuu kestävän leikiten kaikenlaista kulutusta, tuulta ja sadetta mutta ei silti tunnu raskaalta tai jäykältä. Vaatteen suunnittelusta tai työn jäljestä en keksi mitään moitittavaa ja vetoketjut ja nepparit toimii kuin Porschessa. Sekä takki että housut kannattaa tilata molemmat saman tien. Näistä vielä perikunta tappelee.
2
1
I would recommend for a friend
Jarkko K.

01.06.2018
Erittäin istuvat ja mukavat päällä. Itselleni löytyi täydellinen koko (M long), joka istuu täydellisesti vaikka vyötäröä on pari senttiä ylärajaa enemmän. Ihan huippu tuote tähän hintaan!
3
2
I would recommend for a friend
Niko H.

09.06.2018
Odotin tätä retkeilyasua innolla, mutta unisex höpinästä huolimatta ei ole huomioitu alle 170cm yhtään. Kiva, että on muotoillut ja haarakiilat ym. mutta jos haarus on reiden puolivälissä ja polvimuodot säärellä, ei paljoa liikkumisen vapautta ole. Tekisittekö pliis tästä noita short versioita, vaikka nyt unisex hengessä. Teillä toi markkinointi on hallussa, niin ei ne käsiin jää...
35
1
I would not recommend to a friend
Mikko L.

29.06.2018 (Edited 04.07.2018)
Ensivaikutelma hyvä kaikin puolin. Materiaali tuntui laadukkaalta, malli hyvä, taskuja hyvin jne... Mutta hajosivat ensi vaelluksella hetta-pallaksella käytännössä käyttökelvottomiksi. Ensi purkautui/ ratkesi sauma haarakiilasta, mikä laajeni lähes käden mentäväksi aukoksi. Toiseksi oik. reisitaskun sivusauma purkautui vaikka taskussa ei ollut kuin Tasmanian karttalaukku. Vaikka hinta on melko edullinen, en odottanut näin huonoa laatua, joten en voi suositella.
23
0
I would not recommend to a friend
Olli A.

28.08.2018
Housujen materiaali ja leikkaus on onnistunut, mukavat päällä ja joustavat. Kuitenkin jäivät ostamatta, koska reisitaskujen sijoitus reiden etupuolelle kumoaa edellämainitut hyvät ominaisuudet. Reisitaskuun pitää voida tilapäisesti tiputtaa tavaraa käsistä, näissä housuissa jo kännykän laittaminen reisitaskuun tekee kyykistymisestä epämukavaa. Selvä suunnitteluvirhe, korjatkaa.
11
7
I would recommend for a friend
Markus K.

03.09.2018
Hyvät housut. Lahkeet olivat liian pitkät, mutta onneksi niihin sai edullisesti lyhennyksen haluttuun mittaan. Nyt istuvat täydellisesti. Kannatti panostaa tuo ylimääräinen 20€.
1
1
I would recommend for a friend
Ignacio N.

05.09.2018 (Edited 11.11.2018)
I saw some bad reviews about them but thanks god were in finnish and i didnt understand. These are great! I just got them today on my way to the summer place and i change them already in the car. Super comfy, tough and smart design. I was chopping some wood and working the field a bit and they feel superb. Actually you dont feel them at all. The phone pocket is brilliant. No more squeezing and dancing like a warm to get the phone while driving. Ok, we should not do it but IF you have to, this pocket is brilliant. Also when biking. And the suspenders which i bought too look sooo cool. Also really nice and easy ankle adjustment and tough zipper too. I think they will last for very long. Lets see. Great pants. I will wear them even in winter with the särmä L2 merino long johns. Super recommended!!! Update: after a month of continued use (I mean literaly every day) I keep my word. My best purchase in a very long time!! Tough, comfy and the black ones never get dirty! The fabric seems to repel stains and dust. Fantastic!!
3
1
I would recommend for a friend
Christian H.

14.09.2018
Really happy with these pants. Good tough quality yet not constraining your movement. Was a bit sceptical of the elastic fabric at first but then I got used to it and now I really like it.
Quality is not far from Lundhags or Fjällräven but less than half the price. Great!
1
0
I would recommend for a friend
Ville R.

18.09.2018 (Edited 18.09.2018)
Hintaisekseen hyvät. Vahattuna myös vedenpitävät.



Pisteitä vähentäviä seikkoja:

- Lahkeet ovat liian pitkät. Lahjekangasta on muutenkin aika runsaasti, joten jos tykkää tunkea lahkeensa varsinkenkien varteen, niin se voi olla varsin vaikeaa.

- Etutaskuissa on sisällä sitä stretch-materiaalia joka ei pidä lainkaan hikeä, jonka seurauksena siellä ei voi pitää mitään mikä kärsii kosteudesta (kännykkä, lompakko...)

- Etupuolella olevat reisitaskut on sitten täysin hit-and-miss. Jos sattuvat reisillesi sopimaan, niin ovat ihan ok. Jos eivät sovi, niin ovat käyttökelvottomat.

- Alaselän/yläpyllyn strech-materiaali antaa liikaa myöden. Näin pyllykkäämpänä käyttäjänä tästä seuraa se, että housuja ei saa vedettyä riittävän ylös. Vyötäröä ylös nostaessa itse housut eivät liiku mihinkään, vaan strech-kama venyy. Strechin ja tavallisen kankaan sauma jää pyllyn päälle, jossa sen tuntee kävellessä. Epäilen myös sauman/strech-kankaan kestävyyttä pidemmän päälle. Tämä sauma pitäisi olla ehdottomasti ylempänä. Siis "joustavan vyötärön" ja varsinaisen pyllykankaan välinen sauma.
4
0
I would recommend for a friend
Henri H.

21.09.2018
Lentokentälle mennessä kävin myymälästä pökät ostamassa ja nyt useemman päivän saaneet kestää Tokiossa sekoilua. Taskut eri mukavat ja saa vähän enempi hollille ties mitä lippua ja kukkaroa. Ältsin hyvät housut!
1
1
I would recommend for a friend
Juha-Matti H.

08.10.2018 (Edited 08.10.2018)
Ensivaikutelma ihan ookoo ja mukavan tuntuiset jalassa. Kestävyydestä olen vielä hiljaa jahka kokemusta kertyy. Liikkumisvarat pysyvät kunnossa ja slaavikyykkykin luonnistuu enempiä kiristelemättä. Muutamissa palautteissa toivottu persjalkasille lyhyempää lahkeen pituutta ja samaa mieltä minäkin (174cm). Vähän tuntuu kuin joutuisi koko ajan nostelemaan reidestä ylöspäin, jotta polvi asettuu oikealle kohdalle lahkeessa. Housut ovat sinänsä mukavan väljät ja tarvittaessa väliin mahtuu vähän lämmintä aluskertaakin tai vastaavasti lämpimällä kelillä ilma kiertämään. Large Regular oli vyötäröltä oikea koko (100cm vyötärö) vaikka kokotaulukon mukaan ensin valitsinkin X-Large regularin ja yhden aspa-vaihtokeikan jouduinkin tekemään. Samalla tuli tilattua 115cm SA-nahkavyö, joka istuu kuin nakutettu noiden pariksi. Hieman arveluttaa nepparikiristeinen lahkeen suu vain yhdellä nepparilla, ratkaisun toimivuus jää vielä avoimeksi metsässä rymytessä. Edessä olevissa reisitaskuissa ei kyllä mitään karttaa tai hanskoja paksumpaa ja painavampaa mielellään kuljettele, varsinkaan tällainen paksureisinen. Edessä olevat vyörenksut ovat ehkä aavistuksen leveällä (sepalus kiinni etummaisten renksujen väli n. 30cm), katsotaan lähteekö vyö "oikomaan" napin yli. Tulevana viikonloppuna kevyeen kenttätestiin.. ;) Varovainen suositus ja 3,5 tähteä tällä kokemuksella.
3
1
I would not recommend to a friend
Lauri L.

14.10.2018
Hyvät jalkaan ja hinta kohdillaan. Huonoja puolia on liian pitkät lahkeet ja olematon kestävyys. Kahdet jo revennyt ekalla käyttökerralla haaroista kun on käynyt polvella maassa. Kolmansia ei innosta enää kokeilla.
8
0
I would not recommend to a friend
Teemu O.

20.10.2018
Kyllä nyt on hieman mainostekstien lupauksissa pikkusen Konalan lisää kirjailtu kun lupaillaan kaikenmaailman kuperkeikkojen kestäviksi. Ensimmäinen kerta kun metsässä kävelty, heti haarasta repesi, vaikka kuinka olisi strech kangasta. Se jousto ei vain auta kun sen etupuolelta repesi. Luulisi kyllä että tämmösen 190cm käyttäjän notkeus loppuisi ennen joustavia housuja, mutta toisin kävi. Isompaa kokoa aluksi koitin, mutta ne eivät meinanneet edes ylhäällä pysyä, joten pienempiin piti vaihtaa. Muuten istuvuus hyvä ja mukavat jalassa.

Plussaa:
+ reisitaskut juuri oikealla paikalla. Ei niillä siellä sivussa tee mitään kun aina joutuisi kaivelemaan tavaroita ja mahdollisessa nopeammassa liikkeessä hölskyisivät kuitenkin ympäriinsä
+ mukavat jalassa. Siis sohvalla istuessa, ja jos hyvältä haluaa näyttää.
+ kevyet ja suht ilmavat

Miinuksia:
- ei kestä, joustot väärässä kohdassa
- vyötärö saisi omalle kropalle olla huomattavasti korkeammalla
- etutaskut strech kankaasta ei vaikuta kovin kestävältä ratkaisulta, ainakaan jos avaimia tms ajatteli kuskata
7
1
I would recommend for a friend
niko p.

28.10.2018 (Edited 28.10.2018)
Ihan toimivan oloiset ulkoiluhousut, olisin kuitenkin kaivannut takataskun, johon saisi lompakon ajokortteineen.

Materiaali tuntuu hyvältä ja toimivalta. Lahkeiden koot ovat kyllä aika pitkiä mutta itselleni 185/94 large - regular oli suht' OK mittainen.

Perseessä kahden materiaalin saumakohta tuntui ärsyttävästi mutta siihen tottui nopeasti.

Etutaskujen materiaali saisi olla parempi ja taskun pohjat ehdottomasti vahvistettuja, taskuissa on kuitenkin avaimia ja puhelin.

Enivei hyvät pökät ja hinta / laatusuhde kohdallaan.
1
1
I would recommend for a friend
Justin L.

31.10.2018 (Edited 31.10.2018)
I would recommend for a friend
Jouni R.

31.10.2018
Suosittelen varauksella. Omalle ruholle (174 cm / 78 kg) medium on se, joka mahtuu päälle, mutta vaatii kyllä henkselit, että homma rokkaa. Ilman henkseleitä housut roikkuu liian alhaalla ja vyö tulee niin ylös, että ei saa istumaan asiallisesti.
1
1
I would recommend for a friend
Severi O.

16.12.2018 (Edited 16.12.2018)
Hyvät housut hintaisekseen



, mutta vyötäröltä tällaiselle hintelälle kaverille (185cm / 70kg) liian isot (XS liian pieni -> S), housut valahtaa kyllä väkisin lantiolle ilman vyötä tai henkseleitä, jolloin lahkeet on hiukan liian pitkät, mutta nepparikiristyksen ansiosta lahkeet ei viiletä maassa. Toisaalta pidän housuja mieluummin lantiolla muutenkin, koska vyötäröllä ollessa taskut jää takin helman peittoon. Syvä / slaavikyykkyä tehdessä joutuu lahjetta hieman nostamaan jotta muotoiltu polvi asettuu kohdilleen ja housut pääsee joustamaan oikeista kohdista, mutta muuten housut toimii todella hyvin. Mielestäni laatu on tähän hintaan hyvä, eikä saumatkaan ole päässeet purkautumaan, vaikka on nuotiolla kyykännyt ja tehnyt kuperkeikkoja, enkä usko että purkautuukaan (ainakaan kun housut nostaa siten että muotoiltu polvi osuu kohdilleen)
0
0
I would recommend for a friend
Michael L.

20.12.2018
I have 6 prs of these. My Gf loves them and I think they are very comfortable. Nice for carrying an ankle holster as well as a belt rig. My only negative is the suspender loops pull out. There as very little cloth sewn below the stitching so once it starts to pull free its gone.
0
0
I would recommend for a friend
Matti M.

29.01.2019
Olen käyttänyt sekä kävellessä, että läskipyörällä ajellessa, ja hyvin tuntuu toimivan kummassakin käytössä. Monessa muussa arvottelussa on mainittu mitoituksen ongelmista, mutta meikäläinen sitten ilmeisesti on Lekan mitastoon sopivaa mallia, tai sitten niin sopimaton muihinkin, etten paremmasta tiedä. Tähän astisen käyttökokemuksen perusteella aika 5/5 byysat.
1
1
I would recommend for a friend
Michael F.

29.01.2019
Pay good attention to which size you choose if you are used to the to number thingy like 32 30. Butt even if you order too big. No worries! A good belt work fine and some genius (not sarcastic) put those clikcy things on the lower end of the legs so you can fasten them well. They also roll up very nice so. They also feel good and though.
1
0
I would recommend for a friend
Jonathan L.

30.01.2019
Good hard wearing trousers (had them 8 months). I'm 188cm tall & 75kg and the medium long fits perfectly. These are my go to trousers. If they wear out I'll definitely buy another pair.
1
1
I would not recommend to a friend
Anonymous customer

09.02.2019
Kivat housut, eivät vain kestä mitään. Toisten housujen revettyä samalla tavalla arkikäytössä pakko uskoa ja etsiä jotkut muut housut.
4
0
I would recommend for a friend
Jari-Pekka P.

12.02.2019 (Edited 12.02.2019)
Kerrankin sopiva verkkokauppaostos pitkälle ja pitkäjalkaiselle. Kokoa löytyy 190 cm / 85kg. Lantio 90 cm. Housujen koko Medium Long. Tuote vaikuttaa kaikinpuolin laadukkaalta. Toivottavasti kestää käyttöä ;)
0
0
I would recommend for a friend
Tuomas K.

28.04.2019 (Edited 28.04.2019)
Ostin erikoiserää olevat housut, koossa extra large long (188 cm/ 114kg). Olin kaupassa käynyt näitä sovittamassa aikaisemmin, mutta jäivät silloin vielä hyllylle. Kun tämä tarjous ilmestyi niin oli pakko ostaa samantein kahdet. Yhdet mustat ja yhdet vihreät. Nämä nyt olleet noin viikon verran käytössä maastossa käyskennellessä joten housujen kestävyydestä en vielä tässä vaiheessa osaa sen enempää sanoa. Ihmeempiä kuperkeikkoja en ole näillä tehnyt, mutta hyvin ovat taipuneet omaan käyttöön.

Leikkaus näissä on tilava ja housut nousevat melko korkealle, aivan niin kuin kuvauksessa kerrottu. Itselle hieman keskivartaloa kertynyt, mutta mukavasti nousevat silti hieman navan alapuolelle. Edessä olevat reisitaskut ovat hyvät ja kännykkätasku oiva lisä. Kyykkyyn ja korpoon pääsee vaikka taskuissa olisikin hieman rompetta, ilman että alkaa kiristämään. Etutaskut voisivat olla hieman syvemmät.

Kuumat nämä housut ovat, kun minkäänläistä tuuletus mahdollisuutta ei ole ja kangas on raskaanpuoleista, joten kesä keleille tulee varmasti valittua toiset housut.

Tähän hintaan nämä ovat loistavat housut ja normaalihintaisinakin todella kovaa laatua. Jos näissä olisi vielä tuuletusvetoketjut jossain kohtia, niin viisi tähteä tulisi.
0
0
I would recommend for a friend
Varun

06.05.2019 (Edited 29.05.2019)
IMPORTANT NOTE: I am 1.96m tall with a 110cm waist. I purchased the Limited Edition X-Large X-Long. If your measurements are similar, remember that first it will seem like a snug fit. But it doesn't impede movement in any way. Although I can only wear these with Combat boots. So if you're abnormally tall, remember this when buying.


In terms of construction and quality the others have said it better



Also these will absorb water in any kind of persistent rain, whether light or heavy. Being PolyCot they dry quite fast, but if you're expecting the water to roll off the surface, it won't work that way.
0
0
I would recommend for a friend
Niko O.

25.07.2019
hyvät faijahousut. Hankin nämä pääasiassa retkeilykäyttöön sekä ulkoiluun. Mukavan väljä leikkaus ja hyvät joustokohdat. Tarpeeksi tilavat taskut, mahtuu kakaroittenkin tavaraa omien lisäksi.
0
0
I would recommend for a friend
Richard M.

17.08.2019 (Edited 17.08.2019)
Great comfy pants. Just the type all purpose not so thick type of pants I was looking for. The fact that you can type the end of trousers is also cool - like kungfu pants. Super fast processing and delivery! Would consider to get it another one!!! Ooops. This review is meant for SARMA Cargo Trousers
0
0
I would recommend for a friend
Chris K.

13.09.2019
Very high quality outdoor pants. The fabric is on the heavier side and seems to be very durable, but soaks up water very easy. Made for cooler temperatures but still very comfortable even it warmer environments. The elastic parts make the wear very comfortable and hold up quite well. The front thigh pockets are something I had to get used to, but they are very practicable and the snap-button closure works well so far - so do all the other snap-closures. For this price highly recommended.
0
0
I would not recommend to a friend
Tuomas K.

16.09.2019
Housut tuntuu materiaaliltaan ja leikkaukseltaan erinomaiselta, mutta ompeleet eivät ole samaa tasoa. Toisella käyttökerralla ompeleet lähti purkautumaan haarasta. Ei jatkoon!
0
0
I would not recommend to a friend
Oskari U.

17.09.2019
Kokojen välit tuntuu aika suurilta ainakin isossa päässä. Pienempi koko kinnaa niin, ettei voi käyttää, vaikka nappi meneekin kiinni ("joustava vyötärö" on kyllä aika paljon sanottu). Yhtä pykälää suurempaa kokoa saa sitten vyön kanssa ripustella niin, että ylimääräistä kangasta jää riesaksi ryppyilemään.
Joku muu näköjään kaipaili korkeampaa vyötäröä... Itse tykkään pitää housuja lonkkaluiden kohdalla ja persmuskeleiden päällä, enkä vetää kiristettäväksi navan korkeudelle pehmytkudosten riesaksi. Minun makuun vyötärössä on häiritsevästi ylimääräistä kangasta ja korkeutta nimenomaan etupuolella. Perspuolella korkeus onkin ihan OK.
Liittyyköhän etu/taka-tasapainon outouteen, mutta tuntuu että haarakiila joustoineen on hieman väärässä paikassa, mistä johtuen joustomateriaalin etureuna saumoineen joutuu varsin alttiiksi koville voimille. Voin hyvin kuvitella, että tuosta nämä pöksyt vielä tulee pettämään.
Enough bitching. Tuoteidea itsessään on hyvä. Lahkeissa on hyvää ideaa kiristyksineen ja ainakaan ei ole liian lyhyet. Minusta nuo reisitaskutkin on mageet - varsinkin ulkonäöltään (itse en tykkää paljoa tavaraa reisitaskuissa roikottaakaan). Vähän hienosäätöä vyötärön malliin ja lisäystä joustovaraan (tai lisää välikokoja), niin eiköhän näistäkin hyvä tule.
0
0