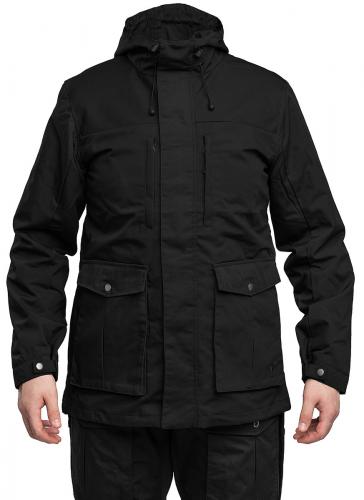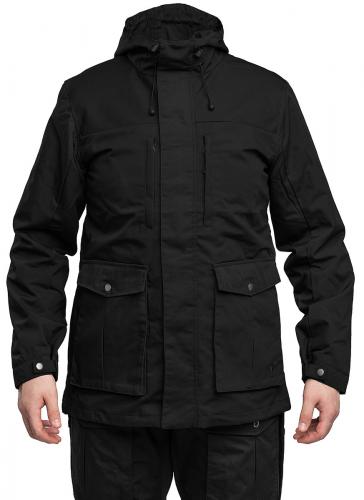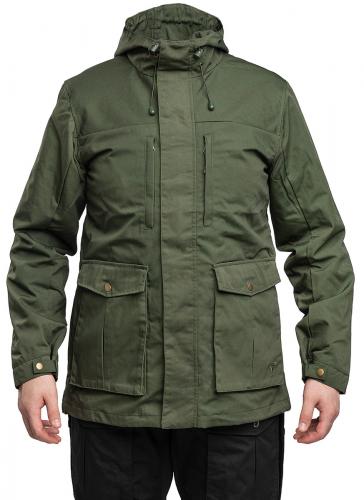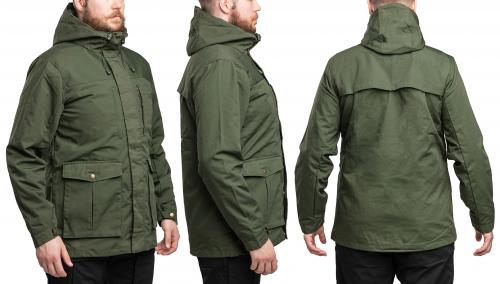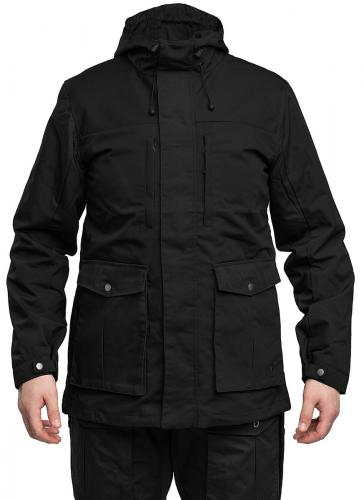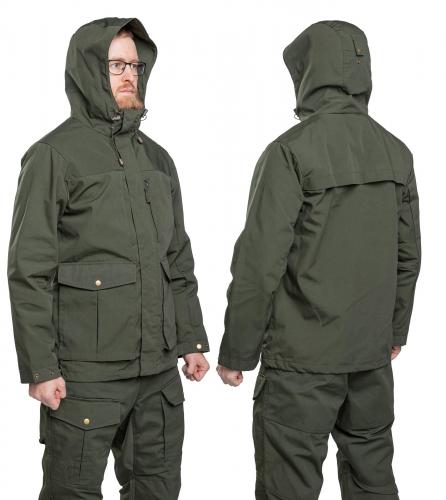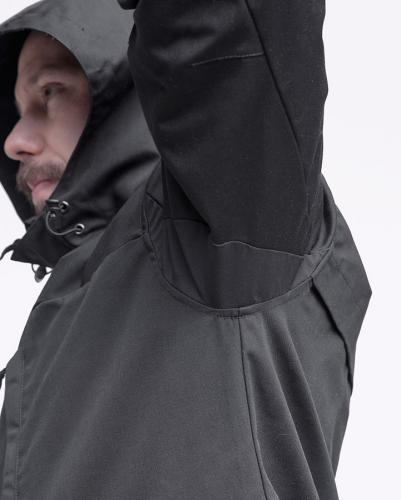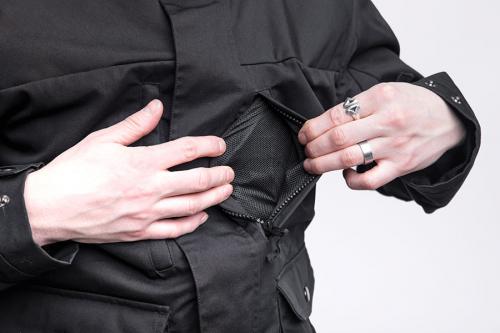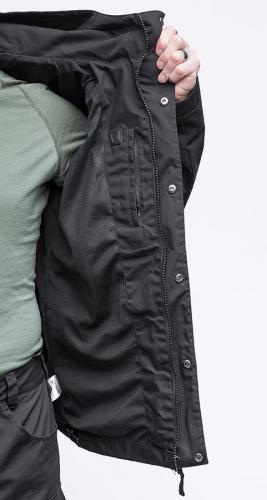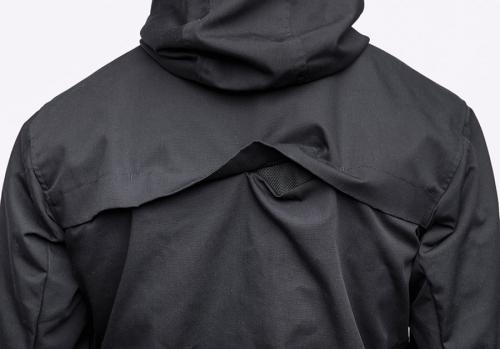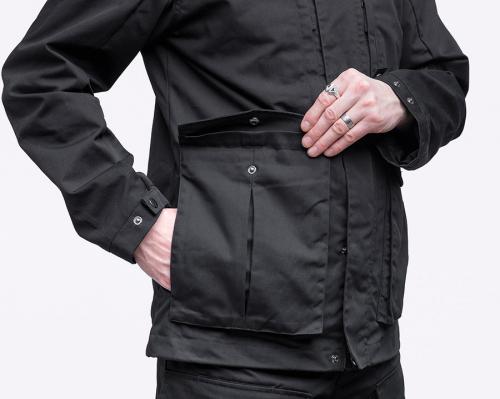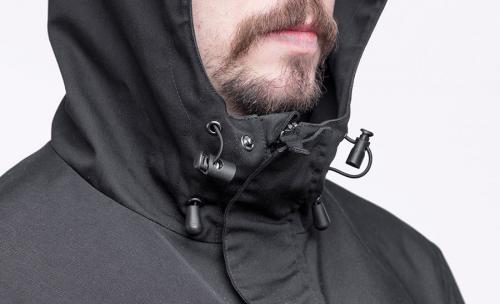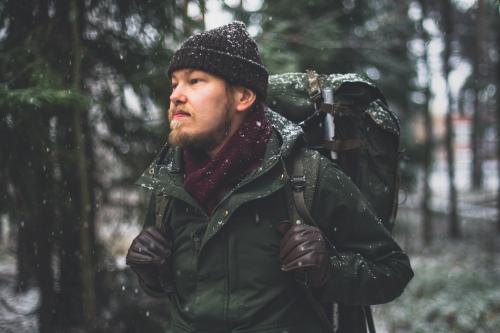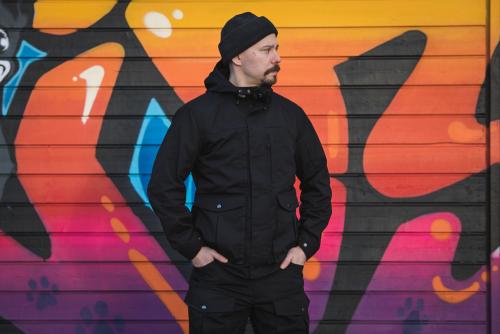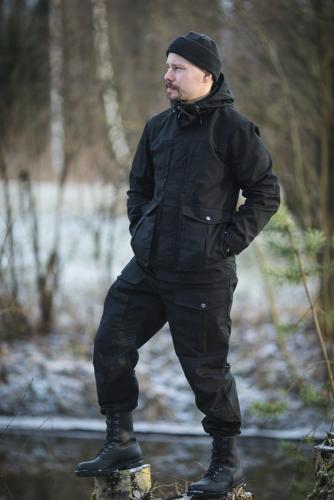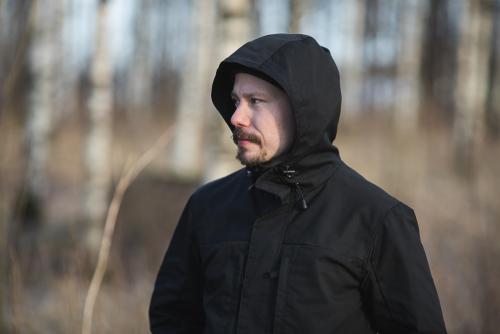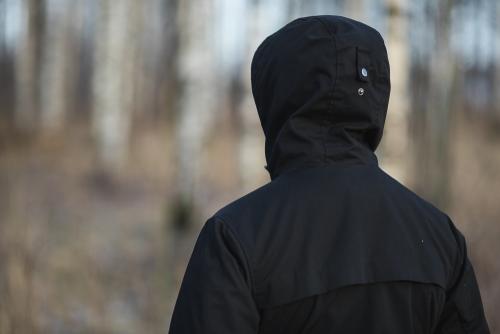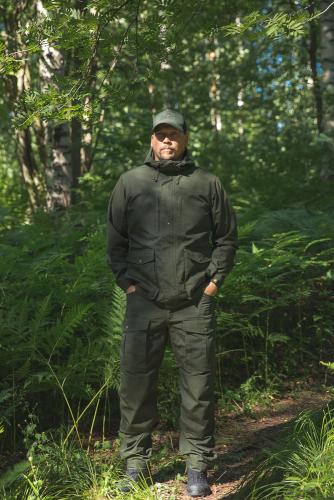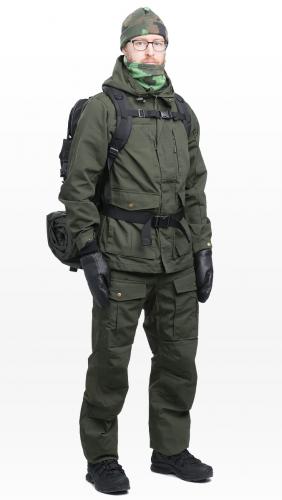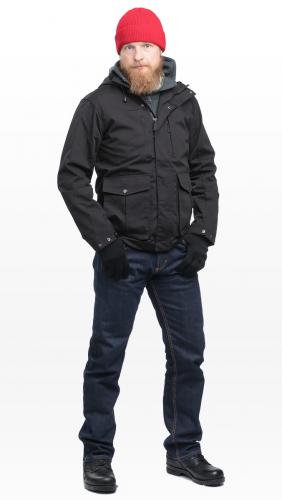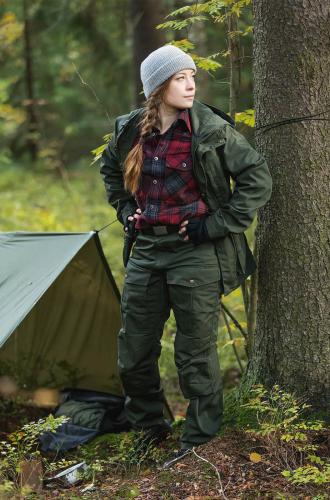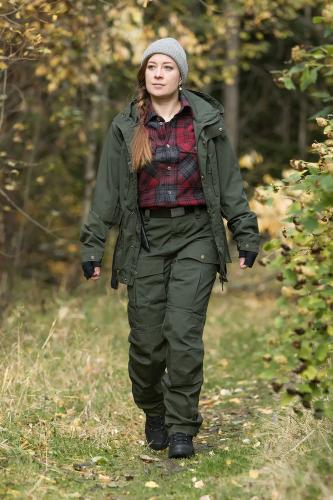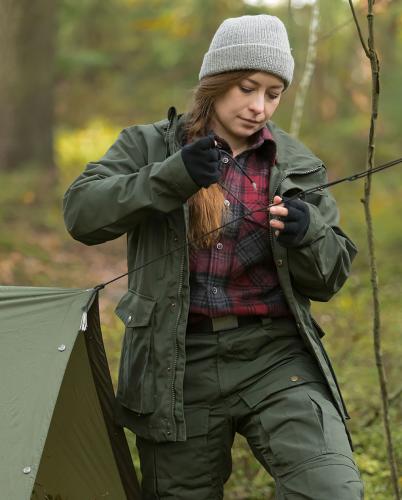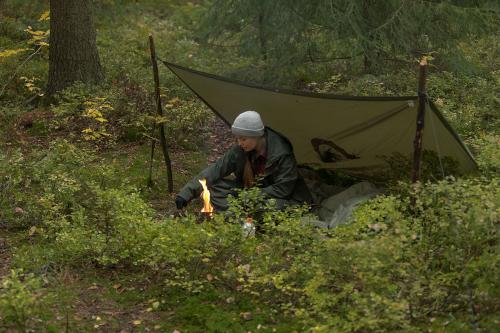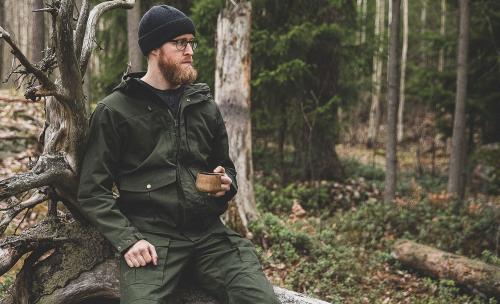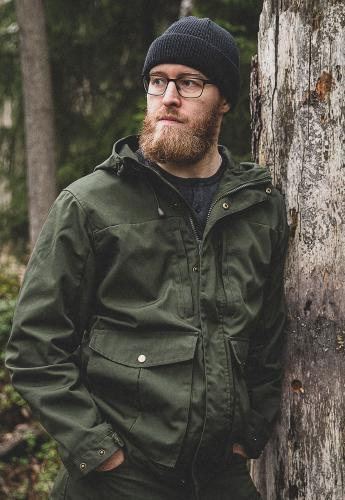 Show all: Särmä
Särmä Outdoor jacket
Price 83.99 USD
excluding sales tax
The Särmä Outdoor Jacket is made for use in somewhat rougher climates and terrain but is comfortable and subdued enough for casual street use. For sunny hikes on easy trails consider something else, as this is made from a strong canvas to take a beating without a flinch.
Loading products...
Trouble with the metric system? Try our converter: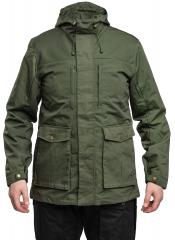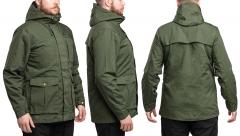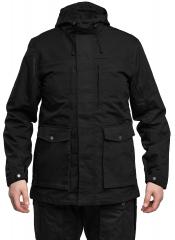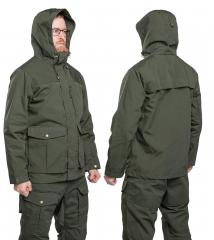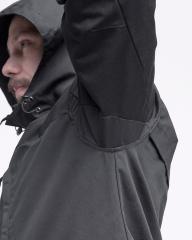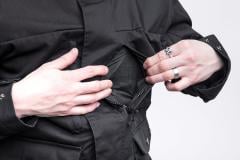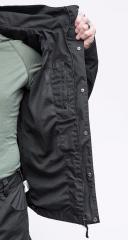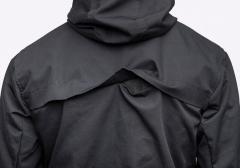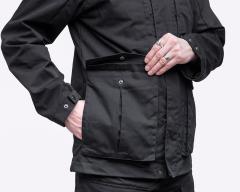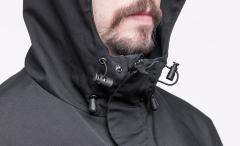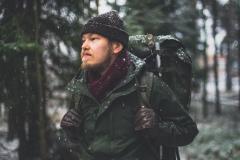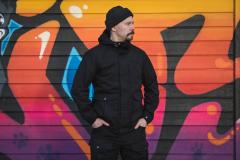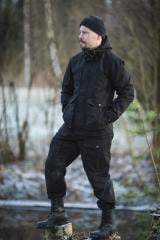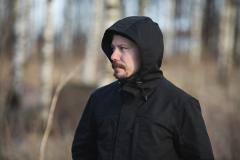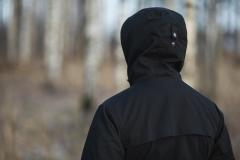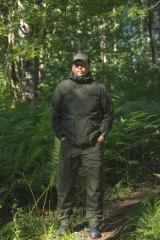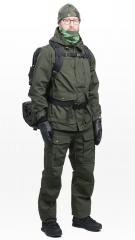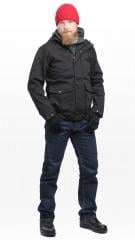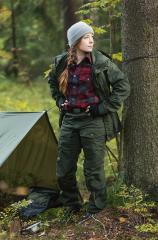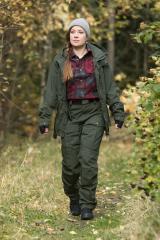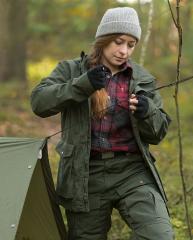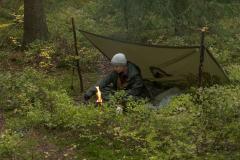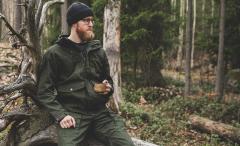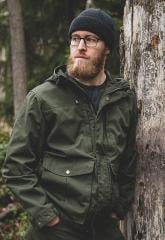 The Särmä Outdoor Jacket is made for use in somewhat rougher climates and terrain but is comfortable and subdued enough for casual street use. For sunny hikes on easy trails consider something else, as this is made from a strong canvas to take a beating without a flinch.
Almost all-weather general purpose canvas jacket
Designed first and foremost to be functional
Key features hood, high collar, front zipper closure
Pick one size larger if you want a lot of room for several warm layers
The question is, can a canvas jacket be comfortable to wear on the move, and does it breathe? The answer to both is a resounding "YES!". Thanks to the articulated elbows, ventilation in the front and back, and stretchy underarm gussets, this jacket won't hold you back.
Breathability and mobility are further improved by the 4-way stretch material we used at the armpits. You can think of the main material as an armor plate and the soft stretchy stuff is the mail armor.
The cut is unisex, we have hit the sweet spot of female and male anatomies. Try it on if you don't believe us!
Practical and comfy features
We designed the Outdoor Jacket to look good, but only after getting the cut and details where we wanted to. The pockets are not numerous, but much smarter. Here's a list of the nice things:
Cut and details
YKK zipper with storm flap closed by snap-fasteners
Articulated elbows
Stretchy armpit gussets
Adjustable hood with elastic draw cords
Elastic adjustment cord at the hem
Snap-fastener adjustment tabs at the cuffs
Ventilation in the upper back
Pockets
Zippered chest pockets / vents with mesh lining
Large cargo pockets with bellows and folding mouth
Hidden cell phone pocket with headset cord passage
Material and care
The primary material is a durable 65/35% poly-cotton canvas, which is a type you might find on bags and such.
Secondary material: 4-way stretch 92/8 % polyester-elastane. Very breathable and comfortable.
Lining: 100% polyester mesh, we chose a very strong type for this jacket, but carry sharp items elsewhere.
Some color may transfer from the product before the first wash. Close all zippers and snap-fasteners before machine wash at 40 degrees Celsius (104 F).
Size info
We have listed first the easy size, then the user's recommended measurements: user height/chest circumference in centimeters. These have a straight cut, so if you want to wear thick layers underneath, consider sizing up. If you are at the limit between two sizes, rounding up is safe.
Below are the actual chest width (laid flat) and sleeve length from the shoulder seam. The waist is a bit smaller than the chest to achieve a regular fit, but this difference is reduced with larger sizes; 2XL is cut almost straight.
| Size | Chest width | Sleeve length | Centre back length* |
| --- | --- | --- | --- |
| X-Small Regular | 51 cm | 65 cm | 68 cm |
| Small Regular | 55 cm | 65,5 cm | 72 cm |
| Medium Regular | 59 cm | 66 cm | 75 cm |
| Large Regular | 63 cm | 66,5 cm | 77 cm |
| X-Large Regular | 67 cm | 67 cm | 79 cm |
| 2X-Large Regular | 72 cm | 67,5 cm | 81 cm |
| Medium Long | 59 cm | 70 cm | 78 cm |
| Large Long | 63 cm | 70,5 cm | 81 cm |
| X-Large Long | 67 cm | 71 cm | 83 cm |
| 2X-Large Long | 72 cm | 71,5 cm | 85 cm |
| Size | Chest width | Sleeve length | Centre back length* |
| --- | --- | --- | --- |
| X-Small Regular | 20" | 25.5" | 26.8" |
| Small Regular | 22" | 26" | 28.3" |
| Medium Regular | 23" | 26" | 29.5" |
| Large Regular | 25" | 26" | 30.3" |
| X-Large Regular | 26" | 26.5" | 31.1" |
| 2X-Large Regular | 28" | 26.5" | 31.9" |
| Medium Long | 23" | 27.5" | 30.7" |
| Large Long | 25" | 28" | 31.9" |
| X-Large Long | 26" | 28" | 32.7" |
| 2X-Large Long | 28" | 28" | 33.5" |
* Measured from the hood lower edge to hem.
Made in China
There's good quality to be found in the PRC, as long as you don't choose the lowest bidder.
Varusteleka Särmä
Särmä is our own brand of clothing and equipment. When you buy Särmä you get purpose-built stuff at a decent price, something that will fill it's intended role well and not cost you an arm and a leg! For further reading check out the Varusteleka's Särmä page.
Särmä products are covered by a 12-month warranty against defects in materials and workmanship. For further information please read our detailed warranty guide.
Recommendations
Loading products...
Reviews
You have already submitted a review. You can edit your text by clicking on it.
Log in and write a review.
Remove filter
Suomi
(19)
English
(10)
I would recommend for a friend
Tuomas K.

28.04.2018 (Edited 01.06.2021)
I would recommend for a friend
Henrik N.

02.05.2018 (Edited 01.06.2021)
It is well made, good seams and materials. What I do not like is that the mesh lining goes into the arms and shoulders. It is a bit coarse and has a little too much friction for comfort. It would need a more slippery textile. The cut of the jacket is boxy and does not agree with me. The spandex in the arm pits helps a little, but not enough. If you have wide shoulders and a small waist, then this jacket is not for you. sizing up to give you more room in the shoulders will probably give it a rather flared look towards the bottom of the garment.
10
2
I would recommend for a friend
Kimmo S.

10.05.2018 (Edited 01.06.2021)
I would recommend for a friend
antti k.

12.05.2018 (Edited 01.06.2021)
koon valinta hankalaa itselle. harteikkaalle ja solakalle ei kovinkaan istuva leikkaus. itse rinta 112. ja x-large aivan liian iso. kuvaus: "Jos olet kokojen rajalla, valkkaa isompi." ei omalla kohdallani pitänyt paikkaansa. työn laatu ja hinta muutten kohdallaan. Uskon että hyvä takki, kun sopiva koko löytyy.
7
4
I would not recommend to a friend
Olli A.

28.08.2018 (Edited 01.06.2021)
Takin materiaali ja kiinteä huppu saavat pisteitä, samoin se että eripituisia hihoja löytyy regular/long. Valitettavasti pari miinusta tuli ja kaupat jäi tekemättä. Näin kestävässä takissa pitäisi kyllä vetoketjullisen povitaskun olla samalla kestävyystasolla, epäluotettava verkkotasku arvotavaralle ei vakuuta. Oma kokoni XL long oli kummallisen väljä, sopisi varmaan mukavasti jos ylipainoa olisi 20 kg nykyisten lisäksi. Leikkausta pitäisi kaventaa kun takki ei varsinaisesti taida olla tehty talvikäyttöön vaan syys-kevätretkeilyyn. Kiristysnauha vyötäröllä tekisi sekin terää. Muokatkaa vielä, hyvän takin ainekset ovat olemassa jo.
6
2
I would not recommend to a friend
Ville R.

18.09.2018 (Edited 01.06.2021)
Ostin takin pääasiassa sen materiaalin ja hinnan vuoksi. Hyvin kohtuulliseen hintaan saa paksusta ja varmasti kestävästä kankaasta tehdyn takin joka on erittäin hyvä valinta aina pitkälle talveen. Vahattuna kangas pitää myös erittäin hyvin vettä. Valitettavasti tietyt asiat tiputtavat pisteitä. Mutta pienellä jatkokehittelyllä tästä saa vielä erittäin hyvän takin!



EDIT: Jälkikäteen tuli mieleen että tämähän vaikuttaa vain kalliimmalta ja huonommilla ominaisuuksilla varustetulta Särmä Windproof Smockilta. Toivottavasti kangas on sitten huomattavasti parempaa koska muuten tämä hinta ei olekkaan milläänlailla perusteltu. Tiputtaisin tähtiä jos voisin.




- Muotoilu isoissa koissa on todella outo. Jouduin tekemään useamman tilaus-palautus-syklin kuin kehtaan myöntää löytääkseni edes jokseenkin sopivan takin. L ja XL -kokojen takeissa on aivan liian tilava ja laatikkomainen leikkaus. 183 cm, 109 kg ruhoni 110 cm rinnanympäryksellä huutaa XL-longia annettujen ohjeiden mukaan, mutta olisin valinnut Medium longin ellei siinä olisi ollut rintakehässä liian vähän tilaa. L:ään siirtyessä vaan tulee valitettavasti mukana myös tilaa kehonrakentajan käsivarsille ja keskivartalolihavan insinöörin elintasovatsalle. XL on varmaan joku tosioperaattoreiden multifunctionretkeilutakki joka toimii kätevästi samalla telttana.


- Alemmat etutaskut ovat aika massiiviset, joka on tavallaan kiva, mutta toisaalta ne ovat aika ylhäällä eli niitä on aika vaikea käyttää. Ja yllä kuvatun mukaisesti L ja XL takeissa on aivan liikaa tilaa vatsan seudulla eli ne taskut eivät ole edes melkein kiinni vartalossa. Taskuissa olevat tavarat siis heiluvat pari senttiä kehon ulkopuolella tosi epämiellyttävästi.


- Käsienlämmittelytaskut etutaskujen takana pahentavat yllä olevaa ongelmaa entisestään. Käyttäisin mielummin tavallisia vinotaskuja kuin tälläisiä päälle lätkäistyjä isoja pystysuoria taskuja käsienlämmittelytaskujen kera.


- Vyötärön kiristysnauha olisi hyvä olla.


- Povitaskun johtoläpivienti on jotenkin hassu detaili. Kyllä sen johdon voi myös vetää vain vetskarin raosta. Käyttäkää läpivientiin tuhlatut rahat mielummin vaikka vyötärön kiristysnauhaan. Hikisemmissä hommissa verkkopovari johtaa myös mm. kännykän kastumiseen hiestä.
14
2
I would recommend for a friend
Timo A.

23.09.2018 (Edited 01.06.2021)
Tyylikäs takki, joka on tehty todella kestävän tuntuisesta kankaasta.Aluksi kangas on hieman jäykkää, mutta notkistuu siitä. Hieman turhan vähän tilaa hartioissa, mutta joillekin tämä leikkaus varmasti ihan hyvä. Alataskut ovat myös todella ylhäällä. Käsien lämmittely taskut on ihan ok. Kaupunkiin ja kevyeen retkeilyyn.

+ jämäkkä kangas
+ laadukkaasti tehty
+ tyylikäs

- hengittävyys ei kovin hyvä
- leikkaus
- sivutaskujen sijainti
5
2
I would recommend for a friend
Jan S.

29.10.2018 (Edited 01.06.2021)
Mahakkaalle mainio. Sivutaskujen fleece? vuori on kiva lisä, mutta taskujen sijainti on vähä kumman tuntuinen, mutta varmaankin ainoa järkevä? Isot taskut on jees. Itselläni ollut nyt normikäytössä muutaman viikon Pohjoisen -10 pakkasissa collegepaidan päällä, riittää aivan mainiosti. Koko on tosissaan väljä, eli ilmeisesti tarkoitus on nimenomaan kerrospukeutua. Siis väljä tälleen 120kg läskillekin!

Miinuksena verkkomateriaali sisuksessa. Verkkotaskut povarissa ja rintataskuissa. Ei vaikuta kovin turvalliselta valinnalta. Toki, rintataskut kun pitää auki, saa ekstratuuletuksen. Vaatii hihallisen aluspaidan vähintään, verkkosisus tuntuu melko karkealle ihoa vasten kun pitää aamusta iltaan liikkuessa takkia. Toki, tämä ei ole suomessa ongelma. Ongelma varmaan tulee jossakin lämpimässä maassa (ja pari viikkoa suomen suvessa), kun ei viitsisi pitää mitään pitkähihaista paitaa.

Suosittelen varauksin. Hyvä takki. Tästä saa vielä tulevaisuudessa varmasti tehtyä erinomaisen takin.

BTW! Nyt 2v pidetty jokapäivä kesät talvet ja kyllä se on vaan kestävä. Taskuihin mahtuu 16 olutpurkkia kevyesti, pinnistämällä koko laatikko, niin että takkia voi vielä pitää päällä. Takkia pidetty niin Tatra vuorilla (tattra tea pulloja 6), balttian hiekkarannoilla (viru valgea myös 6) kuin Lapin erämaissa ja aina se vain on toiminut. Tiputtaisin tähtiä kyllä neljästä kolmeen ja puoleen, koska muutama juttu on jotka ei oo ainakaan mulla lainkaan käytössä. Esim. juurikin nuo mainitsemani sivutaskut. ei niissä mikään tavara pysy, ne on käsien lämmittelyä varten, ja asento on surkea. Huppukin vähän outo, silmillä säädöstä huolimatta, mutta anoppi on vaatturi, joten se on nämä asiat korjannut. ELi rankalla modilla saa 5 tähteä ja sellaisenaan 3.5 tähteä.
1
0
I would recommend for a friend
Ignacio N.

17.11.2018 (Edited 02.06.2021)
Apart of the broken left button when I got it, this jacket is at the level of my Gorka anorak. Didn´t test it yet in extreme low temperatures but in 0 degrees and windy/snowy made a super shell with only a thin merino t-shirt and Särmä Henley merino. Wasn´t the warmest 10 min of my life but as soon as I started to get warm, it worked perfectly well. I bet in -5 or -10 this can work really well as long as you have a thick wool pullover or even some kind of loft jacket under.



Very comfortable and all the pockets and adjustements are smart and well designed, great hood, easy to adjust and once you find your adjustment, it works specially well. And hoods are always pain in the ass, I think. Very happy with this jacket. It will be my new favorite. My wife said the cut was bit weird. Sorry, I´m not able to see these kind of things. For me is just a great jacket. Now, it´s quite nice, some might think you bought it in Zara or somewhere like that. It looks really nice. I don´t mind. UPDATE: yes, in minus 20 was not a problem with the henley merino and a (really) thick wool sweater. A true outdoorsman jacket. And i know what im talking about after 7 years of outdoors experience in norway (being spanish, not exactly a coldness survivor). Super recommended.
11
0
Kierto Circular Economy
Return this product used but clean and unbroken, and you'll receive half of the product's original price as Varusteleka credits. Service is available only in Finland. Only Registered users can make Kierto returns. See more information about Kierto.