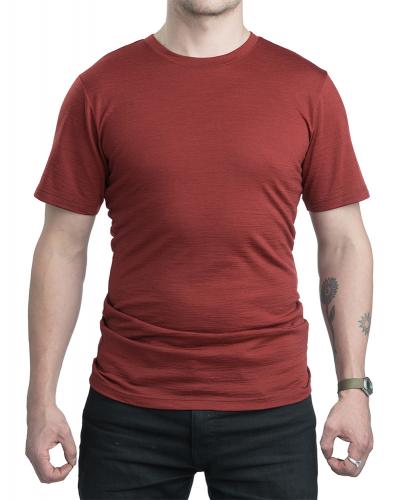 Särmä Merino Wool T-shirt
Price 30.99 USD excluding VAT
Flat Rate Shipping to USA $9.99
Sold 142 pcs in the last two weeks
Loading products...
Trouble with the metric system? Try our converter: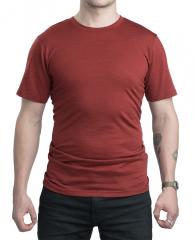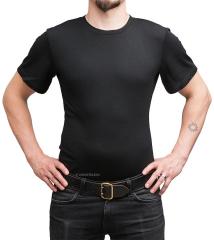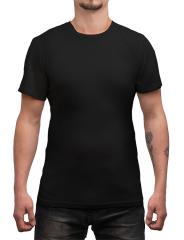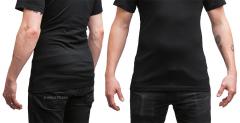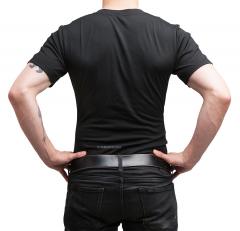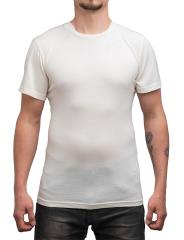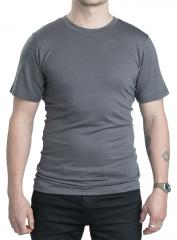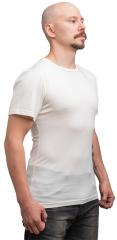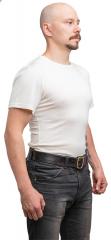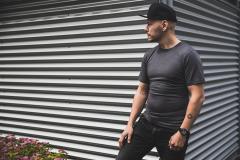 A basic T-shirt is the staple of men's wear these days, you can wear it just about anywhere from the great outdoors to office cubicles, under other clothes or as is. We took that classic, simple design and made it out of merino wool, resulting in a fantastic shirt for casual wear. Inconspicuous, minimalistic and simply good-looking, but with all the great properties of merino wool.
Active fit: snug and comfortable. If you want a casual, loose fit just choose one size up!
Long hem: stays safely tucked in when moving about.
80/20 merino wool / artificial fibers, moisture wicking, comfortable and keeps you feeling good even when wet.
High quality Merino wool
Black and white T-shirts are made of 80/20 blend of merino wool and polyester (180g/m2), while the grey and oxblood are 80/20 merino wool and polyamide (160g/m2). The polyester/polyamide content is only there to bring strength to the fabric. If it also makes the shirts a bit more affordable to make, hey, why not. These are moisture wicking, dry fast and are self-rinsing.
They are also machine-washable, but washing is usually unnecessary - wool cleans itself. If you have to wash, it can be done at 40 degrees Celsius. When not in use, air them out and give them a good shake after that. You only need to wash the clothes if you see stains or they start to smell really bad. This usually requires lots of continuous use without airing.
Because of some mystical production feature the wool on these is just a tad itchy when new (some might not even notice it). Wash it a few times and it's gone.
We only use mulesing free Merino wool in our products.
Sizing
Recommended chest girth of the user in brackets. These are quite form-fitting; by picking your size you will get just that - these are designed to stretch a bit. Pick a size larger for a casual loose fit.
For those looking for hard data, here's a chart with measurements of the shirts themselves:
| Size | Chest circumference | Waist circumference | Back length | Front length |
| --- | --- | --- | --- | --- |
| X-Small | 78 cm | 62 cm | 65 cm | 57 cm |
| Small | 86 cm | 72 cm | 66,5 cm | 58,5 cm |
| Medium | 94 cm | 82 cm | 68 cm | 60 cm |
| Large | 102 cm | 92 cm | 69,5 cm | 61,5 cm |
| X-Large | 110 cm | 102 cm | 71 cm | 63 cm |
| 2X-Large | 120 cm | 114 cm | 72,5 cm | 64,5 cm |
| 3X-Large | 132 cm | 128 cm | 74 cm | 66 cm |
| 4X-Large | 144 cm | 142 cm | 75,5 cm | 67,5 cm |
Our model's measurements are about 175 / 96 cm, wearing size Medium shirt.
Varusteleka Särmä
Särmä is our own brand of clothing and equipment. When you buy Särmä you get purpose-built stuff at a decent price, something that will fill its intended role well and not cost you an arm and a leg!
Made in EU (Lithuania).
Reviews
You have already submitted a review. You can edit your text by clicking on it.
Log in and write a review.
Remove filter
Suomi
(22)
English
(6)
I would recommend for a friend
Juho R.

06.06.2018 (Edited 06.06.2018)
5/5. Tulispa vaalean harmaa ja joku sopivan sinertävä väri. Ei oikeastaan muita t-paitoja sitten tarvitsisi.
9
0
I would recommend for a friend
Anonymous customer

27.07.2018 (Edited 06.08.2018)
I would recommend for a friend
Jenni T.

28.08.2018
Ihan mahtava. Tämä oli lomalla käytössä retkeillessä. Helteilläkin tuntui miellyttävältä ja patikoidessa ihan huippu. Väreja kun olisi vielä enemmän tarjolla, ei muita t-paitoja tarvittaisikaan.
2
0
I would not recommend to a friend
Janne P.

03.10.2018
Kiva leikkaus, tuntuu hyvältä päällä jne yms. Mutta Iso Miinus siitä, että toisin kuin kaikkiin ja mihin tahansa muihin aluspaitoihini materiaalista riippumatta, tähän tarttui hienhaju HETI, enkä saa sitä millään pois. Pesty pyykkikoneessa villaohjelmalla, villanpesuaineella ja villanhoitoaineella, tuuletettu kaksi vuorokautta pihalla mutta mikään ei muuta tilannetta; kainalot löyhkäävät. Normaalisti pystyn pitämään samaa t-paitaa monta vuorokautta päällä ennen kuin se alkaa haista mitenkään epämiellyttävällä, mutta tämä ns. antibakteerinen ja hajuton tapaus haisee pestynä ja tuuletettuna vastapestyn miehen päällä viikonlopun soijakekkereille. Ei riitä ymmärrys.
5
1
I would not recommend to a friend
Tuomas K.

04.10.2018
En ole vielä tilaamaani ottanut paitaa käyttöön, joten kirjoitan arvostelun ainoastaan paitaa sovittamalla saatujen kokemusten perusteella.
Leikkaus on mukavan slimmi, MUTTA hihat on jostain syystä jätetty valtaviksi, ja tämän takia paita istuu huonosti. Jopa niin huonosti, että tätä ei halua käyttää kovin julkisilla paikoilla. (Tuotekuvat ovat tämän suhteen hieman hämääviä, sillä todellisuudessa hihat näyttävät paljon suuremmilta, vaikka omat käteni lienevät ainakin yhtä paksut kuin mallilla.) Vertailin L-koon paitaa muihin omistamiini L-koon slim fit-T-paitoihin, ja hihan ympärys oli Särmän paidassa järjestään ainakin 5cm suurempi. Edes paksumpien käsien hankkiminen salilla ei paitaa pelastaisi, koska rinnanympärys tulisi ensimmäisenä vastaan, jos tästä vielä kasvaisi

Antaisin 2 tähteä lisää, jos hihojen leikkaus olisi enemmän linjassa paidan muun leikkauksen kanssa. Puuttuva puolikas tähti tulisi sillä, että paidan helma leikattaisiin modernisti hieman etuosaa kohden nousevaksi. Ainakin omasta mielestäni tämän paidan leikkauksessa olisi voinut unohtaa armeijameiningin ja keskittyä siviilityylin mukaisesti hyvään istuvuuteen, kun valikoimasta kuitenkin löytyy myös TST-linja majuriturvallisuutta haluaville.

Täytyy yrittää kaventaa hihoja omin pikku kätösin tai palauttaa paita. Harmi, sillä tilasin tuotteen kovin odotuksin ja haluaisin todella pitää siitä. Ehkä tästä saadaan joskus päivitetty malli..?
26
6
I would recommend for a friend
Pasi K.

11.10.2018
Tässäpä mainio t-paita, toimii kelissä kun kelissä.
1
0
I would recommend for a friend
Ignacio N.

17.11.2018 (Edited 09.07.2019)
Great. For winter specially I have changed all my old cotton wife beaters for these. And it is an excelent way to make the (off-white) Henley shirt warmer without showing any other color under. Pity it has some polyester, but anyway, it works quite well as merino product, being summer or winter. Ah, and mines aren´t itchy. Just ordered another 2 since when I bought them there were only black and white.
0
0
I would not recommend to a friend
Petri S.

22.11.2018
Valtavat hihat rinnanympärykseen suhteutettuna. Kun rinnasta jo kiristää, hihaan menisi toinen käsi (L-koko). Harmi materiaalin ollessa hyvä, tässä liian isot ja tst-mallissa liian lyhyet. P.S.kaavat saa ihan jostain peruspaidasta kohdalleen
13
2
I would recommend for a friend
Ville L.

20.12.2018
Ei kannata tuijottaa kokomerkintöjä, vaan tsekata mitat taulukosta, ellei halua tosi slimmiä paitaa. Muuten tämä ei välttis haittaa, mutta valkoinen versio on vähän irstaasti läpinäkyvä ja ohut kangas paljastaa nöpöttävät nännit (miehilläkin) helposti. Itse käytän yleensä M tai jopa S-kokoja, mutta tässä olisin voinut ehkä jopa ottaa L:n ihan vaan irstauden takia. Toisaalta naisilla mustiin tissiliiveihin yhdistettynä huomio lienee taattu. Mut ihan kiva paita noin yleisesti ottaen.
0
0
I would recommend for a friend
Frank S.

02.02.2019 (Edited 14.05.2019)
This shirt is very comfortable, there is no noticeable itching. It seems well made with good quality stitching. I wore it for a week flat and it still did not smell one bit. Granted I did not sleep in it and I did shower a few times... but a cotton shirt would have been a bit nasty after 3 or 4 days, with a definite smell. I like it a lot. I handwash mine, along with the matching long johns, using wool shampoo. The fabric is fairly thin, I suppose you can also wear this in summer without getting sweaty (which is great for me as I fly balloons and wool on the skin is great for fire safety). I happened to visit a high-end outdoor sports store a week ago and noted that similar black merino underwear from some top brand was twice as expensive, at least. So this seems like a good investment. I may get one or two more when my budget permits. I picked the size that goes with my waist, which unfortunately is a bit larger than my chest (only a teeny little bit, really!). Went for the 2XL, I am 183 cm and weigh around 98 kilos with a mild pear shape. It fits very nicely, with a slightly loose fit but good on the shoulders. Long enough to sit deep under matching long johns and never let your back go cold. I could go on. Great stuff, assuming that it holds up after a few months. If not, I'll be back... ;-)
Update after a couple of months: it holds up. I typically wear it a week or so, then wash it by hand. I wear this thing 50 percent of the time , rotating a handful of cotton t-shirts the rest of the time. Still in fine shape. I got a second one. :-)
3
0
I would recommend for a friend
Mitchell T.

26.02.2019
Got the white version to wear as my casual undershirt. Perfect fit, as mentioned they are form fitting I wear upper end of Small and they're great they stay put. If not an undershirt though I might try medium.

I just switched from all poly gear to merino wool after years. I've been wearing these products everyday for a month now and am very impressed. There is slight pilling but to be expected, but the description is right these products do not take in smells very easily, just take care of your stuff. Varusteleka is PURE GOLD!
2
0
I would recommend for a friend
Alexander K.

01.06.2019
Ordered a size M. I am very slim built, but it still has a snug fit, even around the arms. It kept me warm during cycle racing, and cooled me graduatly after.
I feel a small itch sometimes, but as with the boxers, this might just be me getting used to merino wool.

They do show your body posture very well, so i might have to get my other nipple pierced soon.
3
0
I would recommend for a friend
Jarno P.

11.07.2019
Aivan mahtava tuote! Todella hyvä retkille ja vaelluksille, kehtaa myös pitää vapaa-ajalla päällä. Todella mukava päällä.
1
0
I would not recommend to a friend
Olli R.

14.07.2019
Polyesterin takia alkaa haista samaan tapaan kuin mitkä tahansa muovipaidat. Merinovillan ominaisuudet tapettu polyesterillä. Paksuhko, joten teepaitakeleillä kuuma. Tehty ulukomailla. Tähän hintaan saa parempia Suomessa valmistettuja täysmerinopaitoja. Leikkaus ok. Jäi kaapin perälle..
0
1
I would recommend for a friend
Paul K.

30.07.2019
Best T-shirt I've ever owned, they're pretty much all I wear anymore. I'm normally a Large in American sizing, I sized up to XL and the fit is perfect if not a little long.
1
0
I would recommend for a friend
Seppo K.

15.08.2019 (Edited 15.08.2019)
Erinomainen vaate. Omalla, melko runsaalla hikoilulla t-paitaa voi käyttää viikon putkeen ilman pahoja odöörejä. Tähän on täsä kesänä kuulunut edestakainen työmatkapyöräily ja toimistotyö. Paita hönkää hiet nopeasti pihalle ja kohta kangas on jo kuiva. Toimii myöskin vaelluksilla erinomaisesti. Olen pitkä ja hoikka, käytän L-kokoa, vaikka usein Lekan tuotteissa käytössä on M (esim. merinohuppari ja villaflanelli). Tuntuma on ihoa myötäilevä, mutta ei tippaakaan kiristävä. Kangas ei ole minua kutittanut eikä ole päässyt nukkaantumaan niin kuin joillain.
0
0
I would recommend for a friend
Teemu H.

02.09.2019
Metsäkäytössä paita varmasti rokkaisi. Kookkaat hihansuut joista monesti on valiteltu, olisi tuuletuksen kannalta vain hyvä juttu.

Yhtään pöpelikköä edustavampaan käyttöön en voi suositella, sillä paita pysyy siistinä tasan sen kaksi käyttökertaa, jos sitä. Paita alkoi nyppyyntymään käytännössä heti, enkä kolmannella käyttökerralla tuota enää päälläni pitäisi muutoin kuin aluspaitana. Harmittaa vietävästi, sillä alkuun paita oli ryhdikkään näköinen ja erittäin mukava päällä. Ei noi hihat pahalta näytä narukäsienkään ympärillä.

Again, aktiiviseen harrasteluun paita soveltuu loistavasti, ei tuu kuuma eikä kylmä, harvoin edes hiki. Ostin paidan kaupunkikäyttöön, joten luonnollisesti tämän osion soveltumattomuus syö puolet pisteistä. Metsään 4/5, pinna pois polyesterikudoksen vuoksi.
0
0
I would not recommend to a friend
Matti P.

21.09.2019
Karhea ihoa vasten. Ei tule käytettyä. En tykkää.
0
1
I would recommend for a friend
Guy H.

20.11.2019
I honestly wonder if I shouldn't get more of these things. Having bought two (one off-white, one oxblood) I can honestly say these are the most comfortable shirts I've ever worn, and are ideal for every weather. Great as a base layer too.
0
0
I would recommend for a friend
Ville M.

29.11.2019
I would recommend for a friend
Tuomo K.

18.12.2019
Toimiva perus-paita merinovillan ominaisuuksilla.

Leikkaus on yksinkertaisella tavalla toimiva. Helma tarpeeksi pitkä, mikä tarkoittaa sitä, ettei paitaa tarvitse olla kokoajan runttaamassa takaisin housuihin. HUOM-HUOM! Jooh suoraan pakastavedettynä hihat muistuttivat enemmän housunlahkeita, mutta ensimmäisen pesunkerran jälkeen, joko hihansuut olivat kutistuneet sopivasti tai käsivarret kasvaneet. Mene ja tiedä, mutta nyt istuu just eikä melkeen.

Materiaali ei ainakaan uutena kerää hajuja ja vielä kolmen-neljän pesukerran jälkeen on edelleen tarpeeksi särmä toimistokäyttöön.
0
0
I would not recommend to a friend
Joni H.

23.04.2017 (Edited 13.06.2017)
Ihan ok paituli, mutta ei missään nimessä samaa tasoa kuin varustelekan muut merinorytkyt.
Kangas alkoi nyppääntymään heti ensimmäisessä pesussa, joten tämä on kelvannut ainoastaan aluspaidaksi epäsiistin olemuksensa vuoksi. Lisäksi kangas on sieltä kutittavammasta päästä merinovillaspektriä.
5
14
I would not recommend to a friend
Valtteri H.

22.09.2017 (Edited 22.09.2017)
Kutiava kuin mikä.
7
13
I would recommend for a friend
Teemu P.

01.11.2017
Olen eri mieltä kuin muut arvionsa antaneet - tämä on mahtava. Omani on ollut aktiivisessa käytössä muutaman kuukauden eikä ole pesuista huolimatta kummemmin nukkaantunut, virttynyt tai muutoinkaan muuttunut ikävän näköiseksi. Ehkä mulle sitten on osunut jonkin maanantaikappaleen vastakohta? Alun pistelevyyttä en muista huomanneeni, mutta totuttelua tämä vaati minulta tyköistuvuutensa suhteen. Toivottavasti näitä joskus hamassa tulevaisuudessa saa vielä eri väreissä.
4
0
I would recommend for a friend
Harri V.

04.11.2017
Mukava kuin mikä. Toimii maastossa, kotona ja toimistolla. Tyköistuva, mikä kannustaa pitämään linjat kunnossa! Hyvä valinta mukavuudenhaluiselle ja eräjormalle.
4
0
I would recommend for a friend
Pyry P.

05.12.2017
Helvetin hyvä, särmä leikkaus, materiaalina käsittämätöntä (viikko samal paidal ilman hajuja) ja mukava kuin mikä. Vielä jos värivalikoimaa laajennettaisiin valkoiseen, Oxbloodiin tms
7
0
I would recommend for a friend
Risto H.

21.03.2018 (Edited 04.07.2019)
Aavistuksen verran karhea ensi tuntumalta (siitä pois 1/2 tähteä). Vähän ajan kuluttua siihen joko tottuu tai kangas pehmiää. Liikuntasuorituksen aikana en huomannut eroa keinokuituiseen tekniseen t-paitaan, mutta tauolla/jälkeen kuivuu nopeammin eikä todellakaan haise. Laajempi värivalikoima olisi hyvä juttu, voisi ostaa toisenkin.

EDIT: Tehkää nyt valkoisen lisäksi vielä vaikka harmaa ja oxblood. Lupaan ostaa yhden kutakin.
EDIT2: Jaahas, täytyypä vääntäytyä ostoksille tässä joku päivä...
2
0
I would recommend for a friend
Christian J.

03.05.2018
Käsittämättömän mukava ja hyvä paita. Toisin kuin jotkut tuolla kritisoi niin paita ei kutise ja kestää hyvin pesua KUN se pestään Varustelekan myymällä villapesuaineella ja siihen liittyvällä villalle tarkoitetulla huuhteluaineella.
3
2