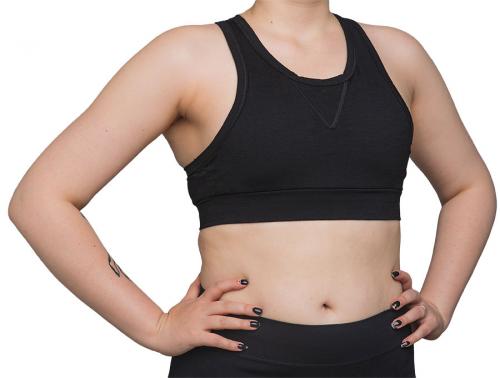 Särmä Merino Sports Bra, Black
Price 36.99 USD excluding VAT
Flat Rate Shipping to USA $9.99
Sold 10 pcs in the last two weeks
Loading products...
Trouble with the metric system? Try our converter: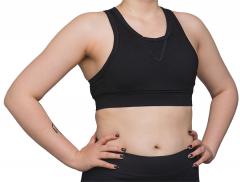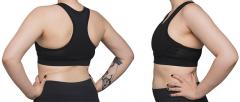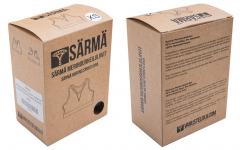 Don't you hate it when synthetic sportswear gets damp and cold gets to you very quickly once you stop or lower the pace? Slip the Särmä Merino Sports bra over your head and you won't freeze your tits off.
Comfortable and practical design
The primary material is 95 % mulesing-free merino wool with 5 % elastane for stretch. The bottom part has a wide elastic band to keep things - the bra and contents - in place, and a covering backside provides even support all around.
The front part features a support mesh sandwiched between layers of merino wool to offer medium level support and excellent breathability. The mesh is polyester, but merino wool against the skin keeps you comfy.
Should go without saying but here goes: flat seams, no tags and no brand images plastered all over the outside. These are comfortable and fairly unnoticeable both to wear and look. Stealthy, even.
Sizing
First measure your bust and then firmly under the bust. The chart below means measurements of the person: the garment itself is smaller and stretches to fit. If in you're between the figures, picking a smaller size offers better support while a larger size is more relaxed. Rounding down is fairly safe game: it's still comfortable.
| Size | Bust | Under the bust: |
| --- | --- | --- |
| X-Small | 82,5 cm | 65 cm |
| Small | 90 cm | 72,5 cm |
| Medium | 97,5 cm | 80 cm |
| Large | 105 cm | 87,5 cm |
| X-Large | 112,5 cm | 95 cm |
| 2X-Large | 120 cm | 107,5 cm |
Varusteleka Särmä
Särmä is our own brand of clothing and equipment. When you buy Särmä you get purpose-built stuff at a decent price, something that will fill its intended role well and not cost you an arm and a leg!
Särmä products are covered by a 12-month warranty against defects in materials and workmanship. For further information please read our detailed warranty guide.
Made in Lithuania.
Recommendations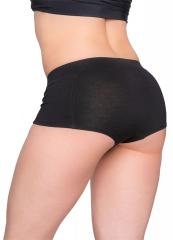 Särmä Merino Hipster Briefs, Black
15.99 USD
Often purchased with.
Särmä Women's Merino Boxers
18.99 USD
Sometimes purchased with.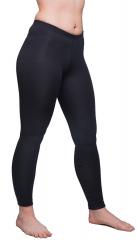 Särmä Merino Leggings, Black
45.99 USD
Sometimes purchased with.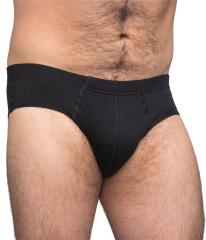 Särmä Merino Briefs, Black
18.99 USD
Viewed together.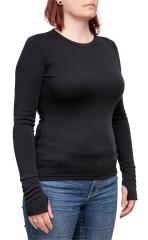 Särmä Women's Merino Shirt
55.99 USD
Sometimes purchased with.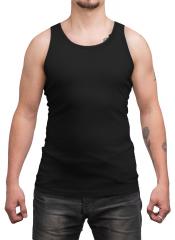 Särmä Sleeveless Merino Wool Shirt
27.99 USD
Sometimes purchased with.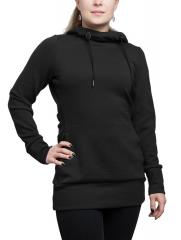 Särmä Women's Merino Wool Hoodie
110.99 USD
Sometimes purchased with.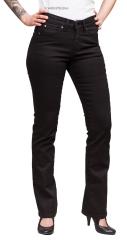 Särmä ladies common jeans, black
55.99 USD
Sometimes purchased with.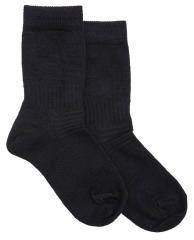 Särmä Kids' Merino Wool Socks
4.99 USD
Sometimes purchased with.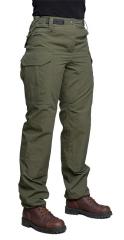 Särmä Women's Cargo Trousers
36.99 USD
Sometimes purchased with.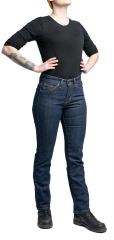 Särmä Ladies Common Jeans, Blue
55.99 USD
Sometimes purchased with.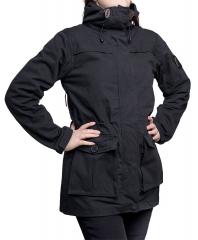 Särmä Windproof Parka
64.99 USD
Might be of interest.

Sonett wool care 300 ml
9.99 USD
Buy also.

Sonett olive laundry liquid for wool and silk 1 l
12.99 USD
Buy also.
Reviews
You have already submitted a review. You can edit your text by clicking on it.
Log in and write a review.
Remove filter
Suomi
(12)
English
(2)
I would recommend for a friend
Johanna K.

23.09.2017
Kerrankin urheiluliivi, joka päästää kosteuden, pitää kuivana ja lämpimänä sekä tukee juuri oikealla tavalla. Ekalla kerralla päälle laittaminen vaati hieman akrobatiaa, mutta kun muotoutuivat päälle, on pukeminen sujunut hyvin. Kiitos tästä tuotteesta, vastaavaa tuskin saa mistään!
5
0
I would recommend for a friend
M.M. A.

27.09.2017 (Edited 23.05.2019)
Hyvä idea! Vastaavaa tuotetta ei ole tullut vastaan, vaikka tällaiselle onkin ollut tilausta. Hinta on myös kohtuullinen. Rakenne on ihan asiallinen, jämäkkä ja tukeva, eikä sisäpuolella ole kutiavia saumoja. Pieni miinus selän keskelle menevistä olkaimista, koska niistä tulee niska kipeäksi, jos on yhtään isommat rinnat - lapojen päältä alas kulkevat olkaimet olisivat huomattavasti mukavammat.

Kokomitoitus on todella hämmentävä. Tilasin koon 2XL, jonka piti olla pari senttiä liian pieni, mutta ympärysmitta olikin oikeastaan aika väljä, ja rinnan päältä ja etenkin kainaloista liivit olivat tosi lörtsöt. Tilattiin sitten myös XL, joka istuikin ihan hyvin, vaikkei sen olisi edes pitänyt mahtua päälle. Miten nämä taulukon mitat on otettu? Suosittelen tilaamaan omaa kokoa pienemmän, ettei tarvii sovitella ja palautella!

Vaikka mittataulukkoon ilmoitetut luvut ovatkin aika hämmentävät, pitää kyllä kiittää laajasta kokovalikoimasta! Yleensä on vaikea löytää hyviä urheiluliivejä enää yli 90 sentin ympärysmitalle. Varustelekalla ei selkeästikään olla vajottu siihen yleiseen harhaluuloon, etteivät isokokoiset ihmiset liiku saati kaipaa liikuntavaatteita. Teillä on hyvä asenne.
34
1
I would recommend for a friend
Maija M.

04.12.2017
Otin suosituksen mukaan kahden koon välillä pohtiessani pienemmän. Aluksi meinasi tulla hätä, päälle kiskoessa tuntui liian pieneltä koolta, mutta päivän-parin käytön jälkeen koko oli sopivampi. Jälkikäteen ajateltuna olisin mieluummin ottanut isomman koon, sillä pienitissisenä en niin paljoa tukea edes kaipaa (ongelma on tosin ainoastaan esteettinen/turhamainen, käyttöä ajatellen tissien painuminen on käytännöllistä), eikä periaatteessa kankaan venyttäminen tunnu hyvältä ajatukselta. Nykyiset ovat kuitenkin olleet paljon käytössä sellaisenaan ja parasta näissä on juuri se, että vaikka hikoilisin selästä paljon, ei tule sitä kylmännihkeää oloa mitä normi liiveistä tulee. Kutisee joskus hieman, mutta yllättävän harvoin ollakseen villaa noinkin herkällä alueella kuin tissit. Ei haise miltään, saapa nähdä koska nämä pitää pestä. Tunnettu vaiettu tosiasiahan on, että naiset käyttää samoja rintsikoita monta viikkoa... 5/5 erinomainen hinta/laatusuhde ja suosittelen kavereillekin!
2
0
I would not recommend to a friend
Else M.

07.02.2018
Liivit ajaa asiansa vaelluksella, päiväretkellä ja rauhallisessa liikunnassa. Mutta rintojen sivuilla ei ole tarpeeksi tukea ja liivit ovat melko lörpät sivuilta eli kainaloaukko on aivan liian suuri. Mallikuvassa näyttäisi istuvan niin kuin pitää. Kun on painavat ja kookkaat rinnat, on turha näiden kanssa haaveilla esimerkiksi juoksemisesta. Pienempi koko tuskin korjaa tilannetta, koska liivin etumuksen leveys ei riitä. Materiaali ja sen toimivuus on täysi kymppi ja jos muuttaisitte hieman liivin mallia, niin hankkisin useammat.
14
0
I would recommend for a friend
Sari K.

20.02.2018
Ihanaa kun kylmä tissihiki -ilmiö poistuu näiden avulla! Hyvät liivit, mutta tuo kokotaulukko on oikeasti kyllä outo. Mietin että onko tuo rinnan päältä mitta kuitenkin se perinteinen rinnanympärys, eli rinnan korkeimmalta kohdalta otettu mitta? Yleensä kun rintaliivikokoja mittaillaan, otetaan mitat rinnanympärys, rinnan alta ja rinnan päältä (=yläpuolelta).
2
1
I would not recommend to a friend
Krista K.

09.03.2018
Näillä ei kyllä yhtään isompirintainen tee yhtään mitään. Ainakaan urheillessa, ehkä nämä jonkun päälle saattaa sopia arkikäyttöön tai sängyssä makaamiseen. Tuotteen nimeksi sopisi paremmin rintaliivit kuin urheiluliivit. Urheilua varten näissä ei ole tarpeeksi tukea. Odotukset oli korkealla, rakastan merinoa, mutta tämä malli ei nyt toiminut.
10
0
I would recommend for a friend
Ida R.

17.10.2018
Olen kokoa L normaalisti ja otin kokoa M. Pieni rintaisena M voisi olla edestä napakampi. Tähän toisaalta voisi auttaa se, että selässäkin olisi polyesteria välissä, joka kannattelisi selkäpuolelta paremmin, tuntuu että saa vetää alareunaa selän puolelta aika alas että edestä on toivotun ryhdikäs.
Materiaalin tuntumasta olen tykännyt sekä helppohoitoisuudesta. Tuntuu kyllä silti, että oikeasta huollosta huolimatta saan näihin jäämään hajuja, mitähän teen väärin?
Samaa mieltä olen muiden kanssa siitä, että edestä saisi olla leveämpi, sivuaukot ovat aika isot eikä sivuille tule toivottua tukea. Olkaimet tulevat myös aika lähelle kaulaa, mutta taitaa olla urheiluliiveille ominaista.
Minulla olleet arkikäytössä ja tuntuu kuin ei rintaliivejä olisikaan! Materiaalin ja käyttömukavuuden puolesta suosittelen.
3
0
I would not recommend to a friend
Marika T.

21.10.2018
Sama kuin parilla muullakin kommentoijalla: kainaloaukot on liian suuret eli sivutissiä jää liikaa paljaaksi. Materiaali ja muu on ihan ok.
6
0
I would not recommend to a friend
Kirsi S.

25.10.2018
Kainaloaukot liian suuret. Tukea en odottanut, eikä sitä myöskään ollut. Merinovillaksi täysin käsittämättömän kutittava materiaali, yksin sen vuoksi jo olisi mennyt palautukseen, vaikka muutoin olisi ollut passeli malli. Tissikoon puolesta olisi pitänyt olla joku XXL, tilasin L-koon joka tuntui olevan sopiva - etenkin jos/kun on tottunut siihen että urkkaliivit littaa ryntäät. Eli jos tilaatte, niin paria kokoa pienempi tosiaan menee heittämällä.
3
0
I would recommend for a friend
Reetta H.

19.01.2019
Muuten mainiot liivit, mutta kuten edellisetkin ovat maininneet, kainaloaukot ihan liian suuret. Tukea näistä liiveistä ei saa ainakaan kovin pomppivaan urheiluun, mutta lämpöä ainakin. Pienellä kokojen ja mallin viilauksella nämä olisi täydelliset.
1
0
I would recommend for a friend
Mitchell T.

26.02.2019
Got these for my wife to go along with the underwear. She really like these, very comfortable and not scratchy like she thought wool was.

I just switched from all poly gear to merino wool after years. I've been wearing these products everyday for a month now and am very impressed. There is slight pilling but to be expected, but the description is right these products do not take in smells very easily, just take care of your stuff. Varusteleka is PURE GOLD!
0
0
I would recommend for a friend
Farasha E.

11.03.2019
Very good. Better and less expensive than the options from the big name companies, and made in Europe.
0
0
I would not recommend to a friend
Noa H.

26.09.2019
Tällä hetkellä en suosittelisi tuotetta. Ideaaltaan erinomainen, eikä merinovillaiseksi topiksi kovin kalliskaan.

Ostin koon XS - olen kooltani ehkä jotain XS:n ja S:n välimaastossa. Ympärysmitaltaan heti sopivat (mutta löystynevät). Etuosa topissa on kumman muotoinen. Keskikastin poveni ei meinaa sivuilta pysyä sisällä, kun taas "kuppiosan" alaosaan jää tyhjää tilaa. Kun oikein asettelee, niin peittää kyllä, mutta kainaloaukot ovat (muita arvostelijoita kompatakseni) turhan suuret. En koe että liivit olisivat urheilussa tukevat.
0
0
I would recommend for a friend
Eeva V.

19.12.2019
Pisteytys riippuu täysin odotuksista ja siitä, mitä etsii. Itse en merinovillaisilta, medium-tuen liiveiltä odottanut mitään sen suureempaa kykyä olla kovemman urheilun liivi, vaan lähinnä hain miellyttävää ja mukavaa liiviä arkikäyttöön ja arjen ulkoiluihin yms. Siihen nämä ovat oivat. Materiaali on pehmeää ja miellyttävää, liivit tuntuvat päällä ylivertaisesti mukavimmilta liiveiltä joita olen koskaan käyttänyt. Liivit ovat toki hyvin joustavaa materiaalia, joten niiden antama tuki isorintaiselle on kevyt. Kupin muotoilu on vähän erikoinen, mutta ihan kelpo. Lisäksi mielestäni olkaimet kulkevat oudon lähellä niskaa. Ehkä tällä on ollut tarkoituksena ettei paino tule ikävästi hartioille, mutta arkiliivikäytössä tämä rajoittaa melkoisesti, sillä näkyvät ihan kaikkien paitojen kaula-aukoista. Kotioloissa ja ulkoiluissa se nyt menee.

Eli: aivan supermiellyttävät päällä. Eivät purista, ja merinovilla nyt vain on kertakaikkisen ihanaa. Isorintaiselle antavat kevyen tuen, eli jos tykkää liiveistä, jotka todella litistävät rinnat kroppaan tiukasti, niin nämä eivät ne ole. Mihinkään pomppulajeihin näistä ei ole (edelleen näin huomattavan isorintaisen ihmisen kokemuksella - pienitissiselle voikin olla ihan ok), mutta kävelyt ja sen sellaiset kevyet aktiviteetit hoitavat oikein hyvin. Kaikille sopivaa kokoa ei varmasti löydy, kun mitoitus ei ole kuppikoko+ry. Itse valitsin rinnanympäryksen mukaan, joka on suhteessa rintojeni kokoon pienehkö, mutta hyvin ne tissit sinne kuppiin mahtui :D Suosittelen siis valitsemaan koon ympärysmitan mukaan. Mainio perustuote, hinta kohdillaan, ja kylmät hiet arjesta loppu.
0
0