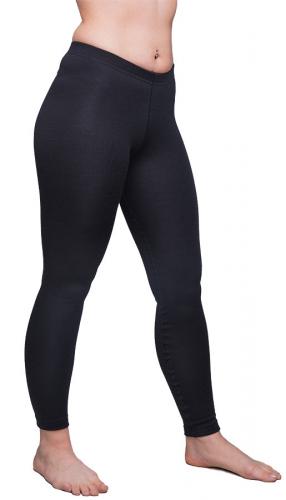 Särmä Merino Leggings, Black
Price 45.99 USD excluding VAT
Flat Rate Shipping to USA $9.99
100 % recommends
Sold 12 pcs in the last two weeks
Loading products...
Trouble with the metric system? Try our converter: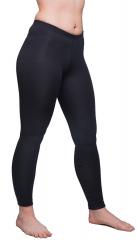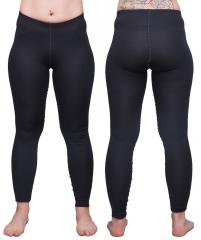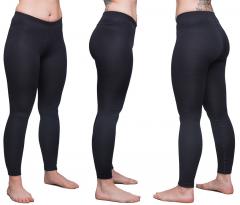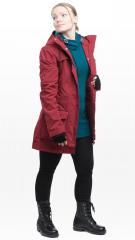 They keep saying "leggings aren't pants". Well, maybe that's true, but these are proper leggings in the sense that they are not see-thru. You'll be hard-pressed to find a more comfortable pair!
Featuring flat seams, gusseted crotch and raised waist at the rear, these feel as good as they look.
High quality Merino wool
These are made from 190 g/m2 100 % Merino wool.
Merino wool allows sweat to pass through without soaking, is naturally resistant to stains and odours, and is just right in terms of insulation in most environments. These are a piece of garment you will love to wear all year around - including summer.
Mulesing free! All our merino wool products are made using mulesing-free certified merino wool.
Care
Wash in 40 degrees Celsius, wool program. We recommend detergents specially made for wool. Washing these is not necessary as often as with cotton or synthetics, because wool is naturally resistant to soiling.
Sizing
These follow standard European sizing. Note that the material is stretchy and doesn't shrink, so no need to pick a larger size "just in case".
The ideal user's height for these is around 164 cm. However as these do stretch, they fit taller people too.
Varusteleka Särmä
Särmä is our own brand of clothing and equipment. When you buy Särmä you get purpose-built stuff at a decent price, something that will fill its intended role well and not cost you an arm and a leg!
Särmä products are covered by a 12-month warranty against defects in materials and workmanship. For further information please read our detailed warranty guide.
These are made in Lithuania to our specs.
Reviews
You have already submitted a review. You can edit your text by clicking on it.
Log in and write a review.
Remove filter
Suomi
(10)
English
(1)
I would recommend for a friend
Mikko K.

02.09.2017
Puolison kokeilemaan: Mukavan pehmeät ja lämpimät päällä. Viides tähti olisi tullut jos vyötärö olisi ollut aavistuksen korkeampi.
3
1
I would recommend for a friend
Pia J.

22.09.2017
Koot ovat hassut.
M-koossa lahkeen pituus on liian lyhyt, mutta vyötärö OK.
XL-koon lahjepituus oli riittävän pitkä, mutta eihän ne pysy ylhäällä mitenkään.
Olin kokoa L, joka ikävästi valuu päältä.
Materiaali on ihan huippua ja tähän olisi ihanaa saada joku merinohupparista pidennetty tunikaversio lisäksi tai joku sopiva hamonen.
4
1
I would recommend for a friend
Johanna K.

23.09.2017
Materiaali aivan huippua, mutta jouduin ottamaan kokoa isomman, koska haluan, että vyötäröosa nousee riittävän ylös. Tästä syystä lahkeet pidemmät mitä kuuluisi, mutta elän tämän epäkohdan kanssa, koska tuote muuten on kestänyt tuomiolla. Jos tästä olisi korkeampivyötäröinen malli tulossa joskus, ostaisin heti!
3
0
I would recommend for a friend
Jaana L.

11.11.2017 (Edited 18.01.2018)
Pehmeät, lämpimät ja mukavat. Tosiaankin riittävän siistit pidettäväksi "ihan oikeina housuina", vaikka itse käytänkin pääasiassa aluskerroksena. Muiden arvostelijoiden tapaan viides tähti jää puuttumaan turhan matalan vyötärön vuoksi. Omissa jaloissa mitta jää melkein 10 senttiä vajaaksi myös nilkoista. 180-senttisenä pieni vajaamittaisuus lahkeissa on aika totuttua, mutta hieman lisää pituutta olisin näissä odottanut.
6
0
I would recommend for a friend
Hannu K.

13.12.2017
Ihana materiaali. Vyötärö vain liian matala ja perse ei mahdu kunnolla housuihin (koko L).
7
3
I would recommend for a friend
Johanna K.

06.01.2018
Ihanan pehmeät, mutta silti läpinäkymättömät. On lämpimät olematta kuitenkaan kovin paksut, ekaa kertaa pakkaspäivän lenkiltä kotiutuessa ei ollut persaus jäässä. Mutta jos tuota trendikästä ruumiinosaa ja/tai reisiä on kovasti siunaantunut, niin kannattaa ottaa kokoa tai kahta normaalia isompi. Pitkät villasekoitesukat on hyvät kaverina, kun nää on aika lyhyet 170cmillekin (toki varmaan leveyssuunnassa venyminenkin vaikuttaa pituuteen).

Vieläkin paksummat merino(sekoite)pökät vois olla kivat niihin hetkiin, kun vaan seisoskellaan kylmässä, sekä näihin vois laittaa vyötärölle kiristysnarun. Ja vähän korkeamman vyötärön, sellaisen mattinykästyylisen.
8
0
I would recommend for a friend
Tuula P.

27.01.2018
Se on hassua, mutta mikään, ei MIKÄÄN, ole ikinä istunut niin hyvin kuin nämä merinokalsarit, koko 2XL. Aivan kuin toinen iho.
2
0
I would recommend for a friend
Reetta H.

19.01.2019
Aivan mahtavat housut! Jos voisin, pukeutuisin jatkossa pelkästään näihin. Pelkäsin aiempien kommenttien perusteella, että vyötärö olisi liian matala (olen tästä tosi tarkka), mutta onnekseni olin väärässä (XL-koko).
0
0
I would recommend for a friend
Farasha E.

12.03.2019
Wonderful!
0
0
I would recommend for a friend
Elina T.

30.09.2019
Valtavan hyvä! Älyttömän hyvä! Hienoa vastinetta rahalle! Materiaali on pehmeää ja tuntuu ihoa vasten todella hyvältä. Jotenkin onnistuvat olemaan sekä hyvin venyvät ja muotoutuvat ja pehmeä, mutta samaan aikaan istumaan oikein ja ihonmyötäisesti. Kuuden tunnin sienestysreissulla metsässä kokeiltu, ja voin kertoa että liikkuessa ei tullut hiki mutta suppilovahveroiden parissa kykkiessä ei tullut kylmä.
0
0
I would recommend for a friend
Päivi K.

09.11.2019
Ihanat legginssit! Ei kiristä, eikä kutise. Olen 180 cm ja 65 kg. Otin kokoa medium. Osui heti oikein. Ennen ensimmäistä pesua vyötärö tuntui olevan hiukan liian alhaalla ja lahkeet vähän liian lyhyet. Pesun jälkeen ( pikkusen venytin hellästi) vyötärö oli juuri sopia ja lahkeisiin oli tullut lisää pituutta. Kokeilin myös niitä merinokalsareita ja nekin ovat hyvät. En osaa sanoa kummat on paremmat. Legginsseissä on parempi kangas/neulos ja kalsareissa vähän korkeampi vyötärö ja pitemmät lahkeen resorilla. Molempia voi käyttää ihan housuina pitkän neuleen kanssa. En ainakaan kotioloissa muita huosuja käytä.
0
0