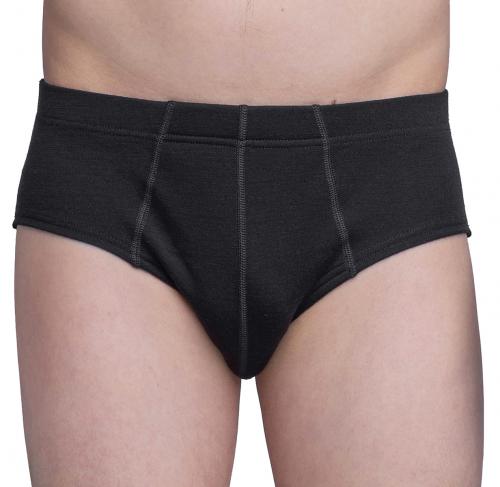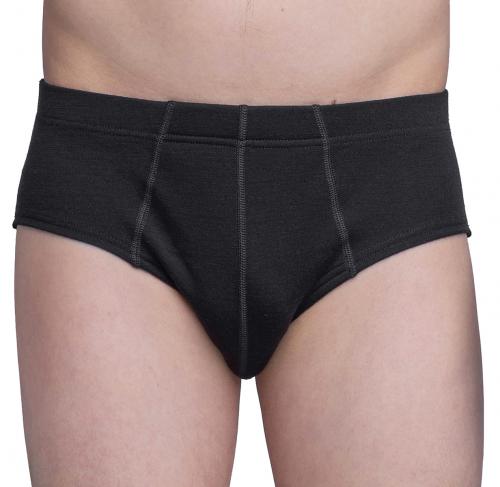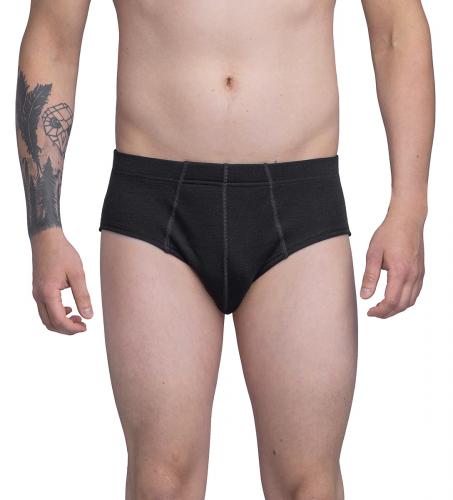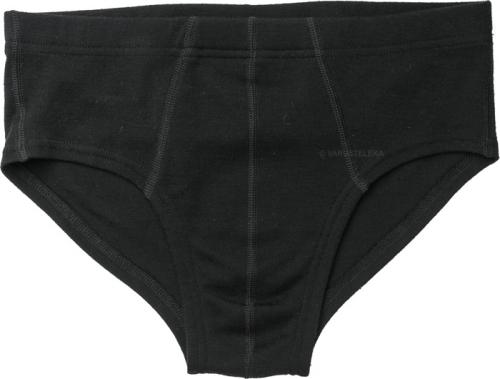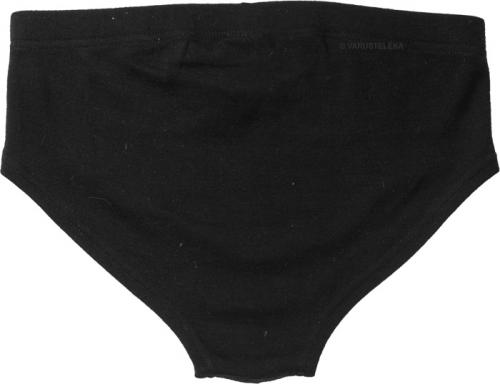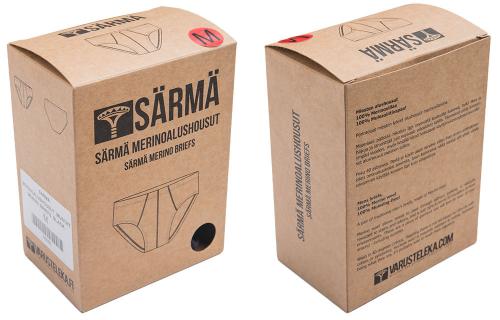 Särmä
Särmä Merino Briefs
Price 24.99 USD
excluding sales tax
These are traditional men's briefs, made of Merino wool. You often see this kind of undies made of cotton, but these woolen briefs are way better and fit nicely, too, without looking too audacious.
Loading products...
Trouble with the metric system? Try our converter: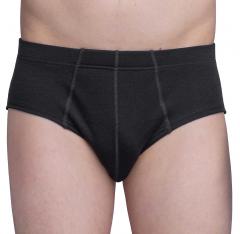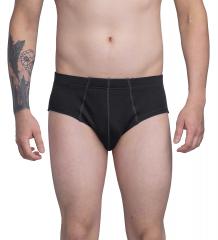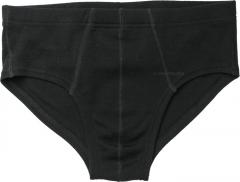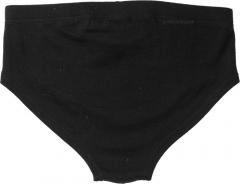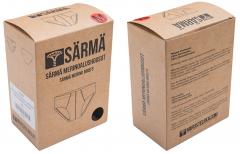 These are traditional men's briefs, made of Merino wool. You often see this kind of undies made of cotton, but these woolen briefs are way better and fit nicely, too, without looking too audacious.
The front is thicker due to a double layer, as usual with this style of underwear. Unlike cotton, it doesn't mean sweaty dampness even when you are standing still on a hot day. The waist is elastic to keep 'em up.
High quality Merino wool
Material: 100% merino wool.
Weight 190g/m2 / 5.5 oz/yd2.
17.5 micron.
Wool wash in 40 degrees Celsius (104 F).
Merino wool allows sweat to pass through without soaking, is naturally resistant to stains and odors, and is just right in terms of insulation in most environments. These are a piece of garment you will love to wear all year round - including summer.
Mulesing free! All our merino wool products are made using mulesing-free certified merino wool.
Care
Wash in 40 degrees Celsius, wool program. We recommend detergents specially made for wool. Washing these is not necessary as often as with cotton or synthetics because wool is naturally resistant to soiling, however being what they are, it's probably wise to wash them regularly.
Sizing
In the brackets, you'll find a suggested waist size. Two things you should note: first off, the material is stretchy, so if you prefer a close fit, pick a smaller size. They won't be too tight or uncomfortable, we swear. Second, the gaps between sizes are bigger in large sizes, so our 3XL is bigger than many other brands.
These are made in Lithuania to our specs.
Employee's comments
Designing a good pair of briefs is no joke. We made a lot of trial and error, which came out proper well, probably the best I've used so far. You can tell a good pair of underwear because you don't feel them at all. With cotton underwear, the grim reality reveals itself when you take them off, first prying the moist cotton off your skin and then smelling the sweet, fresh nether region odor. With Merino woolen briefs, both of these phenomena are seriously diminished, and you don't even have to hang the pants on the clothesline for two days after washing to get them dry.

Underwear is something you wear for the whole day, every day (unless you go commando). Do not cop out on them!


Henri L.


Carbon Footprint
The estimated amount of greenhouse gas emissions from the production of one single item is 4.26 kg CO2e. The estimation includes the entire production of the item, from the raw materials up until the finalized product exiting the factory. Read more about the calculation method.
Varusteleka Särmä
Särmä is our own brand of clothing and equipment. When you buy Särmä you get purpose-built stuff at a decent price, something that will fill it's intended role well and not cost you an arm and a leg! For further reading check out the Varusteleka's Särmä page.
Särmä products are covered by a 12-month warranty against defects in materials and workmanship. For further information please read our detailed warranty guide.
All products: Särmä
Recommendations
Loading products...
Reviews
You have already submitted a review. You can edit your text by clicking on it.
Log in and write a review.
Remove filter
Suomi
(7)
English
(11)
I would recommend for a friend
Tapani H.

22.09.2017 (Edited 31.05.2021)
Tähän asti lupaa hyvää! Erittäin mukavat päällä eikä tosiaan tarvi pestä yhtä tiuhaan kuin poly-puuvillaisia. Otin pähkäiltyäni M-koon (vyötärö just M/S välissä) ja hyvin toimii, mutta pienempikin koko varmasti venyisi. En vielä tiedä miten kestävät kulutusta, päivitän arvostelua sitten aikanaan kun selviää..

[päivitys 18.3.2018: kestävät kyllä, vaikka olenkin hygieniahullu ja pesen usein. Ehkä harvoin valuvat vakoa kohti mutta nää ovat hyvät]



Very promising up to now! Extremely comfortable, and don't need washing anywhere near as often as poly-cottons. I eventually chose an M size (waist is in between M/S) and haven't regretted it, but I'm sure S would work just as well. No idea how well they cope with wear & tear, I'll update on that when the time comes..

[update 20th March 2018: They've coped well with wear and tear. Sometimes have a slight tendency to glide off the buttocks, but these are good.]
0
0
I would recommend for a friend
Seppo T.

15.10.2017 (Edited 31.05.2021)
Hyvät ja mukavat kalsarit. Vaikka asettuvatkin pelottavasti nivusten seudulle, eivät ilokseni hiertäneet.
Iso miinus lekan omista XXXL2-kokoisista pesulapuista, joita pois ottaessa kuului ikävä rasahdus. Lekan omien pesuohjelappujen kanssa eläminen on täysi mahdottomuus, joten ehdotan samanlaista ratkaisua kuin mil-tecin kalsareissa, tai edes inhimillistä poistettavuutta.
4
1
I would recommend for a friend
Timo V.

11.01.2018 (Edited 31.05.2021)
Aivan ihanat. Parhaat alushousut ikinä, tosin olen käyttänyt vasta 2 päivää. Palaan asiaan, jos mieli muuttuu. Vihdoinkin Leka onnistui tekemään täydelliset alkkarit, kaikissa aiemmissa malleissa on ollut jokaisessa omat vikansa.
1
0
I would recommend for a friend
Tobias W.

04.02.2018 (Edited 31.05.2021)
Here i am scrollin the website an BAM! Some hairy guys scrotum right in ma face
21
5
I would recommend for a friend
Ignacio N.

05.05.2018 (Edited 01.06.2021)
Superb fitting. as an example, 4 days in a row, no shower plus training, no smell, wonderful feeling. Only downside is that they will become loose, so functional life is not that long. Still usable, though.
2
0
I would recommend for a friend
Tero L.

26.05.2018 (Edited 01.06.2021)
5/5 laatuvaikutelma, mutta koko kannattaa oikeasti miettiä kunnolla. Itse olen meinaan leveä, 190cm mies ja en asiaa tarkemmin miettinyt, olin vain kyllästynyt marketin epämukaviin ja kiristäviin alushousuihin ja halusin kokeilla jotain parempaa. Kangas tuntuu todella hyvältä kädessä, mutta nämä ostamani 4XL kokoiset on niin isot että niitä täytyisi käyttää henkseleiden kanssa.
Päälle ei ole edes tarvinnut kokeilla, mutta eihän alusvaatteita voi koskaan palauttaa, ei niitä kukaan halua ostaa vaikka kuinka vakuuttaisi käyttämättömyyttä.

Mutta joo, kangas on tosi kivan tuntuista ja varmasti mielyttävää ja kestävää, kuten myös työn laatu, muistakaa vain se koon huolellinen valinta.
2
1
I would recommend for a friend
ted k.

10.10.2018 (Edited 01.06.2021)
I use these to compliment my merino long johns for winter camping. Very comfy.
Actually, comfy anytime.
4
0
I would recommend for a friend
Mitchell T.

26.02.2019 (Edited 02.06.2021)
I don't typcially wear underwear like this, I prefer boxers but these are very pleasant to wear. Would like to see an off white color to match the shirts.

I just switched from all poly gear to merino wool after years. I've been wearing these products everyday for a month now and am very impressed. There is slight pilling but to be expected, but the description is right these products do not take in smells very easily, just take care of your stuff. Varusteleka is PURE GOLD!
0
0
I would recommend for a friend
Paul M.

19.07.2019 (Edited 05.06.2021)
comfy and durable, with all the magic of wool. I've tried the small and the medium, and settled on the small size, since they do stretch a good bit as you wear them.
1
0