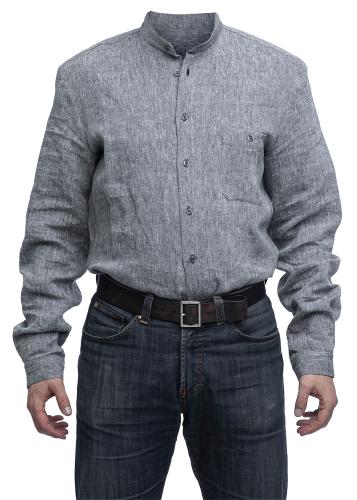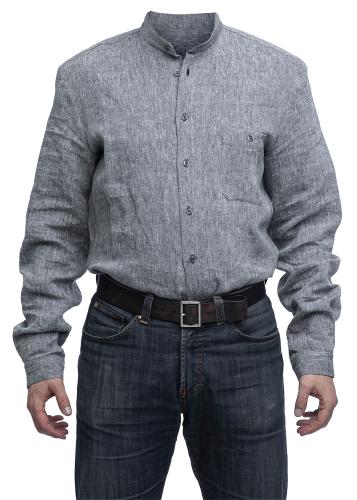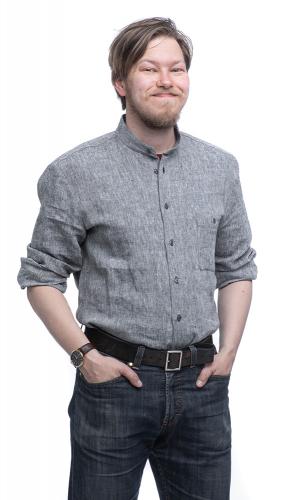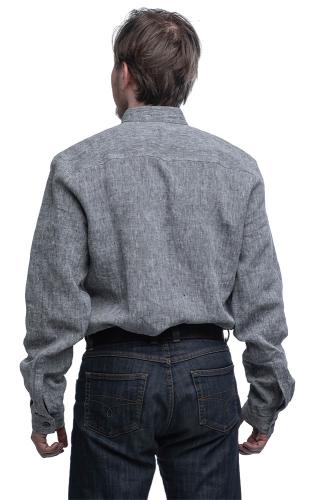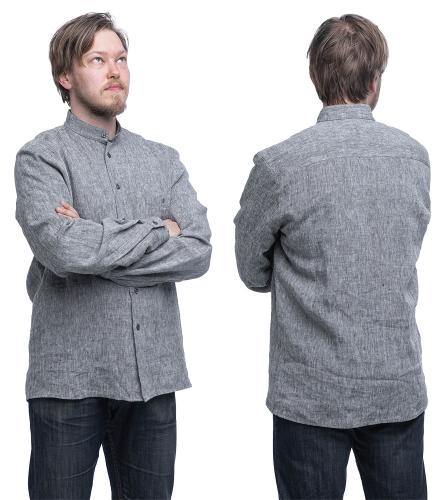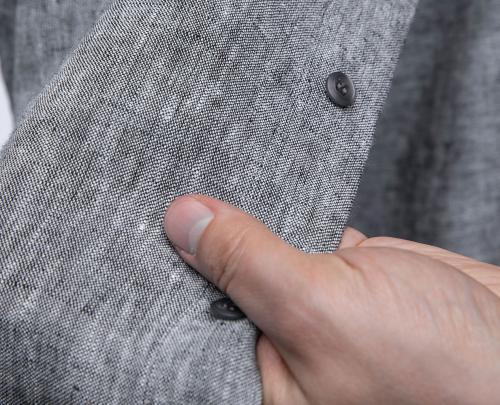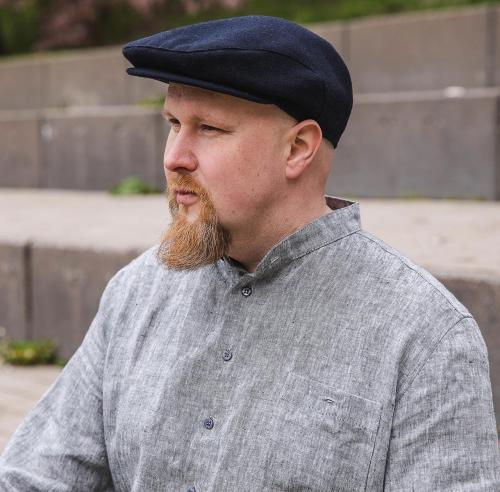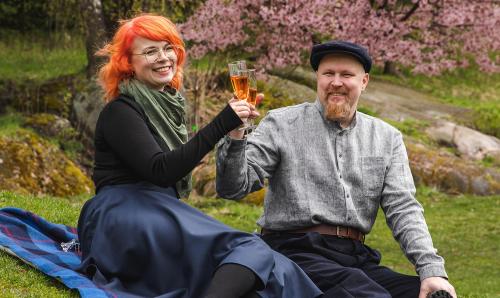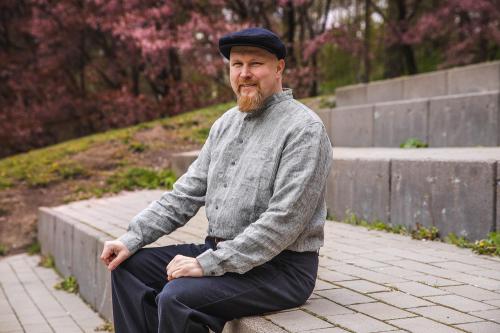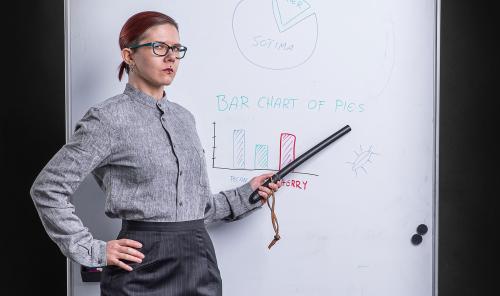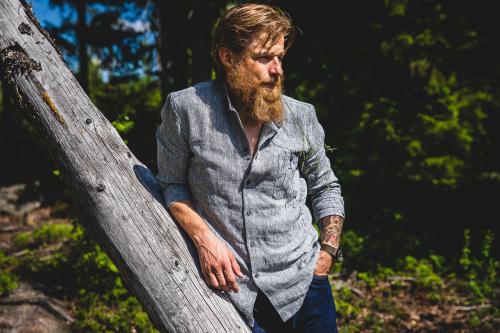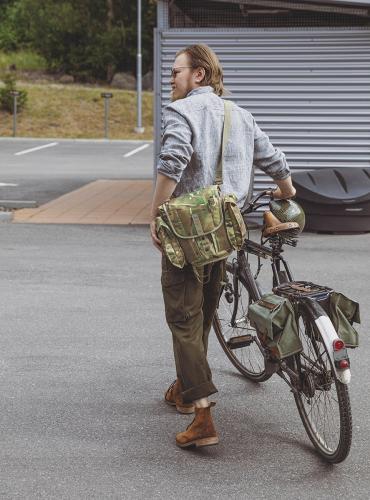 Särmä
Särmä Linen Shirt
Price 89.99 USD
excluding sales tax
We finally have our own linen shirt. Durable, ecological, and pleasant to wear. Nice and cool in the summer but not cold in the winter. To top it off, it looks damn nice and oozes that sexy frontier appeal, even when worn at the office.
Loading products...
Trouble with the metric system? Try our converter: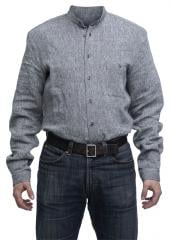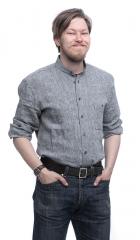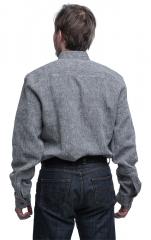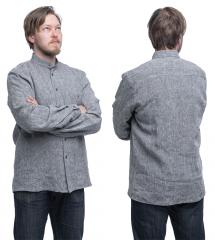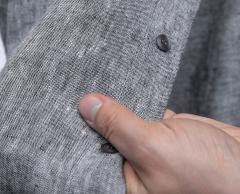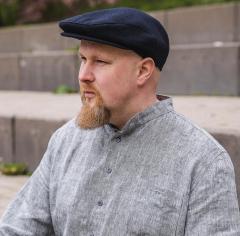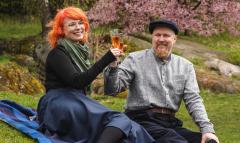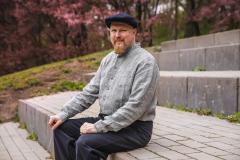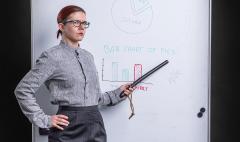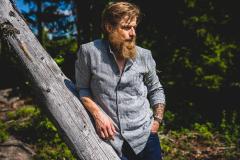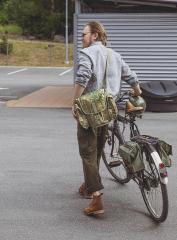 We finally have our own linen shirt. Durable, ecological, and pleasant to wear. Nice and cool in the summer but not cold in the winter. To top it off, it looks damn nice and oozes that sexy frontier appeal, even when worn at the office.
You can wear Särmä Linen Shirt casually on top of your pants or in a bit more formal manner tucked in the pants. This isn't a super formal shirt but it is suitable for work if you aren't required to dress as a penguin.
This shirt is grey in color and made from 100% linen, that lovely traditional material that used to grow everywhere in Finland.
Why linen?
Some of you might wonder why linen. There are many very good reasons for that:
Breathable natural fiber
Linen is a breathable natural fiber that feels cool in the summer but not cold in the winter. It also wicks moisture away from the body. In other words, a true smart textile of ancient times.
Durable and comfortable
Linen is a very durable material. After all, it stems from an era prior to consumerism and twenty pointless annual fashion seasons. When you caress this shirt for the first time, you might feel a sting of doubt about how comfortable it could be on your smooth alabaster skin. Don't worry. Linen will feel softer after each wash and it will become more and more pleasant in time. And it doesn't feel like chain mail or barbed wire even on the first time you wear it.
Ecological
When you are on the side of the good guys, you are fascinated by the ecological aspects of different materials. Linen grows even in rugged terrain, and it doesn't require irrigation or extensive fertilizing, or pesticides. Linen is also fully biodegradable. It is pretty cool to sell stuff that doesn't poison the whole planet. And it is even cooler to wear it.
Washing
Wash at 40°C (104°F) with like colors. Do not bleach or tumble dry. Don't leave the shirt in a wet lump after washing. Reshape it gently while still damp. Linen fabric will wrinkle when washed. You can iron the shirt but do it at max. 110°C (230 °F.
Because of the material, the fibers of the fabric can be compressed in the wash, making it look like the shirt has shrunk, which it hasn't and it will return back to the right proportions by ironing. You can prevent the compression by soaking the shirt thoroughly before putting it in the machine. Don't shove the machine full of laundry. Reshape the shirt gently while still damp. You can also iron the shirt if you want.
Sizing
Linen is pre-shrunk, so you don't have to take shrinkage into account when buying the shirt.
In the chart below, you can see the actual measurements are taken directly from the shirt itself: chest circumference, waist circumference, back length from base of the collar to the hem, and sleeve length from shoulder seam to cuff. The measurements below are NOT the recommended user's measurements, but measurements of the garment itself.
| Size | Chest circumference | Waist circumference | Collar circumference | Sleeve length | Center back length |
| --- | --- | --- | --- | --- | --- |
| X-Small Regular | 100 cm | 90 cm | 39 cm | 67 cm | 72 cm |
| Small Regular | 108 cm | 100 cm | 41 cm | 68 cm | 73 cm |
| Medium Regular | 116 cm | 110 cm | 43 cm | 69 cm | 74 cm |
| Large Regular | 124 cm | 120 cm | 45 cm | 69 cm | 75 cm |
| X-Large Regular | 132 cm | 130 cm | 47 cm | 70 cm | 76 cm |
| 2X-Large Regular | 142 cm | 140 cm | 49 cm | 70 cm | 77 cm |
Manufactured in Estonia
The linen fabric comes from Lithuania, and the shirt is manufactured in Estonia. Quite a fantastic deal for this price.
Kierto Circular Economy
Return this product used but clean and unbroken, and you'll receive half of the product's original price as Varusteleka credits. Service is available only in Finland. Only Registered users can make Kierto returns. See more information about Kierto.
Varusteleka Särmä
Särmä is our own brand of clothing and equipment. When you buy Särmä you get purpose-built stuff at a decent price, something that will fill it's intended role well and not cost you an arm and a leg! For further reading check out the Varusteleka's Särmä page.
Särmä products are covered by a 12-month warranty against defects in materials and workmanship. For further information please read our detailed warranty guide.
All products: Särmä
Recommendations
Loading products...
Reviews
You have already submitted a review. You can edit your text by clicking on it.
Log in and write a review.
Remove filter
Suomi
(10)
English
(8)
I would recommend for a friend
Esko R.

30.05.2020 (Edited 06.06.2021)
Todella hyvä paita. Värivaihtoehtoja voisi olla lisää tulevaisuudessa.
9
2
I would recommend for a friend
Jenni T.

30.05.2020 (Edited 06.06.2021)
Aivan loistava lisäys vaatevalikoimaan ja istuu myös naiselle. Mielestäni tällainen pellavapaita pitää ehdottomasti saada myyntiin myös pellavan värisenä, eikä mustakaan olisi huono. Ostaisin ne tämän harmaan kaveriksi varmasti. Lisäättehän värit valikoimaan, please?
16
2
I would not recommend to a friend
Anon

09.06.2020 (Edited 06.06.2021)
I was hoping Varusteleka would get into linen. It's an absolute necessity if you live anywhere hot or humid, the fabric is amazing.

There wasn't a usual "fitment" section in the description of the product like many others sold here, so because I am right on 92cm chest size I ordered a small. Immediately when I put it on, I noticed the shoulders were very baggy. Unless I stand just right and form my shoulders a certain way, there is considerable slack. It's like they sewed on size M shoulders. It looks like I am wearing shoulders pads. The second fitment issue is that the upper back is quite tight. If I outstretch both my arms in front of me, the shirt is stretched to its limit in the upper back. I could probably tear the fabric just by forcing my arms even further out.

The strange thing is that I've ordered maybe half a dozen other Sarma shirts so far, all of them bought according to measurements and they all fit well. So to see this shirt not fit well was... surprising and disappointing? Aside from this, everything else on the shirt is an excellent fit. The collar, chest, sleeves, belly and back are perfect for me

So, size up if you want any sort of freedom of movement. This shirt definitely needs a rework, I see that other people are having fit issues as well, which is good to know it's not just me. Until they fix it I can't really recommend it.
1
0
I would recommend for a friend
Jon W.

09.06.2020 (Edited 06.06.2021)
Excellent product, just like all Särmä branded things i own. The material is pretty thick and feels like it will last, just as the seams. I love the rather unique look of the fabric. A big plus is that it would seem that it is very resilient to picking up smells, i wore this for 6 days in a row in combination with a jacket in pretty warm weather and it did not pick up any smell at all, not even in the armpits. Sizing seems normal to me, my usual problem is that my shoulders are to wide for clothes that fit the rest of me, 2X is perfect for my shoulders but otherwise has the same amount of hip hop bag look that other shirts have on me, nothing that can´t be helped by being smart about how you shove it into your trousers. In all honesty, the moment they restocked I ordered two more....
1
0
I would recommend for a friend
Juhani V.

10.06.2020 (Edited 06.06.2021)
hyvin mkiellyyttävän tuntuista kangasta,m utta sisi löytyä bvuíelä isompanakin, tälläinen köriläs ei ihan mahdu paitaan, rinnanympärys 150 cm. nuo puuvillaiset t-paidat kyllävenyvät päälle 2xxl koossakin, mjutta tämän kangas on napakkaa ja komo aja pelkää että napit lr+entävät, suosittelen niille joille mahtuu
1
2
I would recommend for a friend
Bastian M.

18.06.2020 (Edited 06.06.2021)
I would recommend for a friend
Stefan G.

25.06.2020 (Edited 06.06.2021)
Viimeiset päivät saanut käyttää tätä 30 asteen lämmössä. Erinomainen hellepaita. Alla pidän hihatonta verkkokankaista aluspaitaa. Vaikka seisoo auringonpaisteessa tässä helteessä niin ei tunnu auringonpaistetta hihan läpi iholla. Ja tuuli pääsee kankaan läpi tuulettaen kroppaa. Loistava hellepaita!
2
0
I would recommend for a friend
Petri J.

03.07.2020 (Edited 06.06.2021)
Ulkonäkö ja kangas ovat 5/5, mutta leikkaus ei täysin sovi itselle. L koossa todella leveä alaosasta, M taas hieman kiristää hartioista. Leikkaus varmaan parempi mahakkaille, vaikka en itsekkään mikään kukkakeppi ole. 185cm/92kg Suositukset kuitenkin, ja itselle otin M koon.
4
0
I would not recommend to a friend
Ben R.

04.07.2020 (Edited 22.10.2021)
(Bought size X-Small Regular) Material feels and looks great. Unfortunately, something is very wrong with the fitting. I'll echo what Roger M. said in his review — The upper shoulders become baggy and weird if you raise your arms. Worse, the armpit becomes very tight if you raise your arms or extend them fully forwards. It feels like it will rip if you try to fully extend, and I'm wearing a bigger size than I am. The Sarma flannel I have in the same size, and seems to have the same measurements, has none of these issues.

An example of how restricted movement is: Standing, I extend arms out directly in front of my chest. The back becomes uncomfortably tight. Without moving my arms left or right, I can only raise them about ~10 degrees before it feels like it will rip; the armpit and back is completely tight. To raise your arms any further, you have to shrug your shoulders and arms outwards, getting that weird baggy shoulder look going. If I only raise one arm I can get maybe 30 degrees, but trying to do anything else with my other arm is not easy due to the back being tight. It might simply be that the armpits need a looser fit or a gusset or something to give them more, well, give. Can anyone who has and likes this shirt comment on this? Can you touch your toes wearing the shirt buttoned up? Because there's no way I can. Even sitting at a computer is awkward, trying to reach for things on a desk or type leaning back is not pleasant.

This is a shame because I love everything else I've bought from this site, and I wanted to love this too; the material is great, but maybe linen just doesn't have enough stretch for this kind of tight cut (it does look great when you're just standing with your arms down). Varusteleka, if you do a revision 2 that fixes this I will buy it, but for now I'm going to have to send it back.
2
0