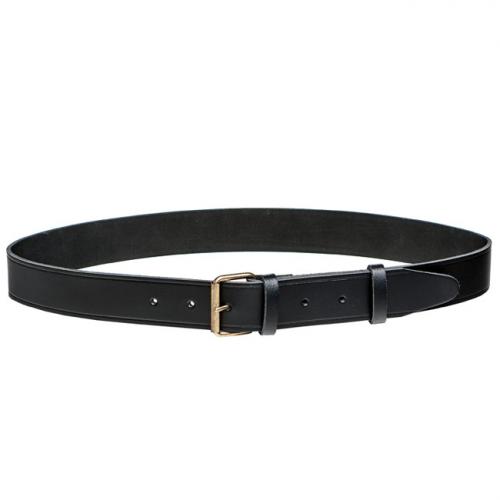 Särmä leather belt, 40 mm
Price 22.99 USD excluding VAT
Flat Rate Shipping to USA $9.99
89 % recommends
Sold 61 pcs in the last two weeks
Loading products...
Trouble with the metric system? Try our converter: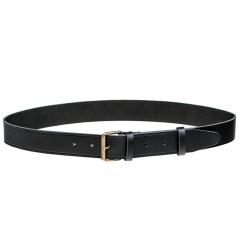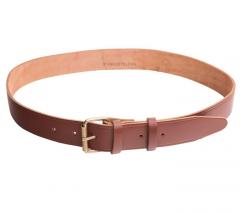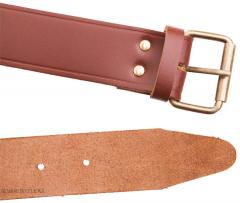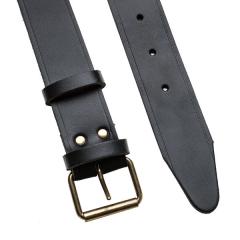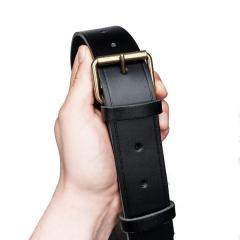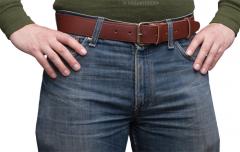 Proper no-nonsense leather belts are increasingly difficult to find these days, well at least until we started making these! This here is just that, a proper no-nonsense leather trouser belt, strong leather with a classical single prong brass buckle.
The leather is thick and supple, in time the leather shapes itself around your waist for a perfect, almost tailored fit. The coloured surface of the leather will start to wear off with time, if you want to keep your belt looking fancy you can always give it a coat of boot polish.
Those with nickle allergies: the metal used in the product is not nickle-free, be advised.
Size
The length is measured from the first holes to the end of the buckle, so the given length is the maximum length of the belt. These can be tightened about 20 cm from the given size.
Varusteleka Särmä
Särmä is our own brand of clothing and equipment. When you buy Särmä you get purpose-built stuff at a decent price, something that will fill its intended role well and not cost you an arm and a leg!
Särmä products are covered by a 12-month warranty against defects in materials and workmanship. For further information please read our detailed warranty guide.
Made in Finland
These are made for us by Helsingin Olkain, one of the last Finnish belt and brace makers who still produce stuff domestically. Made with love and pride right here in Finland!
Reviews
You have already submitted a review. You can edit your text by clicking on it.
Log in and write a review.
Remove filter
Suomi
(9)
English
(9)
I would recommend for a friend
Santeri K.

14.03.2018
Sain tän vyön puolessa vuodessa luvattoman kehnoon kuntoon - meinaan siis, että pinta halkeili rumasti laajalta alueelta. Käytin vyötä siis töissä, ei raskaassa sellasessa. Hintaisekseen oikeastaan ihan ookoo. Irrotin soljen ja kiinnitin sen vyöhön jonka tein itse - solki palvelee nyt vyössä joka kuluu aivan s**t**an paljon kauniimmin.
3
0
I would recommend for a friend
Mikko L.

25.06.2018
Hintansa väärtti. Ostin vyön töihin ja ai perkule kun on hyvä! Pitää varmaan ostaa toinen ihan vaan arki käyttöön.
0
0
I would recommend for a friend
Göran G.

21.09.2018
I would recommend for a friend
Adam B.

19.01.2019
I'd heard through the grapevine that the Särmä line has quality stuff, so I purchased a few items. This was one of them.

This is a well-made leather belt, sturdy and on par with more expensive options. It'll fit the loops on your jeans and work pants, so no worries there. On top of that, since it's wider than most casual belts, it'll keep your waistline from folding over, which is a problem for us bigger guys.

I definitely expect this belt to last. Five stars!
0
0
I would recommend for a friend
Elliott S.

27.04.2019
I would recommend for a friend
Marko S.

18.06.2019
Simppeli ja kestävä vyö simppelille ja kestävälle miehelle. Kantasika kiittää otimaisuusasteesta ja kohtuullisesta veloituksesta.
0
0
I would recommend for a friend
Julius H.

09.08.2019
I've had the brown belt for several months after my previous belt gave up the ghost. It has gotten a beautiful patina on it and does what it says. My only issue is that the metal tubes make a ton of noise when you're removing or putting on pants, drawing attention at home (when you're partner and/or toddler are trying to sleep) and at the gym. If it bothers you, just remove the tube.
0
0
I would not recommend to a friend
Eero S.

16.08.2019
I would recommend for a friend
Matt B.

13.11.2019
This belt is not a stiff, heavy duty belt. Rather a comfortable, good looking medium duty belt suitable for average every day use. Sizing is spot on. I use mine at work(warehouse/truck driver) and it does well holding up my pants, a single cell AA flashlight, and my leatherman tool. If you need a belt that will hold something like a conceal carry pistol, you may want something with a heavier buckle and thicker leather. It doesnt claim to be a gun belt so I cant really hold that against it. The leather is thinner than the Amish belts I buy locally, which I think are 10-12oz leather strap, and the buckle feels very light for solid brass. Still, this is a good belt. I will buy the brown one in the future and would recommend this to anyone looking for a reliable belt.
0
0
I would recommend for a friend
Guy H.

20.11.2019
This is THE leather belt to get.

I've tried several black leather belts in my pursuit of the right one, yet every other brand just falls apart without much use. Not here. This belt not only feels tough, but it is tough, barely suffering from wear and tear despite wearing it to work most days. Coupled with the perfected, simple style and you get a belt that's frankly undervalued for what it is.
0
0
I would recommend for a friend
Pyry K.

27.07.2016 (Edited 28.02.2017)
Pintavärjäys kului selkäpuolelta pois neljän päivän vaelluksella. Minor inconvenience mutta mielummin maksaisin lisää kestävämmästä värjäyksestä.

Noin muuten kannattelee housuja ihan hyvin.
6
1
I would recommend for a friend
Kyösti L.

14.11.2016 (Edited 18.11.2016)
Hyvälaatuinen vyö. Kunnon niittejä ja vyön reiät sopivan kokoisia soljen piikille. Paksuutta mittasin 4mm verran, että ei tämä ihan heti antaudu. Ajattelin heittää omat tekonahkavyöt roskiin ja laittaa näitä tilalle.
3
1
I would recommend for a friend
Ignacio N.

24.08.2017 (Edited 16.09.2017)
I got this as a present from my wife. I love it. The most beautiful belt I have ever had. It has magic. I don´t know if it´s the kind of black-blue, the two elegant stripes which you almost can´t see, the width... it´s beautiful. I wear it every day. I now this review must sound ridiculous, but I just love this belt. I think it´s the color. You don´t se often this color in leather belts.
And of course top quality and tough and all that. I also use it for outdoors. But the color....... beautiful belt.
6
0
I would not recommend to a friend
Erkki N.

03.10.2017 (Edited 06.10.2017)
Tämä vyö on todellinen pettymys. Messinkinen putkenpätkä kalvaa vyön nahkapinnan piloille. Poiskaan sitä ei voi ottaa, koska solki on katkaistu. Nyt on todella typerä konstruktio :-( Vanha intin miehistövyö on näköjään ainut oikea.
Päivitys: palautus onnistui ilman nikottelua, vaikka kesän kerkesin vyötä käyttää ja putkenpätkänkin vääntelin rikki asiaa tutkiessani. Lekan palautuspolitiikka:
14
7
I would recommend for a friend
Theo M.

22.07.2016 (Edited 26.07.2016)
Good leather belts are hard to come by. Or maybe not any more now I discover varusteleka.

Buy it. It's good for outdoors use and on the town.
3
2
I would recommend for a friend
Jali R.

08.11.2016 (Edited 29.11.2016)
Ostin kuukausi sitten leveämmän "kaksipiikkisen" mallin kyseisestä vyöstä. Ollut päivittäisessä käytössä, niin töissä kuin vapaallakin. Loistavaa laatua, tukevan oloinen ja tyylikäs pienen muokkaamisen jälkeen. Ostin samalla tallipojan valjasrasvaa saappaille ja päätin kokeilla samalla vyöhön. Tippa perinteistä tervaa sekaan ja kolmen käsittely kerran jälkeen vyöstä tuli omasta mielestä paremman värinen.
0
4
I would recommend for a friend
Tommi M.

10.11.2016 (Edited 29.11.2016)
Lähdeppä vaatekauppaan etsimään oikeaa nahkavyötä tähän hintaan, lähes mahdoton tehtävä. Tässä on 5/5 nahkavyö eikä mitään muuta. Tilasin itselleni ja hellu tahtoi kans samanlaisen. Käsittele vyö nahkaöljyllä ennen käyttöä niin saat siitä vähän notkeamman.
3
2
I would recommend for a friend
Eero S.

27.01.2017
Kotimaista taattua laatua. Uutuuttaan jäykkä ja omaan makuun liian vaalea väri. Toimii kyllä mutta parin nuotioreissun jälkeen noki ja sormien rasva jättää rumia tahroja.Mustalla nahkarasvalla käsittely 3-5 kertaa niin vyö on täydellinen.Joko sellaisenaan siistiin arkikäyttöön tai rasvauksella ja uudelleen värjäämisellä myös rankempaan reissuun.
2
1