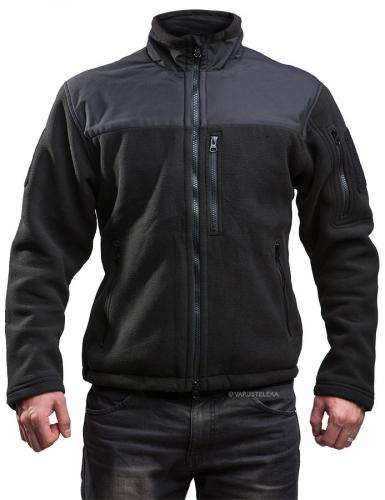 Särmä hoodless fleece jacket
Price 9.99 USD 46.99 USD excluding VAT
Loading products...
Trouble with the metric system? Try our converter: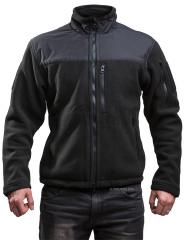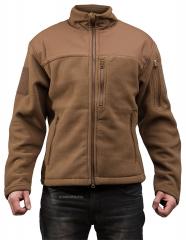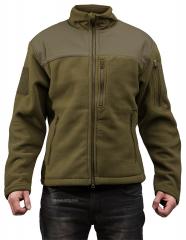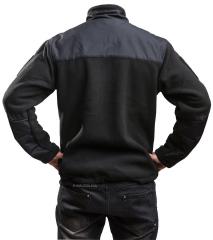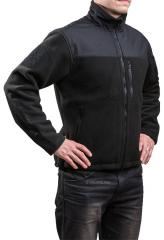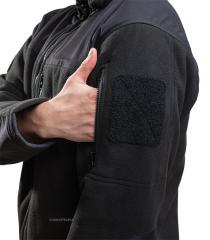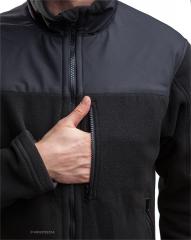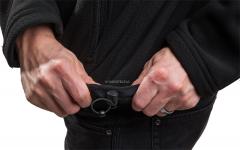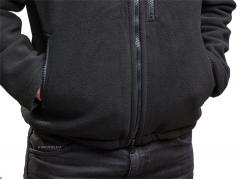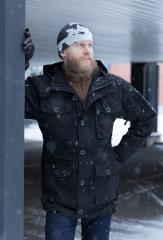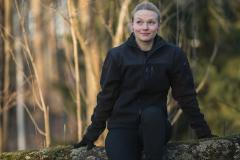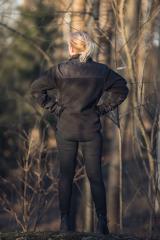 A light fleece jacket is your best friend in cool but nice weather, when just a T-shirt is too little but other jackets would be too much.
We set out to make a jacket to fulfill two roles: a standalone light jacket for low-temperature good weather, and one that works as a mid-layer worn under a shell jacket. In the latter role it replaces a woolly pully, except that it's far easier to dump heat with this one and even if you get it a bit wet, fleece dries rapidly. We excluded any wind- or waterproofing designs to keep it breathable, but a slight gust of wind doesn't blow right through.
An appropriate companion for this jacket is our Särmä Windproof Smock, but any jacket loos enough can be worn over this one. The layers will not be attached together to retain ease when changing layers, but thanks to friction between the fleece and smock you can actually don them as one garment: just open and close both zippers. When carrying a backpack a light and breathable jacket is good to avoid overheating, but as soon as you take a break put on something else before you get cold.
Features
Oxford-patches on the shoulders and from the elbows down
YKK zippers
Two-way front closure with a protected top
108 x 88 mm velcro bases on both sleeves
Two low front pockets for hands and stuff
Pockets on the chest and sleeve on the left for flat items
Headset wire inlet in the chest pocket
Elastic drawcord at the hem
Materials and care
380 g/m2 fleece and reinforcements are 100% polyester.
Machine wash in 40° Celcius, but please don't do this too often to reduce pollution.
Sizing
The menu shows regular sizing and suggested user size in centimetres: length / chest circumference. The sizing is not loose, to facilitate wearing as a mid-layer. If you plan to use this primarily as a light jacket with more clothing underneath, pick a larger size.
In the table below you can see the actual measurements of the jacket in centimetres - these are NOT the user's recommended measurements. The sleeve length is measured from the shoulder seam to cuff, and back length from the base of the collar to the hem.
| Size | Chest circumference | Sleeve length | Back length |
| --- | --- | --- | --- |
| X-Small Regular | 96 | 64 | 66 |
| Small Regular | 104 | 64 | 68 |
| Medium Regular | 112 | 64 | 71 |
| Large Regular | 120 | 64 | 74 |
| X-Large Regular | 128 | 64 | 77 |
| 2X-Large Regular | 138 | 64 | 81 |
| Medium Long | 112 | 68 | 75 |
| Large Long | 120 | 68 | 78 |
| X-Large Long | 128 | 68 | 81 |
| 2X-Large Long | 138 | 68 | 85 |
Varusteleka Särmä
Särmä is our own brand of clothing and equipment. When you buy Särmä you get purpose-built stuff at a decent price, something that will fill its intended role well and not cost you an arm and a leg!
Särmä products are covered by a 12-month warranty against defects in materials and workmanship. For further information please read our detailed warranty guide.
Made in China
Yup, there's good quality to be found in the PRC, as long as you don't choose the lowest bidder.
Reviews
You have already submitted a review. You can edit your text by clicking on it.
Log in and write a review.
Remove filter
Suomi
(12)
English
(8)
I would recommend for a friend
Perttu T.

26.10.2016 (Edited 29.11.2016)
Large long on sopiva pätkälle jolla pitkät kädet, yksi tähti pois kun hiha- ja rintataskusta puuttuu kynäpidikkeet ja rintatasku on todella pieni. Ompelen ne sit ite. Mukava välikeleillä, huputtomuus plussaa ja yhtä paksu kuin hupullinen rotsi
7
4
I would not recommend to a friend
Scott H.

28.01.2017 (Edited 02.02.2017)
I'd like to give this jacket at least four stars because it presents a good value for the price. Unfortunately, whether or not they chose the lowest bidder, their supplier's quality control is perhaps not what Varusteleka had hoped. Good design (mostly - more on that later), good choice of fabrics, and the zipper seems okay (time will tell), excellent fit (I wear a medium long). Where it fails is in the execution. My jacket arrived with an open seam at the back of the collar where it meets the body of the jacket. Kind of hard to ignore and hard to miss. Also, the collar is just two layers of fabric, no liner between them to give it any structure. There is fleece next to your neck, so it's not uncomfortable, but it would hold its shape better with one more layer of fabric. I'm sure Varusteleka sells so many of these that it's not worth their time to inspect each one individually before they're shipped out. And who knows? Maybe mine is the only defective one. Still, I'm a bit disappointed. I had hoped for better. UPDATE: Magnus at Varusteleka has sent me a nice email with an offer to replace this jacket. Wow! A quick (and generous!) resolution with polite and cheerful communication. I'm impressed!
21
12
I would recommend for a friend
Antti H.

11.02.2017
Ihan pirun hyvä takki! Vaikka tekstissä sanotaankin että tää on hyvä semmosille semi kylmille keleille, niin tää on ollu mulla käytös -20 pakkasilla ja hyvin tarkenee vaikka olis pelkkä t-paita alla!
5
0
I would recommend for a friend
Harri K.

05.04.2017 (Edited 17.05.2017)
- V-Lekalla sattui moka koon suhteen... tuli isompi, kuin pyysin, vaan hyvä niin, sillä vähän väljemmässä vaatteessa mukavampi liikkua & lämpimämpi:)
- todella tyylikäs, tehty hyvin /-stä aineista & pesee mennen tullen nuo halpispusakat
- kaksisuuntaisen vetskarin aukeamisen korjasin tiukkaamalla nokkapihdeillä alakelkkaa (tää sitten omalla vastuulla! ja hellästi)
2
1
I would recommend for a friend
Ignacio N.

13.06.2017 (Edited 13.10.2017)
Just one down thing, guys, make the adjustments in the hem one hand adjustable. I would even pay little more for that. And pitty you don´t have small long. But for the rest, I have had all kind of fancy expensive brands like Arc´teryx, Norrøna... This one is by far the most versatile and heavy duty fleece I have had. I don´t give it a 5 just because I´m pissed they didn´t have the S long. Really heavy. You even think you forgot something in the pockets, really. But it´s worth the weight. Great piece of clothing for tough use. And very warm, by the way.
7
2
I would recommend for a friend
Fariborz N.

18.06.2017
Don't hesitate, get one of these if you are in the market for a fleece jacket of similar style. The fit and quality is almost perfect. They look great on me. I bought all three colours. If you wear medium get medium, large if you wear large etc. The fit is perfect.
10
1
I would recommend for a friend
Janne A.

03.10.2017
Ostin vihreänä, hieno takki, joskin jostain syystä Lekan mallien päällä kuteet näyttävät aina paremmin istuvilta kuin kotona peilistä katsoessa. Olen käyttänyt arkipäällystakkina näin välikeleillä, mutta testasin Inttistoresta ostamani Mil-Tecin M65-takin kanssa (josta irtovuori poistettu) ja hyvin tuntui pelittävän.
0
1
I would recommend for a friend
Jukka J.

20.10.2017
Isompia kokoja, perkl!
4
0
I would recommend for a friend
Mikko H.

18.01.2018
Ostin tämän lähinnä siksi, että saan velcro-paikan Jarru-vanukas -merkilleni. Muutaman viikon käyttäneenä en juuri huomautettavaa keksi. Medium Regular on juuri sopiva koko tällaiselle 175 cm pitkälle ja pönäkälle kaverille. Etenkin tähän hintaan (ostohetkellä 39,95 €) oikein mainio pukine!
0
2
I would recommend for a friend
Andrew Z.

29.01.2018 (Edited 29.01.2018)
Great, lightweight fleece jacket. Well fitted, and (so far) warm enough for what I wanted.

I ordered this to replace an OLD polartec fleece to wear under a plate carrier, but also as a stand-alone "light jacket". It does a handy job at keeping me relatively warm, even without the armor, with only a long sleeve t-shirt, and bdu top underneath. Wearing this, standing at a static post, I could definitely feel a breeze on my arms. While moving around, checking doors, and exerting much more energy, I quickly was sweating.

My experience so far is a Midwest winter, temps from 25-30 degrees Fahrenheit, wind speeds between 5-15mph, and it's a fair example of a fine jacket.

Pro: warm, lightweight, quiet, loop field for shoulder insignia, decent enough zippers, nice material.

Con: collar is floppy, and needs more material to make it stand up. This drives me crazy, and cost it a star.

Summation: if you need a fleece jacket, at a decent price, with a chest pocket and a classically "fitted" shape, buy one. If you want a coat, buy that, instead. This is for relatively calm activity on a cool day, or strenuous activity on a colder day. I wouldn't wear this without a windoroof layer with it, if I had a more sedentary job, but in a pinch, this does nicely at regulating core temperature.

Also, order the next size up...it is "fitted"!
1
0
I would recommend for a friend
Mikko T.

23.02.2018
Mainio hiihtoretkitakki. Sisätaskuun menee peilitön järkkäri pannukakkuzoomilla, ulkotaskuihin pieni tripodi ja juomapullo.
1
0
I would recommend for a friend
Toni S.

25.02.2018
Huipputuote kuoritakin alle. Taskut sopivan kokoiset ja kunnollisilla vetoketjuilla. Tämän ostettuani huomasin, että monella työkaverilla samanlainen.
2
0
I would recommend for a friend
Samuli K.

06.03.2018
Hemmetin hyvä fleecetakki, ja vielä parempi Lekan Windproof Smockin parina, ainoana miinuksena toistaiseksi mainittakoon itselleni hieman liian tiukka kaulus.
1
0
I would recommend for a friend
Tomi N.

14.03.2018 (Edited 14.03.2018)
Mukavan jämäkkä ja hyvän näköinen takki suomen kesään. Vasta ensi tuntuma takista takana, mutta heti ilmeni yksi miinus.

Alapuolelta aukeava vetskari ei pysy millään kiinni. Jo ilman "alakiristystä" lähtee aukeamaan kun kumartuu kerran ja kiristysten kanssa takki heti sentin verran auki.

Velcrot on ehkä maailman parhain keksintö kaikkien takkien olkapäihin sillä itse tykkään pitää niissä velcropintaisia heijastimia kiinni. Lisää turvallisuutta eikä kuitenkaan näytä ihan uunolta.



Koska fleesen mikromuovi saastuttaa vesistöjä suosittelen takin ostamista nyt heti, ennenkuin joku vaatteitaan jatkuvasti pesevä tulee ja tuhoaa maapallon! Itsellä kun ei ole tarvetta takkia pahemmin pestä.
3
0
I would recommend for a friend
David F.

28.03.2018 (Edited 10.04.2018)
Why in the hell are these being discontinued? I love mine, fit perfectly, cut is very nice and slightly athletic, but not so much that you look gay wearing it. Long arms are NO problem, I fit good in reg and long with monkey arms. If you ordered the hooded model and miss the slash side pockets and found the cut much too large, this is perfect! Excellent inside pockets, side pockets and extra pockets well placed! Fit is spot on, material and quality is good. They even made it so your backpack would not wear through the fleece! Cool dry days with a day pack enjoying nature is what this thing is made for, or a night on the town! I got compliments on it already. Breathes well with a wide comfortable temperature range. I would not have given $50 for one until I checked one out and appreciated it's awesomeness. At $25 I ordered 6 more. The lady wanted at least 2, I wanted them for great work clothes at this price and extras. For $50 with a better collar it would still be worth it. br>


The collar. Its floppy, funky and wants to do it's own thing. Take a iron to it at low temperature with steam and it will comply more. For $25, suck it up, it's a great piece.
3
0
I would recommend for a friend
Kevin A.

02.05.2018
Buy one now, before they are gone!! I have two, and I think they are really excellent kit. Since these are being discontinued, I can't wait to see the new fleeces, and what improvements could be made. These are close to perfect.
0
0
I would recommend for a friend
Pekka K.

28.06.2018
19.95 € , medium regular ja vihreä.
Hintaansa nähden mainio pusakka , olen 173 cm pitkä ja hihojen pituus on juuri sopiva . Painoa on 69 kg ja eipä ahdista liika tiukkuus takissa. Ainoa kiristys jota voinen on käyttää on helmankiristys , muuten takkini on kutakuinkin kohdallaan mitoiltaan.
1
0
I would recommend for a friend
Calvin C.

09.11.2018 (Edited 09.11.2018)
This jacket is discontinued, but some may still show up from time to time. It's probably my favorite fleece jacket so far on this site, beating the surplus British CS95 ones. The cut is fitted and the sleeve size is also good (the recommended measurements are accurate), making it perfect on the streets. For a made-in-China product the quality seems great. I'll echo the other reviewers with the collar moving about freely.
0
0
I would recommend for a friend
Kenneth D.

13.01.2017
Very good as a light work jacket.
7
0
I would recommend for a friend
Reissussa

21.03.2017
Tein takista videoarvostelun: https://www.youtube.com/watch?v=xn6w2KneweU

Kaksisuuntainen vetoketju ja liian pieni kuulokejohdon läpivienti saivat risuja, mutta muuten hyvä hintaisekseen.
13
3