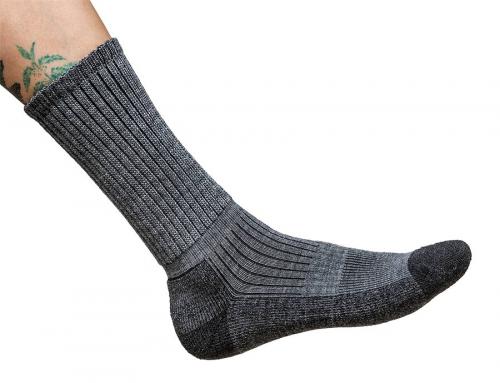 Särmä Hiking Socks, Merino Wool
Price 13.99 USD excluding VAT
Flat Rate Shipping to USA $9.99
94 % recommends
Sold 198 pairs in the last two weeks
Loading products...
Trouble with the metric system? Try our converter: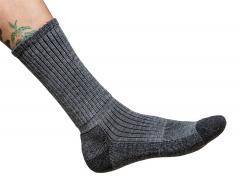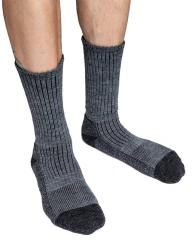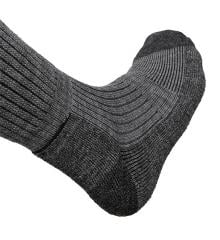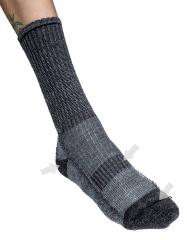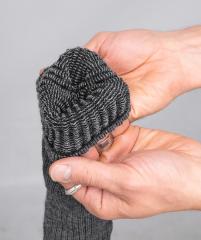 Anatomically designed socks for demanding users and people who appreciate extra comfort in everyday life. Särmä Hiking Socks are made of lofty knit, moisture wicking and have a proper fit to prevent blisters and keep you walking all day.
Optimized for three-season use
Crew-length ribbed shaft, long enough for most boots
Grey and dark grey colour scheme
Wool terry knit at the shaft and bottom - won't wrinkle up!
Sturdy bands at the ankle and instep to keep the sock in place
Shaped heel cup and toe box
Flat seams
The socks are engineered to hug your instep and cup the heel. The shafts, bottom, and toe box are terry knit while the instep has a lighter construction. Terry knit is smooth on the outside and has loops on the inside to trap air and insulate better. As a result, the socks are warm and soft in just the right places.
Material and care
64 % Merino Wool, 34 % polyamide, 2 % elastane. Machine wash at 40 degrees Celcius with a wool program. Using wool detergent is recommended to retain the properties of the material. The sock will shrink about 10 % in the first wash. This is taken into account in the sizing.
And yes, the wool is mulesing free!
Size info
Sized according to European shoe sizes, with corresponding common S, M, L etc. sizes in brackets. A slight shrinkage in the first wash is accounted for - don't pick oversized socks. See the chart below for further reference:
| EU size | Simple size | US shoe size | UK shoe size |
| --- | --- | --- | --- |
| 34-36 | X-Small | US 2½-4½ | UK 2-4 |
| 37-39 | Small | US 5-7 | UK 4½-6½ |
| 40-42 | Medium | US 7½-8½ | UK 7-8 |
| 43-45 | Large | US 9-11 | UK 8½-10½ |
| 46-48 | X-Large | US 12-14 | UK 11½-13½ |
Varusteleka Särmä
Särmä is our own brand of clothing and equipment. When you buy Särmä you get purpose-built stuff at a decent price, something that will fill its intended role well and not cost you an arm and a leg!
Särmä products are covered by a 12-month warranty against defects in materials and workmanship. For further information please read our detailed warranty guide.
Made in Finland!
Reviews
You have already submitted a review. You can edit your text by clicking on it.
Log in and write a review.
Remove filter
Suomi
(10)
English
(7)
I would recommend for a friend
Olli R.

Varusteleka employee

17.09.2018 (Edited 23.05.2019)
Näitä olen testannut vaelluksella sellaisessa +12 - +17 asteen lämpötilassa, kenkinä Alpina Tundrat. Istuivat omaan jalkaan mainiosti eikä tullut hiertymän hiertymää. Eivät menneet siis makkaralle ja pysyivät hyvin jalanpohjassa kiinni. Ovat myös oikein mukavan pehmoiset vetäistä jalkaan kuivina vaihtosukkina leiriytyessä. Sen verran paksut ovat, etteivät kuivu supernopeasti, mutta oman testin mukaan ainakaan syyslämpötilassa ja liikkeessä pysyessä kylmä ei jaloille tullut, vaikka sukat litimäriksi pääsivätkin kastumaan.
2
1
I would recommend for a friend
Juha R.

14.12.2018 (Edited 23.05.2019)
Tässä hyvä esimerkki kuinka sukankin voi tehdä oikein. Kotioloissa menee monta päivää putkeen jalassa ennenkuin on merkkejä kostumisesta. Retkellä vähempi
3
1
I would recommend for a friend
Jukka M.

07.01.2019
Monenlaisia sukkia on tullut kokeiltua, mutta tässä on kyllä parhaat. Tästä en enää keksi miten voisi merinosukkaa parantaa, tämä on parasta.
3
0
I would recommend for a friend
RYAN S.

07.01.2019
I have purchased around 7 or 8 pairs of these socks in the past several months and I'm happy with them, however, the two most recent pairs I received seem like they aren't as thick as the others. I'm deducting a star for this, but I'm still happy with the socks overall. I just wish the newer pairs were the same quality as the others I had received in the past. They don't seem as soft, especially around the upper inside portion of the socks. The sewing pattern looks different too when I compared older to newer as well so I'm not sure if this was by design or not. Overall, very good socks for the price still.
2
0
I would recommend for a friend
Petri E.

20.01.2019
Erittäin hyvät sukat. Ei ole mitään valittamista. Täytyy tulla ostaan toinenkin pari ihan varmuuden vuoksi.
0
0
I would recommend for a friend
Mitchell T.

26.02.2019
Very soft, comfortable and warm.

I just switched from all poly gear to merino wool after years. I've been wearing these products everyday for a month now and am very impressed. There is slight pilling but to be expected, but the description is right these products do not take in smells very easily, just take care of your stuff. Varusteleka is PURE GOLD!
1
0
I would recommend for a friend
Frank S.

04.03.2019
I now have two pairs of these. A few notes: Yes, they do shrink quite a bit during the first wash, but you can stretch them back to normal size pretty easily by pushing your fist in up to the toe part, spreading your hand and pulling it back out while spread. They are quite a good fit actually, and fairly thick as well. These are thicker than the Särma boot socks.
As far as washing goes, I found that washing by hand using wool shampoo helps to avoid shrinking. You can wear these for a week (airing them at night) and they still won't smell, even though when washed, the water quickly turns dark with dirt. ;-) I dry them lying flat on a towel, after gentle wringing out.
We'll see how they hold up over time. My bar is high, I used to wear F**ke TK hiking socks that cost at least twice as much - the Särma socks stink far less for sure.
Finally, I like the fact that they are not military green but neutral grey. Recommended.
3
0
I would recommend for a friend
Farasha E.

12.03.2019
I would recommend for a friend
Teemu K.

08.06.2019
Parhaat sukat, merinovillan hyviä ominaisuuksia mutta kestävät ja pysyy jaloissa paikallaan. Mahdollisesti tuhoutumattomat normaalissa käytössä.
0
0
I would recommend for a friend
nico S.

08.06.2019
I would recommend for a friend
Samu S.

Varusteleka employee

22.07.2019 (Edited 17.10.2019)
Tämän hetken lempisukat. Olen kierrättänyt käytössä kahta paria nyt noin kahden vuoden ajan. Ollut jalassa harjoituksissa, eräillessä, arjessa ja treeneissä. Kestävät käyttöä, eivät ala haisemaan, pysyvät hyvin jalassa, eivät ole aiheuttaneet hiertymiä ja ovat mukavan lämpimät olematta hiostavat. Ei mitään pahaa sanottavaa.
0
0
I would not recommend to a friend
Juha T.

15.08.2019 (Edited 20.09.2019)
8km lenkin jälkeen ei ollut enää kovin särmän näköinen sukka.
Pesu 60 asteessa sai sukan näyttämään vähän Teseman sekoitesukalta parin vuoden käytön jälkeen.
Hinta on lähellä Bridgesdalen sukkaa mutta laatu kaukana niistä.
1
12
I would recommend for a friend
Erik M.

05.09.2019
Very comfortable! Thicker in all the right places, so breaking in a new set of boots with these on was painless.
Wore them in 35+ Centigrade for most of a day and it kept my feet cool and sweat-free compared to cotton socks.
I hope the elastic lasts, because I would definitely buy them again.
0
0
I would recommend for a friend
Rasmus H.

07.10.2019
I would recommend for a friend
Roni S.

21.10.2019
Käytin 6 päivää metsällä putkeen, reissujen kesto vaihteli 3-6 tunnin välillä, kenkinä jalassa Haix Airpower P3. Jaloille ei tullut kylmä, sukat pysyivät erinomaisesti jalassa, eivätkä jalat hikoilleet laisinkaan vaikka muuten tulikin ajoittain liikkuessa hiki. Sopivat siis erinomaisesti syksyiseen metsässä samoamiseen lämpötilojen ollessa -2 ja +7 asteen välillä. Melko runsaasta käytöstä huolimatta sukat eivät haisseet tai menettäneet ryhtiään lähes viikon yhtäjaksoisen käyttämisen jälkeen. Täytynee laittaa toinen pari tilaukseen.
0
0
I would recommend for a friend
Miikka S.

21.12.2019
Jos kärsit, puuvilla t-paidasta. Tästä et kärsi. Vankka suositus.
0
0
I would recommend for a friend
Gert B.

15.01.2020
I use these socks for hiking, and i didn't had any issues.
They dry quick, barely smell and are quite resilient compared to other socks.
And are also amazing for the colder days at home or just daily use, they are a nice fit and keep the feet warm.
Hell even hiking in the summer +high humidity were a good experience.
Good Quality and Good Price
0
0