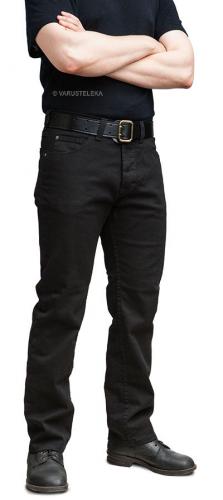 Särmä Common Jeans, black
Price 55.99 USD excluding VAT
Flat Rate Shipping to USA $9.99
Loading products...
Trouble with the metric system? Try our converter: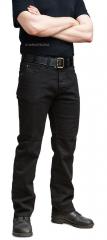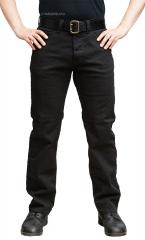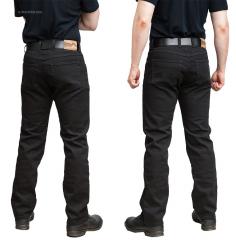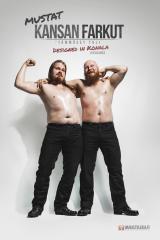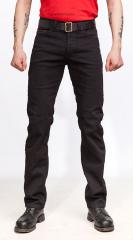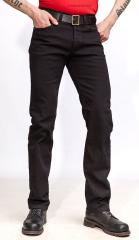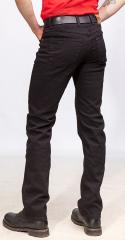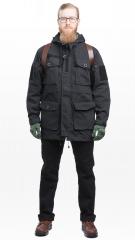 Our staff is usually fully clothed in Varusteleka, but there was one constant exception: they wear jeans, and we didn't have them. We fixed this fault by making Good Ol' Proper Jeans. As the blue model had a good welcome, here's a pair in classic black and with button fly instead of a zipper!
No nonsense classic model
High waist, almost straight leg
Button fly
Fabric weight 326 g/m2, 98 % cotton and 2 % elastane
In short, these are what jeans are supposed to be: durable, comfortable, clean trousers. These fit even if you're not a slim-legged hipster who hangs his trousers halfway down, and there definitely is no stone washing or ready made holes!
Then there's the price too. These are good quality jeans, made in Finland/Estonia. Jeans don't need to cost hundreds of euros.
Jeans cut like they used to be
Right now it seems to be fashionable to sell jeans only to skinny-legged people, with waists so low that people literally show their underwear. We don't like that. Furthermore, we have lots of well-muscled men, overweight men and well muscled overweight men who simply don't fit modern jeans because of their massive thighs and calves. Like the saying goes in Finland, if you can't buy it, you have to make it yourself. Perkele.
These jeans have what is nowadays called high waist, which is not high at all if you're seen military surplus. The waist ends just below navel. The pants are straight, so there's well enough room for thighs and calves without making these baggy. You might be even able to fit boots under them although these aren't really boot cut jeans. Button fly and six belt loops - the loops are large enough for wide belts too.
Proper material
If it's not "slim fit", it's made of some pre-washed or pre-torn crap. Not the case with these! These are a rarity, actually looking like a pair of new jeans with the nice pure black shade. The only treatment these have had is the removal of starch, and that's it. Moreover, the fabric is "Stay Black" style, meaning it won't fade easily in wash (if it's done as instructed of course). This means they're also pre-shrunk, so you don't have to worry about that either. 98 % cotton, 2 % elastane, these are very comfortable and pretty hard wearing.
Size info
Sizes in normal jeans sizes - first waist, then leg in inches. If you already know your jeans size, it's very probable the same is the best with these too. If you like to fold the cuff, get a longer size.
The cut on these is just a tad roomy. The manufacturer states that there's probably two different sizes that fit you:
Measure your hip circumference from the widest point and look at our size chart.
A) Regular fit - pick a size with the same hip circumference as yours.
B) Tight fit - pick a size with hip circumference a notch smaller than yours.
Our model here wears size 32" jeans, about the same as he would normally.
Below you can find a size chart with the actual centimetre measurements. These are pre-shrunk so they won't get any tighter.
| Width size | Waist | Hip | Cuff |
| --- | --- | --- | --- |
| W28" | 76 cm | 97 cm | 41 cm |
| W30" | 81 cm | 102 cm | 42.2 cm |
| W32" | 86 cm | 107 cm | 43.4 cm |
| W33" | 88.5 cm | 109,5 cm | 44 cm |
| W34" | 91 cm | 112 cm | 44.6 cm |
| W35" | 93.5 cm | 114,5 cm | 45.2 cm |
| W36" | 96 cm | 117 cm | 45.8 cm |
| W38" | 101 cm | 122 cm | 47 cm |
| W40" | 106 cm | 127 cm | 48.2 cm |
| W42" | 111 cm | 132 cm | 49.4 cm |
| W44" | 116 cm | 137 cm | 50.6 cm |
| W46" | 121 cm | 142 cm | 51.8 cm |
| W48" | 126 cm | 147 cm | 53 cm |
| Length size | Inseam |
| --- | --- |
| L30" | 76.5 cm |
| L32" | 81.5 cm |
| L34" | 86.5 cm |
| L36" | 91.5 cm |
Made in Finland/Estonia
The subcontractor is the Finnish company MASI - the paperwork is done here, while the sewing work and finishing washes are made just over the gulf in Estonia, still within EU.
Varusteleka Särmä
Särmä is our own brand of clothing and equipment. When you buy Särmä you get purpose-built stuff at a decent price, something that will fill its intended role well and not cost you an arm and a leg!
Särmä products are covered by a 12-month warranty against defects in materials and workmanship. For further information please read our detailed warranty guide.
Recommendations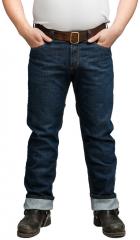 Särmä Common Jeans, blue
55.99 USD
Sometimes purchased with.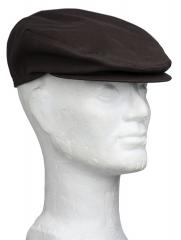 Särmä Worker Flat Cap, brown
32.99 USD
Viewed together.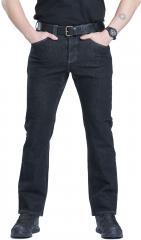 Särmä TST Tactical Jeans
82.99 USD
Sometimes purchased with.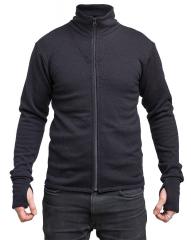 Särmä Merino Wool terry jacket, black
110.99 USD
Viewed together.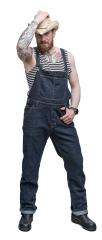 Särmä Denim Overalls
91.99 USD
Similar product.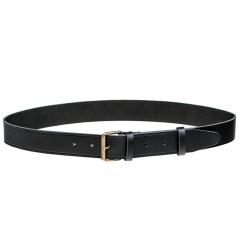 Särmä leather belt, 40 mm
22.99 USD
Sometimes purchased with.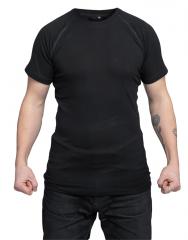 Särmä T-shirt, black
22.99 USD
Viewed together.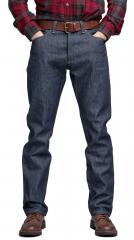 Särmä Raw Denim jeans, dark blue
91.99 USD
Sometimes purchased with.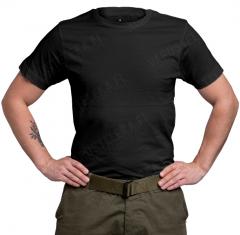 Continental T-shirt
9.99 USD
Sometimes purchased with.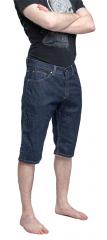 Särmä Common denim shorts, blue
45.99 USD
Sometimes purchased with.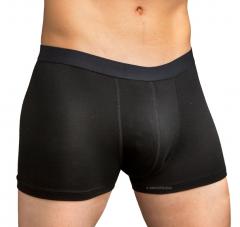 Särmä viscose boxers, black
9.99 USD
Sometimes purchased with.

Särmä Worker Trousers, brown
73.99 USD
Sometimes purchased with.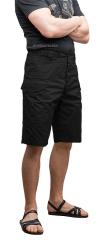 Särmä Shorts
27.99 USD
Sometimes purchased with.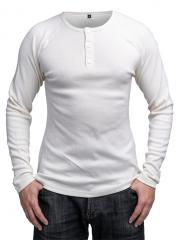 Särmä Henley Shirt, Merino Wool
64.99 USD
Sometimes purchased with.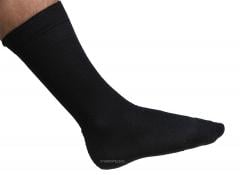 Särmä Merino Socks
9.99 USD
Buy also.
Reviews
You have already submitted a review. You can edit your text by clicking on it.
Log in and write a review.
Remove filter
Suomi
(37)
English
(4)
I would recommend for a friend
Ilmari S.

20.07.2016 (Edited 26.07.2016)
Ihan hyvät mutta.... miksei 31 kokoa? 30 puristaa alhaalta ja 32 löysä vyötäröltä
34
3
I would recommend for a friend
Timo V.

10.08.2016 (Edited 22.03.2017)
Kyllä ovat mukavat housut, nämä kävisivät myös yövaatteeksi.

Taskut ovat kerrankin riittävät ja niihin on niiiiin mukava työntää kätensä, tiedät kyllä, pehmeät ovat....

Jää nähtäväksi kestävätkö kolmanteen maailmansotaan asti, vai tuleeko reikiä jo tämän vuoden kuluessa.
5
1
I would recommend for a friend
Marko M.

19.08.2016 (Edited 01.09.2016)
Nyt tiedän mistä loppuelämäni farkut ostan.
21
1
I would recommend for a friend
Joona N.

22.09.2016 (Edited 29.11.2016)
Parhaimmat farkut, jotka olen ikänä jalkoihini vetänyt.
11
1
I would recommend for a friend
Antti L.

07.10.2016 (Edited 03.05.2017)
This is fucking diamonds. Oikeat farmarit tähän hintaan eikä todellakaan mitään paperinohutta "denimiä" joka repeytyy jos laskee hieman ilmaa. Taidan pukeutua jatkossa vain näihin
13
1
I would recommend for a friend
Juho R.

20.10.2016 (Edited 29.11.2016)
Hyvät on. Napit tahtoo olla hankalat laittaa kiinni opiskelijaelämän vilkkaissa iltariennoissa(-1*). Onneks ostin sinisen versionkin. Muistan lukeneeni, että paksummalla kankaalla tätä olisi joskus tulossa. Niitä ootellessa.
5
3
I would recommend for a friend
Timo S.

25.01.2017
Farkut isolla F:llä. Todella mukavat päällä ja mukavaa kun löytyy harvinaisempiakin kokoyhdistelmiä pitkälle ja hoikalle. Kangas mukavan paksua ja vaikuttaa vahvalta. Täytyy laittaa sinisetkin tilaukseen. Arvosana: 5/5.
4
2
I would recommend for a friend
Timo K.

21.02.2017
I would recommend for a friend
Teppo E.

24.03.2017
Hyvät farkut hintaluokassaan!
5
1
I would recommend for a friend
Jaska L.

26.03.2017
Hetkeen ehkä parhaimman tuntuset farkut mitkä jalkaani oon vetäny. Olo on melkein niin ku ei olis housuja lainkaan ja se on se paras olo. Tarvii nyt vaan seurata miten nämä kestää käyttöä. Täysiä pisteitä ei tästä syystä vielä uskalla antaa.

Toivottavasti värivalikoima laajenee tulevaisuudes. Omaan makuun noi siniset ainaki näyttää liian sinisiltä
5
2
I would recommend for a friend
Pyry K.

18.04.2017
Noniin elikkäs periaatteessa pitäisi ottaa tähti tai jopa kaksi pois koska onnistuin puolessa vuodessa hajottamaan sisäreisistä kaksien farkkujen kankaan, todennäköisesti satulatuolilla. Asia on nyt kuitenkin niin että Leka lähetti mulle uudet tilalle ilman mitään kummempia kommervenkkejä. Jouduin näiden hajoamisen takia käyttämään hetken housuja, joita käytin ennen näitä. En enää tiedä miten olen voinut elää elämääni sellaiset kauheudet jalassa. Olen nyt 5/5 2000% pallit uunin luukun välissä -tyytyväinen, satulatuoli täytyy vaan vaihtaa johonkin hieman kitkattomampaan materiaaliin.
4
0
I would recommend for a friend
Sami K.

25.04.2017
Hyvää odotin, mutta onnistui siltikin vielä yllättämään positiivisesti. Tilaan toiset mustat ja sinisetkin vielä heti kun vaan varastosta löytyy.

Lisävärejä toivoisin, esim. vaaleampi sininen.
5
0
I would recommend for a friend
Vili M.

30.05.2017 (Edited 27.11.2019)
Koko 28/30" taskut voisi olla pari senttiä syvemmät. Istuessa etutaskuissa olevat tavarat esim puhelin/lompakko painavat ikävästi lantiota vasten eivätkä lepää reisien päällä koska taskut ovat liian lyhyet. Takataskuun hädin tuskin mahtuu edes lompakkoa. Muuten ei ole kyllä valittamista.

Nyt vähän reilun parinvuoden melkein päivittäisen käytön jälkeen taskujen reunoista on hieman ruvennut kangas repeilemään. Joka on ihan odotettavissa. Muuten ei ole reikiä eikä ompeleet ole pettäneet mistään. Pesty noin viitisen kertaa. Sanoisin että perkeleen hyvin on kestäneet.
0
0
I would recommend for a friend
Joel S.

03.08.2017
Parhaat farkut, jotka olen ikinä omistanut. Nyt vuoden lähes päivittäisen käytön jälkeen alkavat mennä hiuki haarovälistä; vielä jos saataisiin sellainen malli, jossa olisi joku kevlarvahvike herkällä seudulla. Ekaa kertaa päällevedettyinä inspiroivat näin paljon: https://www.youtube.com/watch?v=H9WWg6OP-aU
3
0
I would recommend for a friend
Phil D.

02.09.2017
A little pricey, but man these jeans are excellent. Hopefully in the future they can have the sizes more consistently. I could wear this same pair of jeans every day. Very comfortable, roomy cut down below without giving you weird bulges when you sit down, elegant button fly. I wear this on my motorcycle in Harley boots, and I can wear it to a somewhat casual setting with ankle high boots. Highly recommended. Find your size and buy it, you won't be disappointed. I stand 5'8", somewhere between 165-170 lbs.
4
0
I would recommend for a friend
Mika J.

09.09.2017 (Edited 09.09.2017)
Kun nämä piti ensimmäisen kerran pestä vedin vanhat farkut jalkaan, otin ne välittömästi pois ja tilasin toiset. Paluuta ei vaan ole kun on kokenut päivänkin ilman että housut yrittävät alvariinsa survoa perhekalleuksia takaisin vartalon sisään. Taskut ovat kerrankin oikeasti käyttökelpoiset, ja normifarkuista poiketen ne eivät näytä kuluvan käytössä juuri lainkaan. Voi sitä tunnetta kun respa etsii taas kerran parkkipaikalta löytyneen avaimen omistajaa eikä tarvitse edes tarkistaa tietääkseen että omat ovat just siellä mihin ne laittoikin.

Kangas on 6/5 kompromissi - suorastaan epäilyttävän mukavaa käytössä, mutta saman vuoden se kestää sisäreisistä kuin paksumpikin. Näyttääpä jostain syystä pysyvän siistimmän näköisenäkin kunnes on kunnolla puhki. Sen vuoden aikana ei tullut vastaan sellaista päivää etteivät nämä + merinovillabokserit olisi olleet täysin miellyttävän tuntuinen yhdistelmä kesähelteistä talvipakkasiin. Naparetkeilijät on asia erikseen, mutta edes suunnilleen sivistyksen parissa eläessä tulee harvemmin mieleen mitään syytä käyttää ikinä muita housuja.
3
1
I would recommend for a friend
Peter T.

26.09.2017
At 6'6" (198cm) I can find a choice jeans with the proper leg length but finding ones that also have a suitable rise, well that's tricky but these jeans do.

For me I don't think I could of found a better fit if the jeans had been made bespoke and I'm extraordinarily pleased with this purchase.
1
0
I would recommend for a friend
Risto S.

05.10.2017 (Edited 01.11.2017)
Ehdottoman hyvät housut nykypäivän mittapuulla. Istuvat hyvin ja materiaali joustaa juuri sopivasti. Kangas on vain paljon ohuempaa mihin olen tottunut sekä aiemmin Suomesta, että sittemmin amerikasta ostamieni jälkeen, mutta ehkä siksi tuntuvatkin niin mukavilta. Paksummalla kankaalla alkaisivat kyllä vasta tuntua farmarihousuilta, sellaisilta, joita farmarit olivat ennenvanhaan, nyt tuntuvat ihan miltä tahansa muilta housuilta. Kankaan ohuudesta johtuen ovat kylmät jos hiukankin tuulee näin jo syksylläkin, miten mahtanevatkaan olla talvella. Myös sepaluksessa oleva napitus on huono näin ohuessa kankaassa, kankaan reuna venyy rumasti. Napituksen olisi myös hyvä olla oikeilla housunapeilla ommeltuna, jotta sitä voisi tarpeen mukaan korjata, kun kyseessä ei kuitenkaan ole aidot farmarit, joissa tuo farmarinapitus olisi tyyliin kuuluva asia. Mutta mieluimmin vetoketjulla tällaiset ohutkankaiset housut. Lahkeet voisivat myös minun makuuni olla hiukan leveämmät, mutta sehän on makuasia. Pääasia, että polven kohdalta ovat hieman tiukemmat kuin reisistä, eivät tunnu miltään lökäreiltä. Tällaisenaan ovat kevyet ja siistit housut, joilla voi mennä juhlallisempaankin tilaisuuteen arkikäytön lisäksi.
4
1
I would recommend for a friend
Joni H.

25.10.2017
Onpahan kyllä älyttömän hyvät perusfarkut, kokokin sattu omalla kohdalla olemaan just eikä melkein sopiva!
1
0
I would recommend for a friend
Martin L.

07.12.2017
Been using those for a few days, and I decided to submit a review anyway :

Most jeans I would find in mainstream shops (in France) have three disadvantages : 1) they're not black 2) they wear quickly and cheaply made most of the time and 3) they're always weirdly cut (aka slim / straight / bootcut / whatever).
I, at last, have room for my legs while not looking like a german tank officier. I am 175cm for 75kg, and I've got rather muscular tighs. These jeans fit very nicely and they seem well worth the price.
I'm looking forward to seeing how well they take the damages of time and (maybe) work (carpentry/woodworking/etc)

Thanks to Varusteleka for this product, I will most probably order a few again when resupply will be needed from my side :)

Cheers !
2
0
I would recommend for a friend
Ari H.

28.12.2017
Farkut on tosi hyvät. Pidän niitä henkseleitten kanssa. Toivoisin ensi talveksi myös samettihousuja.
Ari H 28.12.17
0
0
I would not recommend to a friend
Janne T.

25.01.2018
Missä on aikuisten koot W38/36 tai W40/36/38?
3
8
I would not recommend to a friend
Ari K.

10.04.2018
Varmaan ihan ok farkut, mutta koskakohan näistä tulisi kokoja myös "ei persjalkaisille"?
40-42/36 kokoja kaipailen.
2
3
I would not recommend to a friend
Ilkka t.

16.04.2018
Varmaan ihan jees farkut. Tosin, kaksi vyölenkkiä revennyt parin kuukauden käytön aikana. Ei ole irronnut ompeleista vaan ihan kankaasta joten korjausompelu liki mahdotonta..
3
0
I would not recommend to a friend
Mikko T.

12.07.2018
Helevetin hyvän malliset farkut. Harmi vain että laatu ei ole hääppönen. Nappi irtosi ja ompeleet purkautuvat parin kuukauden kevyen käytön jälkeen.
6
0
I would not recommend to a friend
Mikko V.

30.07.2018 (Edited 12.08.2018)
Muuten hyvät housut, mutta väri muuttui muutaman pesun jälkeen punaruskeaksi. Kun reklamoin asiasta, sain vastauksen, että housuja on pesty liian usein ja kannattaa itse värjätä uudelleen. Eli musta väri kestää noin kuusi pesua ja muuttuu sitten pikkuhiljaa punaruskeaksi. Saimme kuitenkin keskustelun jälkeen korvaavat tuotteet, kiitoksia niistä. Toivottavasti värin pysyvyys on parantunut.
2
0
I would recommend for a friend
Mika K.

20.08.2018
Saisko näistä vetoketjullisen version, ei me kuitenkaan olla skotlantilaisia lammasfarmareita. Muuten vaikuttavat lyhyen käytön jälkeen ok:lta.
7
3
I would not recommend to a friend
Kalle P.

12.09.2018
Kangas ihan ok ja nappisepalus on parhautta.
Muutaman kuukauden käytön jälkeen ylin nappi irtosi joten ei jatkoon.
5
0
I would recommend for a friend
Juho S.

08.10.2018
Tilasin noin vuosi sitten kahdet kappaleet ko. farkkuja ja olen käyttänyt niitä lähes päivittäin pois lukien kesäkauden, jolloin käytin Särmä Shortseja. Toisin sanoen farkkuja on käytetty noin puolisen vuotta ja tältä ajalta sain aikaiseksi seuraavanlaisen arvostelun:

Farkut olivat niin ostohetkellä kuin ovat edelleenkin mitä mukavimmat farkut mitkä olen ikinä jalkaani vetänyt. Kangas antaa mukavasti periksi mutta farkut ovat kuitenkin sopivan napakat olematta mitkään pillifarkut. Taskut ovat sopivan kokoiset esim 5,5" kokoinen puhelimeni sopii hyvin etutaskuun ilman että se kurkkii reunan yli. Nappisepalus on plussaa, jokseenkin sen toteutuksesta lisää myöhemmin. Farkkujen leikkaus on sopiva normaalille suomalaiselle miehelle.

Valitettavasti molemmista farkuista irtosi napit ensimmäisen kuukauden aikana. Kangas oli selvästi repeytynyt nappien ymppäriltä, joten jouduinkin ompeluttamaan toisen kerroksen farkkukangasta sepaluksen sisäpuolelle antamaan lisätukea uusille napeille. Tämän jälkeen nappien kanssa ei ole ollut ongelmia. Noin puolen vuoden käytön jälkeen molemmista farkuista haarat kuluivat puhki, kun taasen toisten valmistajien farkuista haarat kuluivat vasta 1-2 vuoden käytön jälkeen rikki. Tähän voi tietenkin olla syynä farkkujen kankaan rakenne.

Suosittelenkin farkkuja muille, mutta itse en osta enää kyseisiä farkkuja ed. mainittujen syiden vuoksi ellei niitä korjata. Ratkaisuna nappiongelmaan mieleeni tulee, että jo tehtaalla niiden alle ommellaan toinen kerros tai jopa kolme kerrosta lisäkangasta tukemaan nappeja. Haaroihin ratkaisuna voisi olla ehkä samanlainen ommel mitä Särmä TST taktisiin farkkuihin on tulossa. Näille Särmä TST farkuille aijoinkin antaa vielä mahdollisuuden.
4
0
I would recommend for a friend
Senja R.

22.10.2018
Halusin ostaa siistit ja mukavat farkut, joissa pystyy kuitenkin myös vähän kyykkimään tai kiipeilemään tarpeen vaatiessa. Kokeilin sekä näitä Kansan Farkkuja, että Hamekansan Farkkuja. Isoin ero näiden kahden välillä oli, että Kansan Farkuissa pystyy kyykistymään oikein mukavasti, ja Hamekansan Farkuissa pystyy kyykistymään sillä tavalla että kiristää kamalasti. Hamekansan Farkuissa on tiukemmat reisi- ja polvikohdat. Toki muilla naisilla saattaa olla eri kokemus, ollaanhan me kaikki eri muotoisia. Tarinan opetus kuitenkin on, että ei kannata välttämättä takertua tuohon housujen ehdotettuun sukupuolitukseen. Minun valintani on ehdottomasti Kansan Farkut.
2
0
I would recommend for a friend
Jani T.

03.11.2018
Aivan tajuttoman hyvät farkut. Luulin notta näin läskinä ihmisenä en enään löydä koskaan sopevia farkkuja itelleni mutta nämät ovat aivan mahtavat. Tilasin 48/32" ja mielessäni kuvittelin jo että ne ei millään mahu mun päälle mutta yllätyin kö sovitin niitä, nuo ovat jopa hieman liian isot mulle :D :D piti laittaa henskelit jotta pysyvät päällä koska en tykkää käyttää vyötä. Kiitos tosi paljon farkuista.
0
0
I would recommend for a friend
Lasse V.

19.02.2019
Onhan nämä käsittämättömän hyvät housut. Useiden eri farkkujen jälkeen nämä istuvat hienosti, ovat siistit ja mukavat jalassa. Ostettava kohta varastoon toiset ihan vain pahan päivän varalle!
0
0
I would recommend for a friend
Samuli V.

27.03.2019
Isi meijän! Nyt oikeasti joku roti tähän toimintaan, Leka!
Kyllä on kaupallakin oltava joku vastuu!

Jos kehtaa tehä tämmösen tuotteen, jota kansa kuollakseen haluaa, ni oisko kuitenkin reilua, että sitä tilataan varastoon kerralla tarpeeksi? Jos ootte muka hyvien puolella, niin oisko kiva, jos ette kiusaisi meitä hitaita ja köyhiä tilaamalla pieniä määriä farkkuja? Tässäkään taas kuluttajaa ajateltu yhtään. Klassista.

Kostoksi ostan toiset siniset Kansan Varkut. Perkele.
1
1
I would recommend for a friend
Jesse S.

05.04.2019
Ihan passelit farkut sen aikaa minkä kestivät. Pirun hyvät jalassa, mutta reilun puolen vuoden käytön jälkeen alkavat olla persiistä/sisäreidestä pahasti puhki.
0
0
I would recommend for a friend
Niko-Petteri M.

01.05.2019
Hintaisekseen pirun hyvät farkut. Erittäin mukavat päällä ja hyvän näköiset. Tosin itsellä farkut eivät kestäneet kuin puolivuotta kun ensimmäinen nappi irtosi ja pian sen jälkeen toisen napin reikä löystyi sen verran että kiinnittäessä ylimmän alempi aukeaa itsestään.
0
0
I would recommend for a friend
Jonathan W.

20.05.2019
I'm a 34/30 US and the 34/30 here fit me great. I have deadlifter quads/glutes and these fit great.The material is a bit thin (which is a plus here in Texas) and has just a bit of stretch. Assuming that these hold up to wear and tear, they're great jeans.
0
0
I would recommend for a friend
Heikki K.

07.06.2019
Muuten hyvät, mutta sepalus olis vetoketjulla parempi ja takataskut saisi olla aavistuksen isommat niin lompakko mahtuis kunnolla.
0
0
I would recommend for a friend
Sami K.

14.06.2019
Kestävät ja joustavat farkut joissa syväkyykkykin onnistuu jos semmoiseen tarvetta löytyy. Taskut on sen kokoiset, että niissä kehtaa tavaraa säilyttää. Tämä ei jostain syystä ole itsestään selvyys.
0
0
I would not recommend to a friend
Pekka T.

08.07.2019
Mainosteksti oli mainio ja ensituntuma erittäin myönteinen. Valitettavasti tuotteen kesto oli samaa luokkaa kuin puolta halvemmissa markettifarkuissa. Muutaman pesun jälkeen väri alkoi muistuttaa enemmän ruskeaa eikä ompeleiden tai kankaankaan kesto ole aivan sitä mitä kuvausteksti antaa olettaa.
0
0
I would not recommend to a friend
Juha R.

15.12.2019
Farkkujen malli hyvä. Mukavat pitää. Koko 34/36 istui kuin samaa kokoa Leviksen 501. Kangas oli pettymys kuinka ohutta se on ja kuinka paljon se joustaa. Dressmannin 30e farkut tukevampaa kangasta, jotka ei kyllä kestänyt kuin reilun vuoden, nappi irti ja haarat saumoista hajalle. Eli en suosittele jos etsit tukevasta farkkukankaasta tehtyjä farkkuja. En ainakaan itse osta uudestaan samoja farkkuja. Suosittelen jos et niin välitä kankaan tukevuudesta, vaan tyyli ja mukavuus tärkeintä. kestävyydessä 1kk käytön jälkeen ei ongelmia.
0
0
I would recommend for a friend
Miikka S.

21.12.2019
Jos olet mies, ja juhlia tiedossa. Osta!
0
0