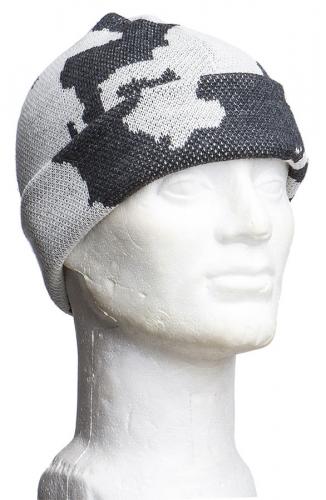 Särmä Commando Cap, Merino Wool, Camo
Price 18.99 USD excluding VAT
Flat Rate Shipping to USA $9.99
95 % recommends
Sold 59 pcs in the last two weeks
Loading products...
Trouble with the metric system? Try our converter: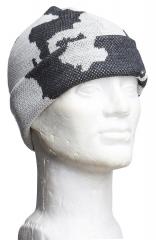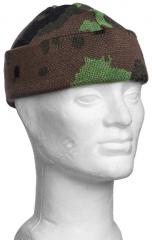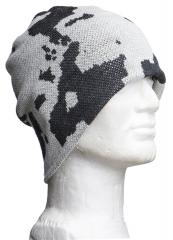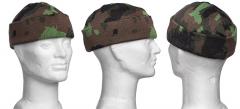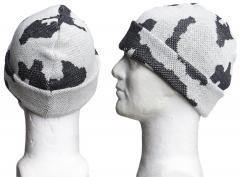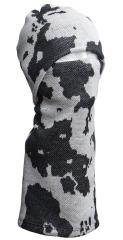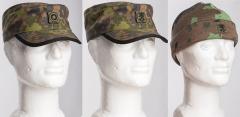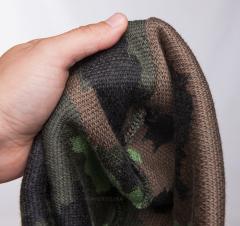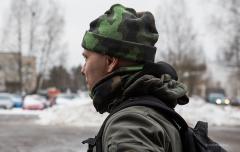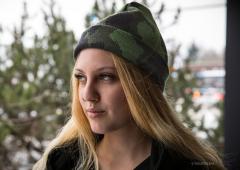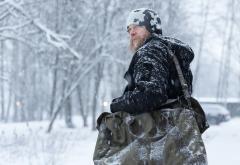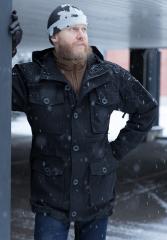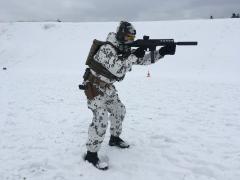 The Finnish army "commando cap" is far more than just any woolly watch cap, it's something of a Finnish military tradition and very functional too, the double layered constrution giving it added warmth and insulation.
Unlike most wool caps these are made with a double layered construction, the end result is far more insulating than the standard one layer style, a neat feature in extreme cold. Still as these don't have any membranes or such the wool breathes naturally, meaning that even though warm these are not too hot or sweaty like many modern caps with Windstopper etc. All in all a very classic and functional design!
This is modeled after the famous Finnish Army Sissipipo, or "sissy cap". The heritage comes from sissies, who are the most special commando-ranger troops in the Finnish military, true forest men sent into the woods with just a puukko, bare teeth and an assault rifle with one magazine, capable of living off the land and waging 30 years of guerilla warfare against the ever present threat of Russian invasion.
Size info
Because of the bit less flexible weave we decided to make these in two sizes. Medium fits head size up to 57-58 cm, Large is best for bigger noggins. We drew the line at 62, but this will probably stretch enough for an even bigger head if necessary.
Quality merino wool
Wool is super. Merino wool is even better; does not itch, insulates and regluates temperature better, gathers even less nasty smells (and most smells vanish with simply airing out the cap). Of course the catch is a higher pricetag. If you can live with that, we strongly suggest grabbing one of these.
Wool weight about 410 g/m2.
Mulesing free
All our merino wool clothing are 100% mulesing free!
Varusteleka Särmä
Särmä is our own brand of clothing and equipment. When you buy Särmä you get purpose-built stuff at a decent price, something that will fill its intended role well and not cost you an arm and a leg!
Särmä products are covered by a 12-month warranty against defects in materials and workmanship. For further information please read our detailed warranty guide.
Made in Finland
Made by Agtuvi Ky in Finland, fine quality stuff, no third world child labour camp crap.
Reviews
You have already submitted a review. You can edit your text by clicking on it.
Log in and write a review.
Remove filter
Suomi
(8)
English
(12)
I would recommend for a friend
Timo V.

18.01.2018 (Edited 02.02.2018)
Todella napakka pipo, kuten muutkin ovat todenneet. Ei heilu päässä. Ei ehkä niin lämmin kuin Lekan perusmerinopipo, mutta menee todennäköisesti paremmin taskuun. (En omista tuota speksien mukaan paksumpaa pipoa) Ja toisaalta nyt huomasin, että tämä mahtuu säädöllä varustetun lippalakin alle. Jolloin saan lipan suojan, lippalakin antaman tuulisuojan eristeen pinnalle ja kosteanakin mukavan merinovillaeristyksen. Metsäkuvioisen väritys on todella söpö!

Pakkasta -12, keskituuli 4 m/s = WindChill -19. Kyllä oli hiihtäjän hyvä hiihdellä Lekan Sissipipo päässä, ei tarvinnut huppua miettiä.
1
0
I would recommend for a friend
Tatu R.

23.01.2018
Lämmin ja laadukas pipo. Pystyy käyttämään joko taitettuna tai suoristettuna. Itsellä päänympärys 60cm ja koko L sopiva.
1
0
I would recommend for a friend
Mika K.

09.03.2018
Paras pipo mitä olen koskaan käyttänyt, lumimaastokuvionen on siisti siviilissäkin, loistava tuote!
0
0
I would recommend for a friend
Shawn R.

14.03.2018 (Edited 10.04.2018)
It's warm, made in Finland and Tacticool. 12/10 Update* after owning this hat for about a month with average use some of the stitching is coming loose. Maybe my hat is an odd one out but I hope the next one I buy doesnt do the same D:
1
0
I would recommend for a friend
Risto H.

21.03.2018 (Edited 21.03.2018)
Hyvä myssy. L-kokoisena just sopiva isompipäiselle. Ei päästänyt aivoja jäätymään eikä kiehumaankaan Lapin laduilla ja auki rullattuna piti korvatkin mukavan lämpöisinä. Viimaisemmissa paikoissa piti toki täydentää takin hupulla. Talvikuvioinen pipo päässä kehtaa liikua kaupungillakin.
1
0
I would recommend for a friend
Richard N.

20.04.2018
Soft and warm. I have a 61cm head, and the Large is a little tight, with not much hat left to double up. A true XL would be more comfortable and flexible; I'd buy two!
4
0
I would recommend for a friend
Teemu K.

27.10.2018
Lämmin ja napakasti istuva pipo. Mustaharmaa lehmäkuvio on mukavan epäsotilaallinen. Isoon 61+ päähän menee hyvin kun laittaa sukkana ilman taitosta.
1
0
I would recommend for a friend
Demian S.

27.11.2018
I have the snow cammo version of this. It's a brilliant hat, very soft and warm and durable. The only downside is the shape of my head - hats of this or similar shape ride up and expose my ears, which is not nice when you're riding a bike on a windy day at -20. But that's not the hat's fault, the hat is perfect, I just have a wrong shaped head.
4
0
I would recommend for a friend
Petri S.

30.12.2018
Pehmeä ja lämmin pipo. Neulottuna materiaali jopa pehmeämmän tuntuinen kuin tavallisessa sissipipossa. Pitää myös kohtuullisen hyvin tuulta. Erittäin hyvä ostos!
1
0
I would recommend for a friend
Stefan F.

18.01.2019
perfect! I already had the neck tube in woodland, now the hat. top quality and a perfect fit!
1
0
I would recommend for a friend
Jeffrey M.

20.02.2019
Very well made and warm. Does not itch at all. I also have the neck tube.
1
0
I would recommend for a friend
Christopher H.

08.04.2019
My new go-to winter/hunting hat for extreme conditions whether I'm in Western Massachusetts or Central/Northern Vermont. If this hat can keep my head toasty while sitting in a tree stand in Central Vermont in December, then I'm quite sure it will suit any need you might have for cold weather gear, regardless of where you are.

BTW, my little nephews and my granddaughter refers to this as "The Cow Hat", as the snow camo to them looks just like that animal. I really don't care what it looks like, all I know is it's one of the warmest winter hats I've ever owned. Period.
2
0
I would recommend for a friend
Geoff T.

09.07.2019
Fantastic , really nice and warm feels great when wearing,
1
0
I would recommend for a friend
Dallas P.

19.08.2019
Excellent warmth in a small package. Quite wind resistant. Black and white camo also effective when trying to hide in a herd of black and white cows.
1
0
I would not recommend to a friend
Thomas-Michael K.

05.10.2019
Nice material. I have the snow camo version which shrunk quite a bit but not as much as the Alpaca Beanie during first wash. I can no longer roll it up and have my ears covered which could be done before washing. Overall it is still useable but I would hesitate to recommend it to a friend.
0
0
I would recommend for a friend
Mauno E.

26.11.2019
I would recommend for a friend
Max N.

04.05.2017
Tästä väristä kun löytyy tuo isompi koko, niin istuu todella hyvin. Taitettuna siisti, alas rullattuna peittää korvat. Passelin paksuinen eikä veny käytössä muodottomaksi.
4
0
I would recommend for a friend
Rachel A.

13.09.2017
Great product, warm and nice!
7
0
I would recommend for a friend
Juho H.

12.10.2017
Reserviläishommissa valtiolta olen saanut ns sissipipon kotisäilytykseen. Pipo on vain auttamatta todella pieni..

Tämä taas vaikuttaa pikaisen hypistelemisen jälkeen sopivan isolta, lämpimältä ja maastoon katu-uskottavalta :)!
Tätä tosiaan saa isompana L-kokoisena, joka on jonkin verran isompi kuin Särmän vihreä (testattu on) tai Puolustusvoimien sissipipo.

Toiminnallisessa ressu/intti-actioniin sopiva hattu.
2
0
I would recommend for a friend
Jon S.

01.01.2018
Very nice watchcap, warm and does not itch. From Finland, get one while you can.
4
0