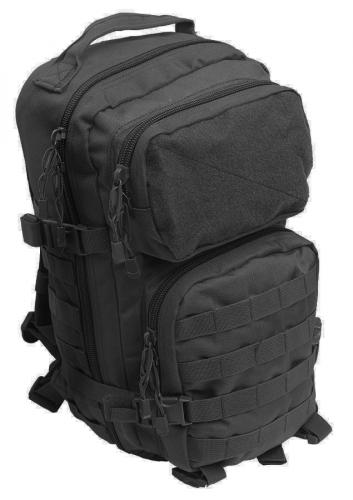 Särmä Assault Pack
Price 32.99 USD excluding VAT
Flat Rate Shipping to USA $9.99
97 % recommends
Sold 198 pcs in the last two weeks
Loading products...
Trouble with the metric system? Try our converter: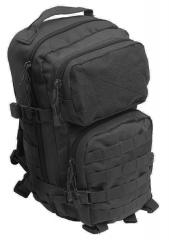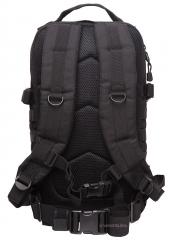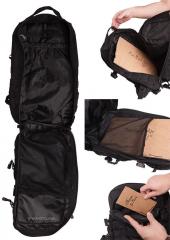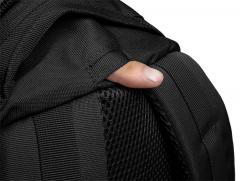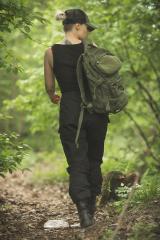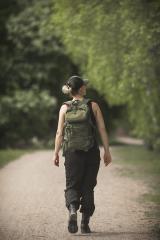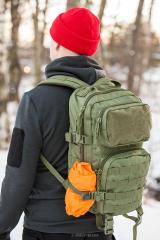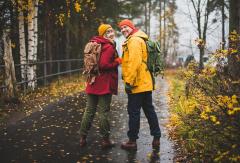 Good and affordable urban rucksack of our own design - partially, at least. Just enough different compartments, compact dimensions but expands to about 20 litres (even more with extra pouches). If you have a lot of stuff that has to be accessed all the time, this is the thing for you.
A compact 20 litre daypack (1220 in3)
Loads of external attachment possibilities
Goes as hand luggage when flying
Our own production Assault Pack is made simpler and tougher than most of the similar packs of the same price range that are currently on the market. That's because we had these made just for us in large numbers, without any middle men.
Features
Big main compartment with two little compartments inside - the bigger fits an I-pad, the smaller one is zippered to hold all the small things you carry with you. The main compartment has zippers all the way, so getting something out of even a fully packed rucksack is fast and easy.
Hydration pack pouch on the inside (hydration bladder not included). If your bladder is too long, just fold it. Source WXP fits well without fiddling.
Two outer pockets.
Good compression straps, two on each side and two on the underside - this thing can be compressed to the size of a hydration pack. Size compression straps have quick releases, which is a very handy thing. The straps also double as an easy way to strap stuff on to the pack - strapping your jacket onto the pack when moving indoors has never been easier.
The pack is covered with PALS attachment loops, both on the front and sides.
Shoulder straps are well padded and contoured. If you don't need the waist strap, it's easily removed.
The pack is made out of very sturdy 1000 Denier polyester with PU coating on the inside to increase water repellency. However this isn't completely waterproof - we recommend using a rain cover if necessary.
All the buckles are made by UTX.
Measurements and numbers
Main comparment inside dimensions 42 x 28 x 13 cm
Main comparment inside dimensions 16.5" x 11.0" x 7.1"
Large outer pocket inside dimensions 21 x 20 x 5 cm
Large outer pocket inside dimensions 8.3" x 7.9" x 2.0"
Small outer pocket inside dimensions 13 x 20 x 5 cm
Small outer pocket inside dimensions 5.1" x 7.9" x 2.0"
Outside measurements about 44 x 30 x 20 cm
Outside measurements about 17.3" x 11.8" x 7.9"
Volume about 20 litres total.
Volume about 1220 in3 total.
Weight: approx. 1 kg.
Weight: approx. 2 lb.
Varusteleka Särmä
Särmä is our own brand of clothing and equipment. When you buy Särmä you get purpose-built stuff at a decent price, something that will fill it's intended role well and not cost you an arm and a leg!
Särmä products are covered by a 12-month warranty against defects in materials and workmanship. For further information please read our detailed warranty guide.
Made in China
We give our own productions a one year warranty.
Recommendations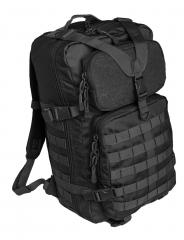 Särmä Large Assault Pack
36.99 USD
Sometimes purchased with.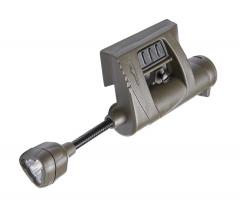 Princeton Tec Charge MPLS
91.99 USD
Sometimes purchased with.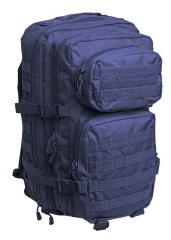 Mil-Tec Assault Pack Large
36.99 USD
Similar product.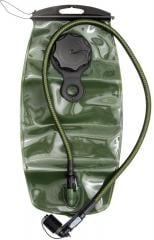 Source WXP hydration reservoir
34.99 USD
Sometimes purchased with.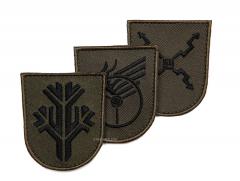 Särmä TST M05 training branch insignia, subdued
4.99 USD
Might be of interest.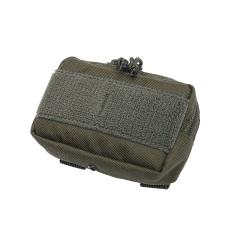 Särmä TST General purpose pouch Zip XS
27.99 USD
Might be of interest.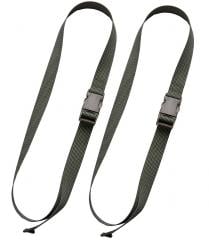 Särmä TST Utility strap, pair
6.99 - 13.99 USD
Buy also.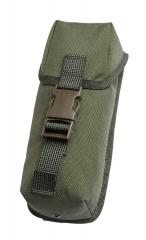 Särmä TST General purpose pouch S
27.99 USD
Buy also.
Reviews
You have already submitted a review. You can edit your text by clicking on it.
Log in and write a review.
Remove filter
Suomi
(61)
English
(33)
Sami K.

29.05.2016 (Edited 03.05.2017)
Pätevä pikkureppu. Sopivasti sopivan kokoisia osioita ja sisäinen juomarakkotasku on fiksu ratkaisu - sinne saa täydemmänkin rakon ilman että reppu tuntuu epämukavalta selkää vasten. Jos tähän jotain haluaisi muuttaa, niin isommassa ulkotaskussakin voisi olla verkkotasku pikkutavaroiden järjestelyyn; lisäksi isossa osiossa olevassa verkkotaskussa voisi olla jonkinlainen kiristys - nyt sen suuaukko roikkuu vähän löysästi ja tavarat meinaavat helposti lipsahtaa sinne jos tunkee vähän huolimattomasti.
25
2
I would recommend for a friend
Theo M.

22.07.2016 (Edited 22.03.2017)
Brilliant bag for price

I know this bag is superior to the miltec version (of course) because was sent a red miltec by accident first! Customer service was awesome though and cleared that up.

Bag is exactly what I wanted . Well made, nice features (the velcro'd webbing allows easy tidy) and great price. I've had 30 pound bags from the high street. This is far more up to the challange of a mad Scotsman in mad scots weather.
32
1
I would recommend for a friend
Christian S.

15.08.2016 (Edited 01.09.2016)
Great quality, well constructed/thought out bag! Worked great for day to day abuse, worked great being able to pack a 2 weeks kit for outdoor use.
13
2
I would recommend for a friend
Tuomas L.

07.09.2016 (Edited 26.06.2017)
Älyttömän hyvä reppu! Toimii maastossa, kaupungissa ja lentokoneessa. Mukaan mahtuu meikäläisenkii xl-kokosta vaatetta ihan useemmaks päiväks. Plussaa sopivista taskuista ja toimivasta PALS-kujastosta.
8
3
I would recommend for a friend
Eetu L.

30.09.2016 (Edited 27.06.2017)
Ainoa miinus kiristysremmien pikalukoista jotka tuntuvat pysyvän kiinni lähinnä vaihtelevasti, eli siis aukeavat usein hihnaa kiristäessä. Vähän ärsyttävää, mutta tämän kanssa pystyy elämään.
6
13
I would recommend for a friend
Jussi K.

11.10.2016 (Edited 29.11.2016)
I would recommend for a friend
Mikko K.

19.10.2016 (Edited 01.03.2018)
Hintaisekseen oikein hyvä peli. Pieniä puutteita on ollut muutama: remmien soljet ovat liikkuvaista sorttia, rintaremmissä loppuu säätövara pieneen suuntaan ja sisällä oleva verkkotasku ei pysy yläosastaan ryhdikkäänä.


Remmien ansiosta reppu on sopivan kompakti kaikenlaiseen matkustamiseen halpisbusseissa ja -lentokoneissa, ei vie paljoa tilaa ja tavaraa mahtuu pitkän viikonlopun tarpeisiin niin että jää tuliaisille tilaa; kunhan miettii pakattavat tavarat fiksusti. Mukaan mahtuu myös 13'' läppäri.

Muokkaus 3/18: Reppu jäi lopulta käytöstä, siinä oli kaikenlaista pientä säätöä ja viilailua (alapuolen remmit johon ei saa mitään kiinni, sisäpuolen umpisurkea verkkotasku jne...) joka ei oikeastaan paranna mitään, jos toimii ollenkaan, rupeaa vain ärsyttämään käytössä. *Lisäksi se oli liian pieni useamman ihmisen reissukäyttöön ja liian iso arkiseen työmatkaan.
14
7
I would recommend for a friend
Harri K.

13.11.2016 (Edited 18.11.2016)
- virittelyksi menee, mutta nuo sivussa olevat aukeavat pikalukot voi muuttaa metallisiksi
- hihnaan kylläkin reiät, joihin sitten sopivan kokoiset ns. sirkat
- jos haluaa vielä enempi säädellä, voi koko systeemin korvata kapeilla kuorman sidonta liinoilla, niitä varten hyvä omistaa vahva ompelukone
- kokoisekseen tilava, ei herätä pahaa verta pasifisteissa, sekä edullinen
- suositus...:)
6
5
I would recommend for a friend
Hugh S.

28.01.2017
This tough little guy works really well in an urban environment and it an ace bag for the price. The compartments are well thought out with just enough space for day trip supplies of food and water or for workwear and a packed lunch. No silly placements of pockets means that it doesn't flap about and sits well on your back. I couple this with the Särmä hooded fleece and if I have something in the back pocket of that then this bag can sit comfortably above the bulge of hat, gloves etc. The straps make this the most tactical bag in this price range, though they seem a little long for compression of a less than full bag, and the velcro is a really neat idea to tidy away the loose ends. The only complaint I have so far is that after a while my back gets sweaty given that there's no real ventilation here but hey, is less than 30 quid so you can't have everything!
5
1
I would recommend for a friend
Juho R.

01.02.2017
Best version from this sort of bags. 5/5 Top notch quality! Only thing I would fix is, make inside with female velcro-type material so that you can add space dividers..
15
2
I would recommend for a friend
Olli K.

02.02.2017 (Edited 02.02.2017)
Great quality for the price. Durable and comfortable.
9
1
I would recommend for a friend
Samu K.

15.02.2017
Lyömätön hintalaatusuhde. Vielä kun kotona ottaa puukon ja sytkärin käteen, leikkelee kompressiohihnat, lantiövyön ja pohjan remminpätkät irti ja siistii päät niin saa todella siistin ja käytännöllisen repun. Tilavuus on niin pieni että jos kiristyksiä tarvitsee niin kamat olis ihan rehellisesti mahtunu taskuunkin. Kovempi näpertäjä katkoo vielä halvan oloiset vetoketjujen vetimet hittoon ja solmii paracordista sopivan kokoiset, kilisemättömät vetimet. Huomaavaisesti Leka myy myös huomio-oranssia paracordia jolloin et pyörittele reppua kolmea kertaa ympäri hämärässä vetoketjun alkupäätä etsiessä.

Tärkeitä ominaisuuksia:
Olkaimet juuri ja juuri sopivat harteikkaalle henkilölle talvitakki päällä.
Vetoketjut ovat järeät ja jokainen niistä aukeaa ja sulkeutuu takkuilematta
Reppuun mahtuu A4 kokoinen kansio taittelematta
Kohtuullinen hinta - voi ostaa vaikka kaksi, eikä hirvitä näyttää puukkoa kun joku yksityiskohta ei ole omaan makuun.
20
0
I would recommend for a friend
Kimmo K.

21.03.2017
Hyvä reppu. Ollut lähes päivittäisessä käytössä kohta vuoden kaupungissa ja mukana myös useamman yön metsäreissuilla. Vaikka kilometrejä on kertynyt taakse jo kovasti, ei repusta ole löytynyt valittamista. Saumat ovat kestäneet ja remmit pitäneet. Tavaraa mahtuu sisälle hyvin ja kiristysremmeillä paketin saa tiukaksi. Kaatosateella päästää hieman vettä läpi mutta sadesuojalla tämäkin ongelma ratkeaa. Pikkutaskun velcropinnalle nakatusta heijastimesta on tullut kiitosta, näkyy kuulema pyöräilessä todella hyvin.
5
1
I would recommend for a friend
Petri L.

24.03.2017
Hyvä ja kestävä reppu. Käy moneen käyttötarkastukseen. Hinta / laatu todellakin hyvä :)
4
2
I would recommend for a friend
Otso O.

05.04.2017
Ollut käytössä sekä työ- että maastoreissuilla, joihin molempiin soveltuu loistavasti. Jos jotakin kaipaisin, hivenen isompi ulostulo juomarakon letkulle (nyt ei meinaa mahtua CamelBakin letku ilman väkivaltaa läpi) ja ulostulot antennia tai vastaavaa varten sivuille/päälle (toki ne saa vetoketjun lukkojen välistäkin ulos, mutta noin ideana)...
3
0
I would recommend for a friend
Carlos M.

16.04.2017
Best product with best ratio price/quality ever!! Sorry for my english (greetings from Spain). The backpack is awesome for les than 40€!! Holds rain and wind and the ventilation in back is not bad at all. Zippers are good and the BEST DETAIL are the velcro holders for straps. Man, this details are awesome in a 40€ backpack. If you put the zippers in correct place, doesn't makes noise with fast buckles. Velcro pad is soft and dont rips with patch changes. Molle are big enough to hold pro pouches and the inside are plenty of space. 100% recommended!!!! Särmä ROCKS!!!

P.D: By the way, Khaki is much clearer than the picture or i'm starting to see like Predator. :/
4
0
I would recommend for a friend
Marko P.

04.05.2017
Tänään haettu ja testattu ruokaostoksilla jota mahtui aika paljon noin pieneen reppuun, eikä painanut hartioihin tai alaselkään (Lue: kuten esim M85 ilmapalloreppu) Plussaa vielä särmäreistä ettei ylimääräiset hihnat roiku pitkin poikin. Eli toimii hyvin noin 178cm pitkällä ihmisellä.
1
0
I would recommend for a friend
Anssi P.

10.05.2017
Menee muuten hyvin tommosen ~10+ vuotiaan koulureppunakin. Tähän tarkoitukseen "varsinaiset" "halpa" (n. 50 eur) reput ovat usein liian pieniä ja lahoavat käytössä hyvin nopeasti. .
7
0
I would recommend for a friend
Vili M.

12.05.2017
Ainut miinus on kolisevat vetoketjut..
2
0
I would recommend for a friend
Jason S.

19.05.2017 (Edited 24.05.2017)
Sarma assault pack combined with the Finnish gas mask bag and your good to go. Overall a very good quality and practical pack.
3
0
I would recommend for a friend
Tuomas K.

21.05.2017
Ihan OK päiväreppu ja sangen hyvä yleisreppu.

Taskut ovat sopivan yleiskäyttöisiä (itsellä kannossa 14" läppäri ja työkamat tai sitten päiväretkikamat) ja MOLLE-lenkkeihin saa lisää. Ei pahemmin hikeenny selästä tai paina olkiin. On kapea, ei tartu joka bussin penkkeihin/matkustajiin saati puskiin. Jotain miinustakin: reppu pitää pakkailla pikkasen turhan huolella, ettei pullistele selästä, hihnat pitaa solmia sopivaan pituuteen, etteivät seilaa, ja läpivientejä saisi olla enemmän, mutta näiden puutteiden kanssa tulee toimeen. PU-pinnoite toimii joten kuten, mutta näkisin mieluusti umpikumisen tai -muovisen alaosan potkusuojalla. Kaikki pinnoitteet ovat saatanasta, koska ne kuluvat pois ja pahimmillaan kiinnittyvät tavaroihin.

Samsonitella, Targuksella ja Columbialla on vastaavaa vielä fiksummin suunniteltuna (ja myös huonommin suunniteltuna), mutta hintaa vähintään tuplat. Ovat myös yleensä erikoistuneempia, eli datareppu ei toimikaan hyvin päiväreppuna, ja toisinpäin.
2
0
I would recommend for a friend
Rob E.

08.06.2017
Top piece of kit.
Threw my Helikon one out and decided to get this from the review I read in "Combat and Survival" magazine.
Couple it with a few small Mil-Tec Modular System general purpose pouches (listed in the "extras" above) and you have a nice rig.
Good enough for taking bits and pieces to work (overalls, lunch, glasses case, 2 bottles) and also as a carry-on for flying.
One thing though....I cut off the zip tangs and put the string tabs through the zip instead as the zips are very rattley- works very well.
Can't believe it was such quality for the price
Very pleased with my new piece of kit so........ THANKS VARUSTELEKA!
4
0
I would recommend for a friend
Markus N.

09.06.2017 (Edited 09.06.2017)
Hinta/laatu suhde on hyvä. Pienellä modailulla tästä repusta sai täydellisen repun lenkkeilyyn sekä maastoon.
2
0
I would recommend for a friend
Toni H.

20.06.2017
Hakusessa oli edullinen reppu työmatkapyöräilyyn, johon mahtuisi minimivaatimuksena eväät ja vaihtovaatteet. Nyt muutaman viikon käytön jälkeen voin todeta, että reppu on täyttänyt tehtävänsä erinomaisesti. Etutaskut ovat juuri sopivan kokoisia puhelimille, lompakoille, silmälasikoteloille ja mitä kaikkea pienempää omaisuutta sitä tarvitseekaan kuljettaa eikä isossa taskussakaan tilanpuute ole ongelma. Laadukas ja mukava arkireppu!
1
0
I would recommend for a friend
Pia R.

05.07.2017
Ala-asteikäisten poikieni törkeänhintaiset supermarketlegoninjagomutantturtleshöpöhöpö-reput eivät kestäneet "lempeää" koulukäyttöä edes kahta kuukautta. Ajattelin että samalla rahalla voin ostaa vähän paremmat, vaikka ei ihan kakaroiden muotitrendien mukaiset, reput. Kuinka ollakkaan, penikat ovat pitäneet repuistansa eivätkä ne ole hajonneet puolessakaan vuodessa.
3
1
I would recommend for a friend
Veeti M.

05.07.2017
I would recommend for a friend
Jarkko O.

16.07.2017
Hyvä ostos siviilikäyttöön (musta), remmien päissä olevat velcrot loistavia joilla saa särmättyä pitkät roikkuvat remmit pois!
Otin vetoketjujen kilisevät metallivetimet pois ja laitoin vain mukana tulevat narut kiinni! 4,5 tähteä
Vielä jos saisi M05 värissä niin olisi hyvä mukana myös MAAKK KH:ssa? Silloin täydet 5 tähteä!
4
0
I would recommend for a friend
Einari J.

11.08.2017
Reppu on ollut päivittäisessä käytössä työ-, opiskelu- ja matkustusasioissa useamman vuoden ja sai kunnon tulikasteen tänä vuonna kun vietin kolme kuukautta kenttätöissä. Joka päivä 6-8 tuntia suolla, mukana turvekaira, pari jatkovartta ja tämä reppu. Omistan alkuperäisen mallin (myytävänä on varmaan kolmas versio?).

Reppu ei juurikaan välitä vedestä, kurasta tai muusta moskasta ja kestää kovempaakin kohtelua ja kulutusta kunnialla. Lisätaskujakin saa kiinni kiitettävästi.

Reppuun mahtuu helposti seuraavanlaista settiä:
-14-15.6" läppäri, paksu kansio, 1-3 kirjaa ja muuta pikkukrääsää
-Sadepuku, työtakki, 3l juomarakko, päivän ruuat, ensiapupakkaus
-lakanat, vaihtovaatteet, hygieniavälineet, juomapullo, läppäri + laturit jne.

Miinuksia antaisin, mutta puutteet on jo korjattu uudistetuissa versioissa repusta.
1
0
I would recommend for a friend
Sini H.

25.08.2017
I would recommend for a friend
Antti H.

01.09.2017
Tämä reppu on Luojan lahja ihmiselle!! Loistava melkein mihin vaan tarkoitukseen, tavaraa mahtuu ihan vidusti, juomarakon lokero on nerokas. Jos oot intissä niin otappa ja tilaa itelles vihree tai musta rynnäkköreppu (en usko että värillä loppujen lopuksi väliä, mutta kannattaa ottaa jompi kumpi ettei skapparit kato vihasesti päälle) ja pistä hyötykäyttöön! Voin luvata että on parempi ku perus intin reput, vaikka joku saattaa olla eri mieltä kanssani.
1
0
I would not recommend to a friend
Mikko H.

04.09.2017
Eipä ole kaksinen reppu. Ensinäkin aivan liian pieni mihinkään järkevään toimintaan. Juuri ja juuri työmatkalle hyvä, mutta päiväretkelle ei koko riitä. Okei, kyllähän repun koko tuotakuvaksessa mainitaan, ja olisi se pitänyt osata katsoa, eikä vain olettaa, että tämän näköinen reppu olisi järkevän kokoinen, eli ainakin sen 25-30 l minimissään. En tajua miksi tämä on näin pieni.

Reppu on kyllä ihan hyvännäköinen, ja varmaan sen takia niin suosittu. Onhan se kiva siellä koffin puistossa larpata armeija_erä_äijjää, mutta oikeassa käytössä ei toimi. Koko jo mainittiinkin. Vetoketjut turhan isot, kiliseekolisee ja päästää vettä läpi. Samoin koko reppu päästää vettä. Tänäänkin pikku tihkussa kun pyöräili töihin reppu selässä, niin mukava oli perillä huomata, että repussa olleet housut kastuneet. Istu tässä sitten toimistossa märissä housuissa kun reppu ei pidä vettä edes vähää alusta. Joojoo, "osta sadesuoja". Pientä tihkusadetta kyllä pitäisi tällaisen repun kestää.

Tämän jos saisi 30-litraisena, paremmilla vetoketjuilla ja paremmin vettäpitävänä niin ostaisin heti kaksi.
11
56
I would recommend for a friend
Mika K.

10.09.2017
I would recommend for a friend
Brady C.

22.09.2017
Don't be fooled by some of the pictures this thing can fit a lot. I regularly carry 2 full size 15" laptops in this with room to spare and the webbing and pockets are great and roomy; keeps my cables, tools, pens , travel mouse, thumb drives, and smokes all in easy reach. The extra strapping can be folded up very neatly as well using the built-in velcro ties and the patch panel is awesome for my memes. $30 even with the 10 extra for shipping was a super swish deal because I'm gonna use this thing for years
1
1
I would recommend for a friend
Louis C.

29.09.2017 (Edited 29.09.2017)
I chose that pack over a mil-tec to avoid having 20L divided into 3 compartments; I wanted a big one plus the two front pockets so the main compartment would be bigger. Upon reception and having had a mil-tec 36L before, I thought this pack was weak; it is stronger than it looks. The zippers are beyond tough, everything with it is well built. The pockets are huge and the main compartment can expand or retract depending on my needs; it never failed me so far. But there was some tweaking to be done though, like adding a rigid plate in the bladder sleeve to prevent the pack from collapsing when standing.
I've had it for about a month now and I am pretty happy with it. Two things I do not like :
1) where the compression straps are located on the bottom sides : when pulled tight if necessary, they squeeze the bottom pocket making is near impossible to grab what's at the bottom of it (and makes the pack look ridiculous). I wish they were "independant" from the pocket.
2) the lack of sleeves in the bottom pocket. No way to have things tidy in there, my pens and papers move about. This default makes the Särmä backpack inferior to a mil-tec assault pack since the bottom pocket of which is design to hold pens, papers, keys and so on.

A great urban EDC pack overall. Small and stealthy, yet versatile enough to perform when necessary - for instance, I carry my weekly groceries in there when I go shopping. A little more expansive than the mil-tec equivalent, yet not entirely superior to it; they are different packs though, both have pros and cons. To be honest if I was given the choice I would still go for the Särmä one for the sole fact that the main compartment is so big.
2
0
I would recommend for a friend
Per W.

09.10.2017
A bit flimsy plastic bits and somewhat mediocre zippers, but reasonable price and worth the money.
2
2
I would recommend for a friend
Alasdair K.

09.10.2017
This is a very good bag despite its small size you can fit a lot in it. It is very comfortable to wear. I recommended it to a friend who also bought it and he is very happy with his aswell.
0
0
I would recommend for a friend
Perttu T.

12.10.2017
Omistan gen2 version jossa kyljissä liian tiukat mollet, muuten ylivoimaisesti parempi kuin Mil-tecin vastaava. Pidän ulkoisesta rakkotaskusta jossa voi helposti salakuljettaa viinaa festareille. Neljän taskun sijaan kolme on fiksua, koska Mil-tecin repussa päätila on jaettu kahtia isompaan ja pienempään osioon joka itselleni on turhaa.
0
0
I would recommend for a friend
Perttu T.

12.10.2017
Omistan gen2 version jossa kyljissä liian tiukat mollet, muuten ylivoimaisesti parempi kuin Mil-tecin vastaava. Pidän ulkoisesta rakkotaskusta jossa voi helposti salakuljettaa viinaa festareille. Neljän taskun sijaan kolme on fiksua, koska Mil-tecin repussa päätila on jaettu kahtia isompaan ja pienempään osioon joka itselleni on turhaa.
0
0
I would not recommend to a friend
Vesa K.

07.11.2017
En suosittele erärepuksi. Kuvat antavat vähän erheellistä kuvaa repun koosta, koska se on todellisuudessa yllättävän pieni. Itseasiassa niin pieni, että nuo kiristyssiteet ovat käytännössä turhia. Metsästyskäytössä kaikki klipsit on vaihdettava, sillä reppu helisee tosi kovaäänisesti kävellessä. Samoin vetoketjun nispukkeet oli vaihdettava, sillä ne suuren kokonsa vuoksi kilisee toisiinsa.

Reppu ei myöskään kestä vettä yhtään. Vetoketjut on isoja ja niissä ei ole suojaa, eli vesi hulahtaa suoraan sisään. Nauhoissa on sentään tarrat, joilla ylipitkät siteet voi kurpata lyhyiksi. Oikeastaan ainoa hyvä puoli repussa on sen ulkonäkö ja fakta, että se on mukava kantaa selässä. Rinta ja vyönauhan sai kätevästi irti, mikä oli hyvä ottaen huomioon, ettei reppuun kokonsa vuoksi koskaan mahdu niin paljon tavaraa, että niitä oikeasti tarvisi.
15
5
I would recommend for a friend
Mikko A.

16.11.2017 (Edited 16.11.2017)
Muutaman viikon reppu on toiminut päivittäisessä käytössä kuljettaen kaikkea tarpeellista, mitä työssä tarvitsee. Pääsääntöisesti eväitä ja vesipulloa.

Haussa oli sopiva pieni reppu ja haaveissa oli Särmä taistelureput pienemmässä ja isommassa koossa. En vain pystynyt itselleni perustelemaan niiden korkeaa hintaa. Pitkällisen kokeilun painojen kera ja myymälän hyllystä löytyneen selkää vasten tulevan lisäjäykisteen asentamisen jälkeen päädyin tähän.

Tuo muutamaan otteeseen palautteissakin mainittu vetoketjun vetimien kilinä on kieltämättä melko infernaalista, sille oli pakko tehdä heti jotain. Muoviklipsu irti ja naruhen uudelleen pujottelu siten, että se menee ketjun liustakin läpi ja kilinä on vain etäinen muisto. Edelleen tosin välillä harmittaa narujen päässä olevien muoviklipsujen kiliniä kompressioremmine solkiin. Nämä tullee omassa versiossa poistumaan, narut pitänee vain vaihtaa hieman pidempiin että saa solmut päähän.

Kokonaisuutena edullinen hinta tietysti näkyy, soljet on edukkaampia versioita kuin em. Särmän tuotteissa. Olkaremmeissä soljet on hieman liian liukkaat, olkaremmit löystyy omaan makuun hieman liian helposti. Sisällä olevan verkkotaskun reuna lerpsuttaa, kun siinä ei ole mitään elastista osaa mukana. Remmien päissä olevat särmäystarrat on huiput. Pitänee tuon olkaremmien löystymisen suhteen lukita remmit kiinni, ettei ne löysty.

Kokonaisuutena sanoisin hinta-laatusuhteen osuvan tämän kohdalla kohdilleen.
1
0
I would recommend for a friend
Elisa V.

19.11.2017
Turhauduin Tuskassa kanniskelemaan hartiat jumittavaa olkalaukkua. Tarkkana likkana huomasinkin Varustelekan konttimyymälän ja nappasin tämän repun mukaani, enkä ole katunut päätöstäni.

Ei tästä välttämättä kovaan eräilyyn ole, mutta itselläni päivittäisessä arki/työ/yms käytössä erittäin pätevä kapistus. Olen raksahommissa ja välillä tarvitsee roudata monenmoista tavaraa. Pienemmät kamat saa omiin taskuihinsa ja isoon taskuun saa sovittelemalla yllättävän paljon. Aikaisemmissa kommenteissa oli puhetta verkkotaskun lisäämisestä alempaan pikkutaskuun ja sitä kannatan kyllä!

Reppu ei ole erityisen vedenpitävän oloinen, vaikka on kyllä tähän mennessä kestänyt kohtalaisen hyvin ne sateet mitä työmatkoilla on tullut taaperrettua. Vetoketjut ovat vähän kohlot ja kolisevat, mutta toimivat ongelmitta. Kelpo hankinta.
0
0
I would recommend for a friend
Hunter L.

20.11.2017 (Edited 06.02.2018)
I bought this product awhile back and was very happy with it immediately. It's large enough for me to get a days gear for work in it. After 6 months I have not had any problems with the construction of the bag.
0
0
I would recommend for a friend
Sakari S.

09.12.2017 (Edited 09.12.2017)
Jos otetaan kategoria 35e reput ja lähdet marketeista etsimään niin onhan tämä selvä ykkönen. Rahallahan saa varmasti parempiakin mutta tämä palvelee minun tarpeitani hyvin. Kilisevät metallivetimet otin sivuleikkureilla pois ja tilalle naruvetimet mitkä metallisiin oli pujoteltuna. Pikkutaskuihin mahtuu kaikenlaista pyöräilyyn tarvittavaa mm. Työkalua ja sisuskumi, taskulamppua ja sen sellaista. Tykkään pitää tätä remmit kiristettynä ja soljet aukaisemalla saa nopeasti lisää kantokapasiteettia kun sitä tarvitaan. 6 vuotta vanha 15.6" kannettava mahtuu naftisti mutta mahtui, uudet läppärit on kuulemma ohuempia. Velcropohjaan voi laittaa heijastimia ja typeriä iskulauseita takanapolkijoiden ihmeteltäväksi. Kesän pidemmille pyöräretkille tiedän että juomarakkotaskulle tulee käyttöä. Tämä menee helposti parhaiden lekaostoksieni listan kärkeen, jos tarviit halpaa jokapaikan reppua niin osta.

Paranneltavaa tähän toki voi keksiä vaikka mitä mutta tähän hintaan ei tarvitse kenenkään ruveta mussuttamaan yhtään mitään.
0
0
I would recommend for a friend
Frank S.

13.12.2017
I got this little pack for day hikes and after a couple of months I can say that it is ridiculously good for its price. It's not large, but I have attached several pouches on the outside, such as a bottle pouch with a one-litre Nalgene bottle and an emergency/IFAK pouch, to free up some space inside. As long as you don't overcharge the thing it remains pretty comfortable - when packed light you don't need the hip belt, if you put in some more stuff just use the belt and the chest strap and you'll be OK. With the various pockets you can keep your things organized and there is a plethora of straps and molle/pals webbing to attach stuff. Keys and small electronics go into the interior zipped pouch and then there are more interior sleeves where some will stuff a tablet (I once did, it works), others a hydration bladder and/or gloves, a scarf etc. Note that there is a discreet pass-through hole under the top carrying handle where you can feed a headphone cable or probably a hydration tube. The two outer pockets will take some fast food (chocolate bars, a Shokacola tin, muesli bars...), first-aid stuff (top pouch, it takes an Israeli bandage plus smaller stuff) and things like a knife and cordage, or a poncho (in the lower outside pouch). The orange rain cover that you can get separately is large enough to cover the pack and all the things you can reasonably attach on the outside, and you can store it in one of the outside pouches. The straps have neat mil-style velcro tabs to keep them rolled up, such as one finds on expensive packs. A raincoat or sweater can be stuffed under the compression straps... Once you have all your neccessities attached on the outside or stuffed in the various pouches, there is room for your picknick, a camera and a sweater in the main compartment. I guess you can also find a spot for a toothbrush and underwear if you want to use it as hand luggage on a plane. Note that a Skrama knife in its plastic blade protector will just fit inside (but don't do that while traveling by air...).
The greatest 'disadvantage' is that this thing offers so many options to attach stuff that you can actually make it almost too heavy! It has no frame so it is not meant for heavy loads, but the back padding is pretty good and so are the straps.
Finishing is nice, good zippers and straps, nice thick Cordura. You need the rain cover to keep things dry in heavy rain, as the zippers have no rain flaps, but it will take a light shower. I'd suggest a couple of ziplock bags for sensitive stuff like a phone, powerbank etc.
Great daypack, bug-out bag or get-home bag in your car etc.
For the price you can get every family member one. ;-)
I really can't fault it.
1
0
I would recommend for a friend
Tuomas K.

27.12.2017
Varsinkin hintaisekseen hemmetin hyvä reppu. Mahtuu hyvin matkaan 15" läppäri varusteineen ja suurinpiirtein pitkän viikonloppureissun verran vaihtovaatetta ja muuta tarpeellista tilpehööriä, varsinkin kun pulttaa pari Miltecin lisäpussia kiinni.
0
0
I would recommend for a friend
Mike G.

13.01.2018
Has held up very well to 6mos of carry in the military reserve. Would like a better brand of buckle for piece of mind but these have held up. Will use some sets of "repair buckles to get ITW Nexus buckles on it. Other than wishing it came in a 30 liter size, I have been very happy. Good job guys!
0
0
I would recommend for a friend
Markus K.

15.01.2018
Erittäin hyvä reppu. Ollut nyt pääsääntöisesti käytössä lyhyillä vaellusreissuilla.
0
0
I would recommend for a friend
Sami S.

26.01.2018
Loistava hinta-laatu suhde. Ostin pojalle partioon päivärepuksi ja nyt on päivittäisessä käytössä koulureppuna. Tähän asti koulureppuja kulunut puhki 1-2kpl lukuvuodessa, osa "merkki" reppuja. Rynnäkköreppu kestää ja ei näytä kuluvan puhki.
0
0
I would recommend for a friend
Carlos K.

18.02.2018
I use this bag daily going to work. The inner pouch is perfect for 2017 MacBook Pro sized laptops. Great quality, great value for money. If you want extra space, get side pouches.
0
0
I would recommend for a friend
Aki V.

23.02.2018
Sopii hyvin päivittäiseen käyttöön, eräjormailuun sopimisesta ei tietoa.
Näyttää hyvälle, on kestävää materiaalia kun kestänyt jo muutaman vuoden menoa arjessa, festareilla, matkoilla, lentomatkoilla.
0
0
I would recommend for a friend
Mikko J.

01.03.2018
I would recommend for a friend
Oskars S.

10.03.2018
good pack
0
0
I would recommend for a friend
Antti S.

31.03.2018
Mahtava pikkureppu. Ostin alunperin tämän arkikäyttöön eli läppärin ja salikamojen kuljettamiseen, mutta on sen jälkeen palvellut parin päivän eräjormaretkillä, metsähommissa sapuskan kuljettamiseen sekä käsimatkatavarana lentokoneessa. Plussaa lantiovyön ja rintaremmin irroitusmahdollisuudesta, niitä ei mielestäni tämän kokoisessa repussa tarvitse. Olkahihnan D-lenkki oli piirun verran liian pieni juomarakon letkulle. Pikkumiinuksen verotan helvetillisesti kilisevistä vetoketjuista, mutta tämänkin sai siedettävälle tasolle pujottelemalla vetimet uudestaan. Kaikin puolin ältsin hyvä pikkureppu pikkurahalla!
0
0
I would recommend for a friend
Bruno S.

02.04.2018
Great urban backpack!
Got it for two weeks and it is very good except for one thing-it desperately needs covers for zippers.
During the rain moisture enters the inner pockets and everything gets wet. Other than that, it is great!
0
0
I would recommend for a friend
Sauli

18.04.2018 (Edited 15.10.2018)
Jos tämän kokoluokan reppua tarvitsee, niin vilpittömät suosittelut hankinnalle. Oikein mainio pikkureppu.
0
0
I would recommend for a friend
Justin C.

20.04.2018
I would recommend for a friend
Kimmo S.

28.04.2018
Tässä kulkee selässä hätäisimmät treenikamppeet, pienen metsäreissun oleelliset asiat sekä muut päivän pikkutarpeet. Suurempia reissuja varten tähän ei oikein saa oleellisia, kuten ruokia, majoitustarvikkeita ym, vaan kannattaa suosiolla hankkia isompi reppu. Kaupunkikäytössä tämä on varsin mieluisa yleisreppu. Nauhat saa särmättyä pois heilumasta, taskut ovat hyvän kokoisia ja konstailemattomia, koko on sopiva useaan tarkoitukseen plus sivuremmeillä tämän saa lyttyyn. Sivuvetoketjuilla päälokeron saa täysin auki, mikä on kiva ominaisuus.

Molle/pals-kujastoa ei ole juuri tullut käytettyä. Näin pienessä laukussa ei ole ylimääräisille taskuille hirveästi käyttöä. Velcro-alue on aika iso, mutta toisaalta useimmiten sille ei ole hirveästi käyttöä. Ei se toki haittaakaan, koska siihen takertuvat risut ym irtoavat kohtuudella. Vedenkestävyyttä ja NIR-ominaisuuksia tämän hintaluokan laukussa ei sinänsä oletakaan olevan. Lantiovyö tuntuu näin pienessä nyssykässä turhalta.

Kaiken kaikkiaan ihan kiva yleislaukku.
0
1
I would recommend for a friend
Jay R.

30.04.2018
Used this bag every day all winter and its absolutely spot on. Don't let the small size put you off, I've carried around all sorts with this and never run out of room. Fits full size laptops, text books, stationary, water bottle and everything else you might need day-to-day for urban use. Only thing that doesn't fit is a jacket/coat, but these easily clip onto the side using the straps. I've had similar bags from people like mil-tec, which disintegrated almost immediately, whereas this one seems absolutely indestructible so far. Took a while deliberating whether to buy this, but just do it.
1
0
I would recommend for a friend
Jukka H.

07.05.2018 (Edited 07.05.2018)
Juuri oikean hintanen reppu näille ominaisuuksille! Töihin tarvis saada kulkemaan eväät, laturia ja pari kourallista muuta pikkusälää plus itse työn edellyttämät tavarat. Melko hyvin mahtui tähän reppuun kun karsi vain välttämättömät mukaan joskin 5L lisätilavuus ei olisi ollut haitaksi. MOLLE lenkit kyllä auttaa kun saa just sellaiset lisätaskut laitettua kun tarvii, mut ne taas lisää repun "bulkkia". Nuo remmien särmärit on ehkä paras idea ikinä! Ja niillä pystyy estämään pikalukkojen löystymisen kun kääntelee remmien päät just lukkojen alle. Nää ois tietty voinu olla valmiiks sellaset ei löystyvät jolloin ongelmaa ei ois.
0
0
I would recommend for a friend
Kalle S.

12.05.2018
Arvostelu koskee muutaman vuoden takaista versiota tuotteesta, Särmä-brändiä sekin. Risut ensin: ylimmän pikku- eli lompakkotaskun vetoketju prakasi noin kahden vuoden käytön jälkeen. Ulkopuolen vetskarit kliksuttavat yhteen mikäli niitä ei laita vieri viereen vaakasuoraan kohtaan, minkä voisi mainita käyttöohjelappusella -- hitusen ärsyttävää kunnes tajuaa itse.

Sitten ruusut: tämä reppu kestää päivittäistä käyttöä läppärin, kameran, tarvikkeiden, ym. kanssa erinomaisesti. Em. tavaratkin kestävät reppua mikäli eivät ole haurainta sorttia. Olkahihnat on pehmustettu niin ettei hartioita väsytä vaikka täpötäyteen ahdettuna reppu olisi selässä 6h putkeen, kesällä taikka talvella. Yksikään hihna ei ole katkeillut tai osoittanut merkkejä irtoamisesta. Ulkotaskuja on kaksi; ei siis kolmea liian pientä, tai yhtä liian suurta. Ostaisin repun tuoreimman version, mutta vanha on edelleen kuin bränikkä. Hinta-käyttöarvo-suhde lienee Lekan parhaita.
0
0
I would recommend for a friend
Ari-Pekka V.

14.05.2018 (Edited 27.09.2019)
Hinta-laatu -suhteeltaan ehdottomasti paras reppu, mikä on tullut vastaan. Jostain marketista tai merkkikassikaupasta saa itselleen samaan (tai välillä kaksinkertaiseenkin) hintaan aivan onnettoman rävellyksen. MOLLE-taskujen kanssa kyytiin lähtee helposti pidemmän ja monipuolisemmankin viikonloppu- tai metsäreissun tarvikkeet ja vaatteet. Itsellä käytössä on ollut Särmä TST:n M- ja S-koon taskut. Yksi molempia menee kivasti selkäpuolelle ja tarvittaessa S-kokoiset taskut tarttuu myös kylkiin.
Omassa käytössä ainut miinus on ollut sisäpuolen verkkotaskun helma, mikä löysyyttään repsottaa vähän miten sattuu. Reppua täyttäessä se sitten ottaa aina välillä tavaraan kiinni. Pikkuvika vaan kuitenkin, ja hötkyilemättä helman saa kyllä pysymään pois pakkaamisen tieltä.

EDIT2019: Hankin sittemmin Ison Rynnäkkörepun, kun töiden takia piti päivittäin kuljettaa mukana melko isoa läppäriä. Möin sitten pienemmän repun kaverille ja olin tyytyväinen Isoon Reppuun. Nyttemmin työkone on taas muutaman tuuman pienempi, joten pieni Rynnäkköreppu vastaa paremmin omia tarpeita. Isosta tähän palatessa jään tosin kaipaamaan pienemmän ulkotaskun verkkopussia. Siinä oli kätevä pitää pienet nippelit, kuten huulirasva niin että tavara ei hukkunut purkkapussien ja muiden vähän isompien tavaroiden alle.
Viikonloppureissuille ja pienille metsäretkille pakkaan tavarat yhä Isoon Reppuun.
0
0
I would recommend for a friend
Codinski A.

22.05.2018
Was looking for a decent ESC bag and came across this, decided to give it a try. Mil-Tec is on my shit list, and I was NOT about to spend 100+ dollars on a small PALS compatible pack (looking at you 5.11 Tactical). This is by far the best sub-50 dollar pack there is, end of discussion. Would this thing survive a war? No, but if I wanted something like that I'd get a CP10 or an M05 ruck. Best pack per dollar you'll find, period. Best to stick with green, makes finding matching pouches easier
0
0
I would recommend for a friend
Erik W.

23.05.2018
Excellent pack for the price. Just the right size for a day bag, and fits my Source hydration reservoir like a dream. It's a good fit with lots of options and features. The velcro on the pack lets all the kids know how cool I am with morale patches.
1
0
I would recommend for a friend
Jouni H.

27.05.2018
I would recommend for a friend
Jarno H.

14.06.2018
Alunperin oli tarkoitus hommata tämä viikonloppureissuja varten mutta kun avasin paketin, huomasin heti ettei tähän kyllä viikonlopun tavarat mahdu millään. Jotenkin näyttää kuvissa isommalta mitä on todellisuudessa. Tämä kannattaa pitää mielessä kun tilaa. Tilasin sitten samantien ison rynnäkkörepun, johon sitten vkl:n vaihtokalsarit sun muut menikin paremmin. Hinta ei kuitenkaan ollut niin kova että olisin alkanut reppua palauttamaan, onneksi! Olen keksinyt tälle muuta käyttöä ja päiväreppuna toimii mainiosti. Erikokoisia taskuja on mukavasti ja ihan OK selässäkin pitää. Hihnoja on vähän liiankin kanssa mutta lyhentämällä tai pois ottamalla tämäkin ratkeaa. Verkkotasku on tosiaan vähän huono. Juomarakko on suunnitelmissa hankkia. Saa nähdä kuinka se toimii tässä. Letkun reikä vaikuttaa aika naftilta. Suosittelen kyllä tätä reppua pienempää tavarankuljetusta varten, etenkin tähän hintaan.
3
2
I would recommend for a friend
Otto B.

22.06.2018 (Edited 30.12.2018)
Bought this on a whim, because I needed a cheap commuter pack for carrying my packed lunch and so on. I did not expect much based on the photos and reviews. The main selling point was the price. I got the brown one, and I'm pleasantly surprised.





Here are my first impressions:



Colour: The brown one is a reddish brown - NOT coyote brown. There's nothing wrong with the colour, it's just worth mentioning.



Plastic buckles, D-rings and so on: These are cheap and flimsy. I ordered some ITW QASM buckles to go with the pack, and I'm glad I did. Break off the ones on the pack and install your own - it makes a huge difference on the "feel" of the pack. I broke off the D-rings on the shoulder straps and made loops out of paracord to use as a substitute.



Waist belt: It's thin and pretty pointless on a pack this small. I simply removed it, and cut off the attachment points.



Sternum strap: Flimsy and pointless on a pack this small. Easily removed.



Upper outer pocket: I was going to undo the stitching and remove this pocket because I thought it looked silly. It made the pack look like a Mil-Tec or Tasmanian Tiger pack, and I did not like that at all. The velcro patch is very large, and the plastic backing if stiff and has a cheap feel. The pocket is quite roomy, though, so I think I'll keep it as-is.



Lower outer pocket: Perfect size for a large-ish FAK.



Compression/ lashing straps: These are made of thinnish webbing. I cut off the ones on the bottom of the pack, as I see absolutely no need for them on a pack this small.



Internal pockets: Just the right kind, size and placement. A hydro bladder pouch, a small & flat zippered pocket, and a mesh pocket. Nothing fancy, but spot on!





After having upgraded the plastic furniture and having culled the excess straps, I now have a decent daypack for cheap. No regrets - I might get another one in a different colour.



UPDATE after daily use for 6 months:

I love this pack. I would give it a 4 star recommendation, if it didn't require removal of so many straps and cheap buckles. I ended up removing the upper outer pocket just for looks, and discovered that the bag stand easier on its own now. I would recommend getting the Särma rain cover, as heavy rain will soak the pack. Also, place a thin foam mat or similar flat object into the hydro bladder pouch to make the pack stand on its own. Do not hesitate to buy this pack - just be aware that you might want to upgrade some plastic parts, and remove a lot of straps. I prefer this bag over my (much more expensive) Tactical Tailor pack.
13
2
I would recommend for a friend
J-P M.

26.06.2018 (Edited 31.10.2019)
Pieni, kiinalaisen oloinen ja aika lötkö reppu, mutta hintaansa nähden oikein mainio. Päiväretken kamat mahtuu mikäli olet minimalisti tai retkesi ovat luokkaa makkarapaketti+termos ja laavulle tai jotain. Kauppareissuillakin ihan jees, litran maitopurkki menee kyljelleen pohjalle. Itselläni on näitä kaksi kappaletta eivätkä kummankaan vetoketjut kilise häiritsevästi. Hihnat hieman luistavat, varsinkin "lantiovyössä". Ihan hyvä kantaa, viilekkeissä hyvät pehmusteet ja rintavyö on ihan toimiva lekan joustohihnamalli. 185cm pitkällä "lantiovyö" on jossain navan korkeudella. Juomarakkotasku toimii testatusti ihan hyvin. Euroakaan enempää en tästä maksaisi.

Juomarakkotaskuun sopii muuten n. 23x35cm ohut muovinen leikkuulauta (tai mikä tahansa muu vastaava lätty) joka tekee repusta perskeleesti paremman kantaa painavammilla tai muuten omituisilla kantamuksilla.
0
0
I would recommend for a friend
Juha S.

29.07.2018
Poimin tämän mukaan muutama vuosi sitten myymälästä joten kokemusta on ehtinyt kertyä. Hyvä ja näppärän kokoinen yleisreppu kaupunkiin tai käsimatkatavararepuksi koneeseen, mutta ei tänne reissukamoja mahdu jos sitä meinaa. Ainakaan pidemmälle matkalle.

Hyvin taskuja, remmejä ja paikkoja mihin laittaa kaikkea kiinni. Perushyvä selässä ja kaikinpuolin hyvä ja käsittämättömän halpa siihen nähden paljonko sillä saa. Jos enemmän tavaraa haluaa mukaansa kuin hotelliyön tavarat niin suosittelen pykälää isompaa mallia. Kyllä tähän yhden yön eräkamatkin saa kiinni, mutta vaatii ihmemiehen teippaukset ja apuremmit ja reppu kastuu läpimäräksi, mutta kyllä ne tälläkin kulkee. En silti suosittele vaan tuli sekin testattua.
2
0
I would recommend for a friend
Emmi Ö.

03.08.2018 (Edited 03.08.2018)
Roikkunut selässä neljä vuotta lähes päivittäin töissä, koulussa, festareilla, luonnossa ja ulkomailla. Sitä ennen veljellä muutaman vuoden softausreppuna. Tällä ei todellakaan eräillä, mutta alhaisella hinnalla saat todella kestävän ja uskollisen vapaa-ajan repun.



+ Ei näytä hölmöltä kapeaselkäisellä

+ Remmien avulla paljon säätövaraa

+ Remmien säätö on nopeaa ja vaivatonta, ja ne silti pitävät kunnolla

+ Tosi paljon eri kokoisia taskuja

+ Vuosien säällä kuin säällä käytön jälkeen väri on haalistunut vain vähän. Tai vaikea sanoa onko sekin vain likaa. Edelleen se tosi musta kuitenkin on.

+ Pitää sadetta jonkin verran

+ Kaiken kaikkiaan kestää tosi hyvin kovaa käyttöä



- Liian pieni eräilyyn tai mihinkään iltapäivää pidempään retkeilyyn

- Olkahihnojen karhea materiaali hankaa paljasta ihoa ikävästi

- Verkkotasku alkaa repsottaa hassusti ajan myötä, mutta ei omaa käyttöä haittaa

- Vetoketju reistaa välillä rakoilemalla auki suljetuista kohdista. Tätä tapahtuu kuitenkin toistaiseksi tosi harvoin, ja ikäähän on jo se 5+ vuotta

- Näitä on ihan jokaisella tyypillä, joten kannattaa ripustaa joku heijastin tai tunnusmerkki johonkin näkyville. Oli meinaan festareiden narikassa vaikea löytää oikea.
1
1
I would recommend for a friend
Antti H.

04.08.2018
Erittäin hyvä ja monikäyttöinen reppu. Toimii arjessa, pyöräillessä, lenkillä ja matkoilla. Sisään menee enemmän tavaraa kuin päällepäin näyttää. Myös remmeihin ja kiinnikkeisiin saa vaikka mitä killutinta. Esim. itselläni ollut alaremmeissä kiinni koko kesän piknik -huopa. Puoli pistettä pois sen takia että taskujen tuplavetoketjut on muistettava laittaa pikkaisenkin täyteen pakattuna AIVAN alas jompaan kumpaan reunaan. Muuten ylempi hivuttautuu pois paikoiltaan ja kamat tippuu syntyneestä aukosta ties minne. Jos siis jotain kehitysehdotuksia haluaa sanoa niin tuleviin malleihin aavistuksen jämerämmät vetoketjut. Kaiken kaikkiaan kyseessä kuitenkin loistoreppu!
5
0
I would recommend for a friend
François G.

08.08.2018 (Edited 08.08.2018)
I once made the mistake of purchasing a Mil-Tec assault bag . Switching to Särmä proved to be a very good decision! The bag itself has fewer but larger compartments, which makes storing a lot easier!
2
0
I would recommend for a friend
Stefan F.

30.08.2018 (Edited 18.07.2019)
If I didn't buy it at the reduced price I would've been really disappointed. the chest strap is way to high and has to many loose straps. The hip belt is quite useless and too thin. The zippers have these hard plastic ends that rattle all the time. The colour is almost grass green instead of a more military olive green.
But for 27€ my son now has a pack to take to the boyscouts.
edit: The bag had a problem with the waist strap, I'm getting a replacement soon so 5 stars on customer care and product support!
0
0
I would recommend for a friend
T .

02.10.2018
Bag is exactly what I wanted . Well made, nice features (the velcro'd webbing allows easy tidy) and great price. But I gave it to my son as a birthday gift. He loves it I works enough to call it waterproof here on Vancouver Island rainforest, and the hydration pack at 3 litres is enough for his daytrips.

Now I have to stump up and get one for myself as well. So far I can find nothing as contradicting to purchasing these packs.
They rock.
2
0
I would recommend for a friend
Jani T.

03.11.2018
Todella hyvä reppu, etsein kauan kunnollista reppua joka kestää juopottelureissuni ja johon mahtuu kaljat ja wiskit kunnolla ja mikä on hyvä kantaa selässä :) Tämä reppu on juuri sellainen, täydellinen juopporeissureppu mulle ja toimii varmasti retkeillessäkin, kymmenen pistettä.
1
1
I would recommend for a friend
Teeo P.

20.11.2018
Yksi tähti pois koska reppuun tuli reikä. Muuten reppu on todella kestävä ja hyvä kaikessa mihin vain reppua voi käyttää. Pisteet asiakaspalvelulle koska sain uuden repun veloituksetta rikki menneen repun tilalalle suosittelen.
1
0
I would recommend for a friend
Scott K.

10.12.2018
I've had this pack for a while now and ruck with it weekly. Did my first Go Ruck event this past weekend and got to know the pack really well in 10 miles. Love most of the things about the pack except on. The shoulder straps want to slide. All the time. All the way back out. It's cold here so I had gloves on and it was a chore to keep pulling the straps back tight and comfy. So, I just finished the ruck with my pack in the middle of my back. I've brain stormed a solution but might think about getting another pack to do anything other than casual daily rucks.
0
0
I would recommend for a friend
Peter F.

20.12.2018
Great bag for carrying a macbook pro to and from the office and while on call. I definitely plan on taking it on hikes soon once I get a hydration pack to try that out, but it more than fills my needs, especially at this price point. I mentioned it to my team at work and most of them are considering ordering them as well upon seeing it work well. The only guy who isn't recently bought a similar pack of another brand for more, and kind of wishes he'd seen this one first.
0
0
I would recommend for a friend
Tuomo P.

26.12.2018
Jos tarvii suhteellisen pientä reppua muutaman päivän reissua tai parin maitopurkin kantamista varten, niin tämä on erinomainen kapistus. Itselleni tuli hieman yllätyksenä repun pienuus ja jäin harmittelemaan etten tilannut suoraan isompaa kokoa. Asiansa silti ajaa, päivittäin käytössä joka tapauksessa.
2
0
I would recommend for a friend
Aapo K.

06.01.2019
Näpsäkkä pikku reppu, jossa itsessään muutama hyvä tasku. Jos jotain parantaisin repussa, niin vaihtaisin vetoketjujen vetimet muovisiksi etteivät ne kilisi juostessa.
0
0
I would recommend for a friend
Ian B.

08.02.2019
This pack seems very well put together, and the overall design is simple & well-thought-out.
I was super excited to get this in the mail today, but when I put it on, I found that the harness/straps were too short to fit me. Only at full extension of the shoulder straps does the waist belt come anywhere near my waist, and not close enough to my hips to take any load, and when the shoulder straps are that far extended, most of the strap is behind my shoulder, with only the very end of the padded part of the strap getting over my shoulder, with the cinch buckle just clearing my collarbone. Most of the padded strap is wasted going up and over my shoulder blades.
I was aware of the capacity of the bag when I purchased (which for the record is exactly what I wanted for a day-to-day pack), however the harness is too small for a 183cm 100 kg man.
As I mentioned I really like the pack, I wanted to love it, but it doesn't fit me (my wife is excited as she may get it instead of me returning it). Given the quality I would still recommend it, however I would suggest making sure of the fit first.
Perhaps the larger Sarma pack would fit me better, as it has a taller pack body (I'm not sure if the shoulder straps are any different), however it is larger than I was looking for (I wanted something that will fit under an airline seat easily), and I'm cautious about buying before trying for size again.
3
0
I would recommend for a friend
Adam R.

21.02.2019
Surprisingly good pack for the price, I have carried 10+ kgs in it quite comfortably and with no damage to the material or stitching.
I do find the green a bit "bright" compared to the more Olive colour I was expecting
1
0
I would recommend for a friend
Edvin S.

06.03.2019
I´ve used this bag for the last year as my daily driver and it has been great. Just the right size for a day trip or lugging books and laptops around. For the price it is fenomenal.
0
0
I would not recommend to a friend
Tero L.

19.03.2019
Kannattaa miettiä hetken jos on ostamassa kakkoslaadun mustaa reppua. Tiedoissa kerrotaan, että värijäämät lähtevät pääosin pois ensimmäisen pesun yhteydessä. Olen nyt pessyt repun kolme kertaa, ja silti kankaasta lähtee vieläkin punaista väriä selkeästi. Vitosen alennus ei ole millään tavalla riittävä vaivan ja pesukoneen veden- ja energiankulutuksen kattamiseen, joten kannattaa valita vihreä tai ruskea reppu.

Reppu itsessään tuntuu kestävältä sekä monipuoliselta ja uskon, että se sopii omaan käyttöön hyvin. Kunhan vain saisi ne värijäämät joskus pois... En suosittele ainakaan tuota kakkoslaadun mustaa.
12
0
I would recommend for a friend
Samuli L.

03.04.2019
Ostin kakkoslaadun mustan repun. Kuten kerrottu, väriä irtosi. Reppu pesty kerran pesuohjeen mukaisesti, eikä väriä enää irtoa.
Repun koko on juuri sitä mitä tiedoissa kerrotaan, sopiva omaan käyttööni. Vetoketjujen metallivetimet kilisevät, asia korjaantuu poistamalla vetimet ja pujottamalla mukana olevat naruvetimet tilalle. Rintaremmi ja vyötäröremmi irroitettavissa kätevästi, en näe tarvetta tämän kokoluokan repussa. Hinta-laatusuhde kohdallaan.
3
0
I would recommend for a friend
Niko-Petteri M.

01.05.2019
Pirun hyvä pikkureppu melkein mihin tarkoitukseen vaan. Taskuja hyvin ja hyvät säätömahdollisuudet olkaimissa.
0
0
I would recommend for a friend
ville t.

20.05.2019
Hintaisekseen erittäin hyvä pikkureppu. Palvellut jo vuosia erillaisissa harjoituksissa, päiväretkissä ja ulkomaan matkoissakin. Kulumisen jälkiä alkaa olla niin kuin voi olettaakin pitkällisen käytön jälkeen. Yksi tähti lähti pois huonojen pistosolkien ansiosta. Reilummalla nykäisyllä tai kiristyksellä jo pettävät. Ne saa kuitenkin helposti vaihdettua nexuksen kunnollisiin solkiin, jotka soisi olevan jo valmiina kyseisessä repussa.
0
0
I would recommend for a friend
Aapo R.

08.09.2019
Hyvän tuntuinen reppu arkikäyttöön ja kevyeen retkeilykäyttöön. Reppu tuntuu hyvältä selässä ja ulkopuolisia kiinnitysmahdollisuuksia on laajasti. Kokonsa vuoksi soveltuu mielestäni max yön yli retkille maastossa. Mikäli mielii enemmän tilaa niin kannattaa valita isompi malli (jonka allekirjoittanutkin laittaa hankintalistalle)
0
0
I would recommend for a friend
Niko P.

21.09.2019
Kieltämättä pienempi, kun voisi kuvista päätellä ja suosittelisin ottamaan kokoa isomman repun sillä 20 litraa on yllättävän vähän, mutta reppu on kestävää materiaalia ja toimii pätevästi niin siiviilissä lenkkeillessä kuin intissä kenttäreppuna.

Repun tilavuus/kestävyys testattu 10kg telamiinalla 3km hyökkäysharjoituksessa ilman ongelmia.

VYKS Pioneeri kiittää.
0
0
I would recommend for a friend
Angus R.

30.09.2019
Sturdy little bag that's lasted ~2 years of decent use with absolutely no damage to show for it. Material, straps, buckles, everything is nice and sturdy. The only thing is that the straps could be a little longer to wrap around camping gear, but they're certainly not short and work for most of it anyway.
0
0
I would recommend for a friend
Iikka H.

04.10.2019
Kokoonsa nähden tilava reppu, erittäin jämerän oloinen. Mukava kantaa selässä, leveät olkahihnat.
0
0
I would recommend for a friend
Ulf J.

12.11.2019
It looks cheap and it is cheap but is a very good day-pack.
Used it for over a year every day and no sign of wear. Day travel to work, trips in the forest, shop at the store or overnight business trips.
Nicer to my old weak spine than my previous pack when loaded.
Only drawback is the color, no Old Swedish Surplus Green available.
0
0
I would recommend for a friend
peter s.

29.11.2019
I would recommend for a friend
Miikka S.

21.12.2019
Mikset ole jo ostanut? MIKSET!
0
0
I would recommend for a friend
Collin S.

02.01.2020
I've had this bag for about a year, now. In that time, I've taken it on about 400 km of hiking through decently rough terrain, dropped it off of a cliff, overloaded it to hell, used it as a daily carry bag for medical equipment, used it for far more shopping than a bag this size and price should reasonably carry, and overall just abused it like a rented mule. Absolutely no regrets. It has held up at every turn.

Not long after getting the bag I was fit testing it with 10kg of rice, two large bottles of cola, several tins and jars, and other basic shopping. The spousal unit wore it part of the way home, not even noticing the weight until trying to hand it back to me. So I had to buy a second one.

The only rucksack or backpack I've owned that comes close to this in value and survivability has been the Swedish Army's ancient 70L framed rucksack (70L, K).

Some basic things to note: Like every other bit of kit, a little assembly is required. Fill the bag with stuff (heavy towards the top), loosen every strap, put it on, and start adjusting. I'm tiny and still had to lower the sternum strap. But once you've got it fitted, this thing is like a part of you. Barely notice the weight at all. Also, this bag doesn't waste space with pouches and pockets with limited or single function. No admin pouch means more versatile space, better weight distribution, and overall far more useful.

If you're on the fence about the 20L and the 35L, both are built to the same level of quality as far as I can tell, but both are also best when full. The straps extend far enough to lash on whatever extra you might need, so go with whichever size has the space for everything you need inside without leaving more than about 30% empty. Or just get both. They don't exactly cost much.
0
0
I would recommend for a friend
Anonymous customer

17.01.2020
Aivan loistava! Toimi Alpeilla 6pv rinteessä selässä ja kahden remmin avulla sai kiristettyä siten että ei heilunut edes kovassa menossa. Erittäin asiallinen ja edullinen
0
0