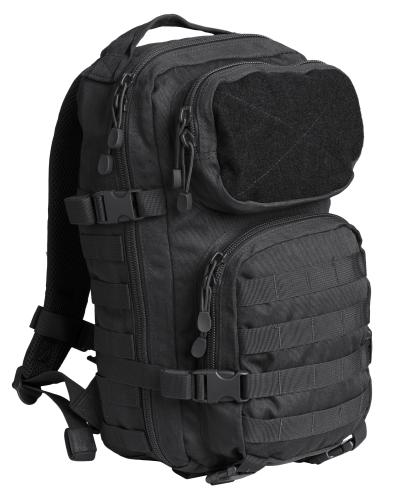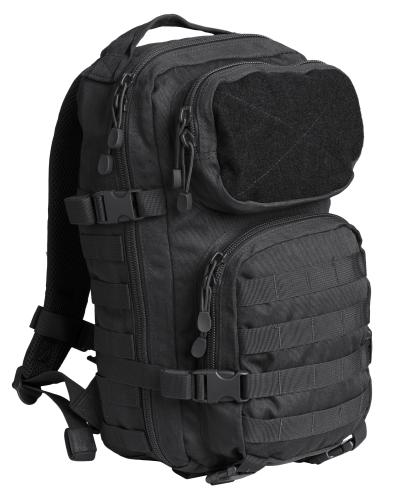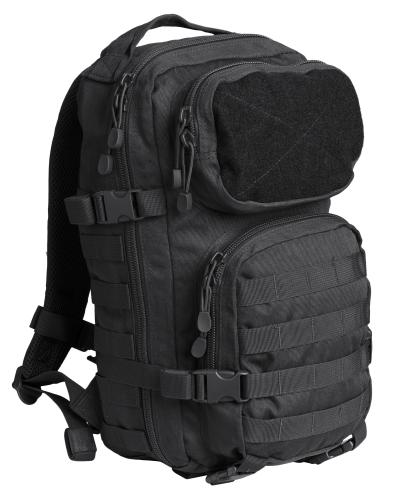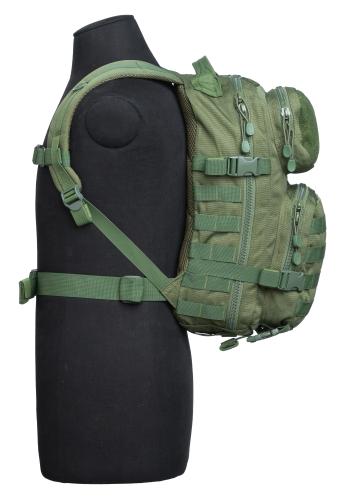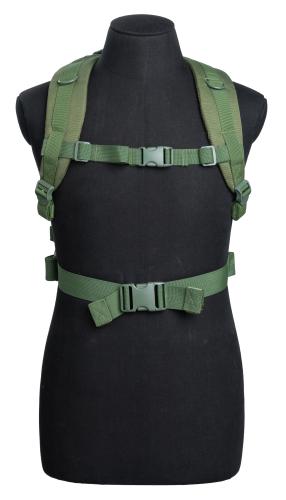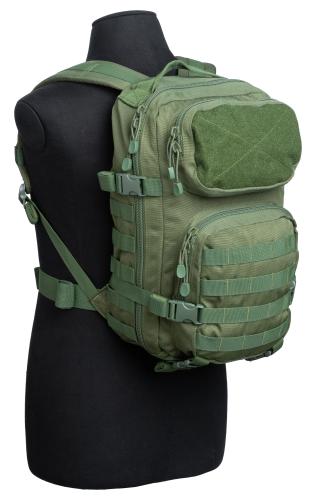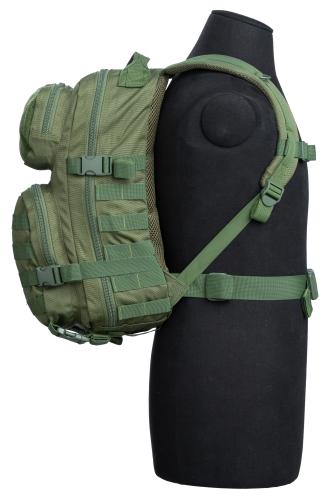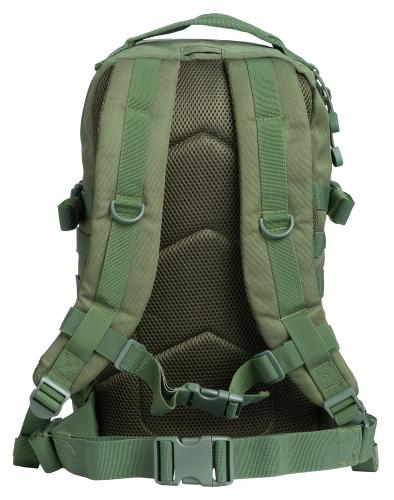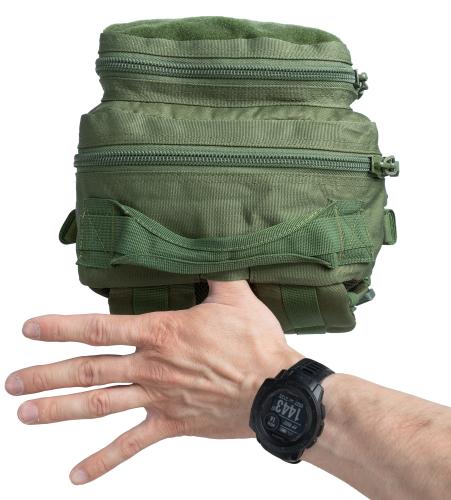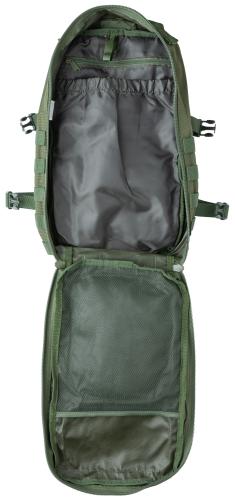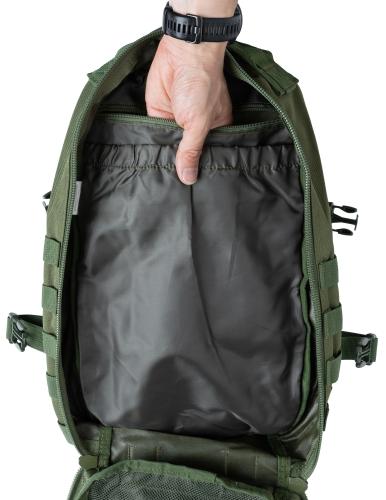 Small zippered pocket inside the main compartment.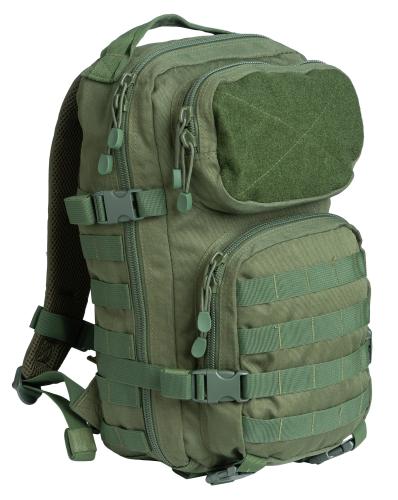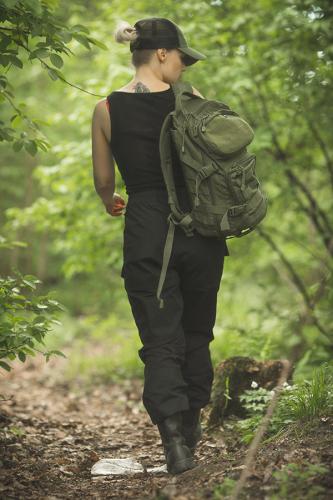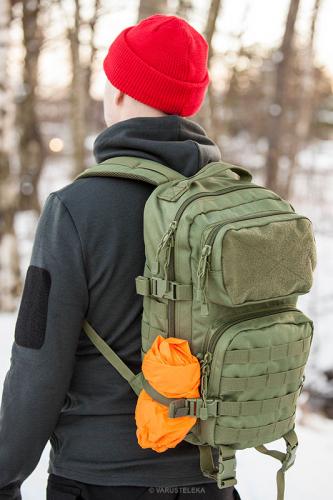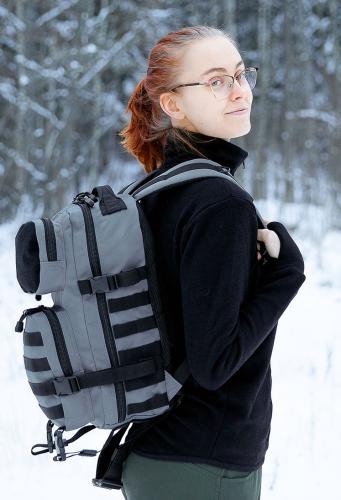 Särmä
Särmä Assault Pack
Price 49.99 USD
excluding sales tax
Good and affordable urban rucksack of our own design - partially, at least. Just enough different compartments, compact dimensions but expands a lot (even further with extra pouches). If you have a lot of stuff that has to be accessed all the time, this is the thing for you.
Loading products...
Trouble with the metric system? Try our converter: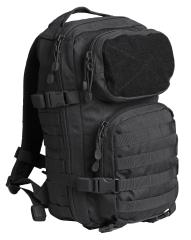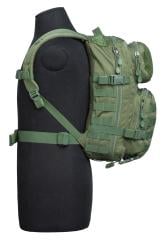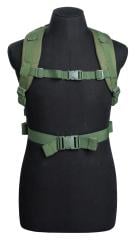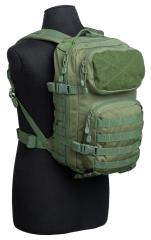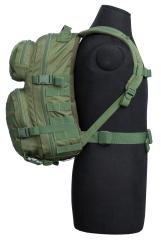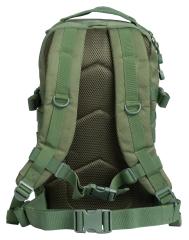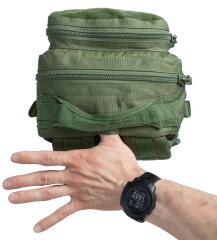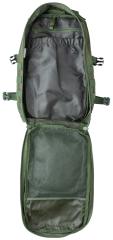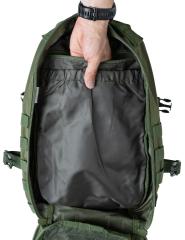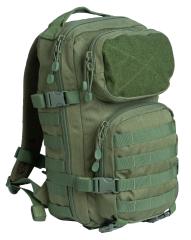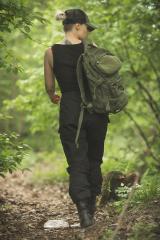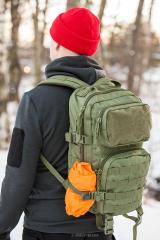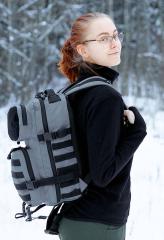 Good and affordable urban rucksack of our own design - partially, at least. Just enough different compartments, compact dimensions but expands a lot (even further with extra pouches). If you have a lot of stuff that has to be accessed all the time, this is the thing for you.
A compact 20-liter (1220 cu in) day pack
Loads of external attachment possibilities
Goes as hand luggage when flying
Our own-production Assault Pack is made simpler and tougher than most of the similar packs of the same price range that are currently on the market. That's because we had these made just for us in large numbers, without any middlemen.
Features
Big main compartment with two little compartments inside - the bigger fits an Ipad, the smaller one is zippered to hold all the small things you carry with you. The main compartment has zippers all the way, so getting something out of even a fully packed rucksack is fast and easy.
Hydration pack pouch for 40 cm (16") on the inside (hydration bladder not included). Source WXP 2-liter fits just like that, the 3-liter model is OK if you don't fill it to the brim.
Two outer pockets.
Good compression straps, two on each side and two on the underside - this thing can be compressed to the size of a hydration pack. Size compression straps have quick releases, which is a very handy thing. The straps also double as an easy way to strap stuff on to the pack - strapping your jacket onto the pack when moving indoors has never been easier.
The pack is covered with PALS attachment loops, both on the front and sides.
Shoulder straps are well-padded and contoured. If you don't need the waist strap, it's easily removed.
The pack is made out of very sturdy 1000 Denier polyester with PU coating on the inside to increase water repellency. However, this isn't completely waterproof - we recommend using a rain cover if necessary.
All the buckles are made by UTX.
In the latest batch, we updated the zipper pullers to silent cords. There can still be some of the old stock left, so don't be surprised if you get one with jingling metal pullers. If the noise bothers you, you can snip them off with side cutters and use just the cord and polymer stopper, or make your own. Check out this article on how to do it.
Some color may transfer from the product before the first wash. Machine wash with a delicate program.
Made in China. We give our own productions a one-year warranty.
Size and measurements
| Measurement | Metric | Imperial |
| --- | --- | --- |
| Main compartment | 42 x 28 x 13 cm | 16.5" x 11.0" x 7.1" |
| Large outer pocket | 21 x 20 x 5 cm | 8.3" x 7.9" x 2.0" |
| Small outer pocket | 13 x 20 x 5 cm | 5.1" x 7.9" x 2.0" |
| Outside dimensions | ~44 x 30 x 20 cm | ~17.3" x 11.8" x 7.9" |
| Total volume | ~20 liters | ~1220 cu in |
| Weight | ~1 kg | ~2.2 lb |
Material: 1000D polyester. The name Assault Pack refers to the looks of the pack, not its use. It is in the Särmä product family instead of the Särmä TST because it isn't NIR compliant. In other words, it stands out very well in the forest when observed through night vision equipment. Therefore you shouldn't use either of the Särmä Assault Packs for military training and certainly not actual combat.
Practical advice for interpreting the measurements: the corners are round and the seams and trims on the inside. So a solid box may not fit inside even if the measurements match.
The main compartment holds 24 cans of beer (we tested with the European 330 ml but should work with the slightly taller US 12 oz) to give you a real-world example. We will not admit to having considered this already when designing the Assault Pack.
Kierto Circular Economy
Return this product used but clean and unbroken, and you'll receive half of the product's original price as Varusteleka credits. Service is available only in Finland. Only Registered users can make Kierto returns. See more information about Kierto.
Carbon Footprint
The estimated amount of greenhouse gas emissions from the production of one single item is 18.5 kg CO2e. The estimation includes the entire production of the item, from the raw materials up until the finalized product exiting the factory. Read more about the calculation method.
Varusteleka Särmä
Särmä is our own brand of clothing and equipment. When you buy Särmä, you get purpose-built stuff at a decent price. They will serve their purpose well in outdoor and everyday use and won't cost you an arm and a leg! For further reading, check out the Varusteleka's Särmä page.
Särmä products are covered by a 12-month warranty against defects in materials and workmanship. For further information, please read our detailed warranty guide.
All products: Särmä
Recommendations
Loading products...
Reviews
You have already submitted a review. You can edit your text by clicking on it. You can filter the reviews by clicking on the elements of the summary.
Log in and write a review. You can filter the reviews by clicking on the elements of the summary.
Remove filter
Suomi
(93)
English
(52)
I would recommend for a friend
Sami K.

29.05.2016

Verified purchase
Pätevä pikkureppu. Sopivasti sopivan kokoisia osioita ja sisäinen juomarakkotasku on fiksu ratkaisu - sinne saa täydemmänkin rakon ilman että reppu tuntuu epämukavalta selkää vasten. Jos tähän jotain haluaisi muuttaa, niin isommassa ulkotaskussakin voisi olla verkkotasku pikkutavaroiden järjestelyyn; lisäksi isossa osiossa olevassa verkkotaskussa voisi olla jonkinlainen kiristys - nyt sen suuaukko roikkuu vähän löysästi ja tavarat meinaavat helposti lipsahtaa sinne jos tunkee vähän huolimattomasti.
28
3
I would recommend for a friend
Theo M.

22.07.2016

Verified purchase
Brilliant bag for price

I know this bag is superior to the miltec version (of course) because was sent a red miltec by accident first! Customer service was awesome though and cleared that up.

Bag is exactly what I wanted . Well made, nice features (the velcro'd webbing allows easy tidy) and great price. I've had 30 pound bags from the high street. This is far more up to the challange of a mad Scotsman in mad scots weather.
56
1
I would recommend for a friend
Christian S.

15.08.2016

Verified purchase
Great quality, well constructed/thought out bag! Worked great for day to day abuse, worked great being able to pack a 2 weeks kit for outdoor use.
15
2
I would recommend for a friend
Tuomas L.

07.09.2016

Verified purchase
Älyttömän hyvä reppu! Toimii maastossa, kaupungissa ja lentokoneessa. Mukaan mahtuu meikäläisenkii xl-kokosta vaatetta ihan useemmaks päiväks. Plussaa sopivista taskuista ja toimivasta PALS-kujastosta.
9
3
I would recommend for a friend
Eetu L.

30.09.2016

Verified purchase
Ainoa miinus kiristysremmien pikalukoista jotka tuntuvat pysyvän kiinni lähinnä vaihtelevasti, eli siis aukeavat usein hihnaa kiristäessä. Vähän ärsyttävää, mutta tämän kanssa pystyy elämään.
6
13
I would recommend for a friend
Jussi K.

11.10.2016

Verified purchase
I would recommend for a friend
Mikko K.

19.10.2016

Verified purchase
Hintaisekseen oikein hyvä peli. Pieniä puutteita on ollut muutama: remmien soljet ovat liikkuvaista sorttia, rintaremmissä loppuu säätövara pieneen suuntaan ja sisällä oleva verkkotasku ei pysy yläosastaan ryhdikkäänä.


Remmien ansiosta reppu on sopivan kompakti kaikenlaiseen matkustamiseen halpisbusseissa ja -lentokoneissa, ei vie paljoa tilaa ja tavaraa mahtuu pitkän viikonlopun tarpeisiin niin että jää tuliaisille tilaa; kunhan miettii pakattavat tavarat fiksusti. Mukaan mahtuu myös 13'' läppäri.

Muokkaus 3/18: Reppu jäi lopulta käytöstä, siinä oli kaikenlaista pientä säätöä ja viilailua (alapuolen remmit johon ei saa mitään kiinni, sisäpuolen umpisurkea verkkotasku jne...) joka ei oikeastaan paranna mitään, jos toimii ollenkaan, rupeaa vain ärsyttämään käytössä. *Lisäksi se oli liian pieni useamman ihmisen reissukäyttöön ja liian iso arkiseen työmatkaan.
16
10
I would recommend for a friend
Harri K.

13.11.2016

Verified purchase
- virittelyksi menee, mutta nuo sivussa olevat aukeavat pikalukot voi muuttaa metallisiksi
- hihnaan kylläkin reiät, joihin sitten sopivan kokoiset ns. sirkat
- jos haluaa vielä enempi säädellä, voi koko systeemin korvata kapeilla kuorman sidonta liinoilla, niitä varten hyvä omistaa vahva ompelukone
- kokoisekseen tilava, ei herätä pahaa verta pasifisteissa, sekä edullinen
- suositus...:)
6
6
I would recommend for a friend
Hugh S.

28.01.2017

Verified purchase
This tough little guy works really well in an urban environment and it is an ace bag for the price. The compartments are well thought out with just enough space for day trip supplies of food and water or for workwear and a packed lunch. No silly placements of pockets means that it doesn't flap about and sits well on your back. I couple this with the Särmä hooded fleece and if I have something in the back pocket of that then this bag can sit comfortably above the bulge of hat, gloves etc. The straps make this the most tactical bag in this price range, though they seem a little long for compression of a less than full bag, and the velcro is a really neat idea to tidy away the loose ends. The only complaint I have so far is that after a while my back gets sweaty given that there's no real ventilation here but hey, is less than 30 quid so you can't have everything!

Update: I've had this over 3 years and it's worth adding to the review. With daily use one of the seams on the side started to split, but it was easy to repair and no further trouble. The sternum strap has been questioned in the reviews, but I think it's really useful if you want to run / jog / cycle with the bag on! The shoulder straps fall off me otherwise but it's useful for exercising. If you do run with the bag then the metal zip tags might get noisy, a loop of paracord will suffice instead. If you want to be quieter it's worth considering. Also, the side straps are useful in compression if you put them into the buckle on the other side of the bag and vice versa, not like in the pictures. The bag fits a 13 inch laptop nicely, as the pictures suggest. Used in all weathers and it takes the Sarma rain cover nicely. I also throw it around by the zip tags a lot and surprisingly they alll still work. Normally on someting this cheap I'd expect the zips to be a weak point but not here. It's not perfect, but it's still an excellent bag for the price.
2
0