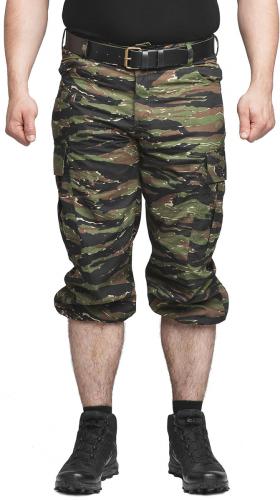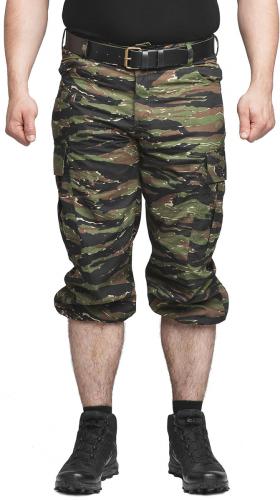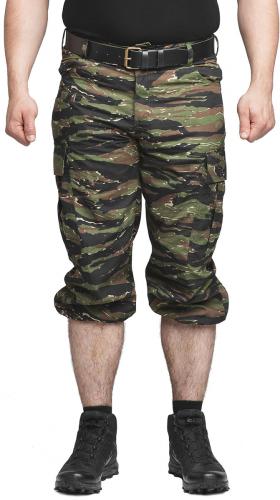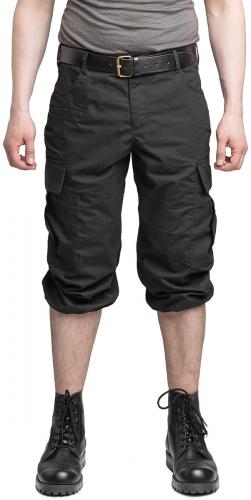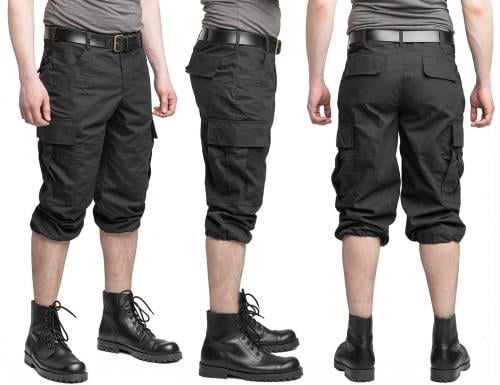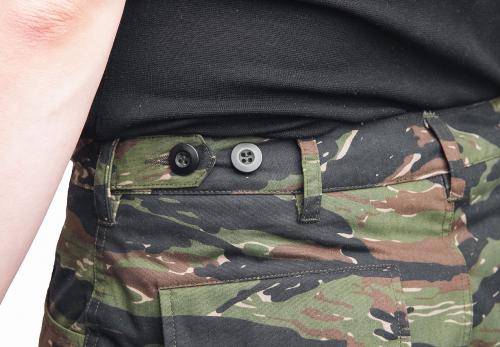 Waist adjustment tabs in a traditional fashion.
Zip fly to guard against smol jungle beasts.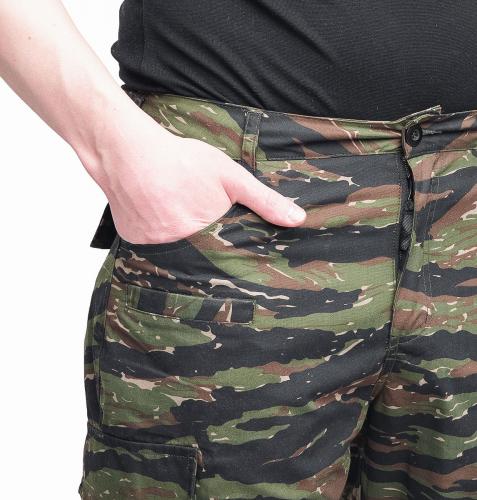 Top-opening front pockets to retain your stuff when sitting.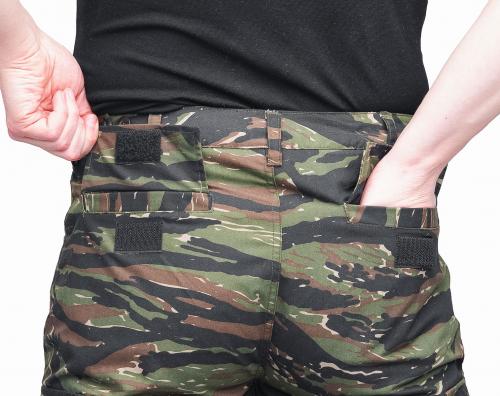 Back pockets with fashionable flaps, hook-and-loop closure again.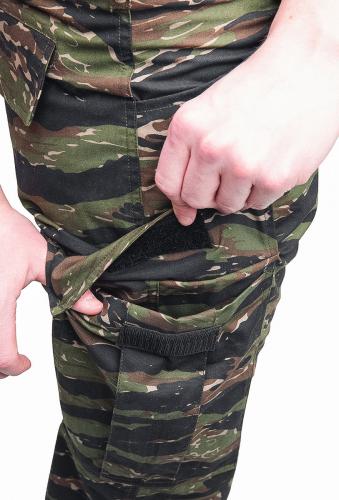 Cargo pockets with hook-and-loop flaps.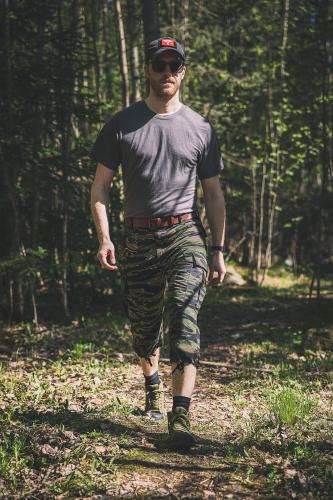 Särmä
Särmä 3/4 Pants
Price 31.99 USD 39.99 USD
excluding sales tax
Three-quarter pants or shorts, whichever way you think about it, strike nicely between shorts and pants. They are out of the way of doing stuff but look sharp when hanging about. You can wear these all summer like it's 1909!
Loading products...
Trouble with the metric system? Try our converter: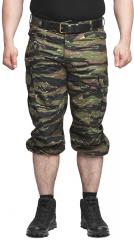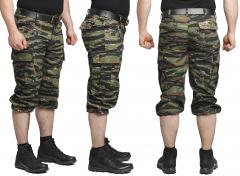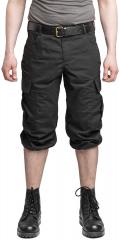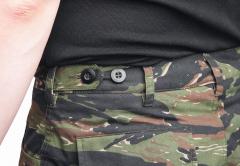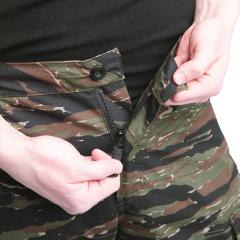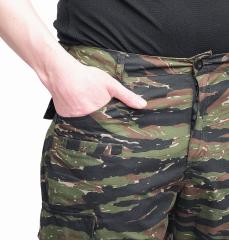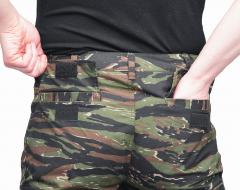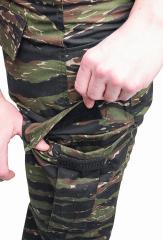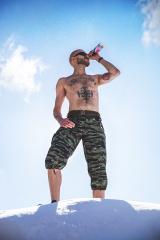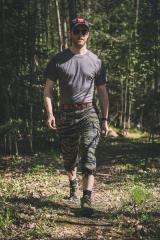 Three-quarter pants or shorts, whichever way you think about it, strike nicely between shorts and pants. They are out of the way of doing stuff but look sharp when hanging about. You can wear these all summer like it's 1909!
Design
The usual pockets as you'd expect, zipper fly and waist adjustment tabs. Articulated knees allow freedom of movement.
Two front pockets and a mobile device pocket
Cargo pockets with flaps
Back pockets with flaps
All flaps with hooks and loops
Zipper fly
Waist adjustment tabs
Drawcord cuff adjustment
Material and care
Made from 65% recycled polyester and 35% organic cotton (plain weave 210 g/m2): a solid fabric, but comfortable to wear. Some color may transfer from the product before the first wash. Machine wash at 40 °C / 104 °F, nothing special.
Sizing
Simple sizing with maximum waist circumference in the brackets. The cut is "so-called formal", so if you're looking for very baggy shorts you can consider a larger size. Remember, you can adjust the shorts about 4 cm (1.6") down from the maximum size.
Please refer to this table for actual measurements. All sizes have a 50 cm (20") inseam.
| Size | Waistband | Waistband in |
| --- | --- | --- |
| Small | 78 cm | 31" |
| Medium | 88 cm | 35" |
| Large | 98 cm | 39" |
| X-Large | 108 cm | 43" |
| 2X-Large | 120.5 cm | 47" |
Made in China
There's a good quality to be found in the PRC, as long as you don't choose the lowest bidder.
Kierto Circular Economy
Return this product used but clean and unbroken, and you'll receive half of the product's original price as Varusteleka credits. Service is available only in Finland. Only Registered users can make Kierto returns. See more information about Kierto.
Carbon Footprint
The estimated amount of greenhouse gas emissions from the production of one single item is 13.51 kg CO2e. The estimation includes the entire production of the item, from the raw materials up until the finalized product exiting the factory. Read more about the calculation method.
Varusteleka Särmä
Särmä is our own brand of clothing and equipment. When you buy Särmä, you get purpose-built stuff at a decent price. They will serve their purpose well in outdoor and everyday use and won't cost you an arm and a leg! For further reading, check out the Varusteleka's Särmä page.
Särmä products are covered by a 12-month warranty against defects in materials and workmanship. For further information, please read our detailed warranty guide.
All products: Särmä
Recommendations
Loading products...
Reviews
You have already submitted a review. You can edit your text by clicking on it. You can filter the reviews by clicking on the elements of the summary.
Log in and write a review. You can filter the reviews by clicking on the elements of the summary.
Remove filter
Suomi
(12)
English
(2)
I would not recommend to a friend
Pekka K.

24.04.2021

⚠ Unverified purchase
Lyhyet lahkeet ja kesällä luonnossa viipottavat punkit...
0
4
I would not recommend to a friend
Stefan G.

26.04.2021

⚠ Unverified purchase
Juu ei riitä minun ymmärys siihen mikä idea on tällaisilla housuilla. Ei ole shortsien hyöty antaa pohkeiden vilvoitella paljaana eikä täyspitkien housujen tyylikkyys. 3/4-housut ovat vain typerän näköisiä.
4
33
I would recommend for a friend
Niko T.

30.05.2021

Verified purchase
Hyvä leikkaus ja iso plussa kännykkätaskusta. Miinusta materiaalista, suurimmaksi osaksi polyesteriä eli muovia. Ei hengitä kovin hyvin, pallit hikoaa suht helposti. Pitää myös rapisevaa ääntä kun kävelee.
2
0
I would recommend for a friend
Roope N.

10.06.2021

Verified purchase
Suosittelen varauksella.

- En tiedä kenelle tai minkälaiselle ruumiinrakenteelle nämä on suuniteltu... Normaali oma senttikoko on aivan liian tiukka, pykälää isompi on taas sopiva vyön kanssa jalan liikkuessa tai seistessä, mutta ilman vyötä nämä putoavat jalasta vaikka sivunapit kiristää.
- Autolla ajaessa tai konttorilla istuessa takasauma kairautuu persvakoon.
- Älypuhelin taskun alla olevassa taskussa ei voi pitää mitään istuessa eikä oikein liikkuessakaan.
- Materiaali imee itseensä kaiken nöyhdän.
- Reunimmaiset vyölenkit liian kaukana sepaluksesta.

+ Reisitaskut riittävän tilavat.
+ Älypuhelintaskuun mahtuu isoimmatkin luurit.
+ Vyölenkeistä menee läpi oikeat vyöt.

Nämä ovat paremmat kuin edellinen versio, mutta jään odottelemaan seuraavaan version parannuksia, mutta en pidättele hengitystä odotellessa.
4
1
I would recommend for a friend
Ilppo N.

11.06.2021

Verified purchase
Onhan nämä selkeästi edeltävää versiota jämäkämmän oloiset ja paremmin istuvat. Mulla on ollut kaksi paria sitä aikaisempaa puuvillatwillistä mallia, mutta niissä oli taskut niin hankalan malliset, (lähes pystysuorat ihan reunassa), että sain kummastakin revittyä taskujen saumat avainketjulla vahingossa. Nämä vaikuttaisi kestävämmältä, eikä niin helposti repeävältä, mutta toisaalta materiaali on jäykempää ja joustamattomampaa. Kyllä näitä varmasti silti tulee käytettyä. Voin pienellä varauksella suositella.
1
0
I would recommend for a friend
Olivier L.

15.06.2021

Verified purchase
I bought the tiger stripe version of these for 40€ when they came out for wildlife photo and hiking, and have just used them for a week of hiking.

I am comparing them to other military cargo pants (such as Opex Guerilla, Varu cargo pants, Varu's old style of 3/4 shorts, and Brandit urban legend)

The cut is very comfortable and the whole thing feels solid and well made. I'm very happy with the pockets, I was able to carry a bunch of things in them without fear of losing them, and it still felt comfortable (the thigh pockets are the best I've tried so far). I am grateful Varusteleka gave this a zipper fly because I hate the button fly they have on other stuff. The "phone pocket" is at a good size (for my 6'' at least) and prevents damage to the phone when putting on shoes.

I have a few nitpicks:
- tigerstripe looks ultra cool but is realistically too dark for euro forest camo and also too dark for summer hiking (absorbs heat too well). A modern camo version would be good
- hook & loop closures are the most convenient solution I have tried, but are a bit noisy for stalking animals; I think I would rather have snap buttons. They also can snag onto and damage other things (like expensive sweat-wicking t-shirts) in the wash.
- the back pocket flaps bend the wrong way when sitting, resulting in "dog ears"
- the "phone pocket" on the right is not replicated on the left like it is on other Varu trousers (the more pockets the better!)
- In my ideal world, the fabric would be ripstop weave, and there would be pockets to insert knee pads

These are overall the best 3/4 cargo shorts I have tried, and am quite happy with them (Do consider that 3/4 cargo trousers are a lot rarer than full length ones). I am considering buying a second pair because I'm afraid of not finding others as good for some time. 40€ is right on the edge of what I would consider fair for the item.. Which I suppose means Varu priced it well.
4
0
I would not recommend to a friend
Antti E.

07.07.2021

Verified purchase
En tiedä muista ominaisuuksista, tai parantuuko pesussa, mutta uutena tämä muovikangas tosiaankin kerää ihan kaiken nöyhtän. Palautukseen.
1
1
I would recommend for a friend
markus b.

19.07.2021

Verified purchase
Jos luulit - etkä viitsinyt tarkemmin asiaa tutkia - että nämä olisivat erinomaisten (selvästikin Helikon-Texin inspiroimien) Särmä-reisitaskuhousujen ja -shortsien puolessa välissä, niin eivät ole. Nämä ovat ihan eri housut, ja kuten sain huomata, huononnus. Mielestäni.

Mitoitus on eri, tartee valita kokoa isommat. Lantiolla olevat taskut ovat ahtaat, lantioalueen mitoitus muutenkin kireämpi, ja sen myötä heikompi liikkuvuus eritoten, jos on jotain taskuissa. Miinus siitä, että reisitaskut on laitettu alemmaksi, ja tulevat nyt turhan lähelle polvia (kuten toki myös klassisissa BDU-housuissa). Takapuolen (ja polivien) vahvikkeet puuttuvat. Kännykkätasku on jätetty pois toiselta puolelta.

Toisin kuin pari muuta arvostelijaa, en koe materiaalia hiostavana, vaan pehmeänä ja hiljaisena miellyttävän mikrokuitumaisena. Kangas on 65-35 polyester-puuvillaa, ihan niin kuin noissa muissakin, mutta kudonnaltaan eri ja ilman ripstop-vahvikkeita. Kestävyys jää nähtäväksi. Plussaa kierrätys- ja luomu raaka-aineista.

'Tiger stripe' -kuviointi on Vietnamin sodan aikaiseen (toki kovasti vaihdelleeseen) orginaaliin verrattuna tumma ja vähempikontrastinen, sekä värisävyltään kylmempi. Orginaaliväritys maastouttaisi selvästi paremmin suomalaiseen metsämaastoon, mutta varmaan koettaisiin ihmisten ilmoilla räikeämmäksi.

Ihan käyttökelpoiset ja laadukkaasti omellut housut kuitenkin. Voisi näitä suositellakin, mutta Särmälle riman pitäisi olla korkeammalla.
0
0
I would not recommend to a friend
Sami K.

23.06.2022

Verified purchase
Ihan piti tili tehdä että tästä tekeleestä saisi avautua.

Leikkaus on ainakin meikäläisen kropalle aivan perseestä, josta ironisesti näitä housujakin saa jatkuvasti kiskoa ulos. Vyötärön pitäisi olla vähintään 5 senttiä korkeemmalla, materiaali on surkea ja taskut (ei reisi) ahtaat.

1 tähden nämä pirulaiset tienaavat kännykkätaskusta.
5
1