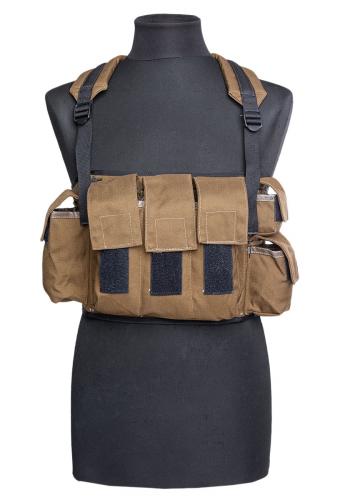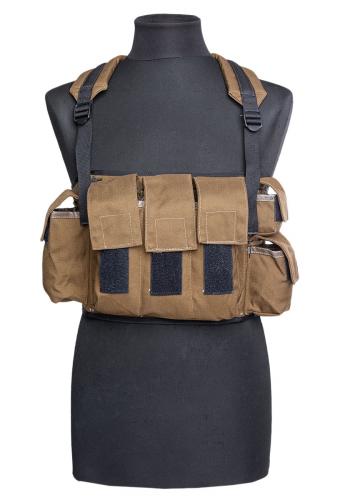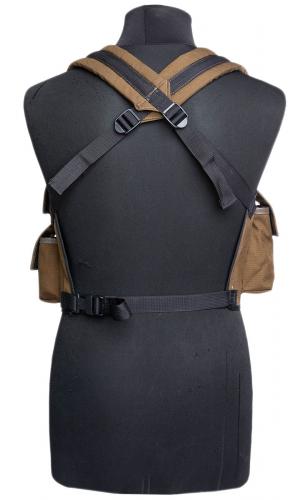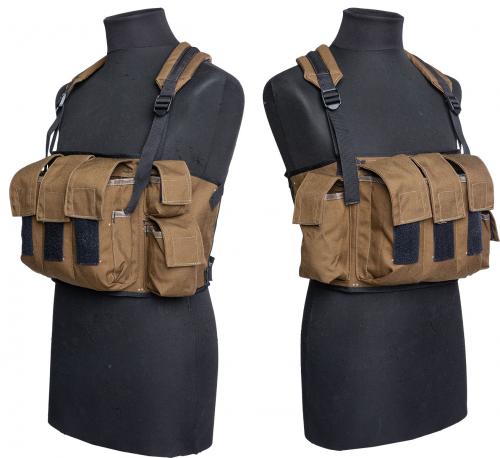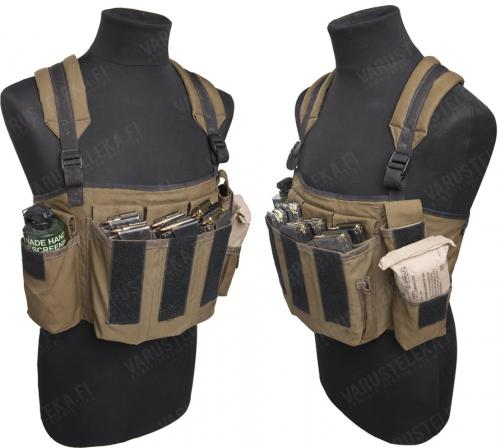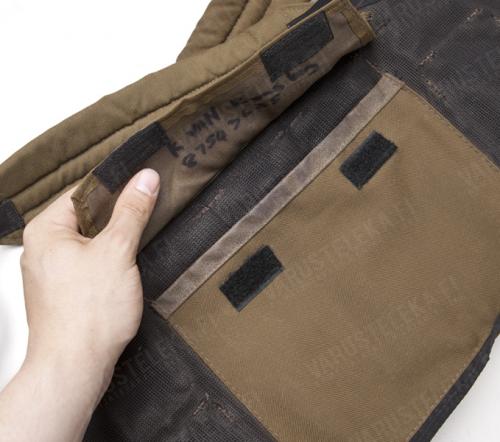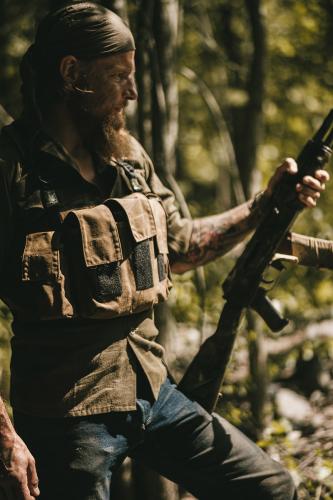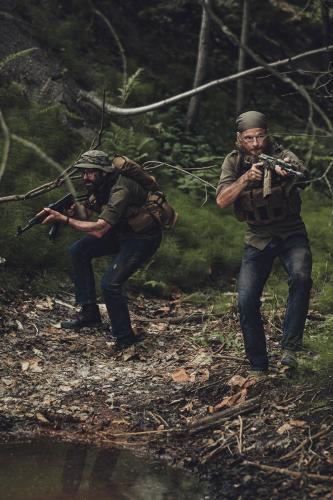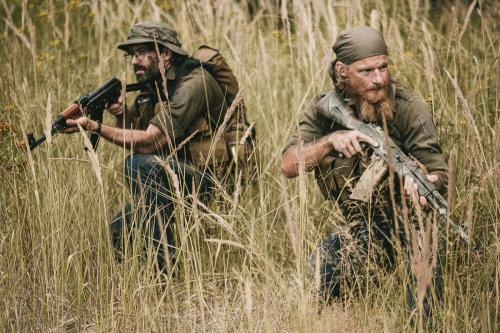 Show all: South Africa
SADF Pattern 83 Chestrig, surplus
Price 125.99 USD
excluding sales tax
The most lightweight piece of the South African Pattern 83 load-bearing system. This chestrig is designed to carry only the most vital stuff you might need on a patrol (ammo, grenades, etc.) and, most importantly, to work well when carrying a rucksack.
In stock 169 pcs. Sold 16 pcs in the last two weeks.
This product has used and returned variations. Used are washed and unbroken. Heavily used are also washed but might be missing buttons, have tears, main zipper can be broken etc. Read more about Kierto.
Trouble with the metric system? Try our converter: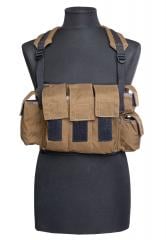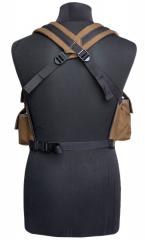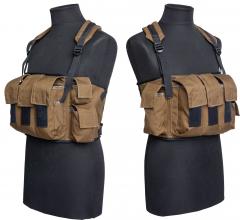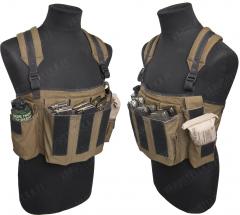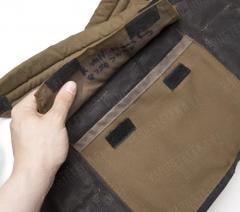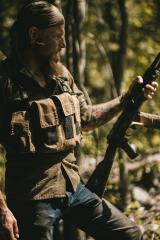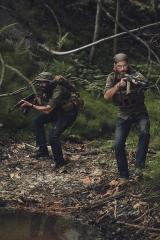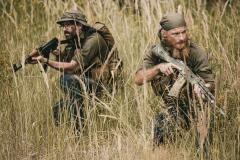 The most lightweight piece of the South African Pattern 83 load-bearing system. This chestrig is designed to carry only the most vital stuff you might need on a patrol (ammo, grenades, etc.) and, most importantly, to work well when carrying a rucksack.
As the Pattern 83 kit was developed the need for a rucksack compatible load-carrying vest became clear. The standard battle jacket, when fully loaded, is good for day patrols but if you need to hump a rucksack on top of that things get very difficult. This chest rig carries magazines, grenades, and a first aid kit and documents whilst water, radios, and other paraphernalia go in the rucksack. Like so many others these too are descendants of the famous Chicom chestrig, of which the South Africans even produced their own direct copies for special operations.
Features:
Tough, Nutria brown Cordura-like fabric on a mesh base - this thing is made for war, so the materials and workmanship are very good.
Adjustable waist and shoulder straps. The waist strap has a quick-release buckle.
Three magazine pouches with dividers, for a total of six 35 round R4 magazines. Also fits 6 of all the following mags: AK-47, M16, G3/FAL/R1. Talk about versatility!
Pouches for a first aid dressing, hand grenade and smoke/white phosphorus grenade.
A map/documents pouch on the inside.
A pencil/flare pouch on the side of the magazine pouches.
This is a very sought-after piece of kit, grab yours while stocks last!
Genuine SADF surplus
In used but perfectly serviceable condition. Repaired when necessary and cleaned. These might have previous user's name on written on them and who knows, some of these might have seen some pretty rough stuff in their time.
Recommendations
Loading products...
Reviews
You have already submitted a review. You can edit your text by clicking on it.
Log in and write a review.
Remove filter
Suomi
(2)
English
(7)
I would recommend for a friend
Jose M.

01.04.2020 (Edited 06.06.2021)
If you want the actual rucksack that goes with it they sell it on KommandoStore

(Not sponsoring the site I personally love this one more then Kommando but they are probably the only ones out there that actually have the legendary groot sack that goes with it)
4
0
I would recommend for a friend
Jason C.

19.04.2020 (Edited 06.06.2021)
Possibly the best fucking piece of gear I've ever bought. Ever.

Bought it for search & rescue to replace a Coaxsher radio harness. Much easier to get and and off, and the mag pouches are secure but huge, so you can get even a big, chunky radio in and out quickly. (And the dividers in the pouches don't cut the space in half either. They're loose and roomy, so if you want to use each pouch as a single, undivided space, the divider just moves out of your way.) Wears well with a pack.

How much better is this rig than my old radio harness? Remember the shitty 4-cylinder stick shift you learned to drive on? Then years later you got behind the wheel of somebody's BMW and had your mind blown by the unspeakable difference? Same thing, except I can't afford a BMW. I took a deep breath before spending three digits on a piece of surplus, but it's good that I did.

I repeat: Best. Fucking. Piece. Of. Gear. Ever. I would rather attach my radio to my scrotal sack with athletic tape than do without this for another day.
25
1
I would recommend for a friend
Dean H.

02.05.2020 (Edited 06.06.2021)
First chest rig I've owned, and it is kick ass. Great materials and workmanship, and great color too. STANAG/AR 5.56mm mags need magpulls to work best with this design, but that's easy to take care of with some duct tape and a few minutes; the depth is no problem at all for AK-pattern mags and I'd imagine 7.62x51 mags would work fine too. I have fit even VZ-58 magazines (which are actually chunkier than AKM mags) in these front pockets and gotten them all in without problems. And it works well with regular camping packs, day packs, military packs, you name it.

The best part about putting VZ/AK mags in this is having the extra black velcro on the front. I can take my spare morale patches and stick them on so I can shitpost the enemy while approaching them. 10/10
4
0
I would recommend for a friend
Alex T.

13.08.2020 (Edited 06.06.2021)
Onhan se mahtava rigi, varsinkin taisteluvyöhön yhdistettynä.
Tuo ruskean sävy on vähän niinkuin aavikon ja metsän risteytys, toimii molemmissa.
Omani tuli aivan uudenveroisessa kunnossa, näyttäen siltä, että sitä ei olisi käytetty ollenkaan,
ainoastaan pientä varastoinnissa tullutta nuhjua.
Hinta tosin on varsin suolainen, siitä yksi tähti pois. Puuttuva tähti tulee, kun hinta laskee alle 100:n euron.
6
1
I would recommend for a friend
Brian P.

14.08.2020 (Edited 06.06.2021)
Sturdy, comfortable to wear, and far less expensive than new-production options. I had absolutely no problem fitting AK PMAGs. The divider system is simple, yet brilliant in the amount of versatility it provides. You'd have no issues carrying a radio in it. Short of setting it on fire, you'd have a really difficult time breaking the thing. I'd highly recommend picking one up if you find it available and don't want to put down the cash for a Mayflower or Haley Strategic rig. Also, mine was in pristine condition. Not a mark on it, except for the white chalk markings SADF used in production. Do note that the color is darker than coyote brown. With time in the sun, nutria brown does come to resemble coyote, but straight out of the packaging it will look more like the shade of brown the UPS man wears.
4
0
I would recommend for a friend
Juha J.

04.02.2021 (Edited 15.06.2021)
Käypää kampetta käyttämättömässä kunnossa eikä hinnastakaan voi valittaa. Koko rigi parin lipastaskut hinnalla.
Taskut on vähän liian syvät pmagille mutta naapurin lippaat sopivat hyvin samoin kuin Fazerin sininen.
Ompeleet on päätelty asiallisesti ja olkainten nauhojen päät sulatettu.
Työkalujen, valojen ynnä muun kantamiseen rigi ei suoraan käy ellei kaikkea halua yrittää ympätä etukäden puoleiseen pieneen yleistaskuun. Pientä neulomista siis saattaa joutua harrastamaan.

Kaikenkaikkiaan silti hintansa väärti kaikkeen puuhasteluun. Suosittelen.
1
1
I would recommend for a friend
Sean C.

18.02.2021 (Edited 15.06.2021)
I love this chest rig! Fits 6 AK steel mags or 6 Pmags, I've tried both ways and the straps still close securely. There's plenty of room for the essentials and more. I've got 6 AK mags, a compass, notebook and pen, a radio, water bottle, and there's still room. Great construction, excellent quality. Buy it before it's gone! These are damn hard to find anymore.
2
0
I would recommend for a friend
Lachlan R.

19.08.2021 (Edited 19.08.2021)
This thing is wildly good, and kind of a rare gem. I didn't expect too much when I ordered it, expecting leftovers that had been nibbled on by rats, but no! This was in mint condition, apart from the vaguest discolouration, so that was a score.

As far as how good the vest is? They arent lying. Fits all your mags you could need, a medium israli bandage fits in the bandage pouch quite easily, so no complaints there. The waist strap is a bit tight on me, but for most average size people it'd fit fine. Just serves to keep it tight on your body.
1
0
I would recommend for a friend
Yannic S.

12.11.2021
One of the best Chest-Rigs out there. Mine arrived freshly washed, in basically factory-new condition. It fits the body really well: If you adjust it correctly it is nice and tight, without getting in the way of your arms or anything else. Fits 6 M16-Magazines like a glove, though i do recommend Ranger-Plates to better draw them out of the pockets. All in all: Great condition, great quality, buy yours now before its gone and experience the wonders of good surplus.
0
0
Kierto Circular Economy
Return this product used but clean and unbroken, and you'll receive half of the product's original price as Varusteleka credits. Service is available only in Finland. Only Registered users can make Kierto returns. See more information about Kierto.