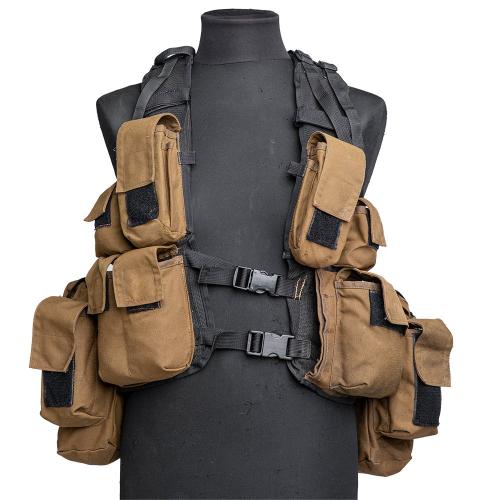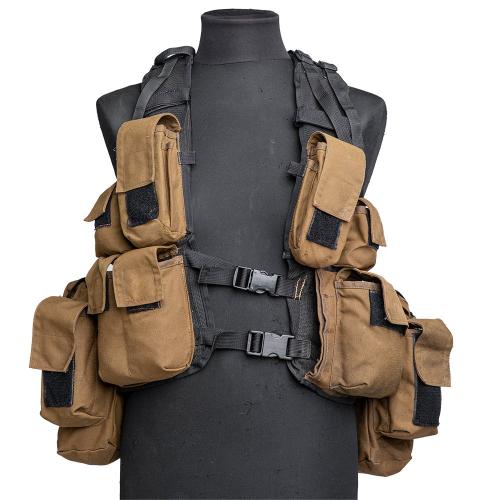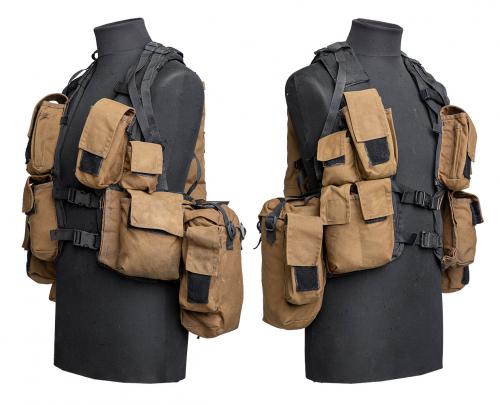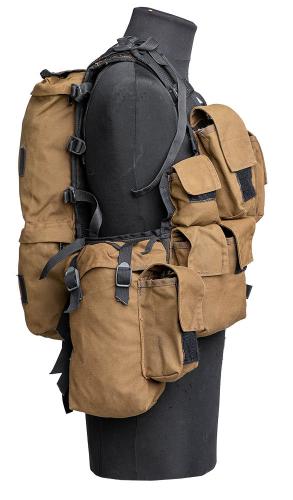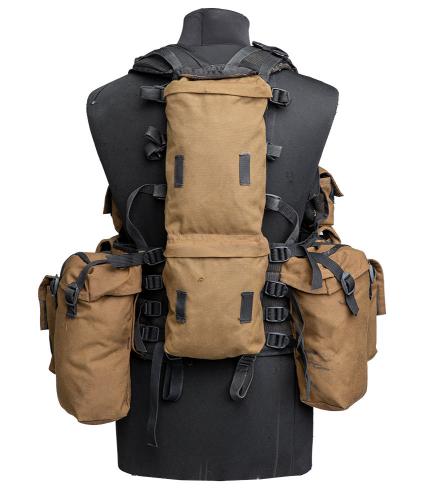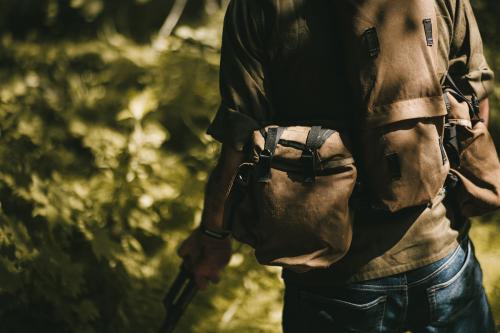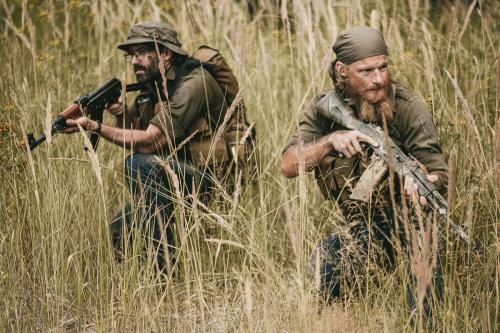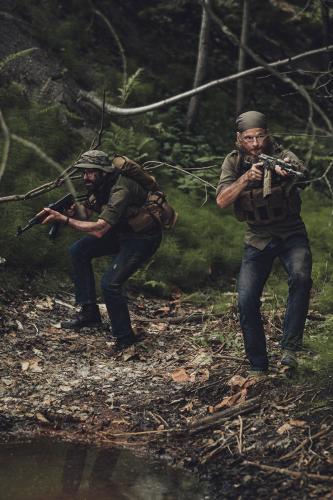 South Africa
SADF Pattern 83 Battle Jacket, surplus
Price 149.99 USD
excluding sales tax
South Africa is one of the few countries that rival Israel when it comes to military endeavors on their own soil or nearby. The South African Pattern 83 Battle Jacket is one of the most well-known modern pieces of military kit. It has been copied by numerous manufacturers and is found in a plethora of colors and patterns in service worldwide.
We don't know when this product will be restocked. With surplus the restock date is unknown due to sometimes poor availability. Request restock notification and we will email you as soon as this product is available.
Trouble with the metric system? Try our converter: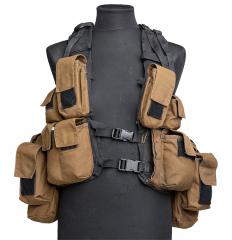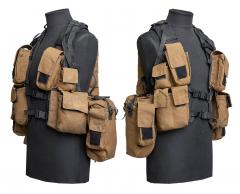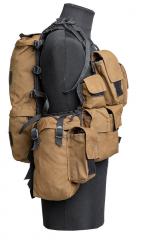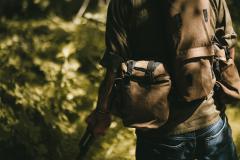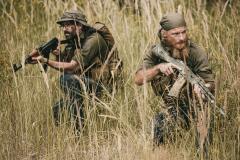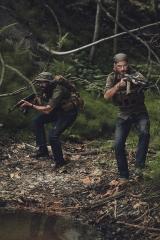 South Africa is one of the few countries that rival Israel when it comes to military endeavors on their own soil or nearby. The South African Pattern 83 Battle Jacket is one of the most well-known modern pieces of military kit. It has been copied by numerous manufacturers and is found in a plethora of colors and patterns in service worldwide.
After working together with the Rhodesian security forces in the '70s, the South African military picked up some ideas from the famous James North, and Fereday & Sons combat vest designs and started making their own ones. The first designs were pretty much copies of the Rhodesian ones but led to further development of various models, which were issued primarily to the Special Forces.
After a couple of years, the final design of the Pattern 83 Battle Jacket emerged. It was to replace the aging Pattern 70 yoke-based webbing and did so in the mid-'80s. Since then, the Pattern 83 Battle Jacket has seen continuous use and is still in service today. Outside Africa, these have been most notably used by individual British fighters serving in the Middle East.
The Australian School of Human Movement Studies and Centre for Human Movement found in 2002 that a person wearing a Pattern 83 Battle Jacket consumes significantly less energy on the move compared to a person wearing traditional webbing with a yoke and belt.
The vest in a nutshell
The design process was heavily influenced by experienced bush soldiers and any kind of input from pencil pushers was quickly shot down. While progress has been made since this vest was and still is a prime example of functional fighting gear.
Durable and breathable mesh construction.
Tough, Cordura-like fabric in Nutria Brown.
Generously padded for comfort.
Adjustable straps on the sides and shoulders for a good fit.
Pouches with flaps for

Up to twelve (12!) 35rnd R4 magazines,
grenades, and
other necessities.

Two large pouches on the sides for 2-liter (1/2 gallons) canteens or field radios.
Two large daypack compartments on the back.
Genuine South-African surplus
This is a very sought-after piece of kit, grab yours while stocks last!
These are in a used condition, sometimes a bit rough, but perfectly serviceable. They are a bit dusty, some seams and straps might be a bit frayed, and the fabric can be patched up. There could even be some markings by the previous owners on them. Some have even had bloody field dressings in the pouches but we try to scavenge such relics for ourselves.
Kierto Circular Economy
Return this product used but clean and unbroken, and you'll receive half of the product's original price as Varusteleka credits. Service is available only in Finland. Only Registered users can make Kierto returns. See more information about Kierto.
All products: South Africa
Recommendations
Loading products...
Reviews
You have already submitted a review. You can edit your text by clicking on it. You can filter the reviews by clicking on the elements of the summary.
Log in and write a review. You can filter the reviews by clicking on the elements of the summary.
Remove filter
Suomi
(1)
English
(8)
I would recommend for a friend
Thomas P.

10.08.2020

Verified purchase
I utilize this for day hiking. Hands down one of the best day packs ever. Yes, it is 100+ $ but the storage space is immense. I was able to boulder with every pouch filled to the brim no problem! Compared to yokes and even lumbar packs you won't find anything much better than this!

Downside is the two water pouches on the sides are a little oddly shaped but 2L hydration bladders fit well.

There is an inside pouch on the left interior near the buckle as well for map storage.
16
1
I would not recommend to a friend
Alex T.

24.08.2020

Verified purchase
Kaikki nämä liivit kuulu kuntoluokkiin 2-3. Pahimmillaan saat liivin, jolle komppanian vääpeli on antanut munaa perseeseen, eli todella runtuisessa kunnossa: saumoja auki velcrosta, lipastasku puuttuu, reikiä, paikattuja reikiä... näillä totisesti on oikeasti sodittu, enkä yhtään ihmettele, että niistä on hankkiuduttu eroon. Ovat toki jokseenkin käyttökelpoisessa kunnossa, mutta ennemminkin ostaisin vaikka jonkun kopion kyseisestä liivistä. 150€ on aivan järkyttävä hinta kunto huomioonottaen, eikä näillä oikeastaan ole edes keräilyarvoakaan. Ja sitten tietysti se karu fakta, että vaikka luulisi, että R4:n 35 ptr:n lippaat olisivat melko samankokoiset AK:n kanssa, niin eivät ole. AK:n lippaat mahtuvat huonosti, tai eivät ollenkaan.
Tietysti jos haluat Mad Max -liivin, valinta on sinun.

Vielä pieni huomio: eteläafrikkalaisille joukoille kun jaettiin myös 40ptr:n lipas -joka sekään ei tietystikään mahdu taskuihin - mahtunee reikään liivin vasemmalle puolen, dokumenttitaskun taakse.

No, vaikka erät ovat mitä ovat, voisi väkisin jotain hyvääkin yrittää löytää itse liivistä:
+verkkopohja, hengittää hyvin ja siirtää kosteutta
+kevyt
+melko paljon tilaa ja kohtuulliset säädöt
+osassa ITW -merkatut pistosoljet (ensimmäisessä tilaamassani oli, toisessa ei merkintöjä).
1
0
I would recommend for a friend
Andrew S.

01.02.2021

Verified purchase
I would recommend for a friend
Paolo A.

10.02.2021

Verified purchase
Well thought out, plenty of room for the essentials with no space for bullshit.

Was worried the vest may be too big as I'm quite small, but I was pleasantly surprised to find out that not only does the vest adjust small enough to sit at the appropriate height, but it's high enough to allow me to use a mid height holster and a few pouches mounted towards the front of the belt.

5/5, would fight commies in Africa with
21
3
I would recommend for a friend
Zachary W.

14.03.2021

Verified purchase
I was initially pretty skeptical of spending over $100 on a piece of military kit like this, but I've got to say it lives up to the hype. The design is extremely efficient, with an incredible amount of storage space for just about anything you can think of. It's also very comfortable and distributes the weight well. It works great as a day pack, a piece of competition shooting gear or even as a realistic weight vest for training and exercise.

Pricey, but worth.
8
0
I would recommend for a friend
Lachlan R.

18.08.2021

Verified purchase
Pretty awesome product in all honesty. The original of the much copied, so they must have done something right. Endlessly adjustable, it fits me well, I'm 6'5", and you can squeeze it nice and close to your body.

But as far as the condition I received it in? Damn near perfect. It was clean, had one hole in a minor spot and some wear, but thats not varusteleka's fault! These guys took care of it, and sent it fantastically!
3
0
I would recommend for a friend
Yannic S.

20.08.2022

Verified purchase
Just finished a 5 hour walk with this, i am beyond impressed. The Vest arrived in perfect condition and freshly washed. It has enough storage space to fit everything you could think of (Huge Medic Pack, Water, Food, Tools, Radio, Magazines etc.) and is build as tough as nails. But what really sets it apart is the fit and weight distribution: It cradles your body like a loving mother, contributes the weight evenly over your entire body and never feels heavy or limiting in any way. You have full freedom of movement, you can easily shoulder or sling a rifle on your bag and can reach every pocket on it. I walked for 5 hours in 30 degree celsius weather in the sun, it felt cool and comfortable the entire time. When i took the vest of i only had minor sweat stains on the back, but nothing compared to a rucksack or plate carrier. I dont know what Afrikaan Blood-Magic the SADF used to create this Rig, but you just dont sweat in it. This is by far the best patrol vest out there, you can literally fit an entire backpack worth of stuff in there and keep your freedom of movement. If your planning for SHTF or similar, get it now. You wont get any better. Big thanks to Varusteleka for bringing this gem on the market, you guys are all we love about the finnish people.
3
0
I would not recommend to a friend
Zachary W.

27.08.2022

Verified purchase
So here's the thing, I ordered mine in used condition and did notice a very small hole some white stains and some frays which are all expected. The one thing that was a bummer for me is that the padding that rests on the back had a hole in it the size of a quarter exposing the foam which has started to deteriorate and there's really no way to fix it. I think they should probably show some more realistic condition pics for the battle jackets they're selling cause the one I got is in a lot worse condition than the one they show. Shipping was great I have always been pleased with varusteleka but think they could visually advertise a little better for this particular item for the batch they currently have and just show some of those bigger holes and tears that some of the jackets have
8
2
I would recommend for a friend
Kaelan G.

19.03.2023

Verified purchase
Amazing piece of kit. It has a lot of storage, but the space it uses it utilized well. The design is clearly thought out and rig is easy to use and adjust. The extra velcro under the front pouches is really nice and allows for a bit of modularity, or patches if you're into that.

It came with quite a bit of wear, lots of fraying ends and a few small tears but otherwise in good condition. Clearly been sitting in a warehouse, probably in a box, for a very long time. The straps for the buckles on the shoulder straps were wound up very tight and thus coil up badly, making them a bit unruly... you can sort them out with the nearby velcro pretty easily though. It also appears you can use this velcro and the loop near the shoulder for a water bladder system, which you can throw in the backpack. I haven't personally tried it yet but it seems like it would work perfectly, despite not being designed for this.

In short, there's a LOT you can do with this rig. It's perfect for day hikes or small journeys, it can easily carry the essentials plus emergency gear in case your stay becomes longer than anticipated.
1
0