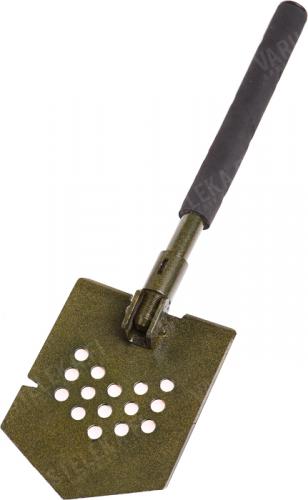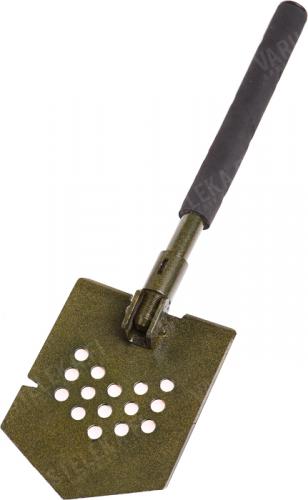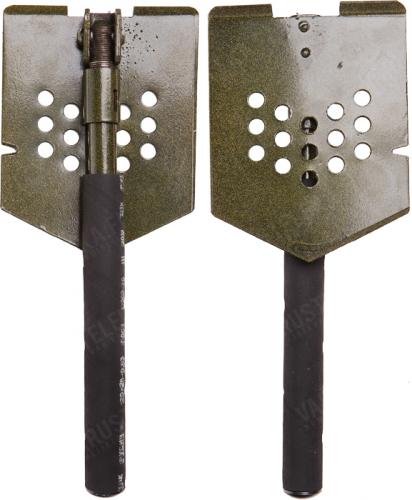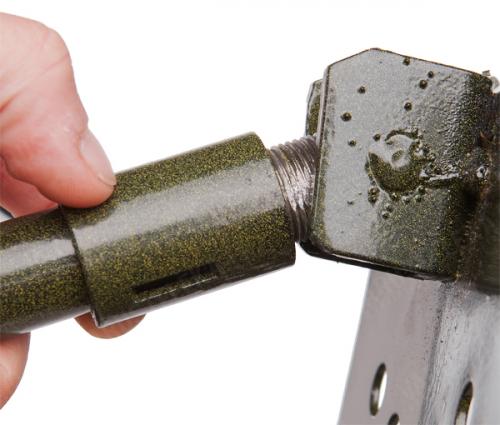 Tactic-9
Russian folding spade, spring steel
Price 45.99 USD
excluding sales tax
Throw away every blade you've got and get one of these instead! The folding model is even rougher than the standard wooden shafted one.
This product is unlikely to be restocked and will be hidden from our website once it's out of stock.
We don't know when this product will be restocked. Request restock notification and we will email you as soon as this product is available.
Trouble with the metric system? Try our converter: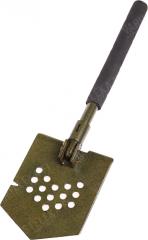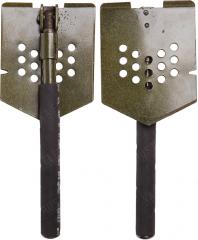 Throw away every blade you've got and get one of these instead! The folding model is even rougher than the standard wooden shafted one.
Very simple, very durable, and pretty sharp when considering that, when all is said and done, this is a shovel. All the metal used in this is heat-treated spring steel. You know, the stuff found on the suspension of proper heavy army trucks. Come to think of it, maybe the material is actually stolen from a Ural truck rusting in some godforsaken scrap yard. The folding handle is the stuff of legends on its own right: made of thick steel tube and covered with something like a hydraulic tube (really). On the paper, there's a pick feature function too, and it might even work; you can only either fold or unfold the blade by using the steel nut to tighten & loosen. The overall attention to small details - or lack of it - is typically Russian, but these are pretty damn strong and surprisingly well made.
They advertise this as a tool for rocky and clay-ridden terrain. Hell, it might work for that too, but we think this belongs right next to your chainsaw and shotgun for when shit hits the fan.
Length about 50 cm / 19.5", weight 1175 grams / 2.5 lbs.
Made by Tactic-9
Factory new, made in Russia by Tactic-9 - that's right, these are no Western copies, but come directly from some un-heated factory near Moscow!
All products: Tactic-9
Recommendations
Loading products...
Reviews
You have already submitted a review. You can edit your text by clicking on it.
Log in and write a review.
Remove filter
I would recommend for a friend
George K.

31.03.2018 (Edited 01.06.2021)
Really NICE folding shovel, appears very well made in the clunky Russian style. WARNING: Be careful when removing handle end-cap for the first time (it's a GREAT stash for other survival equipment!), there may be a small amount of metal dust in the tube.
14
1
I would recommend for a friend
Christian S.

29.12.2018 (Edited 02.06.2021)
I would recommend for a friend
Jeremy B.

01.04.2020 (Edited 06.06.2021)
Some people prefer a fixed e-tool rather than a folding one. Sure, you're not saving that much space by folding it, and yes, the swivel may eventually break. Well this one won't, it's by far the fattest, strongest, thickest swivel I've ever seen. In fact, it's so thick that there is enough material to allow to fix it, or possibly convert it to a fixed shovel, in the event that it breaks. An unlikely event, but still a comfortable thought.
The edge of the shovel was absolutely dangerous, it was worse than sharp, in fact, the edge wasn't quite finished, there were razor sharp thin steel bits extending from the edge, a remainder of the stamping/grinding of the head. I cleaned it with a file and sharpening stone, it's now a proper razor sharp edge, it split wood easy, and shaved feathersticks still. The head is visibly carbon steel, albeit not quite prone to rust, there's very slight oxydation but nothing dramatic, surely somewhere in the semi-stainless category like D2. Dunno about the handle steel though.
About the handle, it's very comfortable, a good balance of soft and firm, the foam like tube allows a firm grip while lightly reducing vibrations, very enjoyable to use both as a shovel and a weapon.
I like the color too, it's an indefinable greenish tint, very Russian.
2
0
I would not recommend to a friend
Hugo M.

05.04.2020 (Edited 06.06.2021)
This shovel is built with the Russian clunky style but the durability of the handle attachment is quite bad. I hiked with it for a day and noticed the handle getting loose. I went home to check it. The handle came of. So I disassembled the head to get to the bolt. There was no pin to the bolt from the handle. It was just a spot weld. I had to drill a hole thru both the handle and the bolt and add my own pin. And afterwards it was still a bit loose.The rest was however solid. So if you have equipment and steel you can get a decent shovel. But for the price it's more effective to get a cold steel shovel! (P.s. I am a blacksmith by trade so I had alot of scrap steel, if you don't , don't buy the shovel)
1
0