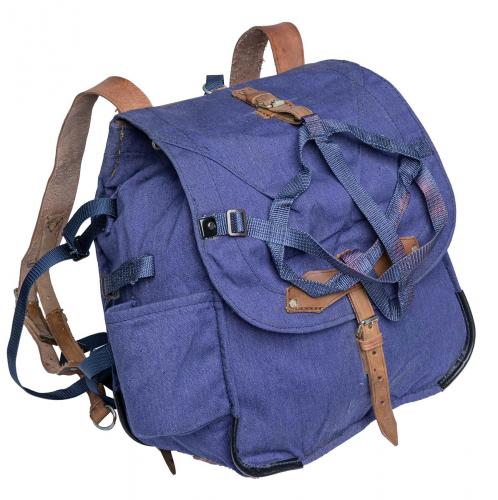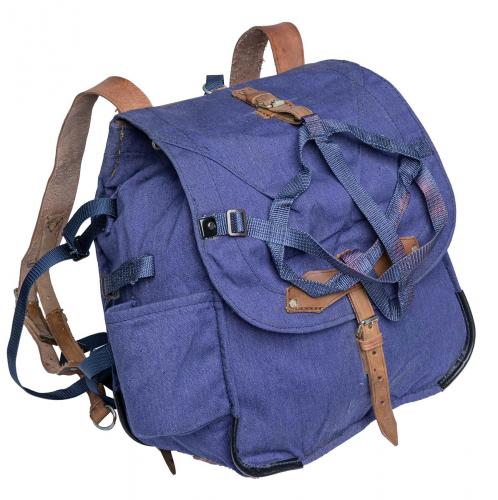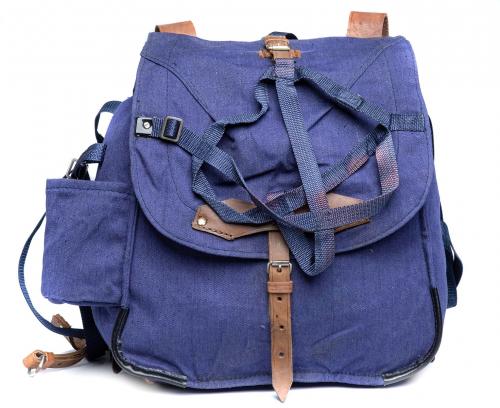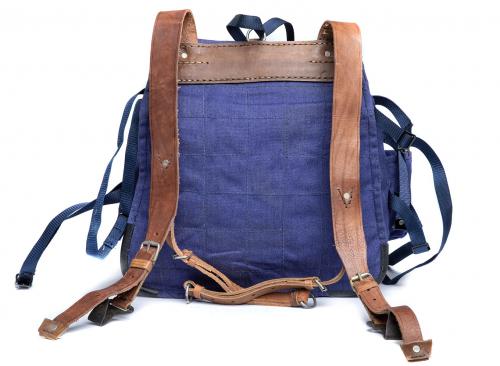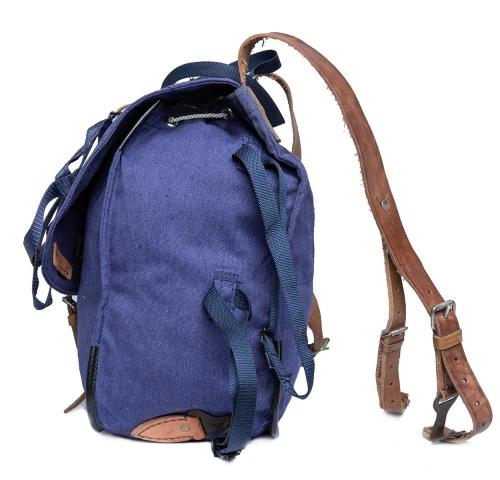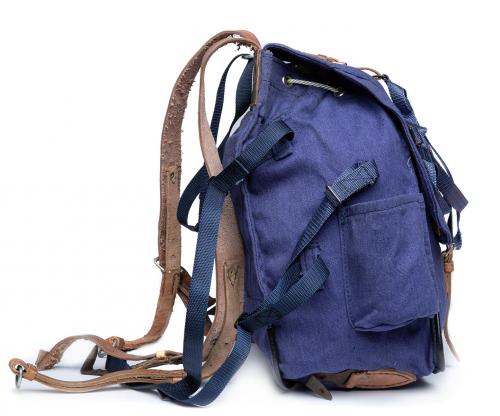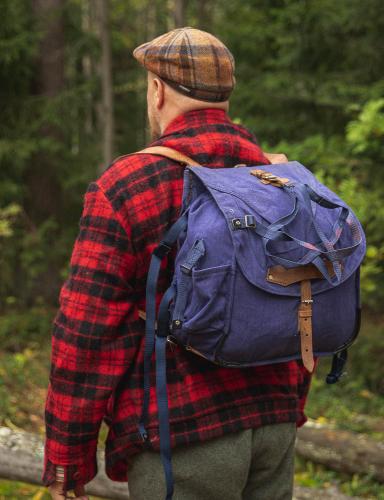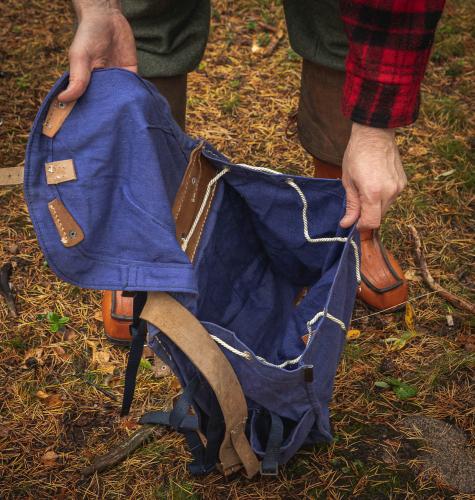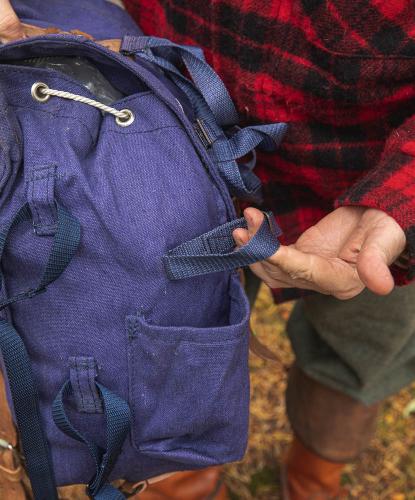 The bag is loaded with additional straps.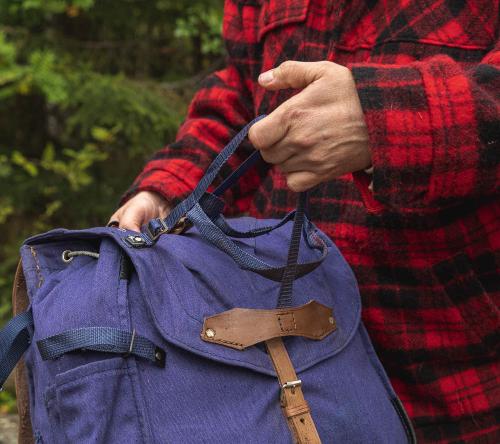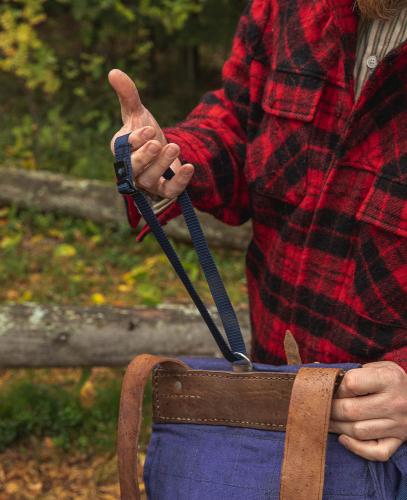 Additional straps may be included, or not.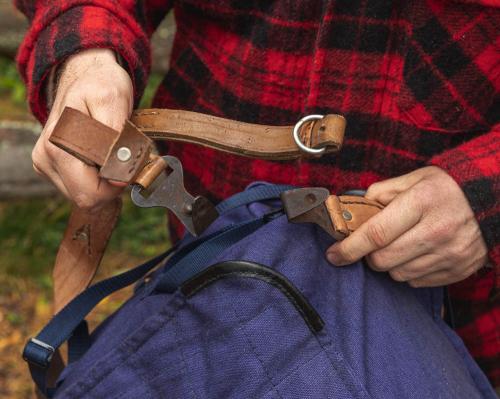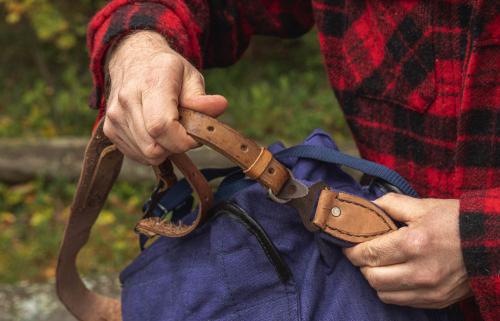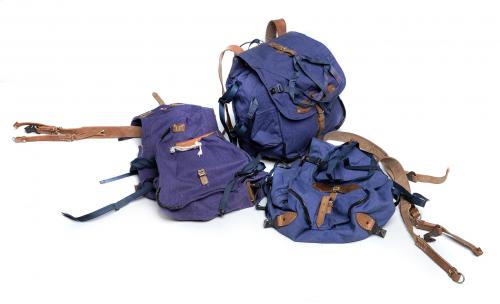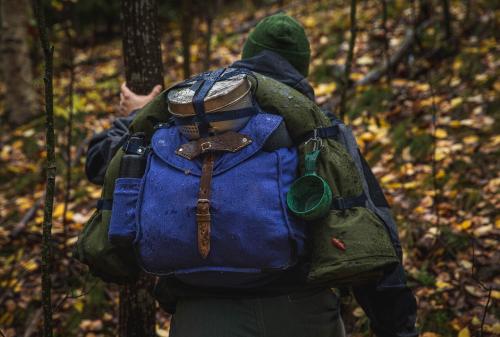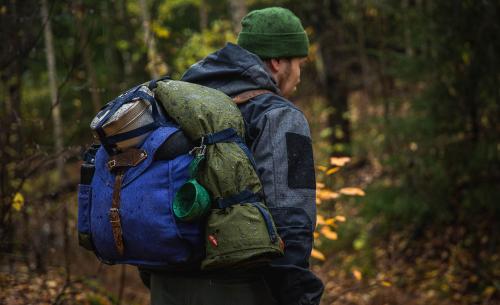 Romania
Romanian retro pack, blue, surplus
Price 39.99 USD
excluding sales tax
The Romanian army rucksack was already retro when it came out in the 70s. In addition to the green true vintage model, we now got this Transylvanian summer night blue version where the old meets the new with delightful East European creativity.
This product is unlikely to be restocked and will be hidden from our website once it's out of stock.
We don't know when this product will be restocked. With surplus the restock date is unknown due to sometimes poor availability. Request restock notification and we will email you as soon as this product is available.
Trouble with the metric system? Try our converter: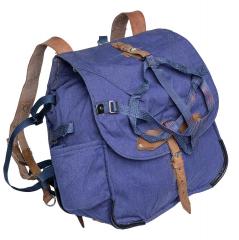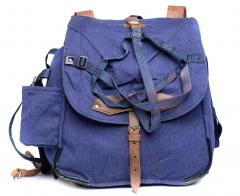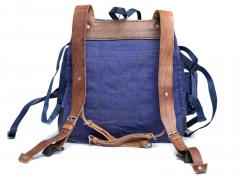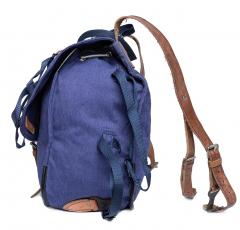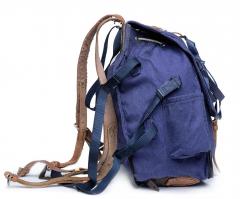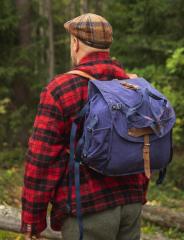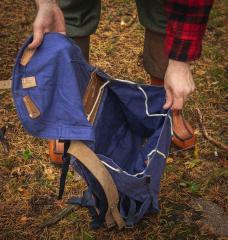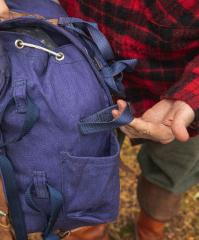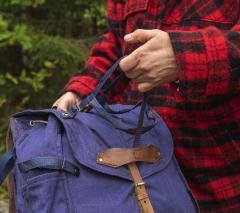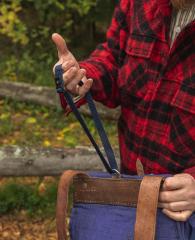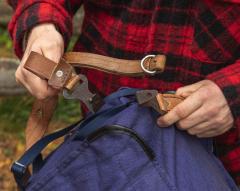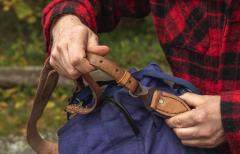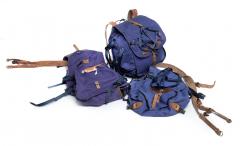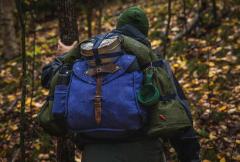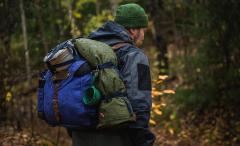 The Romanian army rucksack was already retro when it came out in the 70s. In addition to the green true vintage model, we now got this Transylvanian summer night blue version where the old meets the new with delightful East European creativity.
One large main compartment, bottle pouch, straps for a blanket/tarp roll etc. on both sides, and a strange strap contraption at the top for a roundish thingy - it's meant for a helmet
Volume about 40 liters
Inner dimensions c. 30 x 40 x 26 cm (12" x 16" x 10")
Weight c. 1.5 kg (3.3 lbs)
Used military surplus
These are made of good ol' materials from the old times when materials were still good. Thick canvas and even thicker leather, all stitched together with strong thread and steel rivets. With a volume of about 40 liters, this pack should serve you well during longer journeys as well. Unlike the green one, this also comes with some more modern straps.
Features
A piece of beautiful neoclassical art on its own right, this Romanian pack is well made with East European love and seems bombproof. Weighs c. 1.5 kg (3.3 lbs).
Inside
On the inside, this is a very simple thing. It has one large main compartment closed with a piece of string. Dimensions from seam to seam are c. 30 x 40 x 26 cm (12" x 16" x 10"). The pack is wider at the bottom than at the top.
The main compartment is covered by a large lid closed with a traditional one-prong buckle system. You can punch more holes in the strap if needed. The leather is really thick.
External features
On the outside, there are additional attachment points with which you can increase the carrying capacity quite nicely. Both sides have two strap attachment points for a blanket/tarp roll, but you can also attach sleeping pads, fishing rods, and what have you on them. These seem to have modern straps as well, but we cannot guarantee that every single pack will have them. The strange strap contraption on the top of the pack is probably meant for a helmet or a mess kit, but you can also use it for something else roundish.
And the interesting looking piece of leather on the flap is for a spade (our best guess). On one side of the pack, there's a handy little pouch for a bottle of booze or a similarly sized water bottle.
All the corners are reinforced with leather. Certainly, this is a thing born out of love.
Carrying system
Anyone familiar with the German WW2 gear will instantly recognize the carrying system, and those who aren't might have to stop for a while and think. We'll make it easy: the slim straps with the loops are supposed to be attached to the hooks at the bottom of the pack. The wide straps with the hooks are meant to be anchored on the combat belt kit.
Yes, the straps will easily slide out of the hooks. This feature is good for military use when you have to discard the pack fast, but not so convenient in civilian life. The simplest hack is to slam the hooks "shut" so the loops won't slide out. Another trick is to cut off the slim straps at their base and just attach the hooked straps together any way you wish. This looks neater, but we will leave the historical integrity aspects to the reader.
Echoes from the past
This ol' thing certainly has very strong vibes from the era of the Tornister type packs which were small and difficult to use. Although this is not one of them, it looks kinda similar. The appearance would place the design to the 50s but these have been made later. Well done, Romania!
Anyway, if you're after a proper usable vintage pack, this is your ticket!
Condition
These Romanian military surplus packs are mostly very little used, but old. The color of the fabric varies from deep blue to slightly purplish. Both are pretty as a pretty picture. The shade of the leather bits also varies from light to a bit darker. The leather is mostly in quite a nice condition for the age but some have a bit more worn surface. It won't weaken the carrying capacity though. Of course, there may be some stains and such since these are old and used after all.
We strongly recommend wiping the pack clean with a moist rag and treating the leather with generous amounts of grease. The combat skills-enhancing warehouse smell will eventually vanish with use.
Kierto Circular Economy
Return this product used but clean and unbroken, and you'll receive half of the product's original price as Varusteleka credits. Service is available only in Finland. Only Registered users can make Kierto returns. See more information about Kierto.
All products: Romania
Recommendations
Loading products...
Reviews
You have already submitted a review. You can edit your text by clicking on it. You can filter the reviews by clicking on the elements of the summary.
Log in and write a review. You can filter the reviews by clicking on the elements of the summary.
Remove filter
I would recommend for a friend
Tom H.

02.10.2020

Verified purchase
I bought this as it satisfies my slight hipster liking for things of an older generation (have you been looking at my browsing history again?). Whichever collective knocked this up in 1989 was having a good day. It is in a damn good state and has plenty of room for what I need to do with it - lugging my work shite around as my current man bag is a touch too small for everything. Plenty of utility straps came with it which is handy. I've sliced off the helmet net thing as I haven't a use for it. Plenty of febreeze has helped sort out that unique whiff from time in storage. The materials are simple and excellent. I may just acquire some fabric wax to waterproof it a little. Simple shit done well. Harder than you'd think to do really but this is a job done well. Bonus points for that hint of communist misery you can feel in this. The only thing I'd recommend are taking some leather grease to the appropriate parts as they are not entirely supple after all the years.
12
1
I would recommend for a friend
Michael F.

10.08.2021

Verified purchase
This is without doubt the ugliest rucksack in my possession. I love it!
Our Romanian cousins have excelled in complicated design, military or not, born of one's love for the collective and designed by a committee, I'm sure.
I'm don't know what I'll do with the shoulder strap attachments. Perhaps I'll unstitch the hooks and replace with G-hooks, dropping the second thin strap altogether. Maintaining the load integrity is more important to me than the history.
And so many other straps! I bought this for the short stroll to the local supermarket. I can see the helmet webbing coming in handy for a cabbage or a pumpkin. As for the others, I think I can repurpose them for a mankini design I have in mind, ready for the Aussie summer in a few months. (Self-modelled photos available for an appropriate fee, or exchange for other quality Varusteleka goods.)
The canvas and leather are in excellent condition. I'll be sure to break out the leather grease or emu oil, and give it a good rub. The rest will get a nice hot wax. Any leather straps left over may come in handy for the aforementioned garment. Hmmm.
No Febreeze for me. The longer it smells like a co-op bunica the better. Retro pack - retro odour, I reckon.
Going on the listed dimensions, capacity is closer to just over 30L (not including the side pocket). Running a rule over the pack, I can see the side panel is slightly tapered, and I can't be bothered doing the maths to work out a more exact figure. In any case, it's plenty big enough for a day out. And I can see it lasting well into my grandchildren's dotage.
7
0
I would recommend for a friend
Julie G.

05.11.2021

Verified purchase
I either lucked out or these are in fantastic condition. The only signs of wear are a couple of rust spots and some stiffness in the leather, otherwise it could be brand new.
2
0
I would recommend for a friend
Dave (.

07.01.2022

Verified purchase
Just had the blue one. Can't improve on the previous comments but I too love the eastern Bloc weirdness of it and will use it whatever the pain. In pretty unused condition although stored for aeons apparently and I will be using Tallipoika ledderfett on it.. Trouble is I now have to have some of those Czech suspenders and the rucsack to go with it; this sort of thing is addictive. Update- Leather straps and trim becoming more supple with greasing. Have experimented with some paracord and it seems possible to use a sailing type lashing to secure the strap ' D ' rings on the thinner straps to the hooks on the bopttom of the straps to avoid bending the hooks closed and keep the sack original. I put a length of cord through the ring and tied a succession of tight half hitches around the hook which seems to trap the ring adequately and stop it falling away from the hook, finshing with two reef knots. I found that turning the D ring around so the straight part of the D was inside the hook made it sit nicely. Haven't used it out as yet and there may be other sailing type seizings and lashings you could try but it looks promising; you Finns are seamen of renown if what I read about Finns at sea in square rig years ago is true . Another possibility is feeding a waist belt through the loops of the D rings. Maybe the the suspender strap hooks might be far more useful than we think hooked under a belt and taking part of the weight of the sack at the front. Might be a far more practical piece of kit than we imagine.
2
0