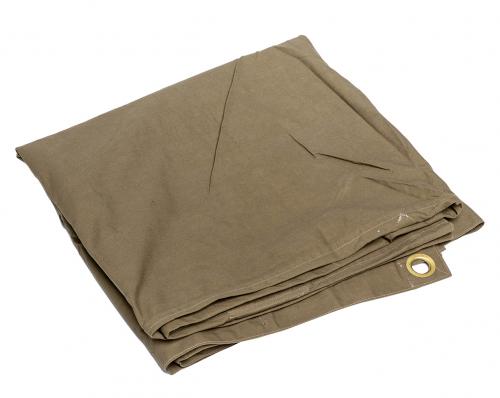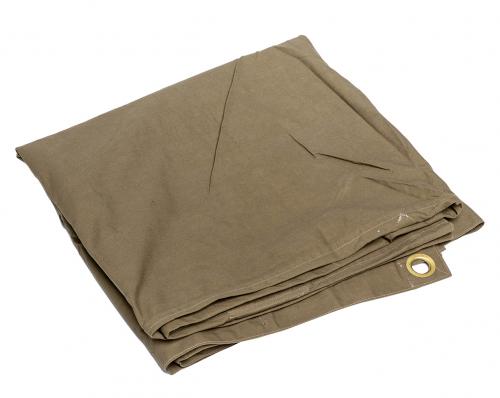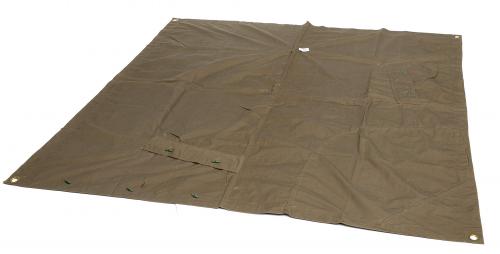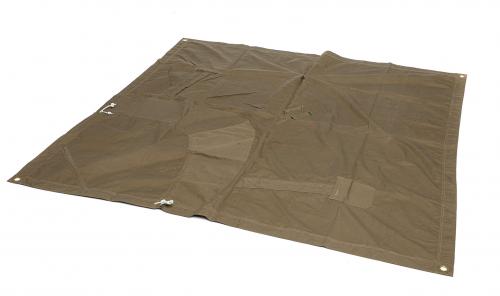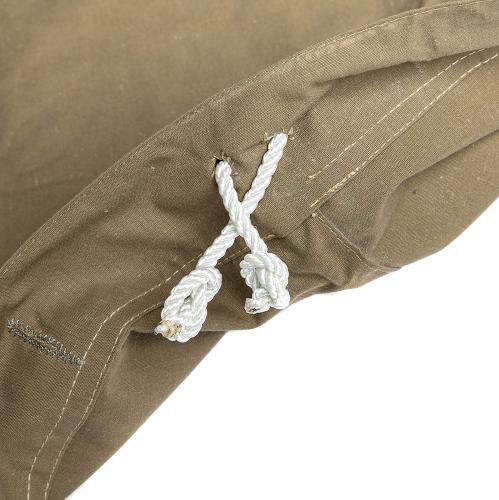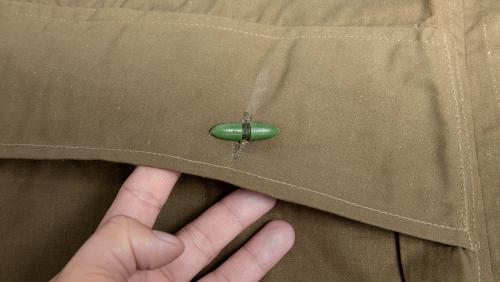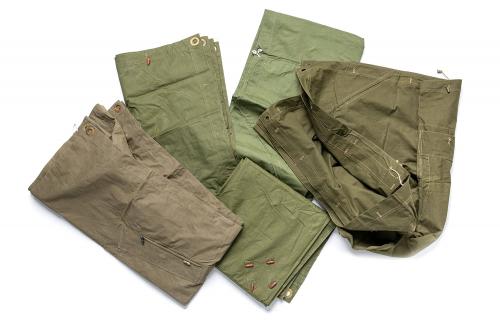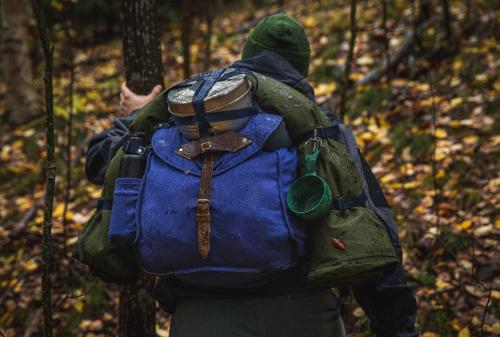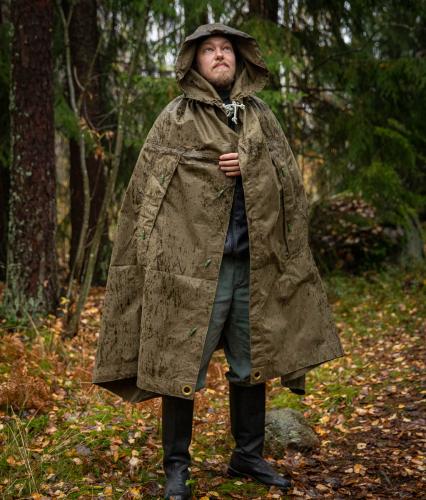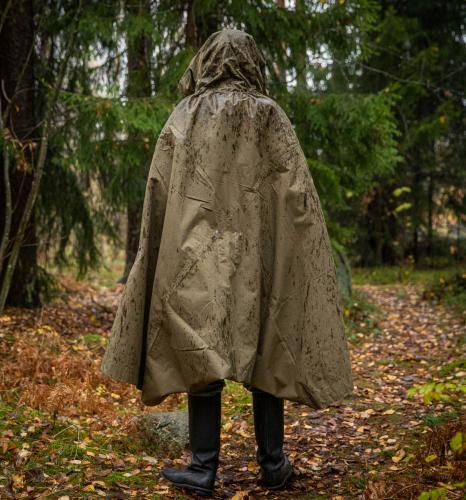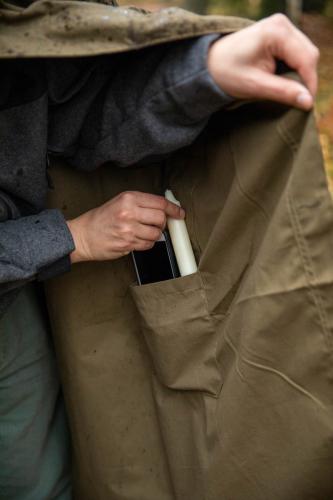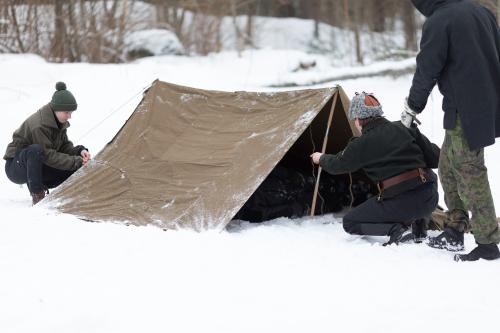 Four CCCP Plash-palatkas used to make a four-man tent .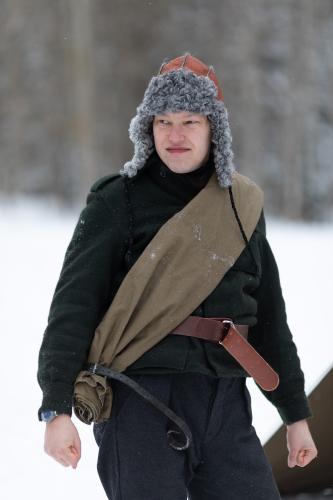 Rolled together with a blanket, secured with a leather strap. CCCP version of Plash-palatka.
Romania
Romanian Plash-palatka Rain Cape/Shelter Half, Green, Surplus
Price 37.99 USD
excluding sales tax
The Romanian "Plash-palatka" is just like the Soviet original but in a bit more verdant green. These old school cotton shelter halves are getting rarer by the day, so get yours now before they are gone forever.
In stock 61 pcs. Sold 25 pcs in the last two weeks.
Trouble with the metric system? Try our converter: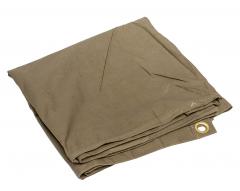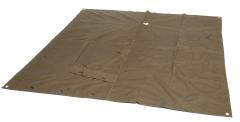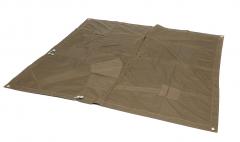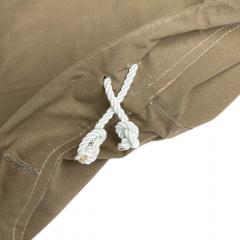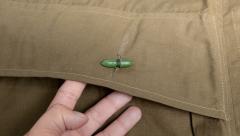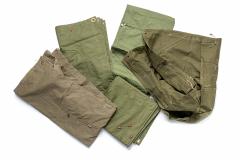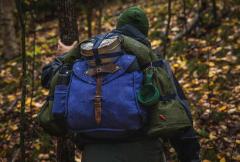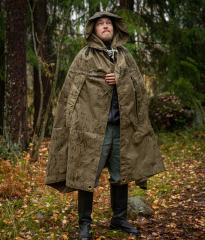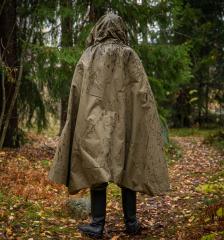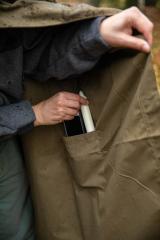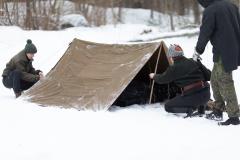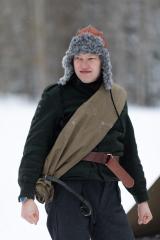 The Romanian "Plash-palatka" is just like the Soviet original but in a bit more verdant green. These old school cotton shelter halves are getting rarer by the day, so get yours now before they are gone forever.
This versatile age-old multi-blanket can be used as a groundsheet, shelter half, rain/camouflage cape, stretchers, or a top layer for sleeping bag/blanket. In almost every use it's just a tad too small on its own, part of the rugged charm! You can also wrap it around your blanket, sleeping bag, or all your worldly possessions and tie the bundle on your backpack. This way the contents are quite protected from potentially radioactive rain and other elements.
Where have all the capes gone?
The Plash is the king of capes! When it's used as a cape, one corner works as the hood - note the drawcords that you use to tighten both the hood and the "collar". Then you fold the opposite corner inside and button it up (the buttonholes on the corner line up with the toggle buttons on the center of the tarp).
Now you can button up the front as little or as much as you like. With the more open approach, you look like a heroic elf lord. And if you button it up more tightly, you resemble more of a sad cone creature but you are better protected from exciting weather phenomena.
When worn as a cape, you might notice that there are ACTUAL POCKETS under the armholes on the inside. You can stash something nice in them like a golden ring that you found in some deep dungeon or old cavern.
Details vary
These have been made for a long time so it is natural that the details can vary. Because we want to deliver your products as quickly as possible, we, unfortunately, cannot pick and choose a certain individual item for you.
Dimensions and exciting details!
Measures about 180 x 180 cm (70 x 70"). The size can vary a bit because the size isn't everything, as they say.
Weight some 1,4 kg (about 3 lbs). This can also vary to some extent.
The shade varies from olive green to a tad more forest-colored. Interior decoration guides would probably say that there are about eight different hues here but for us layfolks, these are fairly similar.
Some of these have brass grommets in the corners, some have cloth reinforcements.
The shape, color, and material of the toggle buttons that you can use to attach these together are also a bit different. Some are made of wood, some plastic.
Some of the drawcords are also more modern than others.
No other exciting details, the product is perfect.
Material
Made from very tightly woven and impregnated wind- and waterproof cotton. The fabric seems even more dense than on the Soviet equivalent.
When you have wandered the realm long enough to wear off the water repellent treatment, you can use fabric wax! to reproof it!
Romanian army surplus
Most of these are in totally unissued condition, but we reserve the right to say that some examples may well be just slightly used. These might have some insect repellent treatment that might be hazardous to cats! We do not know for sure but consider yourselves warned.
Even though it may first look like that there are plenty of these, the availability is quite poor. So, we cannot promise a restock once these are gone. Act fast before these are sold to somebody you don't like.
Kierto Circular Economy
Return this product used but clean and unbroken, and you'll receive half of the product's original price as Varusteleka credits. Service is available only in Finland. Only Registered users can make Kierto returns. See more information about Kierto.
All products: Romania
Recommendations
Loading products...
Reviews
You have already submitted a review. You can edit your text by clicking on it. You can filter the reviews by clicking on the elements of the summary.
Log in and write a review. You can filter the reviews by clicking on the elements of the summary.
Remove filter
Suomi
(4)
English
(11)
I would recommend for a friend
Jeff D.

12.09.2020

Verified purchase
I ordered two of them, both are in a new, unissued condition. Should another variation of the Plash-Palatka become available, I will place an order for it.
3
0
I would recommend for a friend
masanori o.

10.10.2020

Verified purchase
I would recommend for a friend
Sami K.

23.10.2020

Verified purchase
Aivan käyttämätöntä kamaa. Osti' heti kaks; molemmat valamistettu 1983, jos saumassa olevii' leimoihi' voi luottaa. Hupu' ja kauluksen kiristys naruis oli vähä eroa paksuudes, mutta molemmat hyvin vahvaa valakosta keino-köyttä (ehkä polyesteriä, polypropyleenia, nylonia, tai sattuu Dederonia) ja kaulan ja naaman ympärille kiristämiseen molemmat täysin sopeutuvat. Molemmis' oli jostain "melekeen vihereästä mutta osittain kirjavan kiiltävästä" muovista valamistettu pampulanapit jo'kka toimii tarkotukseen, mutta menee napinreiän läpi paremmin yhdeltä sivulta/puolelta kun toiselta. Vaa' rässää niiten kans, ja sä löy'ät keino'. Vähemmä' napi' reikiä ja nappeja ku' Itä-Saksalaises mallis; käsiaukois' vaikuttaa oleva' jonkulaine' lisäksi tiivistävä sauma tai joku, verrattu siihe' Itä-Saksa palatkaa'. Toimii samalla tavalla (lumi)sadeviittana ku' Sakemalli, ja kätkettynä sen alle/taa', tehokkaasti suojaa su' hommailut tarkkailijoilta. Ei auta kovinkaan paljo peittona pakkasyöllä puun alla, mutta parempi kun ei mitää'. Huolellisesti käärittynä, taittuu pieneem pakettii' n. 45 x 15 x 10 cm. Kahisee vähä, mutt'ei niim paljo ku' täys polyesteri. Voisit iha' yrittämättä tuhulata rahas johonki' huonompaan kamaan.
8
7
I would not recommend to a friend
Víctor D.

15.06.2021

Verified purchase
Mine was not an original palatka, but a miltec repro. It came with a paper tag in german that says something about Sturm Handels. In fact you can clearly see the tag on the second picture provided by Varusteleka.
I decided to keep it as I did not buy it for collecting, I just wanted to try something different to the NATO rain poncho. It is a great piece of kit and I love it, it has two pockets and two "arm-holes" It has a very faded (so faded that it is conveniently unintelligible) stamp in cyrillic alphabet on one margin and some minor cosmetic damage on a few of the brass grommets.
It is a really good modern reproduction, remove the tag and add "military surplus smell" and you can fool anyone. I guess someone in Romania decided to raise their profit margin by adding some miltec repros to a batch of real surplus and Varusteleka did not catch it. But then, the Sturm tag is visible on the second picture, so... thats weird.

The product deserves 5 stars as it does what it is suposed to do. I can definetly recommend it to anyone who is interested in using it as a bushcrafty shelter, but I cant recommend this product to collectors until Varusteleka separates the real ones from the modern reproductions.
18
15
I would recommend for a friend
Karl R.

09.12.2021

Verified purchase
Just as advertised, I recieved a Romanian Plash in almost unused condition with all the fuctionality you can expect from a piece of old cold war communist surplus. I replaced the cords, because they were ugly, but that's all I had to do. Looking forward to lugging it around for some hard times in the wilderness.
7
0
I would recommend for a friend
Niilo S.

25.01.2022

Verified purchase
Saapui muuten ehjänä ja siistinä, mutta narut vain puuttui. Niiden lisääminen itse nyt ei vaikeaa ollut.
Kaikki messinkirenkaat sekä napit tallessa.
Paksua kangasta ja painoa on, eli varmasti kestää pitkään.
4
0
I would recommend for a friend
David F.

14.02.2022

Verified purchase
Best of all worlds. Alone it is a swell shelter half, or rain cape. Mine appears unissued and of an unknown provenance, nation wise, that is. Seams, toggles, and grommets are sound. Fabric doesn't seem to be overly watertight but is clean and unblemished. We will see how water proof/resistant it is when it rains in California in a few years...
9
0
I would recommend for a friend
Jesse T.

11.05.2022

Verified purchase
Vaikkakin tuotteessa lukee ylijäämä, ei se siltä tunnu. Messinkirengasläpysköissä näkyy ajan patina, mutta muutoin täysin käyttämätöntä kamaa. Ei voi muuta kuin suositella näitä.
5
0
I would recommend for a friend
Bryan P.

04.11.2022

Verified purchase
Great unissued condition. Holes for the toggles are tight. Toggles are plastic so they will get replaced. Neck rope will also get replaced with something that won't suck up water. I will also sew a loop and toggle for the hood.

We will see how waterproof it is, I'll probably end up waxing it regardles.

Update: waterproof-ISH. Needs some waxing. Not bad but not for long term rain. And takes about a month to dry unless on a heater.
My 2nd one was about half the weight of the first. I honestly think it's a different material. Draw strings really need to be replaced. Likewise the toggles. I broke 2 in - 12c not doing anything. Noisier than expected when hood is up.
5 starts for it is what it is.
But for about 1h of work it will be amazing.

Replace toggles with wood, strap to keep hood up, toggle on cord with a loop from the bottom corner to ceep the butt triangle flap off the ground (in the front) or to a loop in the middle.
About 1h of work worth while
1
0