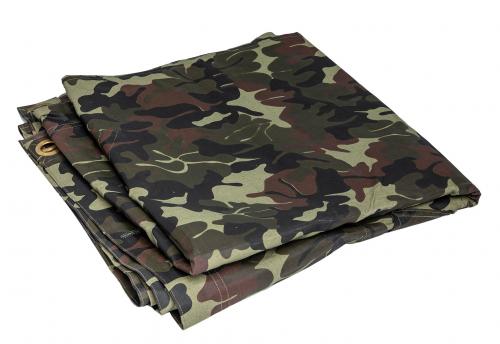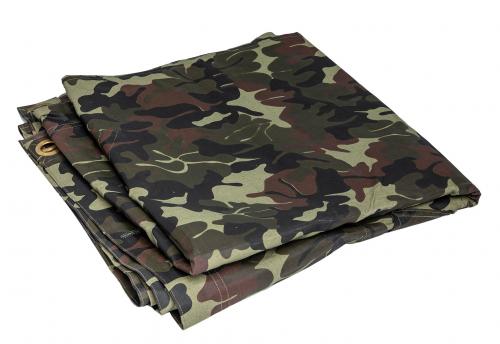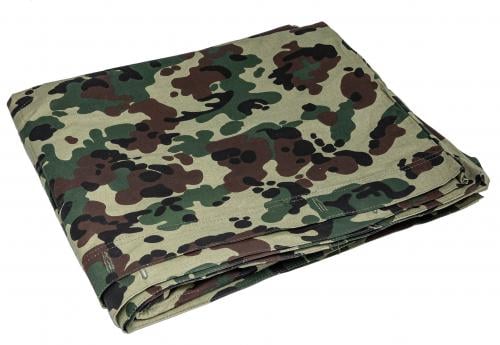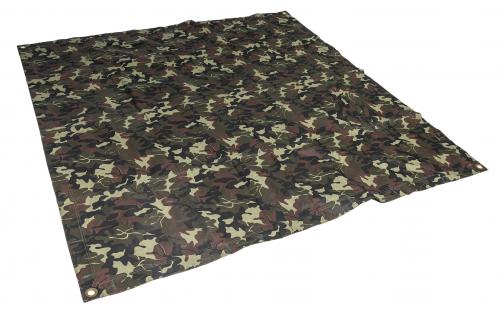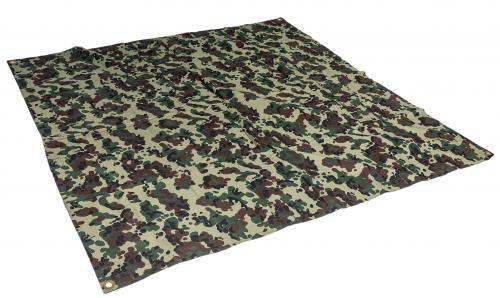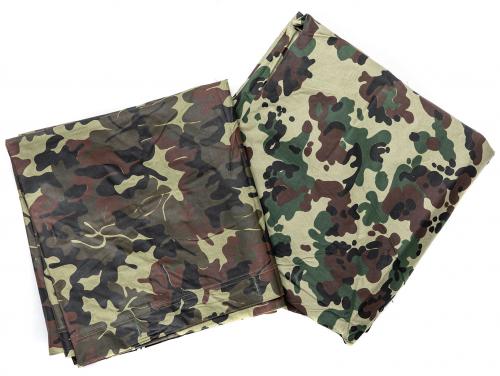 Two different camouflage patterns - we won't pick.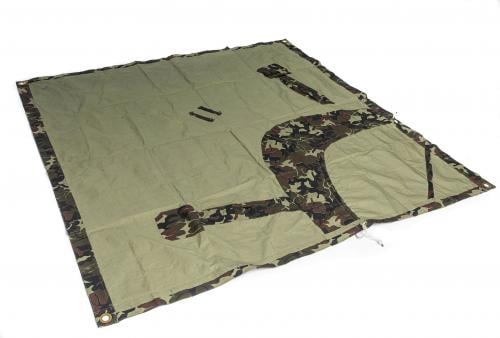 Note the small pockets under the armholes!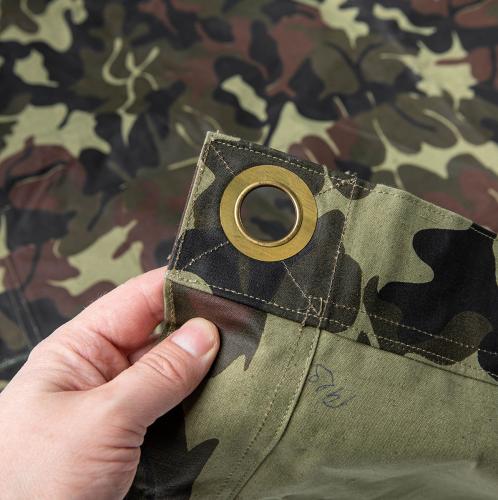 Brass grommets, these will not rust!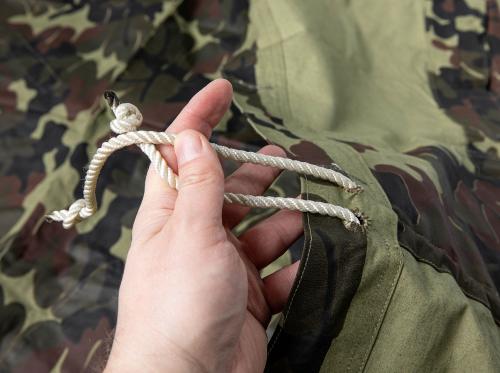 The cord holes are "reinforced".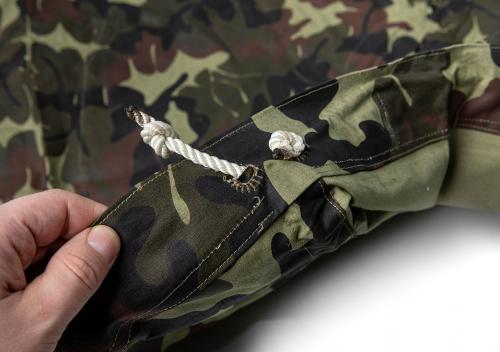 The cord holes are "reinforced".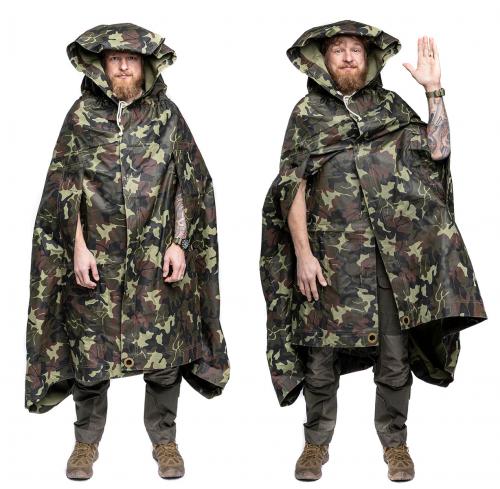 Two armholes is something they didn't even dare to dream about in the Soviet Union!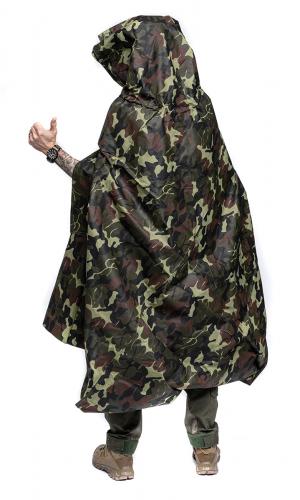 The hem folds up inside the fabric to remove excess back length.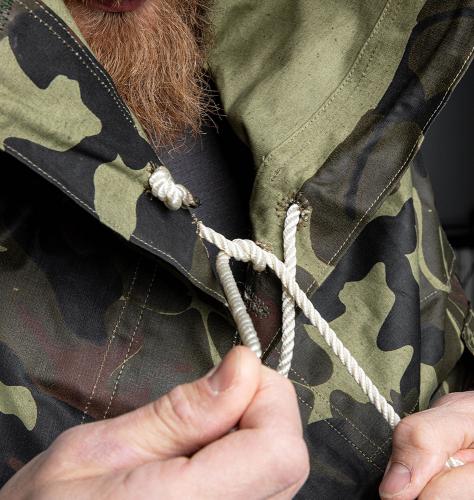 Adjust the collar opening with these.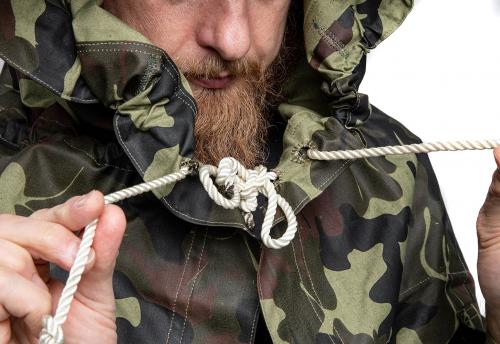 Tighten the hood with these cords.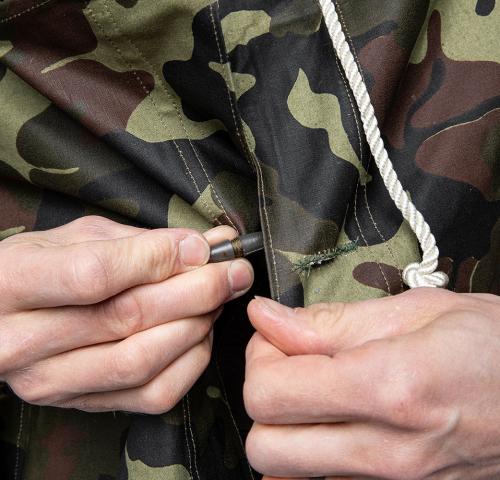 Romania
Romanian Plash-palatka Rain Cape/Shelter Half, Camouflage, Surplus
Price 49.99 USD
excluding sales tax
The Romanian "Plash-Palatka" is just like the Soviet original but camouflaged - perhaps only for the reason its TWO armholes would remain hidden from the Soviet authorities. Old school cotton shelter halves are getting rarer by the day, get yours now!
We don't know when this product will be restocked. With surplus the restock date is unknown due to sometimes poor availability. Request restock notification and we will email you as soon as this product is available.
Trouble with the metric system? Try our converter: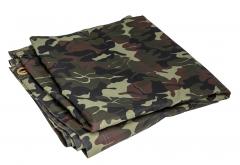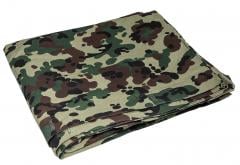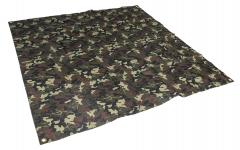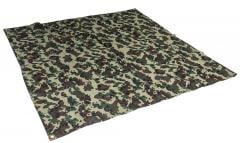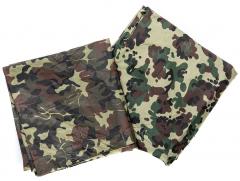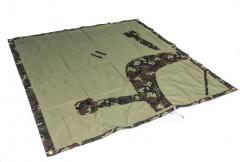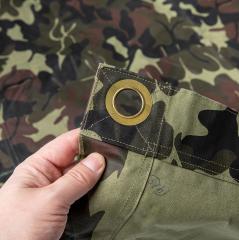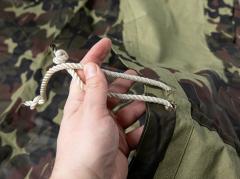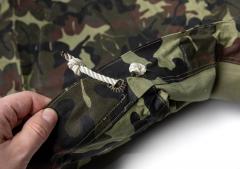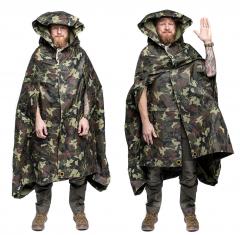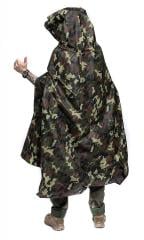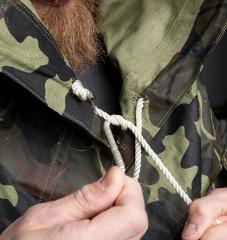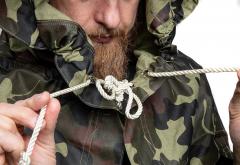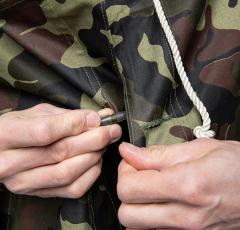 The Romanian "Plash-Palatka" is just like the Soviet original but camouflaged - perhaps only for the reason its TWO armholes would remain hidden from the Soviet authorities. Old school cotton shelter halves are getting rarer by the day, get yours now!
This age-old design can be used as a groundsheet, shelter half, rain/camouflage cape, stretchers, or a top layer for sleeping bag/blanket - you can even make a sort of a raft from these. In almost every use it's just a tad too small on its own, part of the rugged charm!
Looks like the model has stayed the same over the course of years, common nominators being camouflage, plastic toggle buttons, surprisingly well-punched brass grommets, and the rather strong odor from the insect repellent used to treat these. This will probably dissipate in use.
The camouflage pattern is the Romanian "Mozaic" style woodland camo, with two model variations which we won't differentiate. You get either one.
Where have all the capes gone?
The Plash is the king of capes! When it's used as a cape, one corner works as the hood - note the drawcords which you use to tighten both hood and the "collar". Then you fold the opposite corner inside and button it up (the buttonholes on the corner line up with the toggle buttons on the center of the tarp). Now you can button up the front as little or as much as you like, depending on if you want to look like a heroic defender of the Motherland or a sad camouflaged cone creature (but better protected from the elements).
When worn as a cape, you might notice there are ACTUAL POCKETS under the armholes on the inside.
Dimensions and exciting details!
Measures about 180 x 180 cm (70 x 70")
Weight some 1,4 kg (about 3 lbs)
No other exciting details, the product is perfect.
Material
Made from very tightly woven and impregnated wind- and waterproof cotton. The fabric seems even denser than on the Soviet equivalent.
When you have wandered the realm long enough to wear the water repellent treatment down, you can use fabric wax to reproof it!
Romanian army surplus
Most are in totally unissued condition, but we reserve the right to say some examples may well be just slightly used. These might have some insect repellent treatment that might be hazardous to cats! We do not know for sure but consider yourselves warned.
Availability is quite poor, we cannot promise a restock once these are gone.
Kierto Circular Economy
Return this product used but clean and unbroken, and you'll receive half of the product's original price as Varusteleka credits. Service is available only in Finland. Only Registered users can make Kierto returns. See more information about Kierto.
All products: Romania
Recommendations
Loading products...
Reviews
You have already submitted a review. You can edit your text by clicking on it. You can filter the reviews by clicking on the elements of the summary.
Log in and write a review. You can filter the reviews by clicking on the elements of the summary.
Remove filter
Suomi
(2)
English
(7)
I would recommend for a friend
Jeff D.

27.03.2020

Verified purchase
If you are a fan of the Plash-Palatka system, then this is a must buy item. If you are thinking about ordering it, do it now! And not just one, get two. Mine is in an unissued , new condition. Yes, the product is perfect. It does have that faint smell of moth balls, but nothing like the smell from the Italian back pack, which has gone a long time ago.
9
0
I would recommend for a friend
Jac G.

07.04.2020

Verified purchase
Mine was totally brand new, excellent rain cape/tarp/poncho/shelter/boogieman costume.
8
0
I would recommend for a friend
Gary B.

09.06.2020

Verified purchase
I have a very soft spot for the Soviet plash, but this thing rawks! I ordered one and got the light camo version (good for high desert), but though it looked unissued it was made without shoulder and hood cords (must have been Friday afternoon at the Bucharest people's palatka collective). An email to everyone's favorite Finns was all it took to put a replacement in the mail to me (they really are The Good Guys). Very well made plash, excellent camo, brilliant after sale service, plus pockets so you can store a ridge line and bunjies with the plash - what more could anyone want? Just because they have a pile of these today doesn't mean they will have a pile tomorrow, you know how it goes with surplus. If you like this kind of thing then get a couple, you won't regret it.
3
0
I would recommend for a friend
John K.

07.07.2020

Verified purchase
Ordered a total of three, makes a Large Pyramid tent. Material seems a touch lighter that the Plash Palatka, but it will get the job done. If you're on the fence, go ahead and get at least two.
2
0
I would recommend for a friend
Göran G.

15.07.2020

Verified purchase
This is a great multi-purpose item. This one is much better than the Soviet version, the East German version wins over both of these though. Buy it. Buy the East German one too.
1
0
I would recommend for a friend
Anonymous customer

03.08.2020

Verified purchase
Kannattaa vaihtaa valkoset nartsit paracordiin, lipsuu märissä nakeissa.
2
0
I would recommend for a friend
Larry B.

20.08.2020

Verified purchase
It's tough to find camouflage Russian Plash Palatka so this was the next best alternative. I love it and expect many years of use out of it as a shelter, ground cloth, and rainwear. Arrived in like-new condition. A must-own fashion item for the Fall. Damn you Varusteleka for getting me to spend more money.
9
0
I would recommend for a friend
Jaakko P.

05.10.2020

Verified purchase
No nyt on telttavaate ominaisuuksilla! Todellakin päätarkoitus kai on olla sadeviitta, jossa päänsuun kiristys ja aukot käsien ulkoistamiseen ja näiden alla pikku taskut. Omat viittani olivat uudempaa Romanian käyttämää camo-kuosia ja ilmeisen käyttämättömiä. Haisevat vain lievästi kemikaalille, mielestäni siellä sateensuojakemikaali (jolla puuvillakangas on tiivistetty) pikku hiljaa hajoaa, suojelenee jo itsessään sadeviittoja tuholaishyönteisiltä. Pienellä tuuletuksella häviää tuo vieno tuoksu. Suosittelen väijyhommiin, en suosittele pidemmille vaelluksille. Tämä painaa kuivana luvatut 1,4 kg, märkänä vähintään tuplat-triplat. Vastaavankokoinen nyloninen vielä paremmin vedenpitävä tarppi painanee kuivana 300g.

Kangas on niin tiheää että jos haluat jonenikula-henkiset pimennysverhot makuuhuoneeseen tms. niin tässä on edullinen monikäyttöratkaisu. Paskan osuessa tuulettimeen verhot on helppo repäistä alas ja muuttaa muuhun käyttöön. Romanialainen mosaiikkikuvio mallia -94 on niin ruma että verhoilla on ironista camp-arvoa myös. Toki konservatiivisempi hissukka kääntää kuvion sisään asuntoon päin ja ulos näkyy harmaanvihreä yksivärinen kuosi. Kangas on tosin painavaa, joten verhonipsuilta ja -kiskolta/tangolta vaaditaan tavallista enemmän. Itse ostin samantien kolme kappaletta tätä sadeviittaa. Yksi varastoon, yksi pimennysverhoksi ja yksi aktiivikäyttöön.
2
0
I would recommend for a friend
David C.

09.10.2020

Verified purchase
I got two. One was OK, like new, in the '94 camo scheme with the dots and splotches. The other one had the toggle buttons, but no eyelets had been sewn in places! I find myself wondering if all the toggle buttons were really attached. Also, there were egregious sewing mistakes made and redone, particularly the arm slits and interior pockets. It was also in the '94 camouflage scheme, so not the leaves and branches and so on like the earlier pattern, but the spots and blotches. Somehow, it looks "autumnal" due to the brown and the black--which is actually rather rarer in nature. Perhaps that is why Romania uses a different pattern. Still, it is a cool camo style. The cord used by the Romanians is crummy. Like dental floss or something. It had been pulled out of one portion of the "hood" attachment. I'll add some plastic keepers or grommets to prevent them from being pulled out. The stitching was flimsy in parts and ripped out easily. I'll have to resew many of the seams due to the slipshod construction. The "Dacia" is a Gallic-engineered car--a Renault--built in Romania. These days, it is a cheap car for many Europeans or other people where it is sold. This plotsch palatka is like that: Russian-engineered, but Romanian execution. I guess shoddy construction didn't end with the Ceausescu regime's demise. Still, it is a neat piece of gear, usable as a blanket, extemporized sleeping bag, a casualty evacuation stretcher, a rain cape or poncho, a tarp or ground cloth, a shelter half or "basha" as the Limey snake-eater SAS says, and it can be configured with others into various other larger shelters. I think it could even be contrived into a nice hammock. But first I'll have to resew many of the seams with real, non-Romanian thread. If I had to do the order over again, I'd probably have gotten a pair of the Italian or German sewing kits just to repair the work. Perhaps the first one was made before lunch, and the second one after a bottle of wine or two over lunch. Or, perhaps it was made by the new trainees at the factory as a "practice" rain cape. I've rolled mine up into a "hobo pack" or horseshoe-type blanket roll. When the weather turns cold, I can add a wool blanket or two and put some gear, fire starters and other survival-type gear into it before retying it. It could come out as a light, easy-to-carry bundle or roll, and if something goes awry on a hike or camping trip, it's available to use for very many things, including temporary shelter with a debris bed, or any of a number of other uses. Cool piece of gear, and the camouflage versions are cheaper than the single-color khaki/ drab versions enamored by Soviet reenactors or Red Army LARPers or whatever.
4
0