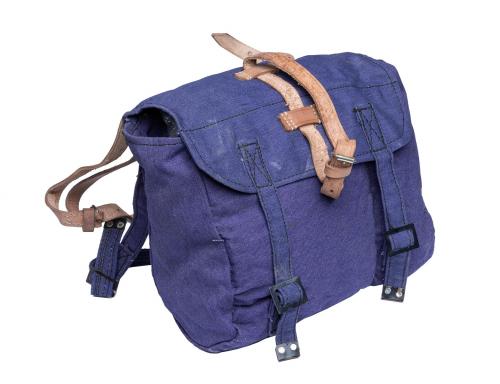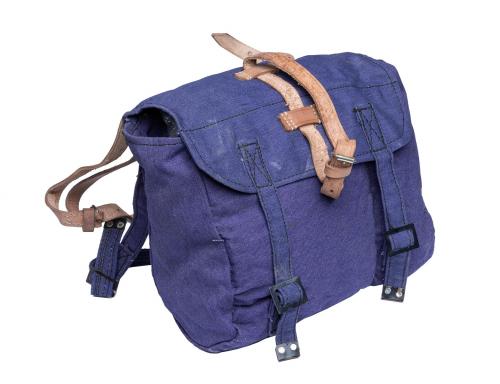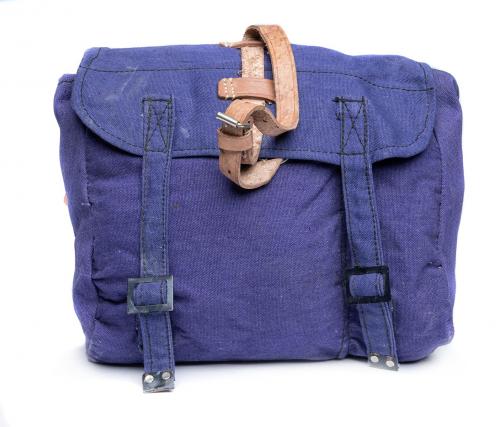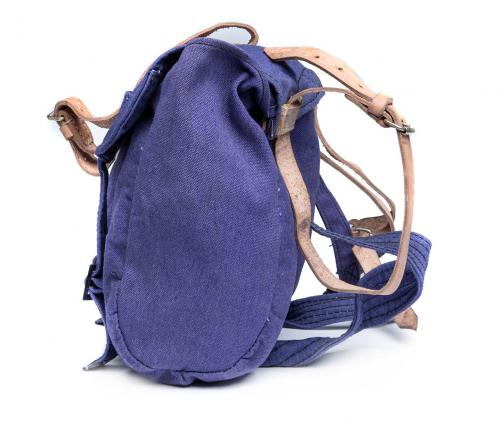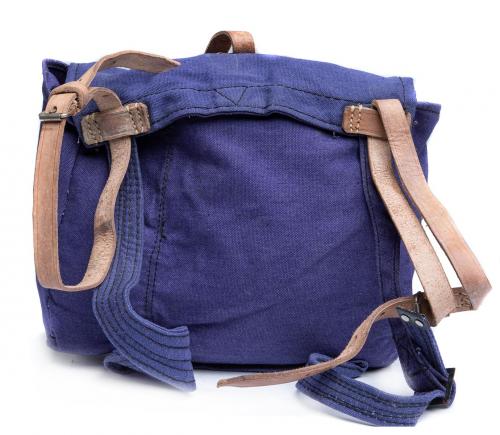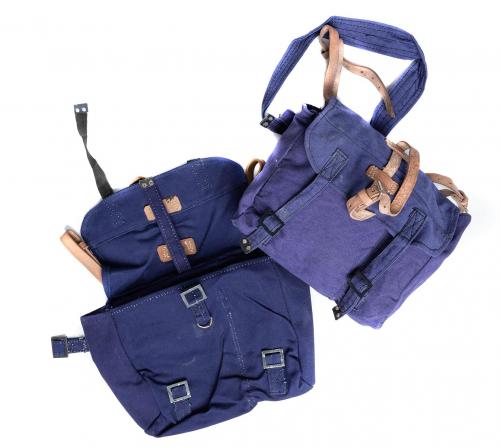 The color and material varies from darker color to lighter one and from thicker canvas to thin one.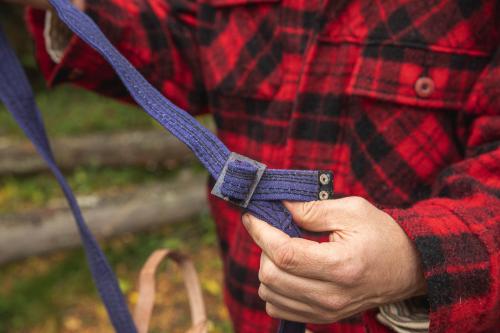 Carrying strap is adjusted with a buckle.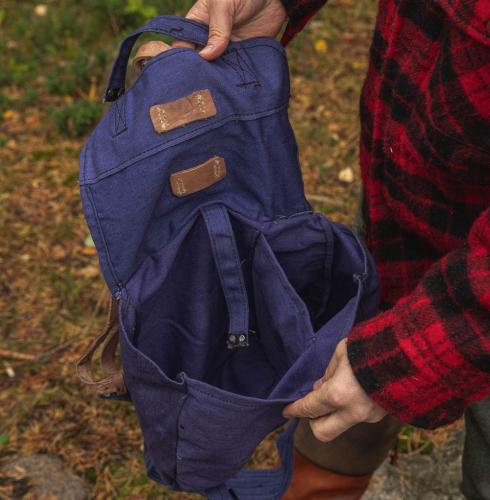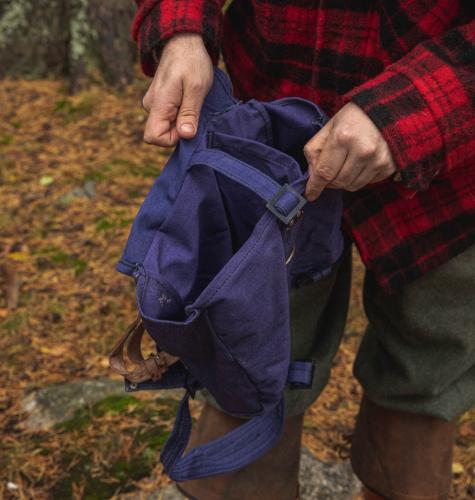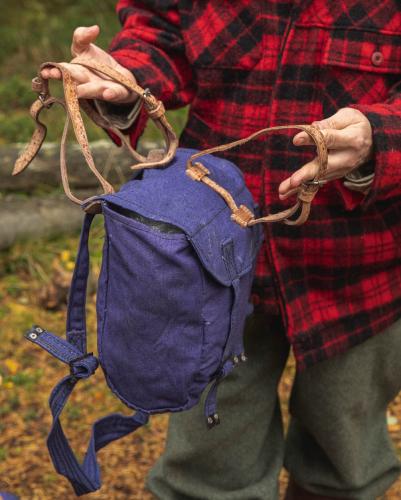 Leather straps may come with the bag or not.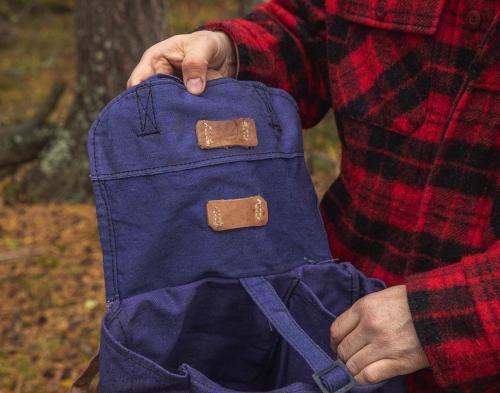 Leather reinforcements inside.
Romania
Romanian breadbag, blue, surplus
Price 19.99 USD
excluding sales tax
Let's kick the wannabe-retro stuff off the stage! This old Romanian deep lagoon blue army bread bag was already obsolete when introduced in the 70s. Bombproofly made of Genuine Materials: canvas, metal, and leather! We give you permission to carry also other things in this in addition to bread.
This product is unlikely to be restocked and will be hidden from our website once it's out of stock.
We don't know when this product will be restocked. With surplus the restock date is unknown due to sometimes poor availability. Request restock notification and we will email you as soon as this product is available.
Trouble with the metric system? Try our converter: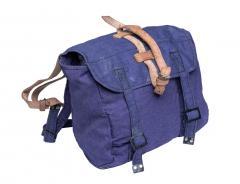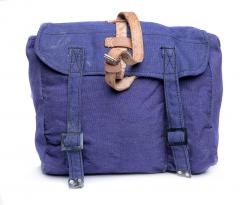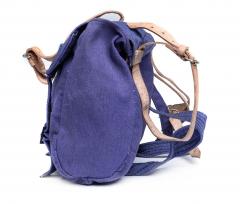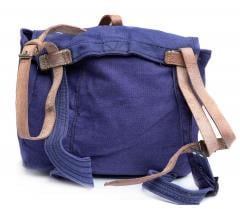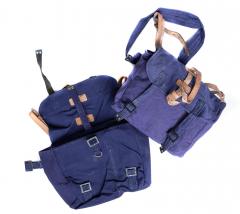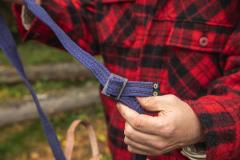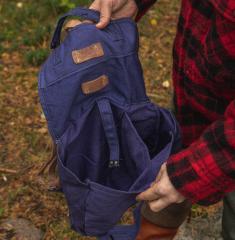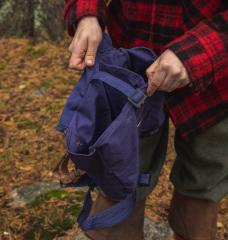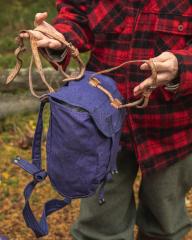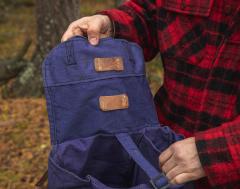 Let's kick the wannabe-retro stuff off the stage! This old Romanian deep lagoon blue army bread bag was already obsolete when introduced in the 70s. Bombproofly made of Genuine Materials: canvas, metal, and leather! We give you permission to carry also other things in this in addition to bread.
In short, this is the wet dream of a vintage fanatic except it's not a dream! Previously we got these in green but now you can also have them in deep blue like the summer evenings in the Carpathians. The Romanian bread bag is not only unbelievably pretty but also made like all things should be, damn well. Volume-wise this bag is like a small rucksack and the outside has options to attach even more stuff.
Features
Comprises of a divided main space, adjustable with the closure straps of the lid. Dimensions about 32 x 28 x 12 cm (12" x 11" x 5"). There's an extra fastening strap at the mouth. You can use these e.g. to carry some books, a compactly-sized iPad, or beer.
Carried with an adjustable shoulder strap that is something that will probably never break. It looks a bit like an old karate belt, except it gets narrower at the ends.
If the inside space isn't enough, there are three general-purpose leather straps on the outside. If you want to replace the old ones, you will fit most straps up to 25 mm (1") wide, but anything over 20 mm (0.8") will require some shoving though. The D-ring on the front is also a nice way to carry your enamel or alu mug!
Buckle modification guide

Are the slide buckles too slow for you? Consider swapping them for other buckles, the easiest choice being the GT Split-Bar, but if you want the best go for G-hooks. Neither option requires sewing!

First, do away with the old buckles with some side cutters. The steel is mild so it takes no time. Installing the Split-Bar is pretty straight-forward, just note that the steel end of the strap only goes through the male buckle sideways.

Installing the G-hook is a bit complicated but more rewarding. The steel end of the strap doesn't fit through at all, but you can fold the strap into a bight and feed it through as two layers. Put a short 20 mm (7/8") piece of Paracord into the strap loop and capture it by pulling tight. Just look at the pictures and you'll get it.

If you want to modify the inner security strap as well, you'll need three (3) G-hooks.
Materials
Made entirely of thick blue cotton duck. Some of the bags are made of a darker and stiffer fabric. Most are sewn with black, some with white thread. Strap points and the general-purpose straps are made of leather and buckles and strap ends of the closure straps steel. They have really made these from proper strong materials and the sewing thread seems pretty solid too. Unlike the faith in humanity, this bag will not fail.
Condition
These surplus bags have been used with more or less vigor, but they are all still perfectly usable. Some are in very nice condition for their age. The fabric can have some small stains and warehouse dust. The metal parts might have some scratches or a bit of surface rust. The canvas straps that close the bag have been replaced with straps of a different color on some bags. Most have the original straps but don't be astonished if you happen to get one of these rare collector's items.
The thickness of the leather straps varies a bit, and the leather has gone somewhat stiff with age. We strongly recommend wiping the bag clean with a moist rag and treating the leather with generous amounts of grease. The lovely warehouse smell will, unfortunately, vanish with use. However, some seem to consider it a good thing.
Kierto Circular Economy
Return this product used but clean and unbroken, and you'll receive half of the product's original price as Varusteleka credits. Service is available only in Finland. Only Registered users can make Kierto returns. See more information about Kierto.
All products: Romania
Recommendations
Loading products...
Reviews
You have already submitted a review. You can edit your text by clicking on it.
Log in and write a review.
Remove filter
Suomi
(1)
English
(3)
I would recommend for a friend
Mustafa A.

15.10.2020 (Edited 06.06.2021)
I've got the green version of this, it's a very nice looking and durable shoulder bag, cant beat the price for the materials it's made of and the sheer fact it will out live you if you treat it with slightly more care than an AK. I was going to purchase one of the blue ones just because how much I liked the green one, but alas they are out of stock (at the time of writing this) If these come back up again snag one while you can
0
0
I would recommend for a friend
Johanna S.

02.11.2020 (Edited 06.06.2021)
Täydellinen väri ja koko, kangas on kestävää ja laukku tuntuu syövän sisäänsä melkein mitä vain. Yksi tähti tippuu lyhyellä ihmisellä siitä, ettei hihnaa saa perusoletuksilla tarpeeksi lyhyeksi (laukku jää roikkumaan kävellessä vähän vaikeaan paikkaan lantiolle), plus toimistotyöläisellä siitä, ettei laukun sisällä olevaa "väliseinää" saa siirrettyä pois läppärin tieltä (joka muuten mahtuisi oikein hyvin). Sanoinko jo että väri on erinomaisen kaunis ja herättänyt kateutta ja ihailevia katseita kadulla kulkiessa. Eikä kukaan usko sitä ylijäämäksi.
0
0
I would recommend for a friend
SHAO-KAO W.

07.11.2020 (Edited 06.06.2021)
我收到幾乎是新的,品質很好,堅固。
我的有附3條皮帶,我將它們稍微浸水並上蠟,恢復柔軟皮帶。
我已經使用幾次,非常好用,值得推薦
1
0
I would recommend for a friend
Henrik N.

11.11.2020 (Edited 06.06.2021)
Get one of these while they're still available! It will be with you for decades as a trusty companion anywhere you go. I used a Russian medic's bag as a general purpose shoulder bag before, this bag is superior in every way.

Mine arrived very lightly used or perhaps unused, but with plenty of musty warehouse smell. I got the full complement of three leather straps with mine, of course all the leather was dry, but not dry-rotted, so a bit of leather oil and grease took care of that. Either way I bought some BW universal straps too, since I like those better.

After greasing the leather thoroughly, the smell was taken care of with mild disinfectant, a bit of scrubbing and a good air-drying. I replaced the buckles with G-hooks, and if your bag has the replacement thinner straps, the metal ends will fit through, although you may need to hammer the rivets a little bit flatter. You can also cut off the ends leaving the strap as long as possible, and just fold over the last ~5mm double and sew it for a nicer-looking end, the straps on mine are long enough for that.

As expected the build quality is extremely sturdy, and very easy to repair if anything should go wrong, thanks to the straight-forward construction.
0
0