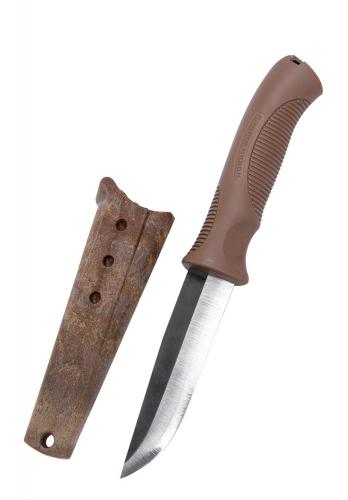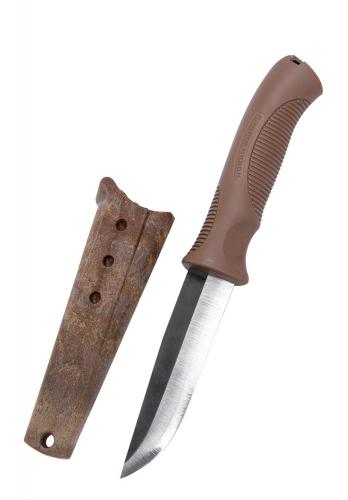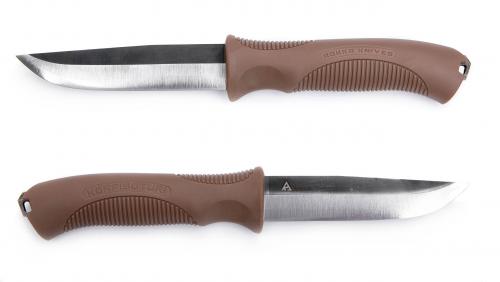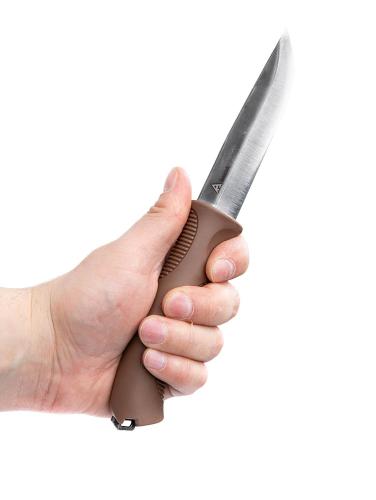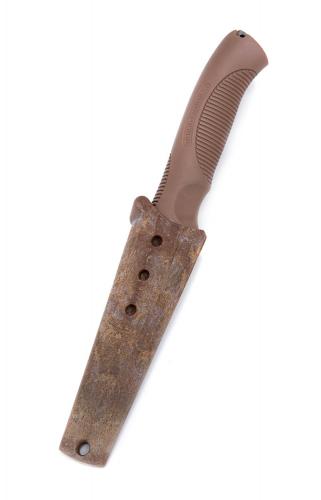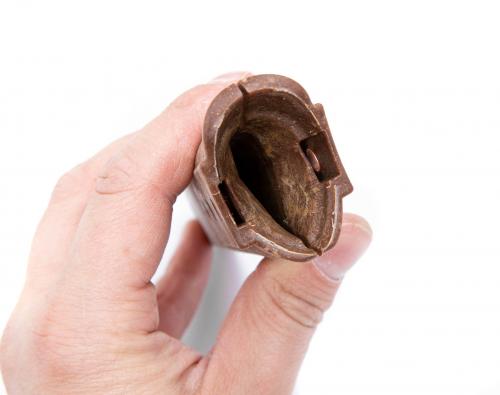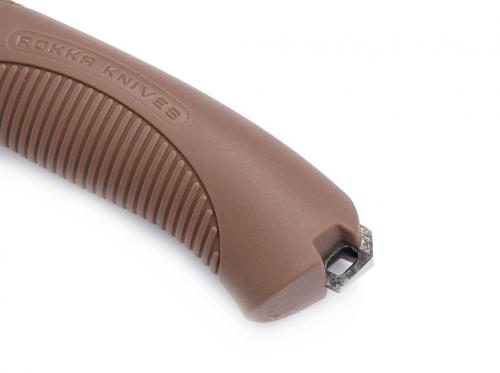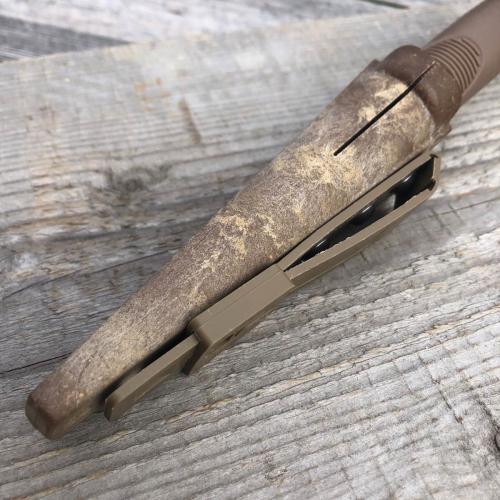 The exact appearance of the MALICE-style clip may vary.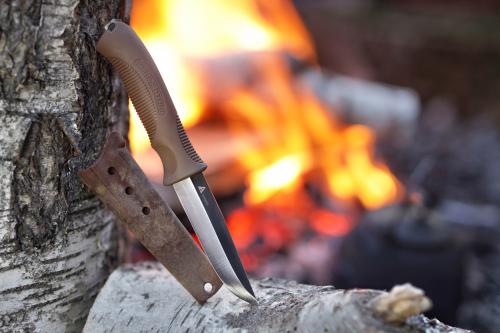 Rokkaknives
Rokka Knives Korpisoturi
Price 159.99 USD
excluding sales tax
Korpisoturi by Rokka Knives is a next-generation military knife that functions both as a combat knife and a bushcraft tool. It combines the excellent cutting characteristics of a Finnish puukko with a modern tactical handle and versatile attachment options, making it a perfect blade for both professional soldiers and active hunters and bushcrafters.
Waiting for restock, no estimated time for arrival. Request restock notification and we will email you as soon as this product is available.
Trouble with the metric system? Try our converter: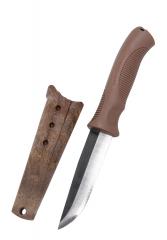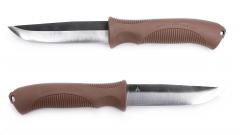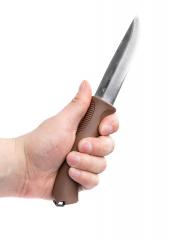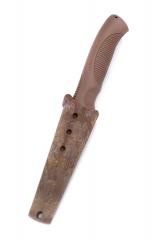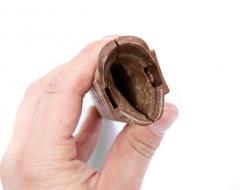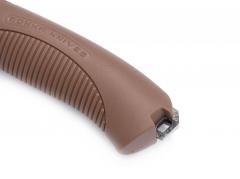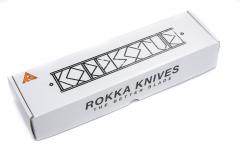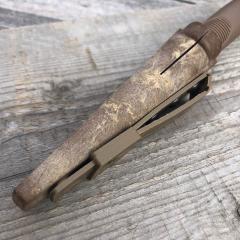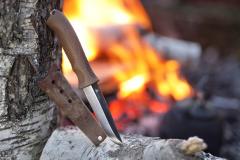 Korpisoturi by Rokka Knives is a next-generation military knife that functions both as a combat knife and a bushcraft tool. It combines the excellent cutting characteristics of a Finnish puukko with a modern tactical handle and versatile attachment options, making it a perfect blade for both professional soldiers and active hunters and bushcrafters.
For professional military use
Korpisoturi (Wilderness Warrior) was designed in collaboration with professional soldiers. This 24 cm (9.5") long knife (with sheath) is big enough for most military uses but not too long to limit your movements no matter where it is attached to your gear.
Blade
The Korpisoturi blade is very much like traditional Finnish puukko blades. This is a great thing because you cannot find a more versatile blade type than the puukko. Trust us, we Finns know the knives. The blade material is the Böhler 80CrV2 carbon steel, which is very popular among puukko makers. The induction-hardened cutting edge and aggressive blade geometry without a secondary bevel guarantee an awesome cutting performance. And a springy spine increases the life span of the blade. The butt of the handle comes with a window breaker, and it has a hole for a lanyard.
Ergonomic handle with a good grip
Korpisoturi's handle is made of TPE Dryflex, which doesn't become slippery even when wet. This material is very durable and it isn't sensitive to temperature changes as long as you don't throw it in a fire. The shape and size of the handle fit different hand sizes and uses. A simplistic design makes unorthodox grips and quick and smooth changes possible. The finger guard secures the knife snugly inside the sheath.
Numerous carrying options
The only non-Finnish part of this package is the MALICE-style clip with which you can attach this knife in the desired spot on your gear. You can carry your Korpisoturi on your belt, plate carrier, or vest - either handle up, down, or sideways. The sheath is suitable for both right- and left-handed users.
The sheath is made of injection-molded Kareline, a natural fiber composite that is a Finnish innovation. This material does not absorb moisture and it withstands a temperature range from -30 to +100 degrees Celcius, which means that you can defend yourself even in the sauna if need be. And if you manage to goo it with some gunk, the sheath is machine washable.
Made in Finland
Korpisoturi by Rokka Knives is made in Finland, honoring the best traditions of Finnish knife making. The only non-Finnish part is the Malice clip by Tactical Tailor.
Technical specifications:
Overall length: 229 mm (9")
Weight: 127 g (just the knife)
Blade length: 105 mm (4 1/4"), thickness 5 mm (0.2")
Blade style: Clip point
Blade grind: Rhombic scandi
Blade: 80CrV2 Carbon steel, blade hardness 63 HRC, spine 50 HRC
Handle: TPE Dryflex, excellent grip
Sheath: Kareline Natural Composite, for both right- and left-handed users
Other features: Lanyard hole, window breaker, comes with MALICE-sryle clip
All products: Rokkaknives
Recommendations
Loading products...
Reviews
You have already submitted a review. You can edit your text by clicking on it. You can filter the reviews by clicking on the elements of the summary.
Log in and write a review. You can filter the reviews by clicking on the elements of the summary.
Remove filter
Suomi
(2)
English
(5)
I would recommend for a friend
Ivan M.

11.05.2020

Verified purchase
I bought this knife recently so can't comment yet on its durability/edge retention but after a few days of use I'm happy with it: a lot of attention paid to details, incredibly sharp (first time I receive a knife that sharp out of the factory), and a clever sheath design and material.

Notes:
- the friction lock initially felt too tight ("sticky") but after cleaning and lightly lubricating the friction area after a few uses (as recommended by the guys at Rokka) locking is now perfect: tight enough to confidently wear the knife upside-down while running/jumping, but not too tight as to make the knife hard to draw.
- the glass breaker's 90deg. angles are very sharp; they're probably made for military pros but over time they may wear down clothing worn over the knife (in which case sanding the angles a little bit would solve the problem).
- price seemed a bit high but labour in Finland ain't cheap and in hindsight the knife/sheath quality is better than other knives I have in that price range.
- FWIW after a few hours playing with a new knife I'd usually find flaws and/or be a bit disappointed but interestingly I'm still happy with that knife days later. Whatever that means :)

Again, that's a short term review so it's not worth much for a knife but I'll update my comment/rating if I run into issues in the next few months (curious if the friction lock will wear out). So far so good ! :)
26
0
I would recommend for a friend
Sami M.

10.08.2020

Verified purchase
About täydellinen yleispuukko reissuille. Hintava, mutta eipä ole parempaa tullut vastaan. Puukko on pienempi kuin peltosen sissipuukko, makuasioita.
6
3
I would recommend for a friend
ATRICK R.

14.08.2020

Verified purchase
Great solid knife, took it hunting with me last weekend and it is sharp enough to harvest a rabbit out of the box.

As a side note: be weary of trying to break small game bones with blade edge. Buddy used my knives to snap the rabbits femur bones, granted he may have also whacked his tailgate in the process but it did leave a few minor chips on the blade.
4
2
I would not recommend to a friend
Hanns-Christian N.

17.08.2020

Verified purchase
A knife to me is an "entire package" consisting of the components blade, edge, metallurgy, sheath, ease of use and wearing, weight, etc

This knife's blade, it's design, grind, strength, length and first and foremost sharpness is probably the best I've seen in 20 years plus in the military and as a hunter and active outdoors-man. 10 out of 10 points, is simply doesn't get any better that this, the darn thing is perfect!

The handle - at least in my hands - leaves to be desired: I find it to be OK but somewhat "thinnish" and thus fiddly. The material is very nice, but that won't overcome the profile. What really - again, at least in my book - is absolutely unnecessary is the odd window breaker at the pommel. This thing is so sharp and edgy, that it will easily cut your shirt or hand when having to "force-draw" (see below) the blade.

The sheath - sorry to be so blunt - sucks! It holds the knife in so tightly, that you really have to "force-draw" the knife every time. That is just bothering when doing a desk top review, but imagine having to draw the knife at two in the morning on a cold and snowy mountain top after three days without sleep with numb fingers. Throw in the wickedly sharp edge and you have a disaster waiting to happen ...

So, while the knife packs an outstanding edge, the rest of the package is too negative to make the whole thing attractive. If one could take the original Sissipuuko and put in this blade, you'd have the best knife in the world, no questions asked! But, being the knife that is is, I've sadly returned it to Varusteleka.

One final note: contrary to what the pictures suggests, the knife does NOT come accompanied by a FIN camo carrying pouch.
11
8
I would recommend for a friend
James G.

18.07.2021

Verified purchase
I love the knife. It came remarkably sharp and the handle is quite comfortable. The material the sheath is made out of is weird, but I don't see any problems with it. The knife is snug enough that I think you can probably hang it upside down, but not so tight that pulling it out is difficult.

The glass breaker...I don't know what it's really for. There was a warning that came in the package that said it hadn't really been proven to break glass. It looks like it probably could, but apparently that isn't what it was designed for. Seems like it would function as a striker for a ferro rod or piece of flint.
All in all though it's a great knife and I look forward to using it.
0
0
I would not recommend to a friend
Colette D.

12.12.2021

⚠ Unverified purchase
I bought my Korpisoturi from Varusteleka in May of 2020.
I have used it daily for light to medium chores from cutting black thorns and small branches to food preparation and splitting kindling.

General observations
The edge on the blade was the best I have seen on the knives I own (I am 50+ year-old) and own / have used a few knives in my life) and the edge keeps well and was easy to sharpen.
The size and ergonomics were very good and close to a perfect ratio.

The plastic handle however is fragile and started to separate along the molding line quite quickly. I believe that the edge of the blade bites into the plastic and starts to split it along the seam; it then opens up.

The weak point which may need to be reviewed is the full tang. The large hole weakens the tang and eventually broke off. Ideally the Korpisoturi would be stronger without the big hole in the tang and with micarta handles (like on ESEE knives). This would also allow for maintenance / oiling of the tang.

The sheath is good (I carried my Korpisoturi with a paracord shoulder harness / very practical and comfortable). The Malice clip was not useful as the holes drilled on the sheath were of a larger diameter than the screws and they did not "bite" in the material. I tried to solve the problem with a few layers of ductape but it did not work at the end. This needs to be reviewed.

My Korpisoturi broke off cleanly at the guard over a year ago and I got in touch with Rokha knive to get it repaired / replaced which they agreed but after I sent it back to them in Finland they never got back to me despite repeated request / messages.

While I accept there may be a lemon from time to time in a product line I am thouroughly dissapointed by the absence of customer follow-up and service from Rokha Knives and recently got in touch with Varusteleka (beginning of december 2021) to see if they could put pressure on Rokha Knive or replace my Korpisoturi. I am waiting for their answer.

I have a set of photos of my broken korpisoturi which I could share to illustrate the problem and design flaw which needs to be corrected.
[url=https://postimg.cc/z3s0M2y4][img]https://i.postimg.cc/z3s0M2y4/Korpisoturi1.png[/img][/url]
https://i.postimg.cc/7Y6d5pwP/Korpisoturi1.png
[url=https://postimg.cc/xNDMs76R][img]https://i.postimg.cc/xNDMs76R/Korpisoturi2.png[/img][/url]
https://i.postimg.cc/Fz1pKXc2/Korpisoturi2.png

I also agree with Hanns Christian and James G comment about the glass breaker which is not practical and ends up cutting your little finger when used regularly; I quiclky sanded mine to restore a less aggresive angle on the pommel.
13
1
I would recommend for a friend
Mats K.

23.10.2022

Verified purchase