Product added to cart
X
Recommendations
Show all Recommendations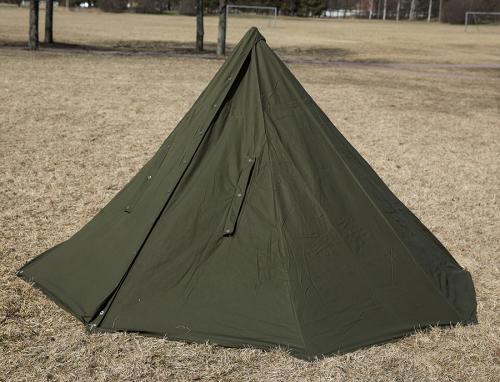 Polish two-man tent, surplus
Price 45.99 USD excluding VAT
Trouble with the metric system? Try our converter: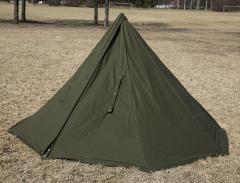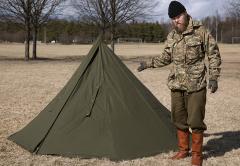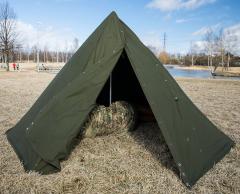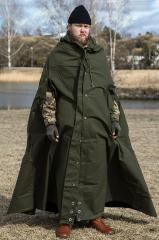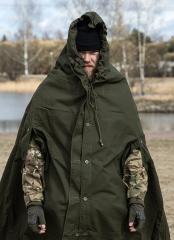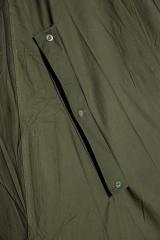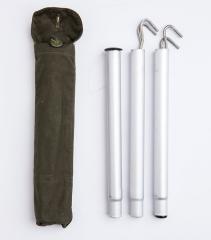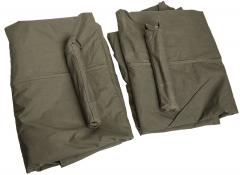 Old fashioned, two-man canvas tent in the form of a tipi style contraption, split to two parts. Surprisingly not-bad for a Polish army Cold War era product, this is a nice choice for the traditionalist - not only cheap and well made, it also doubles as a rain/camo cape or a one-man shelter! The availability is getting sketchy.
Comprises of two shelter halves which you button up to form the tent. An age old idea, both soldiers are supposed to carry their half of it. Alone one half can be used for a number of camouflage and protective purposes. These are made of yer olde canvas, very windproof, quite waterproof. The tent is completely cordless, you just have pegs and the center pole split in two bags!
To set it up, you'll have to button up the halves to each other, erect the pole inside and start poking in the pegs through the grommets. If you're alone, you can start by inserting the pegs to approximate locations, keeping the pole up, and then start fine tuning them.
About 1,4 m tall, with about 2 metres diameter. Weight for the set about 3,4 kg. One fabric can be packed about to a size of a 1,5 l milk carton if done well. If you are something like 190 cm tall, you'll find the space a bit tight.
When worn as a cape this has that East Bloc fairy tale look to it. But such a cape isn't actually half bad, as it offers warmth and protection from wind and rain. It also has a hood.
Bushcraft!
Yes, these are very bushcrafty, being made of traditional materials. Some people have even gone so far as to build little stoves of ammo cans and stuffing them inside. Needless to say, this is done entirely on your own risk, we have no idea about any fire retardant treatments of the fabric.
You could also sew the two halves permanently together for a more rigid construction. This would of course omit the use as a cape.
Genuine army surplus
Old Polish army stuff, but in nice general condition. The one we picked up for the photos turned out to be pretty much unused.
A note on sizes: YES, they made these in three different sizes. We will not pick; these come to us in rather nice and tight packages which are a pain in the ass to open, check, sort and pack again (would show in the price). Also, these physically are some 5 cm bigger per size. Moreover, the largest size is virtually non-existent and the second largest pretty rare too.
Reviews
You have already submitted a review. You can edit your text by clicking on it.
Log in and write a review.
Remove filter
Suomi
(3)
English
(7)
I would recommend for a friend
Jani K.

03.05.2017
Hienoa, että tätä on saatavilla. Ei varmasti kevyin, mutta todella kestävä, hyvin pitänyt vettä ja saa viriteltyä monenmoisesti erilaisia laavuja varsinkin kahdesta. Yhdellä puolikkaallakin pärjää. Sadeviittanakaan ei ehkä se näppärin... mutta silti 2 kärpästä yhdellä iskulla.
13
0
I would recommend for a friend
Patrice B.

19.06.2017
Like new ! This is a classic lavvu of the kind . Strong and good values for some upgrades & modifications .Thx Varusteleka!
20
3
I would recommend for a friend
Dan T.

21.10.2017
A totally reliable old school tent. Quality materials and workmanship at a bargain price.
14
1
I would recommend for a friend
Markus K.

09.11.2017
I would recommend for a friend
Markus K.

09.11.2017
I would recommend for a friend
Markus K.

09.11.2017
I would recommend for a friend
Andrew R.

09.11.2017
Says 1982 on inside but never been used ,, buttons are tight fit and will need a new waterproof coat .. But fantastic lavvu for you outdoor guys and compared to eBay prices for crap ones you cant go wrong
8
1
I would recommend for a friend
Aki A.

04.07.2018
Todella laadukasta materiaalia. Kunto kuin uusi. Sadeviitat tosiaan eri kokoiset( n 5 cm ero) mutta se ei haittaa yhteenliittämistä tms. Toisessa oli nurkissa kaksi metallirinkulaa ja toisessa vain yhdet.
1
1
I would recommend for a friend
Nilsanders F.

22.10.2018
Excelent condition - like new,
3
2
I would not recommend to a friend
Raymond A.

25.10.2018
I'd write a review but I received the tent with mismatching sets of poles that don't fit together, so i can't put it up. Also a set of the wrong tent pegs. So far no response from customer service. Diasappointed.
6
5
I would recommend for a friend
Jeffrey M.

20.02.2019
Great old surplus tent. Mine was like new, repelled water very well but you can use the Sarma fabric wax they sell to make it even better. I even use a small stove in mine and make it really warm inside. Lots of room for one, especially if you suspend it without using the pole but two can be nice and cozy. Just make sure it's someone you like. I cut a circular ground sheet to go with it so I don't have to lay in the mud. some people say I live like a Hobo, but I say I live like a Hobo King
0
0
I would recommend for a friend
Farasha E.

12.03.2019