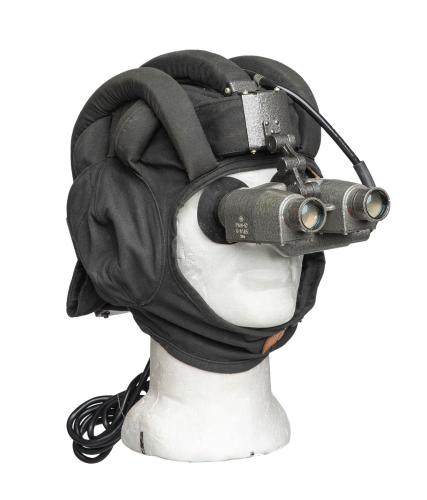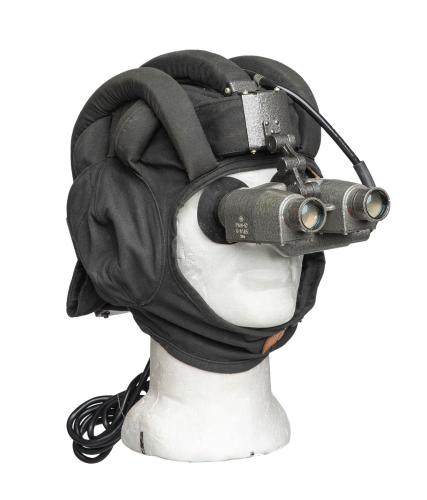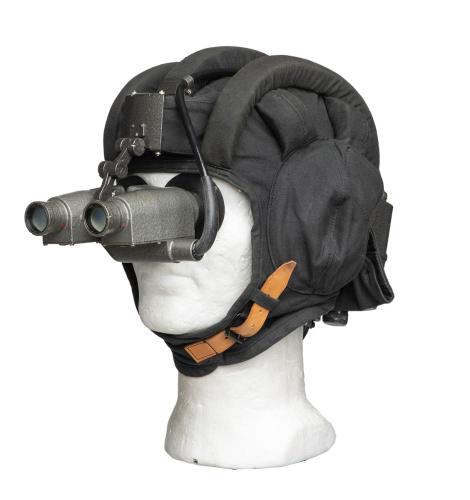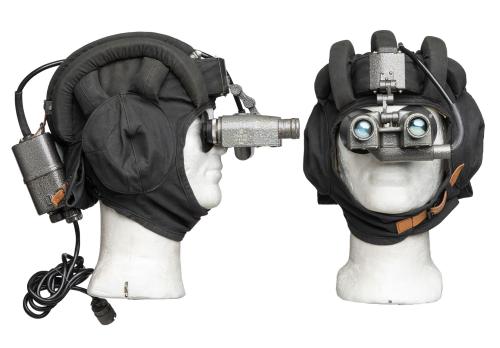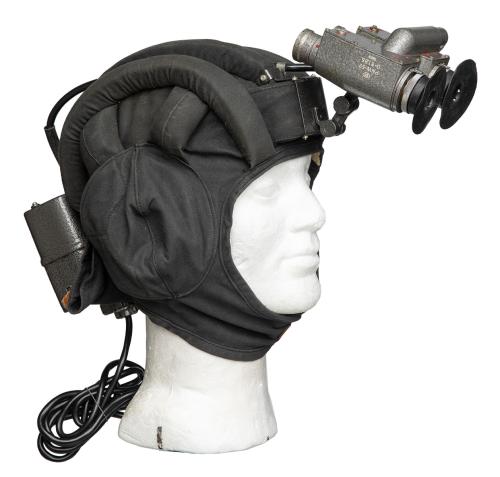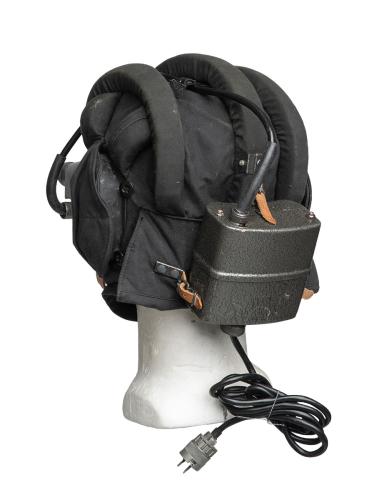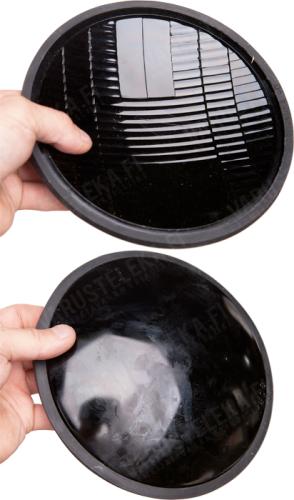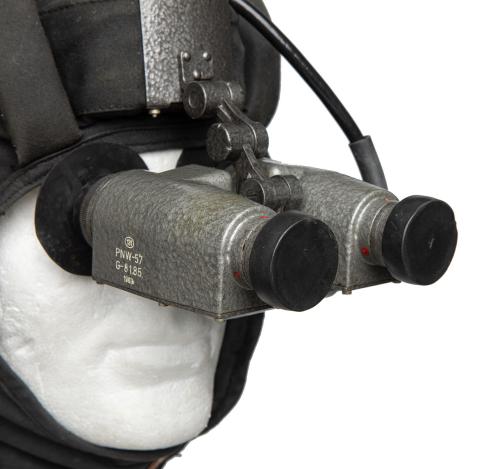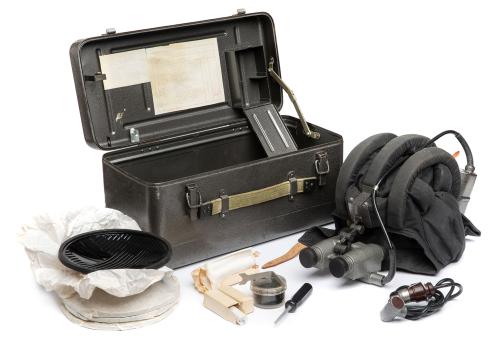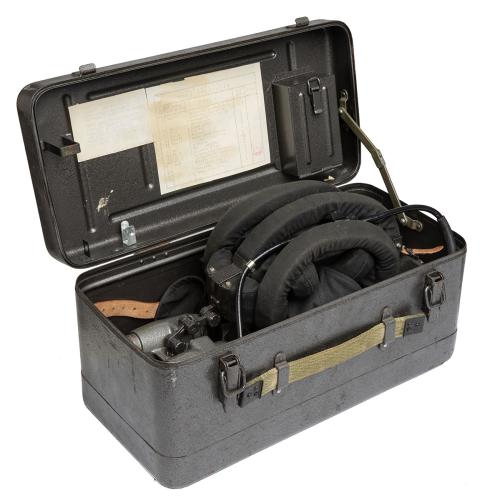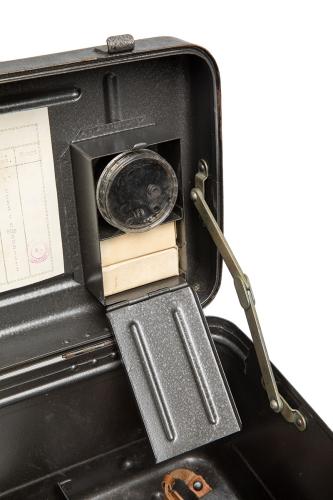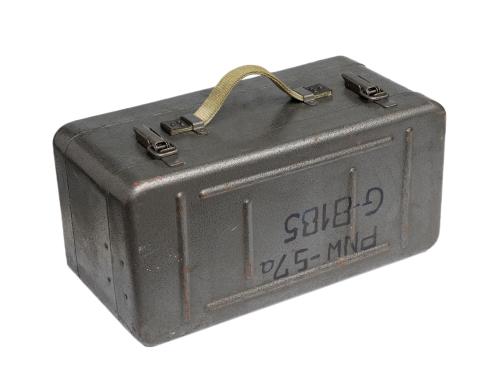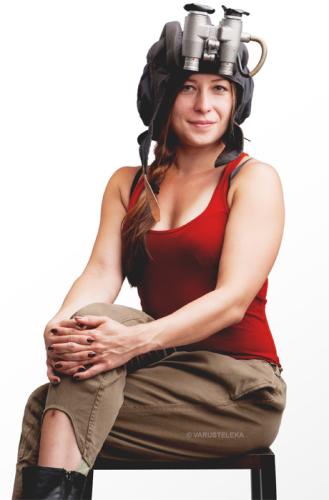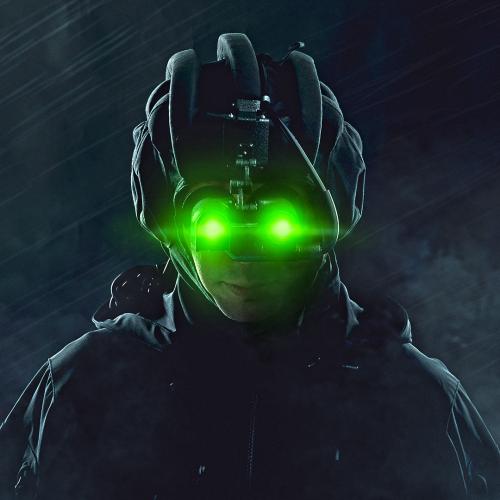 Poland
Polish PNW 57 Tank Helmet with Night-Vision Goggles, Surplus
Price 179.99 USD
excluding sales tax
If you've always wanted a pair of old Combloc night-vision goggles, look no further! This is a Polish copy of a 1957 Gen-1 device from the Soviet Union but surprisingly comfortable to wear!
We don't know when this product will be restocked. With surplus the restock date is unknown due to sometimes poor availability. Request restock notification and we will email you as soon as this product is available.
Trouble with the metric system? Try our converter: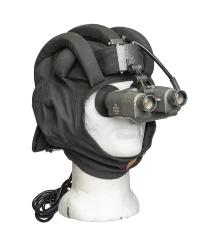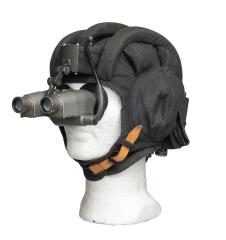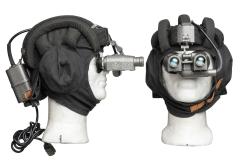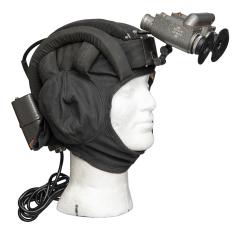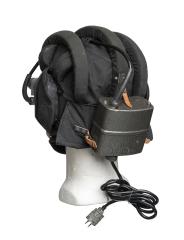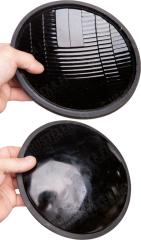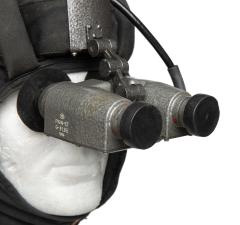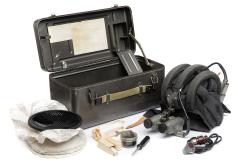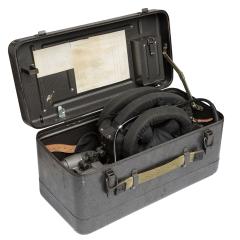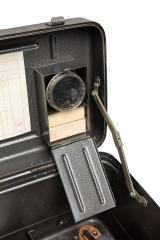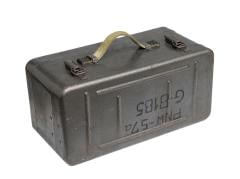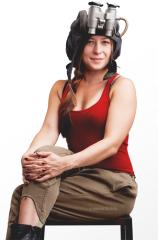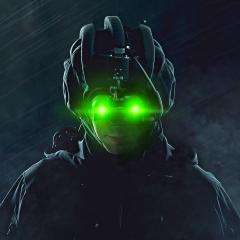 If you've always wanted a pair of old Combloc night-vision goggles, look no further! This is a Polish copy of a 1957 Gen-1 device from the Soviet Union but surprisingly comfortable to wear!
The device is integrated into the Soviet tank helmet, which is affectionately known as "The Sausage Cap" in the Finnish army. Comes with all kinds of accessories!
The kit includes:
The tank helmet and night-vision device
IR pass filters for vehicle lights
Power cable
Various assorment of spare parts and tools
A can of suspicious black goo
A sturdy metal or wooden box
Using the goggles is rather simple: put the helmet on and plug the extension cord to the cigarette lighter of your vintage Soviet truck. Don't have one? Electronically savvy folks have made adapters to connect these to modern vehicles or rechargeable batteries.
The included IR pass filters are installed on the headlights of the vehicle. They block all light except the near-infrared spectrum so you get headlights without visible light!
Box outside dimensions: 42 x 21 x 21 cm, weight 7.8 kg (16.5" x 8.3" x 8.3" / 17.2 lbs).
Polish surplus
These are used but in a good condition and tested to be functional by our supplier but not by us, so no guarantees on that. Understand, that these were made in Poland over half a century ago so if they work, we can't guarantee how long these remain operational. We're selling these because Soviet electronics and the freaky-looking cap is such an awesome combination.
All products: Poland
Recommendations
Loading products...
Reviews
You have already submitted a review. You can edit your text by clicking on it. You can filter the reviews by clicking on the elements of the summary.
Log in and write a review. You can filter the reviews by clicking on the elements of the summary.
Remove filter
Suomi
(5)
English
(14)
I would recommend for a friend
Even J.

07.06.2016

Verified purchase
Working Gen1+ goggles, provided you get a 12 volt power source. I jury rigged a cheap handheld drill to work as mobile battery. You will need an IR torch to make full use of these. If you're willing to put in some work soldering, this is problaby the best value NVG's you'll ever find.
It even had the original polish service manual.
18
0
I would recommend for a friend
Jari H.

25.02.2017

Verified purchase
I'm going to start by saying that i did NOT buy mine from varusteleka, but i assume that the guy who had it before me got it from here anyway.

My unit came in a very highly dented steel box, so much that i had to hammer the fucker into shape so i could close it again, ontop of the box was written PNW57a" and what i assume is the serial number, next to them was a handwritten green V that i assume was put there when the thing was surplussed. Inside the box was very clean, no rust or such, there was the TS2 helmet with the goggles dated 1966 (didn't have mic and speakers), a notebook with list users and times of use (mine had 1.5 hours of use), an UV torch, four UV filters wrapped in paper for lights of a tank/car, and two T type power splitters with adapters for an ancient cigarette lighter port (the seller gave me an extra cable since he hacked the original one). On the roof of the box was a couple of pieces of paper (warnings and parts list i think), a clamp looking thing for something i cant recognize, and a small compartment with lens cleaning cloth, 3 extra fuses (one without a box), and 2 spring looking things wrapped in paper.

The helmet and the UV light were very clean and looked new, both worked pretty well for what they were, even though the right image on the goggles was a bit darker and the lamp inside the UV light had gotten pretty dusty. A great way to test the setup was to adjust the thing for 12V (remove screw cover from the bottom of the electronics box), attach the splitter and have a the plug touch the contacts of a normal 9V battery. The power of the setup disappointed me even though these are 1950s tech (note that model E is a whole another system), unlike normal NVD systems the thing didn't strengthen any light, it actually darkened it a bit (i think this could even work in sunlight without getting damaged), the only good thing about the goggles is that they see UV light perfectly even though the torch provided is weak, what i plan on doing is grabbing some old Lada headlights, taping the UV filters on them, hacking the cables, and making a metal case with straps to attach them on trees and such with.

I got mine for 60 euros + shipping which is very cheap for something like this, definitely gonna keep and use it with love. I wasted almost 45 minutes writing this with no regrets.
40
1
I would recommend for a friend
Ian G.

21.09.2017

Verified purchase
This thing is awesom! Just received it and for me it came in a beautiful metal case with lots of stuff which I have to figure out yet. some batteries in there to and some tools and books etc...I am flabbergasted!

As an afterthought, I had the same experience as Elliot K. A Polish friend of mine said it was Czech writing.
12
0
I would recommend for a friend
Travis H.

17.10.2017

Verified purchase
I contemplated buying these last time they were offered, but waited too long and they sold out. This go around a jumped and purchased them. These things are pretty bad ass looking. No clue if they work, although they look very well taken care of. Being Polish military stuff I figured maybe they'd be solar powered or something. Haha. Very cool piece of military history and will make a great addition to my collection
11
0
I would recommend for a friend
Elliott K.

13.11.2017

Verified purchase
I had just made the decision to buy one of these a few weeks ago when they sold out. You can only imagine my joy when I quickly received a restock notice of just a single unit. Taking this as a sign from the Gods, I brought it immediately and received it in just a few days. Inside the awesome metal crate was the NVG/sausage hat assembly with instruction manual/logbook, 4 huge lens things, a collection of weird spare parts wrapped in paper, the majority of a toolkit, a random splitter cable and a large Bakelite pot of what appears to be shoe polish. I'm not sure if any of it works but that's not the point. It's an incredible piece of history and the best ornament I own.

One minor point is that I asked my Polish friend to translate the booklet, and he insists that it is not written in Polish but rather Czech.
5
3
I would recommend for a friend
Lolsniper541

21.11.2017

⚠ Unverified purchase
I was lucky and got a working set. I think the best part is, that while they work, they work extremely shittily. Shitily? Shittyly? Whatever... they work just well enough to be considered functional, but not functional enough to give you the impression that these are any more than obsolete night vision goggles from the cold war. These are perfect for bumbling around your apartment while your friends laugh at you for spending money like a dumbass.

They do require some work to get up and running, but nothing an afternoon and a quick trip to a hobby shop or a 30 dollar order from amazon wont fix. Soldering skills not really necessary but it makes life easier. I was able to get these working with nothing more than electrical tape, a battery pack, and an infrared flashlight from amazon. I then added connectors to make the battery pack removable and added in a switch, and soldiered the wires together to get a connection that wouldn't slip. More work than any sane person would do? Absolutely. Completely awesome and totally worth it? Absolutely.

Get these, you wont be sorry. Unless you are
26
0
I would recommend for a friend
Evan S.

02.12.2017

Verified purchase
You get a really impressive amount of stuff for your money with one of these kits. Mine happened to work with a simple 9v battery and some alligator clips to the plug granted you have a IR flashlight to illuminate. I would not use these for long term incase you get any strange brain cancer but to use for a novelty in a dark room for a little while is really fun.
5
0
I would recommend for a friend
Viljami R.

03.12.2017

Verified purchase
Olin jo kauemman aikaa ajatellut ostaa kyseiset lasit. Juuri kun ajoin laittaa tilausta tulemaan niin olivat päässeet loppumaan. Onneksi varastontäydennystä tuli lisää, ja sain tilattua tuotteen.

Kun tuote saapui minulle, se näytti varsin siistiltä ja vähän käytetyltä, kantolaatinkon kuulumasta huolimatta. Ensin säädin laitteen jännitekiskon 12V virralle, ja laitoin kiinni 9V patterin. Laite rupesi surisemaan, mutta ei lähtenyt toimimaan. Linssit pysyivät tummina. Ajattelin kokeilla kiikareita illemmalla ulkona pimeässä. Niin hain veneen 12V akun ja muutamalla irtojohdolla sain virran. Laite rupesi nakuttamaan paljon iloisemmin, ja näkymä rupesi kirkastumaan. Teippasin halogeenispottiin infrapuna suodattimen ja kaikki näkyi kirkkaasti siihen asti mihin kohdistamaton valokeila ylsi.
Tuote oli varsin hyvin pidetty ja alkuperäisessä ohjekirjassa oli kaikki käyttöajat ja ajankohdat
merkitty ylös, sekä myös huollot.

Ainoa valituksenaiheeni on että laite ei ole puolalainen vaan tsekkiläinen. Ohjekirja on tsekiksi, ja pipon malli itsessään on erilainen. Tsekkiläisessä versiossa ei ole kyseisiä "korvasuojia" joihin ilmeisesti kuulokkeet tulisivat, vaan päähineosan sivut ovat ainoastaan sileää kangasta. Sääli, sillä mielestäni pipo korvasuojuksilla on hauskemman Näköinen. Myös muuntaja on hieman alempana niskassa puolalaisessa versiossa.

Itse kiikarilaitteisto on yhtenevä kuvan kanssa. Mutta infrapunasuotimet olivat liitteitä ja pakkauksen kannessa tuli kehikkoja joilla linssit saa kiinni ajovaloihin.
Laitteella itsessään ei näe kovin hyvin pimeässä mutta infrapunavalon kanssa varsin hyvin. Linsseissä on pieni kalansilmäefekti mutta se ei haittaa. Sadalla eurolla varsin toimiva ja erikoinen pimeänäkölaitteisto. Ei varmasti kaikilla ole tällaista.
9
5
I would recommend for a friend
Lluís E.

10.12.2017

Verified purchase
Before saying anything else, I just want to get out of the way that, as someone else hinted, these are not polish PNV-57, but czech PNV-57. The difference is basically that the metal crate is more compact, and lacks a handheld IR light.
Your mileage may vary, but what I got was:
1x hat+gogs
2x IR filters for T-55 (methinks) series tanks
2x adapters to fit the aforementioned filters onto the searchlights
1x adapter cable to fit to the tank power plug and onto the gogs. This one is two-way, I assume to plug your copilot's.
1x can of lithium like grease
1x screwdriver for switching voltage
1x rubber cap for the gogs in daylight
some unidentified tools and spares, and an inspection log. According to it, my specimen has been in military service from the early seventies to the mid nineties. From what I can tell (simple test by switching voltage and making contact with 9v battery) they are still operational. Aside from some minor chipping in the paint, they seem brand new, considering 2 decades of use, I'd say they have been diligently maintained.
Another difference between the polish and czech models (you may not care about this, but I certainly did, cuz I cannot help me autism) is that the hat itself was not full tanker style (thicker and with protruding ear slots) but a weird paratrooper style hybrid (thinner, no ear slots, it did have side protections though) I can only assume this was the czech model of sausage hat. If you wanted to get these for a Gurlukovich mercenary cosplay like myself, this is sort of a bummer, otherwise you shouldn't care (and yes, I know those should be PNV-57 E's, I just didnt feel like spending 300+). Which brings me to the next point, even with the increase in price, you will not find these anywhere for this cheap, not even close. If you're willing to spend 300+ for some PNV-57e's (which look much better and sturdier and don't rely on external IR lights) do that. If you just want a cool relic then these are the ones to get. Plus, getting this monster of a crate shipped for 10€ made me even feel bad for Varusteleka.
Only taking off a star for the misnomenclature.
35
0