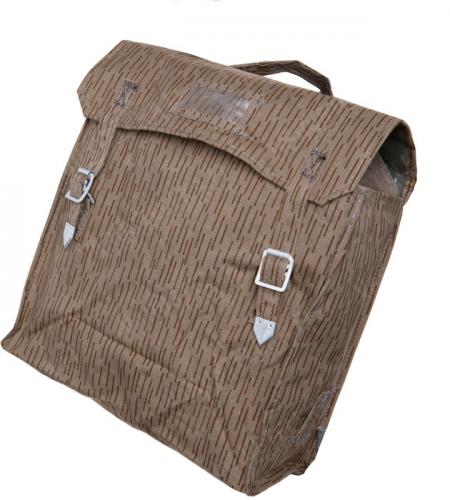 NVA Sturmgepäck combat pack, Strichtarn, w/o yoke, surplus
Price 3.99 USD excluding VAT
Flat Rate Shipping to USA $9.99
100 % recommends
Sold 44 pcs in the last two weeks
In stock 46 pcs. Also available in our walk-in store.
Trouble with the metric system? Try our converter: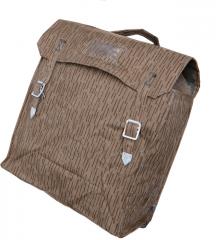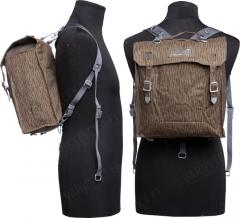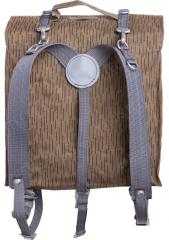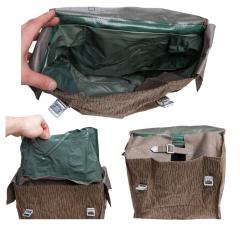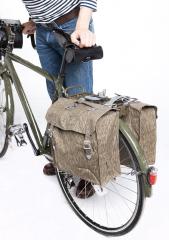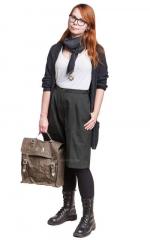 The East German Sturmgepäck (assault pack) is not as bad a piece of kit as you'd think: a simple, square shaped pack made of thick, waterproofed fabric with Strichtarn camo, carried with Y-suspenders (not included!) or anything you clip it onto. Can also be attached to bike racks with very little work!
To increase the carrying capacity, loops for extra stuff (blankets, Zeltbahns) are provided on the outside. Inside measurements about 30 x 30 x 12 cm (12" x 12" x 5").
All of these are waterproofed in some way, be it a PVC sock style or just rubberized fabric. Please accept that we won't pick, you just get the next in line.
Hey, bicycle fanatics!
Get two of these, attach them to your bike and hey presto, you have pannier bags for much less than the actual ones cost! The cheap price doesn't even reflect quality: these are army surplus kit and made for real use.
East-German surplus
All of these seemed to be unissued, in pristine condition. However, long storage time might be seen in some slight surface rust on a few metal parts.
Recommendations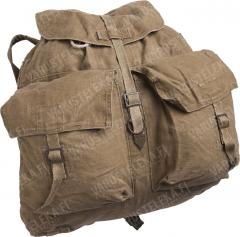 Czechoslovakian M60 backpack, w/o suspenders, brown, surplus
14.99 USD
Similar product.

NVA Webbing belt, gray, surplus
6.99 USD
Viewed together.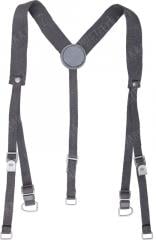 NVA Y-suspenders, gray, surplus
2.99 USD
Viewed together.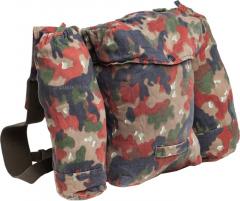 Swiss combat pack, Alpenflage, with BW suspenders, surplus
7.99 USD
Similar product.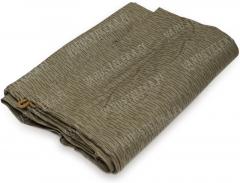 NVA shelter half, Strichtarn, surplus
27.99 USD
Might be of interest.
NVA webbing set, surplus
27.99 USD
Might be of interest. Temporarily out of stock.
Reviews
You have already submitted a review. You can edit your text by clicking on it.
Log in and write a review.
Remove filter
Suomi
(7)
English
(25)
I would recommend for a friend
Andreas R.

30.05.2016 (Edited 31.05.2016)
Makes a really great bicycle bag. Good quality, looks pretty water resistant. Has a strong plastic smell
12
0
I would recommend for a friend
Thomas H.

23.07.2016 (Edited 03.05.2017)
One of the best day packs out there, I really like more straight tornister style. I must admit that I didn't buy it from here, but I've experimented a lot with the pack and found one way to avoid having to wear an external belt for the three loops on the front and back. You simply run the first rectangular "d-ring" of one of the belt loop into the loop used for the blanket strap located on the sides, connect it to the "hook" and tighten, repeat this on the other side and now you'll never have to worry about straps dangling around. (You can still run blanket straps through the strap loops with this method) Now for the rear belt loop, if you receive or already have blanket/zeltbahn straps, you can just drag the strap that sits on the top way down and connect it to the rectangular d-ring, (You won't be able to fully use your blanket straps with this method) or you can suspend the belt loop from two short lengths of paracord from the two d-rings sitting on the bottom of the pack. I wonder if the material of this pack allows for dyeing?
10
0
I would recommend for a friend
Abrahim R.

16.11.2016 (Edited 25.02.2017)
I would recommend for a friend
Juho H.

10.01.2017
Ei käytännöllisin, mutta hyvännäköinen ja simppeli reppu. Huijannut jo useita nuoria, että kyseessä olisi kallis muotilaukku (muotitietoiset huomio!). Hinta-laatusuhde täyttä timanttia. Yksi tähti pois hajusta, joka estää laukun käytön sosiaalisten tilanteiden parissa. Haju tosiaan muistuttaa kissankusen, juoppoputkan ja perinteisen ylijäämätavaran yhdistelmää. Haisee siis voimakkaammalle kuin osasin odottaa.

Tl;dr käyttäisin useammin, mutta tyttöystäväni ei anna, laukun hajun takia.
10
0
I would recommend for a friend
Ivan Z.

11.02.2017
+Awesome price
+great quality
+Best camo pattern
+Unissued

Get one while you can.
22
1
I would recommend for a friend
oscar k.

16.02.2017
todella eroottinen tuoksu :)
6
7
I would recommend for a friend
Ian S.

17.03.2017
These are fantastic, and great value.
12
0
I would recommend for a friend
Daniel K.

11.05.2017 (Edited 11.05.2017)
A great and flexible little day pack that can be stacked together for bigger load capacity, i.e. you can hang another pack behind and/or under the one attached to the webbing set. Obviously you can't fill the outer pack with a lot of heavy things, but it's fine for lighter bulkier thing that you want to put inside a pack rather then letting it hang outside.

The yoke probably isn't the best but the comfort can be highly increased with a pair of shoulder strap pads or if you hang the pack on some other webbing set.

I bought one at first and then came back for another two. You really can't go wrong with a price like this considering the flexibility of the pack. All three of them was unissued by the way.
7
0
I would recommend for a friend
peter s.

19.05.2017
Spot on totally worth the money for this amazing little every day backpack,just the pvc smells a tad other than that I couldn'the fault it
5
0
I would recommend for a friend
Fergus R.

13.06.2017
The pack itself is great - sturdy, waterproof, and a good size for a day pack/assault pack. However, the yoke is absolutely terrible. It fastens onto the bag in a strange way - there are D loops at the bottom which attach to little "clips" - however there is nothing to really keep them in and when they're not under tension they come unattached quite frequently, so you end up picking the thing up only to have to put it down again and re-attach the yoke. Secondly, there are loads of spare straps on the yoke that are meant to be attached to an NVA belt - great if you have one and want to wear it, but not so great if you don't have one or don't want to wear it. Even if you wore the belt with it, there is a strap at the back which is awkward to get off and this means that actually taking the pack off is much more hassle than is necessary.

With all that said, it's not unusable and it's going for such a cheap price I can't really mark the score down more than 1 star. I'd recommend it but just be aware that it is not really the most practical pack.
1
6
I would recommend for a friend
Clayton O.

07.08.2017
I received a pack without a vinyl liner, for what it's worth. I also received three small straps with attach to the sides and top of the pack. I am unsure if every pack will come with them since they aren't directly mentioned. The yoke (or Y-strap) is an ordeal as others have described, but I haven't found the pack too uncomfortable while not overloaded and while wearing at least a light jacket.

For the price, the construction quality is excellent. It seems to be a good option for a dependable backpack.
2
1
I would recommend for a friend
Leif P.

08.08.2017
Cheap as chips! And mine looks brand new. Very good price. Thanks.
4
0
I would recommend for a friend
Hans R.

07.09.2017
I made bicykle pannier bags out of two.
They work perfectly, and ooze with retro style.
1
0
I would recommend for a friend
Haakon W.

30.09.2017
Got two as bicycle bags a year ago. Even after some junkie slashed the closing straps, I improvised some cargo straps, and they've been going strong since. They look like sour mold, but I don't need them to look five-star. They work, and for the price, are over-performing.
1
0
I would recommend for a friend
Jesse D.

12.10.2017
I would recommend for a friend
esko i.

16.10.2017
I would recommend for a friend
Jonathon S.

28.10.2017
Simple shoulder pack that's sturdy and waterproof (relatively). You can also buy one of the webbing belts to really completele the thing. It's strong and cheap, perhaps not the most comfortable. But then again, isn't that most communist things? Great buy!
2
0
I would recommend for a friend
Miguel d.

17.11.2017 (Edited 17.11.2017)
Got mine a few days ago. Love it. Not sure if it was fully waterproof so I threw in the tub and showered it while singing the Sakkijarven polka and only the name tag got wet.

It does get some time to get used to, though, https://www.youtube.com/watch?v=CQZWe_YGPwk
1
0
I would recommend for a friend
Koby F.

09.12.2017
Just as shown and expected. Great little backback.
1
0
I would recommend for a friend
Jouni K.

05.01.2018
Repussa on vielä mahdollisuus kiinnittää toinen reppu jatkoksi toiseen. Käytän reppuja sivulaukkuina EMW R35 vm.1955 . Reput ovat pyorässä jatkuvasti, eivätkä ole päästäneet vettäreppujen sisään.
0
0
I would recommend for a friend
RIchard G.

28.01.2018
Nice little day bag, for now I use it go walk to work and home with lunch and a change of clothes. This is not meant for a lot of weight...if you think of it as a external dry bag for clothing it's "fit for purpose". Surprisingly it doesn't rattle on the included yoke when hooked up ( unlike some old ALICE harnesses which sounds like you are in Medieval Armor). If you are not using a belt with this you can tuck the front belt straps into the rings that hold the bottom of the pack to keep them out of the way. The one thing you will probably want is a sternum strap as it will want to slide off your shoulders without a belt ( or run one of the belt straps across horizontally if you are not using a belt), I also replace the zeltbahn straps with 3/4"(20mm) black dog collars if I carry a poncho.
0
0
I would recommend for a friend
David F.

15.02.2018
Two came like new and of excellent quality. New straps inside to use it as a backpack it also has a sturdy top handle for carry. These are the rubbery inside kind. You could load this with 10X the weight you could ever fit in it and it would hold fine. Very well built and durable. If you want a simple day pack or a versatile piece of history, this is great! Hikes with the dog, emergency pack for the car, purse for your Lady, a simple pack that is super versatile. this is great!
0
0
I would recommend for a friend
Riikka S.

17.02.2018
Kivan kokoinen ja mallinen reppu. Haju on kuitenkin miinusta, joka ei millään häviä.
0
0
I would recommend for a friend
Charilaos G.

23.02.2018 (Edited 08.12.2019)
Great pack for day hikes. The Y-shaped suspension system is crap; it has definitely been designed by a committee that has been summarily shot shortly after the bag went into production. Agreed, as attached to the uniform belt system it makes some sense, but only marginally so. I modified this a bit, so that the shoulder straps are where you would expect them to be. The plasticky smell may be detrimental to your social life....
0
0
I would recommend for a friend
William B.

09.03.2018
very solid little bag. perfectly fits stacks of A4 paper, great for me at uni. Nice tight woven fabric is somewhat waterproof (to a degree). the straps are a bit finnicky; the hoops at the bottom of the shoulder straps do not secure solidly and can come loose of you shake the bag around, though this might be my mistake. there are straps that are made to attach to a belt which can fairly easily be strapped away if you dont use a belt with this pack. i did not get any smaller straps to affix anything to the side but my friend who also has one recieved a few. tldr:small,solid
0
0
I would recommend for a friend
Francis T.

06.04.2018
Got mine today; seems unissued and pretty much like new. Mine was the PVC sock model and came with three small straps attached to the top and sides. The yoke is awful and nigh unusable without modifications, but if you don't mind getting a bit creative with (i.e., butchering) the yoke or can scrounge up some better straps, the Sturmgepack works great as a relatively waterproof daypack. Also works as a shoulder bag if you attach a USGI general-purpose strap or something similar to the top loops. Carry handle seems sturdy enough, and the closure loops have little teeth on them to keep the bag from opening when carried by the handle, which is nice.

Of course, as stated in other reviews, the best purpose for this bag, given its combination of space, water resistance, and the strong smell of the PVC lining, is to use it as a pannier bag, which is exactly what I'm going to be doing as soon as I get a second one.
0
0
I would recommend for a friend
Jan S.

30.05.2018
Tilasin puntin näitä. Kaikissa tuli mukana reppuvaljaat. Erinomaiset moottoripyörän sivulaukkuina endurohommissa ja tietysti caferacereissa tyylin takia. Mutta endurossa juuri siksi että ovat lujat ja vedenpitävät ja ennenkaikkea sopivan kokoiset. Maksaa alle kymmenyksen siitä mitä kriega overlanderit jotka on ns parasta eli samaa laatua ja niissä ei edes ole vielä vesitiivistä taskua siihen hintaan ja se maksaa melkee viiskybää. Vesitiivis alan setti on n 100e per laukku. eli ryöstöä.

Excellent in enduro bike trail riding. totally watertight, easy to adjust almost on any bike and doesn't cost like kriega overlanders. Mine came with rucksack harness although varusteleka says they come separately.
0
0
I would recommend for a friend
Thomas W.

27.08.2018
I lacks ever so slightly in the compartment sector, but the camo, usage and overall durability makes it one of the purchases you could make.
1
0
I would recommend for a friend
Sami K.

07.10.2018
Melekeeng kaikki Itä-Saksalaineng kama ja kapineittengkantorama jossa esiintyy tämä Strichtarn kuvio o aika hyvällaatusta; ulukonäöltää jokkut tuottet (turvavyötetsarit) saattaa olla "halavannakösiä", sanajjokamerkitykses. Tämä pieni säkki pitää sisukset kuivana, suojaa turhan uteliaalta tähystykseltä, tai, jossullo jotaimmärkää kannettavana, esim. hätäisesti ja huoltapitämättömästi käärittyjä rasvasesta lihasta valmistettuja muonituksia, verisiä vaatteita, tai muilla ruumiillisilla nesteillä saastuneita huvituksia, niitten survominen tämällaukun sisää est sellasten tahrojen läpitunkeutumista ja leviämistä esim. vasta ostettuasi kirkkopukuun samalla varmuudella kun estää naapureitten havaitseman tarkasti justiin kuinka vietät vapaa-aikasi.
0
0
I would recommend for a friend
Alejandro H.

09.10.2018
One of the best backpacks i ever bought, great quality, fashionable, sturdy as hell. Mine was like new and with the PVC inner protection.
The only disadvantage is the small capacity.
0
0
I would recommend for a friend
Dave M.

15.08.2019
I bought two of these a couple of weeks ago (but received three!). I'm using them as panniers and they do the job fantastically. OK, they're not the prettiest things, and attaching them to the bike using the webbing straps is a little bit tricky and not the prettiest, but if we're spending £3.50 on a bag then it's safe to assume that we're all about being functional!!

I've cut off the two bottom hooks on the back and used the loops they were attached to to hold a bit of bamboo to stiffen the bag and also to use as a middle attachment point to clip the bottom onto my pannier rack.

So far I've ridden about 80 miles and through a couple of terrible rain storms and everything inside the plastic lined bag was bone dry. I haven't tested the ones without the plastic liner in the rain yet, but I've bought some wax for those which should make them just as waterproof.

In short, these were really cheap and perfect for my daily 24 mile commute. Couldn't ask for more!
0
0
I would recommend for a friend
Alfred B.

24.01.2020
great, mine where unissued (albeit with some *very minor* warehouse rash/superficial rust) - they are somewhat smaller than they look, but very well made, the rubber-sock is smelly as heck (3 days hung outside while open helps that), but still supple. I was worried that the sock might start disintegrating, given the fact that it was stored 30-40 years in a warehouse, but no, still soft and tons of life in it.

Will last a lifetime ...
0
0