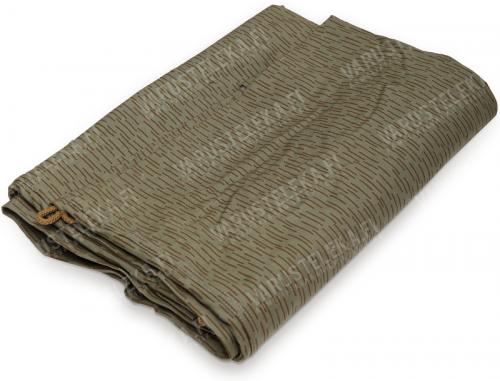 NVA shelter half, Strichtarn, surplus
Price 25.99 USD excluding VAT
Flat Rate Shipping to USA $9.99
97 % recommends
Sold 154 pcs in the last two weeks
In stock 108 pcs. Also available in our walk-in store.
Trouble with the metric system? Try our converter: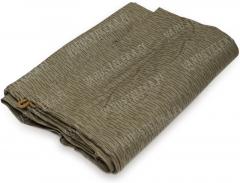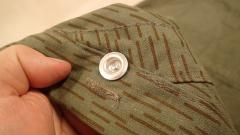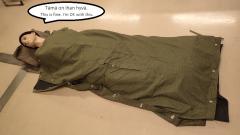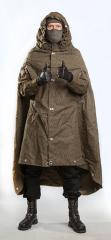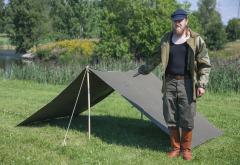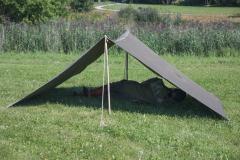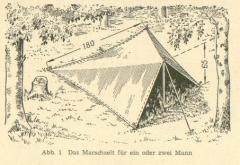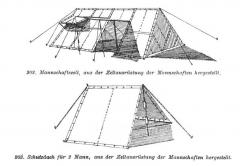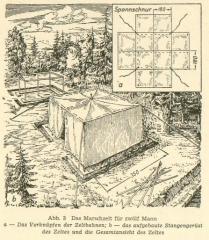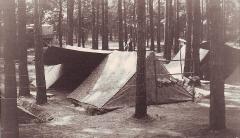 One of the most versatile items issued in the NVA, although patterned more like the Soviet model. Or the Great War model, depending on your historical preferences.
A shelter half has been a part of most armies' equipment for a long time, dating back at least to the First World War and maybe even earlier. But some took it further; for example the Germans and the Russians made it much more versatile. The idea was to combine the need for a tent, rain protection, stretcher, and camouflage cape, to name a few possible uses. And this is just what even the East German Zeltbahn does pretty well.
This rectangular piece of canvas has paired buttons and keyholes on each of the four sides. It can be buttoned to other Zeltbahns to form tents both small or large. Near one corner there's a drawcord. If worn as a cape, this forms the base of the hood, while you just button up the front and stick your arms thorough the opening slits. Simple. Grommets on the corners for pitching purposes.
Made from tightly woven cotton, with a water repellent treatment that actually works, verified by us! Measurements 175 x 175 cm (5 3/4' x 5 3/4'), weight 1,2 kg.
East-German surplus
Most looked unissued, but may be a bit dusty with corrosion on metal parts after decades of storage.
Recommendations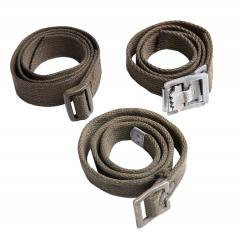 BW general purpose strap, surplus
2.99 USD
Viewed together.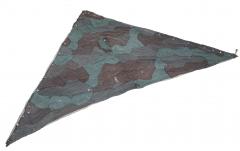 Swedish tent quarter/cape, surplus
21.99 USD
Similar product.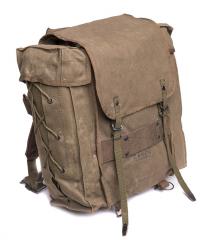 Italian daypack, surplus
32.99 USD
Viewed together.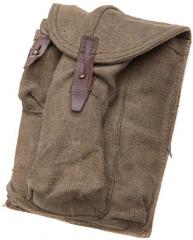 Soviet AK-47 magazine pouch, surplus
7.99 USD
Viewed together.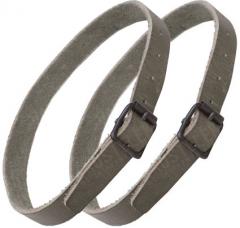 Swedish utility strap pair, leather, surplus
3.99 USD
Sometimes purchased with.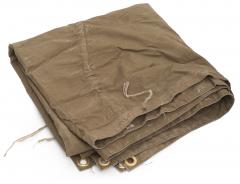 Soviet Plash-palatka, rain cape/shelter half, surplus
27.99 USD
Sometimes purchased with.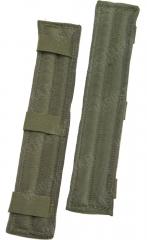 BW shoulder strap padding, pair, surplus
4.99 USD
Sometimes purchased with.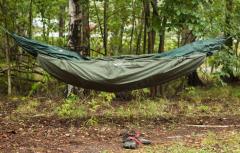 DD Underblanket for hammocks
64.99 USD
Might be of interest.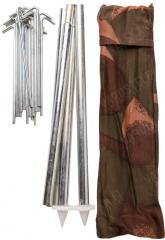 Hungarian tent accessory set, surplus
7.99 USD
Might be of interest. Temporarily out of stock.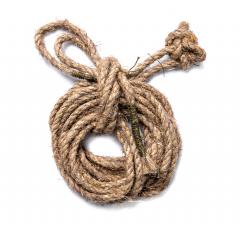 Soviet hemp rope, surplus
2.99 USD
Might be of interest.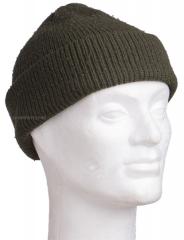 Czech watch cap, surplus
4.99 USD
Might be of interest.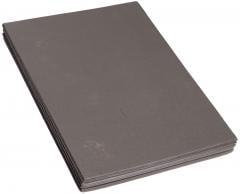 BW folding sleeping mat, surplus
13.99 USD
Might be of interest. Temporarily out of stock.

Mil-Tec tent peg, steel, 18 cm
0.99 USD
Buy also.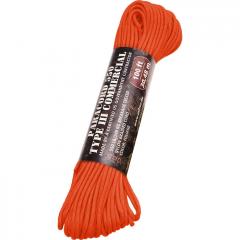 Paracord, 15 m
9.99 USD
Buy also.
Reviews
You have already submitted a review. You can edit your text by clicking on it.
Log in and write a review.
Remove filter
Suomi
(7)
English
(28)
I would recommend for a friend
Jaakko M.

03.07.2016 (Edited 06.07.2016)
Hämmentävä esine: painava ja edes käsiteltynä ei täysin vedenpitävä pitkittyneessä sateessa. Silti lähes aina reissussa mukana. Toimii sadeviittana, maavaatteena, laavuna, pressuna, peittona... Onpahan ollut sopivasti taiteltuna monta kertaa maakuualustan korvaajanakin.



Jos nyt jotakin, niin saisi olla tämän mittaiselle miehelle vähän isompi ja jos olisi kevyemmästä kankaasta, niin olisi aina kassissa.



Yllättäen kankaan kuvio toimii hämärässä metsässä todella hyvin. Jopa niin hyvin, että kun sateessa kävelin pururadalla, minua päin juoksi lenkkeilijä joka ei hämärässä hahmottanut kankaaseen pukeutunutta laahustajaa.
9
2
I would recommend for a friend
Bill H.

15.09.2016 (Edited 05.07.2017)
Useful item. Looks to be unissued. All parts are intact. Can be used as a ground cloth, poncho, or shelter. Button two together for a tent. Will need poles for this.
22
2
I would recommend for a friend
Evangelos S.

01.11.2016 (Edited 29.11.2016)
Tough canvas, used almost for everything,, tarp, tent, tipi (by piecing two together.), poncho , ground mat .. to name a few
Sure not waterproof but still a very good water-resistant shelter
12
0
I would recommend for a friend
Richy C.

10.01.2017
Neat piece of equipment, arrived in what appears to be unused condition. Tried the fabric under some running sink water and seems to be mostly water resistant.
Some complaints is that all the drawstrings are not as pictured. They were more like the black plastic packing twine that you can probably find at your local hardware/farming goods store. Should be easy to replace with 550 cord if I spend a bit of time with a sewing machine.
Also I'm not really a fan of the metal buttons and corner loops. Would prefer if they were much like the Russian ones.
But hey for a dirt cheap price and really good condition, I would recommend this if you can get your hands on one.
12
2
I would recommend for a friend
Ivan Z.

11.02.2017
I would recommend for a friend
David T.

07.03.2017 (Edited 13.06.2017)
Love these things, just so awesomely versatile! Almost endless uses for these and they are dirt cheap. Mine hat a little rip in it but otherwise looked fine, it was a quick fix. Just get one or even more when they are in stock, they are simply an awesome piece of gear. If you are looking for ideas to set it up as a shelter, maybe you want to check out my blog, I posted an article about different setups. Here's the link: http://skillsandthoughts.blogspot.co.at/2017/02/nva-zeltbahn-nva-tarp-setup-methods.html
I also plan to do an article about the general uses of one of these Zeltbahns.
18
0
I would recommend for a friend
Simon H.

14.04.2017
Hard to complain; you cannot find a better price for this item if you're an American, since these cost so much to ship.
6
0
I would recommend for a friend
Aukusti M.

16.04.2017
I would recommend for a friend
William W.

23.04.2017 (Edited 13.06.2017)
I really like this item. I also own a Platsch Palatka, but I prefer this even though it's just a tiny bit smaller. Why? Because it seems like the East Germans took the Platsch Palatka and improved every aspect of it slightly. It has 24 super-sturdy, double-sided aluminum buttons along the entire outer edge instead of just a few toggles on one edge (and just half of that edge!); two arm slits, each of which are double-overlapped (inside and outside), with two buttons each instead of just one armslit with a single overlap and one toggle; 2 small tie-out loops (midpoints of opposite edges) instead of having none; and, overall tighter stitching and better workmanship.

The cool strichtarn pattern is just the icing on the cake.

My Platsch Palatka is now staying in my car, whereas the Zeltbahn is what I'll be carrying when I go hiking and camping.

Edit: I like it so much I made a Youtube video about it - https://youtu.be/MA0GqDVKqYo
26
4
I would recommend for a friend
Kenneth N.

29.04.2017
I would recommend for a friend
Simon C.

08.06.2017
I bought 6 of these I'm going to use 4 of them to make a campfire/ baker tent and the other 2 are for quick tarp setup whilst canoe camping in the summer as others have said they look new/ unused very happy reasonably speedy delivery and an excellent price compared with tarpaulin prices yes they are heavy but will last a lifetime with regular proofing etc
6
1
I would recommend for a friend
Ari T.

17.07.2017
Mine arrived apporently stock new, given that all of the button holes where still factory tight with apparently having used exactly zero times.

Found immediate extra in home use for this multipurpose tool. When not in use in wilderness, it makes for a pretty darn good impromptu (and cheap) blackout curtain to keep every Northern sleepers worts in house enemy during night, Sun, out of the room.

Apparently when one makes canvas tight enough to be water and wind repellant it also is pretty light tight. Bonus for all the buttons, holes and grommets make for easy hanging from pretty much any curtain rail/pipe/support.
1
0
I would recommend for a friend
Kari M.

17.07.2017
Toiminut sekä maavaatteena että katoksena ... ja loistava rannalla ei tartu hiekat ja tuntuu puhdistuvan helposti suihkuttalla myös linnunpaskasta, mustikasta yms mille altistunut vuosien varrella. Ei tarvitse sääliä kun hinta kohdallaan.
2
0
I would recommend for a friend
Jonathon S.

25.07.2017 (Edited 26.10.2017)
I have a total of 4 of these now an I must say They are the best 12 bucks I've ever spent! They are strong, durable, and suprisingly resistant to water! You can pour it all over the thing and it just rolls off, no wet marks! They all have NVA stamps on one of the corners, along with other various numbers and markings. Curiously, the 1st two I received had a kind of black plastic rope one might find at any old store, the other two had a different kind that was gray and thinner, and a slightly different material. Guess the East Germans were changing things up as they moved along. A great buy, considering you can't find them for under 50$ in the US. Gotta get more next time I order!
4
0
I would recommend for a friend
David G.

28.07.2017
The ones I received are brand spankers and are very light compared to my Hungarian zeltbahns weight wise, I've yet to try either in the field though.

If it came complete with poles and pegs I'd give it the full 5 stars but for the money you get a decent lightweight basha/poncho or tent if you buy more than one.
3
0
I would recommend for a friend
William W.

01.08.2017
One of the most useful pieces of kit you can get.
6
0
I would recommend for a friend
Ari S.

03.09.2017
Onhan nää ny ristus lättyjä. menöö pentujen kans leikkipuistos telttana,piknikalustana,ryyppyreissun sadetakkina ja 5 lättyä taipuu vaikka telttasaunaksi. Puolikas tähti lähti koska 1/6lätystä on "epämuodostunu",perkeleen hankala liittää napittamalla.joku itäsaksan maanantai-aamun tuotos.
0
0
I would recommend for a friend
Dan T.

14.09.2017
Fantastic equipment, buy at least two and you are set.

I occasionall give one as gifts to friends and tell them to keep it in their car as an emergency tarp, poncho or shelter.

Buy a few while you can.
11
0
I would recommend for a friend
mobi

30.09.2017 (Edited 30.09.2017)
I have the russian and east german variants of these. Though im yet to use the german ones they look to be more versatile with the double sided buttons and tie points. From comparing them both side by side the german ones are alot nicer overall. I may spray the buttons a darker colour though because they're shiny.

Here is a list of possible uses for one or two of these or the plash palatkas and shows how versatile and amazing value they are.
Tarps.
Tents.
Groundsheet.
Bivvy bag.
Floatation aid/rafts.
Raised beds.
Hammock.
Stretchers.
Rain cape
(German variants Also more of a rain coat when fully fastened up).
Backpack/bedroll.
Browsebag.
Camouflage.
You could probably also collect and filter water through it before you purify it as it's just very tight woven canvas.
Also a little trick for anyone hammocking if you fasten it using the buttons around the outside of the hammock also with a blanket pinned in a similar fashion it makes a lovely cocoon of warmth with no cold currents of air on your ass and you can just slide it to the end of the hammock out of the way if you wanna get in or out
And some pros over modern materials is it's strong, flame retardant, easily repairable and treatable for weather resistance, quieter, and not shiny like all this plastic stuff that poisons our water.
It's certainly a jack of all trades but master of none item. But worth all that extra weight in gold.
9
0
I would recommend for a friend
Joel F.

07.10.2017
The fabric these are made of is excellent - both due to the great quality, tightly-woven canvas they are made of, and whatever waterproofing agent was used in the DDR, water beads up and rolls off even in torrential rain. I assembled a shelter from 4 shelter 'halves' using 2 to make 'ends' for privacy and folding the excess inside, in combination with some of the Hungarian pole sets sold here. I didn't pay proper attention to the orientation of the buttoned-up arm-holes when I first assembled it, and if you mess that up, water will get in when it rains. In fact the waterproofing was so good, that I found pools of water sat in the arm holes after the rain stopped! I took everything apart and re-assembled with the main sections rotated 180 degrees, and the next night I was perfectly dry despite a torrential rainstorm.

The metal buttons used to assemble the shelter and close the arm-holes are cheaply and crudely made, which makes for a slightly uncomfortable job of assembling them, and as these are unused NOS, the buttonholes are often very tight. I expect that with time they will get a bit looser. I also found that one button popped off as I was rebuilding my shelter, because they are just riveted on in a fairly crude fashion.

I am quite tempted to buy more of these to extend the shelter somewhat - 170x170 is probably generously sized for the average NVA soldier - or indeed men generally in the 1970s, but I only just fit in there. Once I start that though, I have no idea when it will end...that's the beauty of modular construction!
4
0
I would recommend for a friend
Nelson S.

22.10.2017
Very good product.. Mine is brand new... Nothing to point out!
2
0
I would recommend for a friend
Thomas H.

23.10.2017
Mine arrived in mint condition, albeit with some white stains on the eyelets. Maybe the Volksmarine used these as duvets? Nevertheless, huge tarp, folds neatly into a small 20cm² pack. Bigger than the Polish one.
1
0
I would recommend for a friend
Bjornar M.

06.11.2017
Brand new. Cheap source for materials.
2
0
I would recommend for a friend
Keijo N.

24.11.2017 (Edited 24.11.2017)
On noita 2 kpl. Hyvää laatua. Käy maastoviittana, mikä onkin eräs käyttökohde ollut alunperin. Maastoon hyvin sulautuva kuosi. Parempi, kuin Bundeswehrin vastaava. On niitäkin 2kpl. 2kpl saa pienen teltan ja yhdestäkin laavun. Harvinaisen hyvä sotilasvaruste.
1
0
I would recommend for a friend
Michael N.

04.12.2017 (Edited 08.12.2017)
Great shelter half! Looks brand new! Ordered the other half and I will have a tent for $24 US dollars you can not beat it! They always sell out fast! Very happy with the purchase!
(update)8/12/17 I received the other half and that one is like brand new also! Awesome!
3
0
I would recommend for a friend
David F.

23.01.2018
Perfect and cheap! Mine came like new in perfect shape! These are the EXACT same size as the Russian Variant, even the eyelets line up perfect. You could incorporate these into building a bigger shelter or perhaps treat yourself to a floor and/or a door. By the time got these they are now sold out! NOOOOooo. I want at least 10 more! Waiting!
0
0
I would recommend for a friend
David F.

23.01.2018 (Edited 08.02.2018)
I have 24 of these from Varusteleka. I have looked at each well. 1 of these was used, but excellent condition, the rest are like new . Some dirt and dust on a few, but I suspect it was not from use. About 3/4 are unarguably new. None missing anything. They vary through a OD green and a lighter green in color, I even got a tan one! Very cool! Most are close in color though, were talking a few shades.

I did notice out of the 24 a obvious weight difference in some. The ones with blackish grey nylon cordage certainly weigh less than the ones with any color green to brown "rope" as draw cords. These are still the same, but simply made of lighter material. If you appreciate good quality that's lighter, these may be better for you. I ended up with 7 of these out of 24. Still well worth the price , just different. I think military buffs and manly men will be more satisfied with the roped version. It is on par with Russian stuff, but more modern. The ones with black nylon cordage reminds you of things getting cheaper once you have a Russian or earlier variant, but are still awesome!
1
1
I would recommend for a friend
Jeff D.

09.02.2018 (Edited 22.02.2018)
My NVA shelter half, came in a new, never issued condition. One can not ask for any better than that. True, using the metal buttons do take some getting use to, a minor issue as I see it. I am very satisfied with it and I would highly recommend this product. Worth the money? Yes. Thinking about buying it? Order one today.Once again, you have exceeded my expectations. I can not think of any item I have ordered, that I have not been satisfied with. FYI, I learned about your company from Lars, on his You Tube channel; Survival Russia.

22.02.2018
The 2nd NVA shelter half arrived today (7 days from day of order to deliverly to my home). Again, the shelter half is new , unissused, same size as the first one I ordered. But there are some differences. This one is an olive drab green with black nylon/plastic cordage, which if it ever became an issue, one could replace with para cord. Possibly lighter in weight than my first one, which is brown with cloth draw cords, suggesting my green shelter half is a newer version. The quality of both articles is excellent.
One correction to my first posting. Do not get just one shelter half, buy two.
2
0
I would recommend for a friend
ritchie m.

06.03.2018 (Edited 08.03.2018)
This was my first purchase from varusteleka,wasnt expecting a brand new product after reading the reviews about nearly new...hardly used etc.and it was cheap even with postage to uk,but my one has fourteen different repairs and a button missing..luck of the draw I suppose...anyway cannot complain about service arrived quicker than some uk surplus stores.

Just a small update,got in touch with store via messaging service at bottom of screen and got instant reply.they are sending me another poncho ,it was great to get an instant reply rather than wait for e mail which could take forever and be robotic.
SO top marks to a great store with great customer service and great people ,now my number one store for my gear....A1
2
0
I would recommend for a friend
Joshua C.

08.03.2018
I ordered two and both arrived in great shape. They are a bit heavy, but fabric is super tough, doing up the buttons is a bit hard, but it should wear in like with most fabrics.

I think in a pinch you could set up a one-man shelter with a single shelter-half but I would probably be too tall (6ft2) to be comfortable under it. It's really designed as half of a shelter unless you are a compact socialist warrior.
0
0
I would not recommend to a friend
Huck M.

22.03.2018
Was hoping to receive something unissued but both of the halves I ordered had plenty of repairs, damaged buttons and ripped open button holes.
I mainly ordered it for the fabric to modify another tent, and I'm happy that I didn't order it to use as a shelter.
1
3
I would recommend for a friend
Christopher S.

29.03.2018
I've ordered a bunch of these at various points in the past. Recently withing the last couple of months the quality of the ones I have received has gone from Great condition with no repairs or visible use to heavily repaired (3 of them) and heavily repaired and beat up/used (2) of them. I'm hoping that these were only outliers but I'm not too hopeful.

I'll try bringing up the condition of these last 5 next time I order some more with the staff.
1
1
I would recommend for a friend
Mikko K.

16.04.2018
Ei todellakaan menny rahat hukkaan kun näitä kaksi tilasin. Kevätsohjossa tekasin toisesta "katoksen" ja toinen toimi märän lumen/maan päällä sitten istuma ym. alustana. Toimivat niin hyvin että tilasin kaksi lisää. Nämä testikappaleeni ovat molemmat käytännössä käyttämättömiä ja ehjiä. Jos jotakin kitisemistä, niin napinlävet on näissä uutuuttaan todella tiukat. Löystynevät kuitenkin ajan myötä.

Niin ja ei todellakaan persaus kastunut testausreissulla.
0
0
I would recommend for a friend
Johannes J.

24.04.2018
Most certainly never used. Extremely tight to button, probably because it has never been done ;-) Great piece all in all, especially considering the price.
1
0
I would recommend for a friend
Ian G.

18.10.2019 (Edited 18.10.2019)
If I had to pick three things I bought from Varusteleka that I use the most, this would be one of them. And I have bought A LOT here.

Pros: First, the camo is amazing. Strichtarn is one of the best out there. It works really well, especially here in Vermont. Second, its multipurpose. You can use it as a shelter, rain cape, cloak, bivvy sack, sleeping bag, blanket, hammock, stretcher. I have used this thing to clean up after a college party littered in the woods, carrying around 40-50 beer cans in it to a dumpster. I washed it and boom brand new (well, new for surplus.) I have used this as a sunshade on the beach. I have used this as a Pierogi costume for Halloween. I have used this so much that is got a small hole in it that I fixed. I now have two, one to use, and one for my East German reenacting impression, rolled around the backpack. Buttoned up together, they make a very big tent. And I'm 6'2. This is also muuuch cheaper than most other sites. Also, it gets stiff when it gets wet, so the wetter it is the more water repellent it is, as the fibers swell and close up all the gaps. Ingenious design.

Cons: Two-ish things. One complaint is that it doesn't come with the rubberized utility straps to roll it up in, and/or with one of those Strichtarn bags that contains the poles and stakes. However, they might have sold these in the past so its probably just an availability issue. Second is inherent with the actual item, not the selling. The buttons, at least on mine, are extremely hard to work (and detract from the camouflaging properties.) The button holes are tiny. Buttons are metal so in the winter it makes this issue worse. The toggle holes on a Soviet Plash Palatka will at least break in with use, and I find toggles easier to use than buttons as well. The drawstrings in this are also that East German 'Dendron', a nylon material, which can slip with some knots, and are longer than necessary. However, I just made coil knots at the end of mine and that solved that issue. Wearing it as a rain cape on a college campus in public might get you some weird looks too, and probably isn't a girl magnet. However these issues are pretty small in the big picture.

Verdict: I would absolutely buy this. The pros far outweigh the cons and this is a handy, if not essential piece of kit for whatever you are doing. And at this price, might as well, its just a good thing to have around.
1
0
I would recommend for a friend
Peyton B.

05.11.2019
My shelter half arrived in great condition (no rips, repairs, patches, stains, or wearing). It looks almost as if it was never issued. The buttons are all intact, with no rust, and the pull strings are clean and in good order. I think it is slightly lighter than the slightly larger modern BW flecktarn shelter half.

Currently, I carry this shelter half slung on my Czech M60 backpack, secured with the Swiss utility straps. It works great as a picnic blanket/ground tarp, emergency rain poncho, or rain tarp for my bicycle when I have to leave it outside on wet days. When I next go camping, it will be used as a ground tarp with the BW flecktarn two-man tent. I'm quite content with this purchase.
0
0