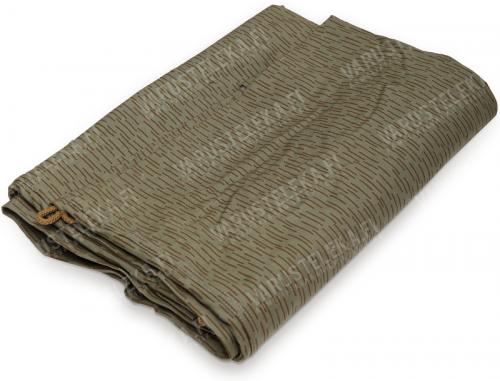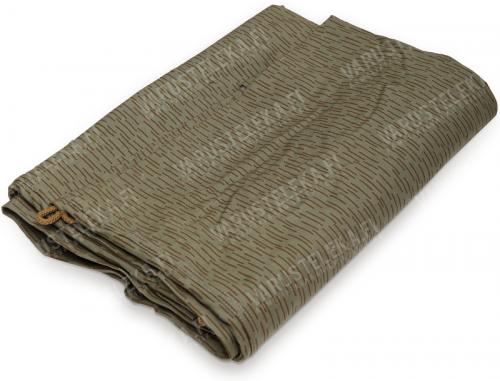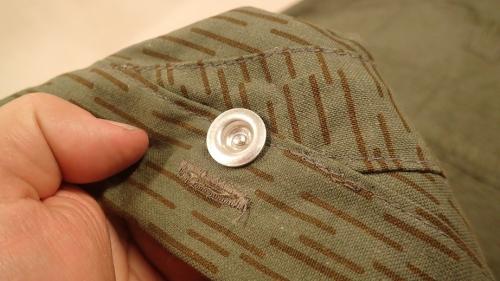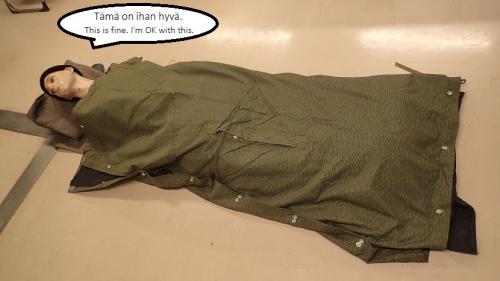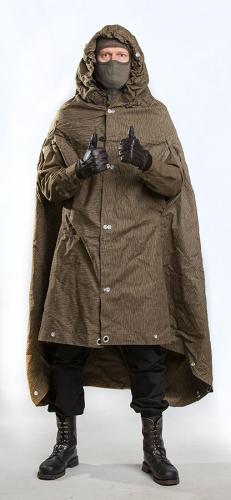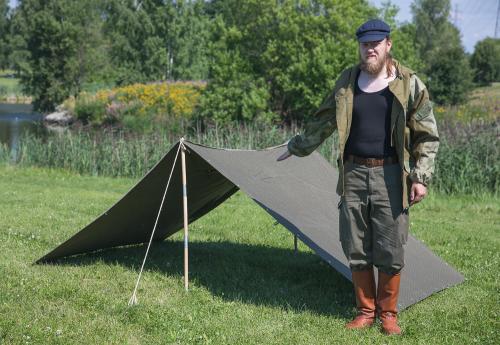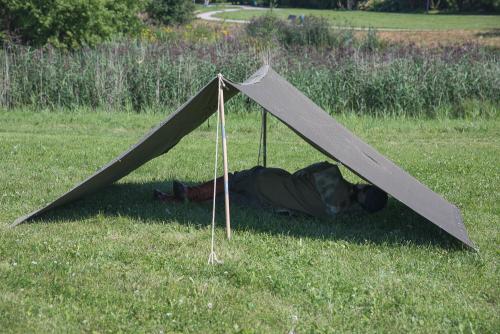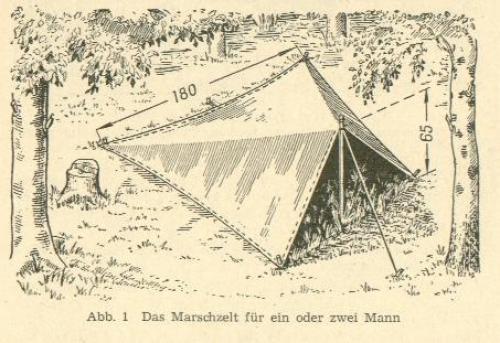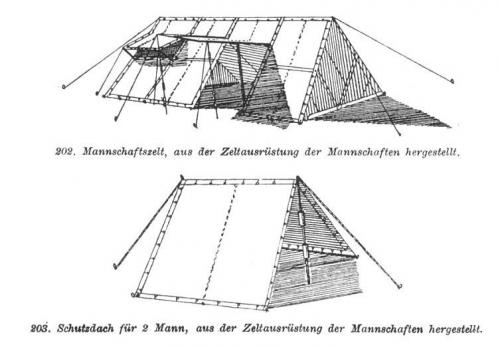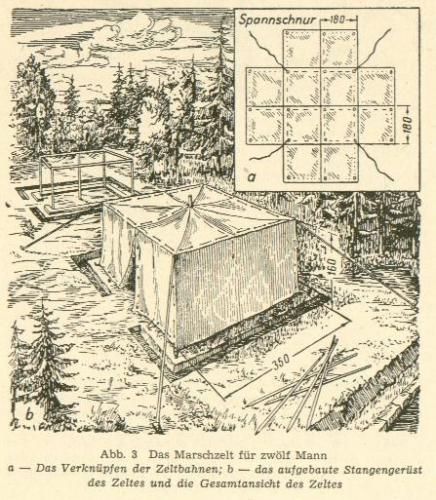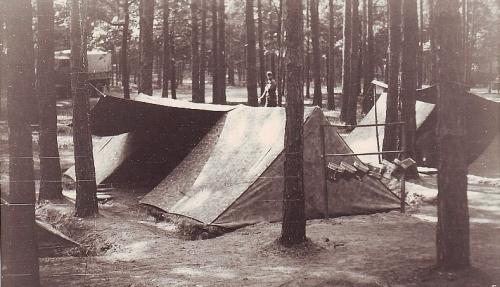 NVA shelter half, Strichtarn, surplus
Price 36.99 USD
excluding VAT
One of the most versatile items issued in the NVA, although patterned more like the Soviet model. Or the Great War model, depending on your historical preferences.
Sold 5 pcs in the last two weeks.
Waiting for restock, no estimated time for arrival. With surplus the restock date is unknown due to sometimes poor availability. Request restock notification and we will email you as soon as this product is available.
Choose accessories:
Trouble with the metric system? Try our converter: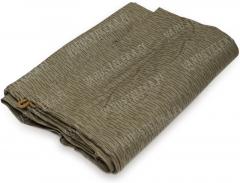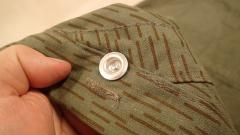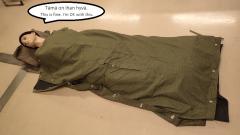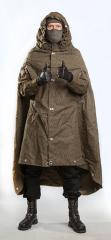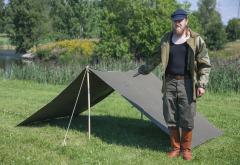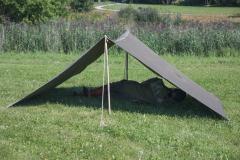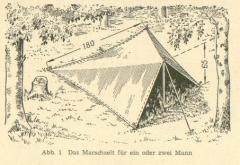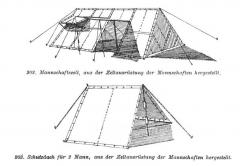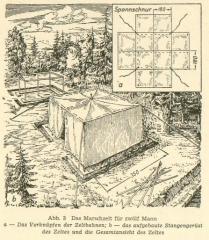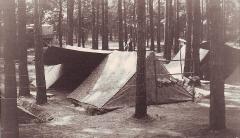 One of the most versatile items issued in the NVA, although patterned more like the Soviet model. Or the Great War model, depending on your historical preferences.
A shelter half has been a part of most armies' equipment for a long time, dating back at least to the First World War and maybe even earlier. But some took it further; for example, the Germans and the Russians made it much more versatile. The idea was to combine the need for a tent, rain protection, stretcher, and camouflage cape, to name a few possible uses. And this is just what even the East German Zeltbahn does pretty well.
This rectangular piece of the canvas has paired buttons and keyholes on each of the four sides. It can be buttoned to other Zeltbahns to form tents both small or large. Near one corner there's a drawcord. If worn as a cape, this forms the base of the hood, while you just button up the front and stick your arms through the opening slits. Simple. Grommets on the corners for pitching purposes.
Made from tightly woven cotton, with a water repellent treatment that actually works, verified by us! Measurements 175 x 175 cm (69" x 69"), weight 1.2 kg / 2.6 lbs.
East-German surplus
Most looked unissued, but may be a bit dusty with corrosion on metal parts after decades of storage.
Recommendations
Loading products...
Reviews
You have already submitted a review. You can edit your text by clicking on it.
Log in and write a review.
Remove filter
Suomi
(8)
English
(35)
I would recommend for a friend
Jaakko M.

03.07.2016 (Edited 06.07.2016)
Hämmentävä esine: painava ja edes käsiteltynä ei täysin vedenpitävä pitkittyneessä sateessa. Silti lähes aina reissussa mukana. Toimii sadeviittana, maavaatteena, laavuna, pressuna, peittona... Onpahan ollut sopivasti taiteltuna monta kertaa maakuualustan korvaajanakin.



Jos nyt jotakin, niin saisi olla tämän mittaiselle miehelle vähän isompi ja jos olisi kevyemmästä kankaasta, niin olisi aina kassissa.



Yllättäen kankaan kuvio toimii hämärässä metsässä todella hyvin. Jopa niin hyvin, että kun sateessa kävelin pururadalla, minua päin juoksi lenkkeilijä joka ei hämärässä hahmottanut kankaaseen pukeutunutta laahustajaa.
12
2
I would recommend for a friend
Bill H.

15.09.2016 (Edited 05.07.2017)
Useful item. Looks to be unissued. All parts are intact. Can be used as a ground cloth, poncho, or shelter. Button two together for a tent. Will need poles for this.
22
2
I would recommend for a friend
Evangelos S.

01.11.2016 (Edited 29.11.2016)
Tough canvas, used almost for everything,, tarp, tent, tipi (by piecing two together.), poncho , ground mat .. to name a few
Sure not waterproof but still a very good water-resistant shelter
12
0
I would recommend for a friend
Richy C.

10.01.2017
Neat piece of equipment, arrived in what appears to be unused condition. Tried the fabric under some running sink water and seems to be mostly water resistant.
Some complaints is that all the drawstrings are not as pictured. They were more like the black plastic packing twine that you can probably find at your local hardware/farming goods store. Should be easy to replace with 550 cord if I spend a bit of time with a sewing machine.
Also I'm not really a fan of the metal buttons and corner loops. Would prefer if they were much like the Russian ones.
But hey for a dirt cheap price and really good condition, I would recommend this if you can get your hands on one.
12
2
I would recommend for a friend
Ivan Z.

11.02.2017
I would recommend for a friend
David T.

07.03.2017 (Edited 13.06.2017)
Love these things, just so awesomely versatile! Almost endless uses for these and they are dirt cheap. Mine hat a little rip in it but otherwise looked fine, it was a quick fix. Just get one or even more when they are in stock, they are simply an awesome piece of gear. If you are looking for ideas to set it up as a shelter, maybe you want to check out my blog, I posted an article about different setups. Here's the link: http://skillsandthoughts.blogspot.co.at/2017/02/nva-zeltbahn-nva-tarp-setup-methods.html
I also plan to do an article about the general uses of one of these Zeltbahns.
19
0
I would recommend for a friend
Simon H.

14.04.2017
Hard to complain; you cannot find a better price for this item if you're an American, since these cost so much to ship.
6
0
I would recommend for a friend
Aukusti M.

16.04.2017
I would recommend for a friend
William W.

23.04.2017 (Edited 13.06.2017)
I really like this item. I also own a Platsch Palatka, but I prefer this even though it's just a tiny bit smaller. Why? Because it seems like the East Germans took the Platsch Palatka and improved every aspect of it slightly. It has 24 super-sturdy, double-sided aluminum buttons along the entire outer edge instead of just a few toggles on one edge (and just half of that edge!); two arm slits, each of which are double-overlapped (inside and outside), with two buttons each instead of just one armslit with a single overlap and one toggle; 2 small tie-out loops (midpoints of opposite edges) instead of having none; and, overall tighter stitching and better workmanship.

The cool strichtarn pattern is just the icing on the cake.

My Platsch Palatka is now staying in my car, whereas the Zeltbahn is what I'll be carrying when I go hiking and camping.

Edit: I like it so much I made a Youtube video about it - https://youtu.be/MA0GqDVKqYo
35
5
Kierto Circular Economy
Return this product used but clean and unbroken, and you'll receive half of the product's original price as Varusteleka credits. Service is available only in Finland. Only Registered users can make Kierto returns. See more information about Kierto.