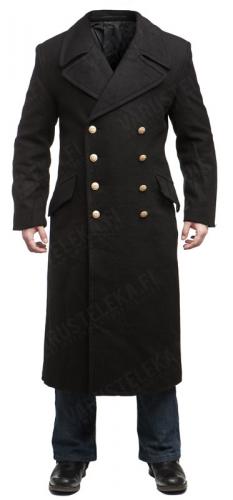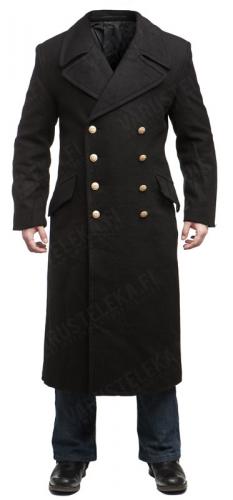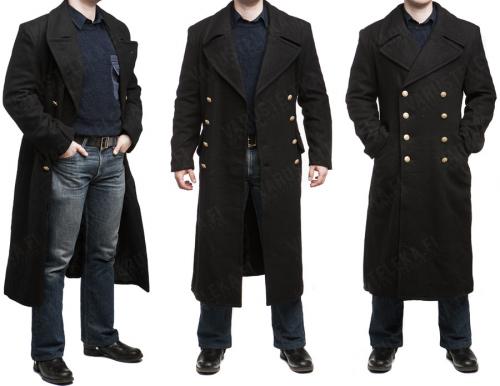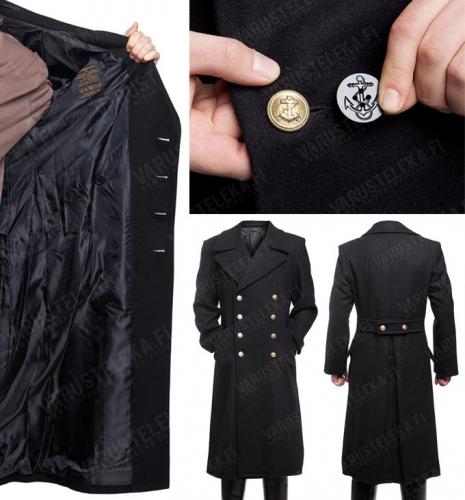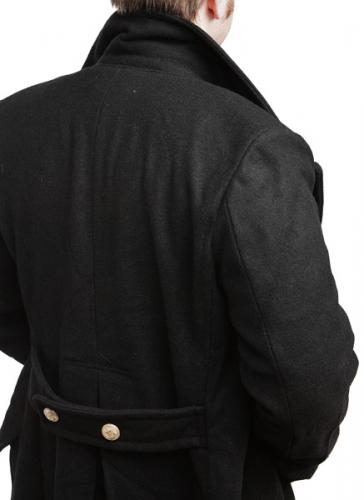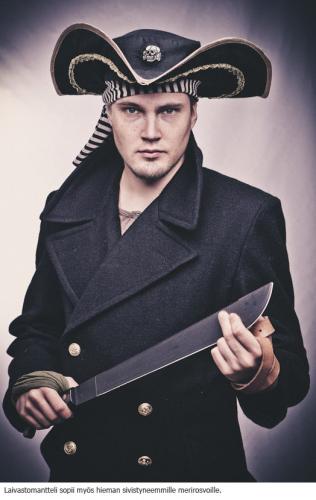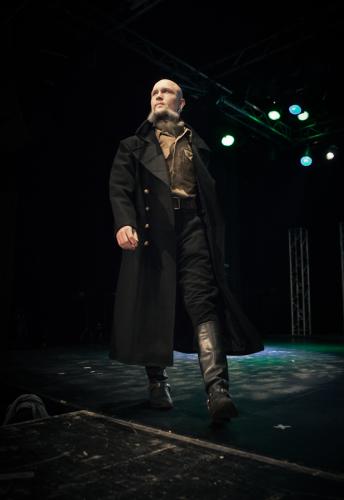 Mil-Tec Navy Greatcoat
Price 125.99 USD
excluding VAT
A few things reach the class of a proper thick, black navy greatcoat. They're surprisingly hard to find as surplus, but here's a new one for a very decent price and of good quality!
Loading products...
Trouble with the metric system? Try our converter: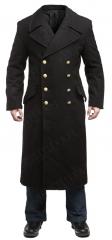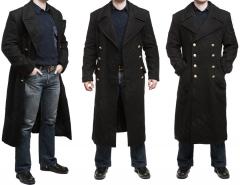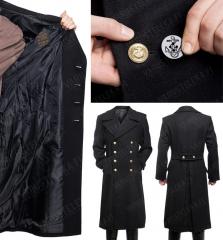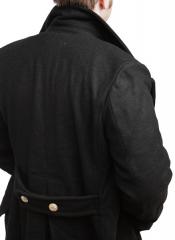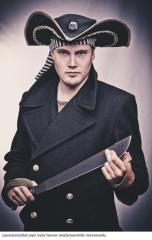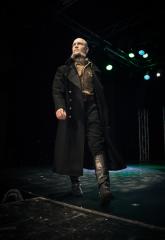 A few things reach the class of a proper thick, black navy greatcoat. They're surprisingly hard to find as surplus, but here's a new one for a very decent price and of good quality!
We almost concluded that a greatcoat representing the timeless navy fashion was on the edge of extinction, but hallelujah - the Germans finally made a good reproduction of the classic! These have all the stuff that's only right and proper to be found on one of these: brass buttons (Bundeswehr issue), an impressively huge collar, and a long hem to protect from the wind and cold.
If you don't fancy the brass-coated plastic buttons, the Germans have been kind enough to include a bunch of standard plastic Pea Coat buttons with each greatcoat. If you decide to keep the brass ones, we suggest reinforcing the stitching on them - machine sewn buttons aren't as secure as hand-sewn ones. Moreover, we can't get them separately.
Made of thick, black wool blend: 50% wool, 50% viscose. The lining is thin polyester to help the coat slide on as you don it.
Size info
These are nominally European men's sizes but run very large to fit several warm layers of clothes underneath. If you know your EU-size, picking that one will get you a loose and generous cut. We recommend picking one size smaller in this case.
In the brackets, we have provided our tried and tested body size recommendations for a more casual fit. You'll find a height range as well as a chest circumference. Following these recommendations gets you a closer fit, yet leaves room for a thick jumper worn underneath.
The model in the picture is 175 cm tall with a 96 cm chest circumference (5'9" / 37.8") and is wearing a size EU 46 greatcoat with a collared shirt and woolly pully underneath.
Made by Mil-Tec.
Recommendations
Loading products...
Reviews
You have already submitted a review. You can edit your text by clicking on it.
Log in and write a review.
Remove filter
Suomi
(11)
English
(9)
I would recommend for a friend
Marko N.

18.08.2016 (Edited 01.09.2016)
Kaikki eivät ymmärrä tällaisen takin päälle; eräs ystäväni ei juuri
pidä tästä, mutta taasen lääkärini mielestä takki on tyylikäs, itse tietenkin pidän tästä kun on vähän kylmä keli, niin tämä on ihan hieno takki. Ominaisuudet eivät riitä ältsin kylmään keliin, jos ei sitten laita tosi paljon fyllinkiä alle.
5
0
I would recommend for a friend
Ville T.

06.11.2016 (Edited 29.11.2016)
Ryöstin puoli tähteä pois koska nappien ompeleet on tosiaan vahvistettava tai vaihdettava napit. Itse vaihdoin tilalle taskusta löytyvät mustat napit.. ja vielä omin kätösin.
Takki on tyylikkäin takki jonka olen ikinä omistanut, enkä löydä vastaavaa mistään vaikka kuinka etsin.
Ainakin muutaman asteen pakkasella tarkenee hyvin, tiedä sitten kovemmilla pakkasilla.
Hyvä ostos, voin suositella!
3
0
I would recommend for a friend
Henrik D.

19.11.2016 (Edited 29.11.2016)
Erittäin hyvä ja tyylikäs kylmähköjen kelien takki, ja menee kylmemmilläkin, kun pukee reilummin vaatetta alle. Puolikas tähti oli pakko ottaa pois, koska nappien ompeleet oli tosiaan aika heikot. Eli kannattaa tosiaan vahvistaa ne ompeleet suorin tein, ellei vaihtaa napit kokonaan. Hintaan nähden erittäin hyvä ostos, suosittelen!
3
1
I would recommend for a friend
Eetu L.

01.12.2016 (Edited 22.12.2016)
Omasta mielestä tietysti tyylikäs ja korostaa pituutta. Materiaalit on kohdallaan ja pienemmissäkin kooissa on tarpeeksi pitkät hihat ja tilaa välikerrastoille. Välikerrastoa todellakin tarvitsee sillä tämä ei ole mikään lämpötakki.
Iso plussa siitä että pitkä helma lämmittää jalkoja aika yllättävän paljon, ei vältsiin tarvitse kalsareiden ja farkkujen lisäksi mitään kovemmillakaan pakkasilla.
Miinusta tulee niistä napeista, Lekalle kiitos että kertovat tuote-esittelyssä sen rehellisesti. Omasta laiskuudesta johtuen yksi oman takin napeista on musta ja kaikki on jälkeenpäin vahvistettu karhunlangalla.
3
0
I would recommend for a friend
Joonas J.

10.03.2017 (Edited 10.03.2017)
Kevään tulo miltei harmittaa, sillä ilmojen lämmetessä joutuu jälleen vaihtamaan termisesti viileämpiin, mutta muutoin tympeämpiin päällystakkeihin ja laittamaan tämän talviteloille. Kaksi talvea tällaisella porskuttaneena olen todennut kestäväni pakkasta mantteli päällä nyky-Suomen tavanomaisissa miinuskakskytjotain pakkasasteen keleissä, mutta elohopean laskiessa kolmenkympin tienoille pitää vaihtaa järeämpään varustukseen. Eipä tämä toisaalta toppahousujen kanssa järin charmantilta enää näyttäisikään, vaikka messinkinapit olisikin vaihdettu.

Koon 54 takki osoittautui totuttuun, hartioista hyvin naftiin markettitavaraan verratessa melko reilun kokoiseksi, mutta toisaalta alle mahtuu pakkasen ja tilaisuuden sanellessa niin puvuntakkia kuin paksumpaa villapaitaakin. Hetkellisen mielenhäiriön iskiessä todennäköisesti molemmat. Suosituspituudesta kauas jäävänä 177-senttisenä takin hihat uhkaavat valua jonnekin rystysteni tienoille, mutta minkäs teet.
1
0
I would recommend for a friend
Vitor F.

27.03.2017 (Edited 23.05.2019)
I love this coat. It has an austere look which I like.

You might want to reinforce the stitches on it as stated above, but if you buy a coat on any "ready to dress" store, the same would be apply. And if you are savvy (and by savvy I mean anything short of an autistic monkey, as it is really easy) with the needle you can adjust the flaps in the back for a more custom tight fit.

I stitched them myself because I am a strong and independent man.
63
7
I would recommend for a friend
Pablo V.

22.05.2017
I love it. It's warm, it protects your legs, and it looks pretty nice.
Also, they are not joking when they say you should reinforce those buttons. Once they are gone, there really are no replacements available. Enjoy!
16
0
I would recommend for a friend
László K.

08.08.2017
Amazing coat, comfortable and looks great. The detailed size info really helped me choose the right size.
11
0
I would recommend for a friend
Scott S.

07.12.2017
Beats the hell out of the old NVA coat I had until it fell apart! The button stitching needed reinforcing, as you said, but that seems to be true of any new greatcoat or peacoat since time immemorial. Warm, comfy, and by fuck, it looks damn cool!! Love it!
6
0