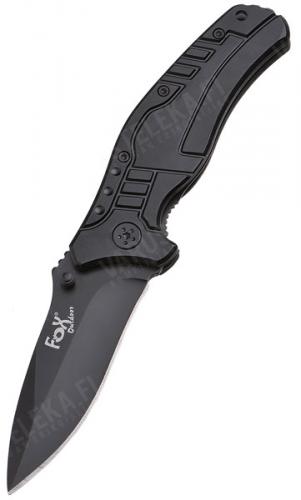 MFH pocket knife, straight edge
Price 9.99 USD excluding VAT
Flat Rate Shipping to USA $9.99
100 % recommends
Sold 51 pcs in the last two weeks
In stock 65 pcs.
Trouble with the metric system? Try our converter: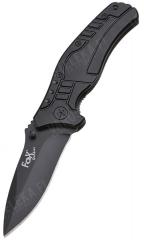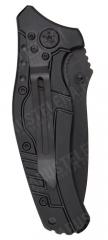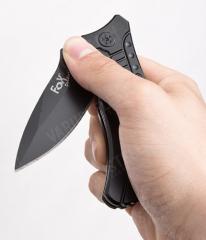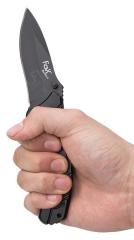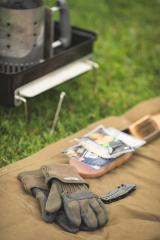 First we were like "what, you don't get a decent folding knife for that price", but after handling the first batch minds were changed: fits the hand, works and cuts. Try it out yourself!
Underneath the aluminium grip panels two sheet steel pieces form the structure, one of them doubling as a liner lock. The hinge features teflon bushings for a smooth opening without sideways play. The overall impression isn't in proportion to the price at all with firm clicks and snaps combined to smooth action.
The profile of the handle is fairly flat, even though this isn't a small knife otherwise. The slab sides give a better directional feel to the knife, and the ergonomics and shape of the blade are otherwise commendable as well.
Length: 19 cm
Blade length: 8 cm
Blade material: stainless steel.
Folded: 11,5 cm
Factory new, made by Fox Outdoor (MFH).
Recommendations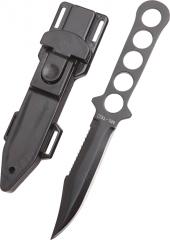 Mil-Tec diving knife, stainless steel
11.99 USD
Viewed together.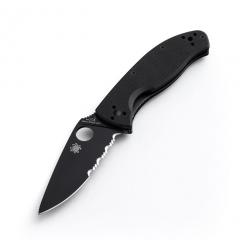 Spyderco Tenacious folding knife
68.99 USD
Similar product.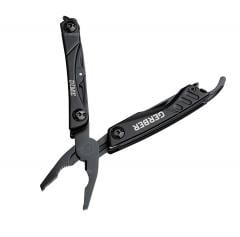 Gerber Dime multitool
27.99 USD
Viewed together.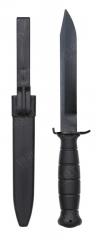 Glock M78 knife
41.99 USD
Viewed together.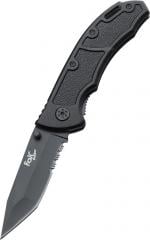 MFH pocket knife, serrated tanto-blade
9.99 USD
Sometimes purchased with.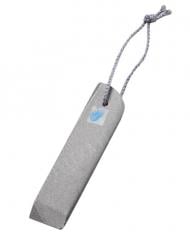 Wästikivi Eräkivi whetstone
11.99 USD
Sometimes purchased with.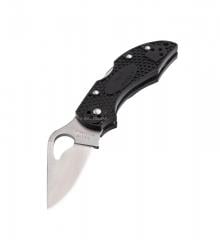 Spyderco Byrd Robin 2 folding knife
27.99 USD
Similar product. Temporarily out of stock.
Reviews
You have already submitted a review. You can edit your text by clicking on it.
Log in and write a review.
Remove filter
Suomi
(12)
English
(4)
I would recommend for a friend
ERIK P.

08.08.2016 (Edited 22.07.2019)
Ihan hyvä ja kätevä veitsi - ja edullinen. Ajaa asiansa.
11
1
I would recommend for a friend
Sami R.

08.11.2016 (Edited 29.11.2016)
Hinta-laatusuhde on kyllä kohdallaan tässä.
10
0
I would recommend for a friend
Perttu T.

15.01.2017
Toimii ja hinta/laatu kohdallaan.
6
0
I would recommend for a friend
Pekka T.

22.01.2017
Samaa mieltä kuin muut arvostelleet.
11
0
I would recommend for a friend
Mikko A.

03.02.2017 (Edited 13.06.2017)
Jämäkän oloinen, mutta tylsä kuin fan kaupasta tullessaan. Teroitushommiin.
4
1
I would recommend for a friend
Mika J.

09.06.2017 (Edited 09.06.2017)
OK.
4
0
I would recommend for a friend
Jari J.

04.11.2017 (Edited 04.11.2017)
Itse ostin tämän joskus 2014 ja nyt alkaa tuntua, että ostan pari uutta kun en viitsi teroittaa. Mekanismi on pelannut hyvin, taisin jossain välissä hieman kiristää terän saranaruuvia kun välissä olevat muovilevyt alkoivat käytön myötä kulua ohuemmiksi. Aivan helkkarin hyvä pikkunäpertelyveitsi vyölle, esim. pakkausten avaamiseen sun muuhun tappamista pienempään hommaan! Heti tilaan pari uutta kun saatte lisää! On hinta-laatusuhde kohillaan!
3
1
I would recommend for a friend
Janne P.

17.11.2017
Tämä arvostelu koskee saman sarjan tanto-veistä, mutta sitä ei löydy syystä x valikoimista, ja oletan näiden olevan ns. samaa kamaa, niin osunee kohdilleen:

Äärimmäisen laadukas veitsi hintaisekseen, mutta ymmärrä tämä: vaatii teroituksen ennen käyttöä. Seriously teatteriveitsi ilman itse tehtyä käyttöönottokunnostusta.

tl;dr:
No sharp. Must sharpen.
1
0
I would recommend for a friend
Scott S.

07.12.2017
Good knife for the money. Liner lock is a bit stiff, seems to move almost all the way across the base of the blade, and needs both hands to close the blade, but easily opens one handed. Not bad for less than a tenner.
2
0
I would recommend for a friend
Miska I.

13.12.2017
Hommasin tästä uudemman version, kun luulin kadottaneeni edellisen. Pikku pikku ongelma lukituksessa, ainakin uutena ei lukitu ihan niin hyvin kuin edellinen, mutta saattaa notkistua ajan mittaan. Terässä oleva lisäosa estää sormien luiskahtamista terälle tehokkaasta ja kahva istuu käteen mainiosti. Terä soveltuu kaikkeen käyttöön, vuoleminenkin onnistuu aika mukavasti. Hintaansa nähden hienoa työtä.
1
0
I would recommend for a friend
Kimmo L.

29.01.2018 (Edited 29.01.2018)
Basically good knife at abnormally low price. Normal torxes (6 and 9) for stripdown and lubing. Decent minus locking strenght, but very good tuning of lockup out of box, and basically healthy construction for the price. Price shows of course somewhere: You need to sharpen it yourselve, and steel is, well some steel. Thumbstuds are small in diameter and eat your skin. Flipper is OK.
1
0
I would recommend for a friend
Ville K.

05.06.2018
I would recommend for a friend
Jussi A.

07.06.2019
Törkeän hyvä puukotin tähän hintaan. Terän lukitus oli vähän epävarma aluksi, mutta pienen rumppauksen jälkeen alkoi pitämään. Pienenä miinuksena nuo kovamuoviset kahvalevyt on vähän liukkaat, mutta sormisuojaa on sen verran ettei vahinkoja satu. Ja jos sattuu, niin jänteitä saa sairaalasta.
0
0
I would recommend for a friend
Riku N.

29.07.2019
Jämäkkä ja oma kappaleeni oli terävä jo ostaessa.. Käytän tätä silloin tällöin erilaisten ostosten, ruokien availuun, ja toimii mahtavasti siinä tarkoituksessa.
0
0
I would recommend for a friend
Johnny H.

31.07.2019
Excellent product for the price. A Littlebit difficult to open with one hand.
0
0
I would recommend for a friend
Frederik M.

18.10.2019
I can only echo what has already been said. The price/performance of this knife is extremely good.
It's very solidly built and just works.
Don't buy an expensive knife you will then be too hesitant to use, get something you can easily afford and work with.
0
0