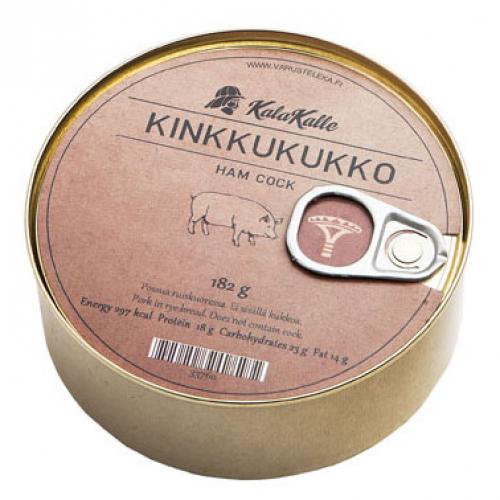 Kalakalle Ham Cock, 182 g, canned
Price 4.99 USD excluding VAT
Flat Rate Shipping to USA $9.99
87 % recommends
Sold 147 pcs in the last two weeks
In stock 210 pcs. Also available in our walk-in store.
Trouble with the metric system? Try our converter: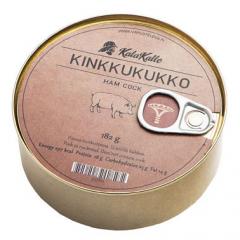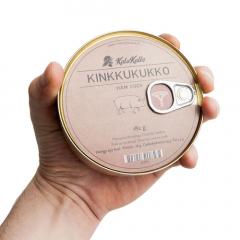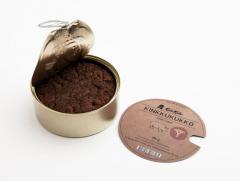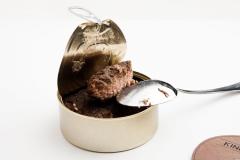 A ham variation of a traditional Finnish delicacy in canned version, 5 years of shelf life and does not contain cock! This is a perfect snack or trekking food, always ready to eat and contains enough energy to keep you going and enough high quality protein to keep you in shape.
Normally called "Fish Cock" because it contains fish inside a rye bread shell, but this version has ham instead. Different, but just as good!
The food is much like a mix of hamburger and pie, made out of rye bread and filled with high quality honest-to-god Finnish pork. The funny part is that because of the hermetically sealed tin can, no preservatives are needed, and the ingredients are the superfoods they always tell you you should eat. Because it's healthy AND it tastes good, this food resembles much like a situation where you are enjoying your beer in a bar and a pretty young girl comes up to you and asks if you would like to go to her place for some good times. A deal too good to be true. Except with this food delicacy there is no hidden cock included.
This really is something as a always-ready-snack or trekking food. It tastes good, and if you are equipped with a knife, you should be able to take the pastry out of the can whole. Looking and tasting at the thing makes it hard to believe it came out of a tin can, as the bread really looks like a bread and the whole thing tastes very good.
Foreign people might wonder why the excellent delicacy is called ham cock and, well, it's a wonder for us too, since this kind of food originally comes from Savo, a remote location in the middle of Finland known for inbreeding and incapacity to form sentences that mean anything. The classic fish cock, in Savo, means food and flying fish cock a train. We know, it's weird.
Ingredients: ham, rye bread (whole grain rye flour, rye [50%], wheat flour, water, yeast, rye malt, sea salt 1,2%), water, salt 1,4%, black pepper. Milk-free, contains no additives or preservatives. Weight 182 g.
Nutritional facts: 100 g contains: energy 683 kJ (163 kcal), protein 10,1 g, carbs 12,5 g, fat 7,6 g.
One can of 1820 g contains: energy 1243 kJ (297 kcal), protein 18,38 g, carbs 22,75 g, fat 13,83 g.
This product is made in Finland. Obviously.
There is a five-year shelf life printed on the can. This is because "you have to put something in there". In real life, well made (duh, it's made in Finland) canned food last a way lot longer, and doesn't really turn toxic - if you store this for reaaally long time, taste and energy values do detoriate, but it's still edible. As it is, ham cock makes for a very good quality emergency ration. It'd be smart to store these into your car, your boat, cabin and anywhere you might get stranded in.
Reviews
You have already submitted a review. You can edit your text by clicking on it.
Log in and write a review.
Remove filter
Suomi
(9)
English
(21)
I would recommend for a friend
Ville L.

24.06.2016 (Edited 27.06.2016)
Kuin nötköttiä leivän välissä, ylläri. Hyvä pikku retkieväs, helppo leikellä puukolla paloiksi jos haluaa antaa kaverille kanssa, ei siis tarvitse kaivaa lusikalla ulos purkista.

Lisää tämmöisiä tuotteita!
15
0
I would not recommend to a friend
Matthew H.

17.09.2016 (Edited 07.12.2016)
Smells like cat food, tastes awful, smell improves when you've thrown the tin and contents into the camp fire.
2
100
I would recommend for a friend
Niko V.

08.10.2016 (Edited 29.11.2016)
Tuhti siivu nötköttiä ruisleivän ympäröimänä on varsin osuva kuvaus, leipä tosin on niin kosteaa ja pehmeää että se takertuu sekä purkin sisäpintaan että sormiin kun syöt sitä. Kannattaa varautua rätin kanssa tai ainakin siihen että joudut pyyhkimään sormet housuihin aterian päätteeksi.
10
0
I would recommend for a friend
Christopher K.

29.03.2017 (Edited 13.06.2019)
Matthew, Poor people in the USA ARE eating cat food to survive. The fastest way to meet people in the world is to share their food. I like cock. My cat likes cock. trump likes Mcdonalds. Who do you want to share a campfire with? Go hungry 3 days and try it again. I am delighted to find a source for cock besides the one in the Whitehouse ( The can has a larger serving.)
50
43
I would recommend for a friend
Matthew G.

31.03.2017
I wouldn't say it's fantastic, but it is by no means the worst thing i have tasted. I would recommend adding it to something else as the ham cock by itself is a very distinctive flavor that I at least in the US am very unused to. Eat it in small bits, and the center is the best part
5
7
I would recommend for a friend
Fraser H.

07.04.2017
Best way to describe it is a brown bread ham sandwich got sexual with a pork pie and this was the off spring. I liked it especially with a bit of mustard made a nice snack and would be very welcome if stuck out in some forest.
I will be ordering it again.
17
0
I would recommend for a friend
Stephen T.

29.05.2017
Tried it today and as stated smells like cat/dog food when you open the can-but once reheated/cooked and a little salt is added it tastes great!!
4
0
I would recommend for a friend
Vesa H.

29.05.2017
Ihan ok vaelluksella, ei mitään erikoisia makuelämyksia. Lisää suolaa tai pippuria niin tulee makua.
0
0
I would recommend for a friend
Janne J.

12.07.2017
With mustard or salt and pepper this is much better. Very good package.
1
0
I would recommend for a friend
Santtu P.

04.08.2017
Erittäin positiivinen yllätys, haen lisää saman tien. Retkikäytössä lisäplussaa tulisi jos tölkki olisi avattavissa molemmista kansista. Saisi tyhjennyksen jälkeen liiskattua kompaktimpaan jätekokoon ilman isompaa voimankäyttöä kuten nyt on tarvis. Mutta taitaa olla valmistusteknisesti ehkä mahdoton visio.
0
0
I would recommend for a friend
jani t.

06.08.2017 (Edited 06.08.2017)
Kinkku- ja kalakukkosäilykkeet ovat erinomainen konsepti! Vaikka päiväretkille luontoon tulee otettua (edullisempaa) tuoresevästä, niin usein tulee oltua ulkona aiottua/suunniteltua pidempään (tai ne eväät unohtuu kotiin...) ja säilyvyyden ansiosta tämä tuote paikkaa hienosti pitkittyneen reissun evästarpeen. Annoksen koko on sopiva yhdelle henkilölle yhdeksi annokseksi kerralla syötäväksi toisinkuin perinteiset 400-500 gramman "nötköttipurkit", jotka ovat yhdelle henkilölle turhan paljon kerralla.
Sitä paitsi tässäkin on prosentuaalisesti enemmän lihaa kuin markettien halvimmissa lihasäilykkeissä.

Säilytän pakkaskauden ulkopuolella muutamia purkkeja autossa ja luonnollisesti repussa kulkee aina mukana.

Maku on sitä mitä luvataankin: ruista ja possua. Ei gourmeeta, vaan tuhtia perus"kauraa".
En todellakaan allekirjoita englanninkielisiä vertauksia kissanruokaan! Ketkä lie BigMacin suurkuluttujat niitäkin kirjoittaneet.
Joskaan en itse tiedä miltä kissanruoka maistuu!

Jos maku tuntuu kuivalta, niin mikään ei estä lisäämästä mausteita tai tomaattisiivua, suolakurkkua ym. lisähöysteeksi.

Ilokseni huomasin, että paikkakunnan eräässä K-Supermarketissa on omalla myynti-/esittelyhyllyllään KalaKallen säilykkeitä hintaan 10 euroa / 3 purkkia.
Sillä yksikköhinnalla moni koululainen ja/tai duunari ostaa välipalaksi mm. energiajuoman, suklaapatukan ja berliininmunkin.
Kinkkukukko on sentään täyttä ruokaa!
8
0
I would recommend for a friend
Kenneth D.

12.10.2017
I thought this was pretty good. The taste reminded me of a deviled ham sandwich. A bit salty but not horrible.
5
1
I would not recommend to a friend
kyle O.

30.11.2017 (Edited 20.11.2018)
6/10 no ham cock.
0
17
I would recommend for a friend
Ian G.

03.12.2017 (Edited 03.12.2017)
I love this stuff and was pleasently surprised!
Needs a bit of mayo for the dryness thoug...
I must have been a cat in my previous life then.
4
0
I would recommend for a friend
Thomas L.

25.02.2018
I thoroughly enjoyable on a warm winter day at -4°C. Gives you cockbreath, though.
6
1
I would recommend for a friend
Charles P.

12.03.2018
See my comment on the fish cock.

I will just add that I prefer the fish but this is good for a change.
0
2
I would not recommend to a friend
Todd W.

02.05.2018
If your in the US it most likely WONT make it thru customs cause when i got my package although it appeared ruffed up the tape seemed in tact i opened it and there was only 2 of the fish cock out of 3 i ordered and NONE of the 3 hamcocks i had ordered :( Kindof dissappointed eventhough from what people say its not that good i still wouldve at least liked to ahve tried it
2
13
I would recommend for a friend
Pekka K.

10.05.2018 (Edited 11.05.2018)
No niin , maistettu on, kylmänä.. Suolaisen rasvaisaa voisi olla yleiskuvaus . Lämmitys tietty muuttaa aromien ominaisuuksia. Kuitenkin, kyllä tällä hengissä pysyy ja hyvä vaihtoehto purkitetuille hampurilaisille., joita ei vielä ole Varustelekan valikoimissa näkynytkään. Ja muutenhan en lihaa juuri suuhuni laita.
6
0
I would recommend for a friend
Steen V.

14.05.2018
As a child, I'd always loathed the sight of rye bread. My parents frequently planted a concoction with the bread and some form of stale topping in my lunchbox. This form of bread was seemingly always dry, as if it had been stored somewhere in the ruins of a desert. The smell gave me shivers, the anticipation was nonexistent, and it has haunted me ever since. But now that I have tasted Varusteleka's ham-rye food, I consider myself cured of my ailment! I would certainly buy this again, and maybe even gift it to my friend.
9
0
I would recommend for a friend
Kimmo P.

29.08.2018
Erinomainen välipala tai aamiainen niille päiville, kun ei vaan jaksa turhaan heilua keittiössä. Olen koukussa.
2
0
I would recommend for a friend
Tom S.

19.09.2018
Ham in a very good rye bread, an instant classic. This is something I will continue to buy for years to come.
0
0
I would recommend for a friend
ted k.

10.10.2018
Ah it aint so bad. Heat it up on the fire,wash it down with your favourite beer. You'll be fine.
2
0
I would recommend for a friend
Iain L.

08.02.2019
Tasty meal replacement when you have forgotten to pack any lunch or dinner.
0
0
I would recommend for a friend
ALAN T.

19.02.2019
If I could do it, I would order a case of ham cock (Kinkkukukko) This is the best pork on rye sandwich, with maybe a dab of mustard on the side for the extra touch.
1
0
I would recommend for a friend
Bjornar M.

01.07.2019
Delicious cold or warm, I prefer warm with a touch of finnish mustard.
Dark rye bread with delicious ham inside, very much like a hamburger.
0
0
I would recommend for a friend
Lassi V.

16.09.2019
Täähän on siis svin- eikä nötköttiä (Nikolle ja Villelle terveisiä..)

Ja muistikuvieni perusteella perusnöde on paljon höttöisempää kuin tämä liha, eli tämähän oli lähes kokolihan veroista purkkikamaa. Maistuu säilykesianlihalta toki, eli ei mitään fileetason gurmeeta. Mutta toimivaa välipalaa.

Itse ehkä vielä hiukan enempi parempana pidän tuota lohikukkoa. Tosin, omat kokemukset ilman lisämausteita..
0
0
I would recommend for a friend
Alessandro C.

07.11.2019
Very interesting product , peculiar taste but very useful if you are out hiking somewhere !
0
0
I would not recommend to a friend
Christopher S.

13.02.2020
The worst out the 3 Kalakalle cans I tried, bone shards in the pork plus very dry for canned food. The flavour is decent enough and this would make a great start to a stew or something while out in the woods. Still a step up from normal canned food though not as nice as the regular Kalakalle grain fed pork which is just amazing and the same price.
0
0
I would recommend for a friend
Carsten C.

14.02.2020
Looks like catfood, tastes absolutely amazing. I had a can cold, just to see what it was like, and I have to say that it's probably way better warm. A bit dry but that's why you have it with a beer or something. The ham tastes great, a little less punchy than the smoked fish, and the rye bread is better than some non-canned rye bread that I've had. Nothing more can be said, it's good canned food.
0
0
I would recommend for a friend
Gerrit L.

14.02.2020 (Edited 14.02.2020)
I like it. Connaisseurs of the german cuisine are reminded of an instant version of the "Mettwurstbrot", albeit it represents the cooked version of "Mett".
The porkfat makes the bread part very tasty, so for me there's no need to add any moisture. A few moments on the stove will probably add some flavour.
0
0