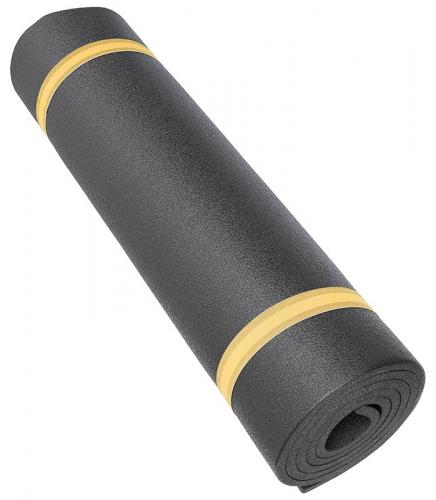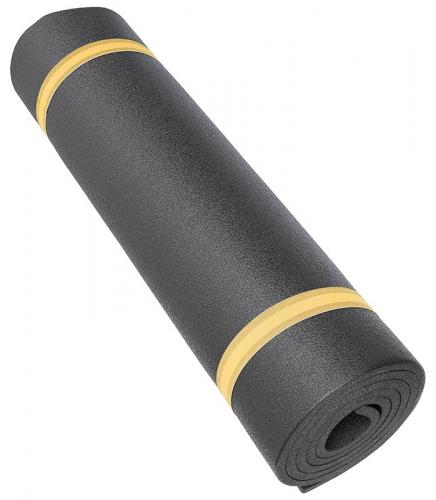 Plast-Team
Kaira XL-sleeping mat
Price 11.99 USD
excluding sales tax
A simple, proper no-bullshit lightweight closed-cell kip mat, roll-up model. A three-season model fit for general use, with good size. Made in Finland!
In stock 42 pcs. Sold 18 pcs in the last two weeks.
Trouble with the metric system? Try our converter: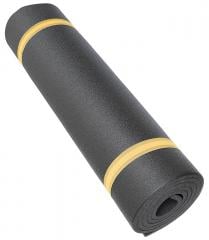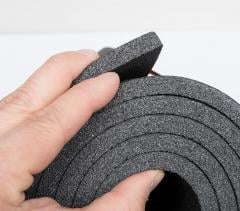 A simple, proper no-bullshit lightweight closed-cell kip mat, roll-up model. A three-season model fit for general use, with good size. Made in Finland!
Measurements opened: 60 x 195 cm (23.5" x 6' 5")
Measurements packed: 60 x 18 cm (23.5" x 7")
Thickness: 1 cm (0.5")
Weight only 390 grams (14 oz.)
Comes with simple elastic bands to keep the mat rolled. You can also use these for something else if the mat is just strapped on the rucksack. The 60 cm width means these have a very welcome 10 cm more room to roll around during the night when compared to many other sleeping mats.
Closed-cell or air mattress?
Either of these is not better than the other, just better for you and the intended purpose. Here are key points to consider when choosing between an inflatable and closed-cell sleeping mat.
Closed cell
Absolutely reliable and care-free
Lightweight
Takes more packing space
Cheaper price
Air mattress
Packs very small
More comfortable
The same or usually better insulation-to-weight ratio
Possibility of punctures
If you're aiming at carrying light, sleeping tight, and consider yourself careful, the air mattress is probably a better choice for you. If you're looking for indestructibility and it's OK to carry the mat outside the ruck and the packaging space isn't an issue, the closed-cell model should work just fine. Besides, you can use the mat as a sled and it won't get destroyed.
Manufacturer
Made by Plast-Team Ltd., which is a Finnish company specialized in foam plastic products. All of their stuff is made in Finland from CFC-free plastics.
All products: Plast-Team
Recommendations
Loading products...
Reviews
You have already submitted a review. You can edit your text by clicking on it.
Log in and write a review.
Remove filter
Suomi
(2)
English
(7)
I would recommend for a friend
Jörgen P.

15.02.2019 (Edited 02.06.2021)
Honestly, this sure beats the one issued by Estonian Defence Forces any day. Sure, you can't use it to transport your fallen comrades, but it's much better for camping purposes.

It's wet? No problem, wipe it with some napkins or towel and you are done! No need to air dry it for weeks and then deal with molding.

Lasts you a lifetime, especially since rubber bands are separate and you can use your backpacks molle webbing instead.
13
0
I would recommend for a friend
Tuomas K.

01.03.2019 (Edited 02.06.2021)
Edullinen, kestävä ja toimiva materiaali, tarpeeksi pituutta kaikkeen - täyttää makuualustan perustarpeet. Tämän saattoi ottaa huoleti suoraan käyttöön, ei haissut uutenakaan pahasti.
6
1
I would recommend for a friend
Shaun L.

28.11.2021
It's big and inexpensive. My arm fell asleep using it on a concrete floor but I haven't had any problems on softer surfaces like the earth. I'll probably upgrade it eventually but it's very solid for the price.
1
0
I would recommend for a friend
michael b.

25.12.2021
Very cushy and thick. Much more support than other foam pads i have tried. I would compare this to the legendary blue foam pads from wally-world but its better because the colour doesn't stick out in the woods like a U.N. "peace keeper"
4
0
I would recommend for a friend
Sami K.

30.01.2022
Nii...joo... En tiä mitään niistä ilimalla täytettävistä, vaan niistä "vaahto-jotaki aineesta tehty". Tää on vähä parempi ku muutama aukileikattu pahavi laatikko su alla ku tulee välttämätön tarve sammua, pistää maata, istahtaa pitemmäksi aikaa, jne. Ei ole aivan täysin vedenkestävä/ vedenhylkivä, mutta paljo parempi kun ne pahavi laatikot, ja väri soveltuu maastoon paremmin. Eristää sua maasta hehkuvasta kylymästä joten kuten (kolome on parempi ku yks), mutta yksiki on parempi ku pahavi, ja o helepompi kuliettaa mukana ku o aika lähtiä. Mutta jos o leiriyty vaikka betoni lattialle kahen sorvin välii, lakase pois kaikki lastut, kivet, sora, mutterit, naulat, jne. su alta huolellisesti, ennen ku paat maata tään päälle, tai ne saattaa upottua tai jäädä kiinni niin ku Velkroon, tai kehittää reikiä kun muikertelet ja vaikeroit tään päällä; ja poista kaikki sähkö johot ja kuivettueet puun oksat, pikku tikut, jne. Jos makuupaikka on niin kapea ettei saa kunnolla levitettyä tätä pehmoketta aiva littiäksi su alle, tai jos joku juuri jää törröttään sopimattomaan kulumaan, ne aiheuttaa halakeemia jota ei voi koriata. Jos sul on tapa tonkia roskapönttöjen läpi (vaikka sähkömoottoreiden korjauspajan takana), saattaa joskus löytää isoja laattoja mustaa [vaahto-jotaki ainesta] jok on palio samallaista, mutta kaks kertaa paksumpaa, eikä maksa mitään. Se tavara eo oo kylläkään nii heleppoa rullata heleposti kulietettavaan kiekuraan, mutta...
5
3
I would recommend for a friend
Ross P.

05.02.2022
Nice ensolite pad. I use it in my Deep Jungle Hennessy Hammock and found it formed better to my body than the stiffer army surplus pad I was using. As this pad is wider then many on the market it works better for hammock camping
0
0
I would recommend for a friend
Harold M.

16.05.2022
Finally, a lightweight, closed cell, roll up sleeping pad for tall people. Good quality, at an incredible price (used, beat to hell, roll up military surplus sleeping pads in the USA cost more than these).

Decent cushion for a closed cell pad and for use on softer grounds like dirt, but best used in addition to another type of pad / inflatable mattress on harder ground. I like to use multiple layers of padding / insulation, as I can change it up for the environment and temperature, but it also seems to work better than one inflatable sleeping mat, which can be damaged and leave you SOL on a long camping trip.
1
0
I would recommend for a friend
Arthur M.

15.11.2022
Good quality, excellent price, far less expensive than retail pads in Canada. I have recommended to friends.
0
0
I would recommend for a friend
Chris D.

20.11.2022
More comfortable than the thermarest one's as it is slightly more squishy soft and hasn't been compressed into fancy shapes thus killing cell loft. I will stack a torso length cutout of this on top of a Ridgerest Classic for best of both worlds. Not sure about the Rvalue?
0
0