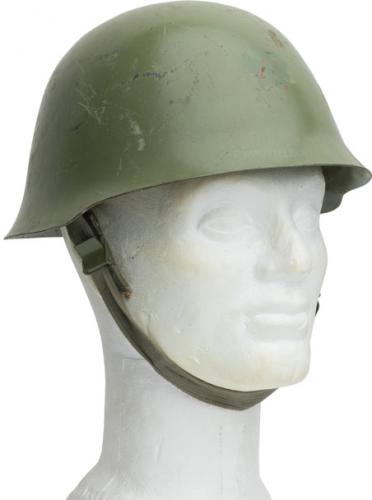 JNA steel helmet, surplus
Price 9.99 USD excluding VAT
Flat Rate Shipping to USA $9.99
100 % recommends
Sold 20 pcs in the last two weeks
In stock 30 pcs. Also available in our walk-in store.
Trouble with the metric system? Try our converter: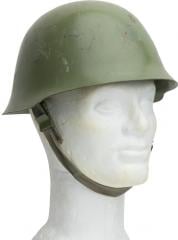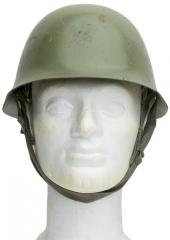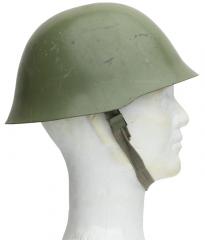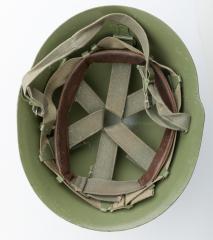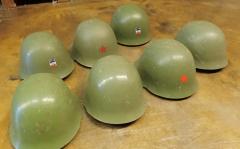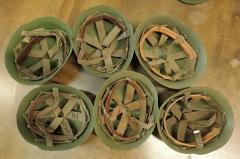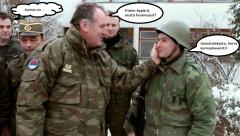 The good old Yugoslavian/Serbian steel helmet M/59: the shell is like a deformed Wehrmacht steel pot, liner copied from the Americans and the colour looks distinctly Soviet style - when you take something from all of the major players you end up with something utterly beautiful!
Adjustable for "every head size". Some have a "JA" or red star emblem on the front, some are less conspicuous.
Used military surplus
Clearly used, probably for dirty deeds. They are still intact for the most part, but don't expect perfection. We would like to say here's a nice cheap steel pot, but they're not nice at all. Not sold for real protective purposes, only for show.
Recommendations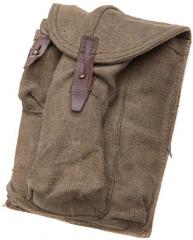 Soviet AK-47 magazine pouch, surplus
7.99 USD
Viewed together.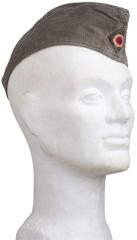 BW side cap, grey green, surplus
3.99 USD
Sometimes purchased with.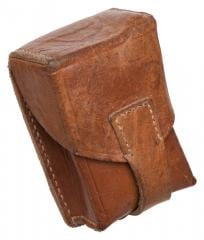 JNA ammunition pouch, leather, surplus
4.99 USD
Might be of interest.
Reviews
You have already submitted a review. You can edit your text by clicking on it.
Log in and write a review.
Remove filter
Suomi
(2)
English
(14)
I would recommend for a friend
David G.

28.07.2017
The liner and headband adjustment is a bit stiff and takes some figuring out but should go down to about 54-55cm and I reckon would probably expand out to circa 60cm.

As mentioned in the description comes with signs of use, the one I received has a few scratches but other than no damage
I even got a nice red star on the front.
8
2
I would recommend for a friend
Jonathon S.

25.08.2017
I received a well used helmet with a sticker style Yugoslavian emblem on the front. Also came with original manual sheet on how to adjust the helmet. Easily the best 10$ I've ever spent!
8
0
I would recommend for a friend
Adam H.

25.08.2017
Amazing helmet, very comfortable. Great shipping to Canada as well
9
0
I would recommend for a friend
Eric B.

17.09.2017 (Edited 06.02.2018)
Pretty basic, but pretty solid steel helmet for a great price, if you don't mind that it may have possibly been used during one of the less pleasant times in modern history. The one that I received has definitely seem some use of some variety with a fair few scratches and other signs of wear in outer part of the helmet. As well, mine was one of the ones that was painted over, but the red star is still partially visible. The liner is not quite as comfortable as an US M1 Helmet liner, but it is still fairly comfortable and easy to adjust once you figure it out (the adjustment is a bit stiff to start out). All in all, with the good price for the helmet ($12 CAD), I would definitely recommend this to anybody looking for a steel helmet to add to their collection.
5
0
I would recommend for a friend
Liam B.

27.10.2017
Mine is almost unissued. A little wear on the leather part of the liner and a few scratches in the paint, but other than that it looks brand new. It came with a red star decal on the front. I definitely recommend this for the price. At $12 CDN you can't go wrong.
9
0
I would recommend for a friend
Markus K.

20.11.2017
I would recommend for a friend
Markus K.

20.11.2017
I would recommend for a friend
Mikko J.

28.02.2018
Tuli punaisen tähden kanssa, hiukan naarmuja mutta hyvässä kunnossa. Erittäin helppo säätää ja henkilökohtaisesti käyttäisin tätä mielummin kuin intin kypärää. Sisäpuolella on edellisen käyttäjän kirjoituksia, olisi hauska tulkata ne. Mukana oli myös alkuperäiset ohjeet. Paras ostos varustelekasta.
7
0
I would recommend for a friend
Thomas W.

07.03.2019
This is a nasty helmet, with more than a little rust and wear on the liner, but at 10 euro and the fact it's a nice enough piece is good enough motivation to buy one while you can.
1
0
I would recommend for a friend
Bob K.

18.05.2019
You know it's the real deal when there's dried blood on the helm
12
0
I would recommend for a friend
Mark L.

21.05.2019
My helmet came in really fast and when i opened the box it had a red star emblem on it and was in pretty good condition it just needed a quick wash with a wet cloth.
1
0
I would recommend for a friend
Samuel C.

24.07.2019
Pretty cool piece. Mine came with some dude's name written on the inside. Some rust here and there alongside a dent on the front of the helmet, but that's to be expected considering where this thing came from.
1
0
I would recommend for a friend
Emils P.

30.08.2019
One of fanciest helmets you can get
1
1
I would recommend for a friend
Lauren M.

05.09.2019
No complaints about this thing. It's got a lot of character. Received one with the sticker just damaged enough to show one point of the star. Bit of rust, lots of scratches, good price, and I like how so many reviewers seem to be from Canada.
1
0
I would recommend for a friend
Ryan S.

30.09.2019
Hats off to the staff of Varusteleka!

I ordered this helmet with the expectation of at least 21 shipping days to Canada but boy was I wrong! The package arrived today which is 5 days ago. Shipping was exceptional! It was well packed and marked.

Next onto the helmet. I am very very pleased with the outcome, my helmet shows signs of use, has graffiti and a red star. All of which I was hoping for. For the price of 26$ it's a no brainer. If you are looking for a pristine mint m59 do not order this. But if your looking for a cool piece of history that has the marks to show definitely order this helmet.
2
0
I would recommend for a friend
Cameron W.

01.10.2019
Ordered two , one looks unused. The other definitely used but still in good shape with writing on the inside.
1
0
I would recommend for a friend
Greg B.

12.11.2019
Another Canadian review. Mine came pretty much looking like it had been though a war;)There's a red star but over that is a cross in outline inked in with a C outline in the cross bays making an outer cross.A Cyrillic slogan is written under that.Not really sure I want to know what it all means!
0
0