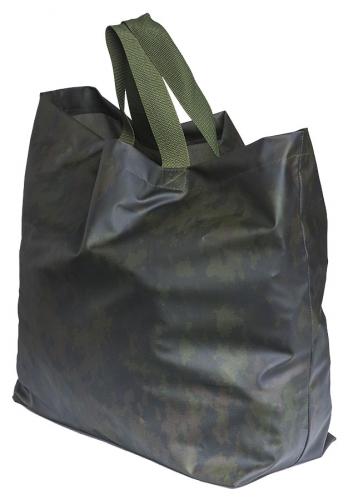 Jämä M05 tote bag
Price 4.99 USD excluding VAT
Flat Rate Shipping to USA $9.99
97 % recommends
Sold 271 pcs in the last two weeks
In stock 759 pcs. Also available in our walk-in store.
Trouble with the metric system? Try our converter: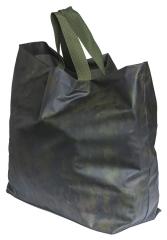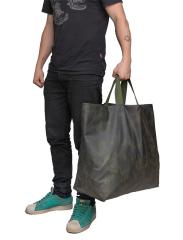 Sometimes you need something that doesn't have padded shoulder straps, 3D mesh ventilated back and PALS webbing all over. A tote bag is just a bag, not a sack of features.
To carry the bag two handles are securely box-tacked to fabric, which is folded double at the mouth for strength. The handles are 40 cm long and 40 mm wide nylon webbing. The bag is waterproof material, with the obvious seam exception. It protects the contents or surroundings both ways quite well.
Measurements: 46 x 46 x 20 cm (42 litres) as an "example box", or 66 x 55 cm flat. It's larger than regular shopping bags, because sometimes you run out of space with them, but small enough to avoid being cumbersome. If you've used a Medium sized Ikea bag (Frakta), you'll know. We call this size "just right".
A word on tote bags and the environment
Yeah we know, tote bags are an "eco"-trend which actually harms the environment. They are commonly mass-produced and practically given away, not to see much use after they are brought home from an indie film festival or hippie music event.
We are not like the others: this is a quality bag made by skilled western labour. We trust you buy this bag for actual use, not virtue signalling.
Jämä is upcycled surplus
Click here for the whole Jämä selection.
Jämä is a Finnish word meaning leftovers or scraps. It's also one of our house brands for equipment made from recycled or surplus materials. From time to time we accumulate stuff that doesn't sell well but is made out of outstanding materials. We've also got several capable seamstresses here, and the equation is pretty clear: cut that useless stuff apart and sew it back together to create something useful.
Because Finnish labour is one of the most expensive in the world, these are very simple, practical and rugged in design. Our development and prototype production remains in-house while most of the production is outsourced to Turku - still within Finland. Simplicity means strength: the fewer parts there are, the smaller the chance of breaking anything.
Reviews
You have already submitted a review. You can edit your text by clicking on it.
Log in and write a review.
Remove filter
Suomi
(18)
English
(21)
I would recommend for a friend
Markus K.

15.09.2017
Kassi kesto-eko kantoon.
9
0
I would recommend for a friend
Jack T.

15.09.2017
I would recommend for a friend
Juho R.

15.09.2017
Tuli ostettua myymäläkäynnin yhteydessä ja on loistava kassi.
4
0
I would recommend for a friend
Valtteri H.

15.09.2017
Muutama tullut napattua myymälästä mukaan. Laadukas ja kotimainen, ostakaa ihmeessä.
2
0
I would recommend for a friend
Henri H.

21.09.2017
Laatua koko rahan edestä. M05 kuvio oli ainakin omassa kassissa sen verrran tummaa, ettei ilman kunnon valaistusta erottanut.
5
0
I would recommend for a friend
Perttu T.

27.09.2017
Itselläni sitä ensimmäistä erää keväältä. Silloin ainakin hihnat olivat liian pitkät/lyhyet, ei voinut kantaa käsi suorana alas kun laahaa maata ja liian lyhyet että voisi laittaa käden läpi. Päädyin tekemään uudet hihnat kaupan kestokassien tyyliin 40mm hihnanauhasta. Lyhensin alkuperäiset niin että voi kantaa kädessä ja lisäsin pitkät että voi kantaa olalla.
3
0
I would recommend for a friend
Kåre /.

16.10.2017
A no-nonsense tote bag
5
0
I would recommend for a friend
Reed M.

19.10.2017
Large and plenty of room. Great for when you're going somewhere for a weekend but don't want to look tacticool.
6
0
I would recommend for a friend
Jukka J.

20.10.2017 (Edited 23.05.2019)
Hieno kassi! Hyvänä puolena materiaalin äänettämyys esim. kirjaston kirjoja kirjastossa kantaessa. Oikeasti! Ikean kassi pitää hirmuista rutinaa. Tästä kassista jos vielä saisi toisen, pienemmän version. Koko voisi olla 20 cm x 35 cm x 35 cm (kirjakassiksi vielä näppärämpi).
18
1
I would recommend for a friend
Denis S.

21.10.2017 (Edited 21.10.2017)
Not your everyday Tote bag at all, more like those sturdy helmet bags for pilots.
It's extremely well made, a very nice pattern and it's large. Fight for them while the stock lasts.
5
0
I would recommend for a friend
ari t.

25.10.2017
olipa hyväyllätys kiitos
4
0
I would recommend for a friend
Alexander B.

27.10.2017
Excellent bag. Sturdy, waterproof and aesthetic.
Unlike other tote bags, you won't be ashamed to carry this and will get actual use out of it.
The darkened M05 fabric is actually quite beautiful and more suitable for civilian use.
To see some actual rain jackets made from this would be great.
6
1
I would recommend for a friend
Alex R.

30.10.2017 (Edited 30.10.2017)
Durable as hell! I've been using it to carry heavy groceries and it shows no signs of strain or wear. The only improvement I would suggest would be slightly longer handles for over-the-shoulder carry. Or handles of two different lengths (like an Ikea bag) for the same purpose. Side note: The bag comes with a bit of a plastic-y odor, but it fades with time and use.
10
0
I would recommend for a friend
Tomas B.

07.11.2017
Very sturdy water proof bag. A little oversized for my taste, but it is robust as hell. I'm thinking the fabric it is made of would be excelent for bomb proof tarps which would probably last a lifetime. 4,5/5 is only for it is a bit too oversized.
2
0
I would recommend for a friend
Jori T.

10.11.2017
Pirun hyvää materiaalia, vaikkakin teuraaksi joutui samointein toiseen projektiin. Harmittaa melkein kun ei tätä saa metritavarana.
1
0
I would recommend for a friend
Fabien T.

18.11.2017 (Edited 16.12.2017)
Great for stealthy grocery shopping
5
0
I would recommend for a friend
Mark K.

22.11.2017
This bag is the prefect:
- size
- durable shopping companion
- can probably be repurposed as rain cover when it is not in use as bag.

The darker M05 doesn't look too military and can be used in civilian settings.
5
0
I would recommend for a friend
lasse l.

26.11.2017
I would recommend for a friend
Eric S.

26.11.2017
Nice, large, simple, cheap bag. Ideal for carrying any old junk or even just going to the supermarket.
6
0
I would recommend for a friend
Kari S.

05.12.2017
Good big bag for lots of stuff.
3
0
I would recommend for a friend
Lluís P.

10.12.2017
Like an IKEA bag, but way cooler.
5
0
I would recommend for a friend
Gustaf B.

01.01.2018
Perfect bag for those things you need to bring with you in a rush, shopping, weekends, you name it. Use it almost every day!
Sturdy build and nice dark pattern. Can't beat the price.
Good job V!
2
0
I would recommend for a friend
David F.

16.01.2018
Came free with my first order. I expected little of it, but was very surprised at the quality of the bag. ! This a fine bag, Heavy duty, well made, simple and looks it would last a war or two. Fetching water, laundry, beach towels, carrying a little firewood, camping.....This is one of those items you want to buy 5 more of because they are so cheap and your mind reels at their usefulness. Gift for someone ya really dont like that much? They would think ya dropped at least $25 on them.
2
0
I would recommend for a friend
Mika S.

24.01.2018
Kestokassi isolla K:lla. Viikkautuu litteäksi pieneen tilaan, minkä vuoksi kulkee aina mukana repun selkämystaskussa ja on sieltä helposti saatavilla tositoimien yllättäessä. Viimeksi isot ostokset tällä kotiin tuotuani puntaroin kuormaksi 17.4 kg ja tuumasin, että kyllä tämän kanssa loppuu miehen kantohalut kesken ennen kassin kantokykyä.
7
0
I would recommend for a friend
Lassi V.

26.01.2018
Käytössä yksi kappale varastokassina häkkivarastossa roikkumassa ja toinen kuraisten ajokamojen roudaamisessa. Mahtuu mainiosti ajosaappaat, takki ja housut kuskattavaksi, ja samalla suojaa kuljetuskalustoa kuraantumiselta. Eli hyvä kassi tilaa vievän tavaran siirtelyyn A:sta B:hen lyhyitä matkoja.
2
0
I would not recommend to a friend
Clement C.

02.03.2018 (Edited 02.03.2018)
---EN--- Ugly but useful. I got it as a free gift. A robust and practical tote bag. Rather over-sized compared to other tote bags, useful for carrying all kind of stuff. I putted it in my car's trunk and leave it there. Good thing it's waterproof so you can use it in a rainny environment, or to carry wet/muddy clothes/shoes.



---FR--- Moche mais pratique. Je l'ai eu en cadeau lors d'une commande. Un sac à courses assez solide. Plutôt grand pour un sac à courses, mais bien pratique pour transporter tout et n'importe quoi. Je l'ai mis dans mon coffre de voiture. Le fait qu'il soit imperméable est pratique quand vous le posez sur un sol mouillé, utile aussi pour transporter des vêtements/chaussures mouillés/boueux. PS: I would recommend to a friend (I've selected the wrong option by mistake and I can't edit it. My bad)
0
0
I would recommend for a friend
Richard R.

06.03.2018
I carry an extra coat, hat, gloves in the rear seat of my truck where my dogs ride. Protects against wet muddy feet and keeps dog hair off my stuff. I need a couple more. Great product!
2
0
I would recommend for a friend
Patrick P.

20.03.2018
A really cool piece of Finnland, i can recommen it !
2
0
I would recommend for a friend
Kimmo S.

28.04.2018
Kestävä tekele. Omaan makuun kantohihnat voisivat olla lyhyemmät. Viistää 175cm ruotoisella maata ajoittain. Myös aika löysä ja tietyllä tapaa muodoton, joten pitää katsella, mitä tähän tunkee. Omani sain kaupanpäällisenä, joten siinä mielessä ei ole syytä valittaa.
8
0
I would recommend for a friend
Peter L.

29.04.2018
I've been using these as a gym bag and grocery shopping bag for six months. They're very tough and well-made, and are actually quite versatile for various uses. They don't weigh much or take up much space compared to how much you can fit inside them, so they're good for keeping in your backpack as a way of carrying stuff if the need arises, such as firewood back to the camp site. They can also be used as a quick temporary water-resistant liner for your gear inside your backpack. I've ordered a bunch more to have extras laying around and to give to friends. Highly recommended!

Extra info: One of them can fit inside the side pouches of the BW Mountain Troops rucksack
1
0
I would recommend for a friend
Greg W.

13.05.2018
My wife and I have 3 now. We use them to haul crap between our house and our anti government bunker. They hold a lot of ammo.
8
0
I would recommend for a friend
Olli S.

25.06.2018
Pienempi koko olis kanssa pakko hankinta jos tulis myyntiin
11
0
I would recommend for a friend
Chris M.

28.12.2018
While making an order for some other products, I happened to see these bags, so for the price, I added 2 to my cart. I'm very glad I did, because these are the best tote bags I've ever used. They are larger than most other tote bags, and the material is superb. Planning on getting a couple more on my next order, if they are still in stock. Judging by the description on the site, I'm assuming that this is a one time run of these bags, so get a couple while you can.
0
0
I would recommend for a friend
Sami H.

13.02.2019
I would recommend for a friend
jani t.

17.03.2019 (Edited 17.03.2019)
Kestokassien aatelia! Kestokassien kestokassi! Kestokassi isolla tuplak:lla! Sanoinko jo, että hyvä kestokassi?

Muutaman artikkelin kauppareissulle toki turhan isohko, mutta muuten taittuukin moneen nuottiin.



+ Reissuilla kantaa hyvin (autoon yms.) Savotta 202:n ja Särmä rynnäkön ja jää tilaa muuhunkin.

+ Pakkautuu pienempään tilaan johon Muumikuvioidut kartongit eivät.

+ Tummasävyisenä ei pistä kenenkään silmään kaupungissa ja toimii silti naamioarvioisena maastossa tarvittessa.

+ Tarjoaa istuinsuojaa metässä ja paremman puutteessa sadesuojana.

+ Ei turhia käytönääniä.

+ Parin vuoden kokemus käyttökestävyydestä.
+ Ei tosiaan pääse poseeraamaan "olemalla ympäristöystävällisempi kuin muut", mutta ah se käytännöllisyys kun tarvitsee kantaa jotain isoa ja raskasta, niin ettei kantolaite mene rikki.
+ Ei mene rikki vesisateessa toisin kuin pahvipaperikartonki.
0
0
I would recommend for a friend
Brian C.

05.05.2019
I got two of these for my birthday. They're good for putting groceries in, really strong. Also I am 42 and two different college-aged people have asked where I got them. That makes me feel cool.
0
0
I would recommend for a friend
Erno P.

08.06.2019
JÄMÄOYGÖNE!
0
0
I would recommend for a friend
Björn A.

22.07.2019
Good length on the comfortable handles, quite big for my grocery shopping.
But better too big than too small.
0
0
I would recommend for a friend
Aku P.

01.09.2019
Aivan loistava kassi reppuun vakioesineeksi, toivottavasti tulee lisää! Puunkannossa ja kauppakassina ollut jatkuvassa käytössä. On muuten vedenpitävä, just 5min sitten testasin pitävyyden kun valelin tulipaikan ympäryksen täydellä kassillisella. Ainut miinus että persjalkaset ei voi käyttää kun hankaa pohja maahan.
0
0